The 5 Best Laptops for Revit in 2020 (+HardWare Guide)
There are two things you need to know beforehand if you want to buy the best laptop for Revit without having to overspend:
What kind of user are you? A student or a pro using revit, moving from construction site to site?

What are the size of your projects/models? are they less than 50MB? or Close to 1GB?
Students only deal with small and simple projects (>50MB) so they can get away with the cheapest machines with a dedicated GPU on board and in some cases even without one.
Pros or those years into the industry will deal with more complex/detailed designs hovering around 50-700 MB so they'll definitely need a dedicated GPU
Luckily….
Contrary to what you might read on other sites though you don't need a workstation laptop, Revit is one of the least hardware demanding CAD software available. So you definitely don't have to shell out 2k$ for a consumer laptop either.
That's not all..
If you are a student or if you are Professional looking to simply draft/edit (even a 20 story building during class or for a meeting) and you can leave rendering to the school lab or your rig back home, options becomes even cheaper.
But don't understimate Revit either…
And fall into the trap that graphics cards are not important. They CAN be even if you're just toying around with the software.
Before we dwelve into the 5 best laptops for Revit, we'll go over the hardware requirements. I know you don't like long posts and just want me to tell you what to buy but you have to read this
So that you don't end up buying an overpriced 2k$ machine that you may never put to good use or an underpriced little laptop that can't even draw a roof.
Revit Laptop Requirements
In this section I'm going to be brief and go over the hardware side of Revit. If you want to know all the details, there's a section below in which I thoroughly go through all the details:
RAM
Revit is a RAM hog. Either 8GB of RAM or 16GB. (50MB vs 700MB files).
CPU
In 2020, Revit benefits from multi core CPUs more than past versions and not just for rendering. But yeah it's still mostly "frequency bound" (high clock speeds matter the most).
Students or small models: Intel Core i5 and AMD Ryzen 5 as a minimum.
Huge models:8th,9th,10th generation Intel Core i7 HQ and Ryzen 7 and Ryzen 9.
Storage
SSD is crucial, a must. Listen to me now and believe me later.
Display quality
Forget this brightness, contrast ratios,nano edge display and all of that nonsense. Just get a display with 1080p resolution.
You're going to be staring at this thing for how many hours a day? Right. So be kind to your eyeballs and get a Matte Finish if you can.
GPU
Discreet GPU. I'm not moving this one up on the list because the difference between a discrete GPU and a cheap integrated GPU isn't abysmal for small sized models.
Student or small projects:MX150,MX250,1050,1050Ti, AMD Radeon RX 55X (540,550,555,560).
Pros or large projects: GTX 1050Ti,1650,1060,1660Ti,AMD Radeon 580, AMD Radeon RX5500M, RTX 2060. The last two are kind of pushing it but who knows if you're really into Revit you might need in the future.
The moment you've all been waiting for. Note that there a lot more laptops to look online with the same specs but I picked the most current ones with the best specs/money ratio.
Top 5 Best Laptops For Revit
There are two ways of going about purchasing a laptop for Revit, if this is your tool of work, where project file sizes and models are huge AND you need to unlock very specific plugins/function then you MAY NEED either a workstation or a laptop with a mid-range consumer GPU(the ones listed for Pros) which can cost up to 1500$.
If this is for small projects to show clients or design on the fly with ~45MB file sizes then all you may need is a laptop with a modern CPU and perhaps a dedicated "entry" level GPU.
We'll start with the latter, those to work with small size models then go over laptops that can handle much bigger project sizes.
---
Best Budget Laptop for Revit
Intel Core i5 9300H
8GB RAM
GeForce GTX 1650
256 PCIe SSD
15" FHD 1080p IPS
5.07lb
5 hours

My top recommendation for students would have been something like the Acer Aspire 5 with a MX150 buT this year's version is way too expensive for the "entry level" GPU and the 8th generation CPU it has.(We are in the 10th). However, there's the Acer Aspire 5 with the MX350, which is a bit cheaper but just as good as the Acer Aspire 5 with the MX150 (still the dGPU is a lot less powerful than the Acer Nitro but it will do for most people).
This model has a 1650GTX which is several times more powerful than the MX150/250 with a 9th generation Core i5 CPU AND on top of that it's either 50 bucks cheaper or just 80 dollars more expensive than the Acer Aspire 5(the price fluctuates a lot between sellers and the time of the month). It's just a deal nobody should miss.
This is something that even Professionals and architects can safely buy too, it won't be feel sluggish even with projects in the hundreds of MBs with many revit links (that would have been the case with the Acer Aspire 5 w/ the MX150/250).
The RAM size however is only 8GB, perfectly fine for all students and most architects but some architects may actually need the upgrade to 16GB. This is easy with this model too.. You can buy the second memory stick here if you ever had to design something really huge.
For those who plan on using Revit MEP, 8GB should be fine for buildings up to 10 000 floor areas, anything more you'll definitely need the upgrade to 16GB.
Speaking of rendering, it's really CPU bound, the GPU doesn't play a big role in it (for Revit's case) and the 9th generation Core i5 hits past 4GHz w/ 4 cores/8 threads, this is a huge leap from the Core i5 8250U of the Acer Aspire 5, another reason to up your budget a bit and opt for this puppy.
---
Best Cheap Laptop For Revit
AMD Ryzen 3 3200U
8GB RAM DDR4
Intel HD
128GB SSD
15" IPS full HD 1080p
5.3lb
8 hours

Look, the processor is there: it's fast and recent, check. RAM, 8GB, check. Storage? SSD, check. The GPU is the main problem with this laptop and the reason why it's a lot cheaper.
Some Architects or 3D designers specially those getting back into the business may not be able to afford a 700-800 laptop just yet, students too. But if your models are relatively simple, let's say simple houses/apartment complexes with files less than 50MB , or relying on sketch up and AutoCAD more than revit or if you're using Revit without relying on viewport too much then you may be OKAY with this 450$ laptop.
---
Best ASUS Laptop For Revit
AMD Ryzen 5 R5-3550H
8GB DDR4
GeForce GTX 1650
256GB PCIe SSD
15.6" 120Hz Full HD

4.85lb
5 hours

Just like the Acer Nitro, the ASUS TUF here is a high performance laptop for both working architects and students. You can handle the same complex & larger models as the Acer Nitro such as those you encounter in Revit MEP and when using NavisWorks.
So why I posted this model? It's a great option if the Acer Nitro 5 runs out of stock or suddently decides to up the price past 800 bucks.
What about more powerful GPUs than the 1650?
The 1060,1650,1660Ti,AMD RX 580 aka mid range GPUs are the limit to what Revit can use and they also give you the best performance/money ratio. That is, going for the more powerful GPUs: 2060RTX,1070GTX,1080GTX equivalent and higher end GPUs will not give you that much improvement even if you try to use them for bigger and more complex models.
---
Best Portable Windows Laptop For Revit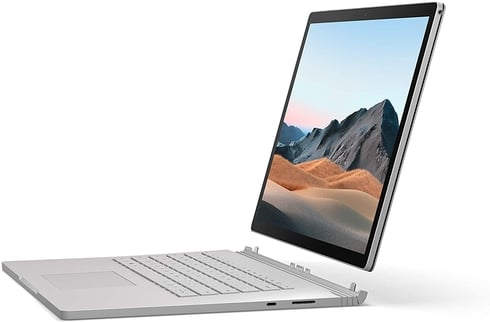 Quad Core i7 10th gen
16-32GB RAM
NVIDIA GTX 1650GTX /1660Ti 4-6vRAM
512-2TB NVMe PCIe SSD
15" Pixel Sense (3000×2000)
3.45lb
7 hours

The Surface Book 3 is another powerful high end laptop. It's really just as powerful as the Acer Nitro 5 or the ASUS TUF but a lot more expensive with very good reasons.
It's ultra portable and has a stylus which you can use to draw on it.
I'm putting this one on the list because I know there are some architects looking for something ultraportable to take to site visits or just want to have the ultimate presentation machine for conferences while handling Revit with no issues whatsoever.
Obviously because of it's note taking features and portability, it's also a great choice for architecture students.
How about the less Expensive Surface Pro?
The Surface Pro is behaves pretty much the same. as the Surface Book 3 but it doesn't have a dedicated GPU and it has weaker choices for the processor.
However, if you just need something like the Book to draft/design and make presentations (walk around & draw on sites while presenting) or just share your designs at a confirence or to your clients , you may be fine with it. In other words, no rendering, not going crazy with viewport especially with very big models. You'll struggle as you step into projects with ~4500sq feet
Now both, the Surface Book and the Pro, can be turned into a desktop like environment by using the "dock station" you can buy separately, it basically gives you the ports you need to attach an external display, a mouse and a keyboard.
---
Best WorkStation Laptop For Revit
Intel i7-9850H
32GB RAM DDR4
NVIDIA Quadro T1000 4GB
1TB NVMe SSD + 1TB HDD
15.6" full HD IPS
5.51lb
3 hours

Okay, now a workstation laptop.
I think this laptop should only be considered by the 1% percent of the people who landed here. Those who need this puppy are 100% sure why they need it, so there's no need to explain why too much. Basically anyone working with big big models that need something as stable as possible and need to try to avoid even minuscule errors, files with several of project links/point maps,etc.
Don't get me wrong this can handle files just as big as the Acer Nitro (~500MB probably), it'll just be more stable and allow you to use selected plugins and add a lot more links to it without crashing down.
Another reason to pay for the extra "1000" bucks in some cases is that they'll give you less bugs, glitches, artifacts. They'll be a lot smoother.
Now when choosing a workstation laptop you need to be aware that the prices can be ridiculous, not this puppy , i think it's a pretty good deal: the GPU is a recent workstation GPU, high end CPU, lots of RAM, it's a fair price. But most workstation laptops are way too overpriced and some sellers out there will even charge you more than a thousand dollars for a workstation laptop that was made like 5 years ago and most people fall for that just because they have the magical "QUADRO" word on the description.
There are more powerful and recent workstation laptops but I haven't come across to something that I know I would need their power for Revit, just type RTX Quadro on Amazon to get a complete list. Browsing around you'll find that this model with the RTX 5000 is the most expensive and most powerful you can get and the one I posted here is not that powerful but the most affordable one with enough power for most architects.
What about MacBooks? Which is the best apple laptop for Revit ?
The most powerful MacBook Air is pretty much the same as the Acer Aspire with a Ryzen 3 CPU, not the best performance for Revit but good enough for those students.
As for the MacBook Pros. You won't find them Pros with a better graphics card than the 1060GTX that the Dell Inspiron Above has. In other words, the best apple laptop for revit right now will have a performance just below the Dell Inspiron and above the Acer Aspire with the MX150 first on the list. You'll also have to rely on bootcamp (since Revit can only run on Windows).
---
How To Buy The Best Laptops For Revit
The best place to start is by remembering that there is no single laptop out there that can "run" Revit comfortably, it all depends on how big your models are (measured in MBs).
Model Complexity
If you are a student you may only be dealing with a simple architectural model that will run smoothly with a budget laptop.
But if you are a pro working on a huge collaborative project at a company, you may have models that will get bogged to 1 frame per second despite having the craziest most expensive machine out there.
Again depending on the complexity of your model or the amount of links it has, the system requirements will vary. If you are using Revit Structure Revit Achitecture
Revit System Requirements For Laptops
Note that these recommendations appl for all of Revit different packages: Revit Structure, Revit Architecture & Revit MEP .
With that in mind, let's go over the components you need to consider in order of priority to find the best computer for revit.
*These recommendations are based on a lecture by AutoDesk University, my past experience and a few users input (from reddit) who've used the software on different laptops.
If there's any term you don't understand, you can always go to the rightside bar and check my post explaining basic computer terminology.
CPU
This is the single most important component behind Revit, more than the graphics card and RAM.
Revit started as a single-threaded application, that is, CPUs with "4 cores" or "2 cores" did not really improve performance. Almost everyone is still saying the software is mostly frequency bound, in other words, it only depends on processor's speed (measured in GHz) and not the # of cores it has.
It is not completely through though, Revit does use multi-core CPUs for visuals (calculating walls and pipes intersections) and loading all the elements in views.
I believe this started in 2016 where a new engine was implemented.
More explicitly, here are all the functions in Revit that take advantage of multi core CPUs.
Modeling/Drafting
As you can see it is limited to a few functions. You should focus first on picking up a laptop with the highest frequency and then consider the number of cores.
The Maximum from non-workstation laptops today is 4.2GHz from Intel Core i7 processors though you don't need to go that far and anything in the range of 3GHz is good enough.
If you are professional dealing with very and extremely large sized projects, then the highest you can invest on is a Intel Core i7 HK (overclocked Intel CPU) that can go beyond 4.2GHz. These processors already have four cores.
Students will be okay with pretty much any Intel Core i5 or any CPU above 3GHz.
Rendering
Rendering has always been a multi-core dependent task in virtually any software out there.If you have no other alternatives for rendering but your laptop.
If you are a student opt for Intel Core i5 8th gen (U series) or Core i7 7th gen HQ (quad core) processors.
Professionals rendering larger projects on a laptop workstation will definitely need an Intel Core i7 Quad Core processor or the Intel Xeon Processor unless they want to wait +12 hours for rendering.
GPU

It goes without saying this is the trickiest decision you'll make. Buy the wrong graphics card and you'll be forced to turn off hardware acceleration. Then your workflow will be horribly affected as you face two second delays between operations because your crappy GPU has to redraw the view like an etchasketch.
This will mess up with your attention span and productivity will grind to a halt.
The good news is Revit is not very taxing on GPU, your average 3D game will tax it way more than Revit ever will.
Why do I need a good Graphics Card then?
A high-end expensive graphics card will only help you for viewports.
By viewport, I mean the 3D View of your work: panning, zooming, orbiting,rotating,etc.
The more complex your model, the more difficult it will be to get a nice 3D View of it.
If your graphics card can't keep up, it won't be as responsive and might get very distracting as you work (lag/flicker/etc).
What about rendering?
Revit does not use the GPU for rendering, this may not be the case for other AutoDesk products but it is for Revit.
If you have to wait 40 min for rendering, you'll still have to wait 40min even if you have the most powerful graphics card on your new laptop. As I mentioend before, focus on number of cores (in your CPU) to cut down rendering times the most.
What graphics card should I get then?
The truth of the matter is you don't need a 3k$ workstation laptop with a "certified" graphics card or any of the revit certified laptops. It'd be nice if you could afford them but you don't have to rob a bank to use it for Revit.
You can settle with a cheap consumer card or high end gaming cards. If you are pro dealing with very large project files(~hundreds of MB range), then you'll definitely need a high end gaming card and depending on your work perhaps a workstation card (but this is very very rare).
More explicitly, let's go over your three options.
Integrated Graphics Cards (Intel HD)
You're playing with fire with Intel HD Cards but they will work for you in some instances.
You may save yourself 1000$ dollars because laptops with Intel HD cards are around 500$.
If you work on smallish projects (file sizes up to 50MB). As long as you have an Intel Core i5 processor + 8GB RAM and disable hardware acceleration, you'll be OK without them.
But if you happen to come across a different project with a larger file size, it will lag a ton/start to get choppy when you want to rotate or zoom it for details.
If you are a student you more than likely get away with it, just ask your supervisor the file sizes you'll be dealing with.
Dedicated Cards
For larger file sizes (100MB-700MB), you're only choice is a dedicated graphics card.
But even if you are pro you don't really have to shell out for an expensive Workstation Card which are mostly available on 3000 dollar machines..
Whether you are a student or a Pro, consider getting a gaming card. Why?
Much larger market, similar hardware and the generally tech-savvy gamer community keeps their quality high (if not they are shun down by terrible reviews) and their prices competitive (because of the huge competiton between all those gaming brands) They're even cheaper if you get last years' model!
There are a few disadvantages besides having the huge gaming tag on the back though:
Not all of them are compatible with Revit so you need solid proof if they work. All 9th and 10th gen are OK though. (GTX 960M, GTX 1050, etc)

You will not get customer support from either AutoDesk or Your Laptop Company.

Yes, you will get a few "more" bugs but they won't halt your work at all. They definitely do not in any way justify the price they put on those workstation cards.
– As long you look for reviews where these gaming cards have been tested, you'll be alright. I've already did that work for you and I happen to have the 940M 960M cards myself.
– Stick with 9th and 10th generation cards, these are more and more similar to Workstation Cards. Recent cards overlap in terms of architecture and design more and more .
– Get as much vRAM as you can (dedicated video memory). More vRAM = bigger models.
Low end Cards: 940M, MX150, 1050M should be okay with models up to 15 000 square meters.
Anything larger you may want to invest on the more powerful 1060(this gives you the best performance for the price), the 1070 and 1080 are desirable but they are extremely expensive and at this point I don't know if they will give you any more benefit than a 1060.
Workstation Cards
These cards are not necessary, they are extremely expensive but extremely useful for all CAD software just not revit.
A few advantages to consider though:
Guaranteed compatibility out of the Box

A few cool features for other CAD software (ECC)

A few less bugs and glitches with Revit (you'll still have them but much less frequently)

Official support from AutoDesk if something goes wrong with Revit.

Will let you run a few plug-ins like Leica Cloudworx.
Keep in mind they are not really better than GeForce (consumer gaming) cards for all instances . In fact, they can actually perform much slower sometimes, this has been reported by the AutoDesk Community when users ran very large complex models with viewport.
If you are a student, don't even think about them. If you are Pro, the advantages might be useful to you, the call is on you.
RAM
Revit is a ridiculous RAM hog. The more details and links you add to your models, the more RAM you're going to need. Adding objects or items (as opposed to simple shapes) to a model will cause serious slowdown when rotating a 3D View of it or just when opening the file itself.
Students should be fine with 8GB.
Pros with a good budget (or +5 revit links) should get 16GB RAM.
Storage
This is second most important component after your CPU.
If you are short on cash and can't afford a dedicated GPU, your money will actually be better spent on a SSD.
The storage speed will help far more than a dGPU in terms of performance.
Why?
Revit comes stocked with a library of materials for your diagrams (surfaces, textures, lightnings,etc).

You'll also be creating your own materials further expanding your library.
All of these written in huge data file sizes which need to load up when you start up the program and open up a model. In other words, you need to write/read files FAST.
And SSD can read up to x17 faster than traditional HDDs.
The problem is their size, they're in the range of 256GB-512GB for laptops.
If you are a student, 256GB is plenty.
A profesional will need at least a 500GB SSD if an SSD will be their only hard drive. If possible a 256GB+1TB HDD combo would be best.
*Keep in mind they're also more reliable if you are constantly on the move ( they're more resistant to physical damage).
Display
Forget contrast ratios, brightness levels and all of that nonsense. In fact, as long as your screen is not defective you'll do just fine.
Just consider the resolution and type of display. Even then…most laptops equipped with a dGPU and a good CPU already come with the perfect display for Revit so there's really no need stress about the display.
Still be aware of the following:
Matte vs Glossy
My personal intake on this is to have a Matte Display (be it IPS or TN screen). Matte displays will protect your eyes from reflections that may happen when working in a bright areas.
A nice bonus is an IPS display for better viewing angles and looks a lot nicer (I've had both) that's about it.
Resolution
You could get away with anything for Revit but not resolution.
The New Autodesk layout does not do well with 768p or 900p resolution or even high resolution screens 2k and 4k.
Only get full HD , 1080p screens.
If you ever encounter a laptop and find issues with Revit, it's more than likely your laptop's resolution is set too high or too low.
Just set it to 1080p and BOOM , Revit will work better than ever.
4K panel will make some icons on the bottom bar look very small, the quick access tool bar may not show up plus they're extremely expensive.
If you end up with one, you can always scale it down though, which is just the same as buying a 1080p display. Waste of money.
Rendering
I wouldn't recommend rendering huge models on a low end laptop especially one without a quad core late generation CPU. It would take forever.
It'd be best if all of you could get yourself some cloud credits and use a cloud rendering service.
Last time I used them they were about $1 per credit so a good render will be around $6.
Conclusion
In the end you have to decide between portability or performance, if you are thinking of producing huge file sizes for your projects then a portable laptop is out of the question and you'd need a high end gaming laptop.
If you are a student you could possibly get away with a low end laptop, just make sure you still get the right features with yours.
Working on large projects in Revit is more about file management than brute force. Use worksets, linked files, and a clean family library and you should be okay.