6 Best Laptops for Web Development And Design in 2021
Web Development & Design is an insanely broad topic and I haven't had the chance to work through all of it.
No one has really…
I only know the stacks I've worked with, and since I'm relatively old, that means quite a handful but I certainly don't know what kind of applications YOU want to build with your system.
But let me tell you one thing I know I am sure of …
You can use any old crappy computer for ALL of it. Any modern computer should be powerful enough to start you up building amazing websites.
Why? Think about it, web design is largely about writing code—this is just text and even your old 2008 iPhone can write lots of text!
I am not saying you should be building websites on your iPhone (though this is already possible with a few apps out there) nor use a cheap 200$ laptop from wallmart.
Why?
Well you're going to be typing your eyes out on this thing while staring at your code for several hours non-stop.
So…
You might as well spend that money to make this as comfortable as possible.
Yeah I know…
Most of you are here because you want a fast computers that will show no sings of loading screens…
And well. Yes you are right, that's important too!
A decent CPU and enough RAM will make everything run relatively faster which will save you a few seconds here and there by loading stuff a few miliseconds faster(which can add up to seconds then to minutes and then to hours; aka, a lot less time working on a project).
But trust me when I say this, all modern laptops, should be able to do do that for you!
Anyways..
The formula goes like this:
OKAYish speed + a awesome display + a kick ass keyboard = Crazy fast and happy Web Developer with a lot of money to spare.
Recommended Specs for Web Development
To make sure everyone reading this is happy regardless of what kind of web development they do, this is what we'll do:
We'll go through the best laptops for web development for those who are just happy to be told what to buy mentioning what you can expect from each laptop and whose this laptop is specifically for (front or back end developer, someone just starting,etc).
For those nit-picks with a bit more time in their hands we'll go in depth about the hardware needed for web development (or why an ultrabook like a MacBook be it or a windows ultrabook is the best choice for most developers).
Since the latter can be a very long & boring topic, it's been placed at the end of this post. You can choose to read it later if you desire.
For now I'll try to summarize what hardware to focus on here before go we go over all the other laptops you should consider for web development.
Display
Since web development can be done with minimal specs, your main concern should be the display and the keyboard.
full HD + 13-15" display, this should give you enough space to have a wide & long view of your code/IDEs
IPS is optional, it's a nice addition if you work with PhotoShop
Matte displays are more eye friendly than Glossy ones
Keyboard


Unlike in desktoptown you can't replace a keyboard in laptopville.



So if you are staying in laptopville, you're going to have to do a lot of research to avoid lousy keyboards.
Finding a decent keyboard can be a nightmare but I'll teach you how to do it at the end of this section for now I'll just list laptops with okayish or awesome keyboards.
RAM
8GB is plenty for both Back and Front End-Web Development. Some Back-End Developing may need 16GB but this is super rare. If that's the case, you don't have to buy a laptop with 16GB on board, just do the upgrade later.
CPU
Any CPU with +3.5GHz for clock speed. (I'm just throwing this number out there to make sure you have a MODERN CPU).
8th to 10th gen Intel Core i3/Core i5 are great and 3rd,4th gen Ryzen 3,5 processors are even better.
Storage
256GB is enough space to install dozens of the heaviest IDEs. You just need two btw.


Make sure you get an SSD, this is what will actually make the biggest impact in making your laptop FLY


Especially when opening/closing/looking for files, opening libraries and launching IDEs.
Portable
The best laptop is one you can take anywhere and NOT something that's just going to sit around at a table back home.
If you want someting portable, 3lb-3.5lb is portable.
If you're mostly staying at the office/home, weight doesn't matter.

GPU
There's no need for a GPU unless you are a heavy and I mean HEAVY PhotoShop User. If so, any "dedicated GPU" released within the past 5 years will do.
Top 5 Best Laptops For Web Development
These 5 laptops listed here should cover the entire spectrum of "web developers" from a student running Visual Studio/DreamWeaver to a professional web developer/designer running VMs and everything in between.
Just keep scrolling down and read the descriptions until you find your pick.
---
Best Cheap Laptop for Web Development And Design
AMD Ryzen 3 3200U
4GB RAM
Intel UHD
256GB SSD NVMe PCIe
15" HD
4.07 lbs

8 hours

If you are just getting started with Web Development, maybe experimenting a bit with both back and front end development or using Lynda.com or udemy to learn
AND
You can't spend more than 500$.
This is probably as good as it's going to get. You'll be very hard pressed to find a laptop under 400$ with MODERN hardware in it AND the full version of Windows 10 Home.
Display:
The only real issue with this model is the display. Not that it's cracked or malfunction, it's just that it doesn't have a FHD resolution. It has a HD+ resolution instead which is going to limit the amount of screen space to work with.
On the plus side, like I said, it's well under 400$ and has Windows 10 Home, Modern Hardware and a decent keyboard.
Upgradeability:
Another plus side is the fact that it's easy to upgrade. You can upgrade both RAM and Storage as you please if you feel like you need a little bit more power.
Other cheap options:
The Acer Aspire will cost you about the same price AND it will have a FHD display. The problem? It won't have Windows 10 Home on it (it will cost you 100$ to upgrade), on the otherhand if you just rely on code and do not need to run virtual machines or run Apache, Windows 10 S is all you may need.
---
Best Mac Laptop For Web Development
8 Core Apple M1 Chip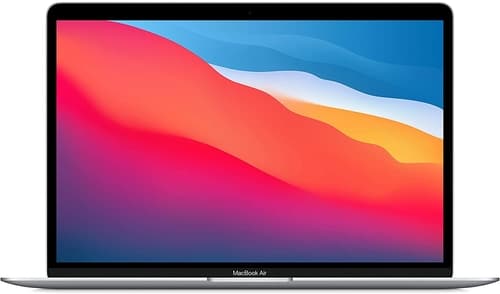 8GB RAM Unified
Apple 8-core GPU
256GB-512GB SSD
13" IPS Retina Display
~3lb
+15 hours

If budget is not an issue. you should seriously consider buying a MacBook Air. It is probably the best laptop for web development there is, ESPECIALLY, if you're looking for something portable too.
There's a huge blog post where the author, being a full stack developer , does nothing but praise the MacBook Air (More like the Operating System : MAC OSX).
Old MacBook Air vs New MacBook Air:
If you browse around the web for more reviews about the Air being a great laptop for Web Development, they'll probably be talking about the Old MacBook Air though.
The New MacBook Air, although far more powerful and even thinner, has discarded the Old MacBook Air's keyboard design for a more thinner version with less travel, although it is still a great keyboard definitely not as good as the older models'. On the plus side the New MacBook Air does not have a low resolution display but a retina resolution (which is higher than
So the choice becomes:What is more important to you?
A high resolution display or having the best keyboard ever produced .
I would probably go with the New MacBook Air, the keyboard isn't the greatest but it's probably better than what most windows laptops have these days. If budget is an issue, I would go with the old MacBook Air because it is a lot cheaper.
Any MacBook Air model will meet the minimum requirements for Web Development though, even the oldest MacBook Air is still pretty fast (thanks to the Operating System) for any kind of web development. I've worked with one for several years now, from the moment I started doing web development through the wikipedia engine(it was free to use by everyone back then , you could add plugins/add ons to it) to the modern day where I deal with wordpress themes and launch site with SQL servers + Apache from the bottom up.
Old MacBook Airs:
Obviously, you'll only find refurbished Older versions of the MacBook Air. You can see there are thousands in this link.
New MacBook Air:
The New MacBook Air has awesome specs these days, you can use this hardware to even run VMs and test out servers on each, this probably won't be an option with older models. The retina display and the battery life are going to help tons making your producitivity skyrocket.
OSX & Web Development:
Most web developers today are sticking with MacBook Pros and MacBook Airs. People who do the change (they jump out of a Window straight into the Air and never look back) find the whole web development experience so much better because today web development is moving more and more toward command line utilities and interfaces : GIT, Composer, NPM, Artisan, Ember,etc, and this is where OSX excels at it.
And if they ever need any extra power they simply resort to a VPS/VM to run their server/backend stuff but that probably won't be a problem with the newer models especially the MacBook Pro 16" thats coming later in this year with the fastest processor a laptop can hold.
As for the battery life….well I remember taking a 15-hour trip to Japan and I easily managed to use the MacBook for 12 hours (this was an Older Model, the model here can last up to 18 hours).
I fell asleep before my laptop, so that's a good thing…
Recommended for both Back and Front End, Web Development with an inclination towards the latter
---
Best ASUS Laptop For Web Design & Development
Core i5-8265U 3.4GHz
8GB RAM DDR4
Intel UHD
512GB PCIe NVMe SSD
13" full HD TN
2.5lb
8 hours

I know there's a ton of you out there not willing to do the switch to the MacBook Line perhaps because you develop with .NET or you're stuck with Visual Studio (which still to this date works better on a Windows machine).
Well the recent ZenBook is almost a carbon copy of the MacBook Air, has about the same thinness and even less weight and with the advent of the 11th generation Intel Chips about the same power (this is still debatable, intel says they're faster than the M1 Chips but Apple says the oppossite).
The only real difference will be the keyboard quality. Although still high quality (thin design/less travel/responsive) it still doesn't match the legendary Old MacBook Air's keyboard, no laptop does really.
Also the battery is about 9-10 hours as opposed to The Air's 13-18 hours.
Performance?
10th and 11th generation have 4-6 cores all running at +4GHz , they should be able to handle tons of layers in PhotoShop and run several VMs just as the MacBook Air would.
Recommended for full Stack Developers
---
Best MacBook For Web Development
Intel Core i7-Core i9 9th generation
16-64GB RAM DDR4
Radeon Pro 5300M/5500M 4GB vRAM
512GB-2TB PCIe SSD
16" Retina
4.3lb
10 hours

On the other hand, if you want to work with a development environment based on OSX and you need as much horsepower as you can get NOW, the only choice is the MacBook Pro.
What I really like about the MacBook Pro is that it can hold way more power than the Air and still retain its compact/lightweight form (the thinness won't be the same obviously).
But this is still great because moving a workhose all over the place is something no one would take for granted.
Imagine taking that much power to a coffee shop to chat with other developers, designers, business folks or just the barista. This would totally suck with a heavy brick to carry don't you think?
By the way,
I forgot to mention that a huge plus of OSX laptops is that they are the most versatile machines:
You can run OS X (which runs on Unix), Windows and even Linux if you really wanted to ALL on the same device. You can also develop for both iOS AND Android.
If you are not sure what you will be working on, this is probably the most flexible option you will find.
I don't personally use a Macbook Pro because I dont need to but I know many web developers who do. This and the upcoming 16" Model are definitely the top choice for any Full Stack WebDeveloper.
Recommended for full Stack Developers
---
Best Lenovo Laptop For Web Development
Core i3- Core i7 10th generation 4 cores / 8 Threads
8-32GB DDR4 RAM
Intel HD 620
250GB-1TB SSD
14" TN FHD
4.3lb
10 hours


There's no way to sugarcoat it Visual Studio in a MacBook totally sucks. Not adviceable at all, it's going to limit your workflow tremendously.
A thinkpad is ANOTHER great option if you are tied to a Windows Environment with .NET/C# development or just simply don't like the price tags of the Macs.
Or if you are looking for the closest thing to the quality and endurance of the apple machines (let's face it Apple builds their laptops like tanks which is why you can still see 2012 MacBooks being sold ).
I personally have an Acer Windows laptop only because I didn't have enough money to look into other options. When I wanna work in PHP, Java or j I switch to my MacBook otherwiseI jump on my Acer especially when I'm working back home because I love the 17" display.
If you want a ThinkPad with enough horse power to do both back and front end development, stay in the core i5 family (core i7 is a bit too much unless you are running heavy VMs – which is very unlikely).
Linux on ThinkPads:
Another reason to opt for a thinkpad is to have a full blown Linux environment so you can have control of Adobe Creative Suite with Windows plus being able to work on ASP/.NET stuff while running Apache in Ubuntu's bash.
Recommended for full Stack Developers
---

Intel Core M-5Y31 1.1GHz up to 2.4GHz
8GB RAM DDR4
Intel HD 5300
256GB SSD
12" Retina IPS
2lb
10 hours

At this point this article is starting to feel like an Apple Commercial, doesn't it?
But the fact of the matter is that I get zero comissions when people buy MacBooks from Apple's website.
However, we still I have to be brutally honest, that's the whole point of our website.
Onto this Model:
If you don't care much about screen size and want the most portable machine ever, I'd suggest to take a look either the 11 inch MacBook Air or the New MacBook, the latter has been discontinued but you can still find dozens of refurbished ones on Amazon(The Surface Pro is also a great non-Mac Option).
The smaller MacBooks (11" Air and New 12" MacBook) are the best of the best choices if you just rely on a text editor for coding when traveling.
Yeah, you don't need a full IDE like Xcode to run an emulator or anything like. Even if you did the 12" MacBook can do that, it has about the same horsepower as windows machines under 500$.
Obviously, the only real downside is the screen size.
It may only be 1 inch smaller in size (or 2 inches smaller for the 11 inch MacBook Air) but that still makes a huge difference. This is possibly the only most deciding factor.
So if you work a lot with graphics and enjoy slightly more space (becuase you use PhotoShop and other image editors for user interface design) then think about this really hard.
For all other purposes, there are a few tweaks for you to make your MacBook as productive as a 17 inch laptop:
How?
By using "Spaces" which comes by default with OS X. It allows you to change your desktop environment and switch between different instances of the screen called "desktops" by using a command just as you would with apps on an iPhone.
For example, a web development environment can go something like this:
Desktop 1: browser
Desktop 2: Atom (split the panes horizontally instead of vertically)
Desktop 3: 4 terminal windows
Desktop 4: SourceTree
Desktop 5: Second browser
Desktop 6: Affinity Designer
Desktop 7: Mail and Slack
Desktop 8: Other apps such as Byword
If you are always using the same apps.You can set up keyboard shortcuts mapped to access them quickly too.
And if you are really in need of more space, the excellent Duet Display app can turn an iPad into an external second screen, just in case you may want to have two desktops(windows/displays) opened at the same time next to each other.
Why go through all of this with MacBooks?
The Unix command line… is also far better than the one used on windows, I've got a Windows machine at home and a mac at work and doing things like installing Node, Ruby and so forth is far easier on my mac than on my windows machine.
I'll pay you if you can find a big name developer at a conference who isn't using a mac. (Provided they don't develop Win software).
There is also a lot of cool development software that isn't available on Windows, like codeKit.
This article does better job of explaining the advantages http://code.tutsplus.com/articles/one-developers-switch-from-pc-to-mac–net-11831 (I can't agree with the great hardware part especially for gaming/3D modeling but the stuff about the shell is what I'm talking about).
Also if you've ever seen a video tutorial or read a blog post walking you through something, you'll notice the vast majority of the time the presenters themselves are mac users.
Recommended for full front-end web development though it can be used for back-end development as well
Last Words:
Well that's it folks if you are constantly on the go, I'd recommend you really consider premiul ultrabooks or portable devices (even the Surface Pro will work for web development).
If you are mostly staying at one place, you can consider any modern laptop with a decent display+keyboard. You can't go wrong.
At the end of the day all laptops have keyboards and displays which is enough to develop.
---
How To Buy a Laptop for Web Development
Like I said without knowing more about the particular scenario, it will be very hard to land the right laptop for web development. Besides throwing money at the problem, there a few things you should try though:
Upgrading an Old Machine
Before you throw down $1000 on a new laptop, ask yourself if perhaps any of the current problems you are facing can be solved economically. That is , by upgrading your current machine.
Web Development isn't hardware demanding at all. Perhaps a nice SSD drive or a new RAM stick might do the trick, provided of course, you have a decent display and keyboard even the last two can be fixed (by buying an external monitor + external keyboard).
Before you do any upgrades find out what's eating your system resources:
1. Do the good ol' CTRL+ALT+DEL. Is it just that your application is resource-intensive, or is it competing with three dozen open browser tabs and a heavy IDE?
2, Give my How to Upgrade your Laptop RAM or Storage device a nice read.
Downgrading OS/Quitting an IDE
Also note that things can be slowed down by upgrading to a new OS version.
I started using a mid 2010MPB stock for the past 4 years and it started to get slow as I kept updating the OS (Windows 10 currently takes 4GB ). What really got my software sluggish (mostly PS CS6) and which made buy another whole MacBook Pro was the upgrade to Mavericks.
Note that Dreamweaver and PS at the same time also take around 4GB. If you quite using Dreamweaver (I did and there are several other options) you might free up your system from a huge amount of resources. It will even entirely replace the need to upgrade your system.
Uninstalling Software
Another thing to to keep in mind is what you have installed on your laptop (besides web dev software). My laptops have been pretty solid over the years except when I start installing games on them. Might just be a coincidence but I'm just saying that I noticed a pattern. As long as I keep games off my laptop, I very rarely seem to have problems with it.
So be concious of what you install on your laptop. If you just want to try trial software out, do it in a virtual machine and only install it on your computer's operating system when you feel confident with it.
That's what trial software is for… to try it anyways.
---
Web Developers
With that out of the way, before we discuss the hardware for web development, we have to talk about web developers, especially what software they use and the type of workflow.
Why am I even bothering with this? Well I'm aware that there's a huge percentage of people reading this that are just starting to get into the field.
It really comes down to what kind of web development do you plan on doing? Front-end? Back-end? Full Stack? What tools are you planning on using?
Front End Web Developer
If you are a front-end developer, you'll mostly be concerned with how the site looks and feels. This is just basic coding with CSS, HTML, Javascript and perhaps JQuery (although this is going out of style since modern browsers can now do the same work but more quickly). These require nothing more than a basic modern computer.
On the other hand , if you are using PhotoShop or hi-res images & videos, then you may want to invest your budget on Display, RAM & Storage.
There's another reason to invest on storage than just having a display that display high resolution images to their true color: space. That is, you can have a window to code and another window to see how update the results or follow tutorials.
If you are using heavy duty IDEs such as Dreamweaver and VS Studio, you should also invest on RAM & optionally storage.
Back End Development
Although Back End Developers know how to use HTML,CSS and so on. They need to code with Java, PHP, Ruby on Rails, Python and .Net.
The main issue with these are not the languages themselves but the IDE which takes a lot of RAM and benefits from a fast Storage Drive. They also might be running databases locally and even using VMs which adds up to more RAM & Storage.
Full Path Developer
This just means someone works on both "Front End" WD (Html, CSS, javascript etc) and on backend code (databases, .net, Php, C#, Ruby etc).
As for me, I usually have several apps open at all times: Atom for coding, Safari and Chrome for web browsing and testing, 4–5 terminal windows (issuing SQL statements, testing, and Git tasks, and Redis, and…), 1–2 Finder windows, Slack, Mail, Affinity Designer and SourceTree.
Student
If you are a student starting web development, you'll probably go through a combination of both of these branches. I started with C# classes which used Visual Studio and a SQL Server.
The most useful feature I found was also the display, that is, I could have an IDE on side and a web browser (to follow tutorials). You can always switch between spaces or use ALT+TAB but this can be rather annoying.
Software
Keep in mind that TextMade, CodeKit, Atom and SublimeText are just text editors tailored for web development do not require anything special, in fact, you can run these on your iPhone. I would suggest these over DreamWeaver if your system is too slow to respond.
There are only two type of software that are worth taking into consideration when buying a computer for web development: PhotoShop or Virtual Box.
Illustrator/Photoshop
If you do minor graphic editing, mainly converting vector AI files to SVG and tweaking colors, you don't need a GPU for PhotoShop nor huge amounts of RAM or a high end CPU. The latter is actually rarely a bottleneck even for hardcore photoshop users.
VirtualBox
On the other hand, if often work with an Ubuntu Server VM using Vagrant and VirtualBox to simulate your production environment before release you need to make sure you have at least 8GB RAM.
Hardware Specs for Web Development
CPU
Generation
When people think of computer speed, they always think of the CPU—2.9 GHz Intel Core i7, etc. But with modern CPUs, especially the 8th generation, they will never be the bottleneck (even if you are running VMs) plus web design is hardly CPU intensive.
However if you want to throw all the multitasking you've read above, you ought get a modern CPU. Core i3, Core i5 or Core i7 doesn't really matter as long as its from the 7th and 8th generation (the 6th might be pushing but it's still alright) you'll be fine.
Cores
A huge exception might be developers who rely on virtual machines. Even then there's not much need to worry about CPU since modern CPUs have at least two cores and +3GHz, both are enough to launch a virtual machine or two.
Recommneded CPUs: Core i3 -7100U, 83100U. Core i5-8250U, Core i5-8625U, etc. Although there are more powerful CPUs today, they're overkill for web development.
RAM
On the other hand, RAM is probably the most important component for any Web Developer. The amount of multitasking can be insane. Just imagine having a textEditor a web browser a virtual machine a SQL server and a few web browsers for tutorials and a video and even terminal open.
Let's add to the mix that you use a heavy IDE like DreamWeaver or Visual Studio and 4GB will be gone pretty fast. Let's not forget PhotoShop and a thousand layers jammed into an image.
8GB RAM: You need at least 8 Gigs, this is even enough to run a local web server or a virtual machine.
16GB RAM: I never saw the need to have 16GB. However if you plan on becoming a proffessional full stack developer, it may come in handy. Since most laptops are upgradeable (except the MacBooks and UltraBooks) you can choose to update yours.
Storage
For web design, the speed of the computer is much more about the hard disk rather than the CPU, especially now since CPUs are just way too fast.
Storage Speed
You'll be constantly opening and closing a lot of files, almost all the time, and this means your laptop has to read/write data to/from files. Having a storage drive that do this a few seconds faster is a huge advantage. Remember that a few seconds added up several times throughout the day can add up to hours and less time working on a project.
SSD (Solid State Drive)
This is where SSDs come in handy they can read/write data up to 17x faster than traditional HDDs. They can also launch heavy IDEs. My two-year-old SSD-based ultra-thin laptop can boot up Windows 7 cold in nine seconds, while my MacBook Air boots in about 9 seconds!
Disk Memory
For the few instances where you go crazy with amount of the apps you are launching, virtualBox and PhotoShop at the same time, RAM will just not be sufficient. Your computer will then go onto using your storage device as "extra RAM". God forbid if you still have a 5400 RPM because it will be painfully slow. On the other hand, if you have an SSD, the speed will not be much detrimental to your workflow.
Space
The problem is of course that Solid State Drives usually don't have the "1TB HDD" that old fashioned and slow HDD bricks have. As a web developer though you won't need that much space 256GB will be sufficient and is what most SSDs offer you today.
Durability
If want your storage drive to be reliable, and you can't even trust your back up storage, I'd recommend going for Samsung 850 Evo SSD drives. If not, whatever storage drive you have, be it an HDD or SSD, replace it every 2-3 years.
What about my backups?
You can use CarbonCopyCloner to clone my entire disk on an external drive every other day. There are similar software for windows machines you can use.
Display
Probably the most important component for a web developer besides an SSD (since RAM and CPU are usually decent on most modern laptops). Why?
This is the part of the machine you physically interact with more than any other part. You're staring at it the entire time you are using it.
Resolution
Virtually all of you will find it useful to have two panes open to each other: IDE on the left and Web Browser on the right. You might even want some space to copy/paste code into EverNote to try out on your IDE.
It's not too much about size to do all of this but resolution.
1600×900: should be the bare minimum anything less you will always feel you don't have enough space even if you have another display. I made that mistake once, luckily, it was possible to upgrade my display by replacing the LCD (I had a ThinkPad back then). However this is not always possible , in fact, almost never.
1900×800: This is the perfect resolution, you should seriously invest your budget (even if you have to sacrifice any other component) on it. You can always reduce the resolution but you can't raise it!
Size
Personally, my ideal screen is 15″ but I know a lot of people who like the portability of laptops with a 14″ screen or ven 13" screen. These are good sizes too. Anything less paired with small font sizes can strain your eyes.
Note that the small screen shouldn't affect the size of the font at all, you can always change them. It will just control how big your windows are.
I normally use the smallest text scaling option and side by side doesn't really cut it. I split my panes top and bottom. When really in need of a 2nd monitor and not using my desktop, I plug an iPad to serve as a 2nd monitor. This is something I was also doing on a 13″ MBP. I haven't tried a 15″ laptop as it is too bulky to carry everywher
IPS
A wide horizontal and vertical viewing angle is also a god send. Besides being a huge plus to your work flow, viewing angles may be important is if you are doing any pair programming or if you are showing off your work to potential clients/bosses.
This is only possible with IPS displays. Another huge plus of IPS display is their color accuracy
Glossy vs Matte
While glossy screens are fun to watch, matte anti-glare screens are much easier on the eyes especially over many hours.
ThunderCat Ports and Dual Monitors
Modern laptops now may come with "ThunderBolt" ports or Type-C USB ports. You can throw in two external monitors if your has one, this is because you can also use an HDMI to attach an external monitor.
Other factors
Gamut
Some might say that colour gamut isn't that important however if you are a front-end developer, it may be.
The day you have two screens connected and notice that blues and reds look purple and orange on your other screen, you'll be wishing you had a laptop with a better screen gamut to be sure which colour you are using.
Also when you know you are seeing the right colours, you can feel safe telling others that it's their screen that is displaying the colours wrong.
TouchScreen
Finally, the issue of touch screens. Touch interfaces may not be something to keep in mind now but they are definitely on the books for the future.
Tablets, smartphones — if you want to make sure your websites work with these, it is probably wise to get a laptop with touch screen if you can afford it already.
GPU
Dedicated graphics card are not necessary for pretty much any web developer, that is, unless you plan on developing video games.
Intel video built into the CPU chips "Intel HD" graphics will do just fine.
Keyboard
Typing on poor quality keyboard will slow down your work and bring your motivation down. If you are going to be typing code for 8-15 hours day you want your fingers to be happy!
Landing the best keyboards isn't easy but here are a few general guidelines (and recommended models):
MacBooks: They have the best keyboards on the market, enough said.
ThinkPads: There's nothing like working on the legendary keyboards found on these.
When you go the store type a page of text after doing this on a few laptops, you'll quickly realize they're not the same and you will unconciously pick the one that feels best , write down the model then and order one from the same manufacturer (with a more beefy configuration depending on your needs).
BackLit KeyBoard
Don't forget lighting for the keyboard.
Programmers often work until it's dark outside. A well lit keyboard can be less disturbing to those who are sleeping than having a bright light on.
Try typing on a perfectly flat keyboard with the lights off. It's a lot harder than you might think. Get a good overhead or back lighting for your keyboard if you do encounter these situations.
Trackpad
I would seriously recommend the switch over to a mouse. I've improved my workflow multifold. On the other hand, if you are just used to TrackPads, when you go to the store be sure to thoroughly test them out I mean you are going to be using this thing the entire day.
So don't just look at it, try it out. Is it responsive? Can you scroll with it? Is it multi-touch? Does it have mouse physical buttons that are not just part of the trackpad? Try dragging and dropping something. Try right clicking.
Wifi
AC Wireless Adapter
The internet is like a car: the faster the better. Being able to upload and download files in a flash just feels good. When you are searching for specific tips on how to do something on Google, speed is essential!
Remember that you'll be writing code and following instructions from documentations sometimes resorting to youtube tutotrials or reusing someone's code too.
If it is available in your part of the world, get it. Most laptops today have it anyways just make sure your does as well. Even my 55 year old neightbor has it.