The 5 Best Laptops with Fingerprint Readers in 2022
Why look for the best laptops with fingerprint readers ?
Only those of us with important or personal data understand how scary it feels to use laptops in public or just around friends and family.
Passwords do not offer the best protection because all it takes a little peak by anyone around you and you're done. This is much worse if they use a phone to record you typing your password.
Heck, they've got super small mini cameras now so if someone's hid one near you, you're done.
How about the ultimate catastrophe ?
Getting your laptop stolen and having your personal diary in it along with credit cards and all your passwords listed in the Chrome Browser.
Anyways, that's not the only reason to get a fingerprint reader though:
Are you sick of entering your password every morning to start up Windows?

Tired of having to type your password after not using your computer for a few minutes?

Tired of typing a gazillion passwords so you can log into different websites, forums and apps?
That's exactly why touch IDs and face ID recognition are so popular now in 2022.
External FingerPrint Scanners
You don't necessarily have to buy a new laptop that comes with a built-in fingerprint scanner though. You can add a fingerprint scanner visa USB. Basically the ones shown in this link. click here or in the image for more details.
Windows Hello
Once you buy the external scanner you have install Windows hello which is avialable in Windows 10 and Windows 11.
Full blown fingerprint scanners that sit on top of a surface (as the featured image) are not available through USB devices though, they can only buil

Where are the best laptops with fingerprint readers?
Luckily, since the first edition of this post, built-in fingerprint readers are no longer restricted to expensive , high end or business class laptops.
You can now find fingerprint scanners on a few laptops under 400$ though they're still super common on laptops above 600$ and nearly universal on business class laptops around 1000$.
Ultrabooks on the other hand seem to have discarded the fingerprint scanners. The ASUS ZenBook no longer has a built-in fingerprint scanner for example.
Keep in mind that not all laptops with a fingerprint scanner will have the best accuracy recognition, you still out of be careful when choosing a laptop with a fingerprint reader. Usually Lenovo and Dell laptops (under 400$) will have a pretty good sensor that will eliminate all accuracy recognition issues. For the rest of the brands you come across you probably need to read reviews carefully.
Top 5 Best Laptops with Fingerprint Reader
Lastly but not least, let us not forget that there's no point in getting a fingerprint reader if your laptop is going to struggle running the applications you want.
This is a big problem when you buy laptops under 400$, they will usually have low RAM & a slow CPU. If you have either of these two issues, you will NOT be able to run Windows 11 and even Windows 10 without lagging.
That means web browsing, MS Office and even video playback is not going to be pretty.
So what we'll do here is list FIRST those laptops that can handle basic applications as well as running Windows 10 / Windows 11 with zero lag and then introduce a few laptops with a little more CPU power for those into gaming and hardcore video/photo editing.
We'll start with the most budget friendly laptop with a fingerprint reader.
---
Cheap Laptop With FingerPrint Reader
Intel Core i3-1005G1 (Up to 3.4GHz)
4GB RAM DDR4
Intel UHD Graphics
128GB PCIe NVMe SSD
14" full HD IPS
4lbs
8 hours
Windows 10 S Mode (Upgradeable to Windows 10 Home)

The fingerprint reader is located on the top right corner as you can see on the picture
Fingerprint readers are not that common on laptops under 400$. The most budget friendly and popular laptop for example is the Acer Aspire 5 which costs around 350$ (10$ cheaper than the Lenovo Ideapad 3) but unfortunately it doesn't have a fingerprint reader unless you buy the 600$ model which has a core i7 CPU.
Anyways, the more you research fingerprint readers on laptops, the more you'll realize that there's simply no better idea than the Lenovo 3 Ideapad.
Hardware
Not only are you getting a fingerprint reader but also a full HD IPS screen which is also uncommon on budget laptops. This may not sound amazing to you now but if you've ever tried using a HD+ display on a laptop, you'll realize what a big difference this makes.
PCIe NVMe SSDs are the fastest storage devices now and they are so fast they will make your machine boot up in literally 5 seconds. They're universal on all laptops though so it's nothing to be surprised about.
What would've been nice is having 8GB RAM. That would be too much to ask though if you're only paying 350$.
Windows 10 S:
If you don't mind running Windows 10 in S Mode, then you don't need 8GB RAM. However, if you want to run the full version of Windows 10, you WILL need to upgrade this machine to 8GB RAM. If you don't, you will run into several issues when multitasking mostly lag. Doing the upgrade is cheap and easy, an additional RAM stick sells for 15-20 bucks.
If you rather have a laptop with 8GB RAM, then check out the next laptop.
---
Best ASUS Laptop with Fingerprint Reader

Intel Core i3-1115G4 (Up to 4.1GHz)
8GB RAM DDR4
Intel UHD
512GB PCIe NVMe SSD
13" full HD TN
2.5lb
7-8 hours
Windows 10 S Mode (Upgradeable to Windows 10 Home)

FingerPrint Scanner is located right on the trackpad as shown in the figure
Most laptops with 8 GB RAM are ridiculously more expensive (450-500$) and what's more they may not even have a fingerprint reader AND they have nothing much else to add (they don't have a better CPU or more storage).
The most reasonably priced laptop with a fingerprint reader and 8GB RAM (which is what you need to run Windows 11 or Windows 10) is this ASUS VivoBook though the price is not going to stay this low for too long (it usually sells for 450$).
Now you're spending 50 bucks more for this model over the Lenovo IdeaPad 3 but you're also getting the latest generation CPU AND Windows 11 .
You'll be hard pressed to find a better deal than the VivoBook this year. Again it's probably not going to be on stock when you read this. If that's the case, I recommend you take a look at the more expensive ASUS VivoBook shown in the link below:
---
Best Lightweight Laptop With FingerPrint Reader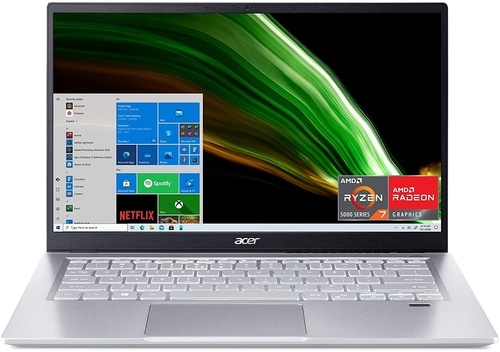 AMD Ryzen 7 5700 8 Cores ( 4.1GHz)
8GB RAM DDR4
AMD Radeon Graphics
512GB PCIe NVMe SSD
14" full HD IPS
2.65lb
10 hours
Windows 10 Home

Fingerprint scanner is located below the bottom right part of the keyboard
Once you step into 600-800$ territory, fingerprint scanners are very very common on 14 and 15" laptops.
The Acer Swift made it in our for two easons:
It packs the best hardware for the price (~600$). You get x2 amount of storage you'll find in this price range and one of the most powerful processors for everyday tasks. You can even throw some hardcore gaming and heavy duty video editing with it despite not having a dedicated graphics cards because the CPU is several times more powerful than Ryzen 3 or Core i3 CPUs.

It's the most lightweight and portable laptop in this price range as well. This is despite the fact that it's 14". It's just as light as the more premium ultrabooks (which cost around 800$).
This is the cheapest ultrabook you'll find with a fingerprint reader. The Dell XPS 13, HP Envy also have a fingerprint reader but they can cost as much as 1000$ if you decide to get their latest models
---
Best Lenovo Laptop with Fingerprint Reader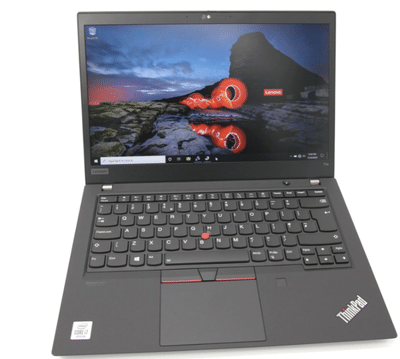 Intel Core i7-1165G7 4.7GHz 8 Cores
16GB RAM DDR4
Intel UHD Graphics
1TB PCIe NVMe SSD
14" full HD IPS
3.0lbs
~9 hours
Windows 11 Pro

Fingerprint scanner is located on the top right corner
We've gone through pretty much every budget laptop worth looking at.
So let us go over the more expensive and business class laptops for those with deep pockets.
Hardware
Now the biggest difference between these premium business class laptops is not just about hardware. Sure they have x4 times the amount of storage and have their RAM memory maxed out but those aren't really going to make a computer any faster for everyday tasks.
It's more about their form factor and overall build quality. These business class laptops should be thin and yet sturdy enough to last you several several years.
If this is the reason why you're spending this much money, I suggest you grab a ThinkPad because they're build like tanks. No laptop (other than MacBooks) will last you as much as the ThinkPads.
If you want your ThinkPad to be portable with a fingerprint reader then your only choice is Lenovo ThinkPad X-Carbon shown here. All the other thinkpads are much cheaper but they're extremely heavy and do not have a fingerprint reader either.
---
Best Mac Laptop with Fingerprint Reader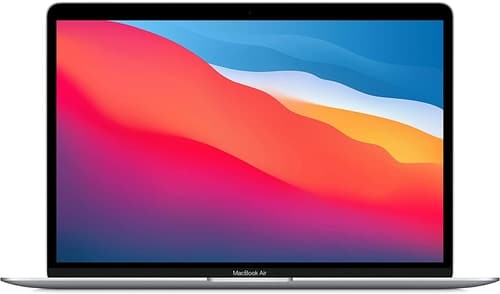 Apple M1 Chip
8GB RAM DDR4
Apple 8-core GPU
256-2TBGB Flash Storage SSD
13.3" Retina Resolution/True Color
2.7lb
15 hours
OSX Catalina (upgradeable to Monterey)

Touch ID is the key located at the top right corner
My favorite laptop with a FingerPrint Reader.
It's pointless to talk about how better the MacBooks are for everyday tasks and the usual applications. There are thousands of reviews online and if you've been a Mac guy all your life you know how they outclass Windows Laptops in almost every aspect.
FingerPrint Reader​
What you should know about the MacBooks is that the M1 MacBooks all have a fingerprint reader. That includes the MacBook Air and the MacBook Pros. If you can't afford the newest models then the older models also have a fingerprint reader. Pre-2017 models do not have fingerprint readers though.
The fingerprint reader all MacBooks are basically a replica of the touch ID found on their iphones so you bet they're very very accurate and work just as good as they do on their iPhones. You don't even have to install anything to get them up running, the software is natively installed and it's actually a big part of how the entire system works sort of like a smartphone. So yes, they're much better than the fingerprint sensors on Windows Laptops.