The 5 Best Laptops For PUBG 2022 (High/Ultra Settings) – Player's Unknown Battleground
I've been playing PUBG since COVID started (~2 years). Back then PUBG PC gave my rig lots of problems so I had to buy a gaming rig.

You've probably found this the hard way too and expected PUBG PC to run just as smooth as PUBG Mobile on that laptop you use for work.
The good news is…
If you know WHAT hardware IMPACTS PUBG performance and WHAT SETTINGS to adjust, you can get competitive and most importantly STABLE framerates (60-144fps) with budget gaming laptops.
And NO….
You don't necessarily have to set all graphics to very low. You just need to disable a few settings that are actually useless and doing other things too (turn off iGPUs/Dual Channel your RAM,etc) .You can read more about it here.
We'll talk about that as we go on but first let's talk about what the best laptop for PUBG should look like and the kind of specs you should be after.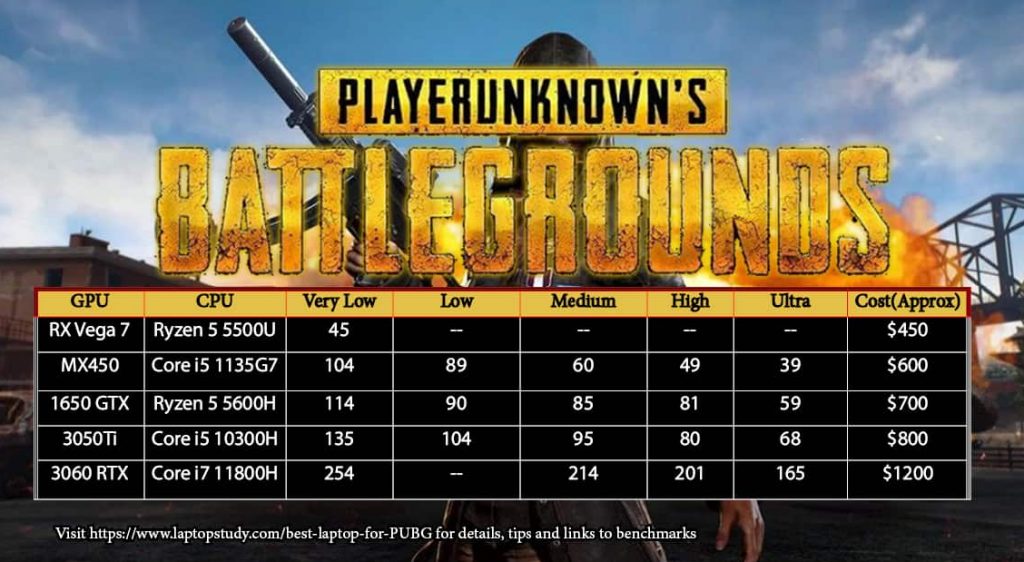 Best Laptop or PC Specs For PUBG
Now the following statements are based on benchmarks used on several laptops, some of them recorded on my youtube channel but most of them taken from PUBG forums, NVIDIA Forums, Reddit and other youtube channels.

I've listed every benchmark I've found useful on the last section of this post so you can confirm what's being said here:

Remember: the goal here is to have stable and consistent framerates throughout a match not necessarily super high framerates

Any frame dips in the same area means there's something wrong(lobbie,open field,outskirts) and you should either lower settings or do a few tweaks as outlined in the other post.

GPU
This game is more GPU(graphics card) demanding than anything I've seen. The official site lists a 2GB vRAM GPU as the bare minimum and you should be after that because integrated GPUs will barely make it to 40fps on very low settings.

MX350, MX450, 1050GTX(2GB vRAM)

These are entry levels GPUs yet the game can run on Medium settings w/ ~55fps.

1050Ti, 1650GTX

Both easily output +60fps on High Settings and the latter, through a few tweaks, might output ~60 on Ultra.

1060,1660Ti,3050Ti,2060RTX

These four are equally powerful. However, the latter two will have better CPUs, so they can output ~90+fps on Ultra.

3060RTX

115-140fps on Ultra. Depending on thermals and outtage (85W vs 135W).

3070RTX,3080RTX,3070Ti,3080Ti

I'd say these are only useful for 1440p gaming (+110fps) and if you want to consistently play at FHD on ultra w/ 180fps.

**Due to laptops GPUs having different CPUs & different thermals, benchmarks will be different.


CPU
Picking the best CPU will push those framerates even higher. .

According to gaming benchmarks:

Ex: Core i5 9/10300H<Ryzen 5 4600H<Core i5 11300H<Ryzen 5 5600H<Ryzen 7 4800H<Core i7 113755H<Ryzen 7 5800H<Core i7 11800H*

What makes a CPU better for gaming is clock speed performance, not necessarily #cores.

*Check the last section to see the full list of CPUs on laptops and their relative performance

RAM
You want to have "extra headroom" to make sure nothing in the background is causing frame dips.

8GB VS 16GB: it depends whether or not you have a lot of stuff running in the background. Otherwise, it wil make almost no difference.
What WILL make a big difference is speed. You can make RAM faster by making it "dual channeled" & choosing the latest ~4000Mhz.

All gaming laptops have at least 8GB RAM and they're all upgradeable to at least 16GB

Storage
SSDs are standard, HDDs are obsolete. If you end up with a combination of the two, install the game on the SSD. They won't make framerates skyrocket but they're fast for everything else so they will help framerates stay a bit more stable.

Display
A gaming laptop will automatically have a FHD display w/ an IPS panel. However only a few will have refresh rates above 60Hz…

120 Hz display: if you're paying anything over 750$, you must demand a 120Hz display. Not going to bump up your gaming but PUBG will look much smoother.
144Hz-240Hz: consider the fact that you won't go past 150fps at ultra settings in this game.
Top 5 Best Laptops for PUBG
When you shop for a laptop with the hardware above especially dedicated GPU, you have to make sure temperatures are stable and the cooling system is efficient otherwise you're not going to hit those framerates for long periods of time.
Also when shopping for laptops keep in mind that it is far more advantageous for you to have moderate stable framerates at medium settings rather than having unstable high framerates at high settings. Framerates will go back and forth depending on where you are in the map but although different they should be stable regardless of where you are in the map. (Higher in lobbies, lower in open areas).
---
Cheapest Gaming Laptop for PUBG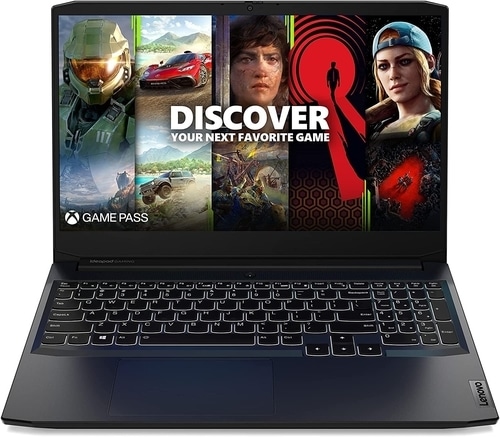 Intel Core i5 10300H
8GB RAM
3050Ti RTX 4GB vRAM
512GB PCIe SSD
15" FHD IPS 120Hz
4.96lbs
4 hours

As of April 2022, 3050Ti laptops will give you the best bang for your buck. You're not going to get better hardware for 770$ than what's shown on this model.
CPU
Now because PUBG is more of a GPU game than it is a CPU game, the CPU doesn't play such a big role on hitting high framerates at high/ultra settings so despite the fact that this model does not have a Core i7/Ryzen 7 , the 3050Ti will make ultra settings playable with the framerates shown below:
Choosing a 3050Ti laptop with Core i5/Ryzen 5 will then save you A LOT of money if you just want 60fps on Ultra. Most 3050Ti will have Ryzen 7 or Core i7 CPUs which add 200-300$ to the total price, whether those 20 framerates are important is on you but a nice stable 60fps should be enough to be competitive. Though some may claim 144fps but only 2k-3k laptops will give you that much framerates on Ultra settings. You can achieve this by lowering settings to Medium.
AMD Ryzen 5 5600H: BenchMarks
I don't currently have benchmarks of this model but we've ordered this laptop so they should be coming in the next few weeks. However, you can easily double check that the Ryzen 5 5600H here will perform as shown in the next video:
If you want the same exact model of the video, you can find on Amazon but the hardware shown on this lenovo gaming idepad 3 is exactly the same and yet this laptop is 100-200$ cheaper.
The settings I recommend for a 3050Ti laptop ?
To play Competitively: High.
To have Fun: Ultra.
If you've got a super important match I would notch down several settings to medium while keeping most of these high though as outlined in this post.
---
Budget Gaming Laptop For PUBG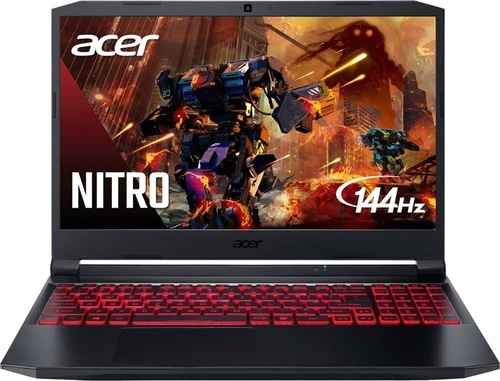 Core i5 10300H
8GB DDR4
3050TI GTX 4GB vRAM
256GB PCIe NVMe SSD
15.6" 144Hz Full HD IPS

4.96lbs
5 hours*

This is a great alternative to the AMD Ryzen 5 5600H+3050Ti, if it runs out of stock.
The Core i5 10300H is slightly weaker than the AMD Ryzen 5 5600H.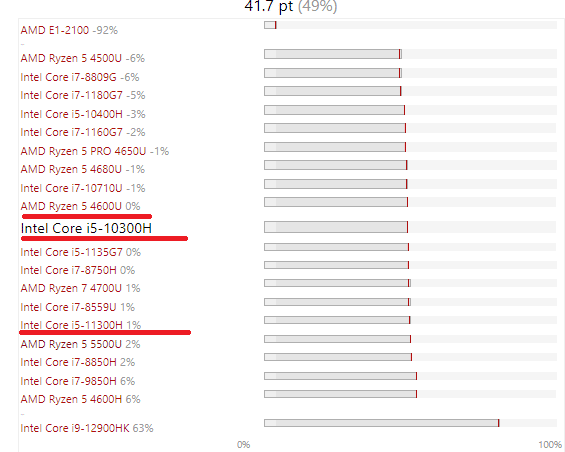 So expect 5 fps less at the MOST.
Those benchmarks shown in the picture are from notebookcheck. They use a combination of all types of benchmarks to give you a rough idea where a CPU stands. Not super accurate for gaming benchmarks but they're still a good estimate.
If you get your RAM dual channeled you should get the exact same framerates of Core i5 11300H/Ryzen 5 5600H 3050Ti laptops.
144Hz Display:
This is a huge bonus that only Acer Nitros are coming with right now. It's not going to bump up your gaming but it will surely make anything look much smoother, not necessarily better than a 120Hz though, the difference is minimal.
---
The Best Gaming Laptop For PUBG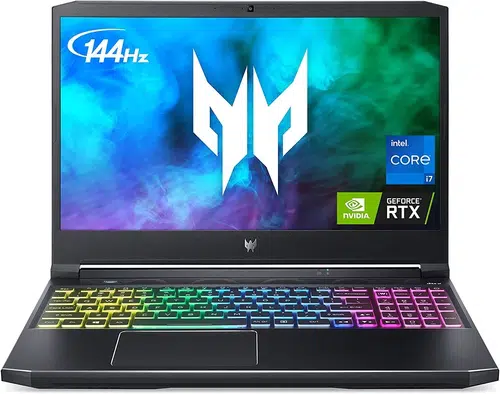 Core i7-11800H
16GB RAM DDR4
GTX 3060RTX
512GB PCIe NVMe SSD (2x PCie Nvme slots free)
15" IPS full HD 144Hz
5.07lbs
4 hours

I've said several times the biggest factor in stable framerates at higher settings is the dedicated GPU.
The performance of dedicated GPU not only depends on what "kind of GPU" you get: 3060RTX, 3050Ti, but also the power supply.
3060RTX: PUBG Performance vs TGP
The 3060RTX maximum power supply (TGP) is about 130W. It will obviously perform BETTER with this much power but that also means manufacturers have to implement an extremely well designed cooling system. This is increasingly more and more difficult with 15" laptops and much easier to do on 17" laptops. This also increases the price of a laptop significantly.
The Acer Predator has been the most popular laptop with a mid-range dGPU like the 2060RTX, 1660Ti & 3060RTX for having one of the best cooling systems AND also the best bang for your buck. The former is actually far more important if you're investing this much money because it will make sure your laptop will perform almost as good as advertised AND it will also make sure it'll last you for several years.
As you can see on the table above (benchmarks are linked on the last column), the difference between 3060(130W) and 3060(105W- Acer Predator) isn't that abysmal. It becomes more of a problem with 85W 3060RTX GPUs. Regardless all of these should let you hit stable and super high +100 framerates at the highest settings and the game is actually playable on these settings because they're stable all over the map as shown in the video.
3060RTX vs High End GPUs: 3070RTX & 3080RTX
This is as much computer power I would get for PUBG unless I'd want to play the game at QHD/4k resolutions but those resolutions are extremely hardware demanding even for the high end GPUs like the 3070RTX & 3080RTX, it's not really feasible for competitive gaming.
I don't recommend investing more money on a gaming laptop unless you want to play more hardware demanding games like CoD for which a 3070/3080RTX are super handy just for FHD resolutions.
---
Best Laptop For PUBG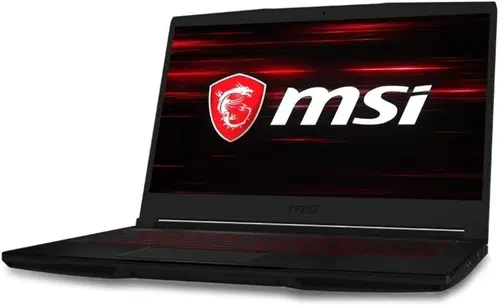 Core i5 10200H
8GB DDR4
GeForce GTX 1650 4GB vRAM
256GB PCIe NVMe SSD
15.6" 120Hz Full HD IPS

5.07lb
7 hours

Having gone over high end laptops for this game. Let us go through more cheaper rmodels now.
1650GTX laptops
The performance of a 3050Ti is 2x better than the 1650GTX meaning you will get about 2x as much framerates with a laptop that has a 3050Ti. If you check my benchmakrs, this is actually true especially at ultra settings.
This is why 1650GTX laptops are a lot cheaper than 3050Ti laptops.
However as of April 2022, some 3050Ti laptops are being sold at the same price of the best and most expensive 1650GTX laptops.
So if those 3050Ti laptop deals are out of stock or if you're about 50-100$ short on cash, then you have to consider 1650GTX laptops before resorting to anything else.
I would pay no more than 720$ for a 1650GTX laptop especially if those 3050Ti laptops are still on stock, if they are out of stock, it's okay to pay 750$ or so becauase those two 3050Ti laptops are actually a very rare occurrence.
PUBG performance: 1650GTX
There are literally dozens of benchmarks available on youtube to check if you browse around for 1650GTX laptops.
Virtually all of them and even the best ones will cap at 40fps on Ultra and 60fps on High Settings.
You can squeeze more framerates by making RAM dual-channeled but you'll still be limited to medium settings with some high settings on to have stable framerates and play competitively.
---
Cheap Laptop for PUBG
AMD Ryzen 5 5500U
8GB RAM
AMD Radeon 7
256GB SSD NVMe PCIe
14" FHD
3.11 lbs

8 hours

PUBG is virtually unplayable on laptops with integrated GPUs (no dedicated GPUs) and you will get about 40 on low settings on most laptops below 550$ dollars. It would still be okay if those framerates were stable but even with RAM upgrades and a few tricks and tips from that post I shared before, you will not be able to play competitively but you can still have fun with the game though as shown below.
Now if you up your budget to 600$, you can get one of those laptops with the bare bone minimum dedicated GPUs listed on the official site (2GB vRAM) which should let you run the game with at least 55 fps on Medium settings. If you follow the procedure that guide outlines, you will surely gain at least 10 more framerates although barely still making it to the 60fps on Medium requirement everyone claims to be the minimum for competitive gaming.
---
If you can't afford any of the models we just went over. Check out the
best gaming laptops under 700$
post and look for laptops with MX350, MX450 dGPUs which can output +60fps on High settings as shown in the last section
Laptop Requirements For PUBG PC (Ultimate Guide)
This section is not about PUBG Mobile. PUBG Mobile can run on pretty much any modern budget laptop over 300$ as described above.
This section will only talk about PUBG PC , the version that was launched in Jan 12, 2022. The Lite version has been discontinued last year too.
The laptop requirements for PUBG PC are entirely different from PUBG Mobile, it's hard to tell the difference in graphics because you've got a smaller screen on a phone but once you zoom in those graphics into a bigger screen, you'll notice how graphically poor the mobile version looks compared to the PC version which is way more detailed.
If you're expecting to spend 350$ or less to play the game, I'm sorry to tell you but that just won't work out even at low settings. In fact, if you check the official MINIMUM requirements….
Offical Minimum Requirements
Processor: Intel Core i5-4430 / AMD FX-6300.
Memory: 8 GB RAM.
Graphics: NVIDIA GeForce GTX 960 2GB / AMD Radeon R7 370 2GB.
You'll quickly realize that you're going to need a dedicated GPU and that should at least cost you ~600$.
The game is more or less playable on good integrated GPUs though (RX Vega 7/Intel Xe) and those are found on laptops $480, so expect to spend at least that much and that will only get you ~45fps at super low settings (still decent though).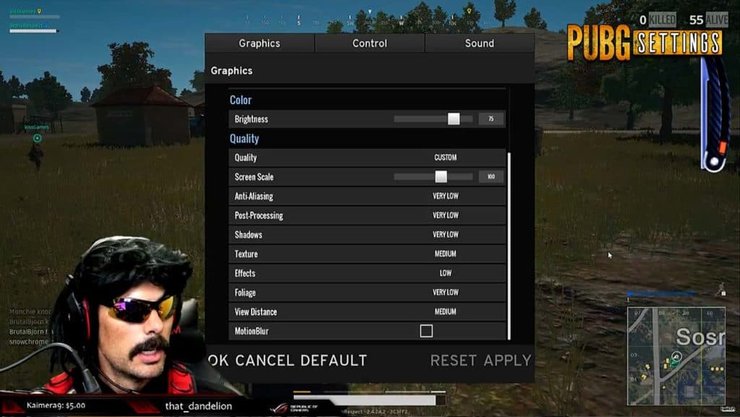 If you up the settings to anything higher, the game will become unplayable. You'll need at least $600get those 50ish fps at HIGH settings as I'll show you soon.
Now if you get something like the recommended requirements…
Recommended Minimum Requirements
CPU: 3.5+ Processor (preferably 4GHz)
RAM: 16 GB RAM DDR4
GPU: NVIDIA GeForce GTX 1060 3GB-6GB / AMD Radeon RX 560X 4GB
This should let you play the game at ultra w/ 40fps (4GB vRAM GPU) and higher depending on the GPU's clock speed (aka how recent it is).
Anyways, let's get down to benchmarks and details.
GPU
If you've got a budget under 600$, there's no other choice but to settle for an integrated GPU.
Integrated HD
Luckily, despite the fact that the website does not recommended an integrated GPU. Today's integrated GPU have come a long long way and yes you can play the game with some integrated GPUs:
RX Vega 7, RX Vega 8, Intel Xe, Intel UHD
I would only consider these four and they have to be paired witih either Ryzen 5/7 or Core i5/Core i7 CPUs. Otherwise, the integrated GPUs will not be able to "unlock" their full potential so to speak.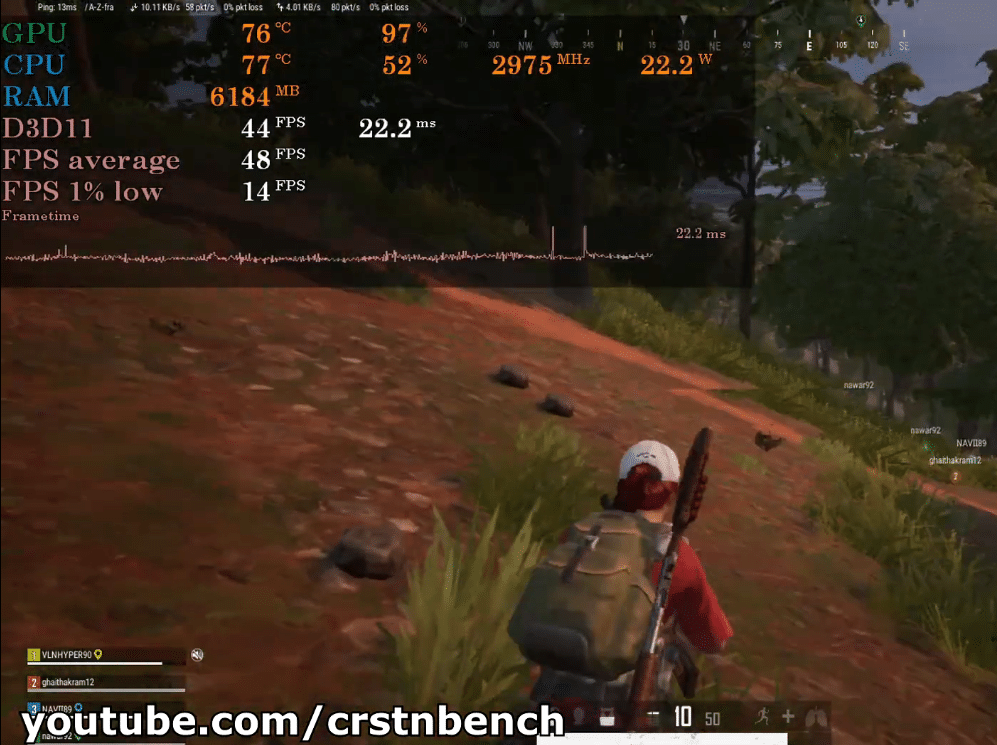 The reason why these iGPUs are able to run the game as shown above is the fact that several of these have almost the same performance as low-end dedicated GPUs will go over soon.
Another thing you gotta make sure to "unlock" their full power is to make sure you get MORE than 8GB, this will make sure the system has extra RAM that the iGPUs can make use of. Otherwise, they will be taking RAM off your CPU making the whole system run slower (when gaming).
Dedicated GPUs
The game is really all about the dedicated GPU. RAM and even CPU do not play nearly as big of a role.

| | | | |
| --- | --- | --- | --- |
| NVIDIA | Cores | vRAM | Speed |
| MX150 | 384 | 2GB | 1532 |
| MX250 | 384 | 2GB | 1582 |
| MX230 | 256 | 2GB | 1519 |
| MX350 | 640 | 2GB | 1354 |
| MX450 | 896 | 2GB | 1580 |
| 1050 | 640 | 2GB-4GB | 1493 |
| 1050Ti | 768 | 4GB | 1620 |
| 1650 | 1024 | 4GB | 1560 |
| 1060 | 1280 | 6GB | 1670 |
| 1660 Ti | 1536 | 6GB | 1590 |
| 1070 | 2048 | 8GB | 1645 |
| 3050Ti | 2560 | 4GB | 1485 |
| 2060 | 1,920 | 6GB | 1680 |
| 1080 | 2560 | 8GB | 1733 |
| 2070 | 2304 | 8GB | 1620 |
| 2080 | 2944 | 8GB | 1710 |
| 3060 | 3584 | 8GB | 1780 |
| 3070 | 5120 | 8GB | 1620 |
| 3080 | 6144 | 16GB | 1710 |
| 3070Ti | 5888 | 8GB | 1485 |
| 3080Ti | 7424 | 16GB | 1590 |
| | | | | |
| --- | --- | --- | --- | --- |
| AMD Radeon | Shaders | vRAM | Speed | Equivalent(Gaming) |
| RX 555X | 768 | 2GB | 855 | MX150/MX250 |
| RX 540 | 512 | 4GB | 1219 | ~950M |
| RX 550 | 640 | 4GB | 1287 – 1476 | +950M |
| RX 560X | 1024 | 4GB | 1172 – 1275 | 1050GTX |
| RX 580 | 1536 | 6GB | 1077 | ~1060GTX |
| RX 5500M | 1408 | 8GB | 1327-1645 | ~1660Ti |
| RX 6700S | 2304 | 10GB | 1890 | ~3060RTX (Low power) |
| RX 6800S | 2048 | 12GB | 1975 | ~3070RTX(Low power) |
Dedicated GPUs: BenchMarks
All following benchmarks (fps measurements) are taken not inside buildings nor in open fields but around (outside) buildings where most of the shootings go on. Also note that the game doesn't seem to care about how much "vRAM" a dedicated GPU has, it's more about "speed" and "shaders" or "cores". This is why I paired up GPUs with the same color despite having different amounts of vRAM, they will have the similar performance for the aforementioned reasons.
Entry dGPUs: MX150-MX350

| | | | | | | | |
| --- | --- | --- | --- | --- | --- | --- | --- |
| GPU | CPU | V. Low | Low | Med | High | Ultra | Link |
| MX350 | Ryzen 7 4700U | 55 | | 45 | 40 | 14 | Laptopmedia |
| MX350 | Ryzen 5 4500U | | | 47 | 42 | 32 | |
| MX350 | Core i5 105G01 | 43 | | | | | Laptopmedia |
| MX350 | Core i5 10210U | 62 | 52 | 39 | 31 | | iSpartan |
It seems kind of pointless to list MX150, MX250 benchmarks because laptops as of 2022 do not have these GPUs, they will have at least a MX350.
Another reason why they're not a good option (MX250,MX150) is because they only have the performance of current iGPUs which ironically might be cheaper than new MX250 laptops such as the Ryzen 5500U + Radeon Vega 7 X taken on the screenshot above.
MX350: This is the absolute minimum dGPU to buy. If you check some benchmarks on youtube, it clearly performs a lot better than MX250/MX150 or Radeon Vega 7/8 laptops. Obviously you'll still be limited to V.Low & Low settings ~60fps.
You can get away with Textures/View Distance to Medium before you start stepping into 40fps territory which is not good for competitive gaming.
Entry dGPUs : MX450-1050GTX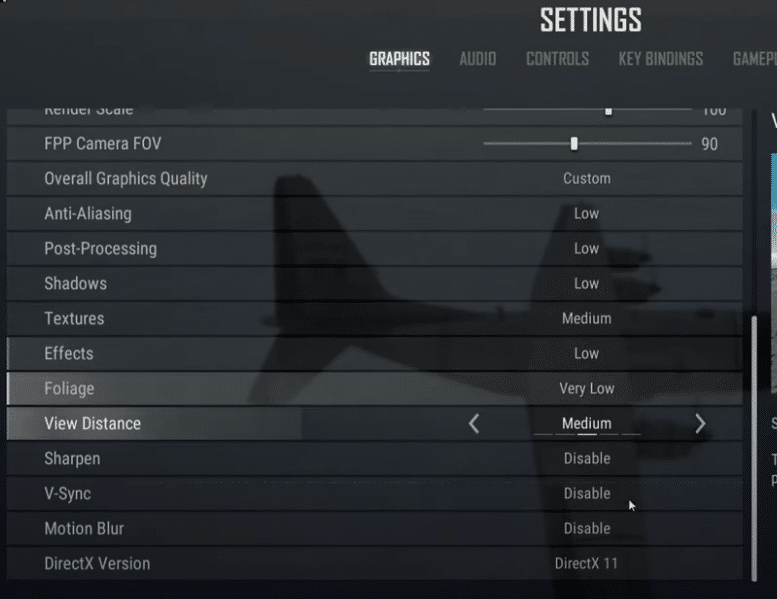 | | | | | | | | |
| --- | --- | --- | --- | --- | --- | --- | --- |
| GPU | CPU | V.Low | Low | Med | High | Ultra | Link |
| MX450 | Core i7-1165G7 | 104 | | 66 | 54 | — | Laptopmedia |
| MX450 | i5-11357G7 | — | 62(custom)* | — | — | — | Omega |
| MX450 | R7 5800U | 60 | — | — | — | — | Carry Bjorn |
| 1050GTX | Core i5-8300H | 78 | | 52 | 49 | 39 | Laptopmedia |
| 1050GTX | Intel i5 7300h | 80 | | | | | HubWood |
The newest MX GPU: MX450 is actually quite a beast for an entry level dGPU.
Most laptops regardless of what CPU they come with will let you play the game at least on low settings with competitive framerates with several medium settings as shown in the pic above.
The best ones will easily support +60fps on all settings to medium but they're unnecessarily expensive (because they have a much faster CPU).
The R7 5800+MX450 isn't a good benchmark, I don't know what the guy did but it should perform equally good if not better than the MX450+Core i7 1165G7.
Do note that MX450 clearly outperform virtually every 1050GTX laptop for two reasons: MX450 is BETTER than the 1050GTX though only slightly so AND MX450 laptops will have more recent and therefore faster CPUs on-board.
Mainstream dGPUs: 1650GTX and the like
| | | | | | | | |
| --- | --- | --- | --- | --- | --- | --- | --- |
| GPU | CPU | V.Low | Low | Med | High | Ultra | Link |
| 1050Ti | | 95 | — | 68 | 66 | 55 | Laptopmedia |
| 1060GTX | | | | 70 | 66 | 59 | |
| 1650GTX | i5 10300H | 114 | 92 | 75 | 52 | 35 | shadowseven |
| 1650GTX | R5 4600H | — | 90 | 85 | 81 | 60 | Epislon prime |
| 1650GTX | i7 9750H | 110 | — | 91 | — | 64 | Laptopmedia |
| 1650GTX | i5 10300H | 91 | — | — | — | 56 | Noteb |
| 1650GTX | R7 4800HS | 113 | — | — | — | 65 | noteb |
These three GPUs will assure you can play the game competitively at least on Medium settings and possibly on High settings w/ +60fps and maybe even ultra settings just slightly below 60 fps.
Now here's where you want to be super cautious because CPUs seem to play a big role with these three GPUs.
The 1650GTX seems to perform way better not just on PUBG but on most games with a Ryzen 5 4600H/5600H over any Intel Core i5 CPU. These are the ones that will let you play the game on 60 fps Ultra settings and approach 80fps on High settings.
The addition of a MUX Switch or deactivating the iGPU will also let you squeeze a LOT more framerates on High settings. It's not something you have control over but rather something you will have to ask a manufacturer or check benchmarks on youtube.
Mid-range dGPUs: 1660Ti, 3050Ti, 2060RTX
These three mid-range GPUs can be found with all sorts of different CPUs so it's hard to tell which of these dGPUs has better performance for the game.
This is why it's helpful to take them with CPUs of similar performance as shown in the table:
The 3050Ti is by no means faster or better than the 2060RTX/1660Ti. The only reason it outperforms both in some cases is because 3050Ti laptops are usually paired with better and more recent CPUs.

The 2060RTX is substantially better than the 3050Ti and you can see this by comparing the 2060RTX + 9300H with a 3050Ti+10400H

The 1660Ti does not perform well on the benchmark outline above due to unknown reasons (probably a max-Q version) but it should perform just as good as the 3050Ti , if not slightly better, as long as you get a full blown 1660Ti.
With that info at hand, you could save yourself a few hundreds bucks if you find 2060RTX/1660Ti laptops cheaper than 3050Ti laptops. That seems very unlikely as of 2022, 3050Ti laptop prices have plummeted.
Note: all of these mid-range GPUs will give you no issues at any settings whatsoever.
Mid-range dGPUs: 3060RTX
Laptops with these GPUs will give you the best bang for your buck. I don't think you need the high-end 3070RTX, 3080RTX or any of the newest variants (Ti) to play competitively at ultra. However, these are super tricky to buy because they will have different "TGP" in layman term's power supplies. Even the low-power 3060RTX/2070RTX will outperform any other mid-range GPU like the 3050Ti,2060RTX though. But if you get a high-powerered 3060RTX like the 130W version shown in the table will pretty much get you close to 3070RTX/3080RTX laptop performance.
High-end dGPUs: 3070,3080RTX and variants
| | | | | | | | |
| --- | --- | --- | --- | --- | --- | --- | --- |
| GPU | CPU | V.Low | Low | Med | High | Ultra | Link |
| 3070/1440p | R7 5800HS | | | | | 110 | Modiga |
| 3080/1080p | i7 10750H | | | | | 185 | Laptopmedia |
There are literally hundreds of benchmarks of laptops with high end dGPUs. Virtually all of them will get you +140 fps on Ultra settings, which is the kind of framerates the best players use for big tournaments. For the average gamer , they're only useful for 1440p/4k gaming though. I don't think it's very productive to talk about these any further, they have way too much power for just PUBG.
As you've seen on the benchmarks above, CPU obviously play a big role too. Obviously, not as much as dedicated GPUs, but they still make a difference on framerates ESPECIALLY on mid-range dedicated GPUs like the 3050Ti.
Clock Speed vs Cores
It's more about "clock speed performance" rather than # Cores though. Gaming has always been a single threaded task and always will be.
What this means is that all things being equal the laptop or desktop with the best clock speed performance will perform better.
You can tell which one has better clock speed by looking at the "Turbo" speed on CPUs:

| | | | |
| --- | --- | --- | --- |
| CPU | Base | Turbo | Cores |
| i5 8300H | 2.3 | 4 | 4 |
| i5 9300H | 2.4 | 4.1 | 4 |
| i5-11300H | 2.6 | 4.4 | 4 |
| i5 11260H | 2.6 | 4.4 | 6 |
| i7 8750H | 2.2 | 4.1 | 6 |
| i7 9750H | 2.6 | 4.5 | 6 |
| i7 10750H | 2.6 | 5 | 4 |
| i7 11375H | 3 | 5 | 4 |
| i7 11370H | 3.3 | 4.8 | 4 |
| i7 10870H | 2.2 | 5.00 | 8 |
| i7 11800H | 2.3 | 4.6 | 8 |
| i9 10885H | 2.4 | 5.3 | 8 |
| i9 10890K | 2.4 | 5.3 | 8 |
| i9-11900H | 2.5 | 4.9 | 8 |
| i9-11980HK | 3.3 | 5 | 8 |
| | | | |
| | | | |
| | | | |
| | | | |
| --- | --- | --- | --- |
| CPU | Base | Turbo | Cores |
| Ryzen 9 6980HX | 3.3 | 5 | 8 |
| | 3.3 | | 8 |
| Ryzen 7 6800HS | 3.2 | 4.7 | 8 |
| Ryzen 9 5900HX | 3.3 | 4.6 | 8 |
| Ryzen 9 4800HS | 2.2 | 4.4 | 8 |
| Ryzen 7 5800H | 3.3 | 4.4 | 8 |
| Ryzen 7 4800H | 2.9 | 4.2 | 8 |
| Ryzen 7 3750H | 2.3 | 4.0 | 6 |
| Ryzen 55600H | 3.3 | 4.2 | 6 |
| Ryzen 5 4600H | 3.0 | 4.0 | 6 |
| Ryzen 5 3550H | 2.1 | 3.7 | 4 |
AMD vs Intel
This doesn't work so well when you compare CPUs from different brands. If you take the Core i5 11400H and the AMD Ryzen 5 5600H, you'd think the former will perform better because of higher "advertised" clock frequencies but in fact, they both perform equally well despite the latter having less "clock speed".
It's always better to rely on single benchmarks rather than numbers. I've written a separate post about the individual performance of CPUs but I've labeled those CPUs with similar performance with the same color. They should differ in no more than 10fps all things being equal.
8GB RAM vs 16GB RAM
It seems RAM make little difference for this game. As long as you don't have anything running in the background, you should be able to have steady framerates. What does make a difference however is having faster RAM.
Speed: DDR4 vs DDR5
Most laptops still have DDR4 despite the fact that DDR5 has been out for half a year now. If you read this by mid-2022 be sure your laptop supports DDR5 , DDR4(4200Mhz) already makes a huge difference as opposed to DDR3 (3000Mhz) ~10fps so you can imagine how much extra framerates will get you DDR5
Dual Channel
You can squeeze a bit more fps (5fps). Every bit helps! But most importantly enhance stability by making it dual channeled. I have another post on this. But basically you need to install two RAM sticks Another thing to make sure is that RAM is "dual-channeled". In other words, if you have 8GB, they better be 2 sticks of the same size and maybe model. Ex: 8GB = 2x4GB DDR4 or 16GB=2x8GB DDR4. This will increase the efficiency of your CPU.
Integrated GPUs: +8GB ~12GB / 16GB
Lastly, let me reiterate that if you're playing PUBG on integrated GPUs. You must go beyond 8GB RAM if you want to unlock your iGPU's full potential, otherwise, it'll take RAM your CPU is using making the CPU's performance go down significantly and thus your framerates too.
Storage

Virtually all laptops have now SSDs which are the fastest storage drives. It doesn't make any difference in framertes with PUBG but it's always better to have it installed on the SSD Drive (in case you got an additional HDD) because the game will launch faster.
PCIe NVMe SSD vs SATA III SSD
I know a lot of you are going to buy an extra SATA III SSD because most gaming laptops just don't have enough space to install more than a few games. If you do, you can install the game on either drive, games don't care about what drive you use.
Display
QHD/UHD (2k/4k resolutions)
These are not necessary for competitive gaming, FHD laptops are fine and they're even used in competitions. Most laptops have it.
However, if you're spending +1500$ on a 3070/3080RTX you have to demand one of these displays because that much hardware is only useful to run the game at these resolutions.
60Hz vs 120Hz vs 144Hz
The truth is, 120Hz and 144Hz are used on tournaments but they aren't necessary to kick ass. They're a nice addition sure but they won't really bump up your gaming.
If you have to buy a high refresh rate display, either the 120Hz or 144Hz will be fine, the difference between these two is minimal to none.
FAQ

Q: What is the best laptop for PUBG mobile emulator?
PUBG mobile is much less hardware demanding than PUBG PC so you can play it on MOST laptop no problems as long as that laptop can support the full version of Windows 10 Home or Windows 11 Pro, not Windows S mode or anything like that.
That discards all laptops under 350$ because:
They only have 4GB RAM and Windows takes 3.5GB.

They have celeron/pentium CPUs which make Windows run slow
What you want are laptops with at least a Core i3/Ryzen 3 CPU and make sure to up that RAM to 8GB if it doesn't come with that much already (Most budget laptops 350-400$ will only have 4GB).

The upgrade will cost you about 15$ bucks.
Q: What is the best budget laptop for PUBG mobile ?
If you look at the table the best processors are the Ryzen 3 5300U / Core i3 1115G4 and out of these two the Acer Aspire 5 is far cheaper. Virtually all laptops with a Core i3/Ryzen 3 (recent generations) will play PUBG mobile no problems one you up the RAM 8GB.
Game mechanics will actually be more affected by sensitivity and what emulator you use. The best android OS for PUBG Mobile I found is Gameloop 7.1
Q: Can you play PUBG on a Mac ?
Yes but you'll either have to use "BootCamp" to run Windows and install PUBG on that partition (BootCamp will create two partitions – divide the hard drive in two sections).

Or you can use GeForce Now for Mac when you sign up for a free NVIDIA Account, which is basically running the game on the cloud (on a server), this needs a very good internet connection though.
Update: PUBG has been taken out of the GeForce Now.
You'll basically have to use BootCamp to install Windows on a Mac. Now not every MacBook will run the game properly. Though a mac desktop or even the mac mini will run it well.
If you're buying a MacBook, only the:
MacBook Pro 13", 16" from 2017 onwards will run the game decently. The 16" MacBook Pros will run the game at high settings.

MacBook Air from 2019 onwardsw including the MacBook M1 will also run the game at least on low settings, the latter will run the game at medium.
Comments?
If you have any comments, suggestions, questions or recommendations on how to find the best laptop for PUBG . Please leave a comment.
Author Profile
I am physicist and electrical engineer. My knowledge in computer software and hardware stems for my years spent doing research in optics and photonics devices and running simulations through various programming languages. My goal was to work for the quantum computing research team at IBM but Im now working with Astrophysical Simulations through Python. Most of the science related posts are written by me, the rest have different authors but I edited the final versions to fit the site's format.