The 5 Best Laptops For PUBG 2021 (High FPS at High Settings) – Player's Unknown Battleground
Let's skip the intro and praises for Player's Unknown Battleground and get to the point:
Hardware wise, playing PUBG on a PC is completely different than playing it on a mobile phone.
If you are coming from the mobile version, it may seem the best laptop for PUBG will be pretty much anything bigger than a phone.
That's actually not true at all.
If you try to install PUBG on that old PC rig you got from craiglist, you'll quickly realize that playing PUBG on your phone wasn't that bad at all.
Now I'm sure you've gone to the official site and checked that your 2005 PC exceeds the minimum requirements….
But…
Software developers always list the bare minimum for the game to just "launch" and not for you to "play it". Think about it, they want you to buy the game, that's all they care about!
Recommended Laptop Specs For PUBG
Long story short, spend a few minutes doing research please.
At least read this section before you shoot yourself in the foot when trying to find the best laptop for PUBG on your own. More details and explanations (in case you are confused with this summary) are at the end "How to Buy the best laptop for PUBG".
PUBG Laptop Requirements
Now, me and my friends have played the game on several different rigs and whenever newcomers ask us what specs the best laptop for PUBG should have, we tell 'em the following:
CPU
We are in the 9th and 10th generation now so get something like a Core i5 8300H/9300H/AMD Ryzen 5 3550H or even better AMD Ryzen 7 3750H/Core i7 8750H/9750H, for laptops.
For desktops something with a +4GHz processor should be good enough.
TL,DR: Get the highest clock frequency you can afford. Period.
GPU
The website lists a 2GB vRAM GPU as the minimum. That's only going to be useful to play it with all settings disabled. If you want higher settings, get a dGPU with 4-6GB of vRAM:
Best (in order of power): AMD RX 540/550/560X,NVIDIA 1050Ti,NVIDIA GTX 1650,AMD Radeon RX 580,1060,1660Ti, Radeon RX 5500M,1070,2060RTX,1080,2070RTX,2080RTX

OKAY with all settings OFF: MX150, 940MX, 940M, 1050, MX250, AMD Radeon RX 555X.
TL,DR: Its important that the card has 4GB or higher VRAM as higher settings will chew up VRAM.
RAM
8GB RAM was yesterday's standard. 16GB is today's standard but you'll be fine with 8GB too. Just make sure your RAM stick has the 4 letters "DDR4".
8GB is fine. 16GB is nice but not necessary..
SSD
SSDs are common these days. They won't make your FPS rates go any higher but it will help you launch windows and the game in split seconds.
Display
There's a lot of jargon about displays. Just two things to say about the display:
Full HD IPS is what you want but this is universal in all gaming laptops and even non gaming laptops so don't worry about it.

Refresh rates: this is what to really watch out for. If you're getting an expensive laptop with a powerful GPU, make sure you also get a 120Hz or higher display. You don't really need to get picky with refresh rates higher than 120Hz because it is very unlikely you'll get framerates that high in this game.
TL,DR: Just make sure you don't get a 60HZ display with a powerful mid-range GPU that can output 120+FPS. (That just means you'll only be able to see 60FPS despite the gaming running at +100FPS, 60Hz sets the upper limit to what you can see). aka wasted money
I've just tried to summarize the specs here but if you want the full details just head over the last section
Top 5 Best Laptops for PUBG
Don't forget that just having a powerful GPU and the latest CPU won't make any machine " the best laptop for PUBG " neither does putting "gaming" on the name. You need to make sure it's also well designed so that both the CPU and GPU can run at the speeds they're advertised to.
This list has laptops for every budget, they will all run the game smoothly. So even if you're broke you should be able to find something out of it, although you'll have to lower down settings with the cheapest ones, there will be no excuse to bring yourself some chicken dinners.
We'll start with the most budget friend and ideal one to run the game at "decent" settings.

---
Cheapest Gaming Laptop for PUBG
Intel Core i5 9300H
8GB RAM
GeForce GTX 1650
256 PCIe SSD
15" FHD 1080p IPS
5.07lb
5 hours

Hands down currently the best budget gaming laptop for PUBG. This is the only laptop that will give you the best bang for your buck for any AAA game including PUBG.
While the 1650 isn't considered a "high end GPU" and the Core i5 9300H isn't a "Core i7", they're still both pretty close to the CPU/GPU Combo you'll find on high end gaming laptops especially the CPU because it's from the 9th generation and goes past 4GHz of clock speed.
Since the CPU is way too powerful already, what will bottleneck the game's ability to output high FPS with high settings will be the GPU, the 1650.
You can get a feel of what you can expect from this laptop in this video:
An average of 80 frames per second which goes down to 60 FPS during fights at HIGH settings!
If you set everything to low/medium you can expect this to go up by 50-100FPS.
The only real problem with this laptop is that it's too good of a deal and it will probably run out of stock by the time you get to read this(this post has been written in July 2020) , if so just come back to the site we'll try to post an update on this particular model or give you other options.
If you can't afford this one or it just run out of stock again or the price for some reason has increased beyond 750$. CHECK OUT these guys that have a 1650GTX:
The best cheap laptop for PUBG PC (the full version) right now are the ASUS VivoBook/HP Pavilion with the 1050GTX.
If these are out of stock, you should grab nothing less than a MX250/350 laptop like the ASUS ZenBook/Acer Aspire 5.(You'll have to set all settings off). If you are looking for the best laptop for PUBG lite, then these two should be okay. Despite the low end GPU, they'll let you play the game at high settings and with more FPS(the PUBG PC Lite version is A LOT less hardware demanding).
---
Best Budget Gaming Laptop for PUBG
Core i5-9300H
16GB DDR4
GTX 1660Ti
256GB SSD
15" full HD 120Hz IPS
4.10lb
4 hours

If you want the best possible gaming experience to play against other "competitive" players at higher settings you need at least a 1660Ti which is what I have.
A 1660Ti/9300H will get you:
Ultra settings: ~62FPS
High settings: ~ 80 FPS
Medium settings: ~ 85 FPS
Low Settings: ~100FPS
Very Low Settings: ~130FPS
When you specifically look for 1660 Ti Laptops or any high end gaming laptop, it already comes with the proper CPU and RAM size so you don't really need to double check specs.
What may not come with however , as we mentioned before (did we?), are high refresh rates. You can find hundreds of laptops with a 1660Ti and different(even more powerful CPUs) but it may not come with a 120Hz display , they will usually try to cut down prices by giving you a 60Hz display (this means it will only be able to show you 60FPS). Which doesn't make sense when the CPU/GPU combo are powerful enough to get you into the 100FPS for most games and some even on ULTRA.
This laptop is kind of rare though, not only is it cheap for the GPU/CPU Combo, but it also throws in a nice 120Hz display which is exactly what you need if you want to see every framerate when playing at low settings.
Try to find another one with the same specs/money ratio, you probably won't.
---
Best Laptop For PUBG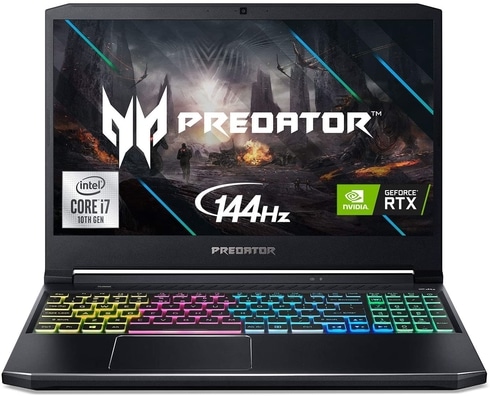 Core i7-10750H
16GB DDR4
NVIDIA RTX 2060
512GB PCIe NVMe
15" full HD 120Hz IPS
4.10lb
4 hours

One big next step from a 1660Ti Laptop is getting any of the RTX GPUs, this will significantly increase your FPS even on ultra settings.
Among all the RTX GPUs, the 2060RTX is known across gamers to be the one with the best performance/money ratio. They don't force you to pay 2000 bucks to get +80FPS on ultra across most games.
If you do some research online or start browsing around amazon, you'll notice that the average 2060RTX laptop is around 1500-1600 and going as high as 2000$.
The Acer Predator only costs 1200 bucks and even comes with a 10th generation Core i7 CPU which just came out a few months ago.
The refresh rates aren't too bad either, 144Hz is okay, considering that you'll just be getting ~100FPS at ultra settings. I would have love to see a 240Hz display though but that would have significantly increased the price to nearly 1600$.
One last thing I should mention is that whenever you're buying a laptop for gaming, you need to make sure what you get is dual channel RAM just like this laptop claims to have on its title. That way you won't be losing 10-20 FPS. I go into detail on what "dual channel" means in the guide below for now just beware of the term.
This is one things I love about the Acer predator series and I try to recommend them on every post I have to write about gaming. Not only do they give you the best bang for your buck but they always always optimize their specs to squeeze out every FPS for gaming.
Forgot to mention that if you are looking for the best laptop for PUBG live streaming, you should look for laptops with as many cores as possible that will make sure you take a huge load off the CPU when running PUBG in the background when doing livestreaming.
---
Best ASUS Laptop For PUBG
AMD Ryzen 7 4800HS
16GB DDR4
NVIDIA RTX 2060 6GB
1TB PCIe NVMe SSD
15.6″ Full HD 144Hz
5.07lb
4 hours

This laptop is just as powerful as the Acer Predator above. The AMD Ryzen 7 8400HS , though less powerful than the 10th Core i7, has been shown to be more powerful than the 9th Core i7 9750H in multithreaded perforamnce (it has 8 cores) and single clock speed (by %4).
The great difference between the Acer Predator is the 240Hz display which makes the cost jump to 1600$.
Whether or not the ability to see pretty much every framerate that the GPU can output at low-ultra settings is really up to you! For picky competitive gamers it might be worth it.
---
Best Gaming Laptop for PUBG PC
Core i7-10750H
16GB DDR4
NVIDIA RTX 2070 Full (Non-Max Q)
512GB PCIe NVMe SSD
15" full HD 144Hz IPS
5.14lb
3 hours

This is the most expensive laptop on the list for those of you who have no budget.
The 2070RTX is what makes a big difference here and the only GPU along with the 2080RTX to pull off +100 FPS at ultra settings with the game.
There are several 2070 laptops but I chose this one because it's a known brand and it's cheaper than most 2070RTX laptops.
Now again the only downside is the display's refresh rate which are way too for medium settings because you'll be getting +150FPS but enough for ultra because you won't past 110FPS.
If you were planning to play it on medium settings with +200FPS and be able to see every framerate on your display, then you're going to have to pay a lot more than 1500$.
Laptops with a 2070RTX GPU and a 240Hz display cost around 2000$ and a 300$ can go as high as 2800.
---
If you can't afford any of the models we just went over. Check out our post
best gaming laptops under 700$
. It is constantly updated and you may find a cheaper model than the ones posted here too.

PUBG Mobile Emulator
What is the best laptop for PUBG mobile emulator?
Playing PUBG mobile on a PC is an entire different ballgame. Long story short, you can play it on any laptop with 2GB RAM. But I suggest you grab a modern laptop with at least 4GB RAM because it has to run Windows 10 and Win10 is very resource intensive for old/low RAM machines. Check out this site for more details.
Here I'm listing a bunch of laptops for PUBG with price, the cheapest ones have no Windows 10 so you'll have to get yourself a new copy of Win10 on your own.
Note that all these laptops will have the same performace with PUBG mobile, your gameplay will be hugely affected by your sensitivity than hardware. Well that, the finding the best android OS for PUBG Mobile as well as getting the best PUBG emulator for low end laptops or those with 4GB or 2GB RAM.
Check out this post to get the best sensitivity for pubg mobile on a laptop.
What is the best budget laptop for PUBG mobile though?
I think that will be Acer Aspire 5 without Windows 10 Home on it. If you can't get a copy of windows 10, then the HP on the table is definitely the cheapest gaming laptop for PUBG mobile.
---
How to Buy the Best Laptop For PUBG PC
Among all the games I've played and written about on this site: OverWatch, Fornite , CS, CoD.
Player's Unknown Battleground is definitely the trickiest to find a laptop or computer for. But if you go through this guide, you should be able to find yourself the best laptop for PUBG PC for your money, whether you are in India or Pakistan or Argentina, anywhere! Laptop specs are universal across the world.
The main reason is that it also has a mobile version so people assume it must be able to run on a entry level laptop too. That may be true for the mobile version being played through an emulator but certainly not for the full PC version.
If you do run it on an entry <500$ laptop, you'll just be hitting 15-20fps for which case you might as well go back and play it on your phone dude.
So it can't really be played on any machime out there, you can easily double check this by looking the official requirements.
Offical Minimum Requirements
OS: 64-bit Windows 7, Windows 8.1, Windows 10.

Processor: Intel Core i5-4430 / AMD FX-6300.

Memory: 8 GB RAM.

Graphics: NVIDIA GeForce GTX 960 2GB / AMD Radeon R7 370 2GB.

DirectX: Version 11.

Network: Broadband Internet connection.

Storage: 30 GB available space.
Anyways, If you do find a laptop with similar specs, you'd just average 40-50 fps. Capping to 70fps and dropping 25 fps during intense game play. That doesn't look too bad right? But it's all at low settings with everything off.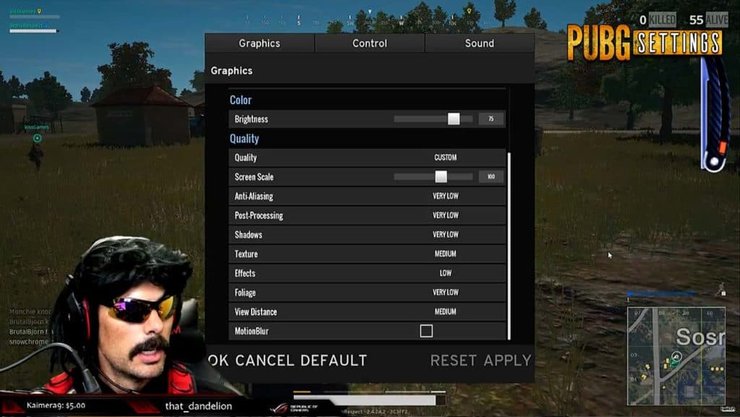 If you try to go for medium or higher settings for which the game was intended to be played with, you'd definitely drop into the teens and make end game pretty much unplayable.
Recommended Minimum Requirements
To play the game at higher settings and still pull off buttery smooth framerates we recommend:
CPU: 3.5+ Processor (preferably 4GHz)
RAM: 16 GB RAM DDR4
GPU: NVIDIA GeForce GTX 1060 3GB-6GB / AMD Radeon RX 560X 4GB
SSD: PCIe or SATA III
This will get you around at least 45 fps during intense fights , averaging at about 70 fps and maxing out at 100fps in free zones.
CPU
Another reason people assume PUBG can be played on a potato is that the official requirements mentions a dinosauric CPUwhich leads most gamers to believe the game is not very hardware demanding. Going with the minimum official requirements might make it playable (as we mentioned before) if and only if...people didn't skip over the graphics card.
Back to CPUs, the Intel Core i5-4430 / AMD FX-6300 are pretty obselete CPUs. We are in the 10th generation now and Ryzen CPUs have even taken over Intel CPUs, these are completely different times.
Even if you go by those old CPU's clock speeds (~3.0GHz), one of the weakest processor on entry level laptops (Core i3 and Ryzen 3 processor) can hit higher than that. That's why you should take that recommendation with a spoon of salt.
Here's a list of the current CPUs, you are going to find on laptops today.
Intel
| | | | |
| --- | --- | --- | --- |
| CPU | Base | Turbo | Cores |
| i3 10050G1 | 1.2GHz | 3.4GHz | 2 |
| i3 8130U | 2.2GHz | 3.4Ghz | 2 |
| i3 8145U | 2.1GHz | 3.9GHz | 2 |
| i3 10100U | 2.1GHz | 4.1GHz | 2 |
| i5 1035G1 | 1.0GHz | 3.6GHz | 4 |
| i5 10210U | 1.6GHz | 4.2GHz | 4 |
| i5 8265U | 1.6GHz | 4.9GHz | 4 |
| i5 8250U | 1.6GHz | 3.4GHz | 4 |
| i5 8300H | 2.3GHz | 4GHz | 4 |
| i5 9300H | 2.4GHz | 4.1GHz | 4 |
| i5 10300H | 2.5GHz | 4.5GHz | 4 |
| i7 10510U | 1.8GHz | 4.0GHz | 4 |
| i7 1065G7 | 1.3GHz | 3.9GHz | 4 |
| i7 7700HQ* | 2.8GHz | 3.8GHz | 4 |
| i7 8550U | 1.8GHz | 4.0GHz | 4 |
| i7 8750H | 2.2GHz | 4.1GHz | 6 |
| i7 9750H | 2.6 GHz | 4.5 GHz | 6 |
| i9 8950K | 2.9 GHz | 4.8 GHz | 6 |
| i5 9600K | 3.7 GHz | 4.6 GHz | 6 |
| i7 9700K | 3.6 GHz | 4.9 GHz | 8 |
| i9 9900K | 3.6 GHz | 5.1 GHz | 8 |
| i7 10750H | 2.6GHz | 5GHz | 8 |
| i9 10890K | 2.4GHz | 5.3GHz | 8 |
| | | | |
| --- | --- | --- | --- |
| CPU | Base | Turbo | Cores/Threads |
| AMD Ryzen 9 3900 | 3.8 | 4.6GHz | 12/24 |
| AMD Ryzen 9 4800HS | 2.2 | 4.4GHz | 8/16 |
| AMD Ryzen 7 4800HS | 2.9 | 4.2GHz | 8/16 |
| AMD Ryzen 7 3700X | 3.6 | 4.4GHz | 8/16 |
| AMD Ryzen 5 4600H | 3.0 | 4.0 | 6/12 |
| AMD Ryzen 7 3750H | 2.3 | 4.0 | 4/8 |
| AMD Ryzen 7 4700U | 2.0 | 4.1 | 8/8 |
| AMD Ryzen 7 3700U | 2.3 | 4.0 | 4/8 |
| AMD Ryzen 5 4500U | 2.3 | 4 | 6/6 |
| AMD Ryzen 5 3550H | 2.1 | 3.7 | 4 |
| AMD Ryzen 5 3500U | 2.1 | 3.7 | 4 |
| AMD Ryzen 3 3300U | 2.1 | 3.5 | 4 |
Clock Frequency vs Number of Cores
The only thing you should be lookin at when buying a CPU for gaming is clock frequency and completely ignore the number of cores (unless you plan on streaming at the same time).
Purple:These are way too much and are only useful if you want to hit the highest FPS possible (+150FPS) at medium( Note that you need a display with +144Hz to actually see those framerates).
Red:You should totally avoid these unless you are on a budget or don't mind playing at the lowest settings with your FPS dropping into the teens during intense game play.
Blue/Green:Far better than the latter two imo. Not too powerful but not too weak either. This is enough for competive gaming and depending on the GPU you have, you may be able to get into the +100fps zone as long as you pick up the right GPU (medium settings).
Gray:Although some of these guys are fast.They are found on laptops with weak specs(integrated GPUs/ 4GB RAM,etc). So they're only useful for the mobile version of PUBG played through an emulator.
AMD vs Intel
The comparison is not so easy. You can't just say Intel is better because it has more "clock frequency" on the label. They may do in theory but the reality of the situation is completely different especially in the laptop world.
Intel Chips are quite big and need a lot of cooling to hit their advertised clock speeds so if they are not given enough space (as they have in a thick and heavy laptop) chances are that it may perform as the label claims so they might run slower than an AMD processor.
Assuming space and heat are not an issue though, CPU performance does favor Intel on PUBG though. But how much more frames will you get? Possibly +10 fps. It's a matter of opinion whether or not, that increase is actually worth it.
After you get one of the purple/blue CPUs you should worry about the rest of the build, going for AMD will save you a lot of money though the problem is that they're hard to find on laptops.
Definitely go for AMD if you're buying a desktop especially for streaming and running other stuff simultanously because AMD has more cores than Intel and has much budget friendly processors.
The GPU the official minimum requirements lists is actually pretty good and is not something you can find on your average/budget laptop. The problem is that people assume the GPU is a cheap graphics card because they are recommending a CPU from 10 years ago with it.
Integrated HD
One thing you should definitely avoid is any laptop that has an integrated HD, not only are these super weak but they are always paired up with a really weak CPU (those in red).
Also, don't pay attention where you get your integrated GPU from (AMD,Intel) or how recent and powerful it claims to be (UHD, Vega 10, Iris Plus) because they all more or less have the same performance and will make PUBG a total car wreck.
As you can see in the video, even with the lowest settings at 720p resolution you won't be able to get out of the teens, averaging 15-20 and freezing in any sort of intense gun fight.
Dedicated GPUs
Dedicated GPUs are a must for the game. But even within the realm of recent and dedicated GPUs you should still be cautious.
| | | | |
| --- | --- | --- | --- |
| Name | Cores | vRAM | Speed |
| MX150 | 384 | 2GB-4GB | 1532 |
| MX250 | 384 | 2GB-4GB | 1582 |
| MX230 | 256 | 2-4GB | 1519 |
| MX350 | 640 | 2-4GB | 1354 |
| 1050 | 640 | 2GB-4GB | 1493 |
| 1050Ti | 768 | 4GB | 1620 |
| 1650 | 1024 | 4GB | 1560 |
| 1060 | 1280 | 6GB | 1670 |
| 1660 Ti | 1536 | 6GB | 1590 |
| 1070 | 2048 | 8GB | 1645 |
| 1070Ti | | | |
| 1080 | 2560 | 8GB | 1733 |
| 1080Ti | 3584 | 11GB | 1600 |
| 2060 | 1,920 | 6GB | 1680MHz |
| 2060 Super | 2,176 | 8GB | 1650 MHz |
| 2070 | 2304 | 8GB | 1620 MHz |
| 2070 Super | 2560 | 8GB | 1770 |
| 2080 | 2944 | 8GB | 1710 |
| 2080 Super | 3072 | 8GB | 1815 MHz |
| 2080 Ti | 4352 | 11GB | 1650 |
AMD
| | | | | |
| --- | --- | --- | --- | --- |
| Name | Shaders | vRAM | Speed | Equivalent(Gaming) |
| Radeon 610 | 320 | 2GB | 1030 | Intel UHD 620 |
| Pro RX 555X | 768 | 2GB | 855 | MX150/MX250 |
| RadeonRX 540 | 512 | 4GB | 1219 | ~950M |
| Radeon RX 550 | 640 | 4GB | 1287 – 1476 | +950M |
| Radeon RX 560X | 1024 | 4GB | 1172 – 1275 | 1050GTX |
| RX 580 | 1536 | 6GB | 1077 | ~1060GTX |
| RX5500M | 1408 | 8GB | 1327 – 1645 | ~1660Ti |
Low End GPUs: Red-Green
They're only good if you just want to have fun with the game and not enter the competitive arena. Most PUBG players have a good GPUs which give them an advantage over you if you don't get one too.
Unlike integrated GPUs, you won't have struggle with lag spikes that will make you feel like you're teleporting during intense game fights.
Average FPS will be around 40-50 depending on which of the three your choose. Lowest 30. Highest 70. Settings all set to low.
Mid Range dGPU: Blue
GPUs with 6GB of vRAM. Will give you +100 fps and +110fps at medium and low settings respectively.

High End dGPU: Purple
All of them will allow you to play any game with texture and view distance on ULTRA at +130fps. Note that you still may not be able to set everything to Ultra and expect +100 fps with this game though!
What GPU do you recommend?
The GPU is the hardest choice. Not only are there so many choices on laptops but it also depends on what other games you want to play and what your budget is.
But if you are not nitty picky about settings and just want to play competitively across ALL games (with a few exceptions like CoD) I recommend any of the following:
RX580, Vega 56
Nvidia GTX 1660Ti and RTX2060.
*This recommendation still holds true for desktops/PCs.
Bottlenecking: CPU vs GPU (DeskTops)
This topic is really important not just for PUBG but for all games. If you are not adept with computer hardware, you can skip it to the RAM section.
This info is more useful for desktops/PCs but it might give you a nice insight on how gaming rigs work and make you a better computer shopper.
What I mean by bottlenecking is making your "CPU" or "GPU" work to its full capacity while the other is still not working hard enough.
What does it mean?
Let's say your GPU is so powerful that it outputs 1000 images per second but this must be processed by your CPU before it is output to your display.
What if the CPU can't handle that much workload in a short period of time?
It will be working at 100% working on 500 images per second only while your GPU is trying to output 1000fps.
In other words your GPU is working at 50% and "bottlenecking your CPU".
This can be measured by CTRL+ALT+DEL. If you see your CPU at 100% and your GPU working much less, it's a CPU bottleneck.
Ideally you'd want both to be a lot less less than 100%.
Moral of the story, find the equilibrium between CPU and GPU usage so it isn't all on the CPU, you want more of like a 70%-70%, not 100%-20%
RAM
This is something we are not so sure because we've seen RAM having an impact in some cases and not in others and by this I mean having 8GB vs 16GB of RAM.
PUBG has really highly detailed and huge maps with high viewing distances so it's safe to assume that it does read a lot of data which has to be processed constantly
Although that may be true for any other game out there including WoW, Fornite and so on…it definitely becomes more important with the type of gameplay that PUBG has.
Anyways because RAM is actually the second biggest contributor to good FPS after CPU, we'll have to get into details even though it may not matter much for laptops I am sure there are a few people out there with desktop rigs reading this.
Speed
PUBG needs fast RAM (3000MHz). The fastest RAMs are simply the latest ones. They come in generations and you only have to choose between two of them because the rest of them become obsolete.
In fact, this may not be a problem in laptops because they all come equipped with the latest one: DDR4. However, there are some odd balls that are still using DDR3.
If you are getting a AMD CPU be it on a laptop or desktop you better make sure that the specifications have the number 4 next to RAM or whatever the latest is by the time you read this. AMD CPUs work a lot better with fast RAM.
8GB may be in fact enough for most PUBG players even those going with medium settings and high FPS.
But 8 GB may not be enough to keep PUBG from constantly going to your hard drive for virtual memory(if it does) because even with an SSD(Solid State Drive) this is a considerably slower operation than using RAM.
So you should aim for 16GB just to be on the safe side and you're never "bottlenecked" by lack of RAM.
And might even be future proof for future PUBG updates and other games.
Dual Channel
Another thing to make sure is that RAM is "dual-channeled". In other words, if you have 8GB, they better be 2 sticks of the same size and maybe model. Ex: 8GB = 2x4GB DDR4 or 16GB=2x8GB DDR4. This will increase the efficiency of your CPU.
Storage

Storage speed isn't really a huge factor for this game.
It will only be a factor if your PC doesn't have enough RAM and starts using your storage as "virtual memory" . You can't really rely on your storage to make up for RAM because it is super slow whether or not it's a fast storage.
SSD(Solid State Drive)
The fastest storage are SSDs and there are two types: PCIe NVMe and SATA III. Most laptops today have a PCIE NVMe and a few rare ones will try to cut down prices by having either a SATA III or an HDD.
Getting a SATA III is okay if you're on a budget but you should definitely avoid an HDD. The SSD has way too many advantages (outside of gaming and FPS increase) that you just can't miss:
A few of them are:
– Booting up your machine in seconds.
– Launch your game in less than one.
– It will also help a bit with loading screens during the game.
Display
IPS vs TN
IPS displays have better viewing angles and usually have more colors. Most gaming laptops have full HD, no wait, all gaming laptops or in fact any laptop with a "dedicated GPU" has a FHD resolution these days. The problem is that some manufacturers try to cut down on prices by giving you a TN display which is unacceptable for gaming and something to watch out for if you suddenly find a nice deal on a laptop.
Refresh Rates
Your display needs to have the same refresh rates as the numbers of FPS you're GPU/CPU is outputting if you want to see every framerate.
If you're aiming for 100+FPS then you need a 120Hz laptop display.
Refresh rates might be the only real thing you should watch out for when checking the specs of a laptop's display. Why?
Because if you buy a laptop with a monster like CPU and a decent GPU which can both output +100 FPS on a game and your laptop only has 60Hz refresh rates, you're only going to experience gaming as if you only 60FPS. The refresh rates set the limit of how much framerates per second your eyes will see.
But that may not be something to worry about too much with PUBG because it's not easy to go past 80FPS with the game at medium to high settings. But if you're going all out with a CPU/GPU you should also make sure you have more than 144Hz refresh rates because you'll definitely go past 120FPS.
There's still an advantage of having more FPS than your display can output, it will mitigate the screen tearing issue if your laptop doesn't have G-Sync/Free-Sync technology.
MacBooks
If you got a MacBook, you can still play PUBG . You just have to download GeForce Now for Mac and sign up for a free NVIDIA Account. You'll be asked to log into your steam account and after that you can install PUBG!
MacBook Air/MacBook Pro
However it's not going to be pleasant . most MacBooks have an integrated "Intel Iris Plus" GPU or whatever, but it's still not enough for PUBG.
MacBook Pro 16
The MacBook Pro 16 on the other hand has a GPU/CPU combo that will give you 100FPS at Medium Settings. You can buy three gaming laptops with the price of one though.
Past Models
Past MacBooks, as long as they have a dedicated GPU, will give you the same FPS as any Windows Laptop with a MX250 or as much as a 1050Ti would.
Tips
Just as important as getting the right hardware to play the game smoothly at decent settings is finding the right settings to squeeze out every big of FPS or viewing distance. Now there are tons of posts about this but I found this one the most useful: best pubg settings for fps
Comments?
If you have any comments, suggestions, questions or recommendations on how to find the best laptop for PUBG . Please leave a comment.