The 5 Best Laptops For Minecraft 2023 (Shaders Mods & RTX Mode)
I'm sure you headed over to reddit to see what people thought of what the best laptop for minecraft was.
And as usual you got crazy comments like:
" Minecraft can run on a microwave. Get optifine and you can run the game on a toaster. Just get any cheap laptop srsly"
"I've seen MC run on CPUs and integrated GPUs made 15 years ago"
"My 10 year old PC eats MineCraft for breakfast"
"I got a 10 year old lapto from walmart with the screen falling off and Minecraft still runs good"
Now…
Those comments do hold some truth to it.
But only…
If you want to play a bare bones version of Minecraft, "Vanilla" Minecraft. That is, Minecraft with nothing else added to it: zero shaders, zero mods, low settings & low # of chunks. If you want a more 'fancy' looking version of Minecraft, then not any laptop will do.
What follows is a quick summary of what each laptop can do with Minecraft:
Note that the following laptops are just examples, yes you can buy these but you may want to read the next section to see more options.
A) Minecraft Laptop Under $200: is only going to have a Pentium or Celeron CPU, which are the exact same processors used on table devices and phones. Phones are fast but that's because they don't have Windows on them. You can ONLY play a downgraded version of MC: Minecraft For Windows with these kind of laptops, NOT the full version of VANILLA minecraft java edition.
B) Minecraft laptop under $300 (or around): this much budget will let you run the most popular and full version of Minecraft (Java Edition) with no lag because you can get a late generation Core i3 or Ryzen 3, both can run Windows 10 Home or Windows 11 with no hiccups.


But you'll be limited to low or medium settings (8-12 chunks loaded max) and although you can add mods to the game, it is unlikely you'll find 'decent' looking shaders that will run at 60fps.
C) Mineraft laptop under $500: Once you have anywhere from 450-500 dollars. You can start looking at laptops with powerful integrated graphics like the Intel Xe or RX Vega 7 which should let you play Minecraft Java Edition with mods (including the FTB Revelations and FTB Interactions modpacks), fancy settings and even the MEDIUM versions of shaders like Sildrus and Chocapic.


D) The Best Laptops for Minecraf have Dedicated GPUs – 550 dollars and up
The real fun starts when you have a dedicated GPU especially the 1650GTX or the 3050Ti RTX. They will both run MC on Turbo Mode with all coolest looking shaders like ChocaPic v13 High & all mods available on the fanciest of the fanciest settings with no lag or stuttering (at least 60 and up to 300 if chunks are small).
Unlike the 1650GTX, the 3050Ti RTX can run Minecraft on RTX Mode. We'll talk more about the features you can lock and exact performance but you can get a sense of it here:
Notice framerates going as high as 1000fps, at some point in the video. You're only going to get that if you get a MUX Switch (doesn't have any additional costs, you just have to know what they are and how to look for one). We'll talk about that later also.
Below you can see a summary of the kind of performance you can expect from different hardware (the average price is shown too but you can always find them cheaper).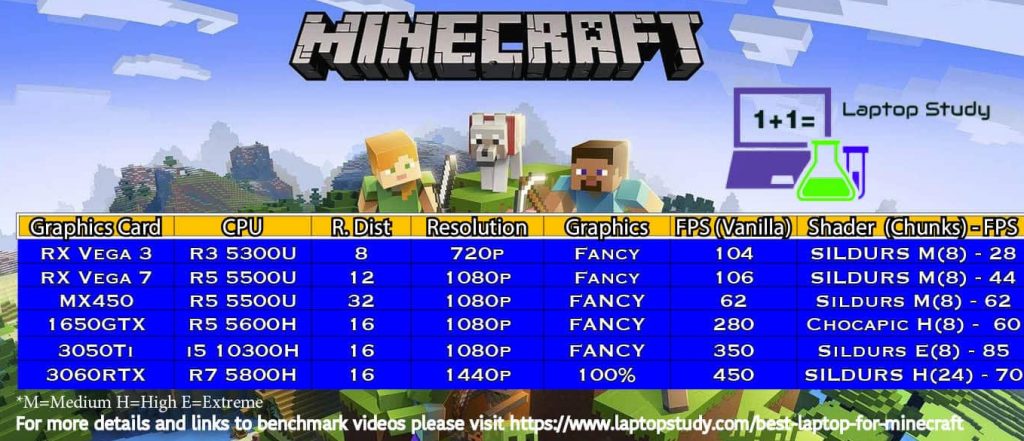 Before we get to the top 5 best laptops for minecraft. We'll talk about how to get the best perforamance out of a laptop for minecraft across all budgets. You can skip to the best laptops section if you'd like.
Best Laptop Specs for MineCraft
There are two ways to get the best hardware and that depends on your budget…
1. If you've got a budget under 550 bucks, you won't get a dedicated GPU so focus on the CPU*! Read the CPU section only (skip the GPU section).
2. For those with more than 600 dollars. Focus on the GPU. You are entitled to. a dedicated GPU, you might even get a 1650GTX for 600 dollars. 700 bucks can get you a 3050Ti to play RTX Minecraft. All laptops above 600 dollars should run HEAVY SHADERS like Chocapic High 13 v7 & Seus Renewed.
You can get more details (this will be a summary) in the last section which has dozens of benchmarks for different hardware and shaders
CPU(Processor)

Although the 12th gen Intel and 6th gen Ryzen CPUs are out they are way too expensive, the following are just as good:
Core i3 1050G1, Core i3 1115G4

,

Core i5 10210U, Core i5 1135G7

.

Ryzen 3 3200U, 4300U, 5300U

Ryzen 5 3500U, 4500U, 5500U*

.

Good news is that all of these can get at least 60 frames per second with all the mods you want.
The 11th Core i5 and 5th Ryzen 5 CPUs , however, can run the LITE & MEDIUM version of some shader packs with 50-60fps because they have better integrated GPUs:
AMD Ryzen Vega 7, Vega 8 & Intel Xe*
*You should pick laptops based on CPUs and not integrated GPUs. They come in hand in hand. For more details check the last section.
*Ryzen 7 and Intel Core i7 "G" or "U" are faster and better but way too expensive.
GPU(Graphics Card)
Avoid the following:

MX250, MX150, 940MX

and anything weaker than a

MX350
500-550 dollars:
MX350,

MX450, 1050GTX.

They'll run

most "medium" shaders

and

some of the high ones

w/ at least 50fps.
600-650 dollars:
1050Ti

&

1650GT

X.
The 1650GTX is more powerful and common but the 1050Ti can also run high versions of shaders with ~50fps & 16 chunks loaded.

Ex: Chocapic 13 v7(High), Sildrus (High), SEUS Renewed,Oceano,etc.
750-900 dollars:
1660Ti, 1060GTX, 2060RTX, 3050Ti . These can all run extreme versions of shaders but with higher framerates ~80fps. Only the 2060RTX & 3050Ti can unlock minecraft in RTX mode.
900-1300 dollars:

3060RTX

useful for 1440p & RTX minecraft . Laptops with this GPU have different wattages. However, for MC it makes little difference. Read more about wattage here.
1300+ dollars:

3070RTX, 3080RTX, 3080Ti, 3070Ti, AMD Radeon RX 6700S,

AMD Radeon RX 6800S

and equivalents

.

Too much power only useful for Minecraft running at 1440p or 4k resolution.
***Don't worry about CPUs . Laptops with dedicated GPUs will perform more or less the same regardless of the CPU.
8GB: This is the minimum and most gaming laptops have this much. It's only an issue if you're buying under 400 dollar laptops which only have 4GB RAM. If that's the case, you must do the upgrade to 8GB.
12-16GB: Having more RAM will help look the game look better (due to its paging chunk system) but only up to 12GB. 12-16GB is also useful for budget laptops with integrated GPUs, if you get this much they can match the performance of some dedicated GPUs. Hence why I said to avoid those dedicated GPUs in red.
Storage

MC doesn't use a lot of storage even if you've got hundreds of mods and shaders, 128GB will still be fine.
Solid State Drives (SSD): You must get an SSD though!
Especially if you're only buying a laptop under 350 as they'll take some load off a CPU running which should free up CPU power to handle Minecraft. Ive seen FPS increments from 15 to 45 just by adding an SSD to a slow old laptop.
Top 5 Best Laptops for Minecraft
The cheapest laptops cost anywhere from 350-500 bucks and they can run all mods and some of the light shader packs (Medium or Lite).
The ones above 600 bucks can run heavy shaders like ChocaPic and Sildrius ( High & Extreme versions ). Every laptop regardless of price on this list will handle all the ftb modpacks like interactions and revelations though.
Note that these laptops are only available in the United States. In case the links do not take you to a laptop on your region, just write down the model and/or check out the alternatives which I post in every review
---
Best Laptop For Minecraft Under 500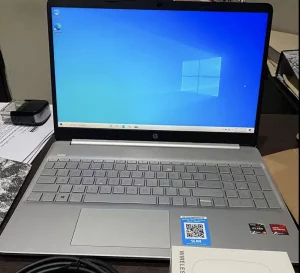 AMD Ryzen 5 5500U
8GB RAM
Radeon Vega RX 7
256GB SSD NVMe PCIe
15.6" FHD
4.2 lbs

8 hours

This is the cheapest laptop on the list but by no means the slowest, in fact, I'd say it's going to be useful for 90% of the people looking for the best laptop for minecraft.
I know there are cheaper laptops (~350 dollars or so) with maybe a Core i3 and a Ryzen 3 which work just fine for the vanilla version of Minecraft and some mods .
The one featured here however has a AMD Ryzen 5 5500U which is a LOT more faster than the Ryzen 3 and Core i3 models. It also has a much much faster integrated GPU, AMD Radeon Vega 7, what does that matter? Well for additional stuff like shaders. That's probably all you need to know, if you are interested in the vanilla version of MC just buy the acer aspire 5, if you want to run some shaders then consider adding 80 more bucks and buy the model featured here.
Now we'll just talk about WHAT kind of shaders this machine supports. Feel Free to skip to the next laptop.
Minecraft with Shaders:
The AMD RX Vega 7 graphics card is by no means a dedicated GPU, it is still an integrated GPU however because it's recent its performance actually quite close to entry level dedicated GPUs released a few years ago (those with 2GB vRAM – MX150, MX250).
This is why it can support some shaders (light versions) as you can see in the video above. Although the video above uses a slightly older CPU, it should still be a good benchmark to see what you can do. Expect 5-10 more framerates from the model featured here though, there's a massive jump in CPU performance between the Ryzen 5 3500U on the clip and the Ryzen 5 5500U featured here.
8GB RAM vs 12GB or 16GB :
Having a Ryzen 5 5500U laptop with the Radeon Vega 7 or 8 does not mean you can run all shaders. Some shaders, even the medium versions of these shaders, will lag: Chocapic & SEUS & Silrus are good examples.
However…
Once you up that RAM to 16GB, the integrated graphics will unlock it's full potential by taking that extra RAM and use it as 'vRAM'. The extra RAM will also help with Minecraft paging system and if you do the upgrade in dual-channel mode (I explained all this technical jargon in the last section) you will make the CPU more efficient.
Thus with this laptop you can expect to at least run LIGHT to MEDIUM version of shaders witih decent frameartes. High versions , of say like Chocapic, will not run at high framerates but they'll be somewhat playable (I don't advice you run the high versions though, you will ovetax the machine).
Why was this model chosen out of all the other Ryzen 5 5500U laptops?
There are plenty of other models you can choose, below you can see the table of the best deals out there. I've chose the Acer Aspire (R5 5500U model) simply because it's got the best specs/money ratio. Notice how some of the other models are cheaper but lack the full HD display!
If the Acer Aspire runs out of stock or the prices just go significantly higher (which may be the case because it's one of the hottest laptops right now), feel free to check the other alternatives on the table.
---
Acer Aspire 5: Ryzen 3 3500U Model – Cheapest laptop for Minecraft
I already talked about the Ryzen 3 3500U but let me say it again. You don't need the Ryzen 5 5500U model (450 bucks) Im featuring here if whoever's playing the game isn't interested in running shaders.
Most people are interested in running mods with minecraft and for that the 350 dollar Acer Aspire 5 with the Ryzen 3 CPU will do just fine.
Although of course the game and mods will run better with the Ryzen 5 5500U (especially the big ftp mods ~200) but if you're on a budget, the game with mods is still playable and fast enough with the 350 model.
Shaders
That doesn't mean you can't run shaders on a machine like this though. You can get a sense of what the performance is if you look for laptops with the Core i3 or Ryzen 3 CPUs as you can see in this clip, it will run some medium shaders at 35-50fps (Chocapic13 v7.1). The Ryzen 5 5500U model just does it better with much higher framerates while keeping temperatures cooler.
Newest HP

PROS

CONS

Best Multicore performance CPU Under 450

256GB & 8GB Out of the BOX

FHD (Full HD – 1080p) under 450

RAM & Storage Upgradeable

High Performance Integrated Graphics

Runs Minecraft Lite & Medium versions of Shaders

Supports all the BIG FTP Modpacks

Dual-Channel support

Heavy

Does not run medium & high shaders with 60 fps

Must upgrade RAM to 16GB to play with shaders
---
Best Laptop For Minecrat & School
Ryzen 5 5500U
8GB DDR4
GeForce MX 450 2GB vRAM
256GB PCIe SSD
14" 60Hz Full HD IPS

4.4lbs
5 hours

I know most of the people reading this are probably parents trying to buy the perfect laptop for both minecraft and school.
Form Factor: Thin & Lightweight
The first laptop we just went over isn't really a good choice for students. Although it surely has enough power to run all the software most engineering students work with in college, it is HEAVY.
Heavier 5lb laptops with 15"-17" displays are most of the time used as desktop replacement – that is they have be plugged in most of the time or the battery will quickly run out. Plus again they're heavy, too heavy, to be carried around everywhere.
The ASUS ZenBook is the thinnest and lightest laptop on the list. Of course there are lighter and small machines but unlike those the ASUS ZenBook has a dedicated GPU, so it is even FASTER than the heavy bricks we went over.
GPU: MX450 Performance
Of course that means it's more expensive too.
But it's definitely worth the investment because the dedicated GPU will not only unlock most shaders with the game ( the high versions) but also become super useful for 3D applications which are the heaviest apps used in school.
There's another advantage, the MX450 only uses 25W which means more battery!
Now I don't have the exact benchmarks of the MX450 when running shaders. Im hoping to get this model myself by the end of the year but you can use the video above for now to see for yourself that it runs Minecraft NO PROBLEMs and it outperforms VASTLY outperforms the first laptop on the list.
Alternatives:
There are a lot of sellers with this laptop, it is likely the link will tell you that it's out of stock so feel free the use the following links. Also if you feel like you can't afford the MX450 but still want that dedicated GPU performance, you can grab the slightly older model (MX350) if its cheaper of course, it has pretty much the same capabilities as the MX450 as far as the heavy software they run in college.
But let's stop kidding ourselves, we both know this laptop is going to be used mostly for Minecraft and to watch Minecraft tutorials on youtube. If there's any 3D modeling work or schoolwork with it, it'll probably be some furniture design with the furniture mod for minecraft Mr Crayfish Furniture mods.
ASUS ZenBook 14

PROS

CONS

Great Battery for a laptop with a dedicated GPU

High performance multicore CPU

Latest MX GeForce GPU

Supports Medium Shaders with at least 60 fps

Runs all FTP modpacks

Relatively Lightweight

Cannot upgrade RAM & Storage

Low # of ports

Expensive
---
Best Gaming Laptop For Minecraft With Shaders
Intel Core i5 10300H
8GB RAM DDR4
GeForce 1650 GTX 4GB vRAM
256GB PCIe SSD
15" 1080p IPS 60Hz
4.1 lbs
3 hours

This laptop is a MASSIVE upgrade over the the MX450 laptop. The dedicated GPU: 1650GTX is far more powerful, there are dozens of laptops with a 1650GTX to choose from (we'll list the best deals soon) most, if not all, either come with AMD Ryzen 5 CPU or the Core i5 CPU. We'll list models with the Ryzen 5 CPU first.
Performance: Ryzen 5 5600H (4600H) + 1650GTX
Notice how the framerates are crazy high despite the fact that one of the most hardware demanding shaders, Chocapic High, is being used (last two rows). Needless to say if you want the best performance with virtually ALL shaders, this is the laptop you want.
The following paragraphs we'll deal with more technical aspects of the GPU & graphics set up of the 1650GTX on this model and most models so feel free to skip it (Skip to the last laptop on the list).
Read the following and the next laptop, if you want to research more 1650GTX laptops on your own.
Maximize Performance : MUX Switch & GPU Usage
If you've watched my video playing the game and focused on the stats on the upper left corner, you probably noticed something interesting:

There is GPU 1 and GPU2 showing up in the stats.
The GPU1 stands for the integrated graphics (RX Vega 7 in this laptop) which is present in nearly every gaming laptop because it's attached to the CPU. The GPU2 stands for the 1650GTX dedicated GPU.
The screenshot was taken while running Chocapic V16 High with most graphics settings maxed out (fancy – 16 chunks).
Q: The question is why is the integrated GPU used here and the fact it's being used makes the game run faster?
No, actually, although the game is using both that doesn't make the game run faster. Having the integrated GPU used simultanously sort of 'slows down' the performance of the dedicated GPU (1650GTX) . Thus if you can get rid of the integrated GPU impact on the game, the dedicated GPU (#2) will take over and run the game at much much higher framerates.
How do you do that?
You can only disable the iGPU (GPU #1) ONLY and ONLY IF your laptop comes with a MUX Switch as explained in my post here. Otherwise, you will be stuck with the performance. That's not say the machine is slow with heavy shaders, it's still plenty fast, framerates are crazy high but they could be much higher (though higher framerates are useless I know some people still want higher framerates so I thought I had to mention this phenomena).
If you want the iGPU disabled to hit higher framerates check the next laptop! The advantage of using both GPUs though is more battery so keep that in mind!
Lenovo Ideapad 3

PROS

CONS

Best CPU found on 1650GTX laptops

SSD+8GB RAM out of the BOX

120Hz Display

Dual-Channel support

Easy to upgrade RAM & Storage

Decent sound system

Superb gaming keyboard

Cheap plastic quality chasis

Lacks USB ports on the left side

Extremely low battery

Flimsy design
---
Best Budget Laptop For Minecraft with Shaders
Intel Core i5 9300H
8GB RAM
1650GTX 4GB vRAM (No Optimus)
256GB PCIe SSD (Free 2.5" Bay Slot)
15" FHD IPS 60Hz
4.10lbs
3 hours (Gaming) – 6 hours (Work)

This is an sort of old model which has a weaker CPU but still has the same dedicated GPU. What's funny about this machine is that, like I said, has the iGPU disabled (it doesn't have a MUX Switch but it still has the iGPU disabled through other means) and thus the dedicated GPU vastly outruns the same dedicated GPU found in the previous model.
Gaming Performance: Core i5 9300H/10300H vs AMD Ryzen 5 5600H
As you can see this old little machine is crazy crazy fast because it's got a better dedicated GPU set up (has the iGPU disabled permanently). The downside is that like I said, battery is going to be lower. So it's totally up to you: performance or battery?
Another very cool thing about this model is the price, because it's got an older CPU (which I hope you believe me now that it makes little difference once you take care of the GPU) it's about 80 dollar cheaper than your average 1650GTX laptop.
Anyways, the point is this 1650GTX laptop despite being old will outperform VIRTUALLY all 1650GTX laptops in Minecraft.
Display & RAM: 60Hz FHD – No Dual Channel
This model only has a 60Hz display and 256GB storage. It also does not support RAM in dual-channel mode because there's a 4GB RAM stick soldered into the motherboard. You can still upgrade the other slot to make 20GB (16GB stick) but you won't get the extra 5-10 fps from dual-channeling RAM. Well you probably won't need it anyways, just look at those numbers with the mighty 1650GTX embedded in this machine.
Lenovo L340

PROS

CONS

SSD+8GB RAM out of the BOX

No Optimus – +15% increased GPU Power

Can run all High versions of Shaders w/ 80fps

Higher performance 1650GTX Laptop on single-core games


Storage & RAM Upgradeable

Cheapest 1650GTX Laptop

Cheap plastic cover

Weak sound system

Extremely bad battery

No Dual Channel Support

Outdated CPU
---
Best Laptop For Minecraft RTX
Core i5 10300H
8GB DDR4
3050TI GTX 4GB vRAM
256GB PCIe NVMe SSD
15.6" 144Hz Full HD IPS

4.96lbs
5 hours*

FInally, the last laptop on the list and yes it's the most powerful because it has an even better graphics card.
But that's not the reason why I'm listing this graphics card, we don't really need more framerates after you've seen what laptop #3 and #4 can do with shaders right?
RTX GPU: 3050Ti
What this laptop offers is NOT more framerates (well it does output more framerates but that's not the reason why you should buy it).
What this offers is enabling the RTX (Ray tracing) feature on Minecraft. This option will show up once your laptop or PC has an RTX GPU, the 1650GTX or any of the graphics we went over before are not RTX GPUs. The 3050Ti along with the 3060, 3070RTX and 3080RTX are all RTX GPUs. Im not going to list the other RTX GPUs because they're way too powerful for this game.
Anyways…enough RTX talking…
What this feature does is basically render the interaction between light and objects (thus shadows) at a much more realistic level as shown in the image below:

Most sites usually recommend an 3060RTX to activate this cool feature but actually you don't need an 3060RTX or any of the other RTX GPUs, the 3050Ti is ALL you need here.
Those guys are probably not aware that the 3050Ti is still an RTX GPU.
Anyways…the point is if you want to activate this feature and play maps that support Ray Tracing you don't need to spend more than 800 bucks
3050Ti: RTX Minecraft GPU Performance
Minecraft Laptop BenchMarks
The following are benchmarks are taken out of gaming channels and my own channel. You can click on the link to see fottage and you're also welcomed to buy the specific laptops listed (if you're happy with the performance of course).
i) Core i3 & Ryzen 3 Benchmarks: $300-400 Laptops
Intel Core Laptops
It's not that only the Ryzen CPUs can run shaders. I wasn't able to find benchmarks on the Core i3 models with shaders.

11th gen Core i3 models should ALSO be able to handle medium or even high shaders ~30fps. Note that this is not ideal and although playable can be jumpy.

Ryzen 3 and Core i3 are more useful for Lite version of shaders and vanilla MC with mods.

Lastly, note how even the Core i3 can pull off +100fps at 720p.

Unfortunately, MC isn't very playable at 1080p resolution with these CPUs.
ii) Core i5 & Ryzen 5 Benchmarks: $400-500 Laptops
Intel Core Laptops
Ryzen 5 Laptops
Having a Core i5 or Ryzen 5 is the bare bone minimum for FHD resolution at decent framerates.

A Core i5 or Ryzen 5 will also let you run cool looking shaders with decent framerates.

For a very fluid with zero lag gameplay with cool graphics (12-16 chunks) you need one of the latest Ryzen 5 or Core i5.
iii) Core i7 & Ryzen 7 Benchmarks
​
Core i7 and Ryzen 7 will run the game at FHD with very high framerates.

Unfortunately, the average core i7 or ryzen 7 is more expensive than a laptop with an entry level dedicated GPU (which performs better) hence there is a lack of benchmarks for these CPUs.

I do not recommend you buy these laptops anyways UNLESS you want something portable
BenchMarks Conclusions
You should take these benchmarks with a graint of salt, there are a few more variables that may skew results thus making it appear slower CPUS * integrated graphics outperforming the more recent ones:

RAM is a big factor. 12GB and even 16GB RAM in dual-channel mode (we'll get to that) will make a huge difference.

Settings may also be slightly different from row to row

Optifine will massively increase performance when used in some cases (most of these benchmarks use Optifine).
How to use These BenchMarks
They're sttill good to give you an idea of what you can expect from each type of CPU.

I could not find benchmarks with shaders for the Intel Core CPUs but they should give you approximately same performance as the AMD Ryzen CPUs with shaders
Which CPUs give you the best bang for your buck?
Most of these CPUs can handle shaders but only their low graphics version on FAST settings.

Notice how the most recent the CPU (you can tell this by the first number – the generation) the better the performance.

The Core i5 and Ryzen 5 give you the best bang for your buck here.

Out of the Core i5 and Ryzen 5, the R5 on average will outperform the Core i5 due to better multi-core performance (has more cores and every core runs at high speed).

The Core i7 & Ryzen 7 CAN handle shaders with medium and even high graphics but the issue is that these laptops are expensive and that much money can get you an integrated GPU. It's only a good investment if you find them under 500 dollars.
There's still no benchmarks for the recent 12th generation Intel CPUs on the table because they're too recent and way too expensive for now
CPUs for Modded Minecraft
You want at least a Core i5 and Ryzen 5 for Although ALL CPUs I've shown you will run most mods. Only the latest Intel Core i5 (10th,11th or 12th) and Ryzen 5 (4th,5th,6th gen) will let you run modpacks like the big ftp modpacks or any modpack with +200 mods like Interactions and Revelations.
2. RAM & Storage: 12-16GB RAM & SSD
4GB vs 8GB
You'll probably read this online as being the bare bone minimum but that's probably true for only true for Vanilla MC running on a desktop. I've tested running MC with 4GB on a laptop , it was way too slow.
That's because the latest versions of Windows take up a lot more memory. They will most of the time take 3.5GB leaving Minecraft with 500MB. 4GB might be good enough for Minecraft Bedrock Edition which can run on Windows 11 in S mode though.
The ideal amount is 8GB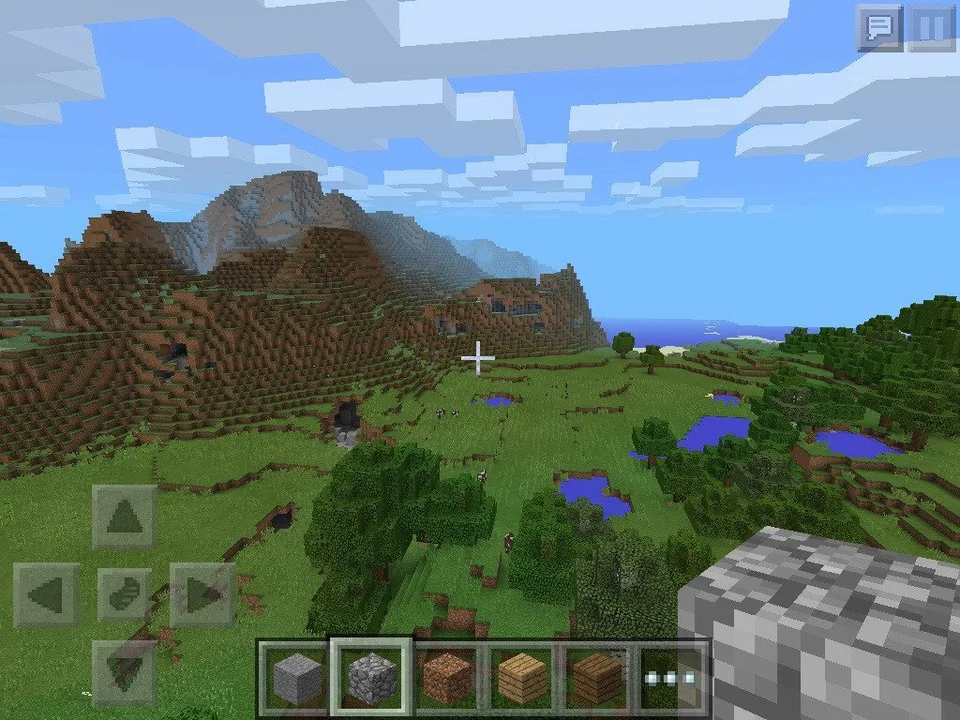 MX450: This is the most common dedicated GPU you'll find on budget gaming laptops (500-600) and unfortunately there are no benchmarks with a MX450 for Minecraft. However, to give you an idea, the performance is going to be between the MX350 and the 1050GTX which we'll go over next. Significantly faster than the MX350.
1050GTX: Performs just as well as a MX450. Do not pay more than 600 for it either.
---
ii) 1050Ti 1650GTX Benchmarks: $600 to 750
These two AMD GPUs are found on MacBook Pros only. Since Minecraft is no longer supported on Mac OSX we'll ignore these GPUs.
If you look at the graph above, Minecraft is only using two or three cores at best. That means that it is a multicore game sure but considering the fact that nearly ALL CPUs now have at least 4 cores, it does NOT become the most important factor to look after.
So what is it?
Intel CPUs – Clock speed # Cores