The 5 Best Laptops For Adobe Illustrator CC 2023 ver.
I've been using Adobe Illustrator and most of the Adobe Creative Cloud package on laptops for about 5 years now.
Although Adobe Illustrator uses old and outdated code, the complaints about Adobe Illustrator being slow are rarely due to hardware defficiencies.
The only time…
Hardware becomes a problem is when you start looking at Adobe Illustrator like MS Paint and you think you can get away with a 250 dollar laptop off of ebay.
The truth is…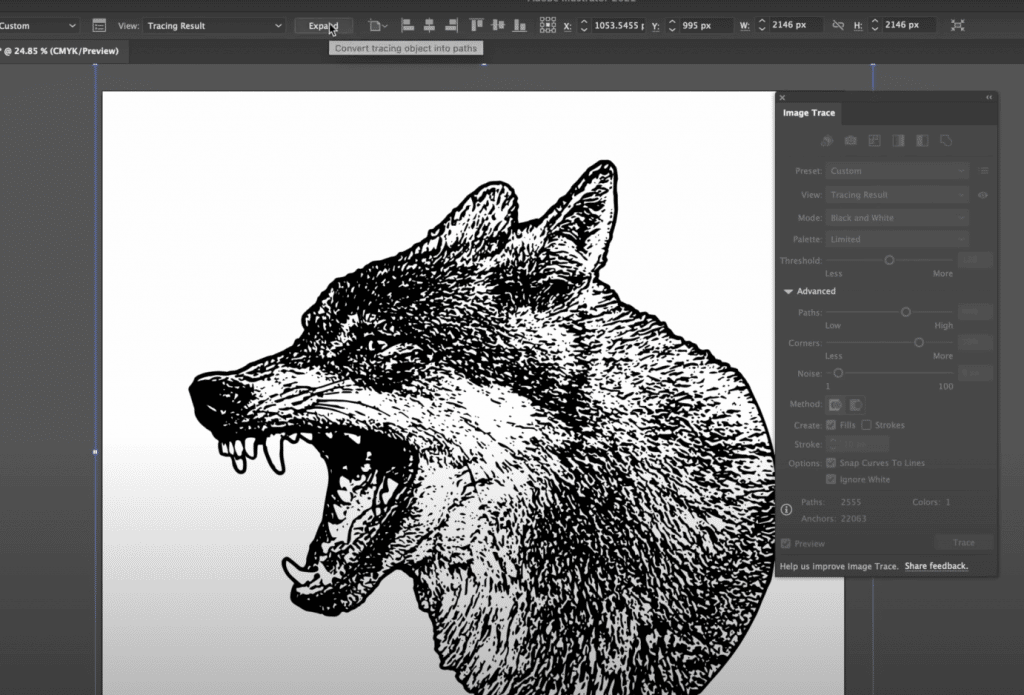 Most modern laptops will handle Adobe Illustrator just fine including every MacBook Pro released for the past 7 years.
Virtually all modern laptops above 400 bucks have a high clock speed CPU (+4 GHz) and 8GB RAM and that's exactly what you need to eliminate loading bars when doing somewhat heavy things like vectorization or image tracing.
The bare bone minimum laptop specs would look like this:

Now…
If you are planning to use Adobe Illustrator 24/7 OR you also plan on using several other software from the adobe creative package suite.
It may be wise to invest EXTRA cash on a rig with dGPU and more CPU clock speed plus a huge display as shown below:

Why bother pay that much?
Doing that will prevent ANY jerky or buggy effects and actions that would eventually add up to less time spent on a project.
Most importantly…
The extra screen space + FHD will also speed up your workflow and make your workspace area more efficient, we'll talk about that more later.
Best Laptop Configuration For Adobe Illustrator CC 2023
Before I list the best laptops for Adobe Illustrator, let us go over what would make the perfect laptop for adobe illustrator.
CPU
Forget what the official site says, it's gibberish. Adobe Illustrator is still single-threaded so just pick the CPU with the highest clocks speed you can afford.

Good: 3.5GHz from 11th Intel Core CPUs or 5th gen Ryzen 5 CPUs (We are in the 12th & 6th gen).
Best:4.5GHz from 11th or 12th Core i5 and Core i7s or 5th (6th) Ryzen 5 or 7.
Bad: 3GHz or Intel Pentium Celeron Ryzen 3 and Intel Core i3
Most people will be happy with Core i5 11th or R5 CPUs (~4.5GHz) anything higher is good but you're not going to have bigger returns.
I'd save higher CPUs for those with a lot of cash to spare and those working with effects like image tracing and vectorization on a very regular basis (these tasks take ~40 secs with a Core i5 but 25 or less with a Core i7).
GPU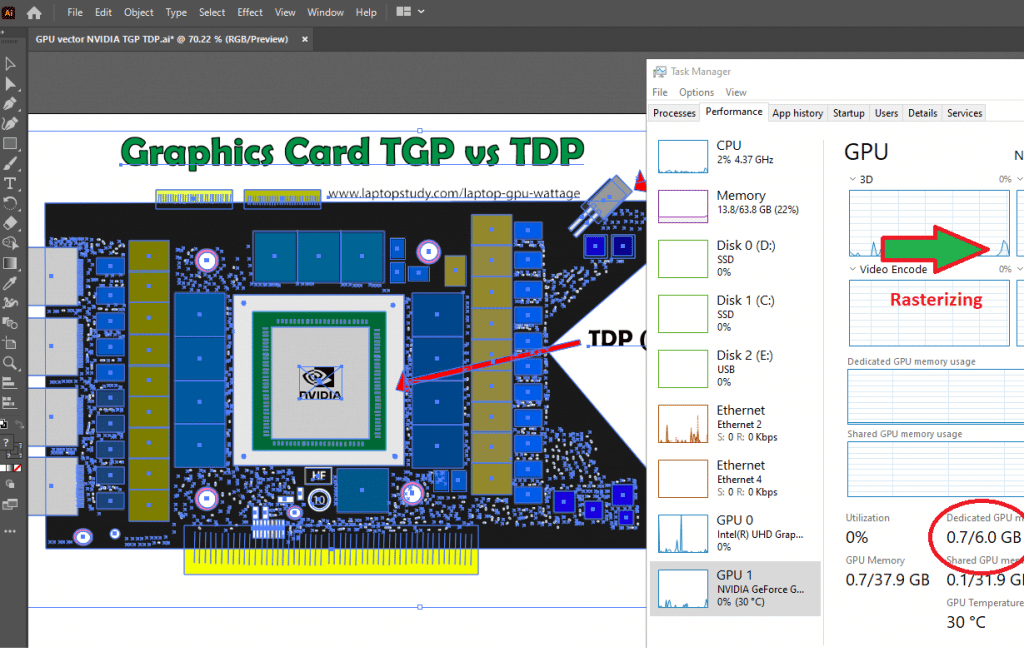 Recommended dGPUs: Any with 2GB vRAM.

Now if you work with very very large canvas and very high resolutions images, then moving around the image or applying effects on those images will be MORE OR LESS faster with a dedicated GPU.

(more details at the end)

RAM

Adobe Illustrator is heavily RAM dependent but it is not a concern when shopping as it can be upgraded later.

You want at least 8GB RAM (16GB is only good for very high res images)

Storage

It's true the entire Adobe CC suite uses scratch disk space when you work with a large of amount of images especially if they have high resolution.

But Illustrator users usually work with one image and most of the time low resolution images. Thus you don't need to worry about SSD Type (the fastest is PCIe NVMe SSD). As long as you get an SSD, you should be fine.

Display

Second most important spec. You want the most comfortable & biggest workspace area possible.

Good: You just need a FHD + IPS panel. Most laptops above 350 bucks have that. Matte displays are good if you care about eye health.
Note! QHD or UHD resolutions make a HUGE difference in the amount of interface tools, palettes (see Figure above) but they're crazy expensive.
---
Top 5 Best Laptops For Adobe Illustrator
This list will include basic and 'best' laptops, the 'best' hardware requirements data is NOT required for fast performance (more details at the end).
As long as you grab a modern laptop with an SSD and 8GB RAM, it should be plenty fast for Illustrator.
Those with a higher budget looking for the fastest performance should consider grabbing one of the following laptops that have a dedicated GPU.
---
Best HP Laptop For Adobe Illustrator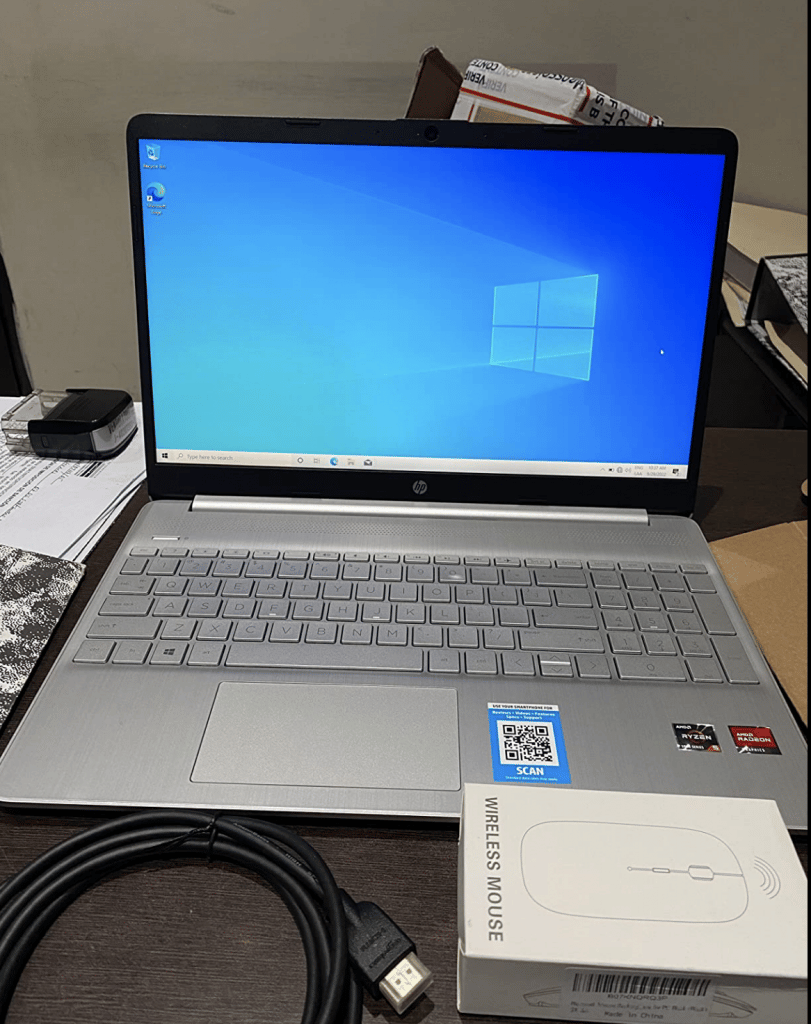 AMD Ryzen 5 5500U
8GB RAM
Radeon Vega RX 7
256GB SSD NVMe PCIe
15.6" FHD
4.2 lbs

8 hours

Specs wise, this is not the bare bone minimum to run Adobe Illustrator.
I would say it's got the ideal CPU & RAM stats to apply every effect with almost no loading bars.
It is a bit more expensive than your average Core i3 or Ryzen 3 laptop but the fact that it's got a Ryzen 5 5500U is a huge plus to performance.
Possibly the best cheapest laptop for adobe illustrator (Under 450).
CPU: Core i5 vs Ryzen 5
Now the truth is, a Core i5 11th gen has more single-clock speed performance than a Ryzen 5 5500U but that's only about a 1% difference. I chose to place the Ryzen 5 5500U isntead because it's got TWO more cores than the Core i5 and has BETTER multicore performance.
I know I said Adobe Illustrator only uses one or two cores at the most but it is likely you'll be multitasking heavily while using Adobe Illustrator and this is where the extra two cores come in handy. Plus they're the same price so why not opt for that slightly faster CPU performance?
GPU: RX Vega 7
As for GPU accelerated effects, having no dedicated GPU doesn't mean you won't be able to use those effects, you will they'll just be (insignificantly) slower with the integrated GPU here. The first reason as I explain the last section is the fact that Illustrator doesn't the GPU to speed up effects as advertised and the second reason is that integrated GPU found on Ryzen 5 and Core i5 are PRETTY close to dedicated GPUs with 2GB vRAM.
Storage & RAM: SSD + 8GB RAM (Up To 16GB)
Actually far more important than having a dedicated GPU or a slightly faster CPU here are the fact that this laptop has an SSD + 8GB RAM , nearly all laptops today do. But that makes a much bigger difference than the upgrades mentioned. This model's SSD can be upgraded to hold an additional SSD, you can choose to make it 1TB or 256GB. For illustrator purposes though, 256GB should be plenty!
As for RAM, there is support up to 16GB which is the maximum amount you need for Illustrator. One thing that could speed up performance EVEN MORE is upgrading RAM in dual-channel mode, I will write a post about it later but you can google it to see what I mean.
Newest HP

PROS

CONS

Latest Ryzen 5 CPU

Best Multicore performance CPU

SSD+8GB RAM out of the BOX

FHD IPS display under 450 dollars

RAM & Storage Upgradeable

Recent integrated GPU

Enough for 90% Adobe Illustrator users

Heavy

Needs a dedicated GPU for very large canvas or super high resolution image editing

iGPU Does not support higher resolution external displays
---
Best Budget Laptop For Adobe Illustrator
Ryzen 5 5500U
8GB DDR4
GeForce MX 450 2GB vRAM
256GB PCIe SSD
14" 60Hz Full HD IPS

4.4lbs
5 hours

This is a carbon copy of the first laptop , Newest HP 15, it's got the same hardware : CPU & RAM and the 256GB SSD. So there's no need to review those. The main difference is the dedicated GPU & form factor of this laptop (Upgradeability & Build design).
GPU: RX Vega 7 vs MX450
The addition of a dedicated GPU should only be considered by those working witih large canvas and very high resolution images.
Now, while it's true that the RX Vega 7 can approach the performance of 2GB vRAM GPUs that's only if you upgrade the HP Newest 15 to at least 12GB (integrated GPUs only approach dedicated GPU performance with extra RAM). When doing so, performance will be the same as MOST 2GB vRAM dedicated GPUs ( MX250, MX150)
However, even with the upgrades, a laptop or PC with integrated graphics will NOT outperform a laptop with a recent generation 2GB vRAM GPU like the MX450.
Storage & RAM: Upgradeable?
The main issue with these 500-600 dollar laptops with 2GB vRAM dGPUs like the MX series is that all of them are IMPOSSIBLE to upgrade. You will be stuck with the RAM & Storage given here. That's fine for most Adobe Illustrator users who are not going to work with several projects at once (each project opened takes about 200MB , so 8GB should let you work with at least 5 projects at once without running out of RAM).
The storage is not an ISSUE either as most vector drawing take very little if any space.
However, if you work a lot with rasterization of high resolution images and you ALSO work on several projects simultanoeously. Then it's probably not a good choice.
Form Factor: Weight and thinness
One good reason to choose this model over the HP newest is the form factor, it's WAY thinner and WAY lighter. It's the perfect basically, windows laptop, for those who want to work with Illustrator on the go for single or double projects at once even if they both happen to use high resolution images.
ZenBook 14

PROS

CONS

Latest Ryzen 5 CPU

SSD+8GB RAM out of the BOX

FHD IPS display

Fastest 2GB vRAM GPU (MX450)

Outperform the most recent iGPU

Thin & Lightweight

Perfect for high resolution/high canvas projects

It's not RAM or Storage upgradeable

Smaller display

Relatively shorter battery (4 hours)
---
Best Windows Laptop For Adobe Illustrator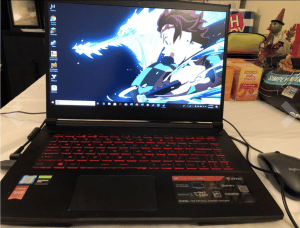 Intel Core i5 10300H
8GB RAM DDR4
GeForce 1650 GTX 4GB vRAM
256GB PCIe SSD
15" 1080p IPS 60Hz
4.1 lbs
3 hours

This is as much GPU and CPU power you'll ever going to need if you're going to use Adobe Illustrator. There are two upgrades here over both the Newest HP and the ZenBook: CPU & GPU. The rest of the hardware stays pretty much the same.
CPU: Core i5 10300H vs Ryzen 5 5500 or Core i5 11537G
Any CPU that has the H label on it and belongs to the same generation as CPUs with other letter labels (U or G), it's going to have SIGNIFICANTLY more clock speed performance. It may not sound much on paper but in practice, when you edit/apply effects, the gains are significant.
For Adobe Illustrator this is probably the top limit of how much CPU power you need to maximize speed when applying effects and drawing. Going for higher CPUs found on more expensive laptops is just a waste of money unless you want to Adobe Premiere or any other software that requires you to render a LOT of data.
GPU: 1650GTX 4GB vRAM
The same can be said about 4GB vRAM GPUs, this is as much as both Illustrator and Photoshop will find useful. In fact, the performance gains from a 2GB vRAM GPU to a 4GB vRAM are not significant but there is indeed a perfomance gain say when you work with a very high resolution image and you want to move around it quickly for pixel editing details and small drawings within that each image.
Going for 6GB vRAM GPUs and the like it's not going to increase performance here. It probably will but only with projects that are extremely large with very very high resolution…but that would probably be a project for PhotoShop and not Illustrator anyways.
MSI GF63 Thin

PROS

CONS

High Performance & High Clock speed

Maxed out vRAM for extremely large canvas work

FHD IPS display

Compact form

Very easy to RAM & Storage Upgrade

Extremely CHEAP 1650GTX laptop

Can be used for 3D Animation as well

Heavy

Poor battery

Runs out of stock pretty quickly
---
Best Laptop or Tablet For Adobe Illustrator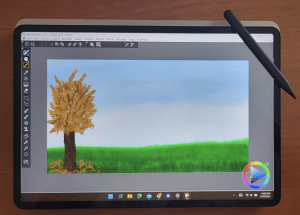 11th Gen Core i5/Core i7
16-32GB RAM
NVIDIA RTX 3050Ti 4GB vRAM
256GB-1TB NVMe PCIe SSD
14.4" 2400 x 1600
3.83-4lbs
8 hours

This laptop isn't that much powerful than the 1650GTX laptop we just went over. It's got better hardware but it's not going to run faster in Illustrator because the GPU & CPU power are too much for Illustrator. So there's no point talking about the hardware.
The improved hardware is not the reason it's listed here. It's the form factor & 2 in 1 tablet-laptop mode.
2-1 Convertible Laptop: Microsoft Surface Like
You can turn into sort of a tablet (hence the name studio) for which you can use an stylus to draw. It's not necessarily a tablet you can lift and use while standing up though as it is somewhat heavy, that would be the Microsoft Surface Pro which is ALSO a good option for Illustrator.
This model was named laptop studio because although it turns into a tablet it is more practical to use it on a desk rather than your lap.
Form Factor & Display
Another reason to buy this laptop is that it is actually a bit lighter than the ASUS ZenBook 14 and not only that, despite being lighter and having more power, it holds a larger battery & has a much higher resolution display (x3 higher) so about ~1080p x 2 = 2k . It's actually 2400 x 1600 which is almost the same resolution of the more expensive MacBook Pro.
Power: 3050Ti + 11th Gen Core i5
Just so we are clear, this laptop has MORE power than ANY laptop on the list despite being more 'portable'. Especially if we are talking about GPU power. Thus if you can find a model with less GPU or CPU power that's more affordable like the Surface Pro or the Surface Go or even the Surface Book, by all means grab it. I'm just listing this specific model because it's the latest from these 2-1 convertible microsoft laptops.
Surface Laptop Studio

PROS

CONS

Latest & Fastest Core i7

32GB + 1TB out of the box

2k resolution display

Mid-range 3050Ti

Useful for 100% Adobe Illustrator work

Long battery life

Supports external high resoluton 4k displays

Tablet mode for drawing

Extremely expensive

Cannot be RAM & Storage Upgraded

Not ideal for gaming


Must by stylus separately
---
Best Lenovo Laptop For Adobe Illustrator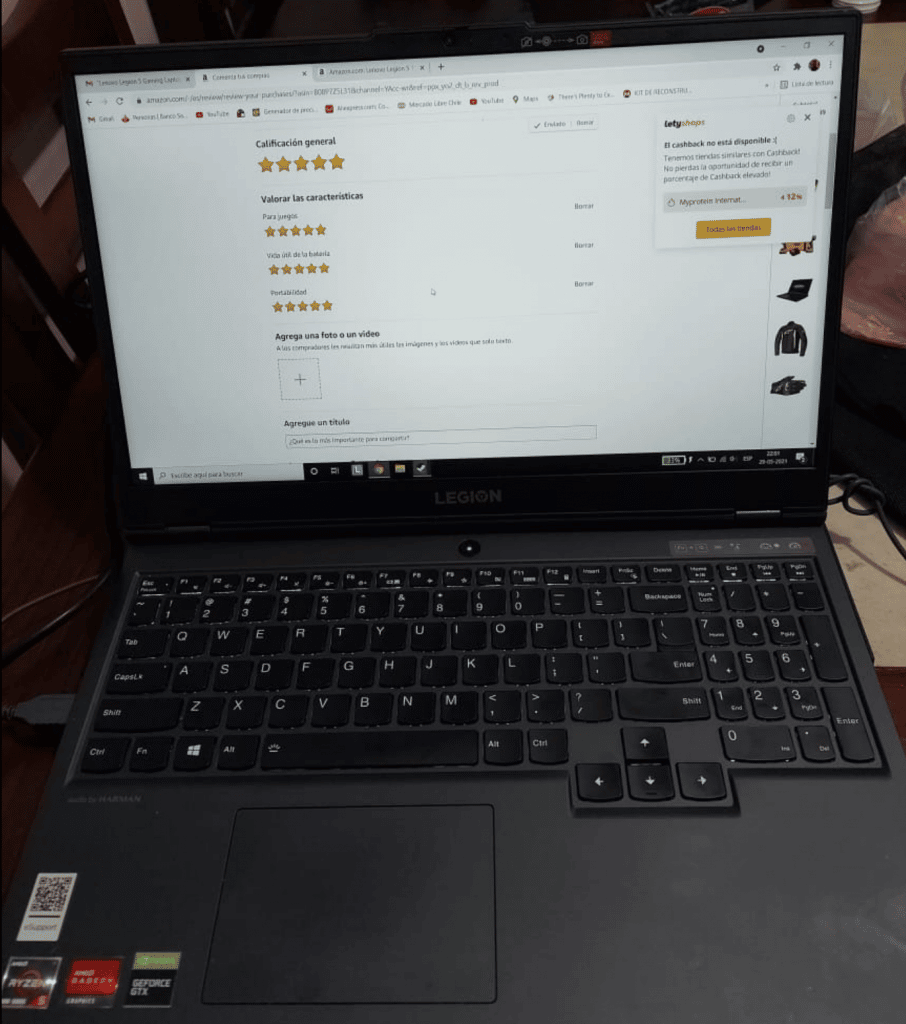 AMD Ryzen 5 5600H
8GB DDR4
GeForce GTX 1650 4GB vRAM
256GB PCIe NVMe SSD
17" 60Hz Full HD IPS

8 lbs
3 hours

Hardware: CPU + GPU
Lastly, the laptop with the biggest screen on the list. It doesn't have more power than the Surface Studio, it's got pretty much the same power as the 1650GTX laptop. All other hardware features like display type, battery, CPU, RAM, storage stay the same. The only thing that's different here is the display, it's a 17 inch display.
Display: 17 inch IPS
I know I find more space useful when working on a design from scratch. I can have easier access to the layers, properties, libraries and drawing tools without having to click on a menu for them to show up. I can also accomodate more bars like swatches, artboards . symbols & brushes.
It's just a matter of taste really if you're used to work with all these tools right in your face, then you probably want to invest either on a laptop with more resolution ( higher resolutions can ALSO accomodate more toolbars and windows) or a bigger display.
Lenovo Legion 5

PROS

CONS

Latest Ryzen 5 CPU

Best Multicore performance CPU

SSD+8GB RAM out of the BOX

17 inch + FHD , best display for illustrator

RAM & Storage Upgradeable

Cool tempeartures

Useful for 95% Adobe Illustrator work

2GB vRAM for large canvas work

Supports 4k external displays

Heavy

Very Low Battery

Just as expensive as a 3050Ti Laptop

Only 256GB out of box
---
Hardware Requirements for Adobe Illustrator CC
Adobe Illustrator will rarely give you issues with speed and the time it takes to apply effects. Most effects and click actions on an image or when drawing are nearly instantaneous.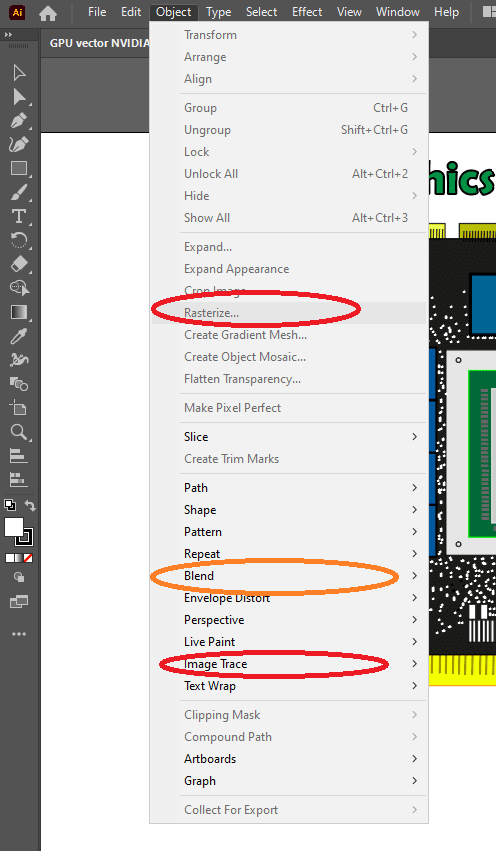 The only few actions that will slow down with bad hardware are:
Image tracing

Traces with water color images

Rasterization

Any other GPU accelerated effect that needs to completely change the way an image looks (rendering).
Hardware Guide For Adobe Illustrator CC
If you want to reduce the time it takes to apply mentioned effects, this is what you need to focus on when building a PC or buying a laptop. In order of priority: CPU, RAM, SSD & GPU.
1. CPU

There are only two specs to look after when you want to maximize performance based on the processor for a given software: clock speed and # of cores.

Cache size, power consumptions and even the generation of the processor doesn't play a big role.
1.1 Multicore Performance
#Cores vs Editing
# Cores (or #Threads) doesn't seem to play a big role in MOST software that includes the entire Adobe Creative Suite WHEN applying effects, drawing and editing an image.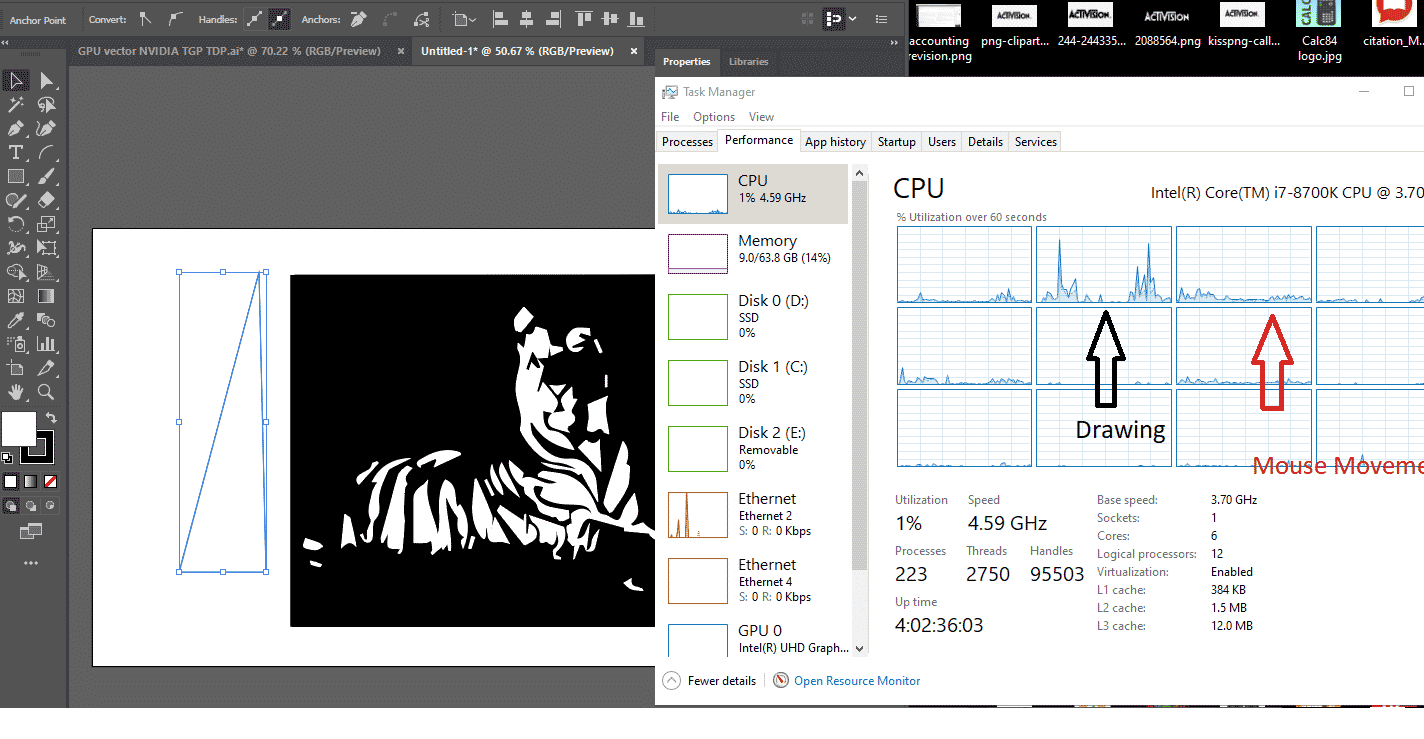 The image below shows you the CPU usage when you draw something. Notice how only one thread is being used to render the lines and another thread is used to handle mouse movements. If you read my post on computer specifications, you would know 2 threads = 1 core.
That means that Adobe Illustrator will pretty much use only ONE core when editing and drawing
#Cores vs Rendering
The situation changes when rendering an effect or applying major changes to an image. More cores should make this faster especially if you are applying effects on several images at once.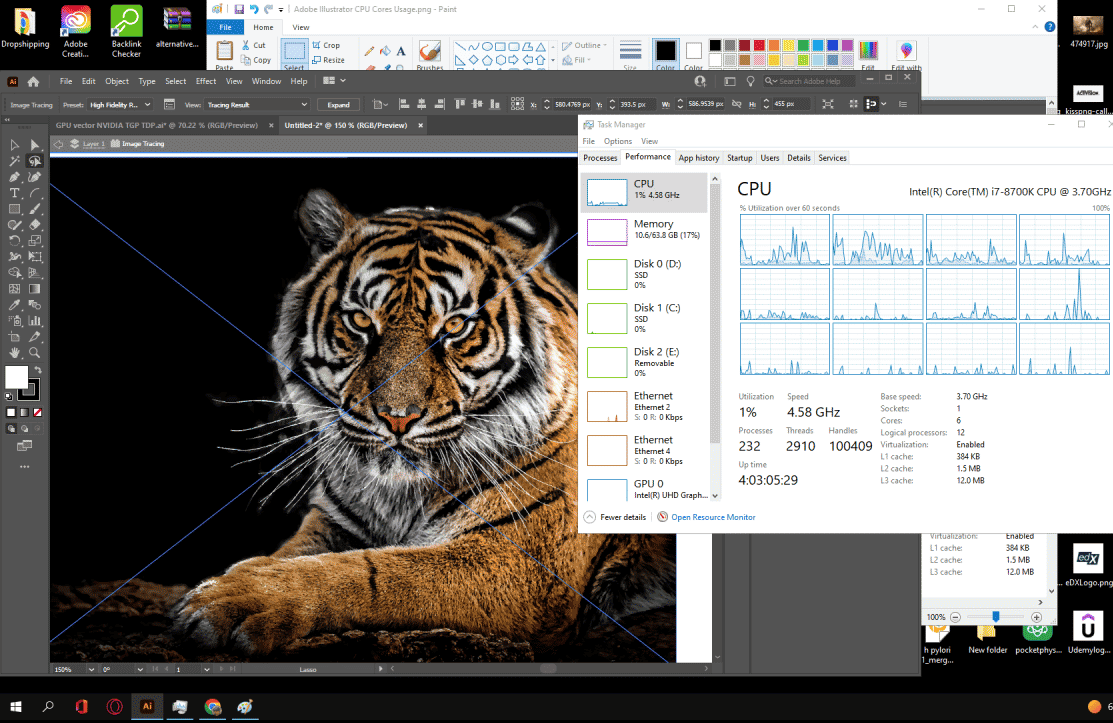 Adobe illustrator users will either be limited to vector drawings or a single image so having more cores isn't going to make a big difference when rendering or applying an effect.
If you are working with a high resolution image (see image above) and you want to…say…image trace so you can use the lazo tool later to extract a part of the image (face of the tiger for a logo) then having more cores will significantly speed up the process. Notice the figure above shows you almost every core being used but the work is mostly down by 4-5 threads (2 cores).
Adobe illustrator uses up to 2-3 cores when rendering or applying an effect to a highly detailed or big image
How many cores do I need then?
Because most modern laptops have at least 4 CORES, then ANY laptop you pick will have more than enough so the whole point here is that you DO NOT worry about number of cores when picking the best CPU for adobe illustrator. You worry about one thing only…
It should be clear by now that since Illustrator uses mostly two threads when editing (one core), you have to focus on the stats of that single core…the most important stat is clock speed (basically how fast the CPU runs calculations)…there's the RAM socket support too but we'll talk about that later.
Editing and Drawing
If you're mostly drawing and applying simple effects like MOST adobe illustrator users then you don't really need a super high clock speed CPU.
You just need a MODERN CPU with at least 4GHz to have a happy and fast workflow.
Rendering
On the other hand,There's really no limit how high you can go in terms fo clock speed if you want to speed up rendering.
For example, I was using an 8th generation Core i5 "DESKTOP" CPU in the benchmarks above which is equal to an 11th gen Core i5 laptop CPU and yet image tracing that high resolution image took ~45 seconds.
If you are nitty picky about speed and you have cash to waste then it may be a good idea to go beyond an 11th Core i5 or Ryzen 5 CPU.
But if we are being honest, you don't apply these effects or render every 5 minutes, it's probably one or two times per project.
The choice is totally up to you but I would NOT go for 11th or 12th Core i7 or 5th or 6th Ryzen 7 CPUs if you are limited to Adobe Illustrator.
Those are good choices for Adobe Premiere & Photoshop and Lighroom though. Most will be happy with Core i5 and Ryzen 5 CPUs…what becomes more important after is….
2. RAM
Because the CPU efficiency is HIGHLY dependent on RAM (this is where the data is stored for the CPU to run calculations – after cache size is full), it becomes the second most important factor for every software.
Let's go over a few facts about RAM & ADobe illustrator:
The Official Site recommends 3GB when Windows 11 itself takes 4GB. That's going to leave you with 1GB for Illustrator and any other background processes.

The more changes and effects you apply to an image (also the bigger it gets or the images you have), the more data is going to hold thus the more memory is going to need. Just how much data?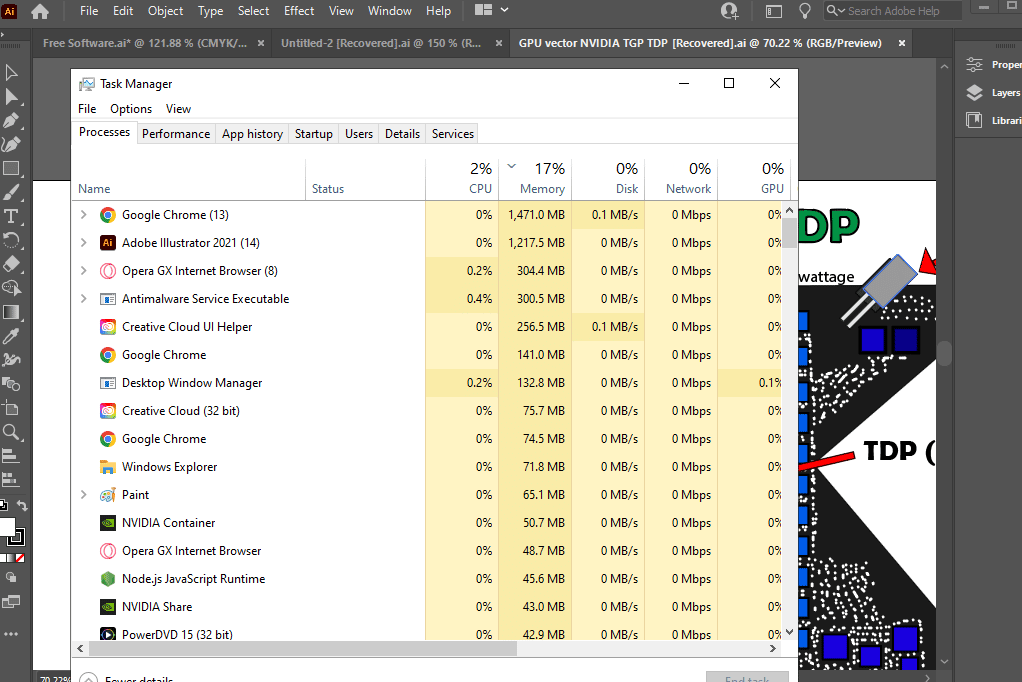 In the figure above I have a vector drawing , an infographic (4000×500 pixels) and the high resolution image of the tiger. You can see Adobe Illustrator taking 1.2GB and if you add up the Creative Cloud software, that makes it about 500GB extra so it seems to be around 1.7GB with three projects open.
2.1 8GB vs 16GB RAM
Now…
I actually wrote down how much RAM I was using before opening illustrator (9GB) and after Illustrator was opened (11.5GB)….the difference is about 2.5GB.
I'd say then most people will be fine with 8GB (2.5GB Illustrator + Adobe Creative Cloud & 4GB Windows = 6.5GB).
If you want to have bullet proof RAM cause you also want to run a lot of stuff in the background like me then a maximum of 16GB should do the trick (though trust me this is really too much for just Illustrator + Chrome).
When does 16GB become useful?
When you work with a high resolution map design (say you've been told to make a high resolution map of disney land), these images are not going to take a lot of RAM memory.

Small images with high resolution or large images such as infographics will take 150MB on average. If you are working with several projects at once (+10) then 16GB may also become useful.
Why do you have so much RAM (64GB) ?
I'd say 99% of the people reading this will never need more than 16GB RAM. I've got 64GB RAM because I use adobe Premiere and even then it's too much (it really uses a maximum of 32GB when rendering).
3. Storage
If you're buying a modern laptop made from 2019 onwards, you don't really even need to worry about how 'fast' your storage is.
3.1 Solid State Drive
Virtually all of them will have a Solid State Drive and they're all equally fast.
This is a requirement now for a speedy workflow, if you buy an old laptop that doesn't have one it will still be slow even if you have 16GB RAM and a high clock speed CPU.
That's how much difference Solid State Drive makes. More specifically:
They'll also boot up your system in seconds

Start up Illustrator in a flash.

Saving/Opening and anything related to reading/writing data will be several times faster too.

There's probably a performance gain when applying heavy effects on a high resolution image but there's no way for me to measure it for now. Maybe I'll do so in the next update ( I need two laptops with same specs but different hard drives).
If you are a buying a PC, then it's probably going to be useful to know the hierarchy of speed:

SSD PCIe NVMe > SSD PCIe > SSD SATA III > SSD SATA II > HDD 7200 RPM > HDD 5400RPM
3.2 Scratch Disk
Scratch disk basically means illustrator using 'storage' as memory because you don't have enough RAM for whatever type of project you're working on. If this is a high resolution map graph of a city OR if you are working with hundreds of high resolution images (as you would in PhotoShop), you will run into issues.
But illustrator creators rarely do this if ever.
So this scratch disk phenomena will only be an isue if you don't have enough RAM memory (if you have 4GB it's going to happen frequently).
If you have 8GB and you come across something that's really memory heavy like Embedded bitmaps, then scratch disk will come into play. Now, this isn't bad…if you have a solid state drive because like we talked about before SSDs are very very fast so they're good RAM memory replacements.
Just be sure to assign scratch disk to the solid state drive as shown in the video.
4. GPU
As you know there are two types of graphics cards: integrated (they come by default on every Laptop or PC) and dedicated graphics cards (which you must pay an extra 200-300 dollars to grab a decent one).
It is a bit overboard to say that you MUST buy a PC or laptop with a dedicated GPU if you're going to use Illustrator because it really depends.
4.1 When do dedicated GPUs become useful?
Dedicated GPUs will come in handy when:
Large resolution images.

Complex compound paths

Working with very high resolution (4k ) displays because you have to work for projects that aim such display devices

Moving around a large canvas.
All the performance gains and advantages of using a dedicated GPU in illustrator are talked about in this article by NVIDIA. However, only the instances mentioned above. The GPU usage on functions like image tracing are minimal so performance gains are barely noticeable: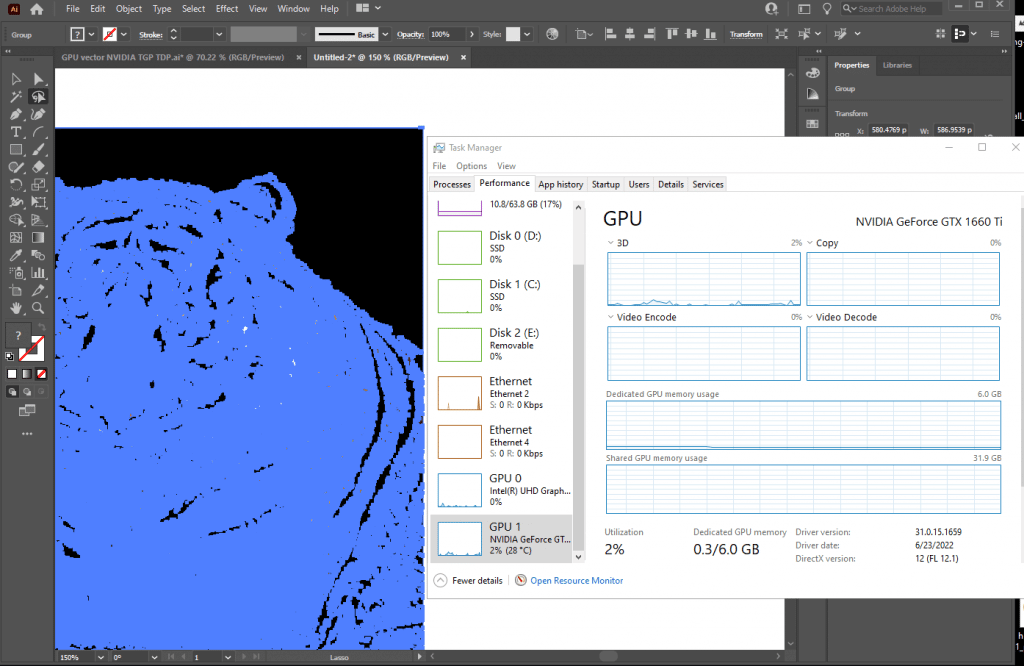 4.2 Large Canvas
The most useful instances are not going to be when applying 'GPU accelerated effects', the gains are minimal. They're going to be when you're editing or moving around a large high resolution (high data) image as shown below and as explained in this article:
Workstation vs Consumer GPU
Do not be fooled though. You don't need to 'workstation' quadro firepro GPU that costs a 1000 extra bucks. You just need a 4GB vRAM GPU and even a 2GB vRAM will do for most people. But the peak performance gain is right at 4GB vRAM GPUs like the 3050Ti, 1650GTX, 1050Ti, etc.
I myself have a 1660Ti (6GB vRAM) and it's kind of overkill for Illustrator.
5. Display (Optional)
Because most laptops now have a 1080p resolution and most desktops also come with at least a 1080p display this section is optional. If you have eye issues or if you have extra cash read it. If not skip it.
Glossy
Most laptops have a glossy display and that can be a good thing if color accuracy is extremely important to you. Glossy displays have no filter so you will be see the true colors being displayed by illustrator and it is very likely that those are the colors that will be displayed on the client's device (whether it's for print or a display).
Matte
Very few laptops have a matte display and they're not necessarily bad for color accurate work, colors will look slightly (almost unnoticeably ) off..the red from spiderman will look a bit more opaque for example.
That's because they have a filter and that filter is placed to reduce your exposure to too much light. This will protect your eyes somewhat over time. I don't have eye issues but I would definitely consider matte displays if it was a concern for me.
The best option would be to get a glossy display then add a mate filter on top of it when you don't need to work on colors:

IPS vs TN
Actually the biggest factor into color accuracy is display type. IPS will have far better color accuracy than TN displays, the difference is SIGNIFICANT for Adobe Creative Cloud users. IPS usually come with Glossy displays (99%) the time and TN displays will come with a matte finish 50% of the time.
2k & 4k Display
It isn't wise to buy a 'Windows' laptop with a 2k or 4k display because they will cost an eyeball, if you have to work for 4k and 2k devices then you should probably get a desktop monitor and attach it to the dedicated GPU's HDMI port. It's not only cheaper but it's actually more practical if you're buying a laptop.
You don't want to drag a 17" 10lb laptop with a 4k display if you're only sporadically working with 4k content.
MacBooks
Q: What is the best mac Laptop for Adobe Illustrator?
If you're buying a MacBook, you don't really need to research or know about computer hardware.
Virtually every MacBook released from 2020 will run Adobe Illustrator like a champ. Yes, even the MacBook Airs will blaze through the software.
The higher priced MacBook Pros have the addition of either a dedicated GPU or more RAM which as we discussed may or may not be advantageous to you (it depends on your workload).
Old laptops
If you have an old laptop somewhere, chances are with the proper RAM & SSD upgrades and a few tweaks pointed out in this post , you can run illustrator with no issues. This is a good cheaper option if you're just getting started with graphic design.
If you're interested check my posts on how to upgrade RAM and how to upgrade SSD storage.
Conclusion
Most adobe illustrator users will be fine with a Core i5/Ryzen 5 CPU that can hit at least 4GHz + 8GB RAM.
The addition of dedicated GPUs is optional and should only be considered by those working with large high resolution image editing.
Comments
I am more of a Photoshop guy than Illustrator so if there's anything you'd like to suggest, add or correct please leave a comments below.
Author Profile
I am physicist and electrical engineer. My knowledge in computer software and hardware stems for my years spent doing research in optics and photonics devices and running simulations through various programming languages. My goal was to work for the quantum computing research team at IBM but Im now working with Astrophysical Simulations through Python. Most of the science related posts are written by me, the rest have different authors but I edited the final versions to fit the site's format.