The 10 Best Laptops for Architecture 2023 (Latest Software) + Hardware Guide
The best laptop for architecture must be hardware-optimized for lagless drawing and viewport as well as minimizing rendering times with CAD software.
Although…
CAD software may mean "Rhino" which is basically an advanced version of Sketch up. You'll probably end up using Autodesk Revit (the industry standard) and ocasionally 3DS Max when high quality renders are needed.
Either way…
These are all CAD software which require a:
A) High clock frequency CPU ~4.5GHz
B) Dedicated GPU (2-6GB vRAM depending on whether you are a student or an architect).
Below's a summary of the hardware you should be after…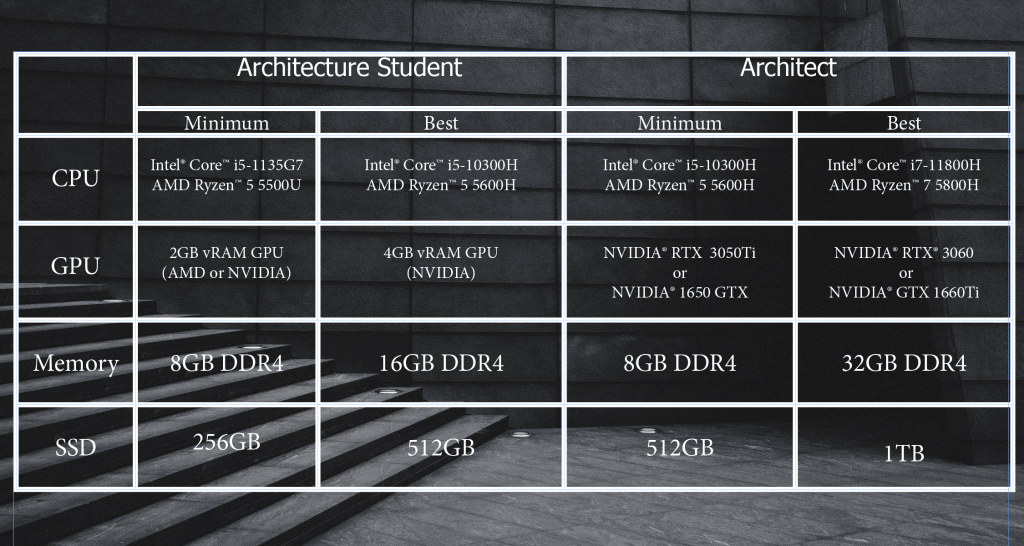 Notice how there's no mention of workstation laptops with Quadro and FirePro graphics. I'll explain why soon but yes 95% of the people reading this do not need a 10lb workstation laptop.
Best Laptop Specs For Architecture
I'll post all kinds of laptops here and explain to what type of architect or student are they useful. Before that though let me briefly talk about the hardware details so if anyone here decides to buy a laptop out of my list, they can avoid the three most common mistakes architects make when buying a laptop:
1. Not maximizing CPU power/money ratio
2. Overspending money on Graphics card.
3. Not having a FHD resolution display
I'll start talking about each piece but there's more details in the last section of this post.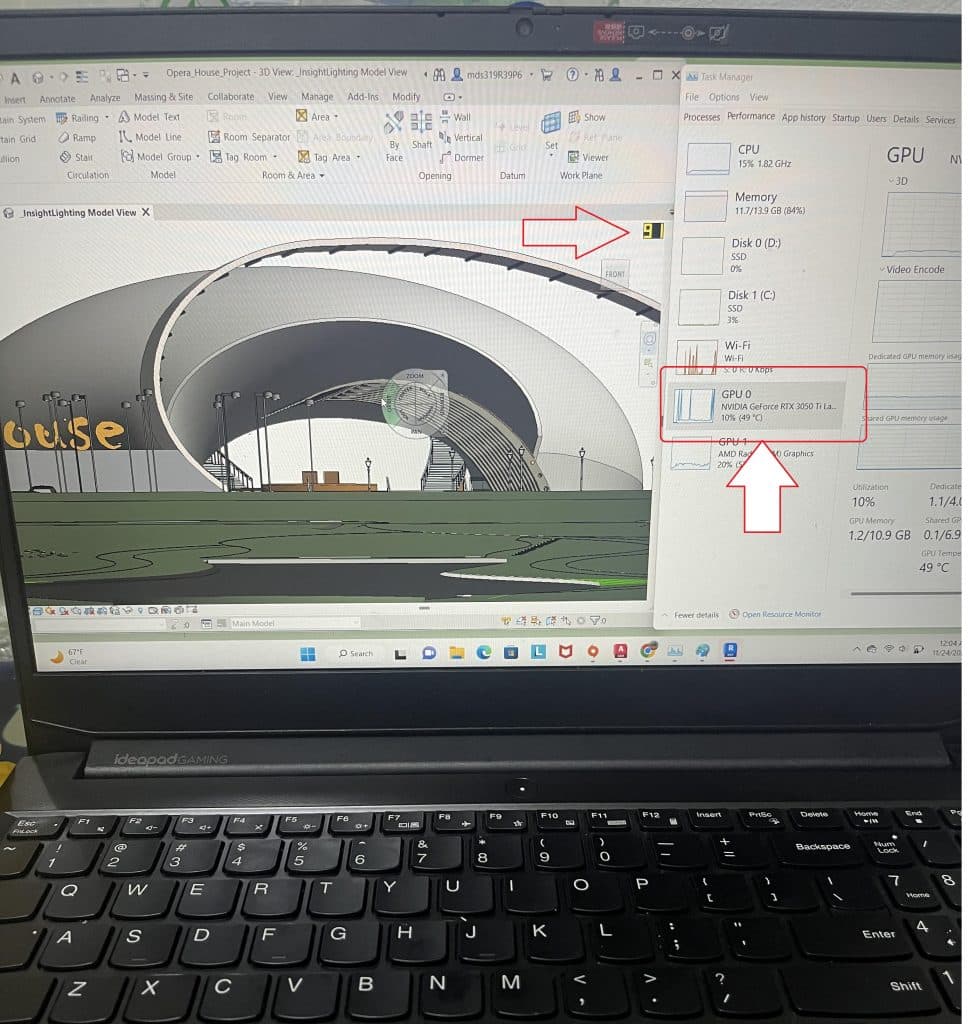 CPU
Clock Frequency: High clock frequencies in GHz means fast drawing & design tasks. These are "frequency" dependent.
#Cores: only help with rendering (not drawing and editing), the more you have the faster the rendering.
Since most laptops with good graphics cards have at least 8 cores, you must focus on 'single clock frequency performance
Architects: 4.5GHz frequencies with 8 cores. Recommended: Core i7 11375H/Ryzen 7 5800HS.
Students: You aren't likely to work with 3D CAD software on a regular basis till your 3rd or 4th year thus you can settle for something less. Ex: AMD Ryzen 5 5600H or Core i5 10300H.
GPU
vRAM: This affects viewport fps (rotating a model in 3D). So this has a direct effect on how fast you design and draw. The bigger your models, the more you'll need.
CUDA Cores / Shaders : You'll find more on more recent GPUs but they don't add significant performance gains when rendering.
Focus on vRAM here rather than anything else.
Students: 4GB vRAM GPUs. Ex: 1050Ti/1650GTX/3050Ti
Architects: 95% of architects will be happy with just 6GB vRAM. Ex: 2060RTX/3060RTX/1660Ti.
Workstation GPUs: Unlike regular consumer GPUs, they are explicitly made for 3D CAD Software however given the similarity with gaming GPUs, they are only useful if you need the extra vRAM for skycrapper like designs (They can have up to 16GB vRAM) or when you need to unlock very niche and special plug-ins & features.
RAM
Students: 8GB RAM is plenty. Optionally you can upgrade to 16GB RAM, this will ONLY speed up rendering with much bigger projects.
Architects: You never have just Revit open so at least 16GB RAM.
Storage

SSD are a must in 2023 they won't speed up rendering or drawing but everything else. If you're buying refurbished or older models due to budget issues, be sure to do the upgrade as shown here.
Students: 256GB will be plenty for school. Projects weigh ~1GB on avg. I adivce you use your DropBox account for back ups.
Architects: Most "unpurged" revit files can quickly fill up 256GB. ~512GB for repository purposes.
Weight & Display
They're directly correlated.
Students: 13" will work but you'll have to give up power. 15" is common but heavier. Lightweight 15" are best but extremely expensive.
Architects: 15" bare bone minimum (for canvas & direct access to interface tools). 17" is ideal and if you have the budget, QHD or UHD resolutions will massively increase workspace for bigger projects (more quick access to tools).
*If you are an architect and want more details on hardware for Architectural CAD Software check the last sections of my Revit or AutoCAD posts. If you are a student, you can find more details on the last section of this very same post.
Top 10 Best Laptops For Architecture

The following list is made out of laptops for students, architects and even those few people that will actually need a workstation GPU. They've got all the hardware I've discussed above and they're the best deals on each of their brackets.
I could've just listed 5 laptops but I tried to include more variety as far as portability goes (for students) and power (for architects). Don't worry I'll explain in detail when exactly each of these are useful, I won't be talking about useless jargon like hardware specs as most sites do.
A quick summary:
Laptop 1: suitable for virtually all students and 95% of architects.


Laptop 2: bare minimum for architects, perfect for students


Laptop 3: solely for students.
Laptops 4: Solely for architects – Best hardware specs.
Laptops 5-6: Most lightweight & Portable. Depending on the model & hardware you choose may be for architects or students.
Laptops 8-10: Laptops with workstation GPUs. 5% of architects may need this.
---
1.

Lenovo Ideapad 3
Best Budget Laptop For Architecture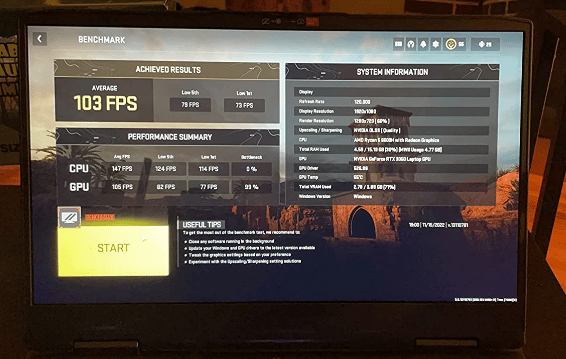 AMD Ryzen 5 6600H
8GB DDR4
NVIDIA GeForce GTX 3050Ti 4GB vRAM
256GB PCIe NVMe
15" Full HD IPS 120Hz refresh rates
4.96lbs
5 hours

Currently the best bang for your buck laptop with a dedicated GPU it even has the updated and latest Ryzen 5 CPU on it under 600 dollars! It's probably going to run out of stock soon so check the next laptop if that's the case.
Hardware

GPU: 3050Ti 4GB vRAM
When you have 600-700, you'd usually find the following GPUs : MX450, MX350 (2GB vRAM) & 1050Ti 1650GTX (4GB vRAM), this 3050Ti right here blows any of those GPUs out of the water and what's interesting is that there are several 3050Ti laptops that are actually cheaper than laptops with those wekaer GPUs.
Now there's nothing with those GPUs, they will work well even for professional architects (1050Ti & 1650GTX) and they will probably, since they have as much vRAM as the 3050Ti, give you the same performance when using viewport on large 3D building models like somewhat detailed hospital.
However, the 3050Ti has a significant amount of extra CUDA cores & more 'clock speed' which is going to make rendering witih third-party renderers (outside of Revit & Rhino which are both CPU dependent) faster. GPU based renderers would be something like Lumion, iRAY and 3DS Max.
CPU: AMD Ryzen 5 6600H
What's even more is that most laptops below 700 dollars with those GPUs and even those with the 3050Ti have slightly older generation CPUs, we are in 12th for Intel and 6th for AMD Ryzen. Surprisingly, this model has the latest, 6th gen Ryzen 5 CPU for 600 dollars ! It may not look like it's mindblowing to you now but when do you research and browse around laptops and look at the specs, you'll understand .
Storage: Only 256GB
The only con of this model is that it only has 256GB and although this may be enough for Architecture work, AutoCAD, Revit, Rhino and for your current project files, you may run out of space once you accumulate a lot of 'unused' & finished projects or games in it. This is no reason to go for the other models whicihi have a weaker GPU (shown in the table below) because you can always upgrade storage. I show you how to do this on this post: How to upgrade Storage.
RAM: 8GB vs 16GB RAM
If you're still in school, 8GB should be plenty. Rendering will be slower but viewport (thus your workflow) will have no lag because you have 8GB. If you're in your third, fourth or already a working architect, then you need at least 16GB RAM, it's just going to cut rendering times in half.
Alternatives
Below you can see all the best deals with a 3050Ti, there are more laptops with a 3050ti but they're just unncessarily expensive. The laptop we're featuring here is the one highlighted.
| | | | | | |
| --- | --- | --- | --- | --- | --- |
| Link | GPU | CPU | Display | Storage | Price |
| Victus | 3050Ti | i5 12500H | FHD | 512GB | 703 |
| Ideapad | 3050Ti | R5 5600H | FHD | 512GB | 754 |
| Ideapad | 3050Ti | i5 11300H | FHD | 256GB | 699 |
| Lenovo Ideapad | 3050Ti | R5 5600H | FHD | 512GB | 702 |
| Ideapad | 3050Ti | i5 11300H | FHD | 256GB | 699 |
| Ideapad gaming | 3050Ti | R5 6600H | FHD | 256GB | 599 |
If you find it out of stock, I suggest you grab the cheapest 3050Ti laptop you can find. The CPUs have pretty much the same performance so they're not going to significantly reduce the time it takes for things to render (on average it takes ~20 min on revit, it may take 15-18 with the most recent ones),.
---
2. MSI GF63 Thin

Budget Laptop For Architecture School

AMD R5 3500U 3.7GHz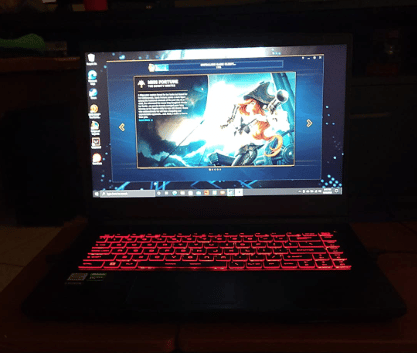 8GB DDR4
NVIDIA GeForce 1050 2-4GB vRAM
256GB NVMe SSD,
15.6" Full HD TN Display

4.32lbs
5 hours

A cheaper option would be going for a 1650GTX laptop.
GPU: 1650GTX

Like I said, 1650GTX have the same aount of vRAM as 3050Ti laptops so they will have the same performance when you use viewport and rotate, navigate through a model. 1650GTX only have less CUDA cores and lower clock speeds which are not useful for rendering neither in AutoCAD, Revit or Rhino much less sketch up. It will render things plenty fast even in GPU renderers like iRAY & Lumion just not as fast as 3050Ti laptops.
Below you can see a table with the best bang for your buck 1650GTX laptops:
| | | | | | |
| --- | --- | --- | --- | --- | --- |
| Name | CPU | GPU | Display | Storage | Price |
| Ideapad 3 | R5 5600H | 1650GTX | 120Hz | 256GB | 630 |
| MSI GV15 | i5 11400H | 1650GTX | 144Hz | 256GB | 639 |
| MSI GF63 | i5 10300H | 1650GTX | 60Hz | 256GB | 564 |
| Lenovo L340 | i5 9300H | 1650GTX | 60Hz | 256GB | 601 |
| Idepad i3 | i5 11300H | 1650GTX | 60Hz | 256GB | 648 |
| Lenovo L340 | i5 9300H | 1650GTX | 60Hz | 256GB | 624 |
| MSI GF63 | i5 10300H | 1650GTX | 60Hz | 256GB | 599 |
| MSI GF63 | i5 9300H | 1650GTX | 60Hz | 256GB | 544 |
| MSI GF63 | i5 10200H | 1650GTX | 60Hz | 256GB | 599 |
Note that most of these are more expensive than the Lenovo Ideapad with the 3050Ti. The only way to save money from a 1650GTX laptop is by choosing those models with slighitly older CPUs. Two good examples are highlighted in the table. Do not worry about giving up the newer CPUs, Drafting speed with CAD software and even rendering will not take a huge toll from the slightly slower CPUs, lack of RAM (you should upgrade it to 16GB) will have a much bigger impact.
---
3.

ASUS ZenBook
Best Laptop for Architecture Students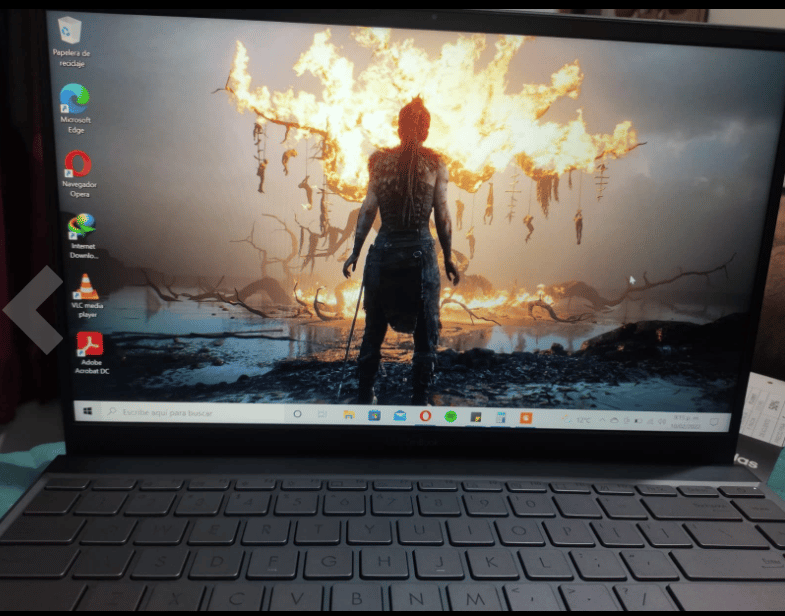 AMD Ryzen 5 5500U 4GHz
8GB DDR4
GeForce MX350 2GB vRAM
256GB SSD
15.6" FHD IPS

3.7lbs
8 hours

Let us get back to more affordable laptops now.
If you can't afford neither the 1650GTX or 3050Ti, the only next choice (for fast viewport) would be to go for a 2GB vRAM GPU like those found on laptops below 600 dollars like the ASUS ZenBook, these GPUs are kind of rare and only found on the ASUS ZenBook models but they have the advantage of being extremely portable.
MX Series
All of these GPUs only have 2GB vRAM and not ALL of these are worth paying 500-600. I would only pick the MX450 or in the worst case scenario the MX350. The reason is that the MX250 and MX150 although they may be cheaper, their performance is not much faster than laptops under 500 dollars with integrated GPUs.
Below you can see all the current MX series laptops with either the MX350 or MX450.
Note that a MX GPU doesn't guarantee you'll find much cheaper laptops. Like I said, the 3050Ti is sort of rarity right now and despite being several times faster than the MX 450 it's selling for only 60 more dollars.
If you do find these MX cheaper (because the 3050Ti & 1650GTX laptops prices went up) then beware that they will take 30 min to render something in high quality (Revit) but much less on AutoCAD (isn't very hardware demanding when it comes to rendering). Also although 2GB vRAM will handle viewport just fine for houses and small buildings, viewporting a building like a hospital in high detail will lag. That doesn't mean it's going to be impossible to work with but just want you to be aware of it.
I would say if you are still a student, then it's definitely a good choice. If you are an architect or someone on their 4th year , should definitely be a last resort.
---
4.

Lenovo Legion 5 Pro
The Best Laptop For Architects – Best Specs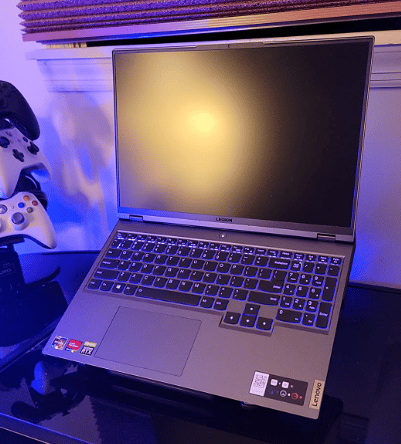 Core i7-11800H 4.6GHz
16GB DDR4
NVIDIA RTX 3060 6GB vRAM
512GB PCIe NVMe
15" full HD 144Hz IPS
5.07lb
4 hours

So far we've talked about laptops that will 100% be useful for ALL architecture students and MOST architects, we haven't talked about a laptop that would 'bullet-proof' for virtually every architect, that is, a laptop that will not LAG no matter how big the BIM project is.
The first condition for the best performance out of a computer built for BIM projects is having a 6GB vRAM dedicated GPU.
GPU: 3060RTX
And the best 6GB vRAM GPU as of 2023, it's still the 3060RTX. There's also the 1660Ti and the 2060RTX which may be much cheaper and honestly they will work just as well as the 3060RTX when it comes to viewport (same vRAM) and drafting/drawing (CPU dependent tasks not GPU dependent) and these older GPUs will also give you the same performance when rendering with Rhino, AutoCAD & Revit (all CPU dependent).
However, we both know, you're not going to use just Revit & Rhino for 'final' renders to show to clients or to post on the social media pages of your company, you will either use Lumion or iRAY, and there's also the chance you will at some point use it for walkthrough renders in 3DS Max. All of the renderers are extremely GPU-dependent, they use the 'CUDA cores' found in NVIDIA GPUs only and the 3060RTX has a large amount of extra CUDA cores over its predecessors as shown below:
| | | | |
| --- | --- | --- | --- |
| Name | Cores | vRAM | Speed |
| 1060 | 1280 | 6GB | 1670 |
| 1660 Ti | 1536 | 6GB | 1590 |
| 2060 | 1,920 | 6GB | 1680 |
| 3060 | 3584 | 11GB | 1780 |
Notice the significant amount of extra Cores the 3060RTX has (~2000), this is what'll speed up rendering in mentioned renders tremendously. A lumion render that would take 1h with a 2060RTX will only take 20 min with a 3060RTX.
Wattage: 130W
Not all 3060RTX behave the same way, although they will all have the same amount of CUDA cores (3584). All cores within a GPU will run at lower speeds than they're capable of IF the GPU only runs at low wattage (power). This is why you'll find many 3060RTX under 1000 dollars, they will run at lower powers hence their performance will be much lower for rendering (lower clock speeds affect rendering the same way a CPU with lower clock speed will take more time for things to render) and this is the reason why the Lenovo Legion 5 Pro is kind of expensive.
If rendering with high quality on Lumion, iRAY or 3DS max as FAST as possible isn't a concern for you but rather having a smooth viewport with large BIM projects then by all means you can grab the lower-wattage 3060RTX GPUs or even choose the older versions : 1660Ti, 2060RTX and even the 1060 GTX.
CPU: Ryzen 7 5800H
Lastly, beware that the cheaper laptops with a 6GB vRAM GPUs may not have this very same CPU (or it's sort of equivalent Core i7 11800H) which is MUCH MUCH faster than any Core i5 or Ryzen 5. Rendering, viewport and of course drafting is very CPU-dependent (outside of viewport, the GPU is just an additional boost to performance) so settling for a lower-clock speed CPU will have huge repercusions in your workflow IF you deal with very large BIM projects (not so much for basic buildings).
---
5.

DELL XPS 15
Best LightWeight Laptop For Architecture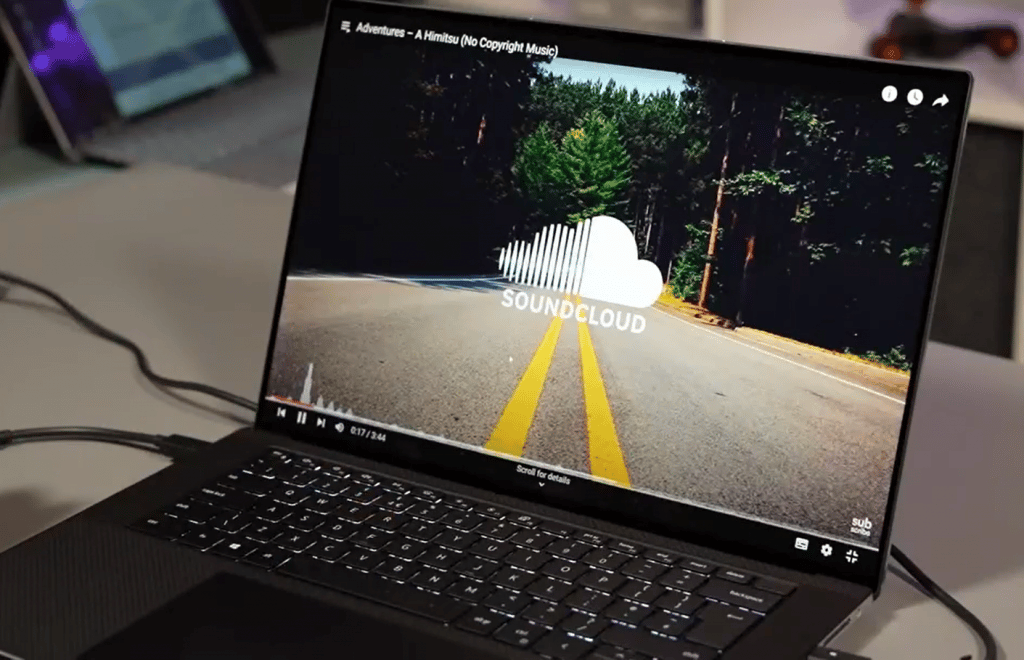 Core i9-12900H
16GB DDR5
NVIDIA RTX 3050Ti 4GB vRAM
1TB NVME SSD
15.6" 4k Touch
4.6lbs
3 hours

All laptops we have went over so far (except for the ASUS ZenBook) are heavy and that's the problem with powerful laptops with the powerful dedicated graphics. It's very difficult to design a laptop that has a lot of power (like a Core i7 or a dedicated GPU) on a thin, lightweight and compact form. It is possible but it makes the design extremely complicated hence why it's very expensive.
Now the next two laptops we're going to go over have the power (more or less) of 4GB or even 6GB vRAM laptops but will weigh around 2lb less and also be a lot thinner starting with the Dell XPS 15.
Hardware
The Dell XPS 15 can be configured to have the amount of RAM & Storage you want before purchase. I suggest you try to max it out to 32GB so you can speed up rendering as much as possible. You can also choose the newest version which has the 12th gen Core i7 CPU as featured here but if you find it too expensive you can settle with the older versions which may have a 10th or 11th gen Core i7. They all work equally well for when using viewport for medium sized BIM projects because they all have a 4GB vRAM GPU (either a 3050Ti or 1650GTX) but rendering with the latest Core i7 CPU will be SIGNIFICANTLY faster because compared to previous generations there's about 2-4 extra cores (it's hard to calculate how much more cores it has because these extra cores have newer functions).
Display
The best part about these ultrabooks that pack a dedicated GPU is their display. They usually fit in a QHD display and sometimes even a 4k display on a 15" or 17" panel, this extra resolution makes a HUGE difference in the way you interact with software like Rhino & Revit because it gives you an insane amount of extra space to work with, think about the libraries, BIM files (objects) & functions you would like to have quick access to (without going to the menus but rather use toolbars right next to your canvas).
---
6.

MacBook M1 Pro Chip

Best Mac Laptop For Architects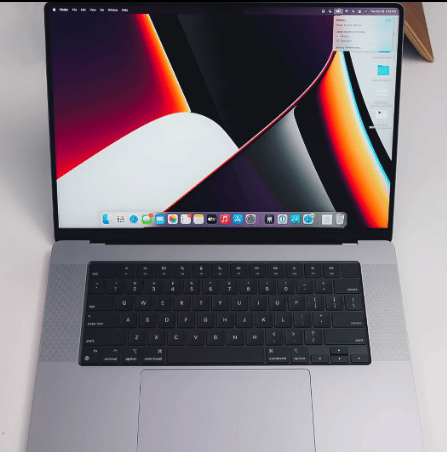 M1 Max Chip 10 Cores
16-64GB RAM DDR4
32-core GPU
1TB PCIe SSD
16" Retina
4.7lb
+10 hours

As of 2023, Macs are incompatible with some architectural CAD design software. Though AutoCAD & Maya have a Mac Version. 3DS Max & Revit do not. Luckily, Rhino & Sketch Up have a Mac Version now and this is why many architects still use a Mac.
Performance
When it comes to MacBook you have A LOT of choices especially if you go for older models, and there are some advantages of going for the older models. We'll clear up all the confusion about the newer M1 & M2 MacBooks though. First know that the GPU and CPU are both included in the same chip, kind of like a CPU has an 'integrated GPU', thus the faster your CPU, the better your integrated GPU will be.
With this in mind, the GPU performance of the recent MacBooks goes like this:
M1 Pro Max> M1 Pro > M2 > M1
In other words, the M1 Pro Max has the highest performance (mostly due to high CPU & GPU core count) while the M2 is only slightly faster than the M1 chip (not worth paying the extra cash in my opinion).
Regardless ALL of the M1 & M2 chips are extremely fast for medium BIM projects in every CAD software, that is, viewport will work just fine. It will work as good as a windows laptop with a 4GB vRAM GPU.
Now if you want to get the fastest performance when rendering and you want something that can viewport very large BIM projects smoothly (a hospital, an entire block with high detail) then you want to grab the M1 Pro Max MacBook Pros, NOT the M2 MacBook Pros, they're the most recent but they're no more powerful than the M1 Pro.
2019 MacBook Pro: AMD RX 5500M Pro
I currently own the 2019 MacBook Pro which you can find for about 1000 dollars (refurbished) I've had roughly for about a year and I dropped it around two times and it's still working and rendering fine as you can see below:
This 2019 MacBook in fact may be a better choice for Architecture because it supports bootcamp (you can install Revit with Bootcamp) as the newer models do not support bootcamp .

Display & Design
There are several reasons why a lot of architects use a Macbook (besides the prestige it brings to their companies):
Manufacturing quality: it just last longers and it's much more resistant to all the jostling that happens as you move from construction sites to the office. A well-cared MacBook can last you for 10 years!

Lightweight & thin: The 13" MacBook Pros and even the 16" MacBook Pros is significantly thinner than same sized Windows laptop.

Battery: battery is not long (especially when you use CAD software) but at least it's higher than batteries on Windows laptops.

Display: display is beautiful, true-tone makes renders and show-case final renders to clients look better and the resolutions are always much higher than FHD.
If you are a still student, you could settle for any of the M1 or M2 chips of your choice. If you are an architect you may want to invest either on the 2019 MacBook Pro with the RX 5500M or the M1 Pro Max MacBook
---
7.

Microsoft Surface Studio
Best UltraBook For Architecture Students & Architects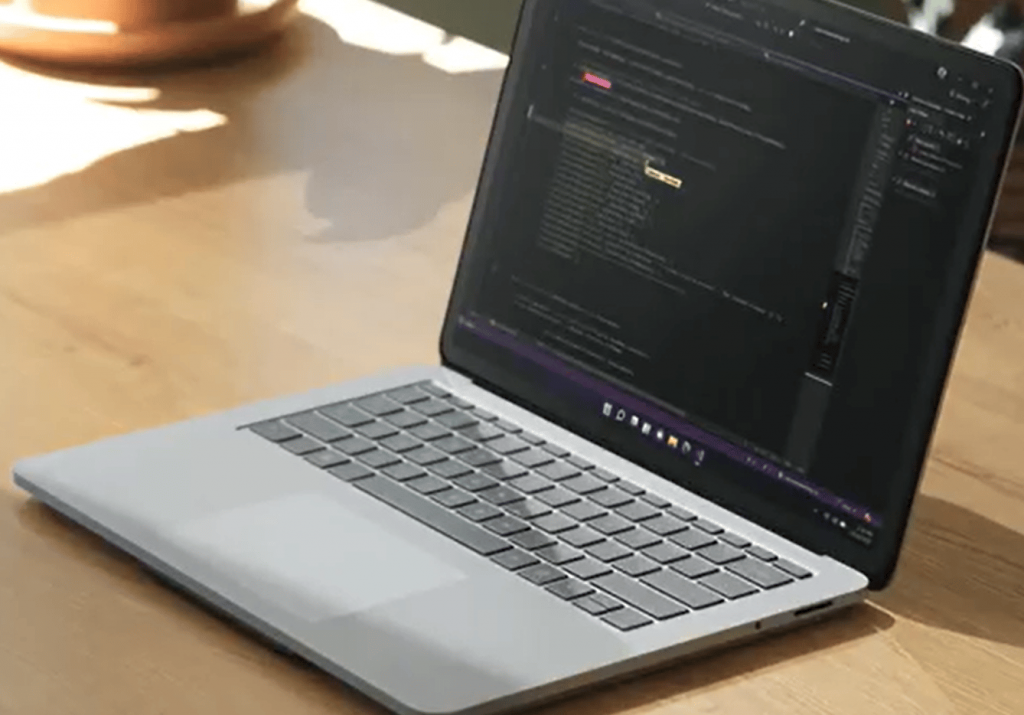 Core i7 11th Gen 4.8GHz / Core i5 4.4GHz
16-32GB RAM
NVIDIA GTX 3050Ti 4GB vRAM / Intel Iris Xe
256GB-1TB NVMe PCIe SSD
14" 2400 x 1600 pixels TouchScreen 2-1 Display
3.83lb
5-10 hours

The windows alternatives to the thin, lightweight and resistant MacBooks are the microsoft surface devices: The Surface Pro, The Surface Book, The Surface Laptop or the Surface Laptop Studio featured here.
Performance
The Surface Pro and the Surface Laptop are both devices without a dedicate GPU (no vRAM), nonetheless as long as you choose one of the most recent models (8th or 9th gen Surface Pro for ex) you will get the latest Intel Core CPU which by default comes with a very good integrated GPU which should have enough power (more so if you up RAM to 16GB RAM) for architecture students and they're much much cheaper than the Surface Laptop Studio here.
If you are an architect. you must choose either the Surface Laptop Studio here which has a 4GB vRAM GPU (same performance as the 4GB vRAM GPUs went over) and the Surface Book 3 (1660Ti GPU ~6GB vRAM). For quick workflow purposes (fast & smooth viewport) does not matter whether you go for an older version or the newest one here because they have the same dedicated GPU. For rendering purposes, it makes somewhat of a difference as explained in the Lenovo Legion 5 Review.
Display & Design
It's got the same built-design as the MacBooks, it's rock solid, there's no tettering, no bending when pressing on the keyboard and the chasis is made out of full aluminum. I would guess it can take a few drops just like my MacBook Pro but I wouldn't dare to test it though.
We already said, they're all thin and lightweight (depending on the hardware they have) with the Surface Pro 9 being the lightest of them all and maybe even the lightest ultrabook across all brands.
They all have the same resolution too (close to QHD but higher resolution than the MacBook Pros).
Stylus & Tablet Mode:
You're probably thinking that this is like an iPad but not this is actually like a MacBook that can turn into a tablet, all of them have Windows 10 or Windows 11 and yes once you turn it into a tablet (by removing the keyboard or by flipping the keyboard backwards) it behaves pretty much like a tablet where you can design and draw using the stylus.
In fact, many architects and several apps are now making good use of the stylus feature for a quick design process (the draft of the structure drawn is later converted into a CAD software file). So it sort of turns into a stencil but unlike a stencil, you are not designing (if you use the right apps) from scratch again and the pen accuracy (once you get used to it) might even be better than an actual stencil.
---
Workstation Laptops
For the sake of completion, we'll talk about workstation laptops although I warn you these may be unncessary for 90% of architects and if you are serious about buying one of these be sure to read the following short tutorial BEFORE you even click on the links to purchase a workstation GPU because they are VERY VERY tricky to buy (you may shoot yourself in the foot and buy a very underpowered machine or get an overpriced machine we are talking about wasting 1000s of dollars!).
First, workstation laptops will be MUCH bigger and THICKER, beware that it's not somethinig you want to buy if you are moving from site to site. You sacrifice portability for a better CPU and a much bigger GPU.

Workstation laptops may have outdated 'workstation' GPUs which can actually be MUCH SLOWER than the cheapest 4GB vRAM laptop we went over. They may also have very outdated CPUs or useless CPUs (Xeon and 8th, 7th gen Intel CPUs for example).

Lastly, workstation laptops are usually sold by 're-sellers' and you would be better off either going to the official sites to buy them or use the links I'm going to give you otherwise chances are you may be over-paying as much as a 1000 dollars.
The second point is the most dangerous one, so avoid this from happening use the table below when you shop for workstation laptops. It will give you a good idea of where the performance of each workstation GPU stands relative to gaming 'consumer' GPUs we went over.
| | | | | |
| --- | --- | --- | --- | --- |
| Workstation GPU | Consumer Equivalent | Cores/Shaders | Clock Speed | vRAM |
| P500 | MX150- | 256 | 1519 | 2GB |
| P520 | MX150 | 384 | 1493 | 2GB |
| K2100M | GT 750M | 576 | 667 | 2GB |
| K3100 | 765M- | 768 | 706 | 4GB |
| P620 | MX250/1050 | 512 | 1442 | 4GB |
| M620M | 950M- | 512 | 1018 | 4GB |
| M1000M | 950M | 512 | 1072 | 4GB |
| Pro WX 3200 | RX 550 | 1082 | 640 | 4GB |
| M2000M | 950M/960M | 640 | 1197 | 4GB |
| M1200 | 960GTX | 640 | 1150 | 4GB |
| P1000 | 1050GTX | 512 | 1519 | 4GB |
| P2000 | 1050Ti | 768 | 1468 | 4GB |
| T2000 | 1650/1660Ti | 1024 | 1785 | 4GB |
| T1000 | 1650- | 768 | 1455 | 4GB |
| RTX 3000 | 2070RTX+ | 1280 | 1380 | 6GB |
| RTX 4000 | 2070/2080 | 2560 | 1560 | 8GB |
| RTX 5000 | 2080RTX+ | 3072 | 1350 | 16GB |
| RTX A2000 | ~3050Ti | 2560 | 1200 | 4GB |
| RTX A3000 | ~3060RTX | 4096 | 1560 | 6GB |
| RTX A4000 | ~3070RTX | 5120 | 1560 | 8GB |
| RTX A5000 | ~3080 RTX | 6144 | 1695 | 16GB |
| RTX A5500 | ~3080Ti RTX | 7424 | ??? | 16GB |
Notice how only the latest RTX A Series are either equivalent or better than the 3060RTX GPU we talked about. I'm only going to list laptops with those GPUs in purple for ethical purposes, it just doesn't feel right to lie to you and try to sell you something that's not BETTER than gaming GPUs. You can go to notebookcheck to corroborate the table above is accurate. For example, here is the performance breakdown for the RTX A5000.
---
Best RTX A3000 Laptop For Architecture
Intel Core i7-11800H
32GB DDR4 RAM

NVIDIA Quadro RTX A3000
1TB NVMe SSD
17.3″ FHD (1920*1080), IPS-Level 144Hz
6.4 lbs
2 hours

This is the cheapest laptop with the RTX A3000 you'll find and just like most models (usually from Dell) it also comes with maximum Storage and RAM.
Storage (1TB ): Bare bone minimum for a workstation GPU since we're all assuming you're going to work on much bigger BIM project files and possibly even render walkthroughs in high quality which take a lot of space. The variety of renderers you'll use (and software) will also take at least 256GB leaving you with 512GB to act as a repository. You want to keep at least 1/4 of the 1TB empty though to avoid 'overtaxxing' your machine , this will make sure reading and writing data is more efficient.
RAM (32GB): You're obviously buying a workstation laptop for faster rendering too and to make sure you get the lowest rendering times you MUST either buy a laptop with 32GB or upgrade it to 32GB. All workstation come with 32GB (most) and they're all upgradeable to 64GB, you may want to do the upgrade to 64GB if there's some renders that seem to be taking ~1h, after 64GB it isn't likely you'll see any performance gains.
RTX A3000: This is the bare bone minimum workstation GPU you should think about buying. I dont care how cheap they're selling you all the others below above this one (in the table), they're all going to be weaker and perform worse than any of the gaming laptops in 2023. There's really no advantage with those weaker workstation GPUs, don't buy that 'less errors and glitches' speech, there's no errors and glitches with gaming GPUs either.
---
Best Lenovo Workstation Laptop For Architects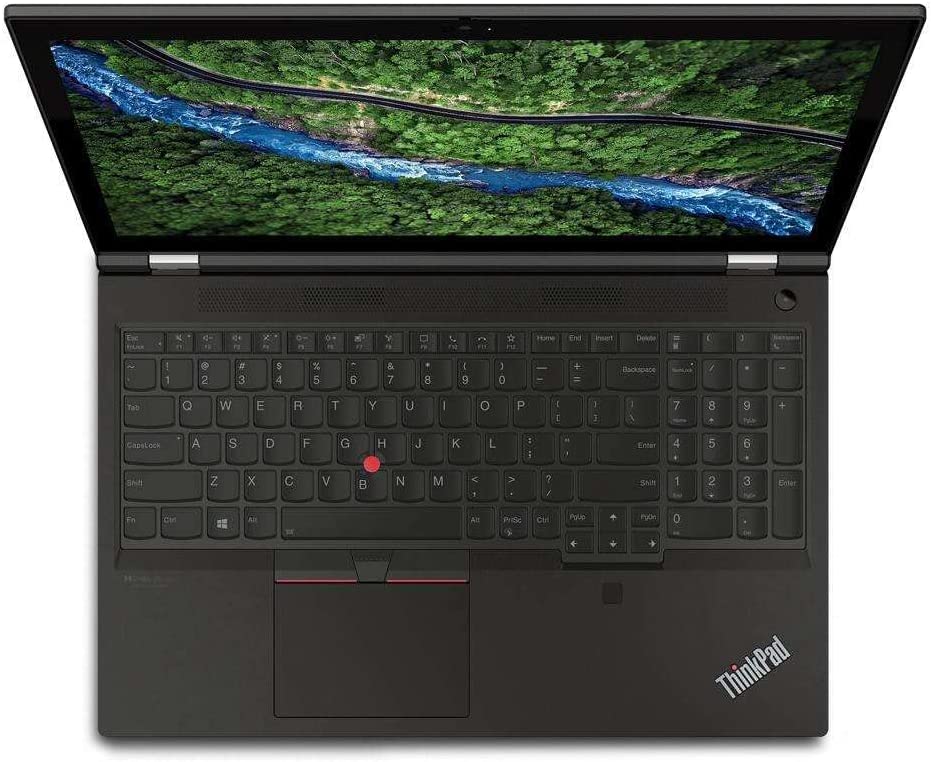 Intel Xeon W-11855M 4.90 GHz 6 cores / 12 threads
64GB DDR4 RAM
NVIDIA Quadro RTX A4000
1TB NVMe SSD
15" UHD IPS
6.04 lbs
2 hours

A workstation laptop with the RTX A4000 should be about ~300 dollars more expensive than a RTX A3000 laptop this one is about 900 dollars more expensive because it adds several cool extra features:
Has 2TB of storage.

Maxed out RAM for maximum rendering perfomance gain out of RAM: 64GB RAM.

UHD resolution as opposed to FHD (4k vs 1080p)

A Xeon CPU which has additional cores and same clock performance across all cores (faster for CPU based renderers like Revit & AutoCAD ).
---
Best Workstation Laptop For Architecture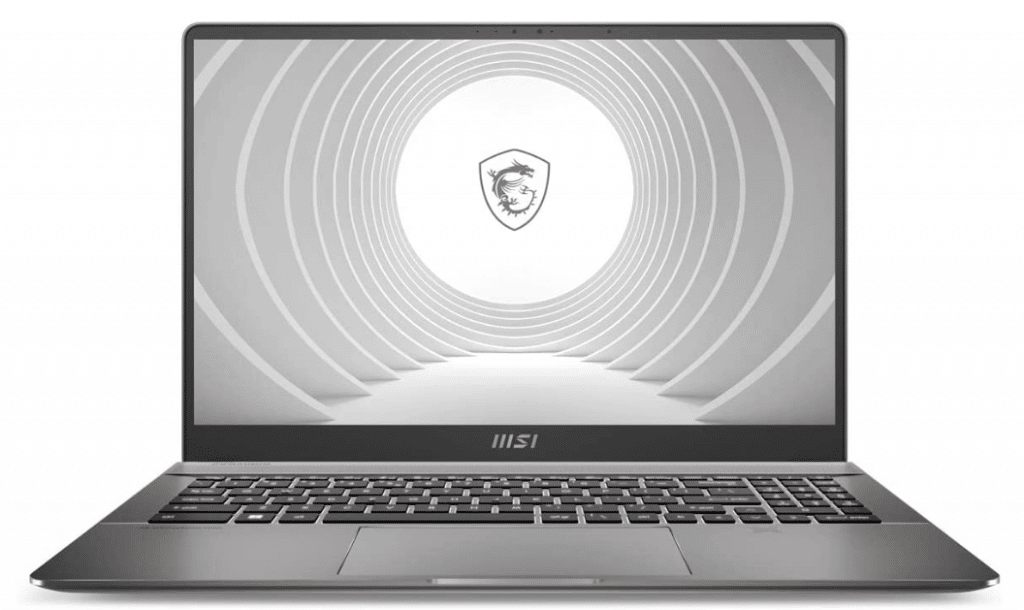 Core i9-12900H 4.9GHz
64GB DDR5 RAM
NVIDIA Quadro RTX A5500 16GB
1TB NVMe SSD
16" 164Hz FHD Touch
6.36lb
1 hours
This laptop has the most powerful workstation GPU as of 2023, It's only going to be useful for say someone working on extremely large BIM projects (full sized hospital campus, skycrappers with detailed interiors, very complex monuments like the eiffel towers) with a LOD of 500 where 'artifacts' may be more likely due to the larger and more complex calculations going on and where special plugins might be needed. Usually those kind of projects are broken donw into parts and completed by a team of architects as to making it much easier to deal with and much less hardware demanding so even in those instances it isn't likely you'll need this much power. Of course there may be other uses I'm not aware of hence why I'm still listing it.
But before you pull the trigger and spend 4000 dollars, I would wait a few months and see if the newer workstation GPUs RTX A6000 are released for laptops.
---
How To Buy The Best Laptop For Architecture
Architecture Students
This post has been written mainly for students in the United States. If you are a student outside the U.S, it may be worth checking out your department's curriculum as most international architecture students do not use computer for architectural design until their 3rd or even 4th year. Since most architectural programs are more or less based on a US curriculum , it's very likely you do not fall in that category though.
Architects
If you are an architect, skip to the hardware guide section and or check my post on Revit . In the latter, I go into much more details about what CAD software for architecture uses for every instance of the design process.
Architecture Software
Although the software will depend on the concentration you choose(Ex: landscape and interior design will use Revit along with 3DS Max), this hardware guide can be used across all of these software because they're all CAD (Computer Aided Design) software.
Note that some of these software may not have a Mac version. Most will though and even Revit and Rhino are available on Macs. You may need to use bootcamp for the rest of these software if you want to use a Mac (Bootcamp is not available on the newer models though).
Hardware Optimization Guide for Architecture
If you don't have a good grasp of hardware terminology like cores , clock speed, vRAM , Turbo Boost, and so on please check my beginner's guide to computer specifications .
1.CPU (Processor)
As you know there are ONLY TWO specs in a CPU to look after when shopping for a laptop or a desktop: #Cores & Clock Speed. Depending on what you want to use your computer for, you may need to focus on one of these or both:
Modeling and Drawing: Clock Speed
Virtually every single CAD Software (Rhino, AutoCAD, Revit) only relies on the CPU's 'speed' measured in GHz to do these tasks. All the workload will also be pretty much done by ONE SINGLE CORE, in fact one thread (3rd square in the monitor) as shown below: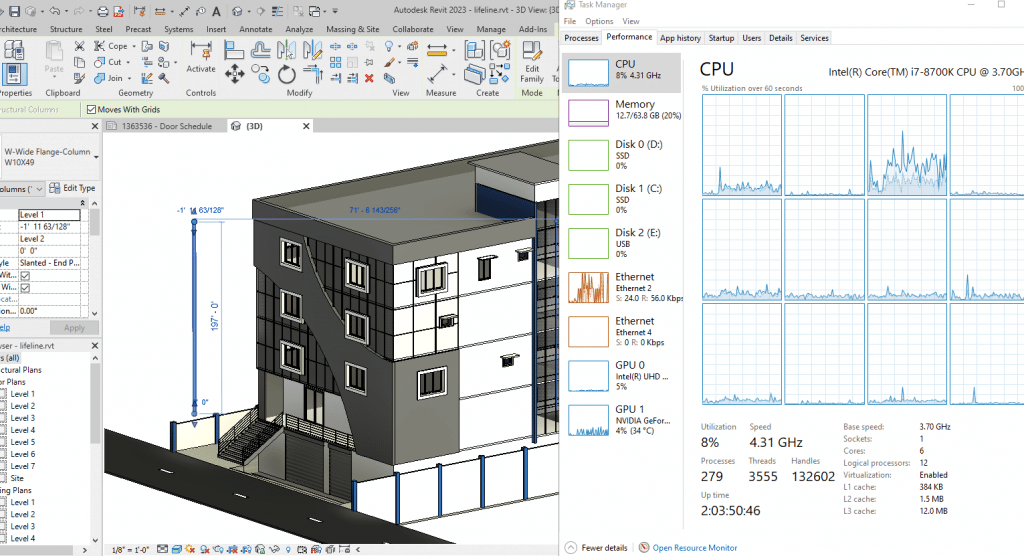 What this means is that if you're going to use this laptop mostly for drawing (and leave things like rendering to the cloud or another computer), then you can just focus on clock speed. It doesn't mean that the more clock speed you have the faster things will load though, there's sort of a limit to how much you can take advatange of clock speeds for a fast workflow. I would say about ~4.5-5Ghz but anywhere near 4GHz is good.
3D Rendering: #Cores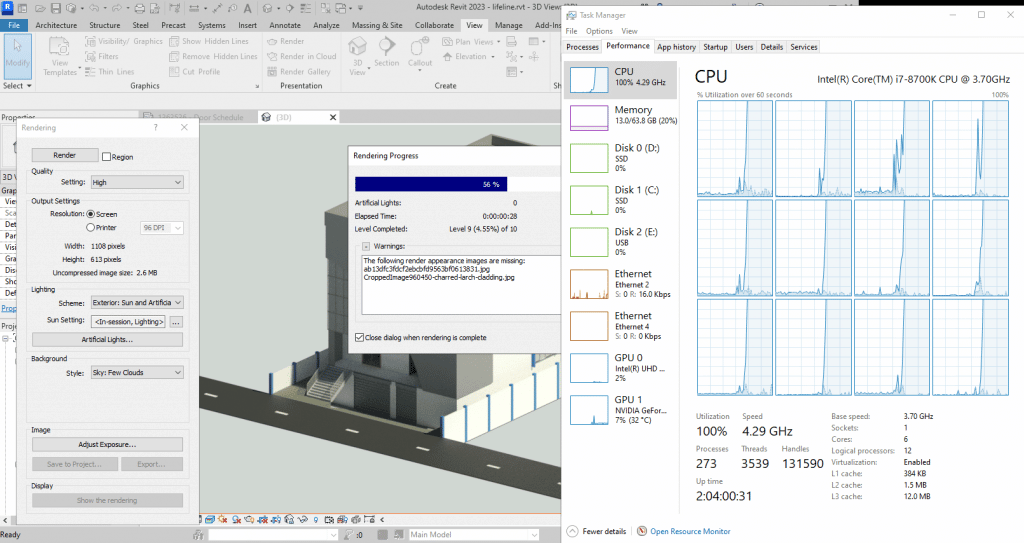 Any software that has to render something will make good use of every single core you have on your CPU. Cores are basically 'mini computers' if you will, so the more you have the faster these can get the job done.
Ex: If one core can render a snapshot in 1 min, 2 cores can do it 30 sec, 3 cores 20 sec, etc.
Again , it doesn't mean you have to go crazy with #cores. I'd say 8 is a good limit, after 8 you probably won't see very good gains becauasae 8 cores can for the most part render in best quality ~10 min (it may take more on more fancy renderers like 3DS Max & Lumion).
Recommended CPUs
The following CPUs are currently, as of 2023, the best bang for your buck CPUs found on laptops.
While it's true there are 12th generation Intel CPUs & 6th gen Ryzen CPUs and Core i9 and Ryzen 9 chips, they're too expensive and the following CPUs already have enough cores: 4 cores (for students) and 8 cores (for architects), the latter will speed up rendering significantly. Also note most of these hit at least ~4GHz if not more.
| | | | |
| --- | --- | --- | --- |
| CPU | Base | Turbo | Cores |
| i5 9300H | 2.4GHz | 4.1GHz | 4 |
| i5 10300H | 2.5GHz | 4.5 GHz | 4 |
| i5 11300H | 3.1GHz | 4.4GHz | 4 |
| i7 11800H | 2.3GHz | 4.6 GHz | 8 |
| | | | |
| --- | --- | --- | --- |
| AMD Ryzen 7 5800H | 3.2 | 4.4 GHz | 8 |
| AMD Ryzen 7 4800H | 2.9 | 4.2 GHz | 8 |
| AMD Ryzen 5 5600H | 3.3 | 4.2GHz | 6 |
| AMD Ryzen 5 4500U | 2.3 | 4.0GHz | 4 |
2. GPU
Now if you checked my 'beginner's guide to computers' post, you'd know the GPU0 = integrated and GPU1= dedicated.
The integrated GPU comes by default with ANY CPU you buy be it for a desktop or laptop, the dedicated GPU is an additional piece of hardware that adds A LOT of money to the overall price of a desktop or laptop. This is why it's important you know exactly WHEN a dedicated GPU becomes useful.
Drawing/Drafting: If you check figure 1 in the CPU section, you'll notice there's minimal GPU usage and the only reason why it's being used is because the structure and material has to be RENDERED (colored) while placing a column. GPU usage is about ~4%? That means even the iGPU can do this job (I have forced Revit to use the dedicated GPU for this test).
Viewport: This is where dedicated GPUs come in most handy. In fact, if you lack GPU power for a model of a given size you will lag as you pan,zoom & orbit.
Below you can see a moderately sized hospital building with a LOD (level of detail) ~200 (max is 500) and just rotating it puts the dedicated GPU under heavy loads (~20% on average, 40% max).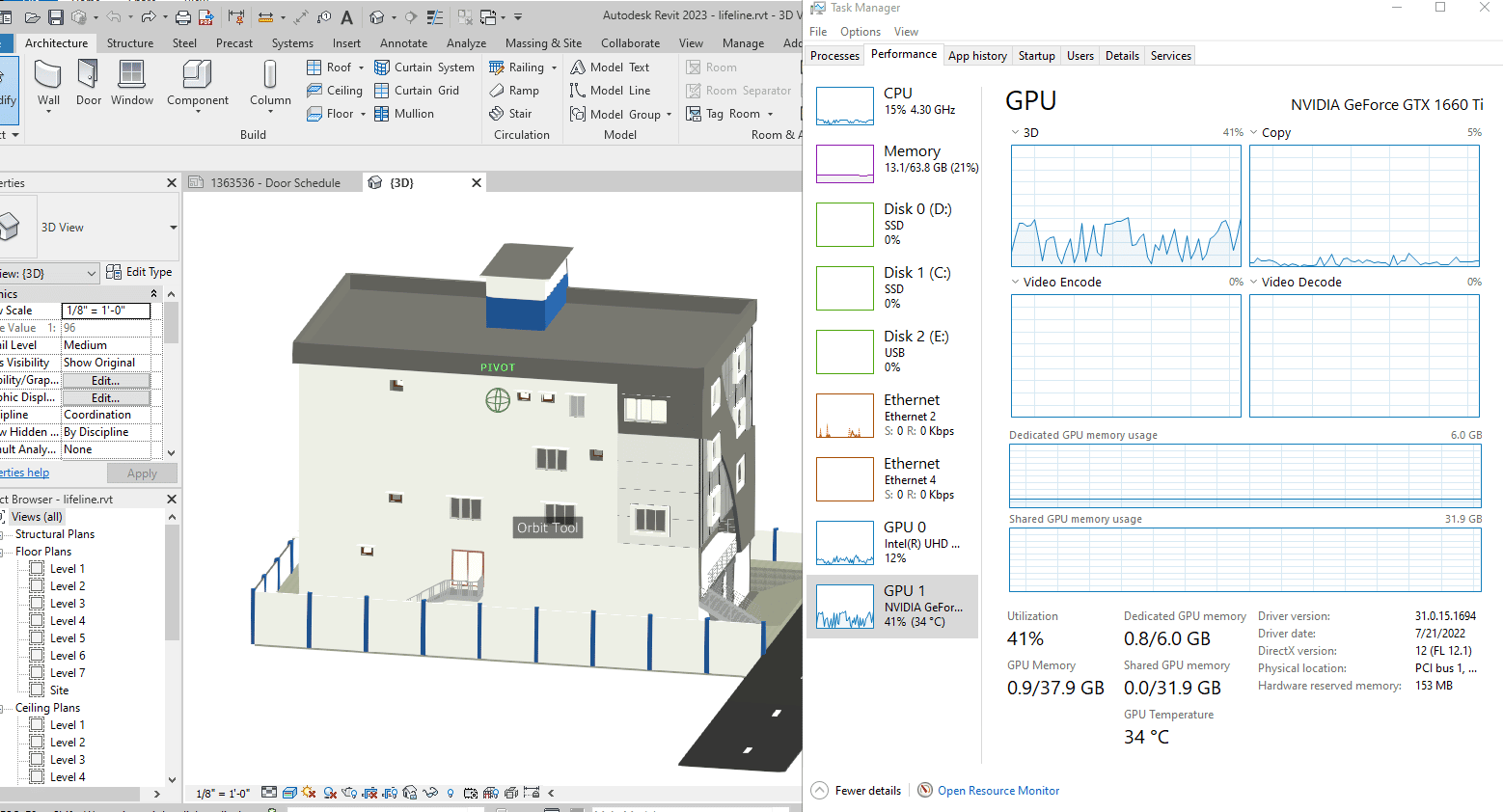 Now this is a pretty heavy model, the likes some architects will see during their first year or so. Students aren't likely to work with something like this unless it's a senior project.
Notice, however, ONLY 1GB out of 6GB vRAM is being used.
What is vRAM? If you checked my beginners post, you'd know 'vRAM' is video memory is that's where a 3D object ready for 'viewport' gets temporarily stored so the bigger your object is the more vRAM you'll need. What I'm trying to say is that you aren't likely to need 6GB vRAM for a fast viewport while you work with a model. I'd say 4GB vRAM is a good number with 6GB vRAM being the absolute maximum.
There are some rare breeds of architects who may need 8GB or even 16GB vRAM but those are usually working with very very very detailed and large models and clients rarely , if ever, ask for this (think about working on a project that needs a model of all building within whole block each with a LOT of 400-500 without having to break up the project into parts).
NVIDIA GPUs in 2022 (Laptops)
Below you'll find the most common GPUs on laptops (the desktop variants are similar in vRAM but have more 'shaders', we'll talk about those soon).
I'd say even the 2GB vRAM are good choices for most people, with the 4GB vRAM GPUs being more 'bullet-proof' for larger models and the 6GB vRAM the absolute maximum for both students and most architects.
As for price, that's the total price of a laptop that has these GPUs (on average).
| | | | | |
| --- | --- | --- | --- | --- |
| Name | Cores* | vRAM | Speed | Price |
| MX150 | 384 | 2GB-4GB | 1532 | +650$ |
| MX450 | 384 | 2GB-4GB | 1582 | +650$ |
| 1050 | 640 | 2GB-4GB | 1493 | +700$ |
| 1050Ti | 768 | 4GB | 1620 | +700$ |
| 1650 | 1024 | 4GB | 1560 | +700$ |
| 1660 Ti | 1536 | 6GB | 1590 | +850$ |
| 3050Ti | 2560 | 4GB | 1695 | +700$ |
| 1070 | 2048 | 8GB | 1645 | +900$ |
| 1080 | 2560 | 8GB | 1733 | +1200$ |
| 2060 | 1,920 | 6GB | 1680 | +1000$ |
| 2070 | 2560 | 8GB | 1770 | +1200$ |
| 2080 | 4352 | 11GB | 1650 | +1500$ |
| 3060 | 3584 | 6GB | 1780 | +1000$ |
| 3070 | 5888 | 8GB | 1730 | +1500$ |
| 3080 | 8704 | 8GB | 1710 | +1700$ |
Rendering: Cores
We already know rendering is a CPU task and that's going to be true for ANY renderers for any CAD design software. However, since the GPU ALSO has 'cores', albeit less complex & smaller, it can also speed up rendering and depending on the rendering software you use, the performance gains can be significant.
For Revit as shown below, the performance gain is insignificant because only a small percentage of the GPU's total power is used.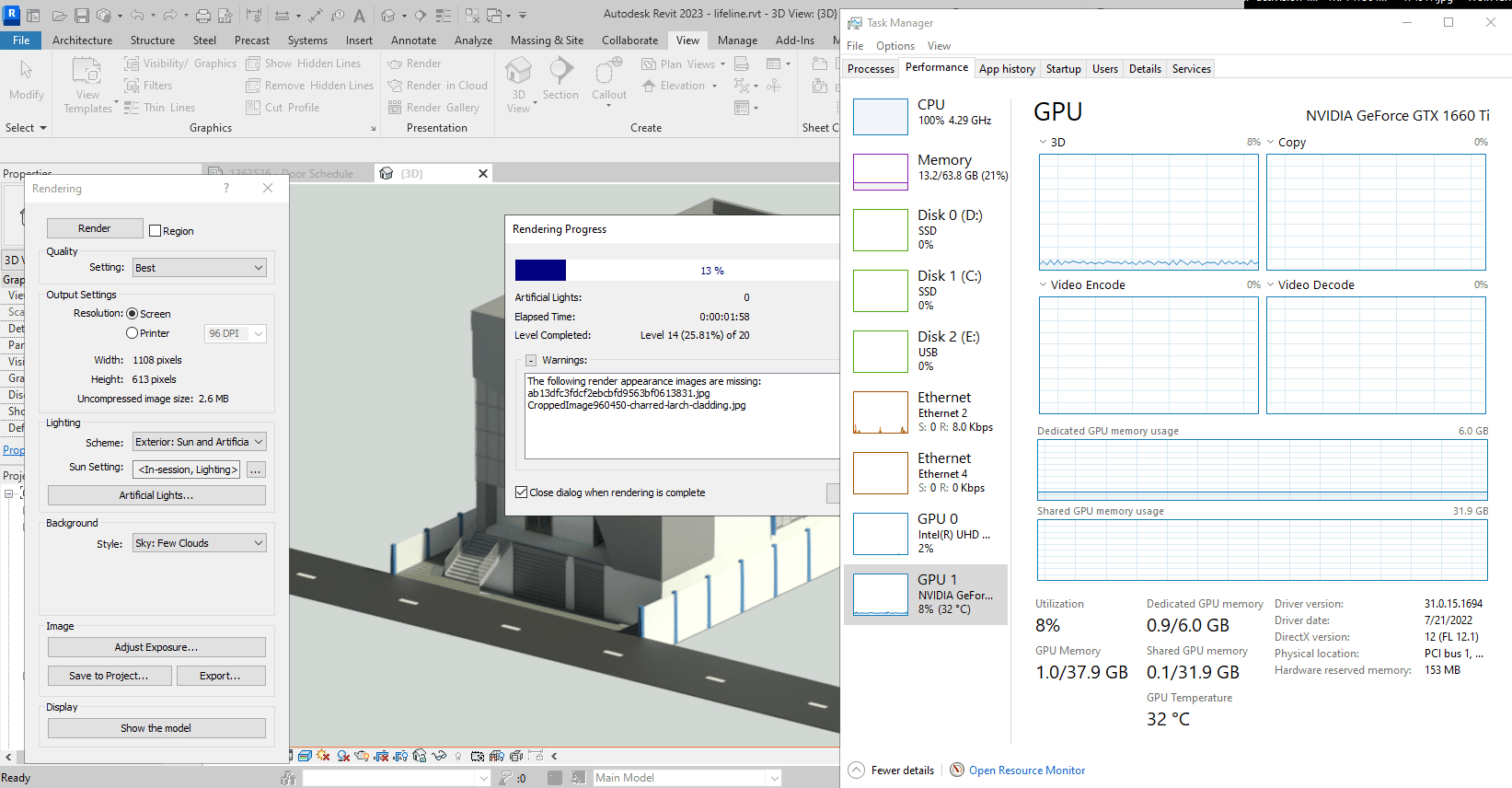 However, for renderers like Lumion or 3DS Max, the dedicated GPU (and its number of 'CUDA' cores) speeds up rendering SIGNIFICANTLY. In other words, if you PLAN on using other software than Revit & AutoCAD (CAD Design software) AND if you want to reduce the time it takes to render something, then you could grab those high-end GPUs (8GB vRAM) because they have a massive amount of CUDA cores.
What about workstation GPUs?
For most architects, workstation GPUs are pretty much useless. They really offer nothing new. Gaming GPUs (the ones I've listed and talked about so far) still have the same features : CUDA cores, vRAM, approx. same speed, etc.
Workstation GPUs are said to have 'special' plugins to make rendering & working with 3D CAD Software much smoother but they just work as good as any gaming GPU especially when you don't deal with extremely complex models.
Below you can see MOST of the workstation GPUs released for laptops during the past 7 years. I added an 'extra' column to give you an idea how powerful each of these GPUs are compared to consumer 'gaming' GPUs.
| | | | | |
| --- | --- | --- | --- | --- |
| Workstation GPU | Consumer Equivalent | Cores/Shaders | Clock Speed | vRAM |
| P500 | MX150- | 256 | 1519 | 2GB |
| P520 | MX150 | 384 | 1493 | 2GB |
| K2100M | GT 750M | 576 | 667 | 2GB |
| K3100 | 765M- | 768 | 706 | 4GB |
| P620 | MX250/1050 | 512 | 1442 | 4GB |
| M620M | 950M- | 512 | 1018 | 4GB |
| M1000M | 950M | 512 | 1072 | 4GB |
| Pro WX 3200 | RX 550 | 1082 | 640 | 4GB |
| M2000M | 950M/960M | 640 | 1197 | 4GB |
| M1200 | 960GTX | 640 | 1150 | 4GB |
| P1000 | 1050GTX | 512 | 1519 | 4GB |
| P2000 | 1050Ti | 768 | 1468 | 4GB |
| T2000 | 1650/1660Ti | 1024 | 1785 | 4GB |
| T1000 | 1650- | 768 | 1455 | 4GB |
| RTX 3000 | 2070RTX+ | 1280 | 1380 | 6GB |
| RTX 4000 | 2070/2080 | 2560 | 1560 | 8GB |
| RTX 5000 | 2080RTX+++ | 3072 | 1350 | 16GB |
| RTX A2000 | ~3050Ti | 2560 | 1200 | 4GB |
| RTX A3000 | ~3060RTX | 4096 | 1560 | 6GB |
| RTX A4000 | ~3070RTX | 5120 | 1560 | 8GB |
| RTX A5000 | ~3080RTX | 6144 | 1695 | 16GB |
When are they useful? When your current rig gives you LAG when zooming, panning, rotating a very large and complex model you can then go for workstation GPUs. Do note that only one or two workstation GPUs offer more vRAM than the latest consumer GPU. Having ANY workstation GPU will not solve any performance issues, it's only worth going for those that exceed the stats of gaming GPUs.
What about AMD GPUs?
| | | | | |
| --- | --- | --- | --- | --- |
| Name | Shaders | vRAM | Speed | NVIDIA Equivalent |
| Pro RX 555X | 768 | 2GB | 855 | MX150/MX250 |
| RadeonRX 540 | 512 | 4GB | 1219 | ~950M |
| Radeon RX 550 | 640 | 4GB | 1287 – 1476 | +950M |
| Radeon RX 560X | 1024 | 4GB | 1172 – 1275 | 1050GTX |
| RX 580 | 1536 | 6GB | 1077 | ~1060GTX |
| RX5500M | 1408 | 8GB | 1327 – 1645 | ~1660Ti |
AMD cards work just as good for viewport purposes. You can follow the same 'vRAM' rules I outlined (small = 2GB vRAM, large = 4GB vRAM , extremely large = 6GB vRAM) when you buy a laptop with an AMD GPU. Note that AMD GPUs are extremely rare on laptops, they are way more common and actually preferred on desktops due to their price/performance ratios.
Do note that AMD GPUs cannot be used to accelerate rendering and this isn't a problem with AutoCAD and Revit and even Rhino (all basically CPU-renderers) though.
3. RAM
If you fail to get enough RAM when building a desktop (or when buying a laptop), then even if you have a powerful CPU and a beast GPU, everything from drawing to viewport and rendering will be massively SLOWED down.
Now revit will take approx. 1GB when open (more if you have several files open), Windows 11 or 10 will take approx. 4GB, that's 5GB already which gives you only 3GB to spare for any background process and any other software (AutoCAD will take an extra 1GB).
8GB: Bare minimum
this is why 8GB is the bare minimum for architectural software. Luckily, most laptops have at least 8GB RAM especially if you make sure to grab the CPU or GPUs I've talked about. If you're building a desktop, no seller in their right mind will sell you a dedicated graphics and 4GB RAM so you're probably covered anyways.
16GB: Great for Rendering & Extra Viewport Performance
Now I recommend you up to 16GB only in three instances:
If you work with very very large models. The extra RAM will be used by your CPU to viewport, just like your GPU uses vRAM.

If you cannot afford a laptop or desktop with a dedicatedGPU, maxing out to 16GB will give your 'integrated' GPU articial 'vRAM' to work sort of like a dedicated GPU , this will also speed up viewport performance

The more RAM you have the faster the rendering because RAM is where all the data is temporarily stored for your CPU to run calculations. There's a limit to this though and that's usually about 16GB for most people.
32GB & 64GB: Maximum Rendering Speeds
You can get rendering performance gains with RAM up to 32GB. Maybe even 64GB depending on the kind of projects you work with but 64GB gives you very very low returns but again it's the maximum amount from my experience.
4. Storage
Size: 256GB vs 512GB
Storage size isn't an issue because you can always buy external storage devices to store all your projects and you might not even need to do so as most revit & rhino files take no more than 1GB and most laptops have about 150GB left after installing windows, revit & AutoCAD. If you do install games though and I mean heavy games then yes you will run out of storage pretty quickly for which a 512GB will be an absolute minimum.
Speed: SSD vs HDD
Far more important than size is storage speed because this is where files & the software will be stored and where the data will be retrieved for the CPU to process (it gets moved to the RAM first). That means having a faster storage means faster reading and writing of data files, fast saving and opening files, launch software in an instant and turn on your machine in literally seconds.
I'd say the greatest benefit from fast storage devices is opening very large files and importing files because that can take 10 min on a slow storage device but only 30-1 min on a fast one.
The fast ones are SSDs and they are available on any laptop made within the past 5 years. Only a few models have the slower storage (much slower): HDD and those are usually found on laptops below 300.
External Hard Drive: The problem with SSDs is that buying them with high storage capacities ( 1TB) can make a laptop very very expensive. You can however do the upgrade yourself as shown here on my post: SSD Upgrade which results in a much much cheaper process or buy an external storage device to store those projects you no longer work on as shown below:
5. Display
The motto for CAD design is the more space you have, the faster your workflow will be. That's because the more screen space there is, the greater the overall view of your model you'll have AND the greater the amount of quickaccess tools at your disposal (through on screen toolbars) as there will be less need to access drop down menus.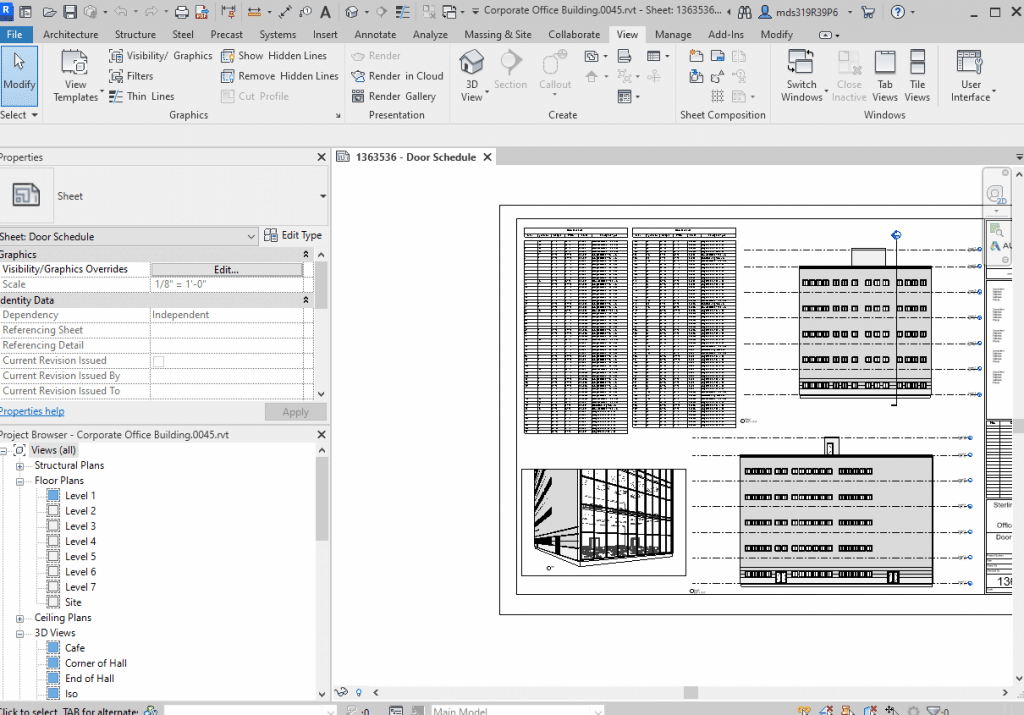 You get more screen space by choosing:
Big Display : Obviously the bigger the display, the bigger the on-screen space for Revit, AutoCAD, Rhino, etc. Now the problem is bigger means more weight and it isn't ideal to grab the biggest (17") if you are a student but if you are an architect, this is a good option as most likely your laptop will stay in a single location most of the time.
Resolution:High resolution means more pixels, more pixels means more figures can be scaled down in size which frees up space. The effect is MASSIVE as you step into QHD or UHD resolutions, they offer an insane amount of extra screen space EVEN if you have a 15" laptop. They will literally make 17" displays with FHD. Unfortunately, they are expensive and I do not recommend buying those unless you are already making big big bucks. For the most part FHD will do the job, if you go less than FHD that's where the problem starts! But most laptops have FHD anyways so it's hard to miss them out.
External Display: A much much cheaper way to increase your workspace area is getting an external display. All laptops support external displays. Now you're obviously NOT going to bring an external display in a suitcase if you're going to work or to architecture school but only use it back home to boost your productivity (if you don't have a desktop already).
Laptop vs. Desktop

Now this brings me to a very good point. If you are using your laptop mostly at home or at work, why not just get a desktop? A desktop is not only much cheaper than laptops but they also have way way more power for less money. For example, a 1650GTX desktop GPU and Core i5 10th gen CPU are x4 times more powerful than CPUs & GPUs found on laptops with the same name.
That's because desktops have 'more space' and chips are able to hit higher clock speeds without the need to be careful of high temperatures (more space means easier cooling).
If you are a student, my advice would be to buy both though. Have a nice desktop back home and a cheap (portable) laptop to design and draw on the go or in school, then do the rendering and final touch ups on your desktop. This is just an expensive as buying a high-end gaming laptop which sells for about 1500-2000 dollars! A good cheap laptop for Revit & AutoCAD would be the HP Victus for example which sells for about 600 but you can even go cheaper and get those with less powerful CPUs and integrated GPUs ~450, a build a desktop with only 600 dollars!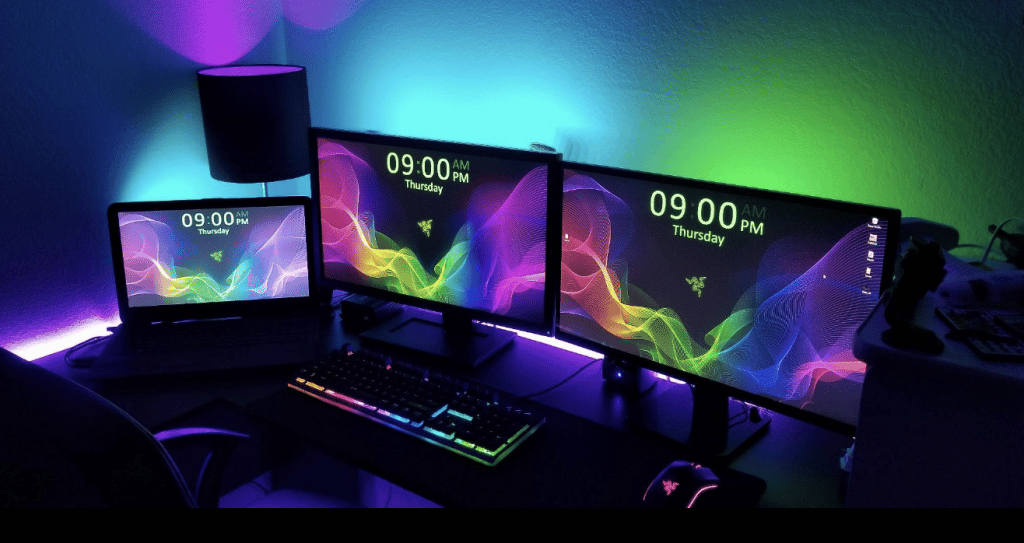 If you are an architect, you may not even have to buy a laptop, if you know how to use the cloud. You can use a desktop back home to do your work and upload it to the cloud to work on the same project at your workplace.
Anyways, this is just random advice, i don't know what your exact situation is but I would try to see a way to use a desktop (for reasons mentioned) unless a laptop is a MUST (maybe you need to show your on-going progress to clients, who knows?) .
Accesories
Besides the external hard drive two accessories are a MUST if you're buying a laptop:
Mouse
Nobody uses a the trackpad to draw. But I can tell you most people do not choose a good mouse draw, they have no idea what a big difference a good mouse makes. I recommend you give 'gaming' mouses a try because not only are they EXTRA SENSITIVE to movements but they also have A LOT OF EXTRA BUTTONs to the sides as shown below:

The one I use is the Razer DEATHADDED essential. It has two buttons on the left and a wheel mouse which if you press it down acts like an extra button, you can set these extra keys to activate certain functions on your software as shown in this post.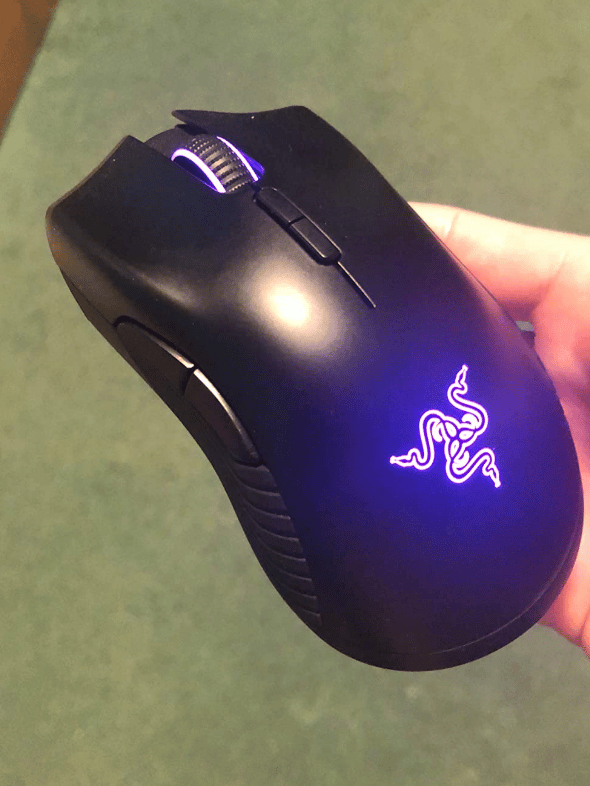 Power Extension Cord

A must have if you are still a student, you're going to need a power extension cord because battery will run out pretty quickly when you use CAD software for too long or when you buy a laptop with a dedicated GPU (they consume a lot of power). The power cord will give you a few extra meters of range so you can find your way into the nearest outlet in the library, the lab or whever you do your work. It may not be a problem if you there are plenty of space and outlets where you study but it might be during finals when every building is packed.
Windows or Mac?
There's no problem with using Macs now that Revit & Rhino are both available on Macs. The only issue is Sketch up which is still popular in school although there are several alternatives for mac OSX. The main issue is having a MAC OSX and then having everyone else around using Windows, the functions and menus can be different for CAD software so when you need trouble-shooting or you need help on how to do something from your peers, it may be a little different to do on a MAC OSX.
You could still use the Window versions of any of these software if you can install BootCamp on a MAC or Parallels may even work for sketch up since it isn't really that hardware demanding (Parallel runs OSX along with Windows simultaneously whereas BootCamp only runs Windows ). Unfortunately, you cannot install neither BootCamp nor Parallels on the newest MacBooks with the M1 & M2 Chips, you need an intel chip or amd chip for windows to run on a Mac which means you have to go for older models like I did.
The best Macbook for this would be the 2019 MacBook with the Core i9 and the 6GB vRAM Radeon GPU shown below:
---
Comments?
Any good input will be added to this post.
If you have any questions, suggestions or recommendations. Please let us know in the comment below
Author Profile
I am physicist and electrical engineer. My knowledge in computer software and hardware stems for my years spent doing research in optics and photonics devices and running simulations through various programming languages. My goal was to work for the quantum computing research team at IBM but Im now working with Astrophysical Simulations through Python. Most of the science related posts are written by me, the rest have different authors but I edited the final versions to fit the site's format.