6 Best Laptops For Interior Design in 2020
I get exactly where you are coming from. You are either a student during your second year or a professional who's looking for a replacement or an update to the old rig your best friend got you several years ago.
Now you've done some googling here and there and found out a bunch of conflicting information about the requirements for the software you'll be using (3DS Max, AutoCAD, Revit and so on).
That's not all…
You've probably found yourself pretty confused with the compter jargon especially the GPU part (which is unfortunately the most important specs for using viewport in any 3D modeling software).
Things have gotten even more confusing in 2020 with the release of 10th generation CPUs and the RTX NVIDIA Series, I'm sure.
If you don't want pull the trigger…
Because you're afraid to end up with a laptop that can't run any 3D modeling software or simply because you don't think you can get the best bang for your buck, relax.That won't happen if you stick to this post.
Me and my brother were in your exact same situation several years ago.
Although we've already graduated and have more AWESOME laptops now, we did spend our second and third year using the lab instead because our father just couldn't afford us to have one.
When we finally saved up the money to buy one (during our fourth year), we were exactly in the same position you are right now: lost and afraid.
Since this was our only shot to stop handing in our assignments late! we also wanted to get the best bang for our buck so we researched all theres is to know about this topic.
By the time we were done we ended up knowing everything there is to know about Revit's hardware requirements especially those aimed towards interior design.
So in this post..
We'll tell you exactly what specs you should look for and what laptop you should specifically buy. We'll also describe what each laptop can do for you and what it can't do for you.
Everything will be covered in this article.
If you want to avoid all that technical jargon and just wanna go right ahead and buy one then just don't read our last section "How to Buy A Laptop For Revit". But please read the laptop descriptions carefully.
Recommended Specs for Interior Design
Before we list the 5 best laptops for Interior Design let us quickly talk about the specs & the software used for Interior Design. (Just in case there are people here who can't find these laptops in their region).
If you feel you need more details than what's outlined here, again jump to the last section.
Software
During our years studying interior design (and a few years on the field) we've used and found other designers using:
The last 3 are 3D modeling software and they all have more or less the same hardware requirements. The last two, however, are the most hardware demanding of the group. So we'll just list the specs required to run both of them.
Note: AutoCAD 3D is the least demanding software, you'd just need any laptop with a "dedicated GPU" for it. If you rely on Revit, check our Revit post.
In order of priority look for
GPU
Revit, AutoCAD and all the other software will be more than happy with any low-end dedicated graphics card. Look for.
NVIDIA: 940MX, MX150,MX250,1050GTX.*
AMD: Radeon Pro RX 555X, RX540, RX550, RX 560X
However 3DS Max will be buttery smooth with anything equal or above 1050Ti–> 1060GTX, 1650GTX, 1070GTX, 1080GTX, and so on.
*We are aware that you've read people saying gaming laptops are okay and yet the official Autodesk site tells you that these are not supported. Well, it's the interior design guys who are right. AutoDesk is just being political. You can trust laptops with "consumer" GPUs.
RAM
8GB RAM at the very least. All 3D modeling software, including Revit, are RAM hogs. You might even need 16GB but that can be adjusted later. There's a guide written a guide here on how to do it or you can buy 16GB right off the bat.
CPU
There's no need to worry about CPUs unless you are heavily rendering on this machine. Modern CPUs today are fast as hell, if you get any Core i5 or Core i7 from the 8th generation onwards or any Core i3 from the 10th generation, you'll have enough speed for drafting/designing and even rendering.
For drafting/designing: at least something like a Core i3 10050G1, Core i3 8130, Core i5 8265, Core i5 8250 / AMD Ryzen 3 3300U AMD Ryzen 5 3500 U
For (super fast) rendering:AMD Ryzen 5 3550H, AMD Ryzen 7 3750H, i7 8750H, i7 9750H, i7 10750H, i5 9300H
Storage
Solid State Drives will load up projects/files/models and your software lightining fast. It'll also boot up your machine in 5 seconds flat.
This is useful to avoid having a client/professor/classmate staring at your screen from behind and breathing over your neck waiting for your work to load.
Display
Ideally you'd want a big screen because you'll get more screen space to fit in more tools/interfaces/bigger models.
However they're heavy. You might not even find a backpack to fit it in into.
Just make sure to get one with good resolution, a FHD with a 15" measured diagonally which is standard these days has enough space for 3D design.
Top 6 Best Laptops For Interior Design
Interior Designers vary widely in what they do and what software they use but the hardware requirements are pretty much the same. The only difference is whether or not you need to use 3DS Max because 3DS Max might need something a little bit more powerful than a cheap dedicated graphics card.
In this list, we're inclunding laptops for those who are broke (like were in the past and students too) , those already in the field and any interior designer on a budget too. Just keep scrolling down and read the descriptions carefully until you find your pick.
---

This is probably as much power as 90% of you will need and guess what? This laptop is actually is not that expensive, it would usually sell for 900$ because it's got a 1650GTX GPU but it's selling for 650-780$ (depending on the time of the year you buy it, it keeps fluctuating).

Back then that was, more or less, our budget and our laptop back then (a 940MX) doesn't even come close to the power of the 1650GTX and the 9th generation CPU here.
What's so good about the 1650GTX?
It's just not a "cheap" reachable GPU for most people but it's actually more powerful than modern "entry level" GPUs. It's got a lot more "cores" and +2GB of extra vRAM than a MX150,1050,1050Ti (which ironically are selling for a higher price right now).
Now I gotta admit that it might be a bit too much for most of you because I'm sure you're not going to venture into 3DS MAX but it doesn't hurt to have that extra power if it's cheap right? Just grab one as soon as you can.
What about rendering?
You can render with any laptop the question is how fast will you be able to do so. Rendering is mostly CPU-bound, that means you need a powerful CPU more than a GPU. This one has a 9th generation Core i5 CPU, that's mid-range powerful of the latest generation, going past 4GHz(this used to be the clock frequency of workstation back in my days). It's enough for rendering!
One thing I would do to decrease rendering times is to upgrade the RAM to 16GB. You can take it to any computer store and they'll do it for you possibly for free because it's simple and easy.
---
Best Cheap Laptop For Interior Design
Core i5-10th generation
8GB RAM DDR4
NVIDIA MX350
256GB SSD
15" full HD IPS
5.3lb
11 hours

There are some people out there who may not need a powerful "dedicated GPU" like the 1650 or the 1050Ti because they'll be working with simple remodeling projects.
If that's the case, then you can grab a laptop with a MX350. This laptop doesn't just have a dedicated GPU though it has everything on check too: SSD, RAM, Display, CPU,etc.
What do you mean by simple remodeling projects?

Construction documents for kitchen remodeling, cabinet elevations, some 3D sketch up work,etc. This laptop will also be able to handle additional software like: PhotoSHop, Illustrator. It's going to lag a lot but it's doable.
Me and my brother had to go for a model like this. Actually we went for something like the older and first version, the Acer Aspire E5 with the 940MX. Now, with that version obsolete, the new one has a MX350 which is about 1.5x as powerful as long as you get the non Max-Q version.
I'd say this MX250/Core i5 U combo is fine for anyone not working with Rhino/3DS Max, for interior design students on a budget or those getting into the field.
There's one a big caveat here though, it's supposed to cost 600$ or so but it's selling for 750$ which is almost just as expensive as the Acer Nitro. So What I suggest is you grab this one if you realy can't shell out 50 more bucks and you should definitely grab it if by the time you read this its 600$, a great deal.
Wait, I can't even afford that, any other options?
Well, there's the cousin of this model. The 350$ Acer Aspire 5 with a Ryzen Processor. Nothing against Ryzen processors, they can be faster than Intel Processors and they actually make a laptop a lot cheaper but that model which is about 350-450$ only has an "integrated" GPU that's not something you want if you're going to be using viewport a lot. But again if you're just using a laptop for simple remodeling like we described above, it's doable but you will lag. But hey, hopefully you'll tolerate it and move on to bigger deals quickly enough to afford one of the others right?
Here's the link of the 450$ Model(Windows 10 Home Mode).
And Here's the link of the 350$ (doesn't have Windows 10 on it though, you'll have to get a Windows 10 key on your own if you want to save 100 bucks).
---
Best Dell Laptop For Interior Design
Core i7-9750 Up to 4.5GHz
16GB RAM DDR4
NVIDIA GeForce GTX 1650 4GB
1TB SSD PCIe NVMe
15.6" UHD Touch IPS
5.51lb
6 hours Web Surfing / 2-3 hours gaming
On the other side of the coin, I'm guessing that some of you are already making the big bucks and want the best of the best . Not best in the sense that it's the most powerful thickest laptop but best in the sense of something that doesn't look like a snow shovel yet it's thin, beautiful and powerful.
This is the kind of laptop we would've loved to get our hands on. It's got the same GPU of the Acer Nitro and yet it's lighter thinner, has far more resolution which means more screen space for modeling/multitasking.etc. The last feature can make your workflow a lot better by placing all your tools, interfaces, commands right on the screen without having to resort to drop down menus.
The form factor is also a very appealing feature, think about having something so thin/light enough that can fit into any bag/portofolio and then be able to take it to your studio, a client's office or a conference.
PS: By the way, although this model has the same GPU it has a much more powerful CPU and more RAM than the Acer Nitro. While the latter can be upgraded on your own, the CPU actually makes a bigger difference than the GPU on all instances of the software.
I can't afford it but I want something like this?
You could go for past models or even this year's model but with a weaker GPU like the 1050, 1050Ti and ditch the 4k resolution display. Here are some options for you to check.
---
Best Portable Laptop For Interior Design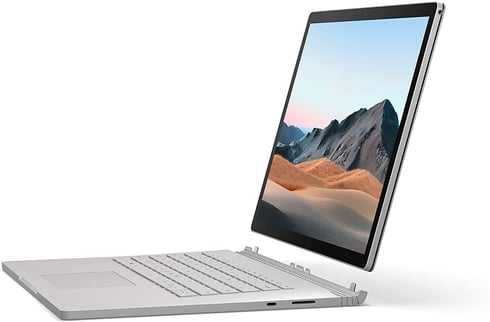 Quad Core i7 10th gen
16-32GB RAM
NVIDIA GTX 1650GTX /1660Ti 4-6vRAM
512-2TB NVMe PCIe SSD
15" Pixel Sense (3000×2000)
3.45lb
7 hours

The Surface Book may seem like a crazy suggestion to some of you but what you probably don't know is that this is entirely different from the tablet-like laptop : the Surface Pro or the Surface.
The latest Surface Book has a CPU and GPU with the power of the Dell XPS 15, in fact it can be a lot faster if you can afford the 1660Ti model.
It's a good option if you have no budget and you're looking for something even more portable than the Dell XPS 15 and need the touchscreen feature to take down notes.
The note taking features with the stylus is nothing short of amazing! If you can get used to it, you can really just bring a Surface Book whereever you need to take down notes or write equations and even draw something.
If you are an interior design moving from client to client, from conferences to construction sites for a good part of the day, then this is another alternative to the Dell XPS 15.
---
Best Mac Laptop For Interior Design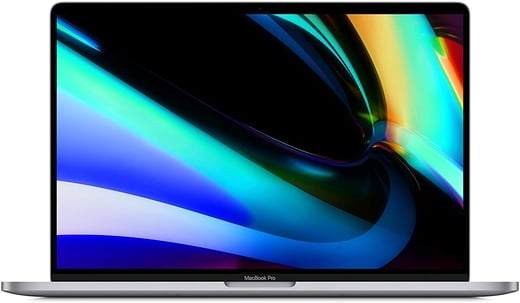 Intel Core i9 9th generation 8 Cores
16-32GB RAM DDR4
Radeon Pro 5500M GDRR6

512GB-1TB Flash SSD
16" Retina Resolution
4.3lb
10 hours

The most obvious choice for a laptop with a great form factor and a lot of power.
Probably, the least expected laptop here. But you know, we've used a MacBook a couple of times and there was no issue whatsoever with any interior design software.
How?
You can run either VMWare fusion or BootCamp:
BootCamp: allows to switch between Windows or OSX with a restart.
VMWare: allows you to run Windows along with OSX simultenously, next to each other, with no need to restart.
You can use BootCamp if you realy need to devote every piece of hardware to the software you're trying to run like 3DS Max/Revit.
What 3D Modeling software can you run on Mac OSX without having to resort to BootCamp/VMWare fusion? All of them except 3DS Max.
By the way, when I used VMWare fusion to run windows on a VM , the macbook gave me no issues whatsoever. I remember I was able to run AutoCAD 2013, sketch up, Modo 901 and Rhino and that was on a 2012 MBP!
But obviously if you model with Revit and render with 3ds MAX and use photoshop, illustrator and inDesign, all at the same time. You'd be better off with either a full blown Windows Laptop or running BootCamp on a MacBook Pro.
While we are at it, let us talk about rendering with the Macs:
First of all you gotta have a dedicated GPU on it, this is only available with the 15" Models, the more recent version of the Pro the better (the graphics card will be more powerful).
Second, you have to check if your renderer uses dedicated GPUs to accelerate rendering (this is probably the case) and then check if that renderer supports AMD GPUs instead of NVIDIA's.
For example, most GPU renderers take advantage of CUDA cores (this is NVIDIA) . V-RAY RT is a prime example.
While other renderers like V-Ray advanced will mostly rely on the CPU and RAM. So wether you've got a dGPU or no dGPU will make no difference.
---
Best Windows Laptop for Interior Design
Core i7 9750H
16GB RAM DDR4
NVIDIA RTX 2060 6GB vRAM
1TB PCIe NVMe SSD
15" 240Hz full HD IPS
5.67lb
>1 hours under load, 5 hours otherwise
1 x Headphone-out & Audio-in Combo Jack 1 x RJ45 LAN Jack for LAN insert 1 x HDMI 1 x mini Display Port 3 x USB Type-A 3.1 1 x USB Type-A 2.0 1 x USB Type-C 3.1

The most powerful laptop out of the entire list and the thickest, ugglies too. But there's no way around, if you want the most powerful components on a laptop, it's going to thick and heavy!
This is a laptop for interior designers (definitely not me) that have pretty large models/sketches in 3DS Max/Rhino on their portoflios.
They need to look for laptops with the 1060GTX/1660Ti/2060RTX( for high framerates/rendering with large Revit models) and the 1070GTX/2060RTX(to handle large models in Rhino/3DS Max with ease).
And even more importantly a high end Beefy CPU, the latest of the latest generation, in this case the 10th.
I guess the weight and looks isn't too bad if you are keeping this laptop on a table or just moving it around a few places. Perphaps at the office then taking it home after that.
If you are put off by the price or the looks, just remember to look for a laptop with similar specs. MSI, Razer are good brands to look for gaming laptops with beefy specs.
---
If you are reading this section. I am assuming you are just getting started with Interior Design.
Before we get into technical jargon, we first need to go over what software you'll and what exactly you'll do on each (rendering or drafting require different specs).
Software
AutoCAD 3D or AutoCAD Architecture: By the way AutoDesk Provides a free 1-year license
Revit Architecture (AutoDesk provides a free 1-year license to students as well)
Adobe Photoshop (Any version)
Adobe Acrobat X Pro (or other PDF Creator)
Google Sketch Up Pro (current version available)
Podium(current version)
Rhino(possibly)
3DS Max (rarely)
Activities
AutoCAD/Revit: most interior designers used them for remodeling.
3DS Max: although rarely used, it's mostly used for Rendering.
Sketch-up: as the name suggests used to do some 3D sketches.
Students
Usually I tell students (of any subject in college) that they can skip on buying a laptop (even engineering students). However I must emphasize this time that a laptop is crucial for interior design students. The use of 3D modeling software for studio projects will start to get pretty heavy from the second year and on through graduation
Even a low end laptop with low configuration can tremendoosly help you in passing exanimations with flying colors. While you could try and use the computer labs (mostly for AutoCAD 3D and 3ds Max since these require pretty beefy configurations), there may be a few times that you won't be able to complete your assignments on time. Plus you can bring laptop computers to work in any studio, on and off campus, in and out of town. Further, any troubleshoot hardware and software can easily be fixed once you have a laptop because you can easily take it to a nerdy classmate or the IT department.
Hardware Specs for Interior Design
We'll discuss 3D modeling software like Rhino, 3DS Max, AutoCAD 3D and Revit. PhotoShop, Illustrator and even Sketch up can just run about on any modern laptop released either in 2018 or 2019.
CPU
This is the single most important component behind 3D Modeling Software, more than the graphics card and RAM. The following are based on benchmark studies done by third party testers such as Pudget Systems.
Drafting/Modeling/Designing
All 3D modeling software including AutoCAD, Revit, 3DS Max are mostly single-threaded. That is the speed at which you design/apply effects/sketches/see your previews/manipulate tools will depend on the clock speed of your CPU.
Why did I say mostly? Well Revit it's the only exception(along with Inventor). Although it started as a single-threaded application (it didn't care about the number of cores a CPU Has), current versions use multi-core CPUs, mostly for visuals (calculating walls) and loading all the elements in view.
More explicitly here's a list of all the functions that are multithreaded for Revit.
But yeah it's still multi-threaded.
So if you plan on mostly do remodeling with any software buy the CPU with the highest clock speed you can afford (measured in Hz), these come with 4 or 6 cores CPUs anyways.
Core i7-8550U Core i7-8750 Core i5-8300H. All of these have insane clock speeds but you'll also be fine with anything from the Core i5 or Core i7 family released within the 7th and 8th generation. Core i5-8250U, Core i7-7700HQ, Core i5-7200U.
Rendering
No matter what software you talk about. Rendering has always and will always be a multi-core dependent task. If you are a student, you don't have to worry about it as you can see your school's lab for any heavy rendering that you may encounter.
If you are a professional and plan on rendering with your laptop. Get the highest number of cores you can afford. The higher the number of cores, the less time you'll spend waiting and I'm talking about hours.
Core i7-8750H, Core i7-7700HQ, Core i5-8250U. Basically any core i5 or core i7 from the 8th generation. Only Core i7 from the 7th generation
RAM
Draftting/Modeling
3D Modeling software such as Revit and 3DS Max are ram pigs. The more details and links you add to models, the more RAm you are going to need.
The more objects you add the more RAM you are going to need. If you don't have the proper amount, walkthroughs and viewport will be painfully slow. Even opening a opening a large project will be painfully slow.
Students should be fine with 8GB.
Pros should get 16GB RAM.
Rendering
Rendering is predominantly CPU and RAM based. After getting getting the highest number of cores you can afford (the highest for laptops is six even from Xeon or the latest Core i7), you need to get bucketload of RAM to do as much work as quickly as possible.
8GB vs 16GB vs 32GB
8GB RAM will work fine if you are a student or a beginner.
But let's assume you decide to work on larger projects especially those that cover a pretty large area, then you'll need 16GB RAM*.
On the other hand, 32GB RAM will be foolproof for pretty much any project out there. But it is very unlikely you'll need this much.
64GB RAM is pretty much useless.
*Note not all laptops are upgradeable to 32GB. So read carefully before you purchase a laptop if you think you'll need the upgrade.
GPU (Graphics Card)
This is a very tricky subject and the trickiest decision you'll make.
Ending up with a wrong graphics card will probably give you bugs with whatever software you are using and then you'll be forced to turn off "hardware acceleration" in other words disable your graphics card.
You will then have to up with waiting a few seconds between operations because the Intel HD GPU will have to redraw the view like a etchasketch.
While Revit is not very taxing on GPU, 3DS Max and Rhino surely are.
Why do I need a Graphics Card for?
They'll mostly help you using viewport(panning, zooming, orbiting, rotating,etc) and give you buttery smooth walkthroughs. And in a few rare cases: rendering.
The bigger and more complex your model, the more difficult it will be to get a nice 3D View of it without a decent dedicated graphics card.
What about rendering?
While Revit does not use the GPU for rendering, this may not be the case for other renderers. You have to check if the rendering software you use is GPU dependent.
For example: V-ray rt only uses gpu renders while V-ray advanced uses CPU
What graphics card should I get then?
Some universities' websites list NVIDIA Quadro as the only supported graphics card and AutoDesk Support will also recommend workstation graphics card: either NVIDIA Quadros or AMD FirePros.
The truth of the matter is that consumer graphics cards "AMD Radeon" or "NVIDIA GeForce" will work just as well and in some instances even outperform workstation cards (according to our experience), especially for 3DS Max.
There are several universities who aren't too old fashioned and don't mind recommending them and most interior designers can confirm this.
If your models are quite small you can can settle with a cheap consumer card. If you are pro dealing with very large project files(~hundreds of MB range), then you'll definitely need a high end graphics card and depending on your work perhaps a workstation card (but this is very very rare).
More explicitly, let's go over your three options.
Integrated Graphics Cards (Intel HD)
You're playing with fire with Intel HD Cards but they will work for you in some instances especially if you just rely on Revit & AutoCAD and if these models are on the smallish range (file sizes up to 50MB). As long as you have an Intel Core i5 processor + 8GB RAM and hardware acceleration dissabled, you'll be OK with them.
Dedicated Gaming Cards (GeForce AMD Radeon)
For bigger file sizes > 100MB, you're only choice is a dedicated graphics card.
Like I mentioned before even if you are Pro or a student who's been asked to buy an expensive Workstation card (these can range from 2-3k).
Whether you are a student or a professional, you should really consider a gaming or "consumer card".
Why?
The latest gaming graphics cards' architecture are becoming more and more similar to the "workstation cards", with incoming generations the difference will be minuscule. Plus nearly all interior designers are happy with them.
There are a few disadvantages besides having the huge gaming tag on the back though:
Not all of them are compatible with 3D Modeling. All 9th and 10th gen are though, you can't go wrong with them. Just make sure the first number is either a 9 or 10 (GTX 960M, GTX 1050, etc)

You will not get customer support from either AutoDesk or Your Laptop Company.

Yes, you will get a few "more" bugs here and there but it won't affect your workflow you can just click OK and move on. They do not in any way justify the price they put on those workstation cards.
– Stick with 9th and 10th generation cards, these are more and more similar to Workstation Cards.
– Get as much vRAM as you can (dedicated video memory). More vRAM = bigger models.
– Low end Cards: 940M, MX150, 1050GTX are okay for models up to 15 000 square meters.
– The highest you should go for is a 1060GTX (from our research they give you the best performance/money ratio).
– The latest ,1070 and 1080, are nice but are way too expensive and they probably will not give you much benefit than a cheaper 1060GTX.
*Note that 3DS Max seems to work better with these "gaming cards".
Workstation Cards
These cards are not necessary, they are expensive but they are a bit more useful than gaming cards in a few rare cases:
The advantages to consider though:
Guaranteed compatibility out of the Box

A few cool features for other CAD software (ECC)

A few less bugs and glitches with 3D Modeling software like Revit, AutoCad(you'll still have them but much less frequently)

Official support from AutoDesk if something goes wrong.

Will let you run a few plug-ins that are dependent on their architecture
If you are Pro with huge and complex models, the advantages might be useful to you, the call is on you. We have certainly not seen the need of one yet.
---
Storage
Storage today isn't just about capacity. Nearly all storage devices have sufficient storage for your software and all the files you'll accumulate during a life time. It's more about reading/writing speeds.
Storage Speed
If you mostly user Revit, storage speed is probably just as important as CPU. Why? There's a bucketload of libraries for diagrams, surfaces, textures, lightining which all need to load up when you launch your software.
On the other hand, for all the other software: 3DS Max, Rhino, AutoCAD, having a fast storage just becomes a bonus, a huge bonus I may add. You'll have your heavy duty projects/models load up in a flash with the proper storage.
Solid State Drive
And SSD can read up to x17 faster than traditional HDDs. If there's anything left in your wallet after investing on GPU and CPU, spend the rest trying to land one, even the slowest SSD is several times faster than an old fashioned Hard Disk Drive (HDD).
The problem is their size, they're in the range of 256GB-512GB for laptops compared to the 1TB that the old HDD bricks give you.
Hard Disk Drive + Solid State Drive
With modern 15" and 17" laptops you can have both on the same machine, that is, you can install an SSD and an HDD on one.
If you are a student you probably don't need to bother with this setup, the 256GB you'll get from Solid State Drives will be plenty.
On the other hand if you are a pro you'll be better off with the 256GB(or 512GB) +1TB HDD combo. You can use the HDD as a repository for finished projects or tons of media files that don't need the speed from your Solid State Drive. You can also use it as a back up (the chances of both storage drives failing are pretty slim!).
If your laptop does not come with this set up, as long as it's either 15" or 17", you can do the upgrade yourself as shown in this post.
Display
Contrast ratios, brightness levels is pretty irrelevant to talk about. Not only will you not find this information frmo the manufacturer but laptops today rarely come with bad contrast ratios.
Size
The only thing you should watch out for when looking at their display is resolution and size. You want at least a 15" display on a laptop unless you have a desktop rig back home to do most of the work.
Resolution
Resolution is just as important. It's just size that allows you to have more windows open next to each other and more interfaces/tools at your disposal without having to click menus, resolution plays a huge role in this.
768p or 900p: are undesirable. Autodesk layouts don't work well with 768p. Even high resolution displays (4k) are to be avoided, most 3D modeling software aren't optimized to work with these.
1080p or full HD: these are the perfect resolutions. Only settle for this and nothing less. 900p resolutions might be okay if portability is very important for you.
Matte vs Glossy
Glossy screens will give you more accurate colors. Unless you are an avid photo editor, the difference in color accuracy between glossy and matte displays will be barely noticeable.
Since we value our eyesight, we prefer Matte Displays, these deal better with glares.
IPS vs TN
IPS displays have much better color reproduction than TN displays plus they have better viewing angles. It's a nice bonus to have but not exactly essential.