5 Best Gaming Laptops under $800 in 2021 (144Hz + Ryzen)
Welcome to the third post in our "best gaming laptop under XXX$" series. 
Unlike our two previous posts, having a budget close to 800$ is enough cash to ensure you always end up with a 1650GTX + 10th/9th Core i5 or even a Ryzen 5 from the 4th generation.
So all the laptops shown here will have at least that CPU+GPU combo or higher.
That's pretty standard for the best gaming laptops under 800 though….that wouldn't make this post anything special would it?
So you may find a few more things the closer you get to the 800$ limit in this post.
For example, some may have way more storage which as we all know it's become pretty useful for the most graphical intensive AAA games (they can weight 80GB to 120GB i n some cases).
And…
If you're lucky, depending the time of the year,  you may also find a 120Hz/144Hz display.
Update: As of January 2021, there are two gaming laptops under 800 with a 120/144 be sure to check them out before they run out of stock
Recommended Specs For Gaming Laptops Under 800
For the sake of completeness, let us go through the specs you'll find under 800$ and the specs you SHOULD be getting in a gaming laptop under 800$. 
GPU
If you are playing a First person shooting game on Steam or MOBAS, you probably won't need a dedicated GPU(if you don't mind medium settings).
However, for pretty much every other AAA game at medium to high settings you WILL need a dedicated GPU.

1650: This is the fastest and most common GPU you'll find under 800 and even below 900.
1050(4GB): This is weaker and much more common in the 600-700 range and sometimes below 600.
1050Ti: These are rarely found on laptops as of 2021, this is a big faster than the 1050 though.
1660Ti: This is the best of the best GPUs in terms of performance/money ratio. Unfortunately, it's only available on +900$ laptops. That may change this year though.
Other GPUs under 800$: 940MX, MX150, MX230, MX250, MX350, 1050 (2GB). These are no good unless you're spending less than 700$ for the last one and less than 600$ for all the other ones.
CPU
This is the most crucial spec for high end gaming. More clock speed = more framerates at every setting.
You can find several dozens of different CPUs under 800$. However, the ones with a  dedicated GPU  are only a few:
Intel: Core i5 8300, Core i5 9300, Core i5 10300H. No Core i7s unless you are ditching a dedicated GPU, who would do that?
AMD: AMD Ryzen 5 3550H AMD Ryzen R5-3550U, AMD Ryzen 5 4600H
Ryzen 5 4600H and Core i5 10300 are both the best laptop CPUs in the 800$ market. They can be found from anywhere between 700 to 800$.
RAM
8GB: Pretty universal in this bracket.
16GB: It is very unlikely you'll find  find 16GB onboard on 600-800$ laptops. But it's very common in the +800$ bracket.
Dual-Channeled: Like I've been saying in every single gaming post. It's important to know that if you want to add another RAM stick, you gotta make them dual-channeled, that means having two identical ram sticks. This way information will be fed to your CPU slightly faster (aka more framerates).
Storage
Storage matters (sometimes) for gaming depending on the game (if it needs to load huge files like Open World Games). Luckily, virtuall all laptops now have an SSD. Just be sure to:
– Get a PCie NVMe SSD. SATA III is ok too but if you want to extract every bit of juice power get the NVMe SSD. Though the difference may be minuscule if any.
– 512GB of space (Games like CoD weight +120GB).
Display
IPS FHD: Virtuall all modern laptops above 600$ will have a FHD display. Some do not have an IPS but that's not important for gaming.
120-144Hz: 120/144Hz are unfortunately kind of rare unless you step into 900$ territory. You can still find them but you'll have to give up a bit of CPU power most of the time though not always!
Do I recommend them? Hell yeah, they'll make your gaming look x2-x2.5 smoother.
Top 5 Best Gaming Laptops Under 800$
All laptops here range from 700-800$, If you've got anything lower than 700 bucks I suggest you take a look at our previous post which goes over laptops under 700 bucks.
Again if you are limited to MOBA/FPS Steam games, the you may not need to focus so much on a high end CPU+ top of the line GPU and might do well with cheap laptops even
those below 600
.
Let's start with the most popular laptop in 2020 and wrap it up with the BEST DEAL in 2021 (LAPTOP #5).
I try to update this post every week and if you see any tooltips make sure to read them, they may mention a better deal or an upgraded version of the model reviewed. Be sure to go through all five laptops so you don't miss a DEAL!
---
Best Gaming Laptop Under 800 with a 120Hz Display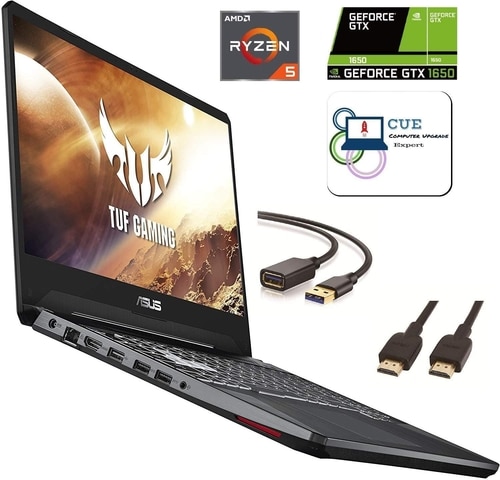 AMD Ryzen 5 R5-3550H
8GB DDR4
  GeForce GTX 1650
256GB PCIe SSD
15.6" 60Hz Full HD IPS

4.85lb
5 hours

This is the only laptop that's got it all.
Unlike every other laptop under 800$, this one has a 120Hz display. This means you can play and see your gameplay look x2 smoother because your screen will be able to output 100FPS.  
Check our post, how does refresh rates affect gameplay
Since you are getting a 1650GTX , +100FPS is going to be pretty common across most games that are not like CoD. The only real downside with this model (if you can call it a downside) is the ryzen CPU which a generation older (the 3rd generation) because we are already in the 4th generation.
However, this is plenty of CPU power to get high framerates:
---
Best Budget Gaming Laptop Under 800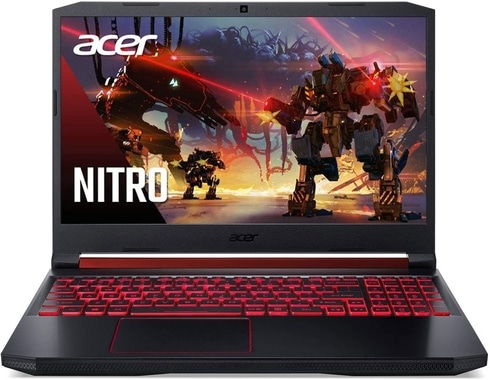 Core i5 9300H
8GB DDR4
  GeForce GTX 1650 4GB vRAM
256GB PCIe NVMe SSD
15.6" 60Hz Full HD IPS

5.07lb
7 hours
Although it may not be the best laptop under 800, this model has been the most popular gaming laptop with a mid-range GPU for about a year now.
Just like the ASUS TUF it has a very capable mid range GPU: The 1650GTX w/ 4GB vRAM, it can get you into the three digit framerates for most AAA games out there. In fact, because the Core i5 9300H about ~12% faster than the Ryzen 5 3550H, you should be getting about an increase of about +15 FPS.
Display:
There is a small caveat though.  It's got a 60Hz display so those framerates will only show up somewhere in the corner of your screen but you won't actually experience the smoothness of say 100 framerates per second. 
However, there's still an advantage of having higher framerates than what your display can handle, better gaming performance, less screen tearing, less lag spikes,etc.
If you have a little more cash, you can get the newest version. Although it still doesn't have that sweet 120Hz display, it has a relatively faster processor than the Core i5 9300H (~10% and far better multithreaded performance).
Newest Acer Nitro 5 – Non-US Link
---
Ryzen 5 Gaming Laptop Under 800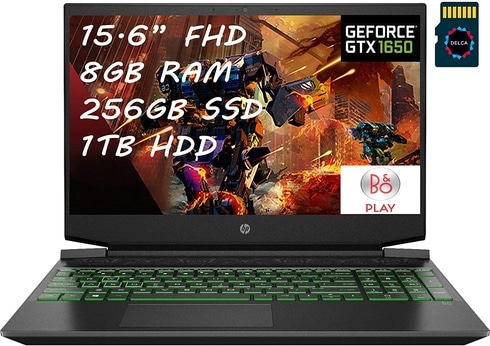 Ryzen 5 4600H
8GB DDR4
  GeForce GTX 1650
256GB PCIe SSD + 1TB HDD
15.6" 60Hz Full HD IPS

7.78lb
7 hours

If you are on a budget and were expecting a cheaper laptop than the Acer Nitro and ASUS TUF here check out these two laptops
This model has the same specs as the latest Acer Nitro I linked before. It's a little more expensive though because it comes with 16GB micro SD.
Storage:
Another thing is that it has far more extra storage so you can install tons of AAA games. 256GB will run out pretty quickly especially if you are into super heavy games like CoD (It can weight as much as 120GB).
Although the extra storage is not an SSD, it will only have an impact on loading screens. Most games will not suffer from the lack of speed. If you really want to max performance though, you can either buy a model with an extra SSD or install it on your own. This will make the price tip over 800 though.
---
 Best 17" Gaming Laptop Under 800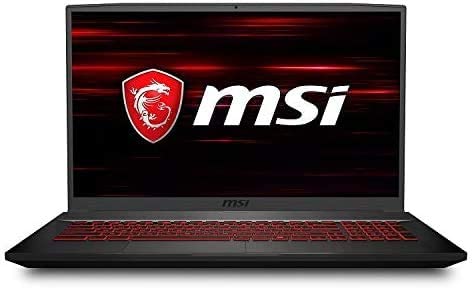 Core i5 10300H
8GB DDR4
  GeForce GTX 1650
512GB PCIe SSD
17.3" 120Hz Full HD IPS

4.85lb
3 hours
This laptop is more or less around 800$ as 2021. It may be a little higher depending on the time of the year but it really gives you a lot of bang for your buck.
Not only does it have a much faster processor and good ol' powerful 1650GTX but also a 144Hz display which 17" .
So you will not only get the highest framerates with this model but also the best visual experience due to the huge screen and its high refresh rates.
---
           The Best Gaming Laptop Under 800 in 2021
Ryzen 5 4600H
8GB DDR4
  GeForce GTX 1650
512GB PCIe SSD
15 " 144Hz Full HD IPS

4.85lb
3 hours

Behold, hands down….the best gaming laptop under 800 in 2021.
Despite being well below 800$. Not only does it have a 1650GTX GPU but a 144Hz display which has been unheard of on laptops under 800 for the past year AND one of the most recent and fastest processor.
The Ryzen 5 4600H processor blows any core i5 processor from any generation and Core i7 processor from the 8th and 9th generation OUT OF THE WATER.
This deal won't last be lasting for too long this is why I decided to post this laptop at the end.
144Hz Refresh rates:
One of the reasons why the small increase in framerates will make a huge difference is because this GPU+CPU combo: Ryzen 5/Intel 5 + GTX 1650 will usually give you 150+FPS on most AAA games like WoW, OW and definitely all those First Person Shooting and MOBA Games.
It may not make a huge difference on games like CoD and PUGB though because if you set the settings to epic, it'll be very difficult to even reach 100FPS regardless of what CPU+GPU you have BUT…
You'll definitely see an even greater reduction in screen tearing when you play ANY game.
---
How to Find The Best Gaming Laptop Under 800
There are two ways to find the best gaming laptop under 800$:
1.Compile a list of all laptops under 800
This time, the way I found  the best gaming laptops under 800$ was through brute foce.
Basically I listed every laptop online under 800$ or around 800$ and compared their specs on an excel sheet and obviously there are some rip-offs and obselete models that still sell for ~800$.
Here's the tabl
e I compiled after ruling out older/slower models and overpriced models
So if you are doing that you gotta make sure you get at least a 1050Ti/1050 GPU on yours, although a 1650 is far more powerful and more common in this range.
I don't recommend doing this method though. It's slow and takes too much time.
2. Calculate the total price by adding computer parts
This is a much better and faster way.
Check the specs: GPU, CPU, Display, RAM, SSD and add  up the prices
If you get a total price below 800$, it's a great deal.
If it's hovering around 800$, it's still an okay deal.
If it's way below 800$, you need to run fast.
Wait,  how do I get the prices of laptop parts?
You can get the prices by going to the manufacturer's sites (the manufacturer of the component. Intel for Intel CPUs etc) and if we are talking about more simple parts like the SSD, RAM, you can go to Amazon.
Lastly, for those parts, that can't even be found on Amazon like the display or the chasis, you can go to Ali Express or just use the table I wrote at the end.
Let us start with the GPU.
GPU
If a GPU has the exact same name as a desktop GPU, that means they're pretty much the same. This wasn't realy the case before 10th generation GPUs though.
But today a 1650GTX desktop GPU is pretty much the same one found on laptops.
So  you can use the desktop price to do your calculations.
| | |
| --- | --- |
| GPU | Cost($) |
| 1650 | ~240 |
| 1050 ti (2-4GB) | 115-165$ |
| 1050 | ~100  |
CPU
Like I said before, for most games, CPU actually has a much bigger impact on framerates (after you've got yourself a decent GPU of course).
For example, if you get a 1650GTX with a Core i5 8300H, you will not get as much framerates as you would with a AMD Ryzen 4600H/Core i5 10300H. The difference would be about 20-30FPS in most games and depending on settings.
Anyways, here are the prices for the most common GPUs you'll find under 800.
RAM
RAM prices depend on the manufacturer. A Kingstom RAM stick may be more expensive than a CRUZE stick. Some may claim to have more extra features but at the end of the day what will really make a huge difference is making sure your RAM set up is "dual-channeled".
Here's a list of the RAM sticks commonly found inside laptops:
| | |
| --- | --- |
| Name | Price |
| 16GB | 60$ |
| 8GB | 30-35$ |
| 4GB | 20$ |
Storage
The storage attached to the Motherboard doesn't come with the price of the motherboard even if its soldered to it, so you must do the calculation process differently.
PCIe NVMe SSDs are the ones attached to the motherboard and its the most common type found in 2021. You can however get an extra  1TB HDD or a 256GB SATA III for storage. You still need to add the whole thing.
| | |
| --- | --- |
| Name | Cost |
| 128 GB PCIe NVMe | ~30$ |
| 256GB PCIe NVMe | ~40$ |
| 512GB PCIe NVMe | ~64$ |
| 256GB SATA III | ~50$ |
| 1TB HDD | ~50$ |
Display
There are realaly four type of displays in the 600-800$. .
| | |
| --- | --- |
| Display Specs | Price |
| 60Hz IPS TN | 40$ |
| 60Hz IPS FHD | 50$ |
| 120 Hz IPS FHD | 100$ |
| 144 Hz IPS FHD 15" | 150$ |
The most common displays are the first two and they're on nearly every laptop in the 600-800$ range. 
The last one is almost impossible to find unless we are talking on a black friday or something. It's usually found in the 900$ range.
If you look hard enough though, you will always find at least ONE model with the third display and this is enough really because the 1650GTX+Ryzen 4/Core i5 10th gen processors won't give you more than 130FPS on high settings for most AAA games.
If you want to check their prices you can use  Ali express . You're not going to find them on Amazon or any other computer store.
Other Small Parts
By small parts I mean  the battery, the motherboard, power cord, the shell, the keyboard, chasis quality. Price ranges from 100$ to 200$ depending on how well built the laptop is. A laptop with aluminum chasis and RBG keyboards may make the whole thing cost 200$.
A laptop with a plastic chasis and a simple backlit keyboard will have all these parts add up to 100-150$.
EXAMPLE: ASUS TUF FX505DT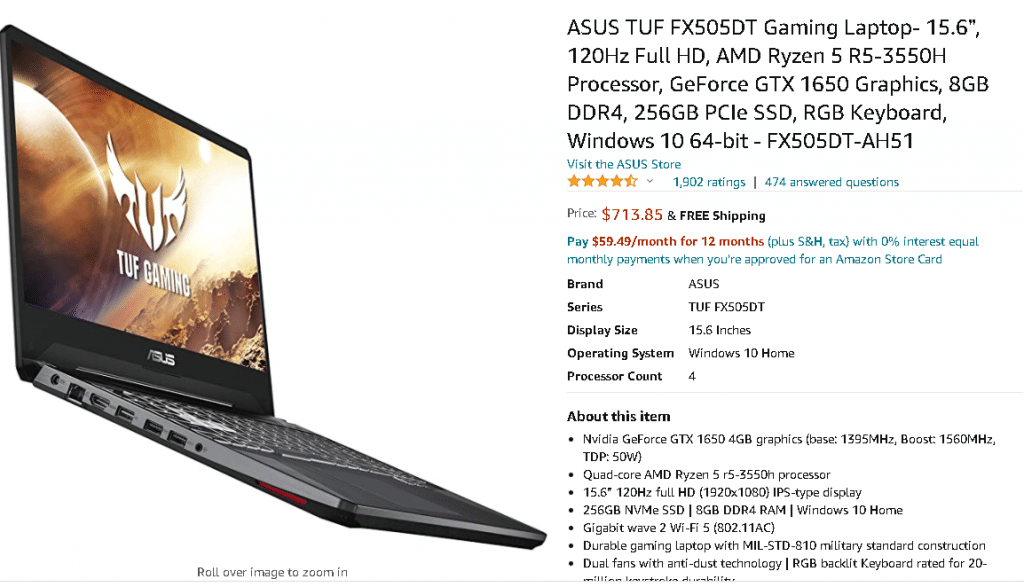 Ryzen 5 R5 3550H ~ 200$
1650GTX ~ 250$
8GB RAM ~ 30$
SSD ~ 40$
Display ~ 100$
Other small parts~ 150$
Total: 770$
Laptops sells for 700$.