The 5 Best Laptops For Seniors in 2022 (Comfy & Easy To Use) – Ultimate Set Up Guide
What's the best laptop for seniors ?
It depends.
It doesn't have to be an "easy-to-use" laptop though.
I know a lady in her 70s whose a guildmaster and leads a dozen of gamers (including me) in a raid of World of Warcraft.
One of my best friends & neighbors (I've lived in a retirement home) is a retired senior citizen and he can pretty much fix anything you'd throw at him.

How do you find the best laptop for seniors then?
First, don't assume ALL seniors are computer illiterates. In fact, I would say in 2022 most know how to handle a computer.
Who the hell do you think invented the computer and started the computer revolution and all the technology we enjoy today anyways?
In fact, even if your assumption is right, there's no such thing as an "easy to use laptop". You might be thinking of tablets!

What you can do instead is to….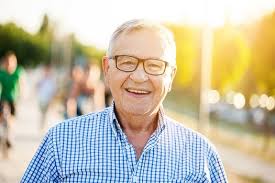 A) Get them the most comfortable laptop to use because we both know the physical limitations they may have to deal with.
This could mean:
A high resolution large display. If not, you could tweak the operating system a bit to make fonts larger and make the voice controlled personal assistant work flawlessly.

A decently larged sized and very VERY responsive keyboard.
B) Get them an overall FAST and SNAPPY system or make it (through some tweaks/updates) run faster than a cheetah on 'roids.
"Wait, I don't even have a fast laptop myself. Why go that far?"
Well, most seniors don't really have the time nor the patience to wait for loading or freezing screens.
And unlike you and me, they don't want to spend all day dicking around laptops trying to fix/tweak stuff on their system.
So they will most likely call YOU to fix it even if it's 3 o clock in the morning.
C) If they used a computer before, try to get something similar.
This is very very important for seniors who haven't been introduced to the latest operating systems or gaming rigs. Buy something that's VERY different from what they used before and they might not even use it.
Think about switching to a Mac when you've been a windows guy your entire life. It can get really annoying to learn everything from scratch.
Anyways…
Our article is going to go over 5 best laptop for seniors with all of these points in mind…
You should be able to find at least two laptops that
We've also included a guide on everything you need to know to find the best laptop for seniors, elderly parents. The guide has way too much info, it's a little disorganized but it's got everything you need to know and you may even come to the conclusion that another device may be more suitable.
Top 5 Best Laptops For Seniors
Before you pick a laptop, ask yourself:

– Level of computer literacy: is your senior used to a specific operating system? Is he/she still using Windows XP? or maybe hasn't touched a modern computers yet?
– Purpose: day to day tasks or run some heavy software (photo,video editing)?
– Physical impairments: does your senior have hand movement problems or poor vision?
If you want to be bullet proof for ALL of that GET:
RAM:

8GB bullet proof for super highly intensive everyday tasks (~50 chrome tabs + photo editing) .

Storage: 512GB storage (enough to store a lifetime of photos/video and even the entire series of I love Lucy…)

CPU

: Just avoid "mobile chips. Any CPU released within the past 3 years (Ryzen 3/Intel Core i3) will be way too fast for everyday tasks.
Display: A 15-17". Size is going to help make fonts bigger without comprimising screen space. FHD resolution is nice when watching movies and clips only. If visually impaired resolution isn't a requirement because it will be most likely lowered down (to make fonts bigger).
Finding laptops with all the hardware goodness above is pretty easy and actually not expensive at all! Even Costco might have some of these.
The tricky part is finding a GREAT KEYBOARD and a SUPERB SOUND SYSTEM:
What is a great keyboard?
Responsive, not mushy, registers clicks so flawlessly so that even those with hand impairments can type with no issues. The closer to a typewriter the better.
– Mostly found in expensive ultrabooks (700-1000$) or thick/heavy laptops(500-700$).
Great sound system:
– This is a must. Nobody likes using headphones and even me in my 30s suffer from some mild form of hearing loss. Don't cheap out on this.
Optional:
Weight and battery: Since seniors are probably playing it safe during this health crisis, they will be mostly stay in the house. If you know they will take their laptop to a friend/sons house then 4lb is portable anything more feels like you are carrying a baby.
Ports: Don't worry about ports. All modern laptops have at least an HDMI and x2 USB ports (in case your senior wants to attach desktop external keyboard and display which are x10 better).
---
Laptops with all the features we mentioned don't have to be necessarily expensive. It doesn't mean you can grab the cheapest laptop at Costco either.
You just have to look around very carefully OR get a budget premium ultra book.
We'll also post a few premium laptops for those with deep pockets.
Not all laptops will be configured for visually impaired seniors right out of the box. So you may need to do a little tweaking here and there to make it perfect. I will show you how to do so in the last section and also talk about more options and how to look for laptops for seniors on your own
---
---
See the difference yourself: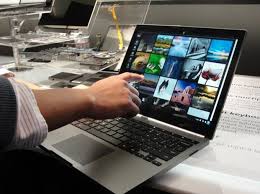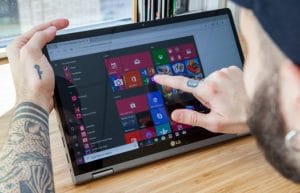 Hearing Issues
You can't expect a superb sound quality from those 2W speakers found on laptops. It's not going to be anywhere close to TV sound quality or desktop's speakers.
If your loved one doesn't like to use headphones (who does really?) , then finding good speakers it's going to be a real ordeal.
The problem is that most laptops are small so they can't fit in a good sound system. So you are most likely to find better speakers on bigger and thicker laptops.

Even better speakers can be found on premium large (16-17" laptops) which costs anywhere from 800-1500$. The MacBooks without doubt , at least the 15-16" models, have the best sound systems hands down followed by premium laptops such as the Dell XPS and lastly 17" Gaming Laptops.
If you can't afford laptops with great sound systems, you could just buy external cheap blue tooth speakers, they will be miles better than any sound system on a laptop and they will probably have enough power and sound quality to offset any hearing issues
Laptop vs. Desktop
The truth is a desktop would be a much better choice for seniors because of ergonomics:
Display is bigger and has way more resolution

Keyboard is full, bigger, has bigger fonts and has a more bounce to it when typing