5 Best Laptops For Lightroom 2020 (Massive High Res Editing)
The best laptop for Lightroom should get rid of loading screens or never make you wait more than a second for any operation.
It should also let you import thousands of photos from your camera in a few minutes, apply all the adjustments you need in seconds so you can export them and print them in a reasonable amount of time.
But…
Following Adobe's hardware recommendations isn't the best way to achieve this.
Specially if you are like me and work with huge number of photos with large sizes and you want to edit them all at once.
Anyways…
This is not just another post listing best laptops for lightroom, we'll also do a study on the software and how each hardware specs makes the software run at optimal speeds which in turn will help you get the right specs to make it fly without spending too much money.
That study and guide is at the end of this post because it is quite technical and lengthy what I'll do for now is give you a brief overview of the specs you should focus on and then list 5 best laptops for lightroom that have them.
I do recommend going through that guide later though.
By the way, if you are just a beginner with the software, don't get too caught up with how the software or the hardware makes all this work, you are not a level where you need to because you are not going to need a lot of hardware. Focus on getting to that level first by grabbing an entry or mid-range laptop and upping your lightroom skills.
Recommended HardWare Requirements
For sake's comparison , let's look at the minimum requirements set by Adobe:
CPU: Intel or AMD processor*
RAM: 4GB RAM
Display: 1024X768 resolution
Graphics Card:1GB vRAM GPU
These requirements are okay for someone who doesn't have 1000s of photos and has plenty of time to edit or just some one with a high tolerance for loading bars/screens.
Otherwise, focus on the following specs, in order of priority:
RAM
16GB RAM. There's a huge difference going from 8 to 16. There's almost no difference in performance going from 16 to 32 for any software from Adobe Creative Cloud.
SSD
You ought have your catalog on an SSD along with every software/files you're going to run when editing: windows,lightworks,photos,imports. Try to store anything you are not using on another drive.

CPU
First, make sure you get a modern processor. Ryzen 3000/4000 series or Intel 8th,9th,10th gen processors. Then, grab the highest clock speeds you see on paper. Note that AMD CPUs can be faster than Intel CPUs despite having the same "clock speed". Compare them with CPU benchmarks if it comes to that.
GPU
No need to be a sucker for workstation cards (Quadro/FirePros).Consumer, aka gaming cards, will do (1050, Radeon RX 540/550/560, MX250). If you are not using GPU accelerated effects, GPUs are still a must if you work at full HD resolution.
Display
A decent monitor with an IPS panel, matte display (be kind to your eyesight) and not too bright(the latter makes printing a bit more accurate ).
Top 5 Best Laptops for LightRoom
At the time of this writng, these are the best laptops for LightRooms with all the specs we talked about above.
I've tried to get a mixed of decent to hardcore specs which also means they have different prices.
So whether you are a Pro or someone who's just getting started with LightRoom, you should be able to find your pick from this list. Just read the descriptions carefully.
---
Best Budget Laptop For Lightroom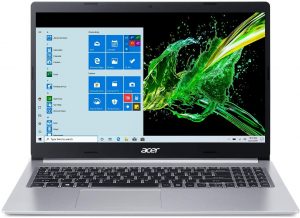 Core i5-1035G1
8GB RAM DDR4
NVIDIA MX350
512GB PCIe NVMe
15" full HD IPS
5.8lbs
6 hours

Performance
This is the best laptop for LightRoom if we compare performance/money ratio JUST for LightWorks.
The reason is simple, it's the cheapest laptop with an entry level dedicated GPU and a late generation CPU which is really all you need to work fast through the software. The CPU here is the one that's going to take all the workload, it's not the best multi core out there (they have 6-8 cores now) but that's okay because LightWorks is just starting to implement multi core functionality and 4 cores is good for now.
The GPU is not high end and is not even mid-range but it's still good for LightWorks again because the software is slowly starting to use GPU acceleration so it's probably not a good idea to invest in anything above a MX150/250/350 or GTX 1050/1650 Radeon RX 55X for now.
I've used this laptop's old version myself to work with 30ish MP scans of film and 16MP digital files with no issues.
Display & Design
One thing that this laptop is missing to make it perfect is 16GB of RAM but that can easily be upgraded with this model. You can do that yourself and save yourself 100-200$ because that's how much the ones with 16GB installed + dGPU may cost. That may not be necessary though unless you need to process hundreds of heavy sized images at once.
You also get the PCIe NVMe SSD here which is the fastest of its kind and will help making preview faster and opening up that catalog faster too.
Another thing I would do in the future with this puppy is to update the Storage, 256GB-512GB will run out in a year or so if you don't use a back up drive. Just like RAM, this is also easy to upgrade.
---
Best Cheap Laptop For Lightroom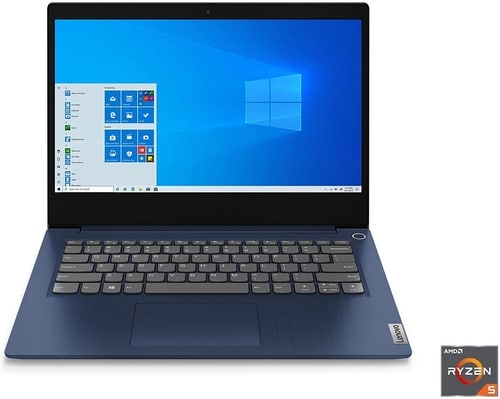 AMD Ryzen 5 3500U
8GB RAM DDR4
AMD Radeon Vega 8
256GB SATA III SSD
14" TN full HD 1080p
3.30lb
8 hours

This is a much much cheaper laptop than the Acer Aspire 5 with the dedicated GPU and it's not necessarily a lot weaker because it still has 8GB RAM, an SSD and a late generation Processor. It doesn't have a dedicated GPU though so I'd recommend this one if you are just getting startwd with the software because you are not going to be editing tons of high res simultanously fast. You can still do it but they might take more time.
In summary, it isn't the fastest but it's more than enough to use Lightroom CC on 16MP and 10MP files with filters and brushes.
---
The following three laptops are for those demanding the best performance with lightroom, that is, for people who deal with a large amount of raw images and need to edit them in a hurry. The best way to pick laptops for this scenario is to go and look at gaming laptops, they all have powerful GPUs and are super easy to upgrade if there's a need to.
---

This laptop is just 100 dollars more expensive than the Acer Aspire 5 but has a dGPU which is way faster than the MX350, the Core i5 9300H is a generation older but it's still a lot more powerful than the 10th Core i5 of the Acer Aspire 5.
One thing this high performance laptop is missing is the 16GB RAM but that's what actually makes it super cheap compared to other laptops with 16GB. Just do the upgrade, it's as easy as removing a screw and inserting a USB stick.
---
Best Laptop Deal For Lightroom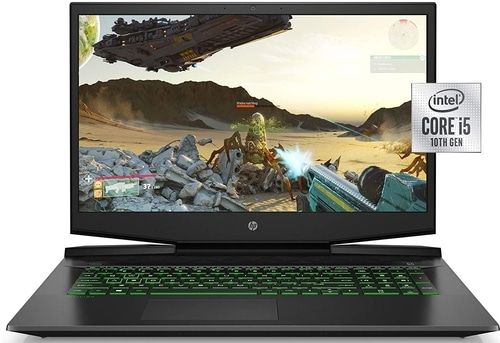 10th Core i5-9300H
8GB DDR4
NVIDIA 1650GTX
256GB PCIe NVMe
17.3" full HD
4.6lb
17 hours

This HP Pavilion is a rare laptop that will show up at most twice a year. Anyways, it's a high performance 17 inch laptop with FHD resolution which means tons of screen space to work with and to get a nicer/fuller view of your images without the need to scroll down.
It has all the components of the Acer but with a subtantially more powerful Core i5 CPU (it's the 10th generation too but from the high performance family(it goes all the way to 4.6GHz which is 1/2 GHz more than the Core i5 9300H and +1GHz than the Core i5-1035G1). Since CPU is the spec having the greatest impact on processing images, this CPU going to be make it even faster.
---
The Best Laptop For Lightroom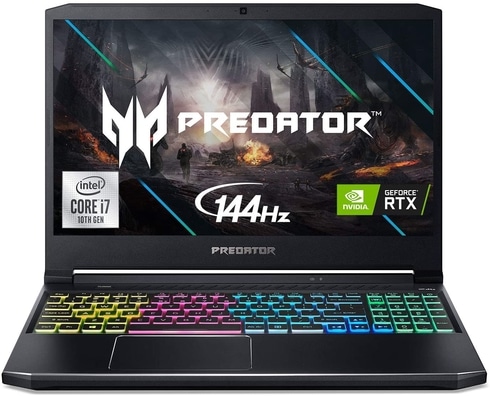 Core i7-10750H
16GB DDR4
NVIDIA RTX 2060
512GB PCIe NVMe
15" full HD 120Hz IPS
4.10lb
4 hours

If you want to go all out, this is as much as power as you should get from a computer specifically tailored for LightRoom and the entire Adobe Creative Suite.
A 10th generation Core i7 has six cores (this is as much as the multicore functionality of LightRoom uses now) and a 2060RTX GPU (a bit too much for lightroom but may come in handy for other Adobe Creativesoftware).
---
A word about MacBooks:
I know I am getting flamed for this but I have to tell the truth here. MacBooks are a great option for LightRoom and Photoshop, that's why you see tons of Pros using them.
Their price tags are justified, you get better resolutions , wide gamut, best screen quality and build. Super durable too, have you heard of any laptop that can last 6 versions of its OS?
So as long as you grab a MacBook with a dedicated GPU, you'll have enough juice and support for the entire Adobe Suite for years to come.
So if you are Mac Guy, don't be afraid to grab one:
Cheaper past versions with dedicated GPU: Radeon 555/540/555XAny MacBook with a or any of its variants will do too.
---
Laptop Requirements for Lightroom (Guide)
To get an insight of why we need to focus on some hardware requirements and not on others, let's quickly go over on what Lightroom is all about.
Workflow & Post Production
In the post production process, LightRoom will let you import images, sort through them, tag them, organize them, raw processing them, etc. Then one can create a slideshow, print them or export them to the web. It's pretty much what you can do with PhotoShop but more on bigger scale, that is, work with sets of images and adjusting the images entirely . Therefore you're going to need more processing power & RAM than PhotoShop.
You won't have to worry too much about the graphical settings & color accuracy. Lightrooms adjustmeants aren't pixel level adjustments or heavy graphical changes(such as in entire videos).
These adjustments don't seem too demanding to require powerful graphics hardware. They're mostly: exposure, contrast, and saturation. Sharpening, noise reduction, adding vignettes, croping, add split toning, creative dodging and burning effects.
Lastly, let's not forget you might be shooting in RAW format, so you need to process your images in Adobe Camera Raw or Lightroom before you try to edit them with PhotoShop or any other software.
So a typical workflow in LightRoom will look like this:
Import images from RAW format

Perform RAW processing

Sort & Organize

Apply Adjustments

Export/Print/Share on the Web
Although these are not demanding tasks for most computers and laptops, imagine doing all of this with a very large amount of photos which may or may not have huge sizes( in the several dozens of MPs).
CPU
Let's start with the CPU. When shopping for CPUs only consider their Clock Speed & Number of Cores.
Cores
Lightroom makes good use of multiple cores for image processing tasks such as building previews, working in the develop module, and exporting photos, so it's worth selecting a quad-core processor if possible, even if other areas of the program are only lightly threaded.
This is more true if you find yourself working with a large set of images at the same time, that is, if you don't want to wait an eternity for previews or when exporting them.
Clock Speed
A high clock speed (measured in GHz) is equally important, as it determines how quickly computations are made, not only for image processing tasks, but any of the other task Lightroom has to perform.
In other words, things like scrolling through images, effect adjustments and settings to individual images(exposure, contrast, and saturation; sharpening, noise reduction, vignettes, crop, add split toning,etc) will be done much faster.
Which Processor is best?
Currently the highest processors with 4 cores and high clock speed are the 7th generation Intel Core i5 and Core i7 quad-core processors and most of the 8th generation processors (U or HQ) Intel Core i5 or Intel Core i7.
Beware…that the release date of the processor also affects performance. The clock speed isn't a perfect comparison if you come across a 4th or 5th generation processor with nearly the same clock speed as the one you found on another more recent laptop. A modern 3GHz processor will outperform any other released before.
If you can't trust the clock speed for comparison, how do you figure out which CPU is faster?
Check the Geekbench scores for both Windows and Mac.
However any recent generation (7th or 8th and maybe 6th) processor with four cores will do, Intel Core i5 or Intel Core i7 is fine*. Ex: Intel Core i7-7700 HQ or Intel Core i5-8250U
The most powerful & more recent proessor among laptops is currently Core i7-8750H, which is really the most ideal one for the heaviest workflows with Lightroom.
RAM

RAM is probably the most important feature to invest. The more RAM you have the less time you'll wait for the machine to do your bidding. In fact, most of the time the machine will start to bog down when it rans out of RAM.

How does RAM work?
Your operating system , every software being used and any file currently used are stored momentarily in RAM.
The more data you're working with, the more RAM you'll need. Remember that you might be working with a large amount of photos(all of them in high resolution w/ tons of MPs).

While you have enough space your storage device but your CPU is better off storing them on a RAM to apply all the adjusments and effects at lightining speed. In other words, you'll need plenty to make sure it doesn't affect loading/editing times.

For all of that I strongly urge you get a machine with 16GB RAM.
I know there's also the extreme case of dealing Panoramas , which can take 24MP each and if you happen 20-50 of them, you'll think you may need way more. In this extreme scenario, you'll probably run out of RAM anyways and will have to wait a few minutes. Just make sure you go with at least 16GB RAM or you'll regret it.

When will I benefit from more than 16GB RAM?
If you do happen to work with very large images (+30MP) all the time, you may benefit from 32GB RAM but at this point I am not sure how much. 32GB RAM might come more in handy if you use Photoshop along with Lightroom at the same time and several high resolution images. Just stick with 16GB RAM for now and see if you can use an upgrade later.

Storage

SSD (Solid State Drive)
The high speed of SSDs will allow your system and applications to launch extremely fast (in seconds).
Since there aren't many I/O tasks in LightRoom. As long as you have an SSD (SATA II, SATA II or PCIe NVMe), you'll get all the advantages of SSDs for LightRoom.
In other words you'll get all the performance benefits from having an SSD when it comes to LightRoom with any SSD type, the fastest SSD will only give you faster data transfer (from external devices to your computer, etc).
According to Pudget Systems, here are the advantages:
Storing your Images on your SSD will increase loading speeds when you move into the Develop module

Storing your Preview Files, your Catalog and Camera Raw Cache on an SSD will increase performance in a few tasks such as exporting and converting to DNG format by 2-8%. (although not a big deal, this all adds up to if you happen to work with the software for hours ).
Outside of Lightroom, you'll also:
Launch Applications/boot up your system extremely fast (in seconds)

Move/copy/paste raw files many times faster

Better heat control, more battery life and more resistance to physical damage
HDD (Hard Disk Drives)
Unfortunately, SSDs don't have enough space especially in laptops and they're quite pricey.
You don't necessarily have to store all of your files on an SSD, there's really no advantages on having your RAW images on an SSD as compared for LightRoom.
So you can take advantage of the cheap and high spacious HDDs. Yes, nearly all laptops today allow you to have two drives. You can keep your finished and old projects plus your image source son your HDD and everything else on the SSDs to get the best out of both worlds.
What kind of storage Set up should I get then?
Any of the following configurations will work for lightworks:
SSDs with 512GB or
256GB SSD + 1TB HDD or
256GB SSD + external device
*Ideally you'd want a 512GB SSD to get fast previews for every image you have but this can get too expensive and really hard to find in laptops.
GPU
Hardware Aceeleration
Since 2015, Adobe has updated Lightroom to use the power of your graphics card to improve performance when editing in the develop module.
However this is still in the experimental stages and today these advantages aren't as substantial as one would hope. As long as you have any dedicated graphics card, you should be able to get every bit of performance increase.
Any 8th or 9th generation GFX card or any AMD dedicated GPU will accelerate applying effects in the develop module
You can still invest on a high-end GPU. Although you won't get any more benefits than having a cheap low end GPU. It may be a good investment to make your laptop future proof for upcoming updates with software though.
High Resolution
GPUs are even more required if you are working with high resolution monitors.
Think about how difficult it'll be for your system to render images in a display with 4k resolution (8MP) or a 2k resolution (5MP) such as the MacBook Pro/Dell XPS 15 compared to a standard laptop screen (2MP).
The software has to come up with 4 times as many pixels when dealing with 4k displays.
In this scenario, if you are dealing with resolutions with displays above 1080p resolution then you'd be better off with a high end gfx card such as 960M or any of the 10th generation NVIDIA cards.
Display
Screen accuracy is utterly important. An incorrect representation is usually caused by your display not rendering exactly what you are seeing.
Brightness Levels
A screen too bright will lead you to believe your colors are bright enough and you'll end up with an opaque print or file that does not display as bright in other displays.
Matte displays aren't as brights plus they're easy on your eyeballs.
Resolution (required)
At least 1080p. Higher resolutions than that are only useful if you plan on printing your images at that density level or if you want to edit your photos with other software at a pixel level.
Color Space & Accuracy (Optional)
Color space refers to how many colors can your display acurately show you. This is different from laptop to laptop but as a general rule laptops with IPS panels will have greater color space.
Whether or not you want a laptop with a high color space is all up to you and how important color accuracy is to you. (In the world of laptops, the differences aren't abysmal).
If your workflow screams for color accuracy it'd be better if you could get an external monitor. These are several times more accurate than what any laptop can offer.
Author Profile
I am physicist and electrical engineer. My knowledge in computer software and hardware stems for my years spent doing research in optics and photonics devices and running simulations through various programming languages. My goal was to work for the quantum computing research team at IBM but Im now working with Astrophysical Simulations through Python. Most of the science related posts are written by me, the rest have different authors but I edited the final versions to fit the site's format.