7 Best Gaming Laptops Under $700 in 2021 (w/ GeForce & Ryzen Chips)
Let's skip the introductions and get right into the best gaming laptops under 700.
Now, first let me say that anything from 550 to 700 bucks should get you a gaming laptop capable of outputting 80fps at medium settings for most games and even get you into the 60s on high settings for some.
Obviously, you're only going to be able to hit those framerates at very high settings if you get a gaming laptop with a dedicated GPU. 
However…there are still a few other specs/factors to take into account if you want to maximize the performance/money ratio of your purchase like the CPU's clock speed (this actually has  a bigger impact on framerates) , RAM and refresh rates.
Recommended Specs For Gaming Laptops Under 700
So before we get into the gist of this post, which is really a list of the best gaming laptops, let's talk about our selection process and what you should be looking out for when buying a gaming laptop under 700.
CPU
Clock speed is the most important single spec for high end gaming. The higher your clock speed, the higher your framerates, yes it's even more imp than a GPU. These are the CPUs you'll find in these ranges (in order of power):
~Under 700$: Core i5-9300H, Core i5-8300H, AMD Ryzen 5 3550H.  These are all good!
But you should try to stay away from CPUs like the Core i5 10G51. Core i310G51, AMD Ryzen 5 3500U.AMD Ryzen 5 4500.
Unless those in blue come with a dGPU.
GPU
A dGPU is a must to push those framerates at medium to high settings.
~Under 700$: 940MX, MX150, MX230, MX250, MX350, 1050 (2GB), 1050(3GB), 1050Ti(2GB) and 1650GTX.

It's going to be extremely rare to find a 1650GTX under 700$ but very possible depending on the time of the year.
You are more likely to find MX350,1050 for 600-650$ than a 1650GTX under 700 (we've found a 699$ laptop with it though).
RAM
Virtually all laptops above 550$ will automatically come with 8GB. You won't find a laptop with 16GB under 700$ unless it's a refurbished one. More important than having 16GB is making sure that whatever you got is dual channeled.

Storage
As of 2021, all laptops even those below 500$ should come equipped with an SSD and not just any SSD, a good SSD like a PCIe NVMe. There's no excuse to settle for anything lower.
Display
IPS is not necessary to bump up your gaming. FHD panels are though and yes you'll also find them on virtually all laptops with a dedicated GPU or those with 8th/10th gen processors and Ryzen chips.
The real question is whether or not you can a find a 120Hz display under 700$ (this will make games look x2 smoother), the answer is: very unlikely unless you step into 750$ territory and even then it's a miracle to find one.
Top 7 Best Gaming Laptops Under 700$
All laptops here range from 550-700$, If you've got anything lower than 550 bucks chances are you are not going to get a dedicated GPU unless it's a refurbished machine and will probably have to play the game at low to medium settings up to 60fps depending on the game.
For those under 500$ and if you don't mind the lack of a dedicated GPU(perhaps you're just playing MOBA games like LoL and Dota 2, then I suggest you take a look at our
best laptops for under 500 post
.
Anyways we'll start with the hottest  gaming laptop under 700$ then go to other alternatives might be cheaper or more expensive.
Be sure to read the tooltips encapsulated in this format when you read a description, you can either find a cheaper model with a different link or get information about an updated version of the model being described. If the model we list is out of stock, check the next one.
---
The Best Gaming Laptop Under 700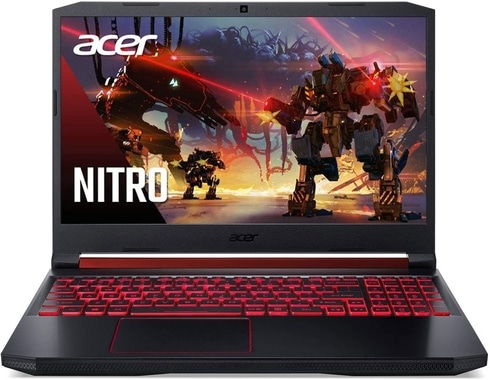 Core i5 9300H
8GB DDR4
  GeForce GTX 1650 4GB vRAM
256GB PCIe NVMe SSD
15.6" 60Hz Full HD IPS

5.07lb
7 hours

This has been the best deal for a few months now. It's one of the only 3 laptops below 700$ with a Core i5 9300H and a 1650GPU on it . Most laptops with this CPU+GPU combo usually start around 750$ and can go up as 850$ depending on supply and demand.
I should mention that we are in the 10th generation of Intel Processors now and the 4th generation of Ryzen Processors. Although you can find a 10th generation Core i5 ( Core i5-10300H) on a MSI or HP laptop online with the same GPU(there's no update in 2021 yet other than RTX cards that start around 1000$), the prices never go below 800$.
Ok, so what can you expect with the Core i5 9300H and a 1650GTX. Well as you know framerates will depend on a game but here's more or less a summary:
| | | | |
| --- | --- | --- | --- |
| Title | FPS | Settings | Resolution |
| WoW | ~90 | High | FHD |
| Call of Duty | ~60 | Low | FHD |
| MineCraft | 300-500 | Optfine | FHD |
| Sims 4 | ~60 | Very High | FHD |
| Dota 2 | +160 | Ultra | FHD |
| LoL | +160 | Very High | FHD |
| CS:GO | +144 | Very High | FHD |
| PUBG | +60 | High | FHD |
| Fortnite | +70 | Epic | FHD |
You can get an extra 10FPS if you make sure your laptop has a dual channeled RAM, check what this is at the of the post. This laptop has 8GB of vRAM with just one stick so it's not dual channeled. You can buy an extra 8GB to make it 16GB though if you want that extra FPS or buy 4GB sticks to make it 8GB of dual channeled RAM.

Also note that we are only listing FPS at high-ultra settings. If you play at medium-low settings framerates may go well past +150 depending on the game. For a more in depth look at every game's performance check our posts on 'em.
---
Best Gaming Laptop Deal Under 700 
Ryzen 5 4600HS
8GB DDR4
  GeForce GTX 1650
256GB PCIe SSD
15.6" 60Hz Full HD IPS

7.78lb
7 hours

This model has the exact same specs as the Acer Nitro except for one thing: the 4th generation Ryzen 5 Processor.
Which is faster than the Core i5 9300H and slightly faster than the Core i5 10300H for gaming.  Price wise they both cost the same so you are welcomed to choose this one over the Acer Nitro. Although on average a 4th generation Ryzen 5 laptop should cost around 750$.
You can expect an increase of 10 FPS over the Core i5 9300H.
---
Best MSI Gaming Laptop Under 700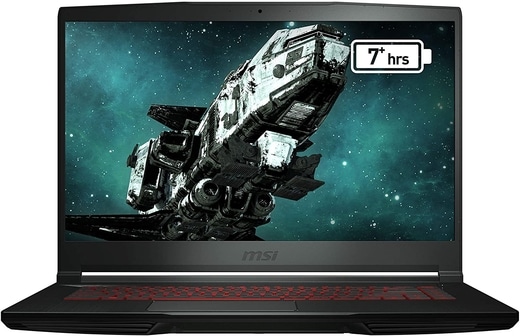 Core i5 9300H
8GB DDR4
  GeForce GTX 1650
256GB PCIe SSD
15.6" 60Hz Full HD IPS

7.78lb
7 hours
This MSI model has the exact same specs as both the Acer Nitro 5, the GPU and CPU are of the same generation and same vRAM. So you can expect the exact same framerates.
This one is a bit heavier though ~2lb heavier than the Acer Nitro 5. It's always going to be slightly more expensive than both the HP and Acer Nitro due to the brand.
ASUS/MSI are the top two gaming brands right now (with Acer shoehorning its way into the top 3 in 2020) so they are more appealing to serious gamers for their design/cooling systems.
---
Best Lenovo Gaming Laptop Under 700

Intel Core i5 9300H
8GB DDR4
  NVIDIA GeForce 1650 4GB vRAM
256GB NVMe SSD,
15.6" 60Hz Full HD IPS

6.93lbs
5 hours

This is the cheapest laptop with a 1650GTX + Core i5 9300H you'll find as of early 2021. The price ranges from 620$ to 660$. Unfortunately, it is kind of hard to find it on stock so if you are lucky to stumble upon it on your region, be sure to grab it. 
As far as performance goes, you'll get about the same framerates as every laptop we just went over. There is an upcoming post we are putting up on all the gaming benchmarks with this laptop.
---
Best Gaming Laptop Under 700 with a 1050GTX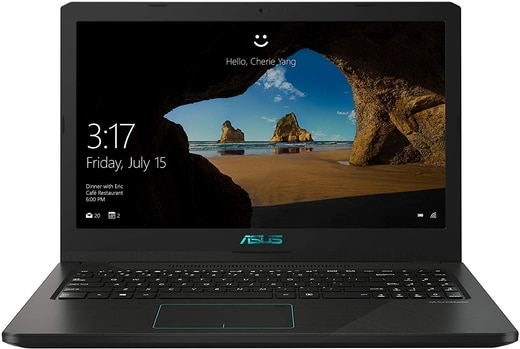 AMD Ryzen 5 3500U Up to 3.7GHz
8GB DDR4
  GeForce GTX 1050 4GB
512GB PCIe SSD
15.6" 60Hz Full HD

4.3lb
5 hours
The best best deal right now under 650$ is this model. There's one big problem though and not it has no to do with the specs, it's the availability. It runs out of stock pretty quickly for a few weeks then its on stock for 1 or 2 weeks again. The longest I've seen it out of stock has been a month though.
Anyways, there are several laptops with a dedicated GPU hovering around 600$ but they're usually paired up with a MX150/MX250/MX350 (which have 2GB of vRAM at most).
This one has a full blown 1050 with 4GB of vRAM (there are models with 2GB of vRAM). That extra 2GB vRAM is going to be crucial to push high framerates at medium/high settings in games like PUBG/WoW/MineCraft/Fortnite.
Just like the 1650GTX, the 1050GTX here is kind of overkill for games like CS:GO, LoL and Dota 2 though so if you planning on just playing games like that and hit them high framerates at high settings, you can save yourself 100 bucks with this model instead of the Acer Nitro 5.
Now I should warn you that the 1050GB may be great and all for most games at medium/high settings and getting you +50FPS but it's not something you should use for something like Call of Duty, it's really going to run slow due to the lack of GPU power and the lack of CPU power(The Ryzen here is relatively weak compared to H processors).
Here's more or less the performance of the Ryzen 5 3500U + 1050GTX w/ 4GB of vRAM:
| | | | |
| --- | --- | --- | --- |
| Title | FPS | Settings | Resolution |
| WoW | 70 | High | FHD |
| Call of Duty | — | —- | — |
| MineCraft | 300 | Optifine | FHD |
| Sims 4 | 50 | Very High | FHD |
| Dota 2 | +130 | Ultra | FHD |
| LoL | +130 | Very High | FHD |
| CS:GO | +100 | Very High | FHD |
| PUBG | 40FPS | High | FHD |
| Fortnite | 50FPS | Epic | FHD |

---
Best Gaming Laptop Under 700 with a 10th Gen CPU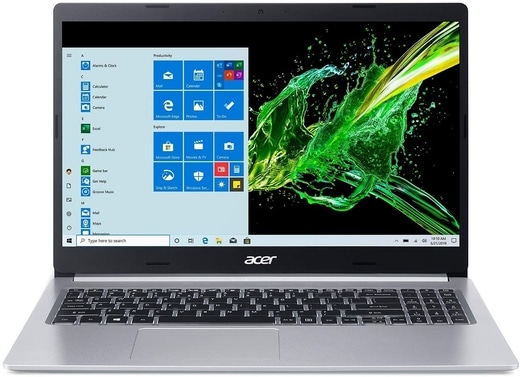 Intel Core i5-1035G1
8GB DDR4
  NVIDIA GeForce MX350
512GB NVMe SSD,
15.6" 60Hz Full HD IPS

5.79lb
5 hours

On the outside this laptop may seem more powerful than the ASUS VivoBook because it's got a 10th generation CPU.
But the truth of the matter is that the 10th generation Core i5 mobile CPU has about the same performance as Ryzen 5 3500U mobile CPU. Clock speed wise the Ryzen 5 has 3.7GHz and the 10th gen Core i5 has 3.6GHz. That's not all, although the MX350/MX230 were released almost two years after the 1050GB, they're still somewhat weaker than the 1050GB especially in the vRAM department.
The point is that although this laptop is just as expensive as the VivoBook (or even more expensive depending on demand), it's weaker for gaming.
However, it does have an IPS panel and way more battery life, that's because these two mobile parts (the CPU & GPU), do consume a lot less power than say a Core i5 9300H/AMD Ryzen 5 and a 1050/1650GTX. 
The only reason you should choose this model over the Acer VivoBook is because it's more pleasent to look at and it has more battery for gaming aka more portable.
Speaking of gaming, the MX350 is going to be the limiting factor here but it will still let you hit +50FPS on most games at medium settings with a FHD resolution. More , specifically:
| | | | |
| --- | --- | --- | --- |
| Title | FPS | Settings | Resolution |
| WoW | 50 | Medium | FHD |
| Call of Duty | ~~ | ~~ | ~~~ |
| MineCraft | 150FPS | Optifine | FHD |
| Sims 4 | 40 | Medium | FHD |
| Dota 2 | +85 | Ultra | FHD |
| LoL | +85 | Ultra | FHD |
| CS:GO | 80FPS | High | FHD |
| PUBG | 30 | Medium | FHD |
| Fortnite | 40 | Medium | FHD |
I personally wouldn't recommend this laptop unless you need a couple more hours of battery life OR the price goes down significantly (550-600$) because 650$ is kind of expensive. For about the same price you can grab the much more powerful laptops we went over!
---
Best Gaming Laptop Under 700 with a 120Hz Display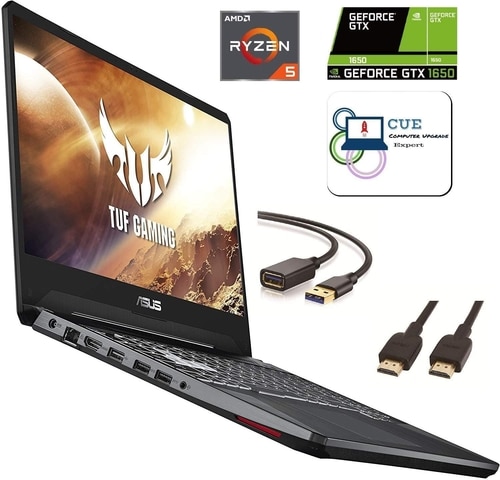 AMD Ryzen 5 R5-3550H
8GB DDR4
  GeForce GTX 1650
256GB PCIe SSD
15.6" 60Hz Full HD IPS

4.85lb
5 hours

A few months ago, this laptop would've made the top of the list beucause it was around 700$ (710$ on avg). Unfortunately, demand has been high since then and it's probably more expensive by the time you read this (never going past 800$ though).
Why bothering posting a laptop above 700$? 
Well unlike every laptop under 700$ and even laptops under 800$ or 900$, this one doesn't only come equipped with a modern fast CPU and a GTX 10650 for gaming at high/medium settings/ultra settings (depending on the game) but it actually has a 120Hz display which you simply can't find on other models even those above 900$.
A 120hz may not sound great to you if you are relatively new to gaming but the reality is that it makes everything look far smoother even if you have a less powerful CPU/GPU than a 60Hz laptop.
By the way, this one does not have a weaker CPU/GPU. The AMD Ryzen 5 3550H is just as fast as the Core i5 9300H, although the gap in clock speed may seem wide if you check benchmark tests, they both actually perform the same.  The AMD chip is probably what allowed the manufacturer to built a 120Hz display right in (AMD chips are cheaper than Intel and with the release of the Ryzen architecture, most of the time they perform better).
Back, to the 120Hz display and why you should get it. Well if you're playing a game like WoW at medium or high and going well past 90FPS , a 120Hz display will allow you to experience every framerate. A 60Hz like the Acer Nitro 5 will only let you "see" 60FPs at the most, no matter how much you tweak settings, it's a physical limit.
This is debatable topic though and a matter of taste too but imo a 60Hz will not make you more handicapped against other players it's just not going to look as good as a 120Hz (which is a bit easier on the eyes).
Don't try to look for a 120Hz under 700$ you won't find it, the best deal you'll get is with this model and at 710$ on a good day!
Update:
There's an updated and more expensive model of this laptop
which has a 144Hz display which is definitely a deal due to the fact that you only find 144Hz displays on +1000$ laptops these days. If you got the cash to invest on it, I'd suggest you grab it before prices go up. IT'S ONLY 15$ more expensive than this model!
---
How to Find The Best Gaming Laptop Under 700
There are two ways to find out whether or not you've got a great deal on a gaming laptop below 700$:
The easiest and most obvious way: make a list of all gaming laptops under 700$. Compare specs and prices.
That can actually take days of research but it's well worth it.
The best way to do this and a much faster way to do this is by:
Checking the specs: GPU, CPU, Display, RAM, SSD and adding up the prices
Wait, doesn't that only work for desktops? how do you know the prices of each computer part in a laptop?
For desktops it's easy, true, you just go to amazon, type the CPU and GPU names on the search bar and get the prices and start adding up.
Unfortunately they don't sell laptop parts individually for people to build one unless it's for replacement or to fix laptops (those are found on AliExpress).
However…
You can also use the official Intel/AMD or the manufacturers websites for their prices.
Fortunately, most of the time you don't even have to research that much because the best laptops under  700 aka those with a pwoerful GPU/CPU have the mobile desktop versions and most of the time (as of 2021) , they're pretty much the same.
So you can use the desktop prices for these parts and start adding them up (except for storage,RAM,display, those are easy to get though as you'll see soon).
Let's start with the GPU:
GPU
GPUs that have the same name as their desktop counterparts are pretty much the same GPU. They've just been underclocked to control temperatures (they'll be forced to run under lower speeds).
So  you can also use the price of GPU you find on desktops to make your calculations:
| | |
| --- | --- |
| Name | Price |
| 1650 | 240$ |
| 1050 ti (2-4GB) | 115-165$ |
| 1050 | ~100$ |
CPU
Once you get a dedicated GPU, it's actually the CPU that will have the biggest impact on settings and framerates.
In fact, the CPU has the biggest impact on FPS. If you invest a low end dedicated GPU but still manage to get a high end CPU, you'll be hitting three digits no sweat for the graphic settings your GPU allows you to play.
Here's a few examples:
There are more CPUs obviously but it's kind of pointless to list them, you're just not going to find them under 700$.
RAM
RAM prices vary widely from manufacturers. As long as you get a DDR4 stick and you get two instead of one, you'll squeeze out every juice of power from RAM to feed your CPU and bump up your framerates in anygame.
Note that you might get 4 to 8GB RAM soldered into your motherboard make sure to add the total RAM:
Here's a list of RAM prices:
| | |
| --- | --- |
| Name | Price |
| 16GB | 60$ |
| 8GB | 30-35$ |
| 4GB | 20$ |
Storage
Likewise storage usually comes attached to the motherboard unless you got 512GB so it comes with the price of the motherboard.
If you got 512GB on a laptop, very unlikely under 700$, you have to add the price of 256GB to the total budget. The PCIe NVMe SSDs use a M.2 slot that means they're going to be attached to the motherboard instead of using the SATA port.
| | |
| --- | --- |
| Name | Price |
| 128 GB PCIe NVMe | 30$ |
| 256GB PCIe NVMe | 40$ |
| 512GB PCIe NVMe | 64$ |
| 256GB SATA III | 50$ |
| 1TB HDD | 50$ |
Display
Displays can be expensive depending on what kind of specs you what on yours. An IPS display will be slightly more expensive than TN display and a 120/144Hz display a lot more expensive than a 120/144Hz (twice as much on average).
The most common display you'll find on gaming laptops under 700$ are the 60Hz IPS FHD display or the 60Hz TN FHD display. It is very unlikely to find a 120Hz display but it's still possible (I'd say once a year).
| | |
| --- | --- |
| Display Specs | Price |
| 60Hz IPS 1366×768 | 40$ |
| 60Hz IPS FHD | 50$ |
| 120 Hz IPS FHD | 70$ |
| 144 Hz IPS FHD 15" | 150$ |
If you want to check more display configurations, you can use Amazon or Ali express to get their prices:
Other Small Parts
This includes the battery, the motherboard, power cord, the shell, the keyboard, chasis quality, etc.
Min: 100-150$ (100$ for entry level gaming laptops and 150$ for mid-range laptops).
Max: 200$ (depending on chasis quality, shell, keyboard, etc).
EXAMPLE: MSI GF63 THIN 9SCX-005
Core i5 9300H ~ 250$
1650GTX ~ 240$
8GB RAM ~ 30$
SSD ~ 40$
Display ~ 50$
Other small parts~ 150$
Total: 760$
Laptops sells for 699$.