5 Best Laptops For Call of Duty : Warzone & Vanguard & Modern Warfare II – 2022
Let's skip intros, cut the chase and jump right into to the best laptop for call of duty warzone and all other releases are.
First…
Call of Duty is EXTREMELY taxing on gaming laptops.
If you grab a 1650GTX laptop, the game is pretty much unplayable unless you set graphics quality settings to low (~60fps).
Whereas a 3050Ti laptop will give you competitive framerates on low settings.
Now…although VanGuard & Modern Warfare II (Beta availabe in October 2022) are in theory less hardware demanding than Warzone. You will still need a mid-range GPU like the 3060RTX (130W) if you want to go rambo (~100fps) on High Settings on every single titled released.
Anyways..
If you check the benchmarks found on laptopstudy's channel & several other channels, you'll come to a few more conclusions:
Gaming laptops with a 3060RTX (130W)

will give you the best bang for your buck as far as 1080p gaming is concerned.

3070RTX or a 3080RTX GPUs

running at low power (<125W) are unncessarily expensive and do not really outperform a 3060RTX(130W). Only the high powered variants (140W+ shown above) do.
The table above is just a brief summary there are dozens of more benchmarks with links to videos on the last section of this post and lots of interesting conclusions to draw upon.
*We do not include Black Ops 4 in this post because it's very obselete and it's just as hardware demanding as the latest two releases.
Best Gaming Laptop Specs for Modern Warfare II & Vanguard & Warzone
The following tips and suggestions are based on dozens on benchmarks found on youtube and on laptopstudy's youtube channel. But like I said the best laptop specs for Call of Duty are going to include at least a mid-range like the 3060RTX running at least at 130W (115W and higher are okay for 3070 and 3080RTX).
GPU
3060RTX: I personally like a mid-range dGPU like this one. CPU & RAM will have an impact too but not as dramatic as a FULL watt dGPU will.

3070RTX & 3080RTX: These become super useful ONLY if you want to play at 1440p & 4k resolutions. It doesn't seem to return significant performance gains at 1080p over the 3060RTX as shown below.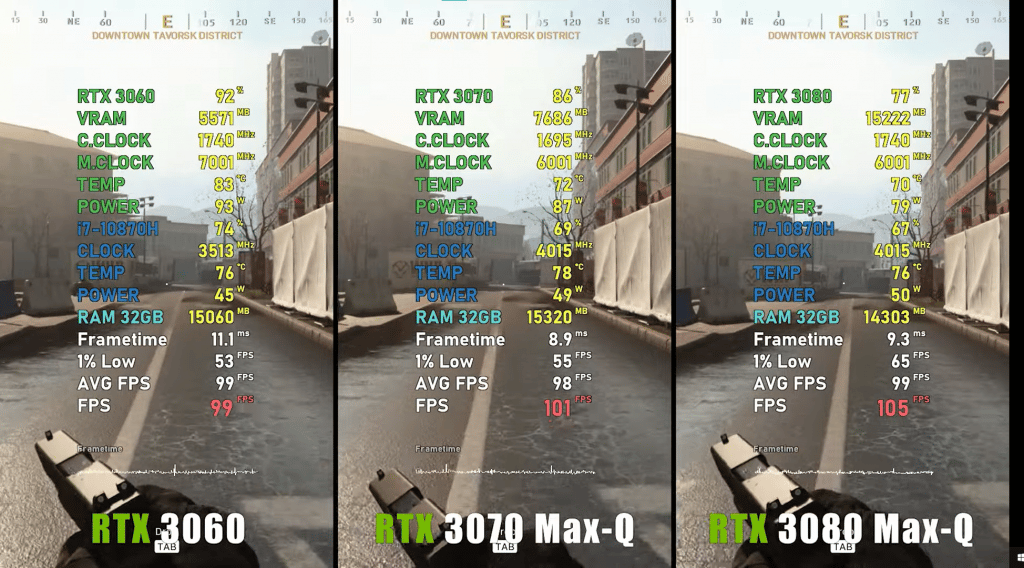 Another issue is that it's rare (and super expensive) to find them running at FULL POWER.
1650GTX & 3050Ti: After some tweaks and tips (will be discussed briefly), you can get 60fps on High 1080p at best.
Decent: 1050Ti, AMD Radeon 5550M. Not necessarily the best but playable.
Unplayable: MX350, MX450,1050GTX, AMD Radeon RX 550/540/555/560.

CPU
Choosing the best CPU isn't nearly as important as picking a laptop with a GPU operating at higher wattage.
CPUs DO become a big factor when you buy mainstream GPUs like the 1650GTX/3050Ti*. Paying a lil' more for one over the other can get you +20-30 more fps.
Please refer to the last section on how to pick the best CPU for Call of Duty. Here's a good summary though:
Ryzen 7 5800H vs Core i7 11800H. Both are equally (at least on Call of Duty) provided a 3060RTX/3070RTX/3080RTX is running at high wattage (135W-165W).
Ryzen 5 5600H vs Core i5 10300H. Ryzen 5s can get you +20fps on 1650GTX & 3050Ti Laptops except for the Core i5 11400H which outperforms it.
RAM
8GB vs 16GB: Tons of RAM is not a must but you're going to lose a LOT of framerates with just 8GB. You want 16GB RAM.
Dual Channel: your laptop's framerates don't match the benchmarks on youtube? Yup, you have to make it dual-channeled. I

Storage
512GB: CoD: Warzone can take up to 120GB. VanGuard can take up to 60GB. Add Windows 11 (60GB) and 256GB starts becoming insufficient.
Display
60Hz vs 120Hz/144Hz: Refresh rates are useful only if you get at least a 3060RTX. Laptops w/ lower dGPUs: 1650GTX/3050Ti/1050GTX won't go past 70fps even at low settings with everything disabled.
Top 5 Best Laptops for Call of Duty
The first three laptops on this list will have a 3060RTX, 3070RTX and a 3080RTX respectively so they may be out of your budget.
The last two, however, are budget friendly laptops with a 1650GTX or a 3050Ti PAIRED with the best CPU in that bracket so you can an extra 20fps to hover around 70fps to play competitively on low-med settings.
Note that all of these laptops are readily available in the United States, if you cannot find them in your region, click on the alternatives (i'll include a few on each review) or in the worst case scenario, check out my guide How To Buy The Best Laptop For Call of Duty at the end which has tons of links to youtube videos on several other models.
---
Gaming Laptop For Call of Duty : Warzone Vanguard & Modern Warfare II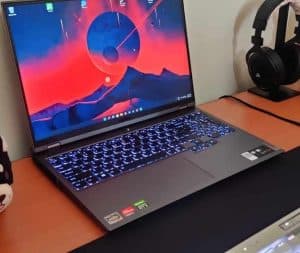 AMD Ryzen 7 5800H
16GB DDR4
RTX 3060RTX 130W 6GB vRAM
256GB NVMe SSD
16" 165Hz FHD IPS

6.55 lbs
2 hours

Ideally, if budget is not an issue, you want to start looking at laptops that have the 3060RTX. You already know how hardware demanding Call of Duty is so you can't just start with a 1650GTX or a 3050Ti.
If you want to play competitively with framerates up in the 100s at high settings (1080p) you're going to need at least a 3060RTX.
GPU
3060RTX: 105W vs 130W
Now I would normally recommend the Acer Predator for a 3060RTX. Unfortunately, this year's Predator pales in comparison to the same priced Lenovo Legion 7 which runs at much higher wattages and has other perks will go over for the same price. The Lenovo Legion featured runs at 130W which is the maximum TDP for 3060RTX laptops.
That's not all! The Lenovo Legion 5 ALSO has a MUX Switch which further increases GPU performance by 15-20% if you've read my post on MUX Switch & Optimus you'd know what I'm talking about.
Here's the exact performance of this laptop on Call of Dutry:
| | | | | | | | | |
| --- | --- | --- | --- | --- | --- | --- | --- | --- |
| GPU | Watts | MUX | CPU | FPS(1080p) | DLLS | Graphics | CoD | Youtube |
| 3060RTX (130W) | 130W | YES | Ryzen 7 5800H | 100(90) | OFF | High | Warzone | Tech Tyrial |
| 3060RTX(105W) | 105W | NO | Core i7 11800H | 85(73) | OFF | High | Vanguard | Wuxing |
| 3060RTX(105W) | 105W | NO | Core i9 11900H | 87(76) | OFF | High | Vanguard | DonisGT |
The table shows you a summary of the performance of 3060RTX GPUs on Call of Duty with different TDPs (wattages). Although a 15fps difference many not be impressive to you , it is A substantial gain for this game. If you browse around this post and check other benchmarks or on my channel (or other channels) you'll notice even a 10fps difference in this game is very difficult to obtain!
CPU
i7 11800H vs Ryzen 7 5800H vs i9 11900H
You also have to take into account the fact that despite the Ryzen 7 5800H being A LOT weaker than the Core i9 11900H , the Lenovo Legion 5 still outperforms those laptops with better CPUs.
If you happen to find a 3060RTX alternative with the Core i7 or Core i9 outlined above, just grab them, of course if they have the same GPU wattage. You'll get an extra 10fps.

Now if you want to go further and easily go past 100fps even while in Combat during Deathmatch , you can try upgrading the Lenovo Legion 5 Pro RAM. to make it dual-channel. It already has 16GB RAM which should be enough but if you split them in half (x2 8GB) the Ryzen CPUs will take good advantage of this (more so than Intel CPUs) and squeeze a few more framerates.
Display
144Hz + QHD resolution + 17 inch
Another reason why you should consider the Lenovo Legion 5 pro over ANY other laptop with a mid-range GPU is the display. It has the perfect and I mean perfect specs for this game. You've got a huge display to get a great view of the map and spot enemies faster which also makes the laptop much bigger thus the cooling system will be much efficient at keeping tempeartures safe.
You also get the option to run the game at 1440p. You've got the power of a 3060RTX running at 130W and the QHD resolution display to let you do so.
What's more is that the 144Hz is spot on. You don't need 240Hz or 360Hz refresh rates displays because there's no way the game is going to run at 200 or even 180 fps EVEN if you've got a 3080Ti and settings all to low. The best you can get out of this game as you'll see soon is about 150fps and that's exactly how much framerates per second the display can refresh.
Alternatives
Obviously, there's nothing wrong with grabbing the Acer Predator or the Acer Nitro 5 with the 3060RTX even though their GPUs run at lower power. You can always bio-flash the GPU and overclock it to 130W. You will have to go through the painstaking task of taking to a computer technician though who might have to add helium liquid to keep temperatures low. I would not recommend buying a low-power 3060RTX laptop and then overclock it though unless they're much cheaper than the Lenovo Legion 5 here.
The table below shows you all kinds of 3060RTX laptops. Be aware that the GPU performance will change from laptop to laptop, those that are way too cheap will usually run only at 80W. You want those that are 17 inch and have a Core i7 or a Ryzen 7, make sure to double check they are running at least at 155W. 3060RTX laptops running at 85W are kind of useless for Call of Duty: MSI GF65 Thin for example.
Lenovo Legion 5 Pro 16"

PROS

CONS

High Wattage 3060RTX ( 130W )

Includes a MUX Switch (~15-20%+ GPU performance)

Supports the highest settings ~100fps

Some support for 1440p gaming

Best bang for back GPU

Best Multicore Ryzen CPU

Extremely easy to upgrade storage

QHD Display + 165Hz refresh rates

Poor Battery

Expensive

Noisy (Fans can be loud)

Not the best CPU in this price range

Heavy (16" screen)
---
Best Laptop For Warzone – Call of Duty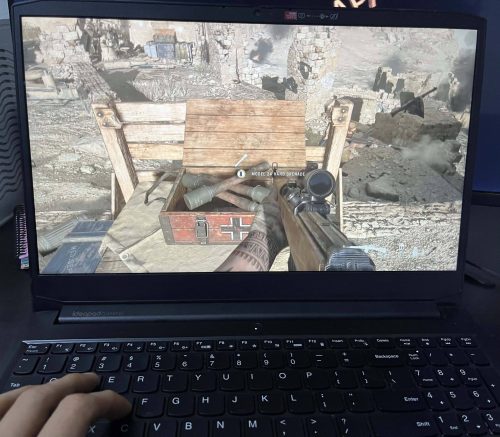 AMD Ryzen 5 5500H
8GB DDR4
RTX 3050Ti 4GB vRAM
512GB NVMe SSD
15.6" 120Hz FHD IPS

4.8 lbs
2 hours

This is a budget option but more towards the expensive side, don't worry we'll get to cheaper options but I think it's worth to look at especially becauses it isn't that much expensive than laptops with GTX 1650.
And just like the 3060RTX you can still run Call of Duty Warzone, Vanguard and Modern Warfare with at least 60fps on High Settings with all graphics options like Particle Lightining, Anti-Aliasing SMAA T2X, World motion blur and Depth of Field enabled or set to high.
Call of Duty: Warzone & Modern Warfare 3050Ti BenchMarks
I have tested this laptop myself as it is in my posession you can check the benchmarks on my youtube channel. I ran it on Call of Duty Warzone first then on Warzone: Mercenaries of Fortune. The Vanguard benchmarks are on their way but it should be pretty close to the Warzone Benchmarks which is a bit more hardware demanding actually.
Please be sure to disable turbo boost (CPU), temperatures are dangerously high if you don't. You can reduce it by 20 degrees.
I'm averaging 65fps on Multiplayer Mode for Call of Duty: Modern Warfare and 55fps for Call fo Duty: Warzone on Multiplayer Mode as well, both tests are taken on high graphics settings. Note that the graphics settings on the Warzone benchmark are taken beyond high , as more graphic options are enabled beyond to the preset settins for high, this is why the fps goes down dramatically.
Remember if you are going to compare benchmarks it's always better to take them on the same map, with the same gameplay mode (multiplayer in this case) and the same scenario (in this case withi lots of buildings and players around), same version of the game ( Warfare or Warozone) otherwise benchmarks comparisons are not going to be useful.
GPU: 3050Ti RTX
You should be able to get the same framerates with ANY 3050Ti laptop and that's because virtually ALL 3050Ti laptops run at the same wattage or TDP : 85 W. Although on some of them like the Lenovo Ideapad Gaming 3 the wattage has to be set manually through propietary software like Lenovo Vantage which has three mods for GPU wattage .
MUX Switch
There is no MUX Switch on this laptop nor on any other 3050Ti laptop unfortunately. You might find them on 2022 laptops with the 12th Intel Core CPU or the 6th generation Ryzen CPUs but then again the prices increase dramatically and you might as well buy a 3060RTX laptop.
DLSS & DirectX Ray Tracing
This is another reason why you should consider this 3050Ti laptop over any 1650GTX laptop.
Althoguh DirectX Ray Tracing is not available on the 3050Ti (it is not available on the current version of Vanguard anyways), DLSS is available on the 3050Ti and once activated, it will increase framerates slightly. I have not tested this laptop with DLSS mode for bennchmark comparison purposes but you can expect +10-15 more framerates as shown in the benchmarks down below.
CPU: AMD Ryzen 5 5600H vs Core i5 10300H
Now this is important, you're going to find a bunch of CPU options if you pick a laptop with the 3050Ti. If your options are between a Core i5 and Ryzen 5 which is going to be the case if your budget is under 800 dollars (The Acer Nitro 5 costs 750 dollars and is shown below).
I've seen several benchmarks and you can find them on the last section of this post but basically if those are your two options and you want MORE FPS performance, you have to pick the AMD Ryzen 5 5600H. It is not wise to guide yourself by clock speed numbers, it seems Call of Duty, at least in my view and from what I've seen in the benchmarks makes good use of higih "multi-core" performance CPUs.

Benchmarks below have been carried out with a different GPU but all hardware components are pretty much equal and the obvious winner is the AMD Ryzen 5 4600H (actually the Core i5 9300H has a better GPU because it doesn't run with Optimus, check my MUX Switch post to see what that means).
RAM: 8GB vs 16GB RAM
This laptop comes with 8GB RAM but I decided to upgrade it to 16GB RAM. I'm writing a post on the step by step process but it was pretty easy. I also recommend you do so if you want to have even better fps numbers on Call of Duty.
Alternatives & Current Prices of 3050Ti Laptops

Lenovo Ideapad Gaming 3

PROS

CONS

Great Software for GPU Performance Management

Best bang for your buck 3050Ti Laptop

120Hz Display

Supports Highest settings on Call of Duty

Very lightweight

Easy to upgrade RAM (32GB) and Storage (x2 SSDs)

Extremely responsive Q W S D keys

Best Multicore CPU in this price range

Very very poor Battery

Only has x2 USB ports

USB ports are located on the right side

No MUX Switch

Weak Sound System

Must buy a cooler if playing at high settings
---
Best Laptop For Warzone : Call of Duty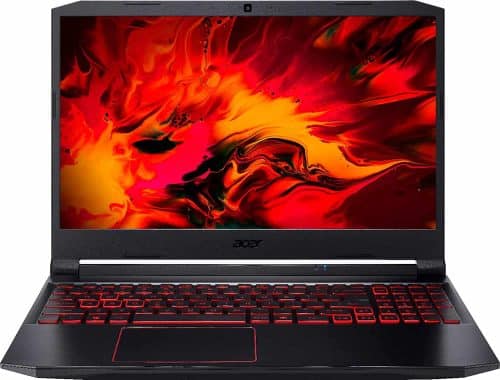 AMD Ryzen 5 5600H
8GB DDR4
1650GTX 4GB vRAM
512GB NVMe SSD
15.6" 144Hz FHD IPS

4.37 lbs
4 hours

This is the bare bone minimum laptop you can use to run Call of Duty with decent framerates to even stand a chance at being competitive. In other words, you need at least a 1650GTX and that's only going to get you to play at low settings if you want to hit framerates above 80fps.
GPU: 1650GTX vs 3050Ti
Like I said, it's the absolute minimum. I don't expect people to buy this laptop for Call of Duty at least as of July 2022 because the 3050Ti laptops (Acer Nitro 5 and Ideapad Gaming 3) are only 20-30 bucks more expensive and you get a massive increase in framerates and you also get the option to play at high settings with DLSS Mode.
If you choose the 1650GTX you are going be giving up a lot of stuff but if the prices of 3050Ti laptops go up then it is a good choice because you can find this laptop or other 1650GTX laptop as low as 600 bucks.
Call of Duty: Warzone 1650GTX Benchmarks
CPU: AMD Ryzen 5 5600H vs Core i5 11300H vs Core i5 11400H
The benchmark above isn't really a good estimate because it's been recorded with Warzone Season 1, we are in season 4 which is more hardware demanding so expect ~50fps. Plus the benchmark with the 3050Ti was also recoded in a much bigger map (thus consuming more vRAM and more GPU power) AND with far more players (250). However this benchmark and the benchmark we took with the Core i5 9300H model (1650GTX too) is still useful to conclude one thing:
The AMD Ryzen 5 CPUs vastly outperform the Core i5 CPUs for Call of Duty, thus if you're short on cash and you happen to find a AMD Ryzen 5 5600H for the same price (or even a Ryzen 5 4600H) it is no a brainer grab it.
Here you can see the alternatives, the prices can change depending on the time of the year. Remember that the 3050Ti is only 730 bucks so pick a 1650GTX based on that , in other words, pick a 1650GTX only if its substantially cheaper than a 3050Ti laptop.
MUX Switch & GPU Wattage
Just so we are clear. Most 1650GTX laptops run at the same wattage (except the MSI GF63 and other thin laptops which have max-q version). In the table above ALL except the MSI GF63 "thin" models run the 1650GTX at full power. Also there are no laptops that have a 1650GTX with a MUX Switch. The Lenovo L340 has sort of a MUX Switch (No Optimus) but unfortunately has a Core i5 9300H which is vastly outperformed by an AMD Ryzen 5 (even without a MUX Switch).
Display: 144Hz
Another reason to pick the AMD Ryzen 5 models is that they're not only cheaper (on average) but they usually have a 120Hz display too. You may think it's not going to be useful but once you dual-channel RAM and up it to 16GB RAM you will definitely hit around 80fps on the current season of Warzone and definitely on Vanguard.
Acer Nitro 5

PROS

CONS

Best MultiCore CPU (Ryzen) For Call of Duty

144Hz Display

Easy to upgrade storage & RAM

Supports Dual-Channel RAM (Lenovo L340 and MGF63 don't)

Decent battery for a gaming laptop

Cool looking flashy keyboard

Great speakers

Great Cooling System

Only runs Call of Duty at low settings

Expensive (60Hz display 1650GTX laptops are cheaper)

No software for GPU performance control

Thick and Heavy
---
The Best Gaming Laptop For Call of Duty 1440p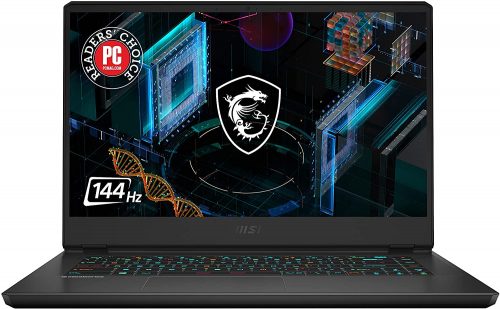 Core i7 11800H
16GB DDR4
NVIDIA RTX 3070 140W
512GB NVMe SSD
15" FHD 144Hz
5.25 lbs
3 hours

Even if you've got a high budget I seriously recommend you go for a 3070 laptop or a 3070Ti laptop over a 3080RTX or 3080Ti RTX (which we'll go over soon for the sake of completeness).
As you'll see in this and the next review, they will give you the best bang for your buck as far as Call of Duty Warzone and Vanguard is concerned.
Warning:
Beware that buying a 3070RTX or a 3070RTX Ti laptop is VERY VERY tricky and you can lose hundreds of bucks and get a low performance machine if you don't do your research. If you are serious about spending this much money on a laptop for call of duty. You MUST read my post on
GPU TDP or Wattage
here
We are going to get very techinical from here on so I hope you went over my post.
GPU
Most manufacturers will try to hide wattages of 3070RTX laptops because it makes a huge difference both in price and performance. Now I've searched HIGH and LOW to find a 3070RTX running at 140W at a reasonable price and I've only come up with this laptop.
Surely you'll find 3070RTX laptops that are much cheaper like the Razer Blades (90W) or the MSI Raiders (85W-100W).But those GPUs run at such low power that they are outperformed by the 3060RTX 130W we went over in the beginning of our post.
Click on the youtube benchmarks if you'd like to corroborate what's on the table.
Notehow the 130W 3060RTX clearly beats the 3070RTX 100W despite having a Ryzen 9 5900HX which way faster than than the Ryzen 7 5800H. That's not all, the 3060 RTX laptop is even running with RTX mode ON which is way more hardware demanding.
See what I'm talking about? It's pretty pointless to go for those cheaper 3070RTX laptops because they have low wattages.
Ideally, you want a 3070RTX 140W because they are not as expensive as the 3080RTX or the 3070Ti and they can in most cases beat 3080RTX and 3070Ti laptops running at lower wattages.
You can see down below all the options you'll come across, I'm sure you are temped to go for the MSI GL66 but hopefully now you know best.
How about laptops with a 3070Ti RTX?
The newest 3060Ti and 3070Ti and 3080Ti GPUs found on laptops MIGHT be a better choice if they weren't so expensive. Right now I recommend you stay clear off these laptops UNLESS you can afford about 3000-4000$ because only then will you be able to get one running at least on 140W (the 130W version shown below basically performs just as good as a 3070RTX running at 140W).
CPU
Core i7: 11800H vs Ryzen 7 5800H vs Core i9 11900H
Now the laptop I'm featuring here for Call of Duty has a Core i 711800H and you will find 3070RTX laptops with all sorts of CPUs and even better CPUs perhaps even at a cheaper price but remember it is far more important to make sure you get a GPU running at full wattage (TDP) rather than a CPU with more single-clock performance.
On the other hand, if you happen to find TWO laptops with different CPUs but the same dedicated GPU like the 3070RTX running at the same power and with a MUX Switch too then you should pick the CPU with more multi-core performance. In this case, you want to pick the Ryzen 7 or Ryzen 9 CPUs.
Alternative
The only issue with the MSI GP66 Leopard is the display, it doesn't QHD or an UHD Display which is definitely useful when you buy a 3070RTX as the GPU is so powerful it can easily support 1440p or even 4k gaming for most titles. However, this is still extremely taxing for a 3070RTX GPU so it's not something you want to use unless you're playing Campaign Mode. The Lenovo Legion 5 Pro has a 3070RTX version which also runs at 140W, consider buyign it if 1440p gaming is a must for you:
MSI GP66 Leopard

PROS

CONS

Cheapest 3070RTX laptop running at 140W

MUX Switch

Relatively lightweight for a 3070RTX laptop

Supports high settings w/ ~140fps

RAM & Storage Upgradeable

Best CPU in this price range

FHD display as opposed to UHD or QHD

Poor Battery
---
The Best Laptop For Call of Duty: Modern Warfare II and Vanguard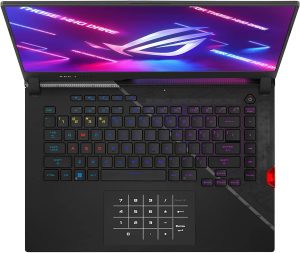 Core i9 12900H
32GB DDR5 RAM
NVIDIA RTX 3080Ti 16GB 175W
1TB NVMe SSD
17" 240Hz QHD IPS
12 lbs
1 hour

If you've got unlimited budget and you MUST play the game on a laptop, then you obviously want the best laptop for Call of Duty as of today and that is a laptop with a 3080Ti GPU running at maximum wattage ~175W
Call of Duty: Warzone 3080Ti (175W) BenchMarks
130fps on 1440p Resolution & High Settings with RTX Mode ON.
GPU
3080Ti 175W vs 3080RTX 140W
Both GPUs will let you play the game at 1440p with approx 144fps which is the magic number for competitive gaming. Now again y'all this is only possible if you've got a GPU running at high wattages. MUX Switch isn't nearly as important when you shop for these kind of laptops because most of them will have one and TDP plays a bigger role in reaching those framerates.
You also want to make sure you grab a 17" model as this will provide enough space to keep temperatures safe so that the GPU can go to full power so you can get those framerates.
If you are not satisfied with 130FPS with what's claimed to be the best GPU on a laptop in 2022 notice how the RTX Mode ON is activated and this is also running at 1440p resolution, you'll easily go past 200fps IF you use the same settings we used with the previous laptops.
Anyways below you can see the benchmark results of the cheaper and more common 3080RTX, they're also a good option if you want to have "competitive framerates" ~144FPS just be sure that they run at least with 155W. Anything lower is pretty much going to behave like a 3070RTX.
CPU
One reason to go after this model for a 3080Ti is the CPU, it is currently the most powerful CPU on a laptop. It's definitely better than the 6th generation Ryzen 9 CPUs at least for gaming.
But again, it only makes sense to be picky about the CPU once you know for sure both GPUs on each laptop have the same performance. If you want to further increase CPU performance, you can dual-channel this 17 inch laptop to maybe have 32GB. Because it is a huge and thick laptop doing the upgrade will be very very easy and you should get at least 10 extra fps out of it. Also note that only laptops with the 12th generation Intel CPUs or the 6th generation Ryzen CPUs have the latest RAM chips: the 5th generation DDR5 which you are not going to find on 3080RTX (non-Ti) laptops and this further increases the gap in performance.
Display: 240Hz 4k
This laptop has a 4k resolution display and most 3080Ti laptops will and the reason is simple. The 3080Ti is so powerful you can run most AAA games at 4k resolution and still go past 60fps. The high refresh rate display ALSO comes in handy because even a game as hardware demanding like Call of Duty will hit +200fps on High settings, you can bet all other games may go way beyond those numbers too.
Alternatives
Note these alternatives are all more powerful than any non-3080Ti laptop however some are faster because they run at high wattage. All of them have a MUX Switch. I recommend 17 inch over 15 inch because temperatures with this much power can be insanely high and dangerous and it's just easier to design a better cooling system on a bigger laptop.
ASUS ROG Strix Scar 17

PROS

CONS

Great Cooling System

Best Display Yet (17 inch QHD 240Hz)

High wattage 3080Ti

Best CPU as of 2022

Cool looking keyboard design

Extremely easy to upgrade (64GB RAM + x2 SSDs)

Easily handles Call of Duty running at 1440p resolution

Very poor Battery

Extremely expensive

Extremely heavy

Lacks 4k display (for 4k gaming)
---
Find The Best Laptop For Call of Duty (Buying Guide)
This section will not only list the official minimum and recommended requirements but also talk about the benchmark taken from different GPU + CPU configurations on laptopstudy.com youtube channel and other gaming channels/
Since most people came here to see the official requirements, we'll do that briefly. Benchmarks and discussion of framerates results will follow after.
Laptop Requirements for Call of Duty Warzone , VanGuard & MW (Complete Guide)
Official Minimum & Recommended Requirements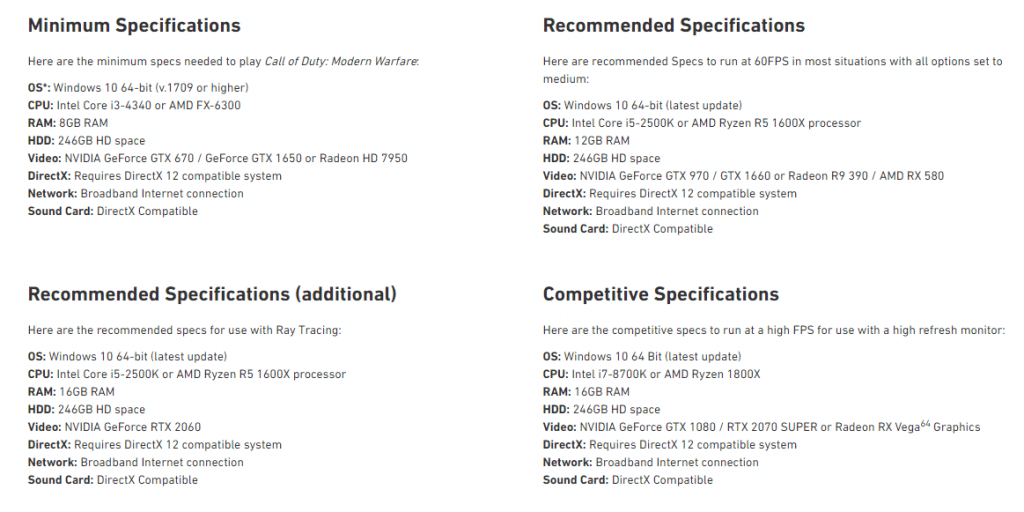 The translation to laptops is pretty simple, it's only the graphics card section which can be tricky. Basically you have to take into account that desktop GPUs are usually "one step" above laptop GPUs. For ex: 1650GTX (Desktop) ~ 1060GTX (Laptop) . 3050Ti (Desktop) – 3060RTX (85W Laptop).
If higher end GPUs like the 3060RTX and 3070RTX are mentioned they're supposed to run at full maximum watage (this is not the case on every laptop).
GPU Benchmarks (Laptop) : Call of Duty
It should be pretty clear by now that GPU is the single most important factor for Call of Duty and this is even more true on laptops where you don't have many choices for CPUs. Thus when you shop for a laptop for call of duty you ONLY have to look at the GPU.
Framerates in parenthesis are those taken in online multi-player battle royale on a 1 vs 1 encounter
Integrated and 2GB vRAM dedicated GPUs
Note: the game is completely unplayable on integrated GPUs and even entry level dedicated GPUs with 2GB of vRAM (shown below) thus you must spend at least 650 bucks for a decent laptop for call of duty.
| | | | |
| --- | --- | --- | --- |
| NVIDIA | Cores | vRAM | Speed |
| MX150 | 384 | 2GB | 1532 |
| MX250 | 384 | 2GB | 1582 |
| MX230 | 256 | 2GB | 1519 |
| MX350 | 640 | 2GB | 1354 |
| MX450 | 896 | 2GB | 1580 |
| 1050 | 640 | 2GB | 1493 |
Now virtually every laptop that has a Core i5 9th and Core i5 10th gen seems to struggle A LOT on high graphics quality settings. The game is somewhat playable on Ryzen 5 + 1650GTX laptops which allows you to set Texture resolution to high (this makes a big difference on how the game looks).
Recommended Graphics Settings
Virtually all configurations are fast if you set graphics quality mostly to low (and normal) settings and:
NVIDIA Reflex Low Latency – Enabled + Boost

NVIDIA Highlights – OFF

Dynamic Resolution – Enabled

Field of View – Default
Optional: you can set texture resolution to low and start dipping into 100 fps.
AMD Ryzen 5 > Core i5
Interestingly, the Core i5 9300H I have tested has some sort of a MUX Switch (15% increased GPU performance) and yet the AMD Ryzen 5 4600H outperforms it. I know I said CPU matters very little for this game but when you lack GPU power such as in the case of cheap dedicated GPUs , it can make a big difference. As you'll see soon, it won't make any difference on the higher and more powerful upcoming dedicated GPUs.
TL;DR: 1650GTX laptops can run the game at three digit framerates and even on somewhat high settings at 60fps as long as you pair it up with a Ryzen CPU. Core i5 + 1650GTX set ups can run the game at low settings like a champ but struggle at high.
ii. Dedicated GPUs: 700-800 dollars
The 1060GTX and the AMD Variants are rare (the former is obsolete) but they're listed here if you find them on a deal, they should perform just as good as the equivalents shown below:
The AMD RX 5500M is insanely powerful for most games I've tested , I have a laptop on my posession with it but since it is a MacBook I could not run the game on it.
Call of Duty: Warzone
Low Graphics above mean everything on Low and texture resolution set to very low with Tesellation and bullet Impact enabled.
High Graphics have all settings including Particle Lightining at Ultra & Shadow Map resolution at Extra. RTX should be OFF unless you're playing in Campaign mode, it's too taxing and useless for Multiplayer mode.
**Particle lightining here is set to Ultra and Screen Space reflection is set to high but World motion blur and weapon blur are disabled. Map is operation caldera: Clash.
Call of Duty: Modern Warfare 2
**Particle lightining here is set to normal. World motion blur and weapon blur are disabled.
Call of Duty: Vanguard
High Graphics: High here means HIGH HIGH, just like the previous graphics configuration.
RTX Mode is not available on Call of Duty: Vanguard at the time of the benchmarks

DLSS ( Deep Learning Super Sampling Technology ) will increase framerates by 10 to 15 fps. Notice what a big difference it makes on the 3050Ti which returns same fps either on Low or High. This is only available on GPUs with RTX support like the 3050Ti & 2060RTX.
Conclusions: 3050Ti , 2060RTX & 1660Ti
3050Ti laptops have the same performance as 1660Ti laptops (despite being cheaper). The 2060RTX , however, outperforms the 3050Ti but they're usually more expensive.

Because 1440p resolution means more "image details" thus it requires more "video memory", only 6GB vRAM GPUs like the 2060RTX and 1660Ti make the game playable at 1440p resolution.

Note how the 2060RTX (115W) in the previous Warzone Table outperforms the 2060RTX(95W) on Vanguard despite Warzone being more hardware demanding and despite the 2060RTX (115W) having a weaker CPU. This is how important GPU Wattage is. I have a whole article on the GPU Wattage topic it which you MUST read if you want to buy a laptop for call of duty.

Note GPU Wattage is not an issue for 3050Ti , 1650GTX and weaker GPUs because they all run at maximum wattage on every laptop.
iii. Dedicated GPUs: 800-1300 dollars
Please note that GPU Wattage becomes extremely important from now so make sure you read my post on it if you're planning to spend at least 900 dollars. Basically GPUs come with different wattages (power) which are most of the time NOT configurable , they are set on stone when you buy a laptop.
Low Power 3060RTX: 90W / 105W

*Both laptops above have CPUs with similar performance (in fact the Core i7 is slightly powerful but that doesn't seem to matter much, what's making the big difference here is the slightly higher wattage 3060RTX on 1440p gaming).
1080p: Power doesn't seem to matter much here. 85W or 95W or even 105W doesn't make much difference for framerates.

1440p: However, there's a substantial performance gain with little increments of power for 1440p gaming.
High Wattage 3060RTX: 115W-130W
Benchmarks above are not taken on the same setting (different maps may reduce or increase performance) however both of the high power 3060RTX variants (115W & 130W) massively outperform the low power variants both at 1080p and 1440p resolutions. Also note that Both benchmarks were taken on Warzone which is a bit more hardware demanding than Vanguard.
Older 2070RTX
It's still a good option in 2022 provided and if you find them running at high wattage (115W and above) and cheaper than 3060RTX, it's a pretty good damn deal.

iv. Dedicated GPUs: 1500-2000 dollars
WARNING: Things start to get REALLY interesting and TRICKY here so pay very close attention
This is a lot of a money and although all of these laptops will definitely get you high framerates on high settings, you will lose substantial extra gains if you are not careful.
Make sure you read my post on GPU Wattage (linked in the preceeding section). it's mandatory at this point !
| | | | |
| --- | --- | --- | --- |
| NVIDIA | Cores | vRAM | Speed |
| 3070 | 5120 | 8GB | 1620 |
| 3080 | 6144 | 16GB | 1710 |
| 3070Ti | 5888 | 8GB | 1485 |
| 3080Ti | 7424 | 16GB | 1590 |
AMD
Shaders
vRAM
Speed
Equivalent
RX 6800S
2048
12GB
1975
~3070RTX
(Low Power)
Call of Duty: Warzone
Call of Duty: VanGuard
---
Lots of benchmarks and points to make out of these but the main takeaways are:
Call of Duty at 1080p:
Only the high power 3070RTX and 3080RTX (130W+ , ex: 140W or 155W) will outperform the 130W 3060RTX.

DO NOT BUY low powered 3070RTX & 3080RTX (80W-115W) if you're playing the game at 1080p resolution, they do NOT seem to outperform the 3060RTX (130W) substantially thus you'll be wasting hundreds of bucks if you do.
Call of Duty at 1440p:
Likewise low wattage 3070RTX & 3080RTX GPUs do not seem to "VASTLY" outperform the 3060(130W) however temperatures are lower on the higher-end GPUs.

This means you still must get a high power 3070RTX and 3080RTX for 1440p gaming
Call of Duty: 3070RTX vs 3080RTX
You are never guaranteed to get better performance out of a 3080RTX even if it's a high power (wattage) GPU. Make sure to watch benchmarks of the models you're buying.
v. Latest dGPUs: 2000 dollars and above
| | | | |
| --- | --- | --- | --- |
| NVIDIA | Cores | vRAM | Speed |
| 3070Ti | 5888 | 8GB | 1485 |
| 3080Ti | 7424 | 16GB | 1590 |
These GPUs should only be used for Call of Duty at 1440p resolution, they're insanely powerful for 1080p alone. Notice how CPU matters very little here and it's all about GPU.
No.
In fact, it's more about Wattage, look at the high wattage 3070Ti outperforming the low wattage 105W 3080RTX.
Also notice how both the high wattage 3070Ti and 3080Ti get you up there around the "competitive framerates" magic number: 144Hz.
Obviously, CPU matters too but only when all things are equal: wattage, MUX Switch, same GPU, same RAM, etc. We'll go over what really matters about the CPU next.
CPU
While the GPU is in charge of generating and outputting high graphics, the CPU is mostly in charge of doing all the calculations behind the scenes: buildings rendering, shots being fired, things moving, the interaction between objects and targets, etc.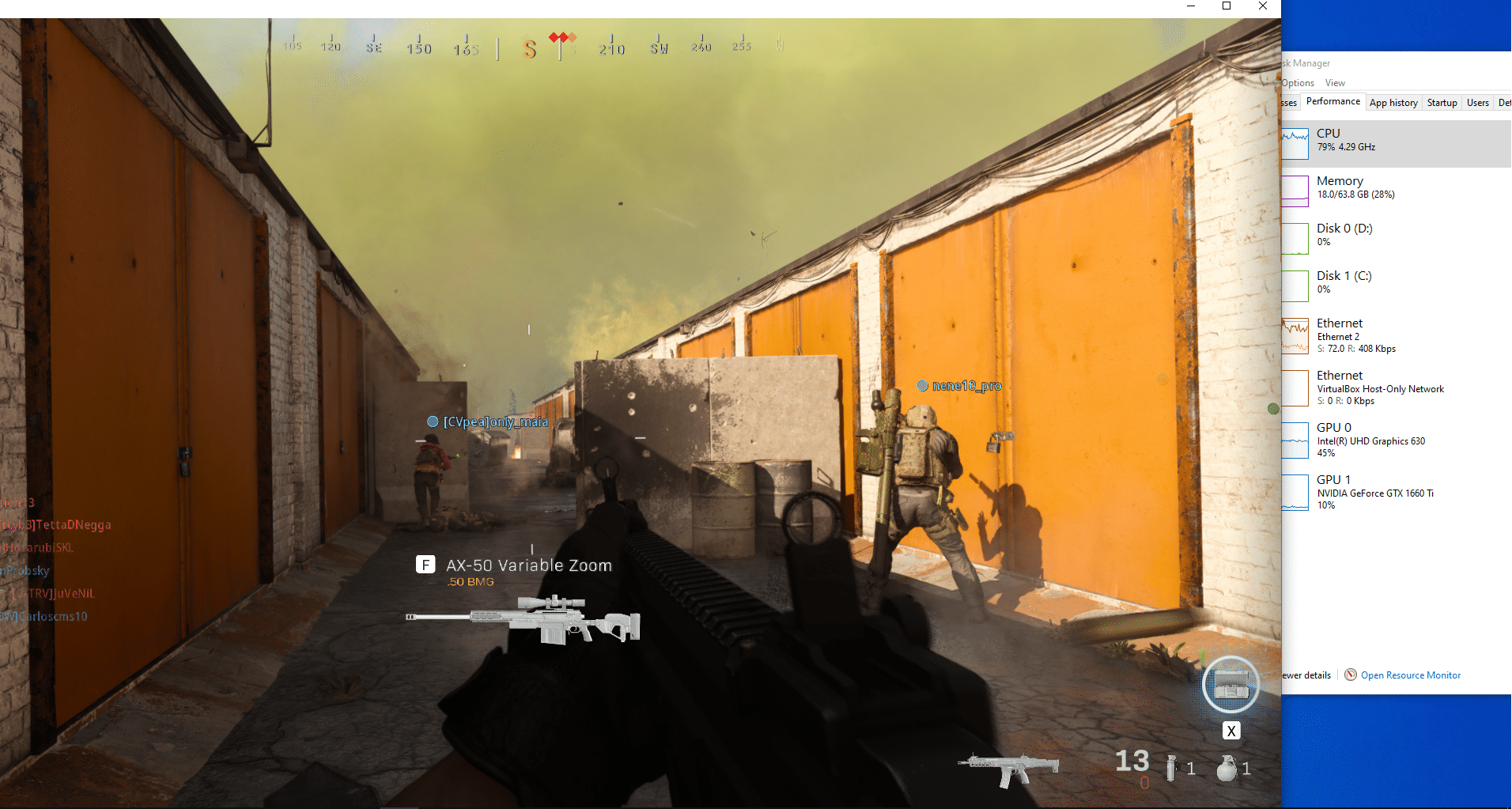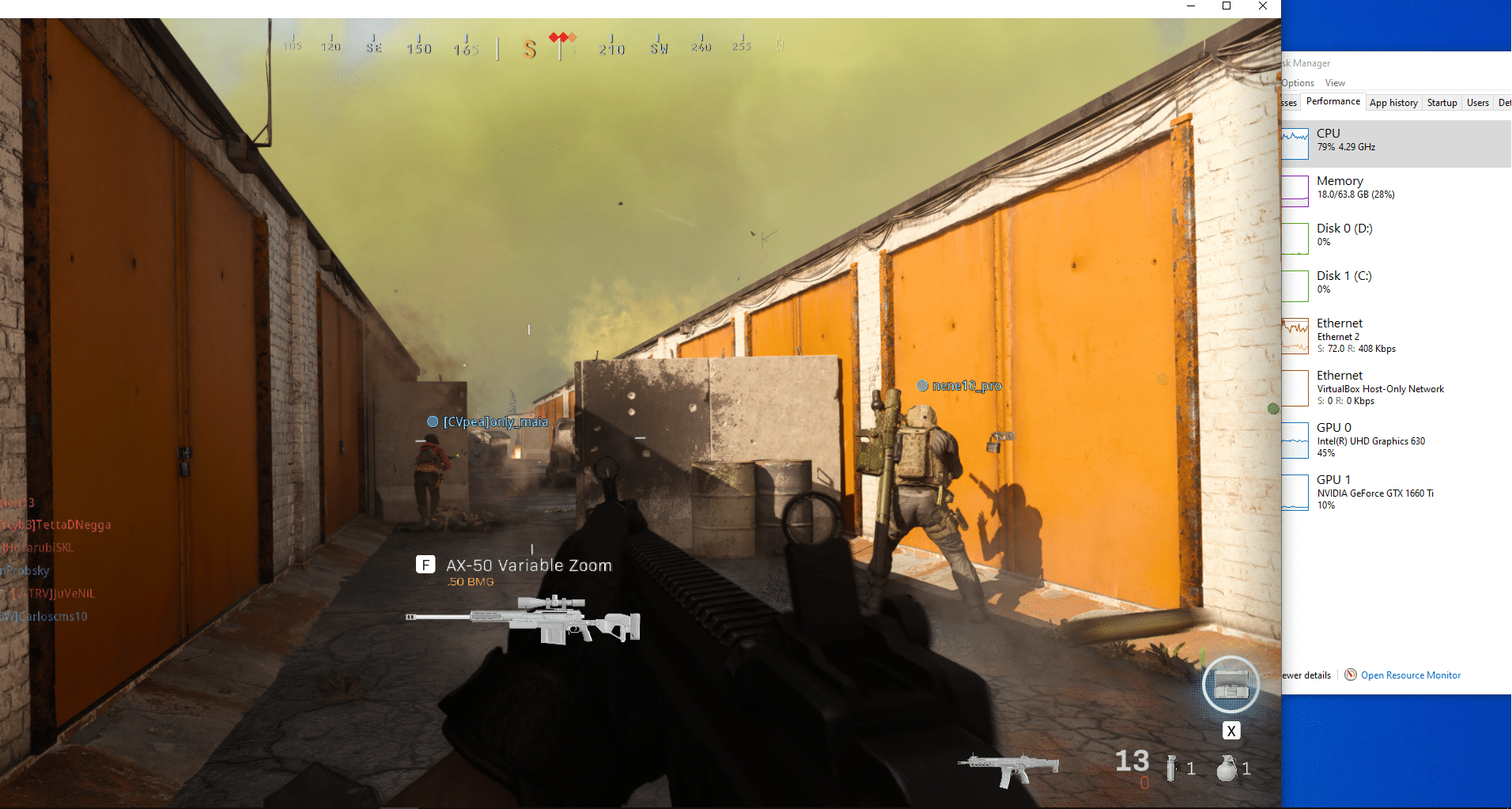 Obviously, things are not going to work out well if you've got let's say a 3080Ti RTX running at 175W and just a Core i5 11400H as a CPU, there's going to be a CPU "bottleneck", aka, the CPU will not be able to keep up with ALL the images and details the GPU is outputting.
That's only a problem for desktops though. On laptops you will ALWAYS have a CPU that can keep up with the GPU.
As you've seen before the 3080Ti is usually paired with a Core i7 12900H or a Core i9 12900K.
Obviously, one of those two is going to be faster than the other, so all things being equal, which one do you pick?
Cores vs Frequency
You pick the one with the highest clock frequency or the best clock speed performance.
Call of Duty is a multi-threadd game TRUE! But like every game that multi-core efficiency stops beyond 4 cores and most high end CPUs even those budget CPUs have at least 4 cores. Thus you must pick the one with more "clock speed" performance.
CPU Performance
RAM
8GB vs 16GB
It is no secret the game takes a huge amount of vRAM (the memory on graphics cards) and most of the time it will take up ALL of it, thus any extra RAM even if it's not GPU 'vRAM' becomes useful.
The game can be played with just 8GB but you'll do a LOT better with 16GB RAM. 32GB RAM becomes pretty useless.
Once I upped the RAM in the Lenovo Ideapad gaming for example, I've got a boost of 10fps. That's A LOT considering how hardware demanding Call of Duty is.
DDR5 vs DDR4 vs DDR3
You obviously want the latest RAM too. The latest right now is the DDR5 but it's only available on those 3070Ti, 3060Ti and 3080Ti laptops which cost an eyeball.
Dual Channeled
You want to make sure your RAM set up (16GB) is done on dual-channel mode. I've got a full post on the topic here.
This will give you an additional albeit small increase in framerates.
Storage
Size
HDDs are obsolete now and that's good. The question is no longer about which type of storage but how much storage do you need:
256GB: This is only useful to install one of the franchises of Call of Duty+ Warzone.
512GB: You need at least 512GB to have several game relases including Black OPs 4, Modern Warfare 2 and Modern Warfare II.
1TB: You're going to need 1TB if you want ALL previous titles including Cold War.