5 Best Laptops For Call of Duty: Modern Warfare & Warzone (2021)
Let's skip intros and cut the chase.
Call of Duty is probably the most hardware demanding AAA game out there. You can easily waste tons of cash if you don't do your research.
You can't just get ANY laptop with a dedicated GPU and expect everything to run fun and dandy even atsuper low settings. Heck, even some laptops with mid-range GPUs might struggle at that.
So…
If you really want to sharpen your skills so that sooner or later you can go rambo against an entire team, you ought to know a thing or two about CoD hardware's usage before you pull the trigger.
Call of Duty: Modern Warfare
Unlike Black Ops 4, which is a hog for every piece of hardware it can get it's grubby fingers on and virtually unplayable on hardware over 4 years old (even giving some 2060 and 2070 RTX rigs a tough time at high settings and FHD resolution)….
…the latest release, Call of Duty: Modern Warfare, has been well optimized to the point that most players as long as they have a decent mid range GPU will be okay (as long as you adjust settings accordingly).
We have a detailed section on what specs you should have for the settings you want to play at the end of this post.
However, we'll try to summarize it before we show you what are the best laptops for Call of Duty in 2021, if there's anything you don't understand head the last section.
Recommended Specs for Modern Warfare
Unlike most AAA games out there, the company has actually listed pretty accurate computer requirements to let you run the game with no lag.
In fact, if you go to their site, you'll find the requirements neatly categorized as minimum, recommended, high settings and epic.
I'd strongly recommend to take those recommendations seriously (they're at the end of this post) anything lower than those is just going to be low detail torture.
Anyways, here's our advice on how to get the most out of your budget without shooting yourself in the foot when launching the game:
P.S: Power goes from green to blue to orange to purple.
CPU
Call of Duty is mostly CPU intensive due to the number of players and all the objects+details it has to render within short periods of time.
So you should get the CPU with the highest clock speed you can afford.
Preferably a CPU from the 9th, 10th or 11th generation or the from the latest 4rd and 5th Ryzen series with the letter on it (this stands for High Graphics).
EX: Core i5 9/10/11300H. Core i7 9/10750H or Core i7 11800H, Core i9 11900K. AMD Ryzen 5 4/5600H, AMD Ryzen 7 4/5800H.
AMD Ryzen 9 5800HS
GPU
The new game engine has lowered its output graphical settings requiring less the need of a top of the line GPU however the game still keps most aspects of the game unchanged. This means the game can now tolerate a sort of a "mid range GPU".
Recommended (in order of power): 1650,AMD Radeon RX 580,1060,1660Ti, Radeon RX 5500M,1070,2060RTX,3060,2070,1080,2080RTX,3070RTX, 3080RTX
Avoid: MX150, 940MX, 940M, 1050,1050Ti, MX250, AMD Radeon RX 550/540/555/560
Note: the GPUs listed are what you'll find on modern laptops, you don't want anything that's older than those especially if you want to try all the other series of Call of Duty including Black OPs & Warzone (which are more hardware demanding).
RAM
Black OPs 3 ran like crap with just 8GB of RAM. 16GB was the standard. It may not be necessary for Modern Warfare now but who wants to take a risk? RAM is cheap anyways.
SSD
The only real issue with storage is how much space it takes. Freakin Call of Duty can take up an entire 256GB SSD. If you don't plan on installing anything else than CoD + Windows 10, you will be okay with 256GB. Note that the latest release can take ~150GB (maybe more with updates).
So, if you want to try other games, make sure to upgrade your storage or just get 512GB right off the bat.
Top 5 Best Laptops for Call of Duty
All of these laptops can play any of the Call of Duty series including the latest release: Modern Warfare. Prices will range anywhere from 570$-2000$ depending on the CPU/GPU combo that you want. Obviously, the lower you go on this list, the smoother the game will run at higher and higher settings.
---
Best Cheap Laptop For Call Of Duty
Core i5 10300H
8GB DDR4
GeForce GTX 1650
256GB PCIe SSD
15.6" 60Hz Full HD IPS

4.4lbs
5 hours

If you go to the official site, you'll see that a 1650GTX GPU is the bare minimum they recommend. Although that may be for desktops, the laptop version of the 1650GTX is pretty much GPU as the desktop version.
A 9300H with a mobile 1650GTX will give you around 83-96 FPS at low settings as you can see in our video. So if you're getting a Core i5 10300H which is slightly faster, you should expect framerates to go as higih as 100FPS.
One thing I would add though is another RAM stick to make it 16GB.
Note that depending on supply and demand, the price of a 1650GTX laptop will fluctuate anywhere from 650$ to 750$. These are still good deals considering MX350/450 laptops (which will not let you run the game even at low settings) can cost as much as 700$.
If for some reason it becomes too expensive (this is unlikely with the EVO brand) or you don't find it on stock take a look at the following alternatives:
Other options:

---
Best Budget Laptop For Call of Duty
AMD Ryzen 5 5600H
8GB DDR4
GeForce GTX 1650 4GB vRAM
256GB PCIe NVMe SSD
15.6" 120Hz Full HD IPS

4.96lbs
5 hours

This laptop has basically the same specs except that it has a different processor onboard: AMD Ryzen 5 5600H. The New Ryzen series are known not only for their high core count but also their slightly superior processing speeds than their intel counterparts (at least up to the 10th generation Intel Chips).
Before we ran the game with this processor we assumed we would get very a minimal FPS increase however to our surprise the increase in framerates was quite hefty and had an obvious impact on gameplay. In fact, we were able to run the game smoothly at high settings using SM2AA anti-aliasing (the second best in the egame). However, the game became somewhat jumpy at High settings with the highest anti-aliasing setting (Filmic).
It seems that Call of Duty, at least Warzone and Modern Warfare, supports multicore processing than other first person shooting games.
So if you have the opportunity, it may be wise to go for AMD Ryzen processors at least in the 700-900$ range where you'll find mostly Ryzen 5 and Core i5 CPUs.
---
The Best Laptop For Call Of Duty
Core i7-11800H
16GB RAM DDR4
GTX 3060RTX
512GB PCIe NVMe SSD (2x PCie Nvme slots free)
15" IPS full HD 144Hz
5.07lbs
4 hours

The Acer Preadtor is probably the most popular gaming laptop for every single AAA game out there and Call of Duty is not an exception to it.
The newest 2021 model has the latest 11th generation Intel Core i7 CPU and one of the three latest RTX GPUs released earlier this year so let's talk about what it's going to do for your gaming.
3060RTX + Core i7 11800:
First of all, as you already know, more cores and more clock speed can significantly increase framerates (you've already seen this above). The Core i7 has the same number of cores as the Ryzen 5 chip, however, with much higher clock speeds. You could also opt for a Ryzen 7 5900H CPU which will have almost the exact performance as the Core i7 shown here.
However, due to the high CPU/GPU usage of Call of Duty, don't expect to soar at high settings w/ 200FPS. Despite the extremely powerful 3060RTX, as well, you will only get ~100 FPS. Which is about a 20fps increase from the 1650GTX. This should be consistent throughout the game in combat and non-combat mode. Note this game was played with RTX mode ON.
Should you invest that much money for that extra 20FPS?
Well it does make the game look somewhat smoother and that helps spot enemies and react much faster to attacks. Another reason is temperatures, the 3060RTX and the Core i7 11800H will share the workload and both will remain at safe temperatures at all times. This does not happen with 1650GTX rigs, where the temperature stays above 85 degrees when the game's played at high settings.

---
Best Gaming Laptop For Call of Duty – Best Deal
Ryzen 7 5800H
16GB DDR4
NVIDIA RTX 3070 (Non-Max Q)
1TB NVMe SSD
15" QHD 165Hz IPS
4.84lbs
3 hours

If you want to step it up a notch, you'd be looking at 3070RTX laptops. they have the second most powerful dedicated GPUs on the market. They usually cost anywhere from 1349-25000$ depending on what kind of processor you want.
Beware of Max-Q GPUs!
Although you may find cheaper laptops with RTX 3070s they will not operate at full power because they have been underclocked (Max-Q is another word for it) which means theyll be a lot weaker than a regular 3070RTX (Ex: MSI GL66).
Although other laptops with the full blown 3070RTX will be expensive you can still find some good deals with the full blown 3070RTX, especially if you're willing to give up a 300Hz display which you will NOT NEED for this game because even with the 3070RTX you won't go past 150FPS at the highest settings.
So choosing something like this Acer Nitro is the smartest way to save a lot of money and enjoy the power of the 3070RTX for this game.
---
Best Laptop For Call of Duty: Modern Warfare and Upcoming releases
Ryzen 9 5900HX
32GB DDR4
NVIDIA RTX 3080
1TB NVMe SSD
15" 300Hz FHD IPS
5.07 lbs
1.5 hours

The most powerful configuration you can get for Call of Duty at least from a laptop standpoint is getting a Ryzen 9 or Core i9 CPU with the most powerful second generation RTX GPU: 3080.
Prices of this CPU+GPU configuration can range 2400 to 4000$.
Again you can get the best bang for your buck if you discard what's useless for this game: QHD resolutions and +200Hz displays. You can either choose the Razer blade which discards a 300Hz display or the ASUS Rog Strix which discards the QHD resolution.
It's all up to you but let me say this: if you play the game at 4k resolution, your framerates will go down to 50-60 no matter how powerful your GPU is.
---
How To Buy The Best Laptop For Call Of Duty: Modern Warfare & Warzone & All Releases
Like I said unlike Black OP4 and BattleField which were a completely mess with hardware, Modern Warfare has used an entirely different engine and team to write the game. This time the changes in details and gameplay have not raised the need for better hardware.
In fact, it's the total oppossite. Most decent "mid range laptops" will let you run the game unless you have a cheap old or an entry level GPU or a very old 4 core CPU released 5 years ago, you'll be okay.
Now you have to be extra careful with laptops because more CPU/GPU power doesn't always equal better performance and higher framerates.
Unlike desktops, laptops can be tricky because they need to be well built if their GPUs/CPUs are to hit the clock speeds they are supposed to hit. This is even more true the bigger and more powerful the CPU and GPU are.
Anyways before we dive in, let's quickly check what Activision has said about requirements:
| | | | | |
| --- | --- | --- | --- | --- |
| | CPU | GPU | Storage | RAM |
| Minimum | Intel Core i3-4340 or AMD FX-6300 | NVIDIA GeForce GTX 670 / GeForce GTX 1650 or Radeon HD 7950 | 175GB | 8GB RAM |
| Recommended | Intel Core i5-2500K or AMD Ryzen R5 1600X processor | NVIDIA GeForce GTX 970 / GTX 1660 or Radeon R9 390 / AMD RX 580 | 175GB HD space | 12GB RAM |
| Recommended+Ray Tracing | Intel Core i5-2500K or AMD Ryzen R5 1600X processor | NVIDIA GeForce RTX 2060 | 175GB HD space | 16GB RAM |
| Competitive | Intel i7-8700K or AMD Ryzen 1800X | NVIDIA GeForce GTX 1080 / RTX 2070 SUPER or Radeon RX Vega⁶⁴ Graphics | 175GB HD space | 16GB RAM |
| Ultra RTX | Intel i7-9700K or AMD Ryzen 2700X | NVIDIA GeForce RTX 2080 SUPER | 175GB HD space | 16GB RAM |
Minimum:
Remember that minimum hardware is generally categorised as hardware that will run the game at 30 fps low settings. Playable but certainly not recommended and should be ignored.
Recommended Specs:
This is far more ideal to make the game playable. Usually around 60fps in most situations( medium settings).
Recommended Specs (Ray Tracing):
The bare minimum to run the game with Ray Tracing. If you don't know what that means it's basically cooler looking shadows and lights at the expense of pretty relatively low framerates(note that you can deactivate Ray Tracing on settings)
Competitive Specs:
Here are the Competitive specs to run at a high fps for use with a high refresh monitor:
Ultra RTX Specs:
Finally, here are the Ultra RTX specs to run the game at a high FPS in 4K resolution with Ray Tracing.
---
CPU
A game mode that has to track the activity of +30 players with objects moving all over the place is bound to be really CPU intensive. If you're playing WarZone then it is even harder on the CPU because the number of players has increased in a match.
Open battle royals maps are even more cpu bound because it has to render every piece of information even what's not seen on your screen.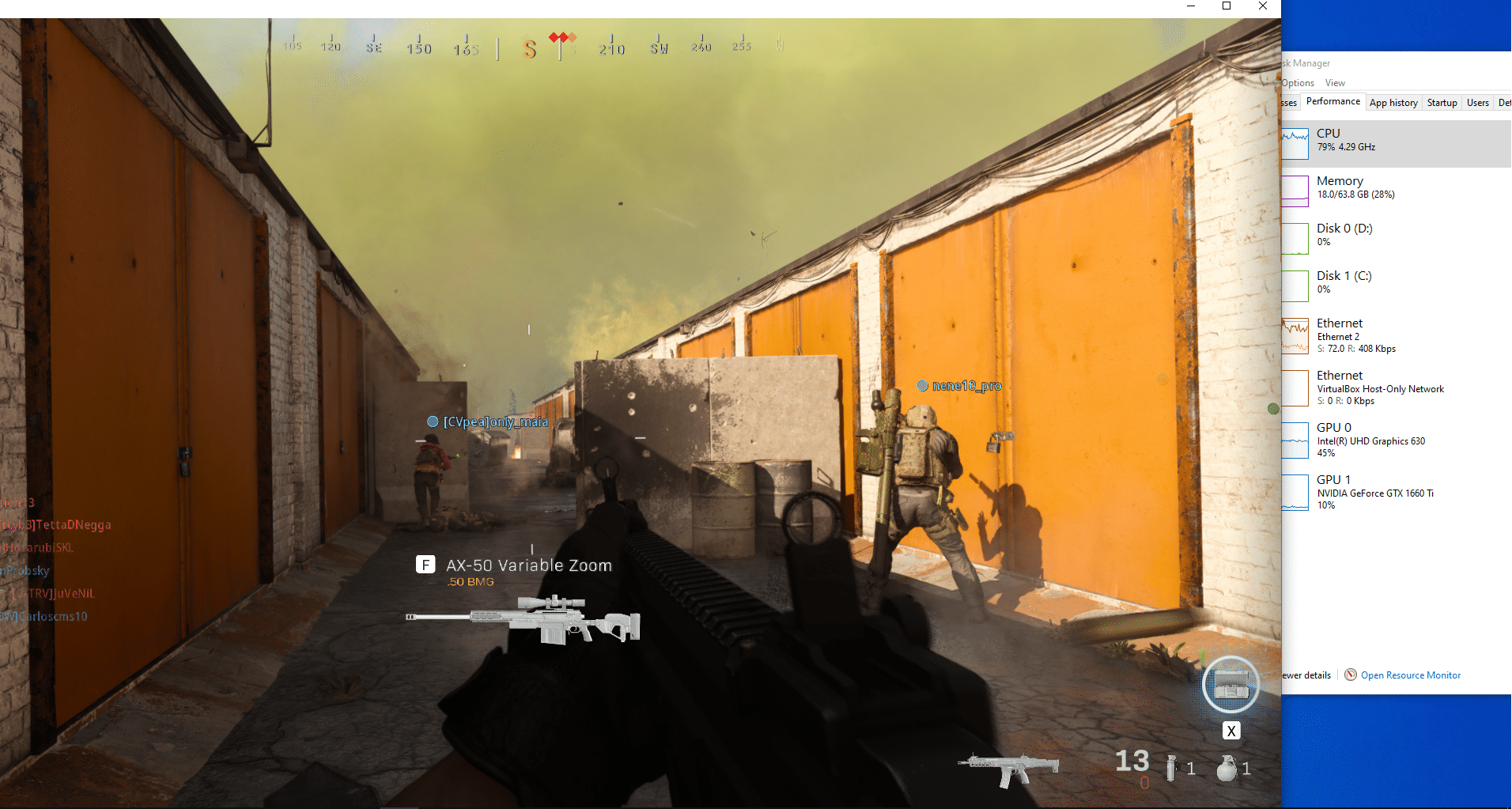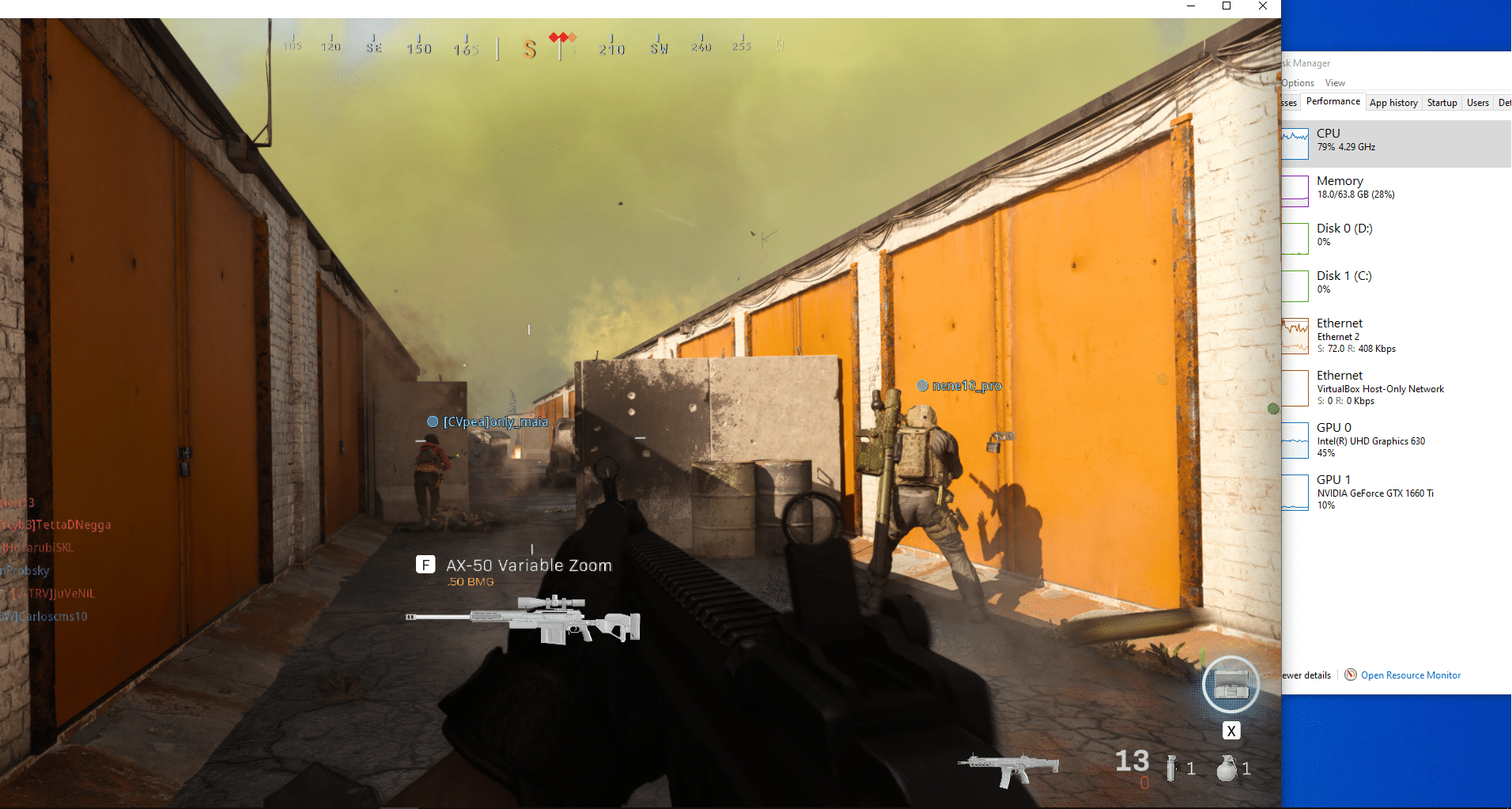 I'm hitting 79% on an i7-8700k overclocked. It's a little insane.
Cores vs Frequency
The number of cores in a processor isn't something to to worry about. CoD only uses up to four cores and most processors today have that and even more.
And even if you somehow find a dual core with the same clock speed as quadcore the increase in performance isn't abysmal. This is because calculations are done one step at a time just like most games and software today.
So your budget should be focused on the highest clock speed possible. This applies to desktops as well.
| | | | |
| --- | --- | --- | --- |
| CPU | Base | Turbo | Cores |
| i5 8250U | 1.6GHz | 3.4GHz | 4 |
| i5 8300H | 2.3GHz | 4GHz | 4 |
| i7 7700HQ* | 2.8GHz | 3.8GHz | 4 |
| i7 8550U | 1.8GHz | 4.0GHz | 4 |
| i7 8750H | 2.2GHz | 4.1GHz | 6 |
| i7 9750H | 2.6 GHz | 4.5 GHz | 6 |
| i9 8950K | 2.9 GHz | 4.8 GHz | 6 |
| i5 9600K | 3.7 GHz | 4.6 GHz | 6 |
| i7 9700K | 3.6 GHz | 4.9 GHz | 8 |
| i9 9900K | 3.6 GHz | 5.1 GHz | 8 |
| i7 10750H | 2.6GHz | 5GHz | 8 |
| i9 10890K | 2.4GHz | 5.3GHz | 8 |
| | | | |
| --- | --- | --- | --- |
| CPU | Base | Turbo | Cores |
| AMD Ryzen 9 4800HS | 2.2 | 4.4GHz | 8 |
| AMD Ryzen 7 3750H | 2.3 | 4.0 | 4 |
| AMD Ryzen 7 3700U | 2.3 | 4.0 | 4 |
| AMD Ryzen 5 3550H | 2.1 | 3.7 | 4 |
| AMD Ryzen 5 3500U | 2.1 | 3.7 | 4 |
| AMD Ryzen 3 3300U | 2.1 | 3.5 | 4 |
I recommend you go for any of the green CPUs and if you're realy on a tight budget the blue ones.
Note that the Ryzen 9 4800HS is much better than most Intel CPUs with the exception of the last two.
GPU
| | | | |
| --- | --- | --- | --- |
| MX150 | 384 | 2GB-4GB | 1532 |
| MX250 | 384 | 2GB-4GB | 1582 |
| 1050 | 640 | 2GB-4GB | 1493 |
| 1050Ti | 768 | 4GB | 1620 |
| 1650 | 1024 | 4GB | 1560 |
| 1060 | 1280 | 6GB | 1670 |
| 1660 Ti | 1536 | 6GB | 1590 |
| 1070 | 2048 | 8GB | 1645 |
| 1070Ti | | | |
| 1080 | 2560 | 8GB | 1733 |
| 1080Ti | 3584 | 11GB | 1600 |
| 2060 | 1,920 | 6GB | 1680MHz |
| 2060 Super | 2,176 | 8GB | 1650 MHz |
| 2070 | 2304 | 8GB | 1620 MHz |
| 2070 Super | 2560 | 8GB | 1770 |
| 2080 | 2944 | 8GB | 1710 |
| 2080 Super | 3072 | 8GB | 1815 MHz |
| 2080 Ti | 4352 | 11GB | 1650 |
Entry Level: I wouldn't touch this game with an entry level GPU honestly and much worse an integrated GPU.
Both the Intel HD and The Radeon RX Vega 8 (Ryzen 5 2500U) kept crashing onour rigs. Before crashing, the terrain wouldn't even show until you were right there. We also faced issues trying to fly a plane and not being able to move out of the way of a freaking mountain that just appeared out of nowhere.
An entry level GPU like the 1050 can be used to play at super low settings with some lag during intense fights which might tolerable to some people.
A 1050Ti/1650 is decently OK to play lag free at low to medium settings. It's really the lowest you should go for and that's only if you pair it up with a really good CPU. The most powerful you find on a laptop with those cards which should be something like a Core i5-8300H.
Mid Range: If you want to game on high settings at 1080p, then you will need aGTX 1060 or a 1660Tior any of the green CPUs. 1660Ti is pretty good I have no complaints with it.
High End: They're useful if you want to play with resolutions above 1080p(1440p-4k): 1080, 1080Ti and any of the RTX series.
RTX and Ray Tracing
As far I am aware. This game does not fully utilize ray traced rendering. It will only ray trace shadows and light to give more realistic shadows to objects. This is both good and bad.
You won't get super cooler graphics with RTX cards but the performance hit won't be severe since only shadows will be ray traced.
In reality you don't actually need a RTX GPU to enable ray tracing. It can be enabled with non-RTX GPU but that will lead to an extreme drop in performance (~70%).
On the other hand, RTX chips will only be 30% slower when ray tracing is enabled.
Honestly, who cares about Ray Tracing…it isn't really cool unless you're big with campaigns and single player modes
If there are thousands of bullets going across your face, would you even have time to appreciate how cool the shadows and lightining look? Definitely not something for battle royale people.
RAM
8GB vs 16GB
Today, 8 Gigs of ram are the minimum spec to run windows and 3 tabs of chrome at the same time. Most games will be okay with 8GB but Call of Duty is much better with 16GB.
I originally had some minor issues with the game at 8GB when I upped my RAM to 16GB the game ran noticeably better.
Those minor issues were with CoD:WarZone , Black OPS 3 ran like crap with just 8GB!.
DDR4 vs DDR3
If you start sniffing around budget laptops, although you may end up with a sweet deal for a powerful CPU+GPU combo, there's a big chance that laptop was last year's model and has a DDR3 RAM instead of DDR4. That will decrease performance SIGNIFICANTLY. So watch out for that.
Dual Channeled
Also make sure whatever RAM you have installed is equally partioned, that increases CPU performance, by this I mean: if you have 16GB, make sure they're made of x2 8GB sticks. This is called dual channeled RAM.

It means to make your RAM distribution as symmetric as possible. If you can, also make sure they're from the same brand and Model.
Doing this will increase the efficiency by which your CPU will read and process data.
Storage
SSDs vs HDDs
Some people may think SSDs are not really useful with the game but remember that this thing is 150GB heavy and that's without updated or incoming patches that's why the game recommends more than that. So there's definitely a lot of data to be read by your CPU.
SSDs are going to help quickly load the game and get you into a match a bit faster.Loading times will be quite short all around the game.
It will also help when you start dicking around settings, you won't need to restart the game.
Display
When you're browsing mid-range to high end gaming laptops, display isn't really something to worry about. They've all got IPS panels, full HD resolutions(in fact some of them have 4k displays), etc. However…
Refresh Rates
You still need to make sure you get the refresh rates you want. They can be all over the place on laptops: from 60Hz to 300Hz.
Now what exactly is refresh rate? It is the rate at which your display can output images, 60Hz pretty much means your display will be able to output 60 frames per second to your eyes.
So if you got a CPU+GPU combo that can output 200FPS and your display only has 60Hz refresh rates, your eyes will only be able to experience what's like to see 60FPS because that's the limit of your display even though the frame counter can tell you that you're playing with 200FPS.
What refresh rates are good for this game?
I'm pretty sure 120-144Hz will be enough for everyone here because there's no way you're hitting +150fps consistently on high settings with any of the Call of Duty series even with the most beastly CPU+GPU combo.
For those who just want to run the game with entry level CPU+GPU combos , 60Hz might be okay.
Luckily laptop manufacturers know when a GPU+CPU combo is going to need 60,120,300Hz. So you're definitely will have enough refresh rates for your CPU+GPU power (depending on the game)
But checking out refresh rates.. is a great way to cut down on prices and get better deals…
Going for a lower refresh rate display will actually make a laptop several hundred dollars cheaper.
What if I have the budget to go for a 300Hz display and I can only get 150FPS with CoD? Should I go for it?
If you lower down your settings to low-medium, then yes, you'll definitely go past 150FPS. Now even if you don't it may still be worth going for really high refresh rates , higher than your framerates, as many "PC Master Race" fans will tell you:
"G-sync display on laptops are really hard to find these days because they're just too expensive however high refresh rates on a laptop display can minimize reduced frame tearing"
Tips
If you've already bought a laptop before reading this post or for some weird reason your laptop does not run CoD as expected here's a few tips to follow:
The most obvious choice is to drop everything to low nothing you can do besides that.

I'd start with everything on lowest, uncap your framerate, and see how it runs. Assuming you're wanting it to be running at 60fps you can increase some settings and try to keep the framerate above 60 in game.

Update Drivers, pretty obvious

RAM, not so obvious, by this I mean you should make sure your RAM is optimized. Make sure it's the latest RAM (the fastest DDR4) and it's properly installed to run in a dual channel (Ex: 2x4GB instead of a x18GB)

Overclock the CPU + GPU.Try doing either separately see if that solves the problem. And buy a separate cooler to be used at all times

Follow the steps on this video beggining at17:33 (only if it actually matters to get the litle extra FPS):

https://youtu.be/RYYoCXh2gtw

The most common problem with CoD is not being able to recognize your dedicated GPU and using your integrated GPU instead, this can be solved by going here and settings Hardware performace to high.

If that doesn't work disable your integrated GPU on device manager.
Comments?
If you have any comments, suggestions, questions or recommendations on how to pick up the best laptop for Call of Duty . Please let us know in the comments below.