The 5 Best Laptops For Law School & Lawyers 2022
If you're about to go to Law School I'm sure you're going through lots of expenses.
So it may seem reasonable to try and cut down costs when you can
That's a good strategy…
But it doesn't mean you have to compromise the quality of your laptop.
With proper research….
You cat get a pretty capable machine that will not only last you throughout your stay in law school but might even last you long enough to take the bar exam with it.
Yup….
I can testify to this as I'm still using the same laptop I used in law school …
Back then,
A friend (one of the authors in this site) told me all the computer jargon I needed to know.
Of course he could not pick a laptop for me nor did he pick the laptops you're going to see here because he had no idea of what law school looks like.
That's where I step in.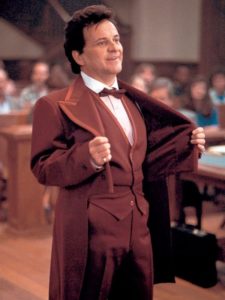 Recommended Laptop Specs for Law School
It basically comes down to form factor (thinness,weight,size,etc) and making your workspace area as comfortable as humanely possible (that means a great display & keyboard).
What about power?
No need to worry about power.
All modern laptops, even tablets, can handle all the software you'll use during law school in a flash. Multitasking between apps like Zoom, MS Office, PDF readers, Web browsing is never going to be an issue. Just make sure they have an SSD and 8GB RAM (for which virtually all of them made in 2022 will).
What's an SSD? What's RAM?
Let's quickly go over that before we list the 5 best laptops for law schools.
RAM
This is "memory" the more you have the more you can multitask.
4GB: This is not enough for anything not even for the full version of Windows 10. You'll be slowed down to a crawl even with just notepad.
8GB: This is the bare minimum and the maximum at the same time. You will get zero lag no matter how much you overload your computer.
4GB is fine if you're buying a ChromeBook or a MacBook but not for a Windows 10 or Windows 11 Home Machine
SSD(Solid State Drive)
This is just "storage" where your files are going to be stored. SSDs are the fastest types of storage so reading/writing (launching software/booting the machine) will be done in a flash.
Size: Most law schools are going to recommend 256GB. But imo any size will do. Even 128GB will be enough: you can store 1000s of PDFs and 100s of recorded lectures. If you ever run out of space( there's always USB drives & the cloud).
CPU
AMD or Intel doesn't matter just make sure you've got a modern CPU. That would be:
Core i3 or Core i5 with the U label from the 7th, 8th, 10th and 11th generation are all okay. Ex: Core i3 10100U (10th gen).
Any Ryzen CPU will be fast too. Ex: AMD Ryzen 3 3200U
Don't overspend on CPU, more CPU power means more energy which translates to less battery life too.
Display
Any size is fine. What matters more is resolution.
1080p FHD is preferred
KeyBoard
Since you are going to be typing your eyes out on this thing so you MUST research high and low how good the keyboard is.
I'll teach you how to do so in the last section but all laptops we'll go over have soon have at least a decent, if not great, keyboards.
BackLits: a nice bonus feature especially for late night studying and dark lecture rooms.
Weight
You'll be lugging this thing everywhere.
Aything over 3lb is heavy and it will make you feel reluctant to bring it with you everywhere.
WiFi
Don't worry about Wifi Cards. As long as your laptop is recent, it'll come with the latest WiFi network cards : 802.11 AC/802.11ax (WiFi 5 vs WiFi 6)
If you're buying refurbished or very old models to cut down prices: Make sure to check the "AC" label somewhere in the specifications, otherwise internet might be slow at long ranges.
What's so good about WiFi 6? It helps a bit more when lectures/conferences have a hundred people accesing the internet.
OS(Operating System)
No Chrome OS/Windows 10S because the software you use to take exams (ExamSoft, Exemplify) can't run on those.

Mac OSX and Windows 10 Home or Windows 11 Pro.
Top 5 Best Laptops For Lawyers
In Law School I've seen anything from a 17″ MacBook Pro to those 9″ mini laptops so called 'notebooks'.
Some of my classmates even took hand written notes (crazy to me – but I've never been a big note taking guy).
Warning: Considering the fact that law school doesn't seem to require anything special but rather something "ultra portable", it may seem like

netbooks

are the way to go. Beware they're only cheap because at every point of the manufacturing process price has been the top priority and not quality
I know some of you are thinking "Im only going to use it to take notes" but trust me , they can be insanely slow even for that and then you'll spend 3 years regretting it and wishing you'd paid $100 more. If you're still interested in super smallest laptops check our 11 inch laptop. Laptops on that list are as fast a "notebooks" are going to get.
We'll go through the most expensive "high quality" laptop (though not that expensive) first then go over cheaper alternatives so keep scrolling down
---
Best ASUS Laptop For Law School
10th generation Intel Core i5-1035G1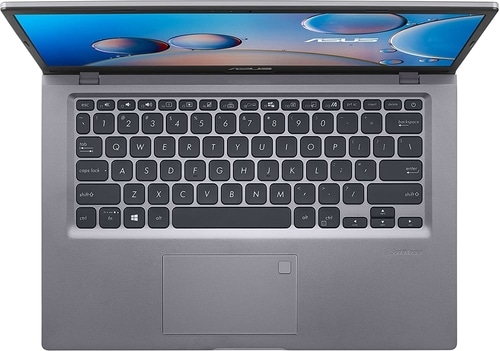 8GB RAM DDR4
Intel Iris
256GB PCIe NVMe SSD
13.3 inch wide-view Full HD 4-way NanoEdge bezel display

2.6lb
8 hours


Given that there's no need for a lot of power and the fact that it's mostly going to be about typing (keyboard) and reading(display), the best choice (and the most expensive one) for law school really comes down to either a MacBook (inherently thin w/ great keyboards and the longest battery lives) and a thin premium Windows Ultra book (with the same features).
Unfortunately, both of these laptops are usually over $800 ($900 for a MacBook).
ASUS UltraBooks: The cheapest "premium" alternative
You can get almost the same user experience from one of the ASUS ultrabooks, there's the ASUS ZenBook, the ASUS VivoBook and a few more.
While the ASUS ZenBook will be more of a "MacBook" carbon copy with the same build quality (a chasis made of full aluminum) and all the other features (Long battery, keyboard, weight, thinnessetc), the ASUS VivoBook here is much much cheaper because it forfeits the super latest generation processor and the aluminum build while keeping the same keyboard and FHD resolution display.
ASUS ZenBook vs ASUS VivoBook:
It's really up to you and your wallet. The only advantage of going with the ASUS ZenBook is that the form factor is just like a MacBook (super thin and lightweight) you can get everything else from the ASUS VivoBook at a much cheaper price.
---
Best Apple Laptop For Law School
M1 Chip CPU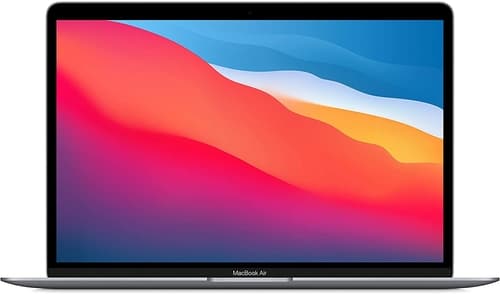 8GB RAM
M1 Chip GPU
256GB-1TB SSD
13.3" Retina IPS
~3lb
~15 hours

This is what I used to get me through Law School (although a much older version obviously). The model I used (2017) is still being shipped as refurbished and they're insanly cheap too.
I wouldn't be so afraid of buying a refurbished MacBook (I would if it was any any other brand). I've bought a refurbished machine as a gift since then and it's still kicking strong.
Of course, that's only an option if you're on a budget. If you have the cash definitely opt for the newer models for reasons I will explain soon.
Why bother with the MacBook Air/MacBook Pro?
It really comes down to the keyboard (older models and new models) and display (newer models).
Yup, evne the 2009 older models have superb keyboards, they're clicky responsive and a pleasure to type with. All of them have backlit keyboards too so you are never going to be at a disadvantage when the lecture is given through overhead projectors and the lights off.
If I had to law school all over again, I can't lie I will pick my old MacBook again (obviously because I made it out).
However, if you check online, the newer models (M1 models) not only keep the same high quality keyboards and the magsafe but ALSO add a very high resolution display. High resolution just means more screen space for you to multitask with.
Now you gottabe careful if you're going refurbished. I will advice you not to get ANY model from 2018 and before 2020. Those have the touch bar, lousy keyboards and got no MagSafe.
Another thing ALL MacBooks (literally all have in common) is their thinness. I mean, this thing is so thin it can easily find its way inside a big pocket on a winter coat.
New M1 MacBook Air:
The New MacBook Air (M1) has kept the same thinness (2020) while adding A LOT and I mean A LOT of CPU power with the introduction of the M1 Chip. It's way too fast for law school purposes. It has 8 cores all working at the highest clock speeds and it even outruns some Core i9 CPUs for basic tasks and calculations.
They have a superb built-in microphone which you can use to "talk " to bring Siri and run some commands off without typing anything.
Even the camera can do some image processing LIVE which just improves video quality tremendously and it even does so under lousy conditions (lack of illumination in the room).
The battery is the longest battery (to my recollection) ever recorded on an ultrabook (leaving ChromeBooks Aside).
Needless to say, if you have the cash, just go for it.
There's another reason to opt for a Mac: the trend.
A lot of law school classrooms look like Apple Commercials and you might be better off hoping on that bandwagon say for being able to borrow chargers and have troubleshooting from peers at your disposal.
From what I've heard: University of Toronto has two thirds of its students using a MacBook.
But it's so expensive?
If you can't afford the current versions, opt for the older models.
The 13" version (2017) is only about $350 dollars now while the 11 inch version (the ligihtest at 2.2lbs) it's only about $200-250. In fact, you could buy two of these for $500 and still get better performance than most windows laptops made in 2022 (this is actually true because OSX is much less hardware demanding).
I'd advice agains the 11 inch model because it's just too small so you're going to have some trouble multitasking but if you know you're just going to use one window at a time then it's a smart choice because it is insale thin and light.
What about Exam Soft? Would hell break loose if I buy a Mac ?
There's conflicting stories about Examsoft and MacBooks.
I'll talk about it a bit more in the last section but for now let me just say that in my days both operating systems (Windows & Macs) gave my peers trouble. But it was mostly AFTER they updated their operating systems.
So here's a pro tip:
Don't let your computer self update unless you know for certain the new update isn't giving anybody issues with Exam Soft
---
Best Lenovo Laptop For Law School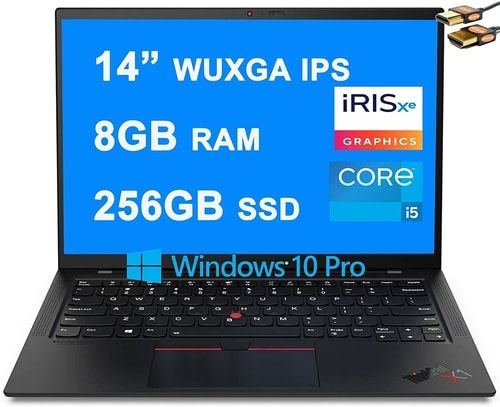 11th Gen Intel Quad-Core i5-1135G7
8GB RAM DDR4
Intel Xe Graphics
256GB PCIe NVMe SSD
14″ (1920 x 1200) IPS anti-glare

2.49lb
8 hours

Now if you are looking for the highest quality thin laptop without OSX on it, then you have several choices like the Dell XPS 13 and the HP Envy.
However, if you can afford it I'd recommend you consider the Lenovo X Carbons (if you can afford it).
Design:
It's not only build like a tank like the Lenovo ThinkPads but are also extremely extremely thin. In addition, it boats the same keyboard design of the ThinkPads. If you do some research you'll find out the ThinkPads have one of the best, if not the best, keyboard designs among WINDOWS laptops.
Performance:
Now the 11th generation Core i5 CPU featured here is slightly weaker than the M1 Chip(~Core i7) but it will have the same performance for virtually every law school activity and even gaming.
Thus even if you want to throw in some gaming, despite the graphics cards most titles can run on med-higih settings.
Display:
Lastly, what's super impressive and even unique about the X Carbon is that despite the fact that its 14" laptop with a FHD/IPS , it's not only 0.6inch thick (about as thin as the 11 inch MacBook Air) but also extremely light weight ~2.4lbs just 0.2 short of the 11 inch MacBook Air (the lightest machine with a built-in keyboard).
Obviously, the only con is the price. However, if you're on a budget you can go for the older models they preserve both the build quality and the display though I would not recommend you get a processor older than the 8th gen Core i5 CPU.
---
Best PC Laptop For Law School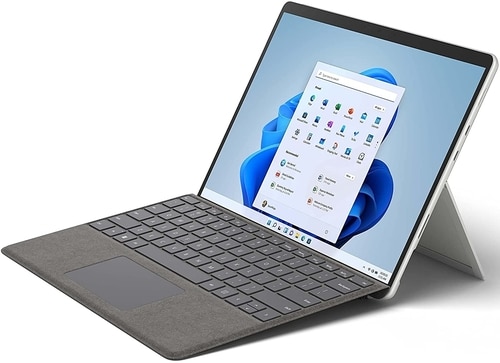 Core i5, Core i7 11th generation
8GB GB RAM
Intel Xe Graphics
128GB-1TB PCIe NVMe SSD
13" 2880 x 1920 IPS TouchScreen
1.96lb or 2.2lb (w/ keyboard)
10 hours

You're probably suprised to see a convertible laptop like the Surface.
A LOT of students sport one these days and not just college students but graduate students too.
The reason is that it acts like a noteboook ( a real notebook you can take notes through a stylus) which you can turn it into a laptop by attaching a keyboard when you need to type essays during an exam.
As for the note-taking feature it's gotten so accurate with the latest models that even artists and mathematicians find it useful. Now if you buy a docking station (which is sold by Microsoft and especially made for the Surface Pro), you can attach a display, an extenal keyboard, a mouse and even a sound system to turn into a full blown desktop machine for the ultimate productivity environment back home.
Price:
It depends on the configuration but even the lowest (thus cheapest) configuration has enough power for ANY type of heavy activities (including gaming and video editing) so feel free to cut down costs by choosing the lowest configuration. If you can't even afford the lowest configuration of the Surface Pro 8, go for older models. Just make sure your pick has 8GB RAM and a Core i5 and you should be fine no matter how much you multitask with it.
---
Best Cheap Laptop For Law School
AMD Ryzen 3 3350U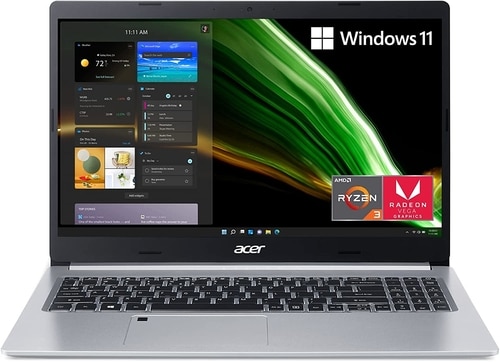 4GB DDR4
RX Vega 6 Graphics
128GB SSD PCIe NVMe
15" IPS full HD 1080p
4lb
8 hours

This is probably the cheapest best deal you'll find in 2022.
Now despite being ~350$, it's still lightweight and relatively thin so it's still something you can bring with you almost everywhere you go. This is usually not the case for cheap windows laptops as most will weight over 4.5lbs if they're anywhere $350 (chromebooks are light but they can't run Windows thus they can't run third party software like ExamSoft).
Hardware:
Here's the issue with this machine. Although the CPU is plenty fast for just about any everyday office task, you're only getting 4GB RAM here which is OKAY for Windows 10 in S Mode but NOT for the full version of Windows.
Luckily, this is upgradeable so you should do the upgrade as soon as you buy it because ExamSoft doesn't support Windows 10 S yet.
You can check out my tutorial here and find out for yourself that it doesn't technique a technician to do it.
Once you do the upgrade you can then install the full version of Windows 10 which is available for free and it's only two clicks away once you log into this machine (you need to go to the Windows store and type it).
Display
The main reason why I recommend you buy this model instead all the other budget machines is the display. Display is not upgradeable and this machine already comes with a FHD display and even an IPS panel. Everything else (SSD and RAM) you can upgrade so don't worry about that when you're trying to find a budget machine, it's all about DISPLAY followed by CPU.
The advantage of budget machines like this even when you have money is…
That you could self-insure by getting two of these puppies and only use one at home and the other one to school. Always making sure all your files stay on both devices.
Thus if one of these breaks you can instantly use the other machine (as long as you save files on a USB drive and move them back and forth between the two) . So not only will you be saving money but you will also be more prepared for disasters to come especially during finals.
You don't even need to install Windows 10 Home on both devices. Thus you will need only to upgrade RAM on one of these (to run ExamSoft).
Quick story: There was a classmate whose laptop went out during finals and he had to spend several days without one. The probability of both of your laptops dying? 10E-5.
I would not try and venture with two cheaper laptops (those ~200-300$) because they're both likely to break within the same time frame.
ChromeBooks
ChromeBooks are cheaper yet extremely durable and resistant sure. They're also thin/lightweight and have insane battery lives and they basically last forever the problem is that they can't have Exam soft one. But you can still buy one ChromeBook (for note taking or typing) and one Windows laptop just for exams.
The cool thing about going this route is that ChromeBooks save by default EVERYTHING in the cloud so you don't even have to do back-ups as every single file and configuration can always be accessed through the Cloud.
---
How to Buy A Laptop For Law School
Here we are going to consider everything going on in law school that may be related to computer usage: taking notes, exams, studying and such.
This is all based from personal experience while also relying on current law students opinion and a few guides written by law deparments from different universities like Stetson.
Reading user's comments on reddit/quora was also helpful.
Software (Exams)
Here's basically every software you'll use:
MS Office

Video Player

One Note/EverNote or any note-taking app

WestLaw and Lexis: Legal search engines (free software)
EBB: The Electronic Bluebook (EBB) software used in many courses for final exams is available for both Windows and Macintosh. It does not support Linux (even if you run Windows in a virtual machine).

TextBook activities from DVDs
Every software here can run on any computer device with Windows or Mac on it. However, some law schools may use different software than what's listed above for which a Mac may not be compatible.
So if you plan to buy a new laptop for law school, I would urge you to wait until you're admitted to a law school and decided to go there so you can check the law school department's site to see the software they'll use for exams and what OS they recommend.
ExamSoft & SoftTest
It really comes down to these two applications. They can only run on laptops (with Windows or Mac on it) so tablets and ipads or any other devices are out of the question.
Mac or PC ?
Both are fine (with rare exceptions). Examsoft and SoftTest have a version for either operating system.
If you want to know which operating system is less prone to issues when running these apps, well, some people say that SoftTest & ExamSoft runs better on Windows but there's also people saying it runs better on Macs.
So you're always going to hear stories about either working or not working.
The truth is, both will give you errors if the software WHEN you suddenly decided to run an update (it's automatically done on both Mac and Windows).
So….
Do not update your OS if whatever exam software you're using is already running fine. Especially days before the exam
Clinic Work
If you're serious about doing clinic work, particularly criminal clinic work, ask someone volunterring there if the Crown disclosure and police evidence comes in a Mac compatible format.
For example:
Video (interviews, surveillance, etc) in Manitoba are only available through Windows.
Class Tips
Taking Notes
I've always prefered taking notes by hand as it allows me to listen closely to lectures. If you haven't taken notes using a laptop before, I'd recommend you try it at first see how you do in Law School before switching to a laptop.
Before Exams
Try and simulate testing conditions several days before the exam. Run the software on your computer. If there are any faults in the process you'll have plenty of time to get them fixed. If everything runs well, disable updates (temporarily).
Formatting Essays
Your professors have tons of papers to read.
They will not meticulously read yours so they MIGHT miss something important. You can talk to a professor AFTER the exam SURE if there's something you disagree with but chances are she or he will be unlikely to give you feedback. You'll always end up with a grade unsure of whether or not your professor clearly understood all the point you made.
So pay close attention to format:
Try bolding/underlining and italizing

Make sure your professor is OK if you use these tools

Your strategy should be to write something that's clear and easy to read for someone who's just skimming through it.

Do this and you will start getting better grades.
I'd recommend reading this book before taking your first Law School Exam: Getting To Maybe: How to Excel on Law School Exams .
It's only fifteen. Getting good grades has no price.
Free Software
If your school doesn't get you MS Office for free or any software for that matter. Check out these alternatives: "best 100 free software for students"
Recommended HardWare For Law School
Display
The most important component. Try to get all three or as many of the following features as you can (it's not always possible so don't sweat it, I'll list alternatives).
1. Size: 13"-15"
Smaller (11") is super portable but once you're sitting down doing actual work you'll be glad to have a 13"-15″ screen. No matter what resolution you have it will at least give you enough space to easily multitask with two windows next to each other: slides and pdfs next to each other.
You're also less likely to squint when reading.
2. FHD: 1080p or higher
If you pair that 13" display with a FHD resolution, you're going to have even more space for multitasking. Hell, even if you get an 11" laptop, the resolution will still make it possible for you to fit in two windows next to each other.
If you get 15" display + FHD, then it's going to feel more like a desktop PC.
High resolution adds more screen space by using more and more pixels for each letter and object thus making it smaller but at the same time super easy to distinguish and easy on the eyes too.
3. IPS (In Plane Switching)
IPS displays give you pretty colors and awesome color accuracy but that's not the reason to pick them. They also give you the option to tilt the display all the way back and still making everything on it visible. In other words, you can flip it back and forth to your heart's content and still distinguish what's on the screen, the image is not distorted.
4. Matte
I've sat in so many lectures watching the kids in front of me fiddle and fiddle and fiddle with screen angles trying to avoid the glare from overhead lights–and watching the perfect reflections of the people behind them in their super-shiny screens –while I was happy with my matte-screened machine.
Yes, a matte screen will offset all of that. Display will be crystal clear even with the sun up in your face. It also makes it easier on the eyes for those same reasons.
Now, getting a matte display on a IPS panel is somewhat difficult but if you can't find a laptop with both just use this:
External Display
Sooner or later you'll get an assignment that'll just make you go crazy with the number of sources and windows you'll have open.
This is where an external display comes in handy.
You can attach one to your laptop through the HDMI port (every 2021-2022 laptop has one) then wonder how you ever functioned without all the extra screen size.
The bigger the screen, the better obviously. Good places to look for great deals are BestBuy, CostCo and if you don't like getting out of your house or you are a student from overseas Amazon followed by NewEggs are good places to start.
Here's a nice model the website owner uses:
Keyboard
Finding a good keyboard can be a pain. All the models listed on this site have decent keyboards though so you can browse around to your heart's content until you find one you can afford.
In fact, save for a few exceptions where the keys are oddly placed, most laptops above 600$ have decent keyboards.
Now if you try to cheap out on a laptop then yes you gottab extremely careful because I'd say 30% of super cheap laptops have awful keyboards.
So I'd suggest you invest a little more (at leat $500) because let's face it you're going to spend the next 3 years of your life working typing on this thing nearly all day, no reason to settle for a bad quality keyboard.
Here's a few tips to find a cheap cheap laptop with a good keyboard :
Try them out at your local store but order one online (it's definitely going to be cheaper). It's okay to settle for a similar model , the specs may change but the build quality will be the same.

Make sure you type a couple of paragraphs. You want it to be fast and easy.

Avoid Bilingual Keyboards: these have weird set ups (only half a shift key and the enter key oddly placed)

Read Reviews about the model you want, users ALWAYS point out any faulty keyboards.
For dorm or home use, attach an external keyboard, mouse and flat panel monitor/television. There's no reason to NOT to have a much bigger display and a much more responsive (desktop ) keyboard. You'll get work done much faster this way.
Storage
In my days, all you needed to know about storage was how much data they could hold onto. That was measured in gigabytes.
Although we did have Solid State Drives, the market was still flooded with "Hard Disk Drives", the old fashioned and slow storage found on 2010 laptops and the one your old desktop at the basement has.
Capacity: Solid State Drives vs Hard Disk Drives
These nearly all storage types (SSD or HDD) have at least 128GB-256GB (SSD) and 1TB(HDD).
128GB might not be enough to store hundreds of lectures and games but it's definitely enough for law school purposes that is documents, pdf files, software, etc.
If you get 256GB (which is what most CHEAP 2022 laptops have) that should be enough to store a lifetime of photos, videos and pdf files.
Storage Speed
Regardless, I still recommend you get a solid state drive.
SSDs can read and write data up x17 times faster than HDDs. This means your machine will be up and ready to go 10 seconds after you press the ON button (I've used a stopwatch – it was literally 6 seconds).
Looking up a particular word inside a document across the entire drive and launching software will be instantaneous too.
Other advantages:
More battery life: they don't have any moving parts, not much energy consumption

Less prone to hardware failure: when you drop your laptop, there's a 90% chance your data will still be safe and sound

Less Heat

Less Noise
Using the Cloud vs Back Up
Even if you have the most ruggerized laptop and a solid state drive enclosed in a titanium caddy inside a laptop, always make back-ups.
You can either use cloud services like OneDrive, Drive, DropBox or your own's school's network servers (some actually let you back up your data using blackboard or whatever) or….
External Hard Drive
You can either back-up the whole system through software which will make a carbon copy of everything.
Or
Just proceed and copy every single file you think it's important. Flash drives are good for this.
What kind of stuff should I copy into my USB drive or an external hard drive?
Imagine someone is going to steal your laptop in one hour what are the most important files you wish you could get back.
It's just best to clone the entire system imo,you can have your system set up up and running in less than an hour on a new machine.
If you do both and if you have a desktop back home, then you can use the USB drive and keep working on your stuff while waiting for a few weeks to get a new laptop so you can use the carbon copy file you made of the entire system to restore everything up.
OneNote & OneDrive (One Love!)
OneDrive gives you the option to sync your notes to the cloud continuosly as you type them and it's free.
If you don't like using OneNote, then use Google Docs. It will also save everything you type continously.
You don't want to lose an entire paper and show up with the old my dog ate my laptop excuse and the teacher going: "Don't worry Joe, It's just your entire grade".
RAM
You should get at least 8GB RAM.
4GB: Most cheap laptops come with 4GB RAM and Windows itself takes around 2GB, your web browser and MS Office and any other software will quickly consume the remaining 2GB. Thus it is NOT enough unless you're using a MacBook or a ChromeBook or a Linux system as these three operating systems consume much less RAM than the full version of Windows.
8GB: This is what you want and this should be enough to blaze through pretty much everything. Now if you're on a budget, it is very likely your machine will not come with 8GB RAM by default but luckily virtually every MODERN laptop is upgradeable at least to 8GB RAM. You can get a sense of what's like to do the upgrade by checking out my tutorial here.
16GB and beyond: It's useless and it's even pointless to talk about it. However, it seems some universities have some IT guy writing the "recommended laptop specs" by the Law school department telling students to "get as much as RAM as you can" . But why? No one's going to edit videos for evidence here, that's not a lawyer's task.
CPU
Picking up a processor for Law School is easy. Just avoid the most expensive and powerful ones.
Avoid any processor with the "H" letter on it. That means no Core i7 11800H , Core i7 12800H, Core i5 10300H, etc..Why? They suck battery life.
Also avoid "old generation" processors. That is no celeron, pentium or anything that doesn't say "Intel Core and AMD Ryzen".
The best CPUs for our purposes have the U or G letter somewhere, they basically stand for ULV(Ultra Low Voltage)
They don't consume much energy and yet are plenty fast.
Battery Life
Obviously, you want an ultra long battery life. Here's how you get an insane battery life out of a laptop:
Opt for: Core i3 and Ryzen 3 CPUs do not consume a lot of power. Cor i5/Ryzen 5 CPUs are good too but more expensive.

Low resolution displays (768p, 900p) consume little energy. 1080p are best but they suck more energy. DON'T go for anything higher.

SSDs (swapping the hard-drive for an SSD or taking out completely will increase battery life)

Avoid "H" high performance processors.
CD/DVD Drive
It's not necessary.
Most installations of software can be done View Web Download or USB Drives, we've got insanely fast internet connections today. At least during for me, the CD/DVD drive thing hasn't been an issue but who knows mileage may vary.
But if you absolutely need it, you can always attach an externel CD/DVD drive through the USB port.
Tablets
Tablets are a nice addition if you already have a laptop.
If you're only buying a tablet for law school, don't expect to do everything with it. Even the latest iPad can't run EXAM SOFTWARE like a 2005 laptop can.
If you really want ONE device but still want a tablet, I suggest you buy ANY of the Surface Models. They're both a laptop and a tablet and can be switched back and forth between the two.
ChromeBooks
Chromebooks are lightweight, thin, have insane battery lives and are insanely fast too (they all have SSDs – well something simialar to it) and they're all surprisingly CHEAP! Very Cheap, the average ChromeBook is like $250.
However…
They're just as limiting as tablets. Again they're a nice addition if you have a laptop already.
Because…
You can't install ANY software that's NOT on the ChromeBook store (most well known software like MS Office is there) and that includes ExamSoft and most legal access software.
Comments?
If you have any questions, suggestions or recommendations please leave a comment below.

Author Profile
I am physicist and electrical engineer. My knowledge in computer software and hardware stems for my years spent doing research in optics and photonics devices and running simulations through various programming languages. My goal was to work for the quantum computing research team at IBM but Im now working with Astrophysical Simulations through Python. Most of the science related posts are written by me, the rest have different authors but I edited the final versions to fit the site's format.