10 Best Laptops For Video Editing in 2020 – (Fast Rendering)
Unlike what most websites will tell you, I'll be the one to say "the truth": there's no single laptop for video editing.
Honestly….
If you are willing to wait for stuff to render, there's no need to spend +4k on a superpowerful workstation laptop.
What's "best for you" will depend on what kind of video editing you're doing, that is: what kind of effects you are applying, which features from your software you are using, what resolution you are working with, etc.
In this post not only are we going to list laptops of all prices ranges (from 500 bucks to 3000 bucks), to make sure we target every type of video editor reading this.
But also tell you a few things you probably didn't know and you should know before you start dicking around with laptops for video editing.
For example…
Spending your money on the laptop with the most powerful processor and most powerful GPU doesn't mean you'll get the best bang for your buck either. That might be the case for gaming but NOT for video editing. Guess they didn't tell you that, did they?
Hardware performance for us video editors is not that simple.
I know I know….
That makes buying one even more complicated and most of you just want someone to tell you exactly what to buy.
But think about it.
Should you really trust cool looking sites as if their writers were actual video editors, then go right ahead and spend two months of your rent money on some laptop they've listed?
No!.
I bet most of their writers have never even touched Adobe Premiere! Maybe they did touvh Windows movie maker though.
You need to get advice from someone who is either in the video editing business or at least someone who spends time editing videos on a regular basis.
Or even better someone who can present you with benchmark studies and solid proof evidence that the hardware you are paying for is worth your hard earned money.
That's what this post is all about.
We won't list cheap laptops either but only laptops that will slice through video rendering like a warm knife on soft butter. Save for a few budget laptops at the end, most of them will cut your editing times from hours to minutes.
So sit back and chillax.
Recommended Specs For Video Editing
I assume that if you've landed here you may not be quiet adept with computer jargon but don't worry I will try to make it as simple as possible, explain all the computer jargon in caveman terms so you can be sure that what you are buying will be useful to you.
For this I've separated this post into two sections.
The first section will list the current best laptops for video editing as of mid-2020 and tell you exactly what you can expect from each laptop.

The second section will give you all the evidence and studies you need to be sure that what you're buying is worth all of your money. It can also be used to help you find the best laptop for video editing on your own in case you don't have access to these products or if you're outside the USA.
The main reason why I am putting all the studies and the buying guide in the last section is because it will cover pretty much everything hardware related for video editing and I mean everything. So it can get quite long for the average reader.
In that guide, I'll answer almost every questions you have:
Which graphics card and processors are optimal for editing and rendering?

What display do I need for 4k resolution editing?

What's the best processor for exporting/encoding?

What are the real & specific benefits of multiple cores for each software?

Should I pick NVIDIA or AMD GPUs?


Which GPU will give me the best bang for my buck?

Should I invest on RTX Graphics card?

How much RAM & what type of storage configuration is best?
For now I'll simply make a brief summary of what you should aim for and then list 10 best laptops for video editing as of 2019.
In order of priority look for the following specs:
CPU

Lots of studies are showing that the single core speeds are better overall over core count so focus on that.
Fast Editing/applying effects: highest clock frequency you can afford.
Fast Rendering/exporting/previews: highest number of cores you can find (8 is the sweet spot , 6 is good. 2-4 is not acceptable for heavy video editing).
The CPU is what will make the biggest difference for video editing so focus all of your budget on getting the best one you can afford.
RAM
8GB: for timelines less than 60min
16GB: for timelines greater than 60 min.
32-64GB: for Da Vinci Resolve/Adobe After effects/4k or 8k video editing.
GPU
Simple video editing w/ few GPU accelerated effects: MX150, 1050
More GPU accelerated effects: 1050Ti/1060GTX. AMD Radeon RX 580, AMD Radeon RX 560X (There are more check table at the end).
High resolution video editing+ a lot of GPU accelerated Effects: 1060GTX and 1070GTX are acceptable. 2060GTX is best. RTX 2070 and RTX 2080 will start giving you diminishing returns but are still the most powerful on the market…
Storage
Avoid anything that's not a SSD(Solid State Drives).
SATA II SSDs vs PCIe SSDs: the latter is the fastest. A must for video editing and not just to if you have a lot of footage to import/export all the time. Store all your files on any SSD with the exception of completed projects/files that are not used at all.
HDDs: Install one (if your laptop only came up with one PCIE NVMe SSD). The capacity will be useful to act as a repository for other files except your video editing software and windows 10.
Best performance: get two PCIe NVMe SSDs. Install win10 on one, video editing software and videos on the other.

Display
min 1080p resolution. Still useful for 4k video editing*.
IPS: You'll find IPS panels nearly everywhere these days so the choice actually becomes:
Matte vs Glossy: Choose glossy if you care about color accuracy. Matte if there's a bit of sunlight getting inside your work office.
Top 10 Best Laptops for Video Editing
This list includes laptops for every type of video editor and every budget. It ranges from 600$, which is really the bare minimum for simple cuts/transitions with Adobe Premiere, all the way to 4k (for those throwing the most hardcore video editing with Da Vinci Resolve or want the fastest video editing with Premiere or want the best performance with Final Cut Pro).
We'll start with the most powerful one of the bunch ( the heaviest & most expensive), then list great budget options, both of these for hardcore video editing. The continue wrap it up with the most portable and wrap it up simple ones for light video editing.
Remember if this your main tool of work, it's always best to invest on the fastest one you can afford. However, setting with any of the low-end machines doesn't mean bad editing, it just means waiting a bit more. You'll still be able to finish projects in time and then move up to bigger/better gigs later
---
Eats Anything You Throw At It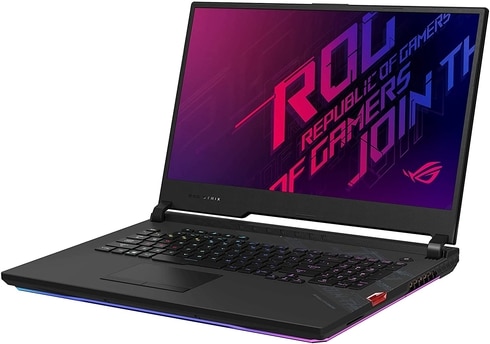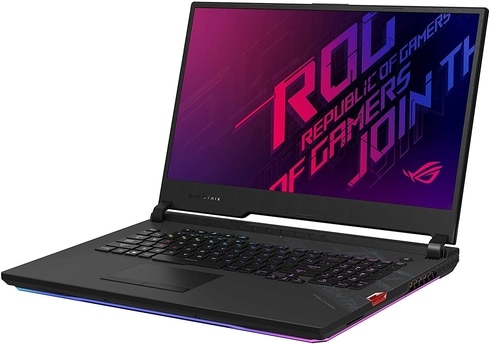 Intel Core i9-10980HK Up To 5.3GHz
32GB DDR4
NVIDIA RTX 2080 Super 8GB vRAM
2TB PCIe NVMe SSD RAID
17" FHD IPS 300Hz
6.28lb
~1 hour

Yes the title is no joke, this monster can really eat anything you throw at it.
It's been recently let out of Area 51 and it's now running wild on Amazon, BestBuy and so on.
As of May 2020, this is currently the beefiest most powerful laptop you can get for video editing or for anything really.Wel in reality…it's just one of the "bestest" out there because there are several brands that've released laptops with the same specs.
The point is that this is the highest configuration you'll get from laptops as of May 2020 and the maximum performance for video editing on a laptop.
Design:
The main reason I've decided to choose ASUS over other brands is the design. When it comes to high end CPUs and GPUs, the issue at hand is how well the cooling system can handle temperatures and how well positioned are the components inside a laptop for it to reach the advertised clock speeds & FPS.
Most manufacturers just jam in the latest CPU and GPU and leave design to draw and luck. Well ASUS doesn't usually do that(they really shouldn't because people all over the web always benchmark and test the beejezus out of their models). This is even more true with the ASUS ROG Strix Scar series which hasn't dissapointed its fans over the past few years.
So you'll definitely be able to hit those clock speeds labeled on their CPU and use as much hardware acceleration from its GPU.
Anyways if you are throwing in some crazy video editing and I mean to the point that you had to step it up and use DaVinci Resolve besides Adobe Premiere. No matter what crazy and how many effects you put on your timeline, this beast will chew

this beast will chew it up and spit it out right away.
GPU:
Currently, the three best graphics cards for video editing on laptops are the 2060,2070 and the 2080 RTX.
I'm not going into details when I say this but they aren't necessarily several times more powerful (probably around 20% faster for video editing at the most) than the GTX series but they do have other very "specific benefits" (due to their Turing Architecture) that may benefit some video editors. I'll talk about those in the guide below.
For now let me just say that if you're a video editor with a deep pocket and want to squeeze out every bit of computer power from a laptop (that is reduce the time for rendering, previews, exporting as much as you can even if it's just a tad more than other more budget friendly laptops) then you can go safely go for it.
Another reason to go for RTX is that they have some cool stuff that might be used in the future too (RT and Tensor cores). But since the RTX cards are kind of new, these are not used by very many software packages right now. But if Adobe ever uses them it could mean really large performance gains. It is also a good option for those who want to look far ahead.
Note that if you work at 1080p resolutions (both from your footage to your final video), the difference between this GPU and the other high-end RTX GPUs will not be significant!
Storage:
Another cool thing about this model is that you'll also squeeze out every bit of performance out of storage drives.
This asus Model has two 2TB PCIe NVMe SSDs in Raid. Now you may think that this is too storage for video editing but I'm not talking about storage. It's the fact that they are both PCIe NVMe SSD(found on the 99th percentile of laptops) and they're SEPARATE units.
I'm highlighting that part because that's what makes this storage drive configuration so special. Benchmark studies have shown that having Windows 10 on installed on one SSD and everything else on the other maximizes performance when doing previews, importing and exporting footage.
DaVinci Resolve & Adobe Premiere:
This laptop has actually way too much power for Adobe Premiere to handle properly. Yes, you'll get the best performance with Adobe Premiere than any other laptop in this list but DaVinci will actually be the software that takes most advantage of it. So if you're planning on moving to DaVinci Resolve later or you already are an user, this is it.
The only problem is that this laptop is very expensive luckily it isn't a bad investment because ASUS has also one of the best customer support programs so it'll definitely last you several years.
If you can't afford any of those models and you still want the best best performance for video editing in a laptop, I'd recommend either settling for one of the cheaper models (make sure with the same CPU) or selling your pet girafee if you have to.
---
Best Laptop For Video Editing with Ryzen 9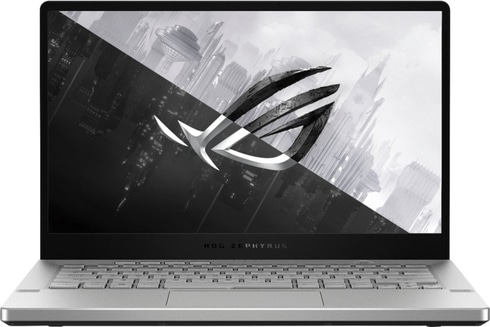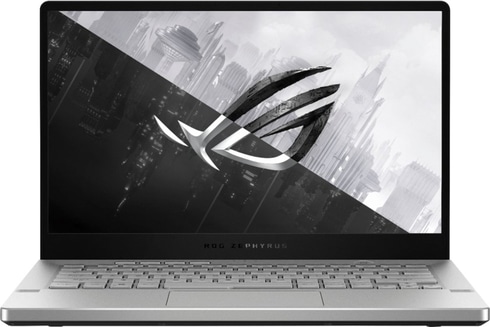 AMD Ryzen 9 4900HS 4.4GHz 8 Core
16GB DDR4 up to 32GB
NVIDIA® GeForce RTX™ 2060 w/ 6GB vRAM
256GB PCIe NVMe
14" FHD IPS
1.6kg
5 hours
I really never thought the time where AMD would slaugther Intel in the laptop market would come but apparently that day has come.
Don't get me wrong, I'm not saying this laptop is more powerful than the ASUS ROG Strix with the 10th generation CPU and the 2080RTX Ti, probably nothing is more powerful than that Combo as of early 2020.
But…this Ryzen 9 AMD 4900HS CPU is no doubt faster and more power efficient than most mobile intel processors (probably even more than most of the 10th generation) which makes them a great choice for heavy duty video editing without having to spend a buckload of money. In other words, this is one of the best deals you'll find for video editing, all of that just for 1500$.
The fact that you are not probably get the best performance out of it (if you pair them side by side with other laptops) is due to their models not being paired up with the latest RTX Video card.
However…as I will show you in the guide after these reviews. A 2060RTX Max-Q or not, is actually the sweet spot for both high performance in video editing and at the same time give you all the benefits that the turing architecture offers for video editing (better encoding, data compression, motion vectors) etc. Of course, you'll get those same benefits (and more power) with a 2070RTX and 2080RTX but in reality the performance increase for video editing with either of those cards is not overwhelming. You'll get an increase in performance with those cards (that's why the ROG Strix is a lot faster for most purposes) but 2060RTX will actually be plenty fast for nearly all video editors.
Anyways, that's the whole point of this laptop. Among all the high end laptops we've come across this seems to be the one with best performance/money ratio.
Don't forget that this laptop also has 8 cores which means you'll also max out in performance with any software that fully takes advantage of them (DaVinci Resolve and Cinema 4D come to mind).
Lastly, what's even more crazy about this laptop is that the CPU is so well designed and does need a huge power source…this means it's ultra portable…this thing is under ~3.5lbs folks! It almost feels like a maxed out 16 MacBook Pro. The downside is…it can get quite hot if you overuse it.
Hopefully future models pair it up with the latest RTX series and make another model with a lot more space/thickness to handle temperatures better(this doesn't stop beating up Intel Processors on benchmark studies though!).
For now this is all we got and it's still a great deal!
---
Best Laptop For Video Editing Under 1800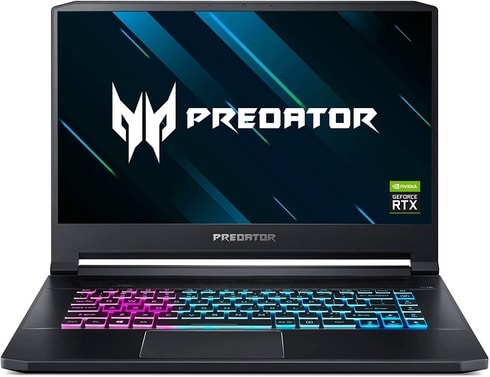 Core i7 9750H 4.5GHz
16GB DDR4
NVIDIA GeForce GTX 2060 6GB vRAM
512GB PCIe NVMe SSD (1 PCIe NVMe Slot Free)
15" Full HD IPS 144Hz
4.41lb
Up to 5 hours

Another all time favorite of those seeking high performance from a laptop is the Acer Predator Series. This year's model has an upgraded Core i7 CPU with 9th generation and a full blown RTX 2060. It is one of the best models you'll find online with a great specs/money ratio.
Design:
The main reason why it's still popular is that just like the ROG Strix Scar Series, the Predators rarely show faults in the manufacturing process, have great cooling systems, hit 3 digit FPS without overheating and so on.
GPU:
The RTX 2060 here is no little toy compared to the 2070 and 2080 (for video editing), this model doesn't Max-Q it (nerfs it in nerdy vocabulary) to control high temperatures. So you'll a slight better performance than the ASUS ROG with the AMD CPU in it.
As you've probably noticed, I'm a big fan of both the 1060 and the 2060, not only do they make laptops a lot more cheaper but they actually have the best performance/money ration. Higher seem to only add about 8-10% performance increase in several instances during video editing (most notably in AE but definitely not true with DaVinci Resolve).
Plus the 6GB vRAM is also the sweet spot for any 4k video editing (this has also been benchmark by puget systems).
If you work at the same resolution, Ex: 1080p back to 1080p, you'll get about the same performance when exporting as the RTX 2070 and 2080.
If we are talking about a 1600$ budget, this one along with the ASUS ROG Zephyrus are the only two options I would look at if I wanted to get myself the best performance/money ratio for video editing.
Not everything is nice and pretty with high end laptops though. You'll find the usual cons:
CPU/GPU won't overheat, you won't get the blue screen of death but you'll definitely feel it most of the time and I mean your hands.

Fans are effective at controlling temperatures but they are insanely loud.

The screen has an IPS display but does not have a matte finish, this means things will get blurry with sunlight.
Customizeable Laptop for Video Editing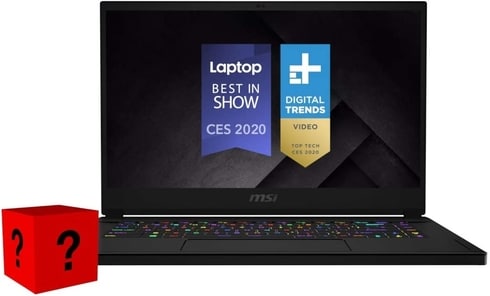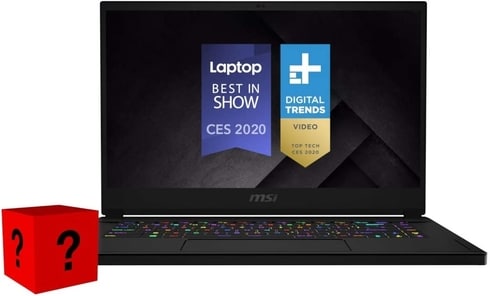 Intel Core i7-10750H
16GB DDR4-64GB
NVIDIA GeForce RTX 2060 6GB vRAM
512GB-2TB PCIe Nvme SSD (Can be configured)
15.6" IPS 240Hz FHD
4.63lb
8 hours

Now that you understand how powerful the 2060RTX and 10th generation CPUS are for video editing, I thought this would be a good time to show you another option for high end video editing that doesn't make you look like a gaming freak.
This model is relatively thin and doesn't have red stripes or huge logos that scream GAMING. In fact, this model has been specifically designed by MSI to make you look "professional" while still be able to game or in your case cough "edit videos".
No but seriously, this laptop will have about the same performance as all the laptops shown above with the exception of the first one. In fact, it might be a bit faster than those 3 because it has 10th Core i7 generation processor and well like I said before , the CPU is what will do most of the heavy lifting in the end.
Note that you can configure your model to also have x2 PCIe NVMe SSD and rip of all the benefits of having Win10 and video editing stuff installed in two separate drives.
I picked MSI because just like ASUS , it's know for their well designed models. Though it was just released a month, it's worth the risk: you have 1 year free warranty. Plenty of time to find out if there is enough faults in it.
If you still need more info or can't afford it(it's only 1600$). You can opt for last year model's as long as they have a 1060GTX with a 9th generation CPU, you'll get almost the same benefits.
---
Best Mac Laptop For Video Editing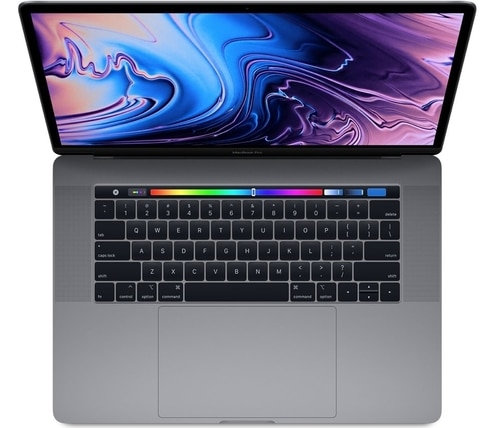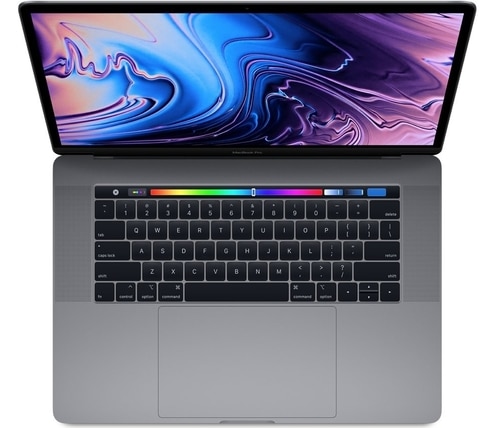 Intel Core i9 4.8GHz
32GB RAM DDR4
Radeon Pro 560 4GB vRAM
1TB Flash Storage
15" IPS Retina Display
4.5lb
10 hours

If you are using Final Cut Pro instead of Adobe Premiere, then the only obvious choice is getting a high end MacBook Pro. I know they are expensive and all and a lot of you might tempted to hackintosh a windows laptop to run Final Cut Pro but honestly just put up with the price and don't do that.
There are several models with a pretty powerful AMD GPU which makes it really tempting to hacintosh one and presumbably save you thousands of bucks.
But you would have probably been better off getting a part time job and buying two of these MacBooks Pros instead of spending hundreds of hours trying to hackintosh one.
OK OK which MacBook Pro should I buy then?
The real questions should be whether you should buy the latest MacBook Pro 16 maxed out up the wazoo which is shown here or just a MacBook Pro with a dedicated graphics card.
The good news is that Final Cut Pro offers low rendering and exporting times for videos, even at a 4K quality, without using too much energy/power. Whereas Adobe premiere is much slower in exporting and rendering and this is mitigated by having much heavier hardware. Exporting and rendering in Final Cut Pro is most of the time a very smooth task.
So?
Well you'll probably be okay with any MacBook Pro with a dedicated GPU if you aren't that far ahead into field of video editing. This MacBook Pro is a good example.
On the other hand, if you plan on Using Adobe Premiere and AE or even Da Vinci Resolve or just throw in some crazy video editing with Final Cut Pro, then just keep flipping them burgers at McDonalds till you can afford one. Trust me, it'll pay off and you'll soon be able to make video editing your main source of income.
Not only does the latest 16 MacBook Pro has well a 16 inch screen with one of the most beautiful and color accurate displays on the market but pretty damn fast SSD that's even faster than the ones you'll find on windows laptops.
---
Best Laptop Display for Video Editing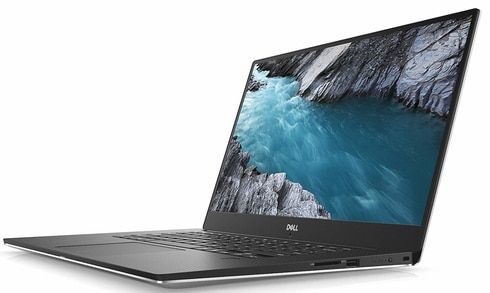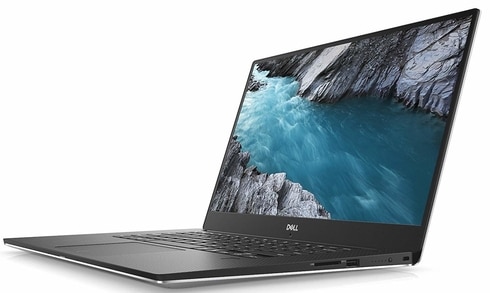 Core i7-9750H 4.5 GHz
16GB RAM DDR4
NVIDIA GeForce RTX 1650 4GB vRAM
1TB SSD PCIe NVMe
15.6" UHD Touch IPS Anti-Glare 300 nits
3.97lbs
8 hours
The Dell XPS 15 is definitely not a budget laptop for heavy video editing and will not even have the same performance any of the laptops despite being more expensive . So why am I even listing it?
Well because there are several reasons some of you might find appealing.
GPU
While the fact that there aren't any twos in those four digits (1650) might deter you from even considering it (if you are looking to rip the benefits of the RTX series), the 1650 does belong to the RTX series. It does come with the turing architecture and has the tensor, RT cores, encoding/data compression benefits that all of the RTX series have. It's a lot less powerful than all of them but for video editing that doesn't mean it will be a lot less powerful (in fact a lot benchmark studies show that the difference between a 1050Ti from the GTX series and a high end 1080Ti aren't subtantially high), you'll still be able to edit videos and use hardware acceleration but at a slower rate than you would if you had the higher end GPUs.
That's because at the end you still get a monster-like CPU.
Display
Another reason why it's expensive , it's the resolution ( all laptops with the same specs+display will cost you around 2000$). 4k resolution will allow to appreciate and edit videos with higher than FHD resolution. This also gives you a far greater color space than most laptops, in fact, the Dell XPS screens are said to cover around 120% of the sRGB space which is far greater than the 99th percentile of laptops out there including all the ones in this list.
As a bonus you also get an anti-glare screen, meaning there will no issues when working with lots of sunlight getting into your office.
It's also a touchScreen display, though not useful for any video editing really, it's fun to use when you try to playback videos or even watch a couple of movies (fast forwarding and rewinding).
Portability
Even that shouldn't make it that expensive because other laptops like the Razer Blade series have the same specs with 4k resolution and cost a lot less. Well anothe reason it's thinness and portability, other than the Razer Blade will go over later, you won't find another portable and thin machine like this one.
The design and manufactoring process of the Dell XPS 15 is pretty good too, it's actually the best premium model they have to offer for video editors and gamers.
In conclusion , if you are looking for a portable device for heavy video editing with higher resolutions, this is one of your few options.
---
Best Budget Laptop For Video Editing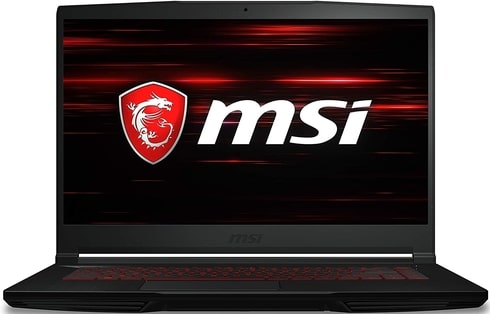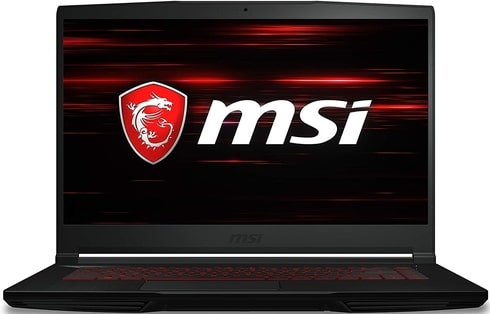 Intel Core i7 9750H Up to 4GHz
8GB DDR4 RAM (Up to 64GB)
NVIDIA GTX 1050Ti 4GB vRAM
256GB PCIe NVMe SSD + Free bay for SSD storage
15" IPS full HD 1080p
7.54lb
4 hours

The 1050Ti is not an entry level GPU for video editing. It is the minimum GPU I'd recommend for any heavy video editing, if you are professional on a budget and need a portable device, this is it. That's because the 1050Ti has 4GB of vRAM instead of 2GB of vRAM which makes all the difference.
This laptop may not be the cheapest laptop you'll find with a 1050ti but it's the cheapest one with a 9th generation Core i7 processor in it. Yes folks, just for 800 bucks you'll get one of the most powerful CPUs for video editing. I'm still shocked how this model can only cost 800 bucks with that processor in it. It must be either a bug from amazon or back at the MSI factory somebody wrote one more zero on the paper that stated how many laptops they have to make for the year and well they ended up with an overstock of this model….
Anyways, it's cheap and all, but part that is really a bummber about this model is the lack of RAM, 8GB is not enough. 16GB is really the sweet spot for video editing. If you find yourself needing more RAM while video editing (there's a way to check this if you check the guide at the end), you can easily upgrade all the way to 64GB if you want though.
Just a bit of more work might save you tons of money.
Indeed, this is the one that has the best specs/money ratio out of the entire list.
---
Best Portable Laptop for Video Editing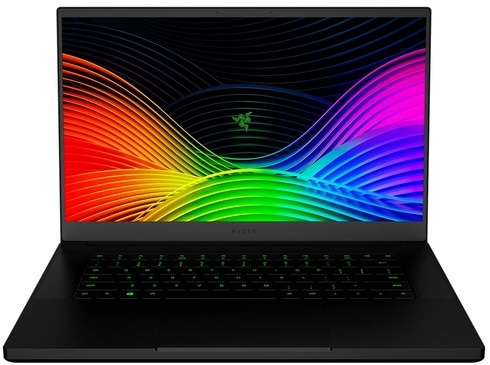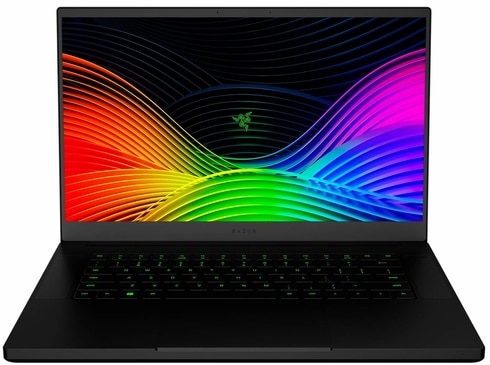 Six Core i7 9750H
16GB RAM up to 32GB
NVIDIA RTX 2080-Max Q 6GB vRAM
512GB PCIe NVMe SSD + 2.5" Bay for extra Storage
15.6″ 144Hz IPS 4k resolution
4.83 lbs
3 hours

The Razer Blade is one of the most popular laptops for video editing. You can check out people buying them on reddit, video editing forums,etc.
There are several versions of the Razer Blade, there are heavy beast like versions with the latest 10th generation and CPU jammed into it but there are also slightly less powerful versions that are almost just an expensive. Why? They're very portable.
Their most portable version which is shown here has a GPU that is a bit too powerful for video editing. I would have love to see the Razer Blade with a 9th or 10th generation CPU with a weaker GPU but unfortunately that hasn't been the case for the lightest of them.It still a pretty powerful PORTABLE laptop even for video editing but doesn't have a good specs/money ratio and if you have the budget and you care a lot about portability , you won't be dissapointed when buying it.
The model i'm linking in this review is not as portable as the model described above but it is more portable than most laptops from other brands plus it has a much more powerful CPU. Which as you'll see in the guide below, will have the most impact with anything video editing related.
Most of their models, including this one, also have a 4k resolution display. If you plan on playing back 4k media or throw in some video editing higher than 1080p(without having to buy an external monitor)….there you go!
Note there is the option to choose the model with a monster like CPU: 10th generation Core i7 with 8 cores. Unfortunately, there are two caveats with this model:
– It's been released recently, so there are no reviews to make a good judgement.
– That CPU requires a much larger power adapter which makes the entier laptop almost twice as heavy.
You can buy it if you have the cash and let us know how it goes!
---
Best 2 in 1 Laptop For Video Editing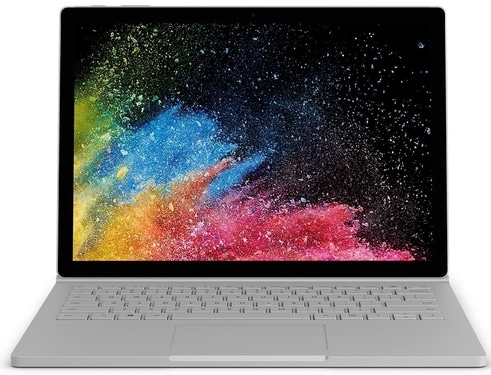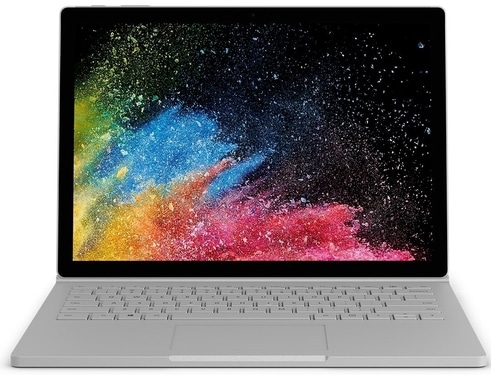 Quad Core i7 8th gen Processor Up to 4.2GHz
16GB RAM
NVIDIA GTX 1060 6GB GDDR5 vRAM
1TB NVMe PCIe SSD
13.5" Pixel Sense (3000×2000)
3.62lb
8 hours

If you are just throwing simple video editing like adding subs, transitions, titles, adding audios,etc. That is no cross dissolves, fast blurs, etc, then I'd encourage you to buy the Surface Pro 7. Although it doesn't have a dedicated GPU, the latest configuration has a pretty decent CPU and can reach up to 16GB RAM along with a PCIE NVMe SSD. (The minimum specs you should go for, even for simple video editing, would be anything with a core i5 and 8GB RAM though unless you like banging your head against a wall every time you have to export/render a preview).
On the other hand, if you are doing anything beyond the kind of video editing you'd do with windows movie maker, then you'd need at least a dedicated GPU which any of the Surface Book models/editions have like the one shown here . The Surface Book is entirely different from the Surface Pro, the GPU is what really makes all the difference.
The most powerful Surface Book 2 basically weights and behaves like a laptop even though you can use the touchScreen with the stylus.
The surface book 2 might even fulfill the need of most professional video editors because you can order it with a 1060GTX GPU which is a mid-range GPU but the first of the high end GPUs if we talk about video editing.
So you'd have the power of most of the budget laptops shown above with the advantage of having better resolution and more portability. Remember that this thing is pretty compact which means it'll be more difficult for it to mantain cool temperatures in other words you can't expect to throw in several hours of exporting/rendering with it.
---
Best Budget Laptop for Video Editing under 700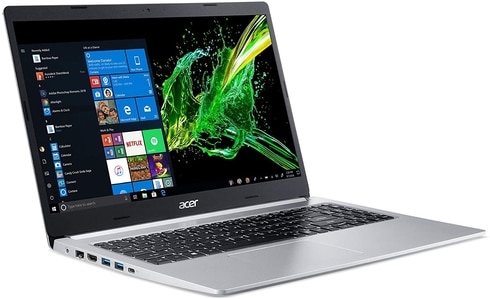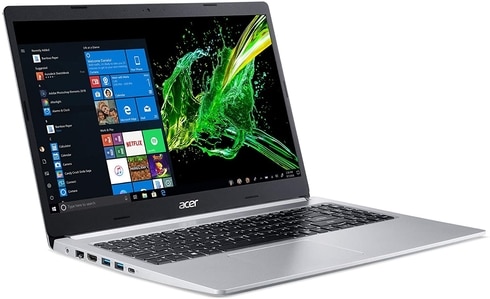 Intel Core i5-10210U (up to 4.2 GHz)
8GB DDR4
NVIDIA GeForce MX250 w/ 2GB vRAM
512GB PCIe NVMe
15" Full HD 1080p
6lb
5 hours


Lastly the smallest of the fries in this list but out of this list: the biggest of them all. This is one of the best selling models on Amazon and not too long ago it was the best selling laptop for anything-GPU related including video editing.
There are several reasons why it's so popular and has been selling like hotcakes since 2018 for those on a budget.
Their latest models always manages to jam in the latest generation budget processor from Intel, in this case the 10th generation along the latest budgetGPU from NVIDIA: MX250, all under 700 bucks.
The 2020 model now includes a PCIE NVMe SSD instead of the old SATA III SSD which again is about x5 faster.
None of their models miss on the IPS panel either. No other brand/model offers all of that for the same price.
Their design is pretty good too, there's plenty of space for ventilation and it even facilitates any upcoming upgrades you may want to throw in later as you progress with your video editing. RAM and an additional storage drive can be installed with the removal of a single screw drive without having to open up the laptop in half.
I'd recommend this laptop for anyone who's starting to get into video editing and for now is limited to small clips (<60 min) without relying too much on fancy GPU accelerated effects.
---
How To Buy The Best Laptop For Video Editing
This can be a touchy subject because there are many variables to take into account when you try to find the best laptop for video editing:
Will you be editing on the field? Will you have access to power all times?

What software will you be using? What kind of encoding will you be using? Does your work rely a lot on hardware "accelerated effects".
The last three questions are actually what this is all about . The former just means you want a portable machine with a decent battery life.

So with that in mind, let us go through the most popular software for Video Editing and for the sake of formality, let's go over the official "recommended" requirements too:
Software Requirements
CPU
RAM
GPU
Storage
Display
Adobe Premiere

Intel 7th gen or AMD Fx and Above

8GB

Any w/ 2GB-4GB vRAM

8GB

1280×800

Final Cut Pro

Intel or AMD 64bit Processor

8GB

Intel HD.

AMD Open CL.

2GB

1280×800

Da Vince Resolve

Recent Core i7

16GB

4GB vRAM GPU

10GB

1280×800

Adobe After Effects

Dual Core +3GHz

8GB

any dedicated GPU

3GB

1280×800
Note that these are the bare foot system requirements. Official sites only tell you the minimum hardware you need just to "run" the software .
It never tells you what the performance of a certain computer configuration will be over others. That's where articles like this and third party benchmark studies come in handy.
Before we get into the benchmark studies and go on to talking about how each computer component impacts your workflow…

Note that Final Cut Pro is the least hardware demanding video editing software while Da Vince Resolve is the most hardware demanding video editing software.

Da Vinci Resolve
Most video editors will actually tell you that Da Vinci resolve is a much better software than Adobe Premiere and Final Cut Pro. While I haven't been able to test that myself I will tell you that, it is the only software that takes full advantage of every hardware component you've got on your rig. If you didn't get that last part, you'll see what what means soon.
Recommended Hardware For Video Editing
Before we get into the technical part of the guide, we need to define what encoding,transcoding,exporting mean in this article since these terms are used interchangeably around the web making reading any video article more confusing than it already is.
render = apply changes/efffects to your video segments after editing them for previews
encode= apply a format/codec AVI MP4
exporting = encoding + rendering, i.e. getting the final product out
transcode= change formats
*encoding/exporting are used interchangeably in other sites to mean outputting a file. Not here.
Differences in Software
All softwares for video editing makes use of the hardware component for a specific instance of video editing. For example, all video editing softwares take advantage of GPUs(dedicated graphics cards) when rendering. So what we'll discuss will apply to all video editing software if there are any difference worth mentioning we'll mention them in each of these sections.
What sections? This guide will be divided mainly into 4 sections: CPU, GPU, RAM, Storage.

For each section we'll go over the same information.
For example, for the CPU section:
We'll discuss what the CPU does in video editing

What specific instance of video editing does it have the most impact on.

What models are the ones to go for and which ones have to be avoided.

And if there's anything worth mentioning about a specific software that has to do with the CPU, we'll do so as well.
Note that the following information is based on thorough benchmark studies by puget systems and my experience with all these software (with the exception of Cinema 4D). Nothing else.
1. CPU
I wanna start with the CPU because This will do most of the heavy lifting when you're rendering your video timeline. So it's the most important component to consider when buying a computer. Yes, it's much smarter to invest more money on a beefy CPU than a beefy GPU(graphics card).
Before attempting to explain how the CPU is used by video editing software, you need to understand their two most basic specs:
Frequency:

how fast a processor can perform an operation is dictated by its "clock frequency" measured in Hz.

Cores:

these act as "extra CPUs" so you can perform many different operations simultaneously. Today's CPUs can have up to +48 cores (for desktops) and 8 cores (for laptops).
Editing/Applying Effects
Applying heavy effects, trimming and playing around with the timeline are the most frequency dependent actions.
Having multiple cores will not help you in this instance since most operations are single-threaded for the most part (they only use a single core). So you are not going to see a huge boost in performance when choosing a higher core count processor over a single core.
If this is what you plan on doing with your laptop for the most part, then choose a CPU with the highest clock frequency you can afford.
Rendering/Encoding/Previews/Exporting
Rendering, exporting and generating previews are the most frequently performed tasks when editing and what makes us stare at the screen waiting.

These actions DO benefit multiple cores. So the more cores your CPU has the less the time you have to wait.

However….you can only benefit from multiple cores up to a certain point (usually up to 6-8). Anything past that point will start giving you diminishing returns in terms of performance.

Now let us go into more specifics with each software:
Adobe Premiere, Final Cut Pro & Adobe After Effects:
All these software will improve their performance with higher core counts. However….
Premiere Pro doesn't scale well with a lot of cores. There's no point in investing on an extremely core count CPU over a mid-size core count CPU with higher frequency. Higher core count CPUs usually have lower core frequency:

According to studies by

Pudget systems

. Exporting benefits from multiple cores: up to ~8 cores for 1080p and ~10 cores for 4k resolution.

If you try to corroborate this by contacting Adobe Customer Support, you might get a different answer! They always insist that there's no limit to how many cores can Adobe utilize. In other words, the more cores, the faster it'll perform but the entire video editing community knows that's B…i mean not true.

Just for the sake of being accurate,

let me say that

rendering previews

will benefit from high core count CPUs in some instances and from a single core with the highest frequency in

others depending on the source footage

, you can find the details on the last link.

In the past After effects (before 2016) made good use of every single core you had available, however, the "Render Multiple Frames Simultaneously" feature was discontinued, and today, the current versions do not benefit from high core count CPUs anymore. 6-8 Core CPUs is where the line is usually the limit even today.
Cinema 4D
Renderers are a huge exception to the multi-core limit rule, renderers like Cinema 4D will perform much faster with a high core count CPU with lower frequency. So the higher number of cores, the faster you'll get your work done.
Da Vinci Resolve
This is a complex topic but

only

if we are referring to desktops. How many cores can Da Vinci make use of depends on how many GPUs you have installed on your desktop. For example:

Having a single GPU will force Da Vinci to make equal use of a high core count CPU and a mid-range CPU.

On the other hand, having two or three GPUs will make sure Da Vinci makes better use of a much higher core count CPU.
Which CPU to Choose Then?
Conclusion: Lots of studies show that the single core speeds are better over core count.
Luckily laptops are limited to eight cores which sit either right at the limit of multi core efficiency. So the choice isn't really hard and you won't be wasting money if you focus on having both.
In other words you can safely go for the CPU with both the highest frequency and highest number of cores your wallet can afford.
| | | | |
| --- | --- | --- | --- |
| CPU | Base | Turbo | Cores |
| i5 8250U | 1.6GHz | 3.4GHz | 4 |
| i5 8300H | 2.3GHz | 4GHz | 4 |
| i7 7700HQ* | 2.8GHz | 3.8GHz | 4 |
| i7 8550U | 1.8GHz | 4.0GHz | 4 |
| i7 8750H | 2.2GHz | 4.1GHz | 6 |
| i7 9750H | 2.6 GHz | 4.5 GHz | 6 |
| i9 8950K | 2.9 GHz | 4.8 GHz | 6 |
| i5 9600K | 3.7 GHz | 4.6 GHz | 6 |
| i7 9700K | 3.6 GHz | 4.9 GHz | 8 |
| i9 9900K | 3.6 GHz | 5.1 GHz | 8 |
| i7 10750H | 2.6GHz | 5GHz | 8 |
| i9 10890K | 2.4GHz | 5.3GHz | 8 |
| | | | |
| --- | --- | --- | --- |
| CPU | Base | Turbo | Cores |
| AMD Ryzen 9 4800HS | 2.2 | 4.4GHz | 8 |
| AMD Ryzen 7 3750H | 2.3 | 4.0 | 4 |
| AMD Ryzen 7 3700U | 2.3 | 4.0 | 4 |
| AMD Ryzen 5 3550H | 2.1 | 3.7 | 4 |
| AMD Ryzen 5 3500U | 2.1 | 3.7 | 4 |
| AMD Ryzen 3 3300U | 2.1 | 3.5 | 4 |
Note that the increase in performance from 6 to 8 cores isn't abysmal. So if you really can't afford the higher core count CPUs, don't sweat it you'll do just fine as long as you get a recently released CPU.

What about Xeon Processors and higher core count processors in the future?
If you were thinking of buying an octa core workstation with a Xeon Processor or any higher core count processor, they are no longer relevant for video editing. They have way less frequency and way too many cores to be any useful.

Lastly, I should mention the actual limit is 10 but going from 8 to 10 cores the increase in performance is so minimal it is not worth your money (and actually laptops don't come with 10 cores anyways, it's not worth the manufacturers money either).
Should I choose AMD or Intel?

If you've been looking around CPUs before reading this article or have taken a moment to look at the table above, you'll find what I'm going to say surprising: the fastest CPU for video editing seems to be the AMD Ryzen 9 HS. Yes, despite having the same number of cores and a lower frequency than Intel's most powerful Core i9 monster, it is significantly faster.

Specifications are cool and dandy but they should always be taken as a reference that's why there are benchmark studies, to actually prove whether or not said CPU is actually faster than the other.

My advice would be to compare them using notebookcheck or pugetsystems if they are pretty close in terms of clock frequency and CPU.

A good rule of thumb these days though (because the current Ryzen design is genius), is to go for the AMD CPU if they've got the same specifications.
The past rule of Intel being in the front lead of high clock speeds and AMD being in the lead for the highest number of cores is no longer true. These days it's hard to tell which one is faster than the other.
Why? We'll leave that to the the last section.
Recommended CPUS
Hardcore Video Editing
Any of the three highlighted in green are the best choice, the ones highlighted in blue are your second best choice if you can't afford them.
Light Video Editing
Anything with the U label as long as it's from the 8th generation and above or equal to the Core i5. No Dual Core i3 or any non ryzen shenanigans!
4k Video editing vs 1080p video editing

High end CPUs will make the biggest difference for 4k video editing. So If you are going to be working with 4k video at all, you will not regret them at all.
2. RAM
RAM is a type of memory so you can record data in it. But unlike the regular storage you know of, the data is stored temporarily until your CPU no longer needs it.
Editing basically means your CPU performing calculations (i.e applying effects) on your data (footage). Wait but doesn't it use my storage drive instead? Let's just say RAM sits closer to the CPU making editing magnitude times faster than it would if your CPU were to use the storage drive.
In what way will impact how much RAM I need?

The more complex your videos are , the more data it will hold. If you have a lot of footage, then that means more data. If your codec is more complex, that means even more data.
Hence you will always benefit from RAM until you can fit in all of your data (footage) in it.
8GB: if your average timelines are less than 60 min, 8GB is the bare minimum.
16GB: anything longer, you'd need 16GB or even 32GB.
Wait, that's a lot of RAM! My videos are a few gigs in size! I just need 8GB!

Beware that your video editing software will take around 5-7GB, add any other background programs and Win10 on top of it and you'll be crying for more.
32GB-64GB: actually these won't give you much increase in performance but:
If you use Adobe After Effects, it becomes very helpful. Larger amounts of RAM allows AE to store more previews in RAM rather than your storage drive (this is called cache disk) which will result in smoother playback.

Using a fast storage drive can mitigate some of the performance losses, but no storage drive will be better than RAM (remember the analogy of RAM "sitting next" to your CPU".
Resolution vs RAM
Here are the maximum amounts of RAM recommended depending on your resolution.
| | | | |
| --- | --- | --- | --- |
| Footage Resolution | 1080p | 4K | 6K/8K+ |
| Max RAM capacity | 32GB | 64GB | 64GB-128GB |
*The latter is obviously not available in laptops.
You may need more RAM…RAM…RAM…if….
You run other heavy size programs and video edit simultaneously. This is really a bad idea though unless we are talking about AE and AP otherwise you will slow down to a crawl.

One cool way to avoid this is by setting how much RAM can be leveraged to other non-video editing programs:
It's usually "Go to Edit>Preferences>Memory" but this depending on your OS/Software.
3. GPU

GPU vs CPU: If there's something you got from most sites regarding technical details I am sure it was something along the lines of: "get a beast-like GPU" "invest all of your budget on the latest Titan RTX Super" Yada Yada.

That's actually pretty naive and false. GPUs should be viewed as a nice addition to the hardware you already have.
The thing is …GPUs are getting way too powerful with more and more features in such a short period of time for software developers to even come with a way of fully utilizing all of their power.

This is why, the CPU is still the single most important component for just about any video editing related task. And why you should invest most of your budget on it.
GPU Jargon: Before we get into details, let me go over the basics of GPUs. There are two types: integrated GPUs and dedicated GPUs. Dedicated just means the GPU behaves as a different unit and is located at a different place than the CPU so it's a lot faster than integrated GPUs.

Integrated GPUs
But still integrated GPUs can't be ruled out for video editing. Especially if your work doesn't rely on any GPU-accelerated effect. What are GPU accelerated effects? Here's a link with more details.
Basically if you don't use any of those accelerated effects in your work in other words you rely on simple cuts, transitions and other simple effects. In other words, if you are not really a professional video editor… then you are not gonna get a lot of benefits from a more powerful and dedicated GPU.
Dedicated GPUs(dGPU)

If you are a professional video editor, chances are you're gonna use GPU accelerated effects but they are not only useful for that but:
Smoother Video PlayBack

Higher resolution

Color Grading
And lastly, you remember how more cores means less rendering times? Well GPUs can act as additional cores and help you with any rendering.
Which dGPU should I pick?
You don't necessarily have to go for the most powerful GPU out there even if you are into high-end video editing. Just like the number of CPU cores become less and less beneficial past a certain point, the same thing happens with dGPUs models(not their cores).
Here's a list of the latest GPUs avaiable:


| | | | |
| --- | --- | --- | --- |
| Name | Cores | vRAM | Speed |
| MX150 | 384 | 2GB-4GB | 1532 |
| MX250 | 384 | 2GB-4GB | 1582 |
| 1050 | 640 | 2GB-4GB | 1493 |
| 1050Ti | 768 | 4GB | 1620 |
| 1650 | 1024 | 4GB | 1560 |
| 1060 | 1280 | 6GB | 1670 |
| 1660 Ti | 1536 | 6GB | 1590 |
| 1070 | 2048 | 8GB | 1645 |
| 1070Ti | | | |
| 1080 | 2560 | 8GB | 1733 |
| 1080Ti | 3584 | 11GB | 1600 |
| 2060 | 1,920 | 6GB | 1680MHz |
| 2060 Super | 2,176 | 8GB | 1650 MHz |
| 2070 | 2304 | 8GB | 1620 MHz |
| 2070 Super | 2560 | 8GB | 1770 |
| 2080 | 2944 | 8GB | 1710 |
| 2080 Super | 3072 | 8GB | 1815 MHz |
| 2080 Ti | 4352 | 11GB | 1650 |
I made it easy for you and labeled them in colors:
Simple video editing:

cuts, transitions and few accelerated effects may only need an entry level card such as those colored in sky blue.

If you do some heavy editing and you aren't nitty picky with performance: you will still be fine with any of the ones leveled in orange.

If you do some heavy video editing and would like to squeeze out every bit of computer power with your budget, then go for the ones labeled in green and if cash isn't a problem for the red ones:

Note that a 1060 or a 1070GTX may be all you need. There's not a significant increase in performance with higher GPUs, this is more true for AE where you'll get the best performance/money ratio with a 1060GTX.

Higher end GPUs such as the 1070 and 1080 are more useful

if you do color correction or specific correction works like warping.Otherwise, the difference between a 1050ti and a 1080ti isn't as huge as you may think, mostly because the cpu does the big part.

Although both the ones and green (GTX series) and the one in orange(RTX) will give you roughly the same performance

for video editing

, there are a few additions the newer RTX cards have.

If you decide to go for the most expensive/powerful card: 2080Ti RTX. Note that

the 2070 will do great too and with the money saved you could do other things that would increase your workflow much more. (Check the Storage Section)

Da Vinci Resolve is the most hardware demanding video editing software out there and you'll definitely benefit from the most powerful GPU you can afford, unlike AE and AP, DaVinci is highly dependent on GPU power for playback and rendering.
RTX Series and Video Editing
A lot of people today opt to go for the GTX series and avoid the RTX cards altogether.

The reason is that although they may have some cool stuff now like RT and Tensor Cores , these are not used by very many software packages right now including Adobe.


If Adobe ever starts using them it could mean large performance gains. It's been quite some time since their release and it still hasn't happened so I wouldn't expect it to happen anytime soon.
It is up to you if you want to try to look forward that far ahead.
On the other hand, the RTX series do have some newer encode/decode support which is not present in the 1080 and GTX series: IE HECV B frame support. What in the world is that? Well that's a more efficient and cooler method for video compression (videos are much more compressed using this algorithm). Here's a quick synopsis.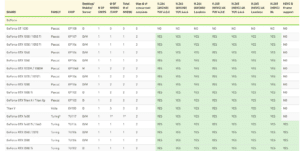 Optical Flow for Frame Interporlation

Also, the RTX use the optical flow method instead of the old fashioned way of doing frame interpolation. This means RTX cards are better at doing motion vectors between frames if you're interested in frame interpolation.


Lastly, if you're also working with 3D rendering packages such as redshift/octane then there will be a significant boost if you get an RTX card.
H264/HEVC Encoding and dGPUs
Lastly, if you're doing any H264/HEVC encoding, graphics card with the turing architecture (this includes all of the RTX Series and the 1650 GTX) you'll get roughly twice the performance that of Pascal cards(most of the 10X0 series).
What about Workstation Cards? Like Quadro/FirePro? Any Benefits?
There aren't many workstation laptops that have a wide variety of workstation cards as there are on desktops. Even if they were, benchmark studies always favor non-workstation cards.

After all is said and done, Consumer Graphics Cards always outperform Workstation Cards. Workstation Cards may be more beneficial if you need the best support for 10-bit displays for Adobe Premiere. After Effects will only support 10-bit displays if you use a video monitoring card.
Another instance where a Workstation Card may be more useful is if you need more vRAM than what GeForce/Vega Cards offer which some of you may need to work with 8k resolution videos.
vRAM
This GPU spec is actually more important than having the latest GPU jammed into your laptop.

The amount of vRAM will dictate the complexity, length and resolution you can hold in a timeline.

vRAM essentially acts like RAM, that means the more data you want to play around with, the more vRAM you're gonna need. Longer videos, higher resolution, tons of effects and audios just means more data.

Puget systems did a nice benchmark study a few years back which at the end outlined how much vRAM you should aim for based on the resolution you wanna work on. Note that not fulfilling the requirement belows doesn't mean you won't be able to edit at those resolutions, it just means it's gonna be a bit more slower and troublesome.
| | | | | |
| --- | --- | --- | --- | --- |
| Footage Resolution* | 1080p | 4K | 6K | 8K+ |
| Recommended VRAM | 4GB | 6GB | 8GB | 10GB+ |
*This will vary from software to software but it's a good estimate.
Multiple GPUs
Multiple GPUs aren't available on laptops so it isn't something you have to worry about. If you plan on building a desktop workstation multiple GPUs isn't really the way to go either, a single high-end GPU will outperform several low-end GPUs stacked together. This is true for both Adobe Premiere & After Effects.
This story is entirely different if you plan on working with Da Vinci Resolve, it's the only software that can take full advantage of multiple GPUs(up to 8 but peaking around 3-4). But since you're limited to one in laptops, it isn't something we should spend time discussing.

NVIDIA vs AMD
This discussion seems irrelevant in the laptop market because it is completely dominated by NVIDIA and if you pair their models side by side, NVIDIA actually performs better in almost every instance.
However, AMD is not something you can entirely ignore in the desktop market(perhaps soon in the laptop market too) if you're on a tight budget.
AMD's GPUs (sold by themselves) actually have a better performance/money ratio , that means, they are cheaper than NVIDIA and will have about the same performance. This is only true in the mid-range GPU market though because AMD hasn't been able to produce powerful monsters like the RTX 2080 and RTX 2070.
In laptop ville, you will only find about 4-5 AMD GPUs and most of the time on a MacBook.
| | |
| --- | --- |
| AMD Radeon Pro 560 | NVIDA Equiv |
| Radeon Pro 560X | 960MX+ |
| AMD Radeon Pro 455 | 960MX |
| Amd Radeon Pro 5500M | GTX 1060 |
| Radeon Pro Vega 16 | 1050Ti |
| Radeon Pro Vega 20 | 1050Ti |
Before we move on, here are some technical conclusions some of you may find interesting regarding mid range vs high end GPUs.
How powerful your GPU is

will not improve the time it takes to export

at the same resolution.

We can conclude then that as long as you have one of the high end dedicated cards:1060GTX, 1070GTX, 1080GTX,AMD Vega, 2070, 2080GTX, you'll get the same performance when exporting.

Higher end GPUs(RTX series, 1070,1080,AMD 5500) are much more useful if you are exporting high

to low resolution

and will also generate faster Previous at 1080p than its lower end counterparts (1050,1060, AMD Vega 16/20).

Generating Previews at 1080p is faster with high end GPUs but there's no increase in performance when generating previews at higher resolutions(4k).

OpenCL(AMD) or CUDA(NVIDIA) will give you the same performance when

exporting

at 1080p resolution (same format).
So which cards should we go for?
Just follow the table above. It still holds true even with all the info presented right after.
4. Storage
You can't really settle for the largest storage drive you can find, it's not really useful to have tons of storage if the storage drive you chose is slow like a turtle.
Types

Essentially storage drives can be divided in two types(though I bet there will only be one type by the end of 2020): Solid State Drives and Hard Disk Drives (SSD vs HDD).
The latter has more capacity but the former is up to 17x faster and you already know video editing is pretty hardware intensive and you should always opt for speed!
Capacity
There's not really a recommended size. Nearly all mid range to high end laptops have enough storage for anyone to start throwing in some serious video editing.

Just make sure you have at least 256GB and ideally 1TB.

Speed
But it's really more about storage speed because most laptops offer capacities in the 1TB range.

Why is speed so important, didn't you just convince me to get 32GB? Shouldn't that be enough?
It would, if we could always fit all of our footage and timeline into RAM memory.
However…this won't always be the case so when you run out of RAM(yes even if you have 128GB of RAM) your computer will resort to your storage drive as extra "RAM"(this is called "cached memory").
And because storage drives, no matter how fast they are, are always much slower than RAM. You will start to lag.
The solution? There's no solution but you can mitigate this effect by opting for the fastest storage drive you can afford.
What is Scratch Disk?
This is what I just talked about with another fancy name.

More broadly speaking(outside of video editing), this is what happens when your computer starts using the storage device as "extra RAM", the storage device turns into "scratch disk".
HDD vs SSD
This is why HDDs should be avoided like the plague. These days they are way too slow even for basic computer tasks.
SSDs are really your only choice. Even if they don't have 1TB (like most HDDs do), just opt for an SSD.

If you opt for an SSD, then rendering, generating previews,loading source files, outputting and exporting videos will also be much faster.
Other benefits of SSDs include booting up your system in 8 seconds flat, loading video editing software in a flash,etc.
By the way, when an HDD is used as a " scratch disk" doesn't just mean more lag and more waiting. You might also get jumpy playback and dropped frames!
Recommended Storage Device Set Up
Whatever configuration you settle with, you must include an SSD. More specifically, the three different types of storages you'll find among laptops are three.
HDDs: They usually have 1TB and really get the price down on laptops.
M.2/SATA III SSDs: Found in nearly every laptop made since 2019. X5 faster than HDDs.
PCIe NVMe SSDs: the fastest the laptop market has to offer for now and found in the 99th percentile of laptops. They are around x5 faster than M.2/Sata III SSDs and x17 faster than HDDs.
The performance difference with M.2/SATA III SSDs for video editing is minimal. They're more useful if you transfer a lot of footage back and forth from multiple devices.
Pudget systems has put up a cool chart with the recommended set up you should aim for.
But because laptops allow you to have 2 storage drives.
So you should try to aim for either:
256GB SSD/512GB SSD + 1TB HDD
This two drive configuration will let you take advantage of the huge data capacities of HDDs + the speeds of SSDs.
The SSD should contain your OS, Adobe Premiere & Media Cache while the HDD can take your source files/final exported renders plus any other data that doesn't come into play when video editing.
Or even better:
1TB SSD and a 256-1TB SSD PCIe NVMe
This is the best combo out there. Using two separate SSDs: one for windows 10 and another one for video editing will give you the maximum performance. If they're both PCIe NVMe, even better, but that may be too much to ask if you are on a budget.
5. Display
There's not much you can do when choosing a display for a laptop, it's not like you can configure yours to have the size resolution you want.
If having a great colorspace in a laptop is important to you there are just a handful out there that have greater color gamut but they may not come up with all cool and hardcore hardware we just went over.
The Dell XPS 15 & MacBook Pro & Razer Blade are just one of the few exceptions. Great Display + beast like hardware.
IPS vs TN Displays

You need to know what these two term mean if you're going for budget/low end laptops for simple video editing.
The difference between these two are the viewing angles and the color accuracy.
IPS panels have better viewing angles and greater color accuracy. Most high end laptops (above 600 bucks) have an IPS panel so it's not something to look out for.
However if you are buying a laptop to throw in some simple cuts, transitions and few effects here and there then you may find laptops below 600 bucks with TN displays.
And they should be avoided.
Matte vs Glossy
Glossy displays will give you more vibrant & accurate colors. Matte displays on the other hand may not be as pretty but they will protect your eyes from glare and too much light exposure(if you work with the windows open or the sun right next to your face).
Resolution
Most laptops with a dedicated graphics card will have 1080p so it's not like you have to watch out for.
What about 4k resolution displays?
They're useful to playback 4k footage and videos.Not as useful as monitors are for 4k video editing because the software you use will have to scale down your video for previews and to show you the timeline and tools,etc.

If you are really into 4k video editing on a laptop, consider buying an external monitor as well.
6. Design
Even if you have a high budget, you can't be choosing laptops based on their specs. Unlike desktops, laptops are known not to hit those speeds and graphic performance they advertised.

The reason? Design…

Design plays a huge role in:
Durability:

Laptops are supposed to last 5 years at the most. Choose the wrong laptop and you might only get one year out of it.

Performance:

Most laptops, especially those from Intel, are known not to hit their advertised clock speeds and fps. Performance is heavily impaired by temperatures.
Remember how I said the 4800HS Ryzen 9 processor outperforms the latest Core i9 10th generation Intel Processor:

Here's the reason:
The Intel Core i9 10th generation processor needs to use a 90W TDP to start hitting those clock speeds AND have plenty of ventilation so that the processor doesn't melt when trying to hit those speeds.

This may only be possible in some gaming laptops with a thick design and a "Turbo" cooling mode, perhaps with two fans inside.

The 4900HS AMD Ryzen 9 on the other hand only needs around 66W and due to its size doesn't have much trouble with ventilation…hence outperforming the wildest beast from Intel.
Taking the fact that AMD new Ryzen series is much more efficient with heavy workloads, laptop design also plays a huge role for them to hit their clock speeds (it's just easier with an AMD processor).
Long story short, despite having the same configurations: CPUs and GPUs, laptops vary in cooling and other hardware not advertised on the description. |
Specs should be taken as a reference.

What can I do? How can I make sure design is not a problem?


This issue is only present in laptops with the latest/most powerful CPUs, usually core i7 and core i9 and with GPUs like 1050Ti and above.
So when you're spending a lot of money on one of these monsters:
Obviously, read reviews or check unbiased websites. LaptopMag.com is the best one.

Check amazon reviews if there's anything to be mentioned about high temperatures : run.

Opt for thicker and heavier laptops: these have more space and a cooling system.
Not having a well designed laptop doesn't mean yours will slow down to a crawl despite having the latest 10th Processor jammed into it, it just means it won't hit those clock speeds but still stay relatively close. So don't sweat it too much.
Comments?
If you have any questions or suggestions, let us know in the comments below.
Author Profile
I am physicist and electrical engineer. My knowledge in computer software and hardware stems for my years spent doing research in optics and photonics devices and running simulations through various programming languages. My goal was to work for the quantum computing research team at IBM but Im now working with Astrophysical Simulations through Python. Most of the science related posts are written by me, the rest have different authors but I edited the final versions to fit the site's format.