The 5 Best Laptops for Adobe Premiere Pro 2023 (November)
Truth is almost all laptops even those selling for 350 bucks can run Adobe Premiere.
The problem is…
Not all of them will let you apply effects and render previews fast enough.
Now…
If you don't mind waiting several seconds for some effects to apply and waiting 30 min to render a 5 min FHD clip, you can go for 350 dollar laptops such as the one below:

**You can upgrade RAM to 16GB to make that laptop fast for simple FHD video editing with Adobe Premiere.
As far as this post …
We'll only going to go over the top best laptops for adobe premiere which, yes, are going to be at least x2 as expensive but as the saying goes: they can all…
"Slice through video rendering like a warm knife on soft butter"
In other words, applying effects will be nearly instantaenous and final video rendering times will be cut down from hours to minutes.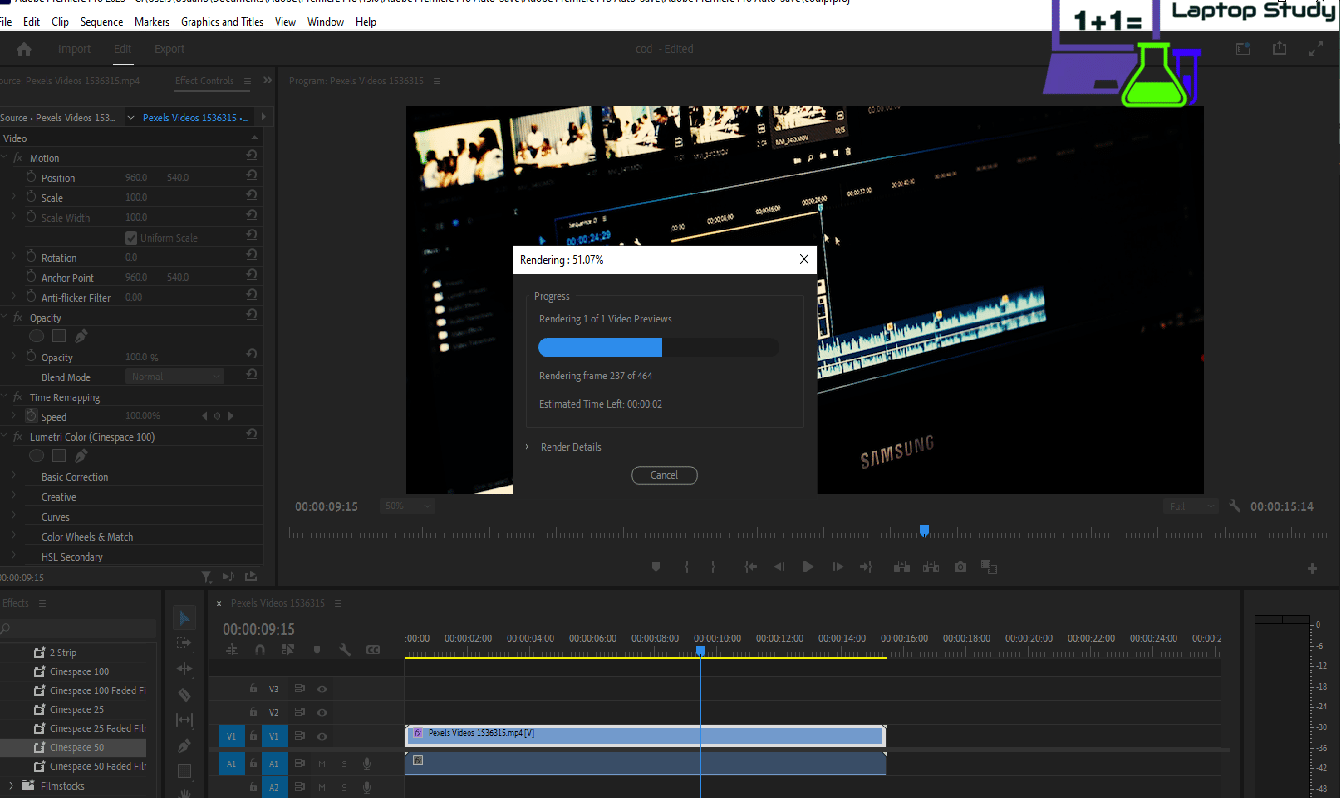 What kind of laptop can do that?
To cut straight to the point…
Basically any laptop with a MODERN dedicated graphics card.
They're not that expensive actually…what's going to make them more expensive is having a dedicated graphics WHILE AT THE SAME TIME being portable.
I know some people reading this are looking for both power & portability as they probably have to be on the move quite a lot (perhaps to show clients progress)
But…
We'll include both: heavy powerful laptops (cheap) and light powerful laptops (expensive).
Best Laptop Specs For Adobe Premiere Pro
Before we go over those laptops, let me quickly go over the best laptop specs for adobe premiere pro so you can find similar laptops on your own or just because you want to understand why I'm listing the following 5 laptops for Adobe Premiere Pro.
If you head over to Adobe Premiere's Official Site and check the hardware recommendations, they're basically:
At least 7th gen Intel CPU

8 GB of RAM (16 GB recommended)

2-4GB vRAM dedicated graphics
Those recommendations are for desktops but we'll translate it to laptops. The problem is also that they're pretty vague and kind of outdated (for laptops), there's also no info on how to maximize performance/money ratio.
CPU
CPU clock speed is the biggest factor for super fast previews and effects.
CPUs #Cores make rendering and exporting faster much much faster.While most people would say 'get as many cores', you get significant performance gains up to SIX CORES. There's diminishing returns after 8. So I would say 8 cores is the limit (most cpus found on laptops with dGPUs have ~6).
TL;DR
Core i7 11800H

>

Core i7 11375H=AMD Ryzen 7 5800H=Core i5 12500H

>

AMD Ryzen 7 4800H

>

AMD Ryzen 5 5600H

>

Core i5 11300H

>

AMD Ryzen 5 4600H> Core i5 9300H>

AMD Ryzen 5 3550H = Core i5 8300H
RAM
Now although the following rules are true:


8GB RAM for FHD footage < 60 min.
16GB for FHD or 4k footage >> 60min.

Just get 16GB, RAM is cheap.
32-64GB = useless unless you also use Adobe After Effects.

GPU
Simple cuts/transitions are fast whether you have a dedicated graphics card or not.

For fast effects and faster previews, pick the GPU with the highest vRAM you can afford.

Best performance/money ratio:

3060RTX, 1660Ti & 2060RTX (6GB vRAM)


Minimum:

1650GTX , 3050Ti (4GB vRAM)




Highest performance:

3070RTX, 3080RTX, 3070Ti, 3080RTX (8GBvRAM)

Generation or #CUDA cores speeds up rendering too but vRAM plays a bigger role in the overall workflow.

Storage
All laptops here have SSDs and you should only buy laptops or build desktops with SSDs. They'll give you faster previews , make rendering and exporting a bit faster too.

*Having two SSDs (one for the OS, the other for Premiere + Files) will boost rendering and preview speeds slighty (~5%).



Display
You don't need a 4k display to edit 4k videos, it is good for playback but that's it. More details in the last section.

The last section of this post covers all the hardware nuances with benchmarks and screenshots mostly by third party benchmark studies (Pudget Systems). Be sure to go through it IF you have any questions or doubts about this selection.
Top 5 Best Laptops for Adobe Premiere Pro
We'll start with the most powerful laptop for Adobe Premiere then we'll move to cheaper options that are still useful for 95% of video editors using Adobe Premiere. We'll wrap it up with the laptop that has the best display for video editing and consequently the most expensive of the list.
Note that all of these laptops are readily available in the United States. Fore those outside the US, try to find these same models or the alternatives. Read the guide at the end as a last resort to find more options
---
The Best Laptop For Adobe Premiere Pro 2023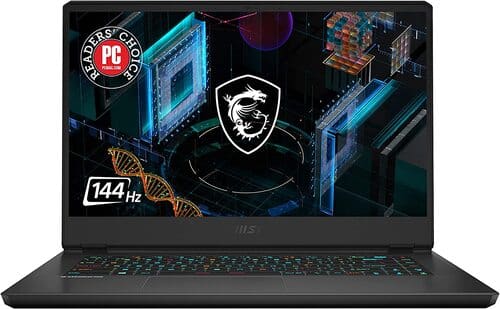 Core i7-11800H 4.6 GHz (8 Cores)
16GB RAM DDR4
NVIDIA GeForce RTX 3080 8GB vRAM
512GB PCIe NVMe
15" Full HD IPS 144Hz
5.25 lb
4 hours

GPU: 3080RTX (85W) – 8GB vRAM
Although workstation laptops (with the latest RTX Quadro A5000 which have 16GB vRAM) may be the best laptop for Adobe Premiere and any kind of video editing software, the software does not seem to benefit much , IF ANYTHING, when you have vRAM beyond 8GB vRAM for 1080p video editing.
In fact, even 8GB vRAM is kind of overkill for most people UNLESS you edit video on 4k-6k AND render edits with a lot GPU-accelerated effects. .
Notice how the description says (105W), that's a very important spec when it comes to price because lower wattage GPUs are much much cheaper than their full wattage counterparts and since as video editors we're just after vRAM….we can save ourselves a LOT of money with the lower wattage high tier GPUs.
Of course, you'll get better performance when rendering and exporting with the full wattage version but gains would be minimal.

CPU: Core i7 11800H
The CPU is way way more important than the GPU. A mid-range GPU like the 3060RTX (we'll go over that one next) paired up with a better CPU than this model we'll perform far better than a laptop with an 8GB vRAM dGPU and a lower-clock CPU.
I mention and benchmark this in the last section but basically Adobe Premiere makes no use of more than 8 cores for rendering previews and exporting and the Core i7 has 8 Cores ( 16 threads) so you're getting maximum CPU power here.
MSI GP66 Leopard

PROS

CONS

High-tier GPU

8GB vRAM for 4k & 6k video editing

Low priced 3080RTX Laptop

Low wattage (cool temperatures)

8 Core CPU

Easy to upgrade RAM & Storage

Heavy

Expensive

Low TGP

Bulky

Low Battery
---
Best Lenovo Laptop For Adobe Premiere Pro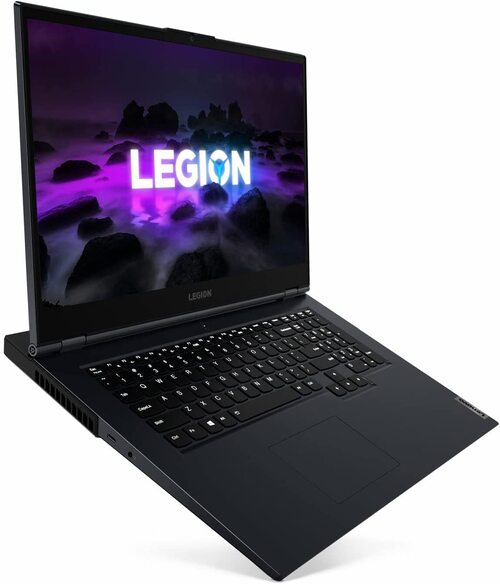 AMD Ryzen 7 5800H
16GB DDR4
NVIDIA RTX 2060
512GB PCIe NVMe
15" full HD 144Hz IPS
5.5 lbs
4 hours

I would say this is the best laptop for Adobe Premiere for about 95% of the people who came across this post.
GPU: 3060RTX 130W
Whether you are a student or professional there's no way you'll need more graphics performance than the 3060RTX. Rendering and previews usually take 20 min for an effect on a 15 min clip, 5 min for 3 min clip and 2 min for a 1 min clip, it is pretty much the same for the 3080RTX GPU with difference in the seconds.
You can either pick the 105W 3060RTX or the full wattage 130W 3060RTX, just try to avoid the low wattage 85W 3060RTX. The high wattage 3060RTX will make a significant difference over the low wattage ones (this isn't the case with the high tier 3070 and 3080RTX who even at low wattages are powerful).
CPU: Core i7 11800H or AMD Ryzen 7 5800H
This model ALSO comes with a Core i7 11800H or in this AMD Ryzen 7 5800H (both are equivalent in multicore and single clock speed performance for video editing) which is way more important than having a full wattage 3060RTX or a 3080RTX. Now, it may be a good idea for those on a budget to go with the lower wattage 3060RTX + Core i7/Ryzen 7 you will get high performance but unfortunately you won't find this CPU with low TGP 3060RTX. In laptops, at least in 2022, these two come hand in hand.
RAM & Storage:
Because this is a 17" laptop RAM & Storage upgrade is easy. You can choose to upgrade RAM up to 32GB and even 64GB. Just because it is a 17 inch laptop does not mean you can have more than 2 storage drives in it, this and most laptops under 3000 bucks (this one is only 1300 bucks ) only support x2 SSD upgrades.
Lenovo Legion 5 Pro

PROS

CONS

16-17 inch display

Best Mid-range GPU for 4k video editing

Highest TGP for a 3060RTX 130W

Great Cooling System

64GB RAM upgradeable

Low Battery

Not easy to fit in backpack

Not ideal for 6k video editing

Expensive
---
Best Cheap Laptop for Adobe Premiere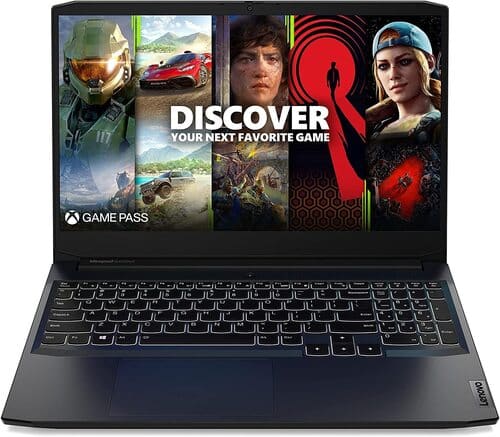 AMD Ryzen 5 5600H (6 Cores )
8GB RAM
RTX 3050Ti (4GB vRAM)
512GB PCIe SSD
15" FHD 120Hz IPS
5.07lb
4 hours

This is the most budget friendly laptop for Adobe Premiere Pro 2023 and the bare bone MINIMUM GPU power you need.
GPU: 3050Ti ( 4GB vRAM )
I know a lot of you are just getting started with Adobe Premiere and it is likely you're not going to touch 4k and higher resolution videos. It'll be mostly limited to FHD or 2k resolution footage of up to 1-2 hours. Now obviously, a better CPU + GPU will work wonders for that but if you are on a budget you will still have a decent workflow with 4GB vRAM GPU just be sure NOT to go below 4GB vRAM, it is literally the bare bone minimum otherwise rendering those GPU accelerated effects will take more than an hour.
On the other hand, if you just want to add titles , simple transitions and cuts or mix clips perhaps for your blog or youtube channel, then you can even get away with a laptop that's about 500 bucks (with no dedicated GPU) but I would still advice you grab this one instead to speed up performance. Another good option would be to go for 1650GTX laptops which may be cheaper but also have 4GB vRAM.
CPU: Core i5 10300H or AMD Ryzen 5 5600H
It would be nice if you could get a core i7 or a ryzen 7 with a 4GB vRAM GPU as video playback and rendering will be significantly faster but models with those CPUs are 200-300 more expensive for which you might as well grab a model with a 3060RTX. The Core i5 10300H or Ryzen 5 5600H you'll find on several 4GB vRAM laptops are not slow by any means, they still go past 4GHz (the same amount of clock speed I used in my benchmarks below) and have 4-6 cores. For obvious reasons, I would advice you to pick the Ryzen 5 models (it has two more cores) or the Core i5 11400H which has 6 cores as well.
RAM+ Storage: Upgradeable
RAM & Storage out of the box is plenty for those getting started with Adobe Premiere but as your timelines get bigger you will need 16GB if you want a faster workflow. No biggie, both RAM & Storage are SO super easy to upgrade. In fact, I have done it myself on this very same model and you can check my tutorials found on the home page or the menu bar above. It supports up to 32GB which can be upgraded in dual-channel mode (for a slight CPU performance gain) and storage can also be upgraded in two ways. You don't have to replace the onboard 512GB, you can even add an additional 1TB.
Lenovo Ideapad Gaming 3

PROS

CONS

Cheapest Laptop for 1080p editing

Easy to upgrade storage & RAM

Cheapest 3050Ti Laptop

Best Multi-Core CPU (6) in this price range

Relatively Lightweight & Thin

Not as many ports

Weak Sound System

Very Low Battery
---
Best Windows Laptop For Adobe Premiere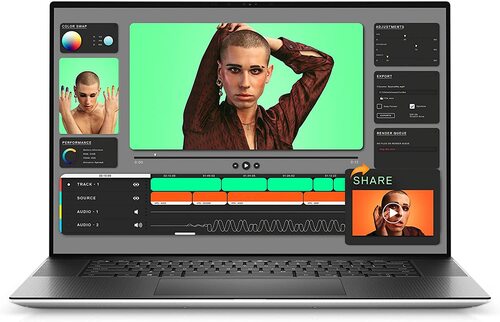 Intel Core i9-11900H (8 cores / 4.9GHz)
32GB RAM DDR4
RTX 3060RTX 6GB vRAM (105W)
1TB SSD PCIe NVMe
15.6" 4k UHD Infinity Edge TouchScreen IPS
5.53lb
4 hours

This is a massive upgrade to both of the laptops we went over.
This is the most expensive laptop on the list despite the mid-tier 3060RTX but rightly so, it's actually faster than the first laptop and way more suitable for video editing at 1080p and 2k resolutions with Adobe Premiere for two reasons:
Display: 17" – Infinity Edge + 4k + 100% sRGB
You probably could not ask more from a laptop display, there's just no better this play than this one. Even the MacBook Pro isn't as good as the resolution here is x2 higher (UHD is 4k pixels) . Plus there's also NO bezels which means although this is a 17 inch laptop, it can fit a 17.5 inch display.
What's more is that it covers 100% of the sRGB and aRGB color space. The only real problem witih the Dell XPS 15 display that it needs for serious color configuration before you can take full advantage of the color space covered. That doesn't need to be done with all models, if you do end up witih a model that does head over to the dell forums and you'll find a few guides.
CPU: Core i9-11900H
Both this core i9 and the core i7 you've seen in most of the models we went over have 8 cores however the core i9 is expensive for one reason: it has better multi-core performance, that is every core can hit higher clock speeds (~0.3) although 300Mhz may not sound a lot in paper it makes a HUGE difference ESPECIALLY when MOST cores have that extra clock speed. That means faster video playback , faster rendering, you know the story.
GPU + RAM: 3060RTX (6GB vRAM) + 32GB RAM
This laptop is extremely expensive and you would expect a 3070 or a 3080Ti however there are no Dell XPS models with a GPU higher than the 3060RTX. That's a bad thing if you edit videos mosty at FHD or 2k resolutions, it's going to be just as fast as 3070 and 3080Ti laptops. If you do throw some video editing at 4k, it's not going to be as fast as having high-tier GPUs but it's going to be pretty close because the CPU will make up for the lack of power of the 3060RTX.
If you're wondering why there are no models with a 3070 or 3080Ti, it's because this laptop's main attraction is the sleek and portable design. Despite being 17 inch it weights just as much as your average 15 inch laptop.
Because it's relatively thin and sleek, upgrading it is a pain and that's exactly why it comes with RAM & Storage all maxed out (32GB & 1TB).
Note: the non-renewed models are way too expensive. I would not invest anywhere near this much money for video editing. The renewed models can be as low as 1500 bucks.
DELL XPS 17 9710

PROS

CONS

Best Display for 4k video editing

Biggest screen (17 inch + no bezels ~ 18 inch)

Thin design

Relatively Lightweight

Mid Range GPU

Most powerful CPU for rendering

Best Color Gamut Display

Lacks ports

Weak Sound System

Extremely Low Battery

Extremely expensive
---
Best Portable Laptop For Adobe Premiere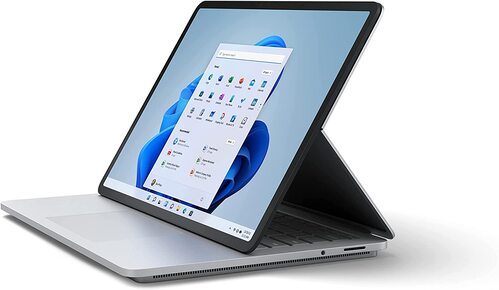 Core i7 11700H (4.9GHz 8 Cores)
16GB-32GB RAM
NVIDIA RTX 3050Ti 4GB vRAM

512GB-2TB NVMe PCIe SSD
14.4" Pixel Sense (2400 x 1600)
5lbs
6 hours

We'll wrap it up for a model that's PERFECT for students with Adobe Premiere constantly on the move.
GPU & CPU: 3050Ti (4GB vRAM) & Core i7 11700HK
By no means is this laptop weak, it's super portable but still thick enough to fit in a 4GB vRAM and even an 8 core recent Core i7 CPU. Obviously, that makes it expensive but that's because that's the highest configuration avialable and should be enough even for professional video editing at FHD and 2K resolution.
If you are a student, then you can definitely notch down the specs or grab one of the previous models that have an older CPU and GPU (older models still have a 4GB vRAM & 6 cores though.
Display: 2400 x 1600 res + 100% sRGB
Another huge plus of this laptop is the display, it's not 4k and it's not FHD it's somewhere in between I would say 2k the same resolution most macbook pros have. Now that doesn't make it ideal to edit 4k videos, it will edit 4k videos just as fine as FHD displays however, the higher resolution will let you accomodate more interface tools a bigger timeline than your average 15" laptop yes despite the display size being only 14.4", resolution plays a bigger role towards a bigger workspace area.
Just like the Dell, it also has one of the widest color space : 100% of the sRGB space and 80% of the aRGB space. Do note that the aRGB colorspace is much more difficult to cover and 80% is still an impressive number far higher than your average laptop (~70%), you'll be mostly be using the sRGB anyways.
RAM + Storage: No Upgrades
This machine CANNOT be storage or RAM upgraded so be sure to grab as much storage and as much RAM you're going to need BEFORE purchase. Storage can be worked out (you can buy an external storage) but RAM does not work that way so get as much as you're going to need, If you are not sure how much RAM you'll need be sure to check the RAM section below.
Surface Studio Laptop

PROS

CONS

Extremely Portable

Touchscreen display

High resolution display

8 Core CPU

High storage & RAM out of the box


Decent battery

8 Core CPU for fast rendering

Very Expensive

Not RAM & Storage Upgradeable

Very Low Battery

Not ideal for 4k editing
---
Choosing The Best Laptop For Adobe Premiere CC
Just to make sure we're all in the same page ( I know newbies might be reading this), let's define the following terms: encoding, rendering, transcoding and exporting.
exporting = encoding + rendering, your final product
render = although this can mean the final 'process' that outputs the final product. In this section, it'll mean to "render" the effect or change so you can get a preview.
encode= apply a format/codec AVI MP4
transcode= change formats
1. CPU (Processor)
The CPU is going to be the #1 most important factor for ALL instances of video editing: encoding, effects, rendering,etc. Please have a look at the figure below and just look how taxxing rendering a preview of a color correction effect on the CPU is (~100%).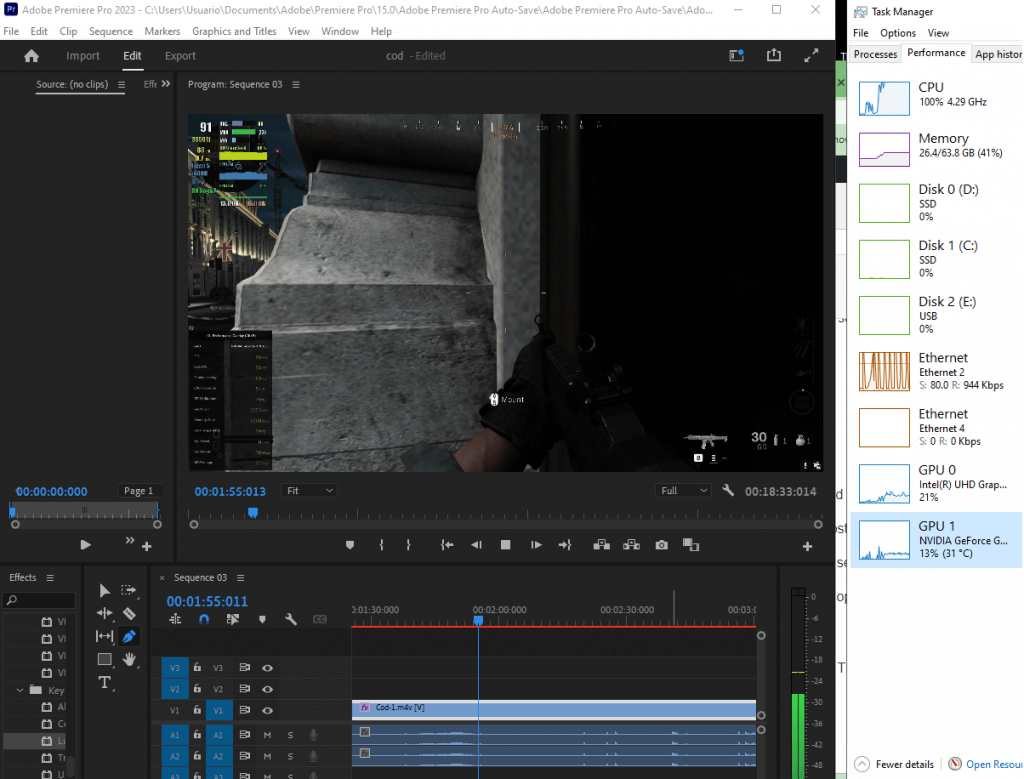 Now there are TWO specs to consider when checking out CPUs whether it's for a laptop or a desktop: clock frequency (speed) and # cores.
Clock Speed (Frequency) vs Rendering & Applying Effects
Applying effects is not so taxxing on the CPU (it is instantaenous there are no loading bars), it's mostly GPU dependent we'll talk about that.
The main issue is rendering previews or small clips or even playback after an effect has been applied as in the figure above.
It is EXTREMELY FREQUENCY dependent as shown below.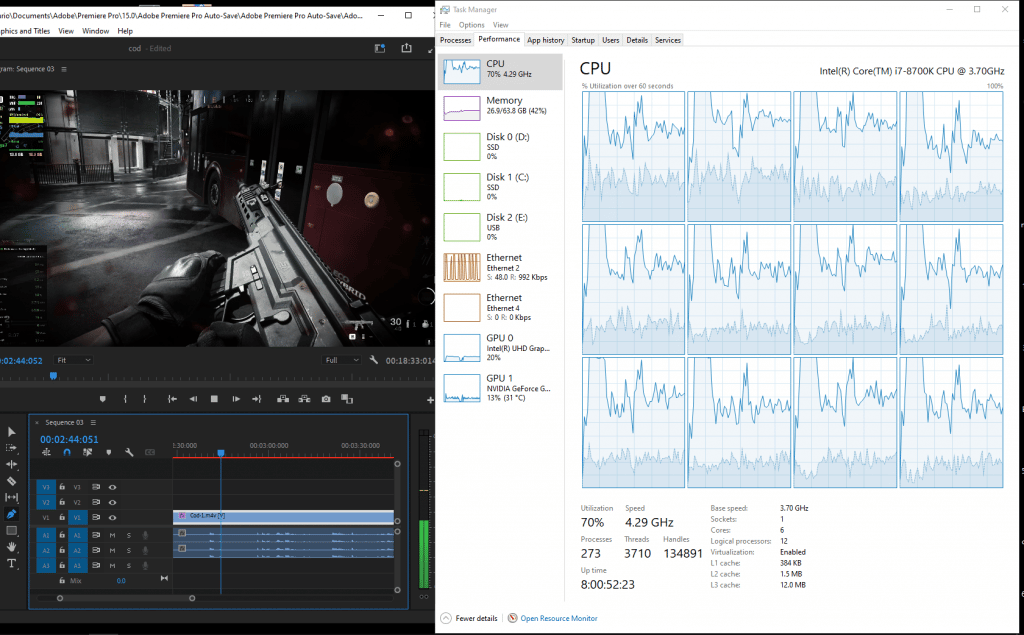 CPU utilization is on average 70% but trust me it goes up to 100%. This is on a desktop CPU with +4GHz of clock speed. Even there were times when the playback had a few jerky framerates. That effect was applied on a 15 min clip, it's going to be less taxing on shorter clips.
Thus I would say the bare minimum would be to have a 4GHz CPU
# Cores vs Rendering
Likewise the more cores you have here the better, as you can see every core is being used when rendering in the figure. That's a 6 cores CPU (12 threads) but you will see benefits up to 8 cores.
Rendering makes good use of multicore CPUs. 6-8 is ideal
Exporting
Likewise since exporting is basically a 'rendering-like' operation, it is going to be multicore dependent as well. You can double check this by heading over to Pudget systems on Adobe Premiere.
Adobe Premiere uses up to 8 cores for 1080p and 10 cores for 4k
It is easy to fall into the trap that Adobe premiere has no limit on the #cores it can use for rendering and exporting. In fact, if you contact customer support you'll be this. It is partly true but there are significanty diminishing returns after 8…making 10 12 14 cores pretty much useless.
Note: these rules apply to every instance of Adobe Premiere but there are some source footages which are more dependent on single clock frequency. Those formats are RARE so it is likely you don't have to worry about it.
2. GPU (Graphics Card)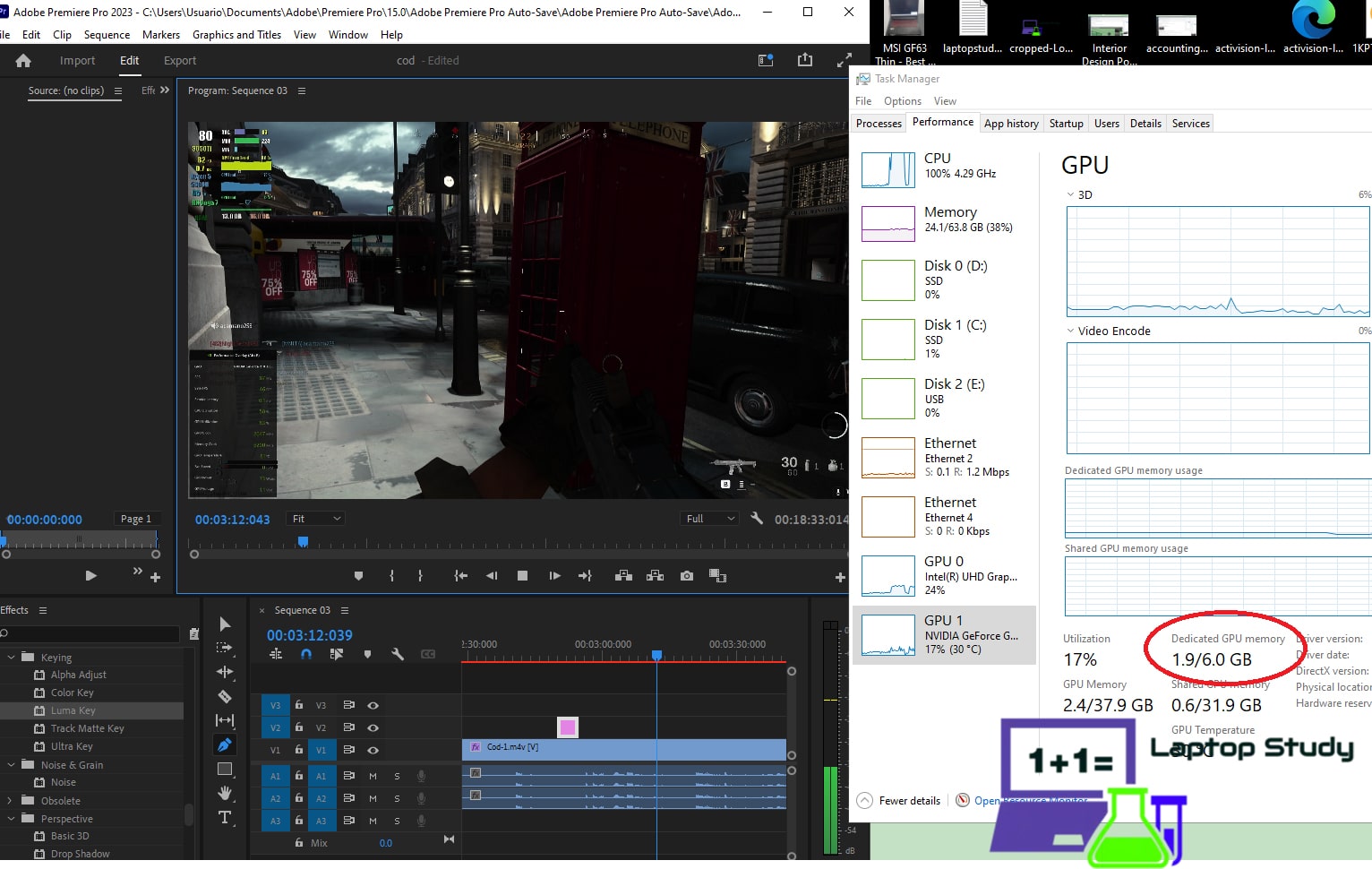 Applying Effects
Now I've said that applying effects was nearly instantaneous in that 15 min video clip, there was no loading bars.
It's always going to be instantaneous as long as your "VIDEO" fits in video memory (vRAM). Look at the red circle and how much that 15 min video clip is taking 2GB (it's actually a 20 min clip). Thus the more footage you have, the more video RAM you're going to need if you want effects to be applied instantaneously.
Also effects aren't very taxing to the GPU ( Ive only seen spikes up to 15% in the graph above), it's more about 'video RAM" .
Thus if you find two graphics card with the same amount of vRAM pick the cheapest one
Rendering
Rendering previews and real time rendering is mostly done by the CPU but the GPU can help too. It's not going to be a dramatic improvement but it's going to be more or less significant as you can see in the first figure of this section (15% GPU power used while rendering in real time).
If you want to maximize rendering and exporting performance, then…
You want to grab the dedicated GPU with the highest amount of "CUDA Cores" you can afford
That's because these "GPU Cores" act as additional CPU cores when rendering. However, just like #Cores on CPU, there's a limit to this making most high-end GPUs perform just as well as mid-range GPUs. We'll get to specifics in the conclusion section.
GPU Accelerated Effects
There's a whole list of so called "GPU accelerated effects" which are listed by Adobe on their website here. If you happen to use any or several of those effects on your videos, then there's going to be an even major perfomance gain when rendering in real time or generating previews with these effects.
High Resolution Videos
A dedicated GPU becomes a MUST if you want to edit high resolution videos (4k, 8k) and use an external monitor (laptops usually don't have that much resolution).
Additional conclusions: GPU (Graphics Cards)
The following have been benchmarked by Pudget Systems:
Exporting or rendering from one resolution (1080p) to the same resolution (1080p), you don't need to grab the latest most powerful GPU. Any of the following :

2060RTX, 1660Ti, 3060RTX

will do.
The high tier GPUs (

3070RTX, 3080RTX, 2080Ti

, etc) are slightly faster at generating previous at 1080p.

Although Previews at 1080p are faster with high tier GPUs

.

Mid-tier

are just as good for previous at (4k).
Lastly,

high tier GPUs

are faster when exporting from high resolution (Ex: 4k ) to lower resolutions (Ex: 1080p).
So which cards should we go for?
For simple cuts and transitions, no need to worry about graphics card just pick a good CPU.
For serious video editing, 4k video editing:
Those getting started with softwar or editing for youtube videos: At least a 4GB vRAM dGPU. (

1650GTX, 3050Ti

)
Pros working with 4k videos & several accelerated effects: at least a 6GB vRAM dGPU (

1660Ti, 2060RTX, 3060RTX

).

Very very few users will need the 8GB vRAM dedicated GPU (high tier) but it will certainly speed up a lot of the things we mentioned only buy it if you can afford it.
NVIDIA or AMD

Dedicated AMD GPUs are not available on laptops, only on older MacBook Pros (but they have Finale anyways). If you're building a desktop, save yourself the hassle and just believe everyone: NVIDIA is better for video editing.
If you still want to know why here's the explanation (jump to the next section otherwise).
CUDA vs Open CL *
NVIDIA operates under CUDA technology (programming paradigm) and AMD with Open CL(likewise). While NVIDIA's GPU programming focuses on general purpose usage (video editing, gaming, 3d modeling), AMD's Open CL is MOSTLY focused on gaming .
Thus although AMD GPUs have 'GPU cores' also known as 'shaders', they are not 'programmed' to excel at other tasks than video editing. CUDA cores technology by NVIDIA IS tailored for video editing too thus it performs significantly better.
Although in the past great benchmarkers like Linus tech tips have noticed no performance gains when rendering. Later on, Pudgetsystems, the top dog in benchmarking have concluded that CUDA outperforms open CL.*
*This is subject to change though as AMD's technology improves over time, better check the latest articles to confirm this if you're reading this later than 2022.
What about workstation GPUs? Quadro?
If the workstation GPU you have picked has more 'vRAM' and you think you have very very high resolution and very very long footage as well, then they are useful.
Otherwise, all things being equal (same amount of vRAM and same generation ), they perform pretty much the same as consumer 'gaming' GPUs. The only advantage would be that you'll get better customer support and drivers.
Lastly, they are a must for 10bit display (for laptops this isn't a concern as most don't have one and if they do have that display, the GPU will not output 10bit videos because it is likely the integrated graphics gets in the way).
3. RAM
RAM memory behaves the same way vRAM does although it is less efficient with image data thus having 64GB RAM does not mean you'll be able to apply effects on a 10hour footage instantaneously.
It does help toward that though.
The limit is usually 8GB for 60 min footage & 16 for +1h footage (could be 2h 3h etc)
16GB or 32GB?
It seems adobe premiere STILL makes good use of 32GB and 64GB too but they aren't a significant perfomance gain after 16GB.
However..
If you're an AE (After Effects) user and also use plugins like Magic Bullet, 32GB will certainly help. Nearly all laptops with dedicated GPUs are upgradeable to 32GB, it's going to be rare to find a laptop with 32GB out of the box so you're going to have to do the upgrade yourself. I have a tutorial on how to Upgrade RAM here.
4. Storage
When there is not enough RAM for your footage, the storage will be used instead. Thus buying a faster storage means getting 'more RAM', this is very rare so that should not be the reason why you should buy fast storage (SSD).
HDD vs SSD: Slow High Capacity or Fast Low Capacity
On modern laptops, storage devices are always solid state drives. Whether you choose the slower HDD is only a problem with desktops.
Either way just make sure you have an SSD. Space is important of course but nowhere near as important an an SSD for the following reasons:
Increased performance rendering & previewing (5% tops not much but still good)

Source files (footage) will load in an instant (would take several seconds with HDDs)

Outputting and exporting videos are 5% faster too

Fast file transfers between PC/Laptop and External devices

Booting up Adobe Premiere will take 5 secs tops (as opposed to 1-2 min with HDDs)
Recommended Storage Device Set Up
Obviously, it has to include a Solid State Drive. Now there are still a few types of SSD some faster than others. This is only a problem for desktops though, laptops always come with the fastest SSD: PCIe NVMe SSD which are 20% faster than SATA III SSDs.
To rip off ALL the benefits just be sure (in case you have a dual SSD or HDD+SSD set up) you place Adobe Premiere and source files in the fastest SSD.
Best Desktop Storage Set Up: Pudget systems has a nice infographic with the recommended storage set up to maximize performance
Laptops: Like I said laptops all have SSDs the problem is most have 256GB and very few 512GB out of the box. Good news is they are easy to upgrade and you can even have TWO SSDs on a laptop (15" gaming laptop) and some workstation laptops (17") may allow up to 3 (though they are crazy expensive).
Anyways either dual SSD set up or a SSD+ HDD is the best combo. I have a tutorial here on how to do the SSD Upgrade.
Where to store Adobe & Files for maximum performance?
To maximize performance (if you have a dual SSD set up), the main SSD should hold the OS and the secon SSD should have Adobe Premiere and all of your footage.
5. Display
Resolution & Size
Obviously, you need a FHD display to edit FHD videos (actually you don't but if you want to see how your FHD resolution is going to look, you do). Virtually all laptops with dedicated graphics have FHD anyways, what's different from laptop to laptop is size.
17 inch displays are ideal but heavy and very expensive.
Color Gamut & Color Accuracy
If you have a lot of cash, you can be picky about how color accurate your display is. Laptop displays will never be as good as desktop displays for video editing of course but it's still worth trying to get the best display.
Here's a few tips:
IPS displays are more color accurate than TN displays

Glossy displays are also more color accurate than Matte displays

Some laptop displays have much better color accuracy and gamut (it means they cover a much bigger color space)

Some examples are the Dell XPS 15 & MacBook Pro

Laptop displays with 2k or 4k resolution will naturally have better color accuracy
4k displays
Lastly, just want to be clear, you don't need a 4k display on a laptop to edit 4k videos, yes it helps but you can still do it with a FHD display.
In fact, since the video will be scaled down when you edit it, it will not be in 4k even with a 4k display. It will only playback in 4k WHEN you use fullscreen mode.
The best choice is to just not focus on display too much when shopping a laptop and use an external display for the final touch ups and to make sure everything looks color accurate.
Comments?
Laptopstudy.com takes your input very seriously. If you have any trouble understanding this small guide or any questions about Adobe Premiere and hardware usage, please drop a comment below.
Author Profile
I am physicist and electrical engineer. My knowledge in computer software and hardware stems for my years spent doing research in optics and photonics devices and running simulations through various programming languages. My goal was to work for the quantum computing research team at IBM but Im now working with Astrophysical Simulations through Python. Most of the science related posts are written by me, the rest have different authors but I edited the final versions to fit the site's format.