5 Best Laptops with CD/DVD Drive – 2020
The emergence of small storage devices, the cloud plus the ability to download pretty much anything from the internet is making the availability of laptops with CD/DVD drives less and less every year.
What are we to do then if we don't have a 10 year old desktop/laptop with a CD/DVD drive to store families photos amd videos, or if we are on a road trip and want to play back ol' DVDs and simply use legacy software for our profession, business or merely entertainment?
Your first option should be to get an external optical drive and connect to your old PC/laptop via USB.

Or you can shop for any laptop of your choice (if it doesn't have a CD/DVD drive), then simply buy the one shown on the link.

If this is your first laptop or you can't really live without the feature built in, there are still a few decent laptops out there with a CD/DVD drive for pretty much every budget. Which I will list on this post.
As for me, I happen to have both: A 17 inch windows laptop with an CD/DVD drive and a separate optical drive for my macbook air.
My internet is very unstable so there are a few days during the month I spend the entire day without connection for which I just pop in classical music to keep studying and watch the StarWars trilogy for the gazillionth time during breaks.
Top 5 Best Laptops with CD DVD Drive
It will be extremely rare to find a laptop that can just read CDs alone and still be able to have enough power to keep up with modern basic software. So all laptops shown on this list will read and write CD/DVD drives.
Even laptops with CD/DVD drives will eventually dissapear in the next few years.
Before you start shopping for laptops, don't forget there's more to a laptop than just having a CD/DVD drive such as displays, graphics cards for games, RAM, etc.
In other words, different performance denpending on what you plan on doing.
So in this list I'm also trying to include a laptop for every type of user out there if you want other features or need a cheaper laptop let me know in the comments below.
---
Best Laptop with CD/DVD drive under 400$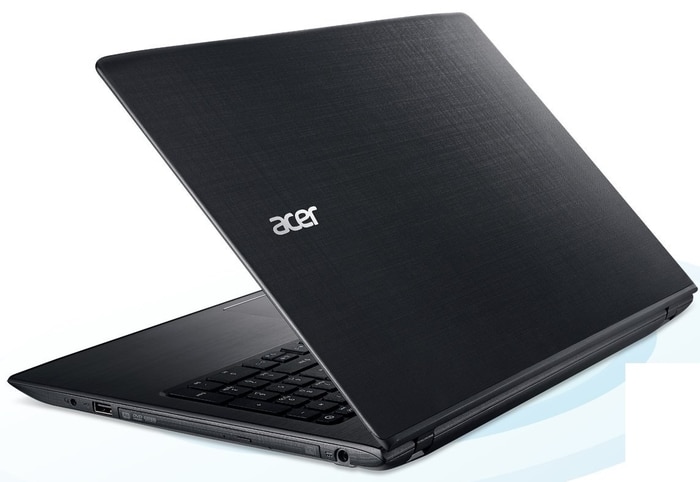 Core i3-7100U 2.4GHz
4GB RAM
Intel HD
1TB HDD 5400RPM
15" TN full HD
5.3lb
10 hours
8X DVD Multi Double-Layer Drive

The acer aspire is the current most popular laptop sold on amazon today. For around 350$, this laptop has every spec you could ask for and that includes a CD/DVD drive.
Performance
This laptop is capable of streaming and displaying movies in all formats without stuttering at full HD due to both the processor and the integrated card, which are of the recent 7th generation (the current one is 8th).
The integrated card is currently the latest generation from the Intel HD series which will allow you to play pretty much any game out there at low settings and obviously any legacy game you may have stored.
The RAM comes with 4GB only but this is upgradeable in case you ever need to do some photo/video editing with it too, you can use this stick to upgrade it to 8GB. Having the same size/model will work much more efficiently with the CPU as opposed to having two different sticks for RAM.
Display and Design
The display comes with full HD resolution, which is unheard of among budget laptops around 300$. The panel however does not have IPS technology for better viewing angles and accurate colors, which is too much to ask on top of all the specs already given. IPS dislays panels start around 600$ and above as you'll see below.
As for the CD/DVD drive, although it is labeled as "Super Multi Double Layer Drive", there's no difference with the rest of the laptops.
You can pretty much forget the Super and Multi and Double terms, they are just marketing words, which mean they can read/write all DVD formats but again all modern laptops can.
---
Best Dell Laptop with CD DVD Drive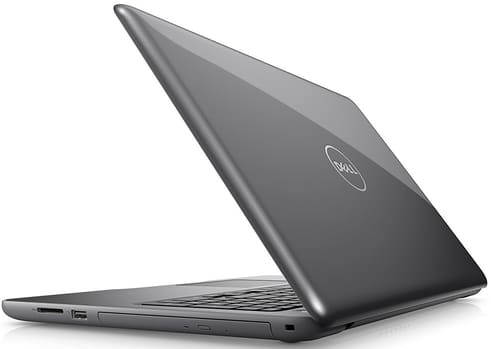 AMD Quad-Core A12 3.4GHz
12GB RAM DDR4
AMD Radeon R7 M445
1TB 5400RPM
15" TouchScreen full HD
5.3lb
????
DVD R/W

Although AMD laptops are not as popular as Intel based laptops, they offer the best bang for your buck when their performance matches their Intel competitor.
Performance
The processor is quad core and of the latest generation for AMD CPUs, much powerful than the Intel Core i3 shown above plus it also comes with a dedicated graphics card which should let you do some serious photo/video editing as well as playing graphic intensive 3D games beyond the lowest settings .
There's also no need to upgrade the RAM since this is already capped at 12GB perfect all heavy sized applications (though you can upgrade it to 16GB after purchase).
Display
Like all touchscreen laptops, this is an IPS display, you'll get a better color representation and viewing angles when playing back old movies from DVDs as well as gaming.
There's no report on the batteries but you can expect it to last a lot less than a regular laptop if you use the touchscreen continously.
The CD/DVD reader is only labeled as "DVD R/W" but this is just the same as any other DVD player on a laptop, it can read all formats(CD/DVDR+/DVDR-,etc) and write all formats at the same (x8) speed.
---
Best Gaming Laptop with DVD Drive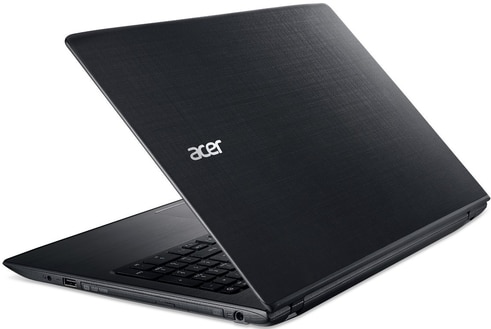 Core i5-7100U 3.4GHz
8GB RAM DDR4
NVIDIA MX150
256GB SSD
15" TN full HD 1080p
5.3lb
10 hours
8X DVD-Super Multi Double-Layer Drive

This is a huge upgrade over the low budget Acer Aspire E 15 aimed for those who need a laptop for more graphic intensive applications.
If you are interested in high end laptops with more powerful dedicated graphics cards for gaming or multimedia editing, you should consider buying the asus fx502vm-as73 laptop with cd/dvd drive or the asus zx53vw laptop with cd/dvd drive​.
Performance
The CPU and GPU have nearly the same performance as the Dell Inspiron shown above for gaming and multimedia editing.
Though this one comes with an SSD drive. The main two advantages over HDDs are their reading/writing speeds when moving files and the reduced time it takes to boot up your laptop(~10 seconds).
The CD/DVD drive is just like any other laptop shown here. It can read and write all CD/DVD formats including double layered DVDs.
Display
The display is pretty much the same as the Acer Aspire E 5. Though the battery is a bit less due to the high end and more powerful components.
As for the design, the compartment is easily accessible for upgrading its RAM and storage.
If you aren't pleased with the capacity of the SSD you can simply insert any harddrive you have with yours after removing one screw.
---
Best Laptop with DVD Drive (17 inch)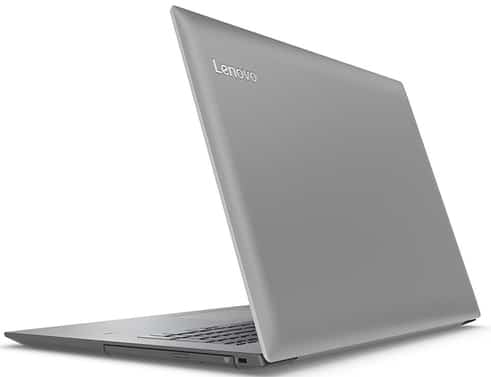 Core i5-7200U 3.1GHz
8GB RAM DDR4
Intel HD
1TB 5400RPM
17" TN HD+
6.16lb
5 hours
DVD+RW

Performance
This one has an Intel Core i5 CPU but not a dedicated graphics card. You will not see an increase in performance for pretty much anything with the exception of graphical intensive applications since they benefit the most from having a dedicated GPU on it.
Display
The reason why you should consider this laptop is the display, although it's not full HD. 17" is the biggest size laptops offer today and obviously much better for watching movies and DVD playbacks.
Note that there's not many options to choose from for 17inch laptops below 500$, there are only a few models out there and this one happens to be the most reliabel model.That is, it's not extremely slow compared to the other choices you'll come across.
The battery life and weight are typical for 17inch displays so it shouldn't be deter you from buying one.
The CD/DVD drive, like most laptops can read/write all formats.
---
Best Laptop with DVD Drive under 500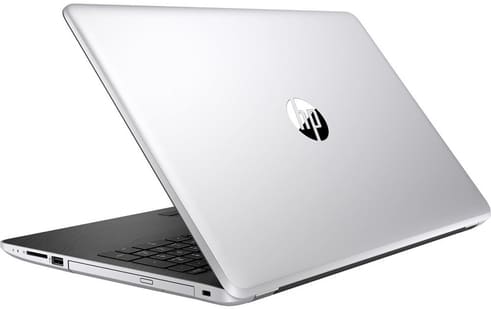 Core i3-7100U 2.4GHz
6GB RAM DDR4
Intel HD
1TB 5400RPM
15" TN HD 1366*768
5.3lb
8 hours
SuperMulti DVD burner

This is a low price HP laptop with a CD/DVD . No bells and whistles. Again don't pay attention to the specification "Multi Purpose R/W DVD drive". It can read/write CD/DVDs in all its formats.
Performance
This has pretty much the same performance as the Acer Aspire E 5. You can have a dozen tabs open when web browsing, play games at low settings and run any other basic software. The only difference is the RAM which is 6GB. Sure it's higher but this isn't a huge improvement.
Display
What makes this laptop 50$ more expensive tha the Acer E 5 is the display which is 15.6". Although it is not full HD nor does it have a dedicated graphics card for graphical intensive gaming(though you can still play them at low settings).
If you are a fan of HP laptops, there is one HP laptop with a CD/DVD Drive for entry level gaming and more complex applications that you should consider:
The hp pavilion 15 flagship laptop with cd/dvd drive which is a recently released new model presented in two different versions.
The most expensive one with and the one linked here has an incredible amount of storage space for which you can save entire several hundreds of DVD movies or images for you to burn later.
The cheapest option presented here however doesn't have any bells and whistles and it's only useful if all you have in mind is daily web browsing and standard applications. Not recommended for gaming due to its lack of dedicated graphics card and low end processor. Other than that it's perfect for watching videos on NetFlix or simply playing back movies.
---
Other Options
What about MacBooks
As of today you won't find MacBooks with a CD/DVD slot since now they offer a separate drive via USB which costs around 50$.
As I mentioned I bought one myself for my MacBook Air. Since the Air is extremely thin and lightweight to carry, I never found it incovenient to carry a CD/DVD drive along with it.
If you still can't leave with built in feature, MacBooks before 2016 will have a CD/DVD drive. You can easily find them on Amazon or Ebay.
Obviously, they're either used or refurbished but MacBooks have such a high quality that they'll last you for so long that you'll also probably end up reselling it at some point.
Mini Laptop with DVD Drive
Im sure many of you are looking for 11.6 inch with DVD drive. Perhaps even smaller. Maybe just to take it on a trip to watch movies.
However anything called mini or notebook will not have a CD/DVD drive. The main reason is to keep the small form factor. Even Chromebooks do not have a CD/DVD drive. So don't waste time looking for one on Walmart or Amazon (like I did).
The smallest laptop with DVD drive will be a 13". So your best option is to find a nice 11.6 inch laptop and buy an external CD/DVD drive .
Your notebook should at least have a single USB port so it should be able to handle an external CD/DVD Drive.