10 Best Desktop Replacement Laptops in 2020
Ready to throw your desktop out the window and replace it with the best desktop replacement laptop out there?
Not so fast…
You've probably figured out by now it's not that simple.
That's because..
The type of laptop you need will depend on what kind of applications you used to run on your desktop, the type of user you are and/or if you've got any other specific needs.
Although I'm sure most of the people who landed here just want to game with ultra settings while hitting three digit fps numbers or navigate/viewport through pretty large 3D models/simulations with buttery smooth fps numbers too.
There's also the people who are just after that gigantic 17 inch display to use around the house for basic computer tasks simply because fonts will be bigger and easier on the eyes .
Let's not forget those who miss the vast array of ports they had on your desktops they didn't even know what to do with in the first place.
The problem when looking for such laptops?
Well if you type desktop replacement laptops on the google search bar, you'll get reviews/descriptions talking about "beast-like power" performance, "let the beast run wild" processors,"the unleashed the power of the force" GeForce graphics cards and so on…
A lot of them will never tell you why that laptop might be specifically good for you or/and what it can do for you whether you are a gamer or a professional.
Heck, what's even more laughable is that some guys just simply list the uggliest, heaviest & most expensive bricks out there without even taking into consideration specs/money ratios.
In reality everyone should worry more about design because those beats can get pretty hot. Better design translates to better performance and having your laptop last your for several years to come.

Leaving that aside…

Most people , including gamers and professionals, do not need to get those uggly heavy monsters with the ultimate computer power.
If they do, they'll just find themselves with a brick that won't even be reach the next Starbucks without being recharged along the way.
Let alone being plugged into an outlet without depriving everyone in the building of electricity.
Most of these bricks are not that useful for the average gamer/professional but they will definitely be useful for a few of you.
`
Top 10 Best Desktop Replacement Laptops
In this article we are going to include some of these "let the beast run wild" laptops (although with a much better specs/money ratio) AND a small variety of laptops aimed for the average gamer/user.
So whether you are 3D engineer / animator / gamer, video editor or simply an office / home user looking forward to run basic tasks on a portable yet desktop like device, you are going to find your pick from this list.
If for some reason you can't find similar models like the ones that will be listed around your area (UK, Canada or Europe) or you just want to look into other options, here's a breakdown of the specs you should aim for:
Note: the +sign next to a component means you must either get the same or above.
Processor

RAM
GPU
Display
Storage

Business




Movies




2D Games

Core i3-8310U+


AMD Ryzen 3 3200U+


4GB for basic software




8GB for multitasking

Intel HD

full HD for multitasking




either TN or IPS

128GB SSD




or 1TB HDD

Heavy Photo Editing

Core i5 8250U+

16GB RAM

Any dedicated GPU




Avoid Intel HD(integrated cards)

full HD IPS




(+85% sRGB)[5]

128/256GB SSD




+ 1TB HDD

Hardcore Gaming

Core i5-8750 H+
Core i7-8750 H+
AMD Ryzen 7 3750H+


8GB for one game




16GB Multitasking

GTX 960M+[1]




GTX 1050Ti+[2]

full HD or




4k resolution




IPS over TN

256GB+ SSD for MMORPGs

Hardcore




Video Editing

Core i7-8750H+


Core i9-8950HK+
AMD Ryzen 7/9 HS+

16GB RAM

GTX 960M+[1]
GTX 1050Ti+


4k resolutions optional




(even for 4k video editing)

512GB PCIe NVMe SSD


or
256GB M.2 SSD + 1TB HDD

Hardcore 3D CAD/Animation

Core i7-8750 H+


Core i9-8950HK+
AMD Ryzen 7/9 HS+


16GB RAM




32GB RAM for extreme large scenes/models




GTX 960M+
GTX 1050Ti+

Quadro/FirePro[2]

avoid 4k resolutions
[1] 970M, 980M,1060GTX,1070GTX,1080GTX, 2060RTX. Depending on your budget. (2070RTX AND 2080RTX are not recommended for most people)
[2] Workstation graphics cards are only useful if you run very large/complex models with plugins in SolidWorks.
[3] Some CAD software toolbars (or past versions) won't scale with 4k resolutions.
[5]sRGB roughly translates to how many colors the display can output, the higher the better.
---
The more complete & lengthy guide is on the last section of this post.
Take a look at it or use the posts on the side bar if you are new to computer terminology and if there's something you don't understand.
Note there's also a comparison table for CPUs and GPUs on the last section you can use as well.
---
Best Value Desktop Replacement Laptop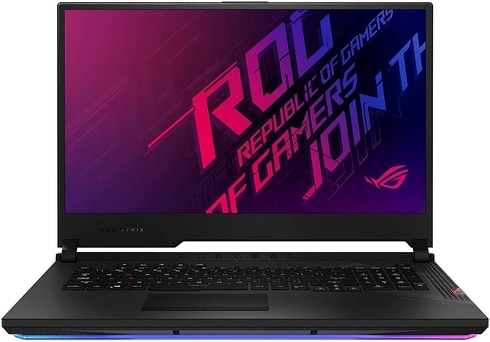 Core i7-10875H
16GB RAM DDR4
NVIDIA GeForce RTX 2070 Super 8GB vRAM
1TB PCIe SSD
17" 300Hz full HD IPS
6.28 lbs
>1 hours under load, 5 hours otherwise
1 x Headphone-out & Audio-in Combo Jack 1 x RJ45 LAN Jack for LAN insert 1 x HDMI 1 x mini Display Port 3 x USB Type-A 3.1 1 x USB Type-A 2.0 1 x USB Type-C 3.1

The ASUS Strix Scar series aren't known as the most powerful laptops on the market. Why is it listed number one then?
It's because they have the best specs/money ration among all the most expensive laptops out there and this year's model is no exception. Well that and the fact they have an almost flawless design so it should last you several years performing close to the numbers labaled on the chasis.
Hardware
Let's look at the hardware.
The first impression is that it seems to be very much maxed out for just about everything: the usual latest & fastest Core i7 monster and the latest RTX NVIDIA Graphics Card for mobile systems are main takeaways. Followed by the PCIE NVMe and the 300hz display.
Although you may be able to find the Super RTX 2070 card on laptops above 2000$, you'll rarely come across the 10th generation Core i7 CPU jammed with it.
Another salient feature is the 300Hz IPS full HD display which is a must these days for competitive gaming.
As a gamer you probably know how important it is to gain a few fps to increase your response to the progression of a battle and to help you with your accuracy in first person shooting games. So don't even consider buying any display with lower specs if you really wanna be competitive in whatever game you want to play with.
For anything else be it editing/models, the 300hz refresh rates are not really useful (they might be for animation though), but again there's not much you can do about it there aren't laptops with the specs listed and a regular 60Hz monitor these days.
As for the display, despite being 17" is just as color accurate as most high end laptops nothing to remark here. There is minimal light bleed( which is only visible when a few seconds when the bios logo comes on- when booting up your system).
Then there's the PCIe NVMe SSD, which isn't a bid deal these days. You'll find them on pretty much any laptop above 500 bucks. It does however has 1TB of space which is really high even for today. It doesn't have another storage drive in it and this is one of the reason why the price hasn't sky rocketed too much.
Performance
The CPU will be fully used by every single user who can afford it: gamers, video editors, animators, designers, even hardcore photo editors. So you won't be wasting a single penny on it. The issue at hand here is whether the GPU is worth your money.
The GPU belongs to the most recent line released by NVIDIA: the RTX series. Though that may sound cool and beast like, the advantages of having an RTX over an old fashioned high end TI (1070/1080Ti) are not significant at this point (both for gaming and any kind of modeling/editing work). Hopefully this year's software start adopting the ray tracing to put out better graphics and improve rendering but so far you'll get an increase in FPS numbers if you are a gamer.
Gaming: The RTX 2070, just like the 1070Ti, will run just about anything at 1080p resolution on the highest settings. Fornite and Royale Royale with everything maxed out will peak around 450ps doing nothing & 200 fps moving around. Likewise, PUGB with +100 fps, OverWatch 250+fps and Wow 100+fps.
There are a few massively hardware demanding situations for which the fps will still go down to around ~40fps. For example a massive battle in TWH with ultra settings . However for these types of games ~40fps (in extreme situations: all players at the same spot and beating the hell out of each other) is pretty good and you won't even notice the difference unless you look at the fps counter.
An RTX 2080 would squeeze out a few extra frames per second, but an RTX 2070 will get the 1440p job done for a lot less money.
3D Modeling: the 2070GTX is actually overkill for most professionals. In fact, you should be able to handle the same type of scenes/models you'd be able to handle with a lower card.
For example, most AutoCAD and Revit users will only need 6GB of vRAM (this one has 8GB). But the extra amount of vRAM also may come in handy for much larger assemblies.
On the other hand, the amount of CUDA cores will come in handy for any type of rendering
Plus other software like SolidWorks will take full advantage of the CUDA Cores/vRAM. This is true for any software whose rendering is extremely GPU dependent (Ex: RedShift/Octane too.).
In the case of animation software, it gives you the best bang for your buck because the next more powerful GPU only has more CUDA cores and the amount of vRAM is really what has the most impact.
Editing: The GPU is overkill for photo editing but the RAM is on the sweet spot. The specs however are on point of video editing, you get the best number of CPU cores for exporting (the limit is around 8), the 5.1GHz is one of the fastest even for desktops and the 16GB RAM is enough for footage ~hours(though you may need an upgrade).
The vRAM (8GB RAM) is maxed out for laptops which should help you apply accelerated effects on very long timelines much faster.
Design
Since most manufacturers just throw a powerful GPU & CPU into a black box to call it a desktop replacement laptop, the design is usually left to draw and luck but it's actually the most important aspect to keep your laptop running at the advertised "speeds" and to last you for several years!
This machine manages to keep both the GPU & CPU at safe temperatures even at the extreme gaming situations describe above, the drawback is of course that the fans will start screaming but this is good as you're reminded that both your GPU & CPU are being kept vanilla ice cold.
If you notice the CPU are getting a little too hot, there's also the option to active overboost which will make the fans kick in even faster. If you find the noise too loud, just use headphones, there's no way around it.
As you can see, the look is pretty subttle too so you can bring to school or starbucks without looking like a game freak. No dragon logos in the back or messed up up red strips, it's just black all around.
Speaking of battery life, there should be no speaking, gaming laptops will have horrible battery lives especially with the specs above (144hz will eat most of it). Just be ready to keep the charger nearby.
You should get however 3 hours of battery life without doing anything intensive(just web surfing w/ a headshet). Light gaming will be on the 2h mark, Intense gaming will last an hour.
One drawback that a small percentage of you (not gamers) might find troublesome is the lack of RAM. Don't get me wrong, 16GB is plenty for most people out there but hardcore 3D modeling and video editing sometimes might require you to have 32GB. Luckily upgrading this laptop is just as easy as removing 1 screw. Everything will be easily accessible to insert another RAM stick and even storage drive on the M.2 slot.
Although not mechanical, the keyboard still feels nice and responsive for a laptop. The built-in speakers sound good too and this is not something you can easily find in gaming laptops.
There's a lot of bloatware involved, which should take an hour or two to remove.
The real last issue is the lack of G-Sync but there are almost zero laptops with an RTX card, G-Sync and 300Hz refresh rates. Luckily, the 300Hz refresh rates of laptop displays today will mitigate a lot of the screen tearing, hopefully upcoming models do come up with G-sync enabled.
If G-sync is really important to you, you can try and consider models without the RTX/10th generation CPU on these links:
---
Best Budget Desktop Replacement Laptop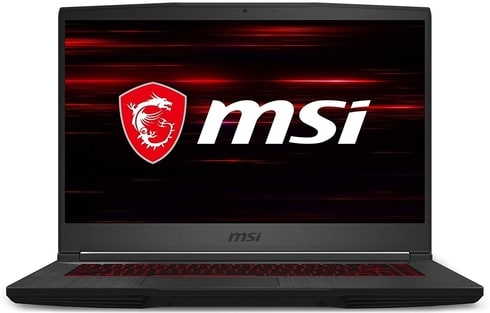 Core i7 8750H 4.1GHz
32GB RAM DDR4
NVIDIA GeForce 2060RTX 8GB vRAM
512GB PCIe NVMe
15.6" IPS 120Hz FHD
4.14lb
5 hours non gaming
NO
1 x Headphone-out & Audio-in Combo Jack 1 x RJ45 LAN Jack for LAN insert 1 x HDMI 3 x USB Type-A 3.1 1 x USB Type-C 3.1 ThunderBolt x1 Mini Display Port

While the first laptop is no doubt the best desktop replacement laptop with the best specs/money ratio for hardcore gaming/3d modeling and video editing. It's still pretty expensive for most people.
This one right here on the other hand, is the most budget friendly desktop replacement laptop today.
Hardware
The model shown here is only 1300$ . It's cheap mostly because the processor is a generation behind but still pretty widely used for gaming and it's only been a month since the 10th generation has been released. Another reason is the RTX 2060 which is on paper a lot less powerful than both the RTX 2070,2080 but is not actually true on benchmark studies.
Since like I said , the RTX series' special features haven't been fully implemented across games, video editing and 3D modeling software, the 2070RTX and 2080 do not show significant improvement in terms of graphics/rendering.
This makes the RTX 2060 the GPU with the best specs/money ratio out of the entire line, more so than the 2070RTX. That also makes a huge difference in its form factor: it's thin and relatively lighter than most high end laptops because the RTX 2060 does not need much space/bigger cooling syste to keep itself at safe temperatures.
A drawback of this model is that it only comes with 512GB of PCIe NVMe Storage which is only enough to install 6 triple AAA games. Although that may be sufficient for non-gaming purposes, I still recommend you do the upgrade, it's super easy and will save hundreds of dollars because you won't have to opt for more expensive models.
Performance
You can do all of the things the ASUS laptop above can: run all graphic intensive games at the highest settings and having your system quickly boot up and go black and dead within seconds and so on. The difference in performance will not be very significant if you are video editor or doing 3D modeling, FPS will take a hit if you're a gamer but you'll still be hitting 3 digit fps numbers in most triple AAA games and in some cases at ultra high settings.
For a more complete list of the FPS you'll get in every game. Check my post here.
Design
Just like the ASUS Rog Strix above, playing intense games will kick in the fans into overdrive and screaming mode.
By the way, gaming laptops with a GPU higher than a 1060GTX , will get you get a special software to deal with the fans & any overheating.
It will monitor your CPU, GPU temperatures and fans speed, etc. The cool feature about this one in particular is that it allows you to quickly change all the settings based on what you want to do: gaming, watching movies and also how loud you want your fans to be.
Despite being a mid-range GPU and all, you should still activate "Cooler Boost" mode if you're putting its GPU under heavy loads be it for long sessions of gaming at epic settings or for long hours of rendering.
The best part about the design its form factor. Extremely light and thin for the performance probably half the weight than most high end laptops with the same specs, the weight is also perfectly proportioned.
Speakers are great too which is unusual for a compact laptop. Display is great too, zero faults in it.
Despite its form however it has a vast array of ports, in fact, it has a Thunderbolt (I like to call it thudercat) 3 and MiniDP, HDMI so you can throw in multi display set ups for data analysis/the stock market/ or like me to write long and boring reviews.
Upgrading isn't a pain in the butt either. You don't have to butcher the entire machine and take out the motherboard for it. There's an empty slot where you can just slide in a RAM stick and another empty SATA III for another storage drive.
It does get quite hot if you're using on your lap though and the keyboard pointy edges will make it uncomfortabel to use it on your lap as well.
Other than that, it's all good and the best deal for a desktop replacement right now.
---
Eats anything you throw at It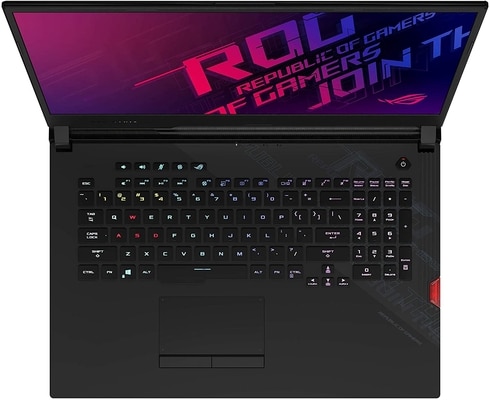 Core i9-10950HK 5.3GHz
32GB RAM DDR4
NVIDIA RTX Super 2080 8GBvRAM
2x256GB PCIe SSD + 2TB FireCuda SSHD
17.3" 144Hz full HD IPS G-Sync
4.41lb
>1hour*
1 x Headphone-out & Audio-in Combo Jack 1 x RJ45 LAN Jack for LAN insert 1 x HDMI 1 x USB Type-C 3.1 ThunderBolt x1 Mini Display Port 3 x USB Type-A 3.1 x1 SD Card Reader

On the other side of the coin we have the most powerful laptop and the most expensive one out of the entire list here.
These are the kind of specs people relate to when thinking about desktop replacement laptops.
I'm not a big fan of spending a lot of money just to get the best fps numbers on games/the fastest rendering times but a lot of the people who look for desktop replacement laptops have the cash and that's all they want so here it is.
Anyways, I'm listing ASUS again because if I'm gonna spend tons of money on a single laptop I better dam make sure I've got a good customer support and a flawless design so that it can last me a couple of years as a minimum.
Anyways let's look at what this monster has to offer:
Hardware
Just by looking at the specs, you can tell this laptop is definitely on the highest "beast mode" possible. In fact, t actually needs to AC adapters,I kid you not! And they both need to be PLUGGED IN!
The CPU here is of the K/HK series which means it has been "unlocked" so that it can hit the highest clock speeds possible notice however that the difference in clock speeds is only 0.2GHz compared with the 10th Core i7 that was shown first.
The storage set up here consis of a single 512GB PCIe NVMe but it can configured to have 2TB(which makes it even more expensive) .
Performance
What actually drives the price so much isn't the CPU per se, it's the 2080RTX GPU which has around +500 more CUDA cores than a 1080GTX(they still have the same vRAM).
Gaming: Not much to say about gaming except that this beast will chew up any game thrown at it, you name it: Skyrim, Witcher 3, Rust, Sniper Elite 4,WoW, OverWatch, PUGB and any other AAA game and will do so at "beast settings" too. Even the most extreme battle encounter/situations will get you +100 fps.
3D Modeling: You'll be able to work with the same FPS in viewport and the same assembly sizes as 2070RTX/2060RTX since they both have the same vRAM but there will be a minor increase for GPU rendering software due to the number of CUDA cores but an actual substantial increase due to the Core i9 5.3GHz.
Long story short, editing & drafting & modeling are gonna be substantially faster due to the CPU's clock speed but rendering/viewporting will only see a minor increase from an RTX.
Video/Photo Editing: the CPUs clock speed is what will basically make all the difference. Applying effects on long timelines will be breeze. Exporting/Rendering times will not see much of an improvement though vRAM is about the same and the amount of CUDA cores does not seem to impact them a lot. See our post on Video Editing or Photo Editing.

Design
Again when you buy a laptop this powerful , the only thing you should worry about is how well it can keep itself cool under high loads.
Im happy to say there are no issues with it. This laptop is thick & big enough for air to dissipate & to fit in powerful fans too. No thermal trottling whatsoever, no frying eggs on the case, either, no matter how much you push it over the edge, it's almost like a desktop both in design and weight unfortunately.
Another pro of the size, it's the same "OverBoost" mode that will kick in the fans into turbo mode which in this case works better and if you ever happen to use it…you'll feel like you are flying an airplane.
The size also gives you the best sound speakers from laptops, they're placed right at the front so: you will actually be able to hear the bass, have zero cracks on playbacks, etc. You'll know it has a high end speaker when you hear it.
The main downside is obviously the weight but the material is strong enough to handle any drops.
In fact, If I dropped this thing i'd be more worried about the floor than the laptop.
The other downside is of course the battery but you already knew that when you looked at the specs, in fact, the battery gows down 1% per minute so you have around 60 min of usage.
A few more inconveniences : finding a laptop backpack to fit it in. I can't find a backpack on amazon to link here.
Conclusion:
All in all this is one of the most powerful laptops you'll find on the market with the latest of the latest components jammed inside but I would only recommend it to people with deep pockets because the increase in performance across all areas (other than gaming) is not really worth it but I guess that can be subjective.
On the other hand, if developers decide to finally accelerate the implementation of the RTX features on their games and software, the difference in performance could be huge. So far they haven't so it is up to you if you want to look that far ahead.
---
Best Acer Desktop Replacement Laptop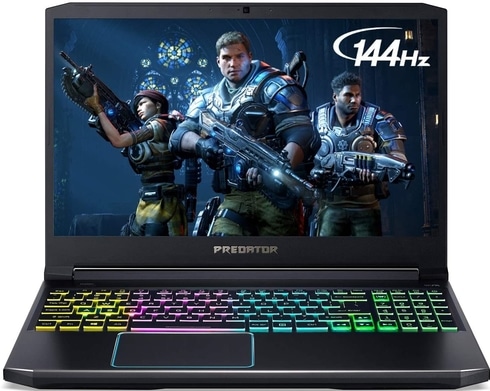 Intel Core i7 8750H
32GB DDR4
NVIDIA GeForce 1070GTX 8GB vRAM
512GB SSD PCIe NVMe
15" FH 144Hz IPS
8lbs
4 hours
Headphone/Microphone Combo, Microphone jack, 2 USB 3.1 Gen 1 (side), 1 RJ-45 (rear), 1 USB 3.1 Gen 1 (rear), 1 HDMI 2.0 (rear), 1 Mini DisplayPort(TM) (rear), 1 USB 3.1 Type-C(TM) (rear), 1 Media Card Reader

Let us go back to affordable laptops again. Now I want to show the "Predators".
The predators are the high end laptops Acer has designed since 2017. They not only had a great design but their specs/money ration was insanle good in the past. We'll start with the cheapest model which is just one of the two current models that's been selling like hotcakes on Amazon and still holds its reputation among gamers and heavy duty users.
Hardware
CPU wise it has the same processor as the MSI laptop we listed second (with good reason because it's actually cheaper). The GPU however is what actually drives the price down to 1300$ as well. This is the last year's affordable beast card: 1660Ti which along with the 1660Ti and 2060RTX give you the best performance/money ratio out of the entire line of older/current GPU models. Display is top notch, just like last year's mode, Acer did not cheap out on it like most manufacturers: 144Hz screen with plenty of brightness (300Nits).
Performance
Because the CPU is top notch already, performance will be limited (if ever) by the 1660Ti. This is a beast card but still not as powerful as the 1080 or 1070 models let alone the 2070RTX.
On the other hand, you'll still be able to play at 1080p settings.
More specifically you'll still be hitting +60fps in games like Overwatch and +100 fps battle royale games like PUGBs at the highest settings which isn't too bad. Mickey mouse games like LoL, Dota 2 and anything like that will still run at +150fps at the highest settings.
As for video editing/3d modeling, this card won't take a big hit in performance. Animation will take a significant hit because the amount of vRAM and CUDA cores becomes much more important. The good news is that this GPU can handle heavy workloads
Design
The Design is actually what made this laptop one of the best selling desktop replacement laptops. For starters, this laptop will rarely if ever get to high temperatures even under heavy workloads, doesn't go beyond 70C no matter what you do with it.
There's plenty of ventilations – you'll never have to worry about overheat.
It feels solid and sturdy which brings me to one issue several users have reported. It's "too sturdy" to the point that the screws used to attach the storage drives inside are pretty tight so you're going to have a pretty rough time trying to upgrade the storage drive yourself.
Other than that, removing the chasis and attaching a RAM stick and 2, yes 2, addtional storage drives isn't that difficult.
They did not cheap out on user input either, both the keyboard and trackpad. The keys are soft and responsive and the track is top notch too, not MacBook quality, but pretty decent for a Windows laptop.
One of the main drawbacks however are the fans, the ventilation is superb but at the cost of the fans being way too loud making the use of headphones mandatory. But unless you are a DJ or something, that's a small price to pay if the cooling system is going to make your laptop last you several several years.
Overall this is a great budget yet powerful laptop that will for sure last you several several years with the downside of having to use headphones everytime you want to listen to carefully.
Lastly, there's a high demand for this laptop so getting one might take a month or so if there are any left by the time you read this.
---
LightWeight Desktop Replacement Laptop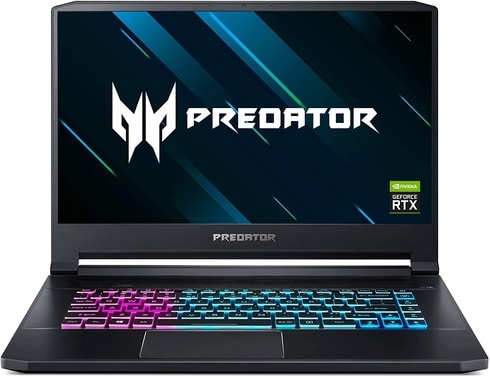 Core i7 9750H
32GB RAM DDR4
NVIDIA RTX 2060 6GB vRAM
512GB PCIe NVMe (1 slot Free)
15" Full HD IPS 144Hz
4.41 lb
3.5 hours
1 x Headphone-out & Audio-in Combo Jack 1 x RJ45 LAN Jack for LAN insert 1 x HDMI 2 x USB Type-C 3.1 ThunderBolt x1 Display Port 3 x 1 HDMI x3 3 – USB 3.0 Ports (one featuring Power-off Charging),

This is a more recent model of the Predator Series which is a bit more expensive.
Hardware
The only real difference with the last year's predator is the RTX 2060 GPU which as we have mentioned several times. It's our favorite card overall, due to their extra RTX perks(RT cores, Tensor Cores and video editing perks) and performance/money ratio.
Performance
The performance gain of the RTX 2060 vs the 1660TI is quite significant across all areas including video editing and 3D modeling. In the gaming department, the difference is more obvious when you start playing at 4k resolution. And unlike the 1660Ti which although has the turing architecture, it lacks both the tensor and RT cores that may become more useful in the next year or so for a couple of more games than just BattleField 5 and Metro Exodus and perhaps may even become useful for video editing/animation software at this point nobody is certain of that.
Design
The design is pretty much the same as last year's model. The build is outstanding too. Although it's a mixture of plastic and steel it's pretty solid. It's thin as well and not just thin for a gaming laptop, it's thin for a laptop overall. The cooling system will also make sure what you pay for will last you for a really long time. Both the trackpad and keyboard are also of high quality.
Now onto the chicken guano:
– BloatWare is present, it's ridiculous.
– The WASD keys colors mess up the RGB lightining feature.
– NumPad is oddly placed.
– Fans work well, too well in fact. They are very very loud. When Turbo mode kicks in they'll sound like a plane preparing for take off.
– Although the speakers are great and the virtual sorround effect does what it's supposed to do, you are definitely going to need a decent pair of headphones, the fans are very loud!
Overall this laptop looks just as promising as last year's model. The only difference seems to be the 2060RTX GPU whch adds around 300$ to the overall cost.
---
HP Desktop Replacement Laptop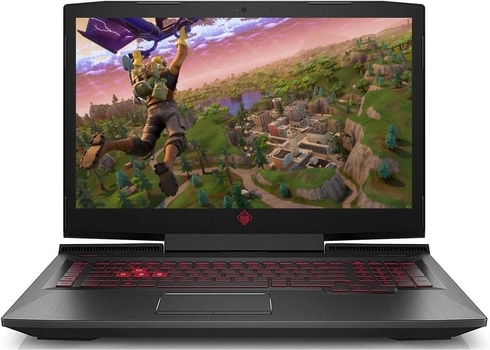 Core i7 8750H 4.1GHz
16GB RAM DDR4
NVIDIA GeForce GTX 1060 6GB vRAM
250GB NVMe SSD + 1TB HDD 7200RPM
15.6" 144Hz full HD Matte IPS G-Sync!
5.51lb
1-6 hours
6-in-1 Card Reader (MMC/RSMMC/SD/Mini-SD/SDHC/SDXC), 1 HDMI output Port (with HDCP), 1 Mini Display 1.3 Port, 1 Mini Display 1.2 Port, 1 USB 2.0 Port, 1 USB 3.0 Port, 1 USB 3.1 Gen 2 Port (Type A), 1 USB 3.1 Gen 2 Port (Type C), 1 Headphone Jack, 1 Microphone Jack, 1 RJ-45 LAN

I'm usually wary of recommending HP laptops on this site because it seems a lot of customers have had bad blood with the company especially with their laptops below 600 bucks.
Hardware
However the HP Omen hasn't been too dissapointing last year. This model although without the RTX in it, has a high end GPU: 1070GTX which is faster than the 2060RTX.
The CPU is still recent and what most high end laptops offer today. RAM hasn't been maxed out but this hasn't been the case for any of the laptops above. It's still upgradeable like any other laptop though.
The bummer about this model is the Optane 16GB hard drive which is not as fast as a full blown SSD but has enough space for Win10 and make your machine boot faster than on a regular HDD. Luckily this part is also upgradeable.
Performance
As for the performance, the 1070GTX is pretty powerful with almost the same clock speed/cores as the RTX 2060.So you'll still be able to hit ~150 fps on Overwatch, Rocket Siege, RB6 Siege, etc. Very intensive triple AAA like Warhammer 2 and Witcher 3 at full settings maxed out will hit 50+fps as well.
The GPU hasn't been underclocked or Max-Qd either so you'll definitely get desktop class graphics performance across all applications and not just for gaming.
Even tough it may have lower performance you get better thermals, smaller size, and longer batter life. Which I don't think is a terrible trade off, but to teach his own. You probably won't find a laptop with a full 1070 with such a small form factor and portability anyways.
Design
The main advantage of this OMEN besides its high end 1070GPU and processor, it's the crystal clear 17inch full HD display which does have a huge impact on gaming experience and guess what it has G-sync too! That's probably what makes it just as expensive as any laptop with a RTX 2070 that doesn't have G-sync.
Of course the size of its display hurts portability but everyone user looking for a 17inch desktop replacement laptop doesn't care about that.
The fans work amazingly well, they're much less noisy than most units even under heavy loads & any temperature. It does get very hot at heavy loads however but there's no thermal throttling even after several hours of gaming. This is probably due to its size too.
The flaws with the omen you will find are:
No DVD/CD reader despite the space being there ( you can probably install one yourself but who needs that these days?)

Lack of SSD! Upgrading it is pretty easy though again due to size.

Good ol' bloatware still there.
This is the only laptop out of the entire list with one of the most powerful GPUs and G-sync. A pretty good choice for gamers who don't care about the RTX new features.
Video Editors and 3D modeling people should also consider this one: the 17inch display along with the GPU/CPU all mixed into one are not easy to find at this price.
---
Best Desktop Replacement MacBook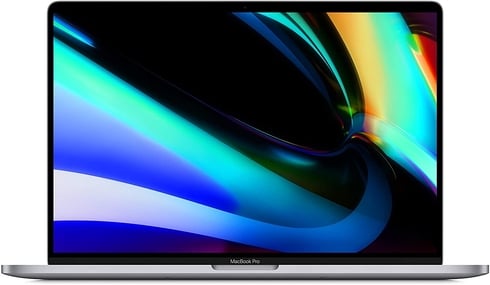 9th Core i9 Up to 4.8GHz
Up To 64GB DDR4
AMD Radeon Pro 5500M
Up To 4TB Flash Storage
16" Retina Display(+2k reosolution)
4.3lbs
7-10h
x 4 USB Type C ThunderBolt 3, 1 Headphone Jack

This is the latest and most powerful MacBook Apple has to offer.
Hardware
With the core i9 and the AMD 5500M and the capacity to hold all that storage and RAM, it definitely fits into the category of desktop replacement.
The display still has the retina resolution (already higher than any laptop shown here): 2880×1800. This time it includes a touch ID sensor like the iPhone 6s and a touchBar for faster access to menus, tools,etc.
Everything seems to match the specs of the most powerful windows laptops except the GPU. So the issue at hand is how powerful is this new AMD card and what can you do with it.
Performance
The Radeon Pro 5500M performance has been benchmarked to be almost as good as a 16x0GTX graphics cards. The main difference is that it can hold up to 8GB of vRAM.
Which is on the high end of the spectrum for just about every professional video editor and animator using Final Cut Pro/Maya/AutoCAD/PhotoShop/Unity.
If you are a buying this model for iOS or App development I'd suggest you take a look at lower end models because this is in fact way too much for what you'll need, you'll miss the battery life of the weaker versions. The CPU when hit with heavy loads will only give you around 3 hours max.
If you still opt for this model, try to install Boost Switcher Pro: it'll disable turbo-boost (if you are not puting it under heavy load) to increase your battery life by about an hour.
This year's model, which has a decent GPU, won't dissapoint a great majority of gamers because like we mentioned before this GPU has the power of a 16x0GTX card so you'll be hitting 3 digit fps on several triple AAA games at 1080p settings.
Design
The overall look is sleek, thin & light as you'd expect from Apple. The speakers are top notch as always.
This time the keyboard is not dissapointing, last year's model (15inch version) had an awful keyboard that had nothing bad reviews all around the web. This year's keyboard is a great attempt to replicate what they had in the past "the greatest keyboard ever designed on a laptop".
I personally don't think it's that big of a deal. Keyboards are keyboards : you hit a key, it put letters on the screen, that's all I need. But most people are not like me which made them redesign the keyboard altogether.
The TrackPad is still a joy to use, no changes there. It makes other laptop's attemp to replicate it look like a silly toy. This time is a lot bigger though.
Some people are claiming that the Retina display is getting tiring.
Apple could go ahead and ditch the 7 year old retina display altogether for a 4k resolution screen but that resolution along with the core i9 and GPU will make the battery life dry like the sahara. Battery life is one of the few reasons why people opt for a MacBook so it's not something they can just get rid of.
Even with the specs given here, it's still around 9 hours with basic tasks & 3 hours under heavy load which is excellent given the specs & compact form.
Now on to the chicken guano:
Mag-sage power adapter is gone.

Dongle Hell: the lack of ports will need you to get adapters for whatever you want to plug in.

TouchBar: it's hard to get used to, try install Better TouchTool to customize yours and make it useful.
---
Best Budget Desktop Replacement Laptop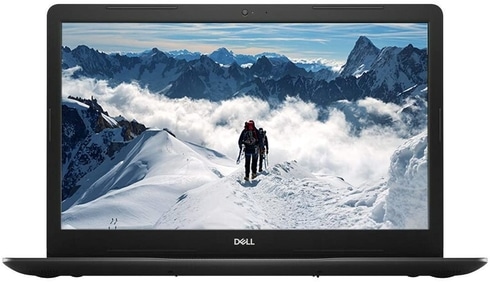 Core i5 8265U
8GB RAM DDR4
AMD Radeon 520 w/ 2G DDR5
128GB PCIe NVMe + 1TB HDD
17" Full HD Matte TN IPS
6.16lb
5.5h
1 x HDMI, 1X VGA, 1 x USB 3.1 Type-C, 2 x USB 3.0 (One with Power-off Charging), 2 x USB 2.0 x1 Headphone Jack x1 RJ-45 LAN x1 SD Card Reader

The following three laptops are desktop replacements for regular folks that don't really see the need of the latest GPU and CPU.
Hardware
This is a relatively powerful laptop only because it has an 8th generation CPU and a dedicated GPU. Both a lot less powerful than the processors and graphics card. A nice feature is the SSD+HDD combo! So there's no need to install another storage drive. There's plenty of space and speed from both.
Performance
Although the processor is a core i5 from the 8th generation this is still a very fast CPU for just about anything even 3D modeling. The main bottleneck for heavy workloads such as heavy gaming and large/complex 3D modeling is the GPU: AMD Radeon 520.
This GPU has about the same performance as the 940MX which is the weakest and entry level card of NVIDIA GTX series. It's still plenty to let you play most games at low settings wit out lag and also for simple models with 3D software. Not something I would recommend for any type of video editing.
On the other hand , this is the sweet spot for Photo Editing, since PhotoShop and other like software only needs a dedicated GPU to take full advantage of accelerated effects.

Design

The best part of this model is that it has a 17inch display with full HD resolution AND IPS panel making it tremendously easiest on the eyes.. This combo is usually only found on high end gaming laptops above 1000$.

Another bonus is the fact that it's super easy to upgrade. You can install another SSD drive and/or add another 8GB RAM stick to make 16GB and make it soar.
---
Best Cheap Desktop Replacement Laptop Under 800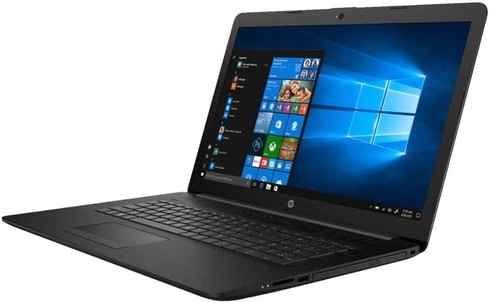 Core i5 8265U (Up to 3.9GHz)
16GB RAM DRR4
Intel UHD 620
256GB SSD
17" HD+
5.25 lbs
6 hours
DVD/CD burner
1 x USB 3.1, 2 x USB 2.0, 1 x HDMI, 1 x RJ-45 (LAN), 1 x Headphone-out/microphone-in combo jack, x1 SD Card Reader

This is a cheaper version of the Dell Inspiron but lacking a dedicated GPU and a fancy full HD IPS display.
Performance

The 8th gen Core i5 processor + the SSD should let you blaze through basic tasks and any type of office work, programming and even photo editing.
As for gaming a Core i5 with no dedicated graphics cards will let you game with triple AAA games like Fornite/Overwatch but at the only at lowest settings with everything turned off.
Older and less graphic intensive titles like Heroes of Might, Magic 3&4, StarCraft, AoE & Risk and anything like that should be able to run flawlessly.
Design
Upgrading is relatively easy, I suggest you pop in an SSD on it to make it fly if you aren't satisfied with the storage size. Though there shouldn't be no complaints with the RAM size, way too much for basic users.
---
Best Desktop Replacement Laptop For Basic Users
Ryzen 5 3500U 3.7GHz
16GB DDR4
Integrated AMD
1TB HDD 5400RPM
17.3" HD+ TN
6.2lb
3.5h max
2 x USB 3.0, 1 x USB 3.0 Type-C; 1x HDMI; 1 x Headphone/Microphone Combo Jack, SD Card Reader x1 RJ-45 LAN

Lastly, an alternative to the HP above but with a Ryzen Processor which by the way are just as fast and even more energy efficient than their Intel counterparts.
This should also let you blaze through basic tasks like streaming videos, surfing the web with dozens of tabs open, you'll be able to do all of that without any hiccups. Note that this model already gives you 16GB so there's really no end to how many applications you can have open.
You may be able to game with it but you'll still be hitting two digit fps numbers at low settings with most triple AAA games. You still need a dedicated graphics card for anything beyond that.
Note that this model's performance will be severely hampered by the lack of an SSD. It should be replaced by an SSD as you soon as you get the chance so that you never have to face any hiccups no matter what you do with it.
---
How To Buy The Best Desktop Replacement Laptop
When you type desktop replacement laptop on the Amazon or Google Search Bar.
You usually get 17 inch laptops , thick enough to be used as snow shovels and with the latest GPU and CPU jammed into them at the top of the search results.
While these definitely have all the "beast-like" and "unleashed" power of the force performance yada yada yada, very few people will put all of that crazy power to full use and I mean very very few(a .01%).
Even among those who do need all of that power, most of the time they are not getting the best bang for their buck either.
Their price tags are ridiculous high too! You can actually buy dozens of ChromeBooks with the price of one of these monsters. Enough of them to give every kid in your block one for christmas.
What we are gonna try to accomplish in this section is trying to maximize the specs you need (for the things you usually do) with the money you have. In other words, we'll make sure you buy the right desktop replacement laptop for your specific needs so you don't end up wasting extra cash on hardware/specs you may never use at al.
Yes, the guide is long but that's only if you read the whole thing (which is unncessary). Just skip right into the section of your interest:
The sections are:
Basic Tasks & Entertainment

Gaming

3D Modeling: CAD & Animation

Photo Editing

Video Editing
---
1. Basic Tasks & Entertainment
By basic I mean any type of business work like word processing, running spreadsheets, skype, web surfing, movie watching, programming and playing non-AAA Games.
If you are just limited to all of that, you do not require any of the high end processors or even a dedicated graphics card (which is what usually drives up the price).
In fact you can probably do all of that with any laptop out there.
So if you are just looking to ditch the.desktop you have to get more space in the living room.
There's no need to spend more than 500$ even if you want a gigantic screenl.
a) CPU
Word processing or Programming or running calculations in excel do not require insane clock speeds and they don't make much use of physical cores or hyperthreading. What are those?
Don't worry about it, it just means any processor even from Intel U line series or the AMd Ryzen 3 and 5 series(which is a cheaper and smarter choice for several reasons) should be alright:
Ex: Core i3 7100U, Core i3 8310U, Core i5 8250U. AMD Ryzen 3, AMD Ryzen 5.
Note that AMD Ryzen 7 and Core i5 8550U or Core i5 8265U may be too much for you but if you've got the budget…just go for it. But try not to….
Because going for lower end and cheaper CPUS could be a better choice. Why?
The more powerful your CPU is, the more power it will consume and this means less battery life.
Low end CPUs such as the Core i3 series operate at relatively low frequencies(speeds) and ocassionally jump into high frequencies(when the situation demands it and allows it). Efficienty CPUs like the Ryzen Series, however, are both fast and energy efficient. They will consume a lot less power and still hit those high frequencies some of you may want so much.
For someone who wants a 17 inch display for just work/entertainment, this means not having to sit on the other couch which has an outlet close it.
a)RAM
If you work with one application at a time, 4GB will do.
However Windows itself takes 2GB and if you start running several applications along Microsoft Office, 4GB will start to feel low.
For heavy multitasking, you need 8GB.
8GB will mae sure you never feel any lag whatsoever no matter how many web browsing tabs/applications you have open.
16GB RAM is useless, you'll never see the needs to use it unless you want to run some triple A games or perhaps some video editing/push the limits of photoshop. 8GB is enough for most photo editing purposes too.
b) Display
IPS display: If you want the best movie watching experience. They have the best viewing angles. Actually in the laptop world, only IPS displays have viewing angles.
TN displays have no viewing angles and you won't be able to see what's on the screen as soon as you start to tilt back the screen.
Some display are more color accurate than others. If you are nitty picky about color accuracy and want spiderman to look with the same red/blue the director tried to portrait then you should look for displays that cover +85% of the sRGB gamut.
Most IPS panels do that already though, if you really want to make sure yours does you need to check reviews from www.laptopmag.com or similar sites.
If you are into Photo Editing, color space becomes even more important.
full HD: If you want to multitask with several documents all opened next to each other. A full HD resolution is a must. Having a 17" display with no FHD might not be as helpful as getting a 15 with FHD, although that may sound counterintuive thats how it is.
Check this out. That's a 17" with FHD.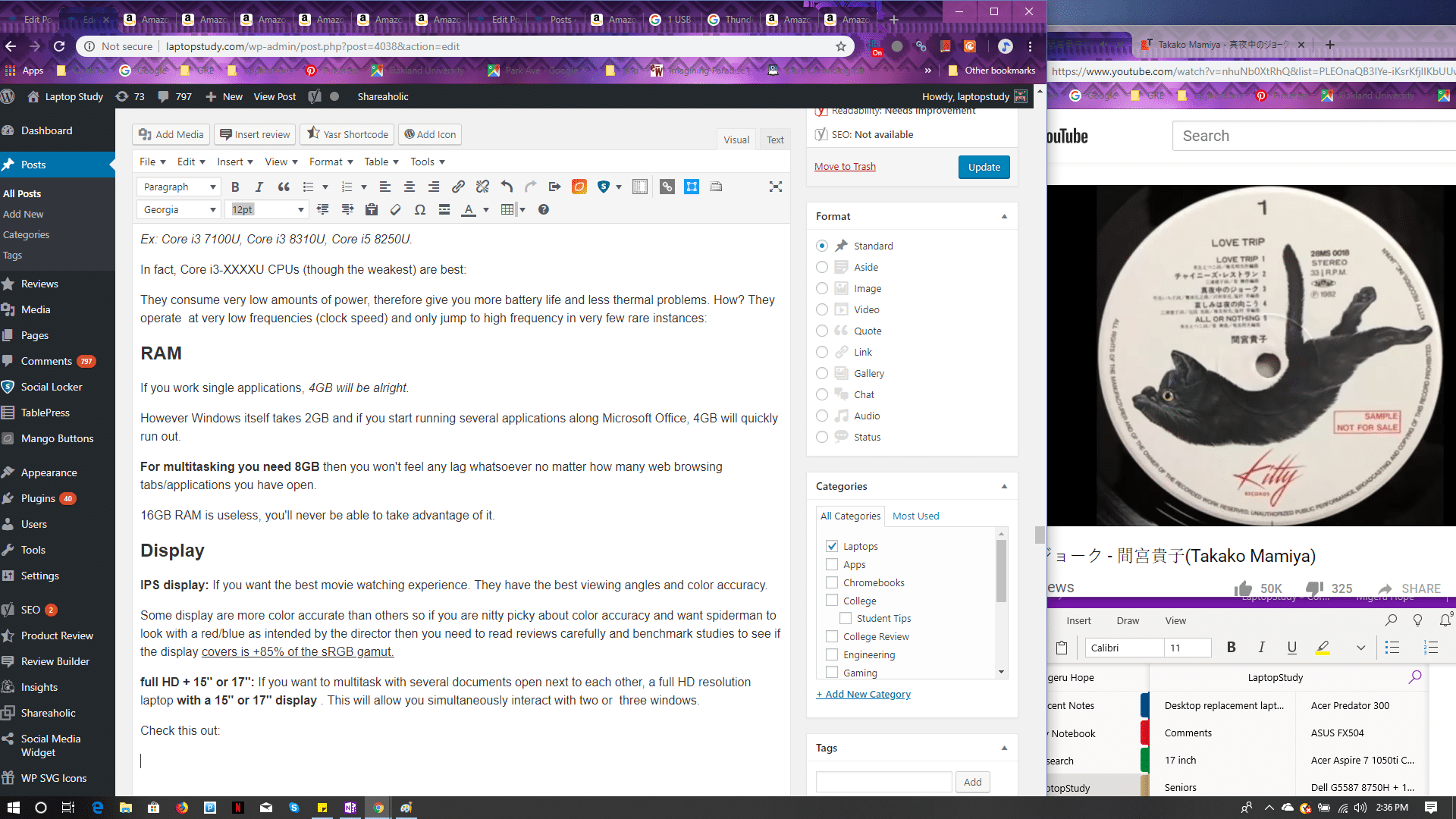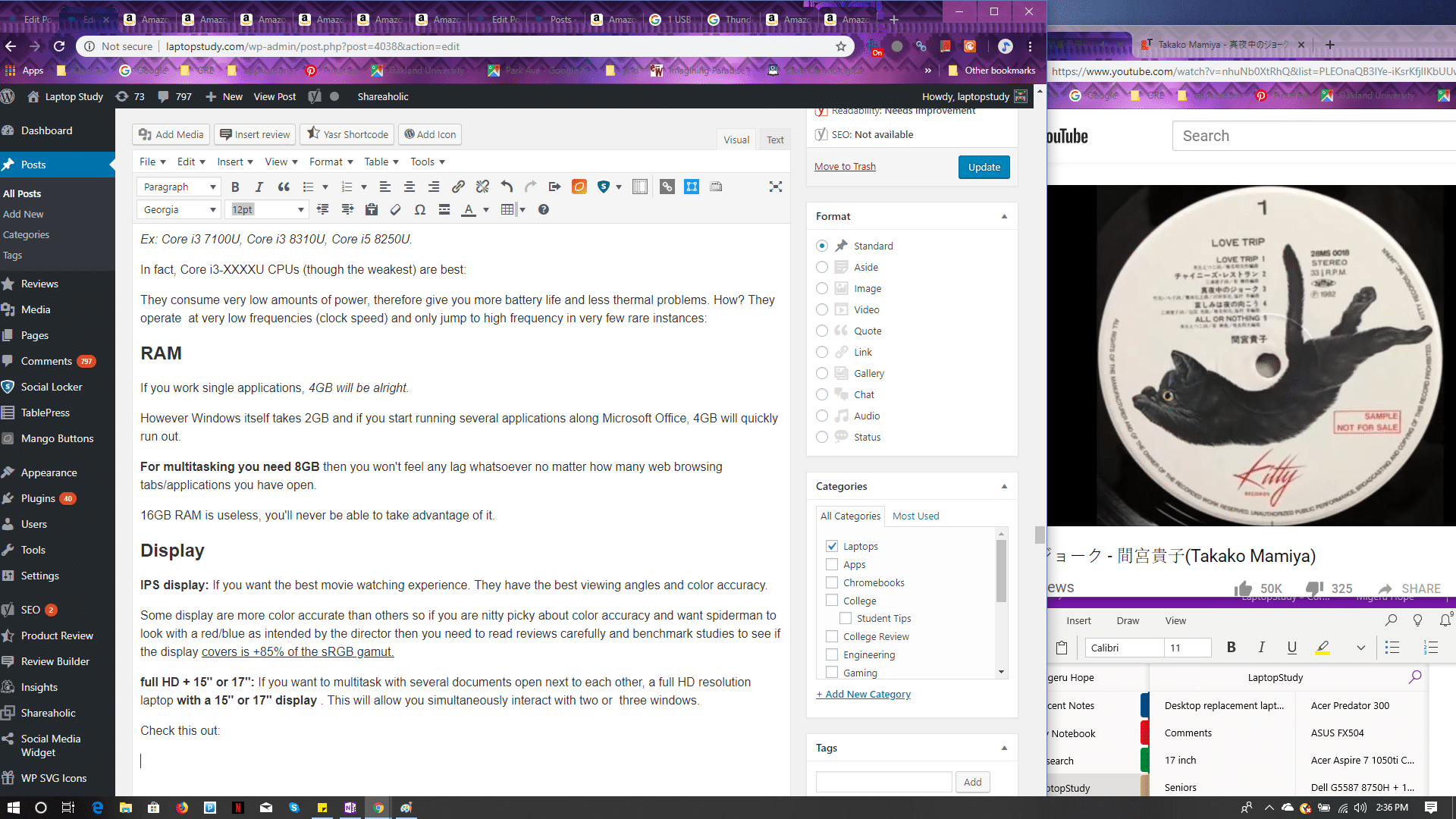 TN w/ HD or HD+ resolution: If battery life is more important, then you a 15" TN HD or HD+ display is the way to go. Less resolution and details but a lot more battery.
C) Storage
Solid State Drive
If you want to be really productive, you really should think about having an SSD on your laptop. Launching office, opening large spreadsheets and even booting your system will literally take 1 or 2 seconds.
Although SSDs may come with 128GB or 256GB for storage, this is plenty space even if you have several thousands of documents and hundreds of photos/videos.
Here's how much you can fit in in a 128 or 256GB:
Type
Size
128GB
256GB
Photos

6000X4000JPEG

5MB

~25000




photos

~50 000

Videos

1h full HD




60fps

200MB

~640hours

~ 1280 hours

Images

Screenshot PNG

44k

3 million

6 million

Books

PdF – 170p.

14MB

9000

18 000

Win10

64bit

20GB

–

–
Hard Disk Drive
These are the traditional storage drives you are used to.They are slow but they offer you with plenty of storage 1000GB(1TB) for a lifetime.
If you opt for a 15" or 17" laptop, there will be plenty of space to install an additional hard drive. Depending on what storage your laptop came with, you can either install a 1TB HDD or a 256GB SSD.
With 15-17inch laptops, the process is just as easy as removing one screw and inserting a USB storage device into a socket.
---
2. Gamers
No laptop out there will match the performance of a desktop but laptops are getting closer and closer each day. Although laptops can now hold the same GPUs and CPUs desktops use, most of them can't reach the same amount of FPS and Clock speeds of desktops and this is mainly due to their size being too small and inability to control the high temperatures of these components which arises when they try to unlesh their full power.
Long story short , in the gaming world, it's all about the graphics card and even more importantly: the cooling system.
CPU
There are very very few games, if any, which do use multicore CPUs. Your main focus should be to get the highest clock speed you can afford. Usually these come with four or six cores anyways so it's not like you have much of choice:
| | | | |
| --- | --- | --- | --- |
| CPU | Base | Turbo | Cores |
| i5 8250U | 1.6GHz | 3.4GHz | 4 |
| i5 8300H | 2.3GHz | 4GHz | 4 |
| i7 7700HQ | 2.8GHz | 3.8GHz | 4 |
| i7 8550U | 1.8GHz | 4.0GHz | 4 |
| i7 8750H | 2.2GHz | 4.1GHz | 6 |
RAM
8GB RAM: sufficient for 1st person shooting games like OverWatch/ Battle Arena games like LoL and Dota 2.
16GB RAM: Open world MMORPG games like WoW, SkyRim at ultra high settings need 16GB.
Storage
Avoid HDDs: Storage type may seem that important for gaming but 5400/7200 RPM traditional hard drives are ridiculously slow for today's hardware demanding triple AAA games.
Open world games like WoW need to read large files all the time pretty much whenever you step into a new area.
An HDD can seriously increase the time it takes to load a new map to minutes. Just imagine trying to log back in WSG/Arathi Basin after they've got the flag!
FireCUDA/Optane Memory: A set of new storage drives that may seem to be the best thing since sliced bread but are just as slow as traditional HDDs. Avoid them like the plague, you will anyways. The current low prices of PCIe NVMe has made them almost obsolete . Only laptops with SSDs (perhaps with a 1TB HDD for extra files) are even worth looking at.
SSD(Solid State Drive): if your laptop doesn't come with a dedicated Solid State Drive with 128 or 256GB, luckily most laptops allow you can install it yourself . Just avoid the hassle and make sure yours has one. PCIe NVMe SSDs are common these days, don't cheap on the slower SATA III version.
GPU
The most important component.
High end gaming: 1060GTX, 1070GTX or 1080GTX, 2060RTX, 2070RTX,2080RTX.
With any of these cards, you'll be able to hit:
Openworld MMORPG: +60 FPS at ultra settings.
First person shooting games: +60FPS at full HD ultra settings.
Battle arenas: +100 FPS at the highest setings.
Light gaming: requires a 940M, 940MX, 960M, 1050 non Ti, 1050Ti GTX, 1050 GTX.
Openworld MMORPG: 40-60 FPS at medium settings.
First person shooting: 50-60fps at medium settings.
Battle arenas: +100 FPS at the highest setings.
Design
Because most consumers just care about what CPU and GPU they're getting when choosing a laptop, a lot of manufacturers simply take any of the latest graphics cards and the latest CPU, put them together inside a laptop and leave the rest to draw and luck. This procedure causes most laptop designs to totally suck. The result being that they will not perform well under high loads.

Overclocking/UnderClocking
A well designed cooling system on a laptop can outperform a laptop with a better GPU/CPU. A processor & GPU kept at safe temperatures will be able to overclock (hit the highest clock speeds) for long sessions.

On the other hand, a laptop with a poor cooling system and a much better CPU/GPU will underclock (run at low frequencies) to avoid high temperatures and consequently perform poorly. As a result, you'll have drops in fps and may have to reduce the graphic settings.
Displays
Refresh Rates
Refresh rates refers to how many images per second your display can output. This is extremely important in games like CS:GO and Overwatch because making the best & fastest decisions depend on how much detail you can get in every single second.
60hz refresh rates are found on nearly every laptop, it's the standard.
Gaming laptops will have between 120Hz and 300Hz.
Refresh Rates vs GPU
There's no point in getting the latest GPU that can output 200fps at ultra high settings if your laptop display only has 100Hz refresh rates. Make sure your laptop display has really high refresh rates if your spending a lot of cash on the latest GPU.
Hhigh refresh rates not only give you an advantage when gaming but also seem to be easier on the eyes especially when you game for long hours. Highly recommend to get the highest refresh rates you can afford.
G-sync/Free-Sync
These two terms are the most important ones to understand if you want to be a good gamer.
Your GPU basically dictates how many FPS you'll get in a certain game, right?
High end GPUs like the RTX 2070 can output easily +150fps. However occasionally and usually during extreme situations(for ex: everyone in the battle field close to each other and beating the crap out of each other) your fps may fall down all the way to the 90s. If your display can output 120fps and your GPU is now outputting 90fps, they will be out of "sync".
This is the scenario where "screen tearing" is most obvious. Although it can happen anytime for no reason!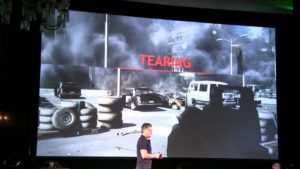 What G-sync/Free-Sync basically does is making your display's refresh rates "sync" with your GPU's fps so that you don't experience any screen tearing . This is why it's important to make sure your laptop's display has this technology in it.
300Hz Display with no G-Sync/Free-Sync
As of may 2020, there are very few laptops with 300Hz refresh rates, an RTX GPU and G-sync/Free-sync which makes most gamers reluctant of spending tons of cash on the latest models. Luckily, "screen tearing" is not much of an issue when a laptop display has refresh rates that high.
3. 3D Modeling/CAD Design/Animation

Editing/modeling/assembling is highly dependent on your CPU's clock speed.
Viewing able to navigate through a scene/model or to use viewport smoothly depends on your GPU.
RAM will affect the size of your projects you can work and it's even more important if you plan on rendering with your laptop.
Cooling design also becomes extremely important if you wanna render with your laptop and you want your laptop to last you a several years.
That's pretty much all you have to know but let's get into more details anyways.
CPU
Modeling/Editing: No single application in Animation/CAD design/3D Modeling makes use of multicore CPUs or multithreading. A few operations in software such as RevitAutoCAD and Solidworks do take advantage of the number of cores your CPU has but even then there isn't any substantial increase in performance.
So if you want to apply effects/assemble/model pretty fast. You should invest on the CPU with the highest clock speed you can afford.
Rendering: Rendering , no matter what software you are using, makes use of multicore CPUs. Most of them, however , only see a minor increase in performance beyond six cores.
| | | | |
| --- | --- | --- | --- |
| CPU | Base | Turbo | Cores |
| i5 8250U | 1.6GHz | 3.4GHz | 4 |
| i5 8300H | 2.3GHz | 4GHz | 4 |
| i7 7700HQ* | 2.8GHz | 3.8GHz | 4 |
| i7 8550U | 1.8GHz | 4.0GHz | 4 |
| i7 8750H | 2.2GHz | 4.1GHz | 6 |
| i7 9750H | 2.6 GHz | 4.5 GHz | 6 |
| i9 8950K | 2.9 GHz | 4.8 GHz | 6 |
| i5 9600K | 3.7 GHz | 4.6 GHz | 6 |
| i7 9700K | 3.6 GHz | 4.9 GHz | 8 |
| i9 9900K | 3.6 GHz | 5.1 GHz | 8 |
| i7 10750H | 2.6GHz | 5GHz | 8 |
| i9 10890K | 2.4GHz | 5.3GHz | 8 |
| | | | |
| --- | --- | --- | --- |
| CPU | Base | Turbo | Cores |
| AMD Ryzen 9 4800HS | 2.2 | 4.4GHz | 8 |
| AMD Ryzen 7 3750H | 2.3 | 4.0 | 4 |
| AMD Ryzen 7 3700U | 2.3 | 4.0 | 4 |
| AMD Ryzen 5 3550H | 2.1 | 3.7 | 4 |
| AMD Ryzen 5 3500U | 2.1 | 3.7 | 4 |
| AMD Ryzen 3 3300U | 2.1 | 3.5 | 4 |
| | | | |
| --- | --- | --- | --- |
| CPU | Base | Turbo | Cores |
| i5 8250U | 1.6GHz | 3.4GHz | 4 |
| i5 8300H | 2.3GHz | 4GHz | 4 |
| i7 7700HQ | 2.8GHz | 3.8GHz | 4 |
| i7 8750H | 2.2GHz | 4.1GHz | 6 |
GPU
For any type of 3D stuff(animation, modeling,etc) you need a dedicated GPU(graphics card).
There are only two types of dedicated graphics card: consumer aka "gaming" cards and workstation cards.
Workstation Graphics Cards
With a few rare exceptions, mostly plugins for SolidWorks or extremely large assembles in AutoCAD(~5000 parts), there is no point on investing in a workstation graphics card. Consumer cards will do the trick for about 99.9% of you.
In fact, workstation graphics card are outperformed by gaming cards in some softwares like Maya or 3DS Max (animation).
And if you deal with relatively small models in any CAD software, workstation cards are definitely not worth it anymore. You should be ok with any GPU above or equal to a 960MX. No matter how complex you think your project is.
A few pointers:
3D modeling software benefit from CUDA Cores & vRAM.The more you have the better.

For animation software(Maya, 3DS MaX), vRAM the better helps a lot more than the number of cores.

For AutoCAD, there's no point going beyond 6GB of vRAM.

2080RTX, 1080GTX ,2070RTX offers little benefit to no benefit over the 2060RTX, 1060GTX.

1060GTX is the sweet spot in terms of performance/money ratio

MX150, 940MX, 1050GTX (non ti) are low end cards that should be used by beginners/classes/small models/students.

SolidWorks is the only software that benefits the most frmo a workstation card.
| | | | |
| --- | --- | --- | --- |
| Name | Cores | vRAM | Speed |
| MX150 | 384 | 2GB-4GB | 1532 |
| MX250 | 384 | 2GB-4GB | 1582 |
| 1050 | 640 | 2GB-4GB | 1493 |
| 1050Ti | 768 | 4GB | 1620 |
| 1650 | 1024 | 4GB | 1560 |
| 1060 | 1280 | 6GB | 1670 |
| 1660 Ti | 1536 | 6GB | 1590 |
| 1070 | 2048 | 8GB | 1645 |
| 1070Ti | | | |
| 1080 | 2560 | 8GB | 1733 |
| 1080Ti | 3584 | 11GB | 1600 |
| 2060 | 1,920 | 6GB | 1680MHz |
| 2060 Super | 2,176 | 8GB | 1650 MHz |
| 2070 | 2304 | 8GB | 1620 MHz |
| 2070 Super | 2560 | 8GB | 1770 |
| 2080 | 2944 | 8GB | 1710 |
| 2080 Super | 3072 | 8GB | 1815 MHz |
| 2080 Ti | 4352 | 11GB | 1650 |
Not all rendering software takes full advantage of GPU acceleration. For the few that do, the larger the number of "CUDA cores" the faster they'll render your scene/models. Do a quick search on goole if your renderer is "GPU dependent" and then decide on wether or not you should buy the GPU with highest number of "CUDA/Tensor/RT Cores".
Storage

3D Modeling software(all of them including Solidworks, AutoCAD, 3DS Max or Maya) takes a huge amount of space and will take a while to load up their toolbars, your files and the entire canvas for you to start modeling.
The output files will also take tons of space. The solution is to have a fast storage drive (SSD) and another storage to act as.a file repository (either a large SSD or a 7200RPM HDD).
SSD: You need a Solid State Drive as your primary storage drive. This will make sure you'll load all your files and software within seconds. You'll also see a minor increase in performance when applying effects/editing a specific model.
HDD: Since most SSDs offer 256GB-512GB storage space. This may not be enough for 3D modeling. Luckily, most 15-17" laptops allow you to install another storage drive on it. It'd be nice if you could install a 1TB SSD but they can be pretty expensive. This is where the slow HDD bricks can come in handy, they've plenty of storage and are extremely cheap. The speed won't really matter because this HDD will be used a file repository and your SSD will make sure you'll do your 3D work at blazing fast speeds.
Cooling System
You also need to consider cooling system see Gaming Section on cooling/design.
4. Photo Editing

Photo Editors need to take into account every specification: CPU, GPU, RAM & Storage & Display.
But you don't have to technical and maxed all specs to get the best desktop replacement laptop.
You just need to know of a few pointers.

CPU
Photoshop, LightRoom or any photo editing software only cares about clock speed. It doesn't care about multithreading.
So if you want to get the best bang for your buck, get the highest clock speed you can afford.

GPU
Photo editing software doesn't care about what kind of graphics card you have. Most people will be fine with an "integrated graphics card". But those who want to rip off the benefits of GPU acceleration only need to get a dedicated GPU, that's it, they don't need to worry about models, power,vRAM and any of that.

RAM
Photoshop, LightRoom & Corel Draw eat RAM like PacMan. This is more true if you are editing several images at once or applying tons of layers/effects on a single image. For example when using LightRoom or when doing tons of retouches on a single image in Photoshop.

For desktop level performance. You need at least 8GB RAM but preferably 16GB .
Storage
Solid State Drive
Are a must for desktop level performance with any Photo editing software.
High resolution images are pretty heavy & the amount of layers + all the effects you apply to it all add to even bigger files that you have to save and then read them again when you launch the software to continue editing them.
This is where SSDs come in handy, the fastest SSD (PCIe NVMe) can read/save data x17 faster than HDDs!
Hard Disk Drive(HDDs)
Since 15-17" laptops have plenty of space, you can also install a separate HDD. HDDs are great for Photo Editors, they will save you tons of money and give you tons of space to store all kinds of files(up to 2TB!).
Display

Laptops have nowhere near the quality of desktop's monitors. It'd be best for you to invest on an external monitor whenever you need to finish up a project or when you need extreme color accuracy.
Resolution: The best you can do is opt for laptops with 4k resolutions, these are all able to cover +100% of the sRGB space. In other words, they are the most color accurate. They're still decades behind desktop monitors though where a cheap monitor can go over 150% and give you 6k-8k resolutions.
Full HD with IPS panels displays also come pretty close (~85% of the sRGB). These are also good for most photo editing.
5. Video Editing
Explaining why you need a specific graphics card and a specific CPU over the other just for video editing can be very difficult to summarize but I'll do my best.
By the way, our video editor has written the most complete guide for those who just want to get a laptop for video editing. I really recommend you take the time and read that instead.
CPU

Editing/applying effects are the two most frequency dependent operations.
Exporting/rendering benefits from multi core processors (up to 8 cores).
For desktop level performance, then ideally you'd want something like the Core i9 from the 9th or 10th generation but you can also settle for any Core i7 from the 8th, 9th or 10th gen.
RAM
8GB RAM for less than 60 min footage.
16GB for +60min footage.
32GB is unnecessary unless you are a heavy After effects/DaVinci Resolve user.
GPU
GPUs will decrease the time it takes to export a video (CUDA Cores). While the amount of vRAM affects how fast you can work with very long timelines.
At least a 960M or above. See table above. Would recommend staying below a 1060GTX/2060RTx, higher cards will start giving you diminishing returns.
Storage

Solid State Drives: Storing all your project files (cache files) on an SSD will improve rendering previews/exporting times.
Hard Disk Drives: you can use an additional HDD to act as a repository.
Desktop level performance: get Two SSDs (both PCIe NVMe). Store Win10 on one and everything else on the other.
Displays
Resolution: 1080p as the minimum. Having a 4k resolution helps if you are doing 4k video editing but you won't be able to see edit your video with 4k resolution, the software will scale it down so you can have your timeline & tool bar next to it.
But you can playback 4k videos on a full screen with one.

6.Desktop Replacement Laptop Tips
Upgradeability

Any 15" or 17" laptop can be upgraded in RAM. Sometimes even up to 64GB. Modern ones usually up to 32GB.

You can always start with 8GB RAM and see upgrade it if you feel you need more later on.
RAM is cheap nowadays and upgrading modern laptops is just as easy as removing one or two screws.
Should I bother with more than 16GB RAM?
We think 16GB is enough for everyone. Having 32GB won't make anything faster even if you are multitasking with many basic applications.
But…
There are a few CAD designers (those dealing with models having +several thousands of parts), programmers using nested virtual machines and video editors multitasking between Adobe Premiere & After effects that may need: 32GB and beyond. But those guys comprise .01% of all users.
GPU
If you really wanna get the best GPU for your buck, you need to be aware of the following terms & notes:
Integrated Graphics Card
These are the graphics cards integrated into the CPU.
These the same memory with the CPU and fight for resources make them super slow for most graphic intensive tasks but this is enough for basic gaming, home use, watching movies, etc.
They're labeled as "Intel HD Graphics" or "Intel Iris" or "Intel UHD".
They all perform more or less the same. Don't pay to much attention which one you're getting.
Dedicated Graphics Card
These have their own resources: they have their own memory(vRAM), even their own processing units called CUDA cores on NVIDIA cards and Stream processors in AMD Cards.
CUDA Cores
As far as the laptop market goes. NVIDIA is still the one holding a monopoly and you'll find laptops with their graphics cards.
These , processing units, also called "CUDA cores" on NVIDIA GPUs can aid in calculations for rendering, programming and most CPU intensive tasks. So yeah they act like extra cores the same way it works on CPUs.
| | | |
| --- | --- | --- |
| | CUDA cores | vRAM |
| MX150 | 384 | 2GB |
| 940M | 384 | 2-4GB |
| 940MX | 384 | 2GB |
| 960M | 640 | 2-4GB |
| 1050 | 640 | 2GB |
| 1050Ti | 768 | 4GB |
| 970M | 1280 | 6GB |
| 980M | 1536 | 6GB |
| 1060 | 1280 | 6GB |
| 1070 | 1920 | 8GB |
| 1080 | 2560 | 8GB |
| 1660 | 1280 | 6GB |
| 1650 | 1024 | 4GB |
| 2060/Super | 1920-2176 | 8GB |
| 2070/Super | 2304-2560 | 8GB |
| 2080/Super | 2944-3072 | 8GB |
Max Q-GPUs
These are the "nerfed" versions of GPUs. For example, you may see them as "1060GTX Max-Q" . The Max-Q part just means they have been underclocked (nerfed) by about 10-20%. This has been done because they can't cope with the high temperatures inside some laptops like those that are too thin and small to have the proper ventilation required for the GPU to unleash it's full power without melting.
RTX Series
The RTX Series is the newest set of cards released by NVIDIA. They have a different design(architecture) that offer Tensor Cores, RT Cores which are supposed to use AI and RT to accelerate rendering not just in gaming but in video editing/animation. Unfortunately, they're kind of new and most games and softwares out there haven't been able to fully utilize their new features.
However, they're starting to do so…but overall they still won't give you a much better performance than the old 1070/1080Ti GPUs.
I highly recommend the RTX 2060 Series for just about anything, it has the best performance/money ratio out of the entire line of GPUs released by NVIDIA.
GPU Switch
This is something you should be aware of. Usually your laptop (if it has a powerful GPU) will come with two GPUs: the monster NVIDIA GTX GFX card + Intel HD (integrated Card).
If you find any 3D application not working as it should (lag, low fps, loading screens), it's probably because your laptop's using the integrated intel HD card instead of the dedicated GPU. You can go to the control panel or use the native software given by the manufacturer to switch it up.

Don't forget to switch it back to your integrated card for light tasks to get more battery life.
Cooling Systems
Author Profile
I am physicist and electrical engineer. My knowledge in computer software and hardware stems for my years spent doing research in optics and photonics devices and running simulations through various programming languages. My goal was to work for the quantum computing research team at IBM but Im now working with Astrophysical Simulations through Python. Most of the science related posts are written by me, the rest have different authors but I edited the final versions to fit the site's format.