The 5 Best Laptops for Overwatch 2 ( Latest Benchmarks 2022 )
I've been playing the game since 2016 on several kinds of rigs which include low-end laptops and pentium desktops and let me tell you like every blizzard franchise, the game was pretty scalable and ran no problems on each of these set ups.
Unfortunately…
Having partaken in the Beta release, I cannot say the same if you want the best laptop for Overwatch 2.
The game mechanics are MUCH faster with maps cosmetics being a bit more detailed.
You don't need to sing up for Beta to come to this conclusion. Just head over to the official site's hardware requirements which is published by Blizzard.

If you have access to Beta though, try launching Overwatch 2 and the previous version on the same computer (Overwatch 2 Beta has been out since June 28 but probably over now), if you don't just wait till Oct 4.
Or you can watch all the overwatch 2 benchmarks found on my youtube channel and other channels: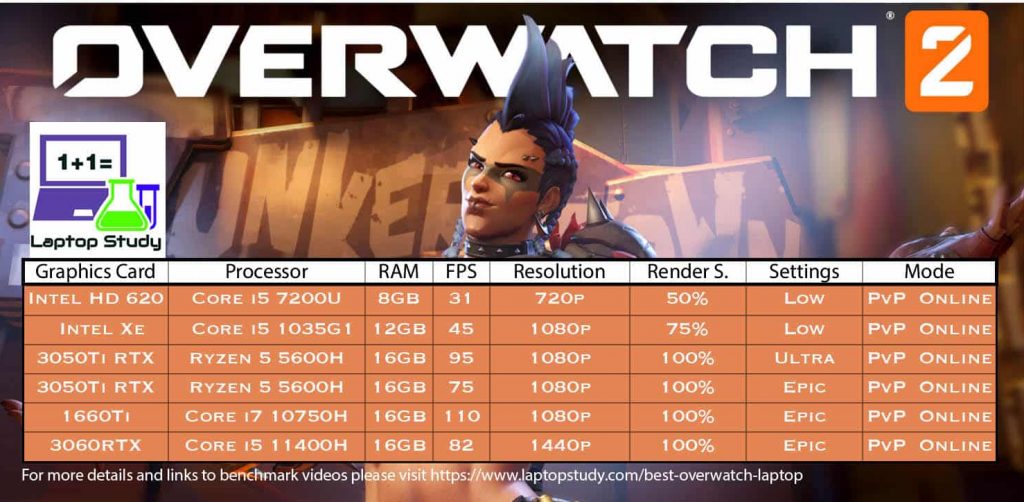 Basically….
You'll need a 1050GTX – like GPU (the modern equivalent being a MX450) to have fun on Low settings at 1080p resolution (~60fps).

A 1060 GTX – like GPU such as the 1660Ti or the more modern equivalent, a 3050Ti RTX, to kick ass in hero shooter multiplayer mode aka PvP on Overwatch 2 on Epic Settings.

If you want to play Overwatch 2 in PvE mode to complete missions, then you can go as low as MX350 or even a Intel Xe integrated graphics.
Now…
If you can't afford a dedicated GPU but only an integrated GPU, the game isn't necessarily going to look terrible or like a PSX game with jagged edges, polygons and so on. It'll still be playable and look cool (the game is insanely scalable) but you will have to some framedrops here and there which will smooth out as you spend more and more time in a match. Obviously all on low settings (the benchmark video showing this is in the last section) .
As for epic settings 60fps …
I'd say you need to spend at least 650 bucks where 800-900 bucks will get you a 3050Ti and a 3060RTX (75 and 100 fps respectively).
Lastly…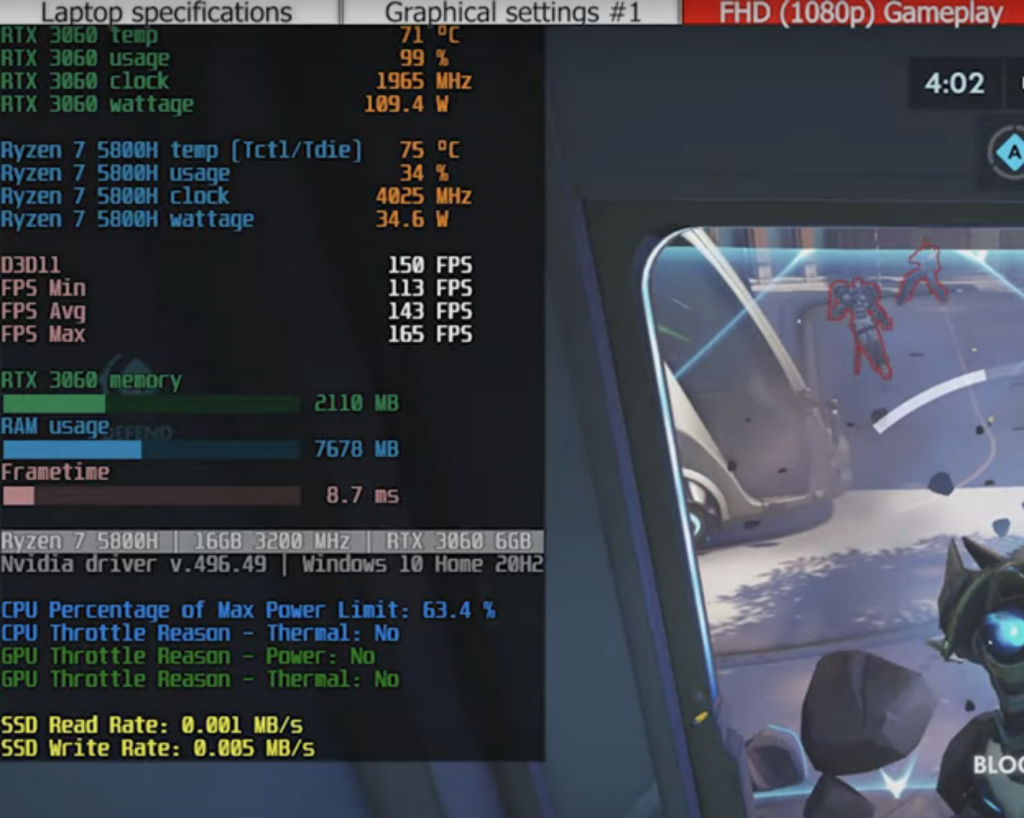 If you want the best laptop for overwatch 2 …that is…something that can hit +150fps on Epic Settings even with a high-mobility gunner hero like Soujourn on a map like New York City…you will then need a 3060RTX laptop running at 130W which should cost you ~1300 bucks.
Anyways…
We'll go through all kinds of options here I will also show you benchmark videos of how the game performs under different hardware (some recorded by myself) when available (again beta is closed so our benchmarks are limited, Season 1 is out on Oct 4 though)
Top 5 Best Laptops For Overwatch 2
When you shop for a laptop for Overwatch 2 from this list remember that the game has changed drastically in terms of speed and mechanics so it's always wise to go out of your way to get at least a recent mid-range dedicated GPU (1650GTX , 3050Ti, 3060RTX).
If you have a budget under 550 bucks it is going to be impossible to get a mid-range dedicated GPU but integrated graphics and dGPUs from the MX Series will work fine as long as you set everything to low.
Note that these five laptops are readily available in the United States. If you can't find these models because you are outside the US, please refer to the last section "How to Pick the Best Laptop For Overwatch 2" or check the alternatives in each table down below. Laptopstudy.com lists the best deals on the market so keep. that in mind when looking up alternatives too
---
Best Laptop For Overwatch 2 – 3050Ti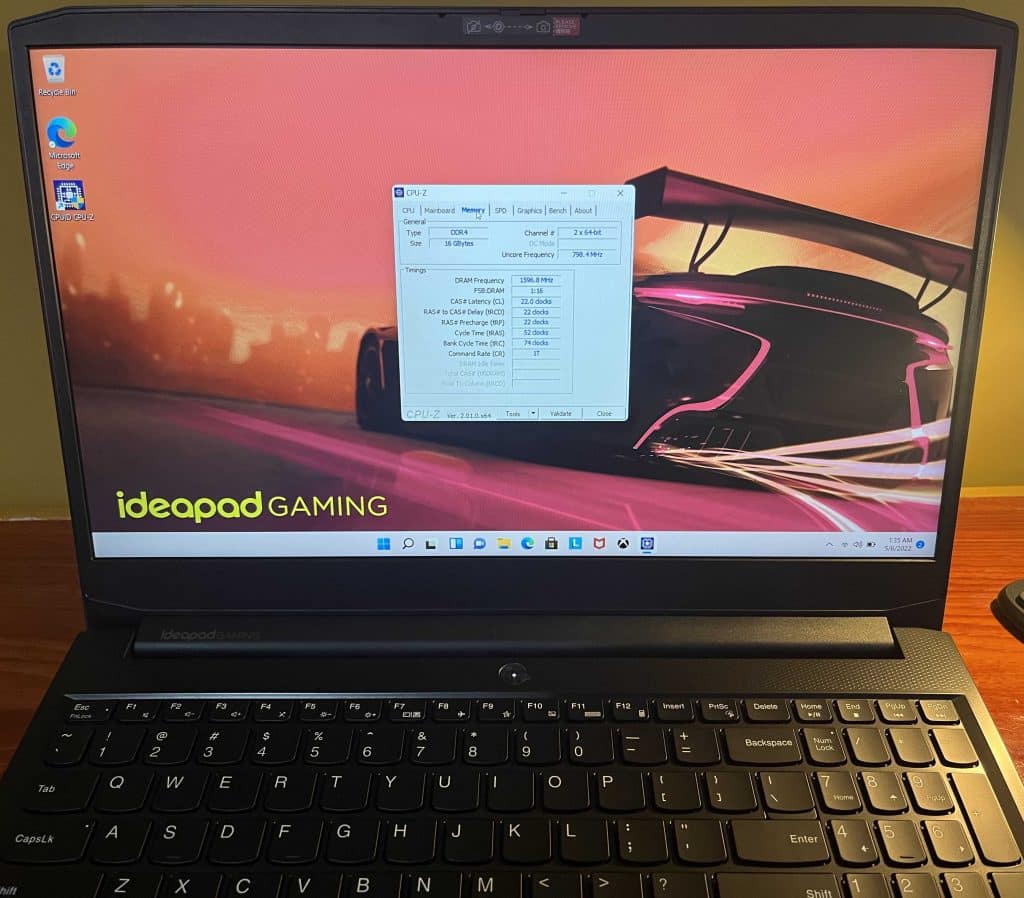 AMD Ryzen 5 5500H
8GB DDR4
RTX 3050Ti 4GB vRAM
512GB NVMe SSD
15.6" 120Hz FHD IPS

4.8 lbs
2 hours

This is hands down the best laptop for Overwatch 2 with the best bang for your buck right now. You can see the benchmarks I carried out myself in the video down below
Im averaging about ~70FPS on Epic Settings while in Combat and ~85 fps in Epic Settings out of Combat.
GPU: 3050Ti RTX
The performance shown above isn't particular to this model. You can get the exact same performance out of every laptop with a 3050Ti and a Ryzen 5 because all 3050Ti GPUs found on every laptop DO NOT HAVE A MUX Switch and ALL of them run at the same wattage. So you don't have to be picky when buying a 3050Ti just buying the cheapest literally. This is why I bought and benchmarked Overwatch 2 on the Lenovo Idepad Gaming 3.
Another good options would be the Acer Nitro 5 shown later.
CPU: AMD Ryzen 5 5600H
However, that's only assuming you get the exact same CPU. Apparently, Overwatch 2 is just like the previous version is VERY multi-threaded which means it runs faster with CPUs that have more CORES OR better multi-core perfomance.
The AMD Ryzen 5 5600H has both, better multi-core performance and 2 more cores, than your average Core i5 CPU. Thus it will perform slightly better than the Acer Nitro 5 which has a Core i5 10300H and obviously slower than those 3050Ti laptops with a Ryzen 7 or Core i7.
RAM: 8GB vs 16GB RAM
I've upgraded this model to 16GB RAM but you don't necessarily have to.
Yes, it has improved my performance most likely by about 10fps especially since I made them Dual-Channel (check my post on Dual-Channel if you don't know what that means).
I'm sure you've noticed the RAM BAR below the FPS counter being ~11GB. Overwatch 2 doesn't NEED that much RAM, the game will run just fine with 8GB RAM but if you increase the RAM it's definitely going to make good use of it (hence it's taking up ~75% of it). If you make it 8GB but dual-channel, it will also get you an increased performance gain (slightly below 10 fps though).
Display: 120Hz vs 60Hz
I've recorded the video for 120Hz displays so if you have a desktop or a phone running at 120hz or more you should be able to notice the difference between a 60Hz display and 120Hz (use other benchmarks on youtube to see the difference). The 120Hz display is not going to bump up your gaming at all but it just looks nicer.
Ports: x3 USB + 1HDMI port + Display Port
There isn't anything wrong with the ports on this model, it's just that the USB port is on the right side so if your mouse movements are big (low sensitivity settings) you're going to bump into the USB connector of your mouse. So either up the sensitivity (mine is pretty high) or buy a mouse with a thunder bolt port which you can connect to the left side of this laptop .
Price
This laptop is on a deal. It's only 730 bucks which is +50 more bucks than the average 1650GTX laptop which we'll discuss next, so grab it while you can. The performance jump is HUGE and I would say if you want to play competitively on Overwatch 2, it is a MUST at this point.
Best alternative: Acer Nitro 5 (3050Ti Model)
Worth 3050Ti Laptop Alternatives:
Lenovo Ideapad Gaming 3

PROS

CONS

OverClock Performance Mode – 85W 3050Ti

Cheapest 3050Ti Laptop

120Hz Display

Epic & Ultra Settings Overwatch 2 +70fps

Relatively lightweight

Upgradeable RAM (16GB) Dual-Channel

x2 SSD Upgrades available (M.2 + 2.5" Bay)

Poor Battery

Only has x2 USB ports
---
The Best Gaming Laptop For Overwatch 2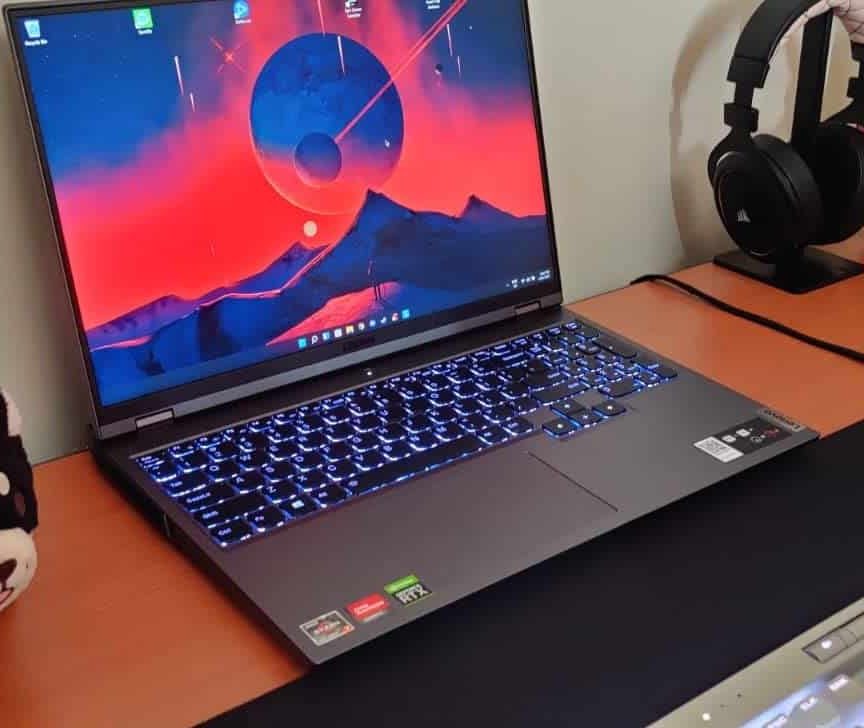 AMD Ryzen 7 5800H
16GB DDR4
RTX 3060RTX 130W 6GB vRAM
256GB NVMe SSD
16" 165Hz FHD IPS

6.55 lbs
2 hours

Hands down the best laptop for overwatch 2 and the best laptop with a 3060RTX on-board. Now surely you'll find several 3060RTX laptops at the same price or even as low as 800 bucks but this one is special I will explain why soon after we check out the benchmarks:
Performance:
| | | | | | | | |
| --- | --- | --- | --- | --- | --- | --- | --- |
| GPU | CPU | RAM | FPS | Settings | Resolution | Rendering | Youtube |
| 3060RTX | Ryzen 7 5800H | 16GB | 154 | Epic | 1080p | 100% | ASAPAnxiety |
The above numbers are for the Lenovo Legion 5 Pro running the previous version of this game. Since we don't have benchmarks of the Lenovo Legion 5 Pro on Overwatch 2, we can get a sense of what the Legion Pro 5 will perform on Overwatch 2 by looking at the following 3060RTX model:
85 fps on Epic Settings and 1440p resolution – Overwatch 2
GPU: 3060RTX 130W vs 85W
To understand this review it's important you understand
what GPU TGP
or wattage means
Don't be dissapointed by the two digit framerates here. That's not what you're going to get out of the Lenovo Legion 5 Pro when running Overwatch 2.
The benchmark running Overwatch 2 has a 3060RTX running only at 85W.
The Lenovo Legion 5 Pro featured here has a 130W. The extra power will make a huge difference in performance ( I suggest you read my article on GPU TGP or wattage above to see it for your self).
Another reason why you're definitely going to get about the same performance as the first benchmark on the Lenovo Legion 5 pro is the fact that you ALSO have a MUX Switch on this laptop which further increases framerates by 15-20%.
Lastly, the 3060RTX laptop with the Core i5 in the video is running the game at 1440p resolution which is far more hardware demanding so even that laptop should get you into the 130s at 1080p on Overwatch 2.
CPU: Ryzen 7 5800H vs Core i5 11400H
Now the Ryzen 7 5800H is definitely a bit weaker than the Core i7 11800H but it's a LOT faster than the Core i5 11400H on the video so again this is yet another reason why you should be abel to hit at least 150fps on Overwatch 2.
Remember we are not picking the Lenovo Legion 5 Pro for the Ryzen 7 5800H but because of the high wattage 3060RTX + MUX Switch. If you can find a Core i5 11400H with the same GPU specs by all means grab it should have the exact same performance AND it should be cheaper but it is very unlikely you'll find one, the Lenovo Legion 5 Pro is as cheap as it's going to get for a laptop with this much GPU power.
Display: 165Hz + 16 inch Screen + QHD Resolution
All 3060RTX laptops will either have a 120Hz or a 144Hz/165Hz so it is not surprising the Lenovo Legion has one too. What should be surprising is the fact that it is a 16" display, yes it weights a little more but you have no idea how difficult it is to find a 17 or 16 inch display with a 3060RTX at this price and what a BIG difference it makes for competitive gaming. The Acer Predator Helios 300 only has a 15" display and its 17" version is several hundred dollars more expensive.
The main advantage of a big display is that it is far easier to for the GPU to run at full power therefore output more framerates ALL the time because there's plenty of space around it to keep temperatures low and for air to easily dissipate thus it will last you quite a long time despite having to run at full power all the time, this is extremely crucial when buying this much power as most laptops without a great cooling system will die out after a year when pushed to the limits on a regular basis, this is not going to happen with a 16-17 inch gaming laptop like the Lenovo Legion 5 Pro.
3060RTX Laptops Prices & Alternatives:
Note that the wattage of these laptops are not all running at 130W, they vary from 85W to 130W.
Lenovo Legion 5 Pro

PROS

CONS

Most Powerful 3060RTX GPU (130W)

MUX Switch

Lenovo Vantage Performance Modes

Great Heat Control & Temperatures

16 inch + 165Hz display + QHD Resolution

Stylish Gaming Keyboard

Extremely easy to upgrade Storage

Cheapest 3060 130W Laptop

Perfect for running Overwatch 2 at 1440p

Super Low Battery

CPU could be better (Core i7 11800H > AMD Ryzen 7 5800H)

Very Heavy
---
Overwatch 2 Budget Laptop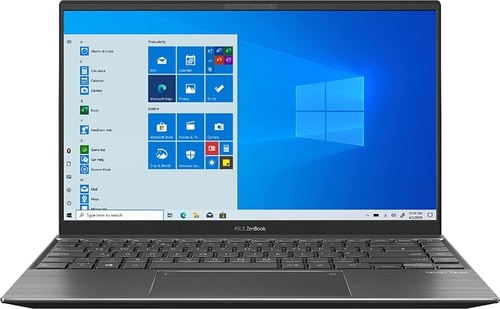 AMD Ryzen 5 5500U
8GB DDR4
MX450 2GB vRAM
512GB NVMe SSD
15.6" 60Hz FHD IPS

4.8 lbs
5 hours

This is the cheapest laptop for Overwatch 2 I can recommend simply because it has a dedicated GPU.
Performance:
Unfortunately, I don't have benchmarks for this specific laptop but since it has a more recent generation CPU & and a 2GB vRAM dedicated GPU, it should perform better than the most powerful integrated GPU found on laptops which I have benchmarks for:
| | | | | | | | | | |
| --- | --- | --- | --- | --- | --- | --- | --- | --- | --- |
| GPU | CPU | RAM | FPS | Settings | Resolution | R. Scale | Youtube | Game | Mode |
| Intel Xe * | Core i5 1035G1 | 12GB | 45 | LOW | 1080p | 75% | Rvae | Overwatch 2 | PvP Online |
You can also buy the Core i5 10th or 11th generation laptops similar to the laptop on the video (which should sell for about 450 bucks) but trust me you will get far better performance if you add 80 more bucks and buy the MX450 laptop featued here.
GPU: MX450 > 1050GTX !
The MX450 is the most recent and powerful GPU is the MX series and actually faster than the more expensive 1050GTX.
Now you're not going to be playing the game at epic or even ultra settings with the MX450 especially in Overwatch 2 as one of the new support heroes that move all aroudn the place (that's going to lag tons), you may get way with ultra settings if you choose of the tank heroes (Junker Queen) if you set render scale to 50 but why even bother be limited by settings.
I suggest you play the game at medium settings so you can hit competitive framerates way beyond 60fps. Low settings if you want to play as a damage hero like Soujourn.
If you can't even afford the MX450, I suggest you take a look at the Core i5 and Ryzen 5 models with integrated GPUs and settle with low settings for all heroes.
Those are going to be the cheapest laptops for Overwatch 2 you'll find.
There's no point on grabbing MX350 or MX250 laptops because they'll perform just as well as the cheaper model featured in the video running Overwatch 2 (Core i5 + inte Xe) which will leave you plenty of money left to acquire items like new skins through the battle pass or gameshop .
CPU: Ryzen 5 5500U
Another reason why to keep looking hard for a MX450 if you are on a budget is the CPU, MX450 laptops are always paired with either 11th Core i5 CPUs or 5th gen Ryzen 5 both equally powerful but way more powerful than previous generations.
Now if you have the choice (whether you are buying a laptop with an integrated GPU or the MX450) I'd pick the Ryzen 5 because as I've said many times before the game SEEMS to be heavily multi-core so you'll definitely extra significantly more framerates out of it. This is especially important if your budget is under 500 bucks.
Now if you happen to dual-channel the CPU with 8GB RAM as go I over in my post here: dual-channel ram for gaming . You will increase framerates by 5-10fps more just like the guy did in the video. He chose to place x2 8GB RAM sticks to make it 16GB RAM.
Display: 60Hz
All laptops with 2GB vRAM GPUs like the MX450 and MX350 will only have a 60Hz display for the simple reason that they are not likely to hit +100fps unless you set settings to low or medium for most games. Plus it is pretty expensive to fit a 120Hz display on a laptop so don't try to look for one and just settle with a 60Hz display if you're on a budget.
Alternative Links and MX Laptops:
If you're going to buy a MX laptop or a laptop with an integrated GPU be sure to check out these video to find out what the
best settings for overwatch 2 laptops
are so you can extract as many framerates as possible to bump up your gaming.
ASUS ZenBook 14

PROS

CONS

Great Battery Life

Latest & Fastest MX GPU

As low as 500 bucks

Faster than 1050GTX

Latest Ryzen 5 or Core i5 CPU

Compact and lightweight

Spacious 512GB SSD

Supports Medium Settings on OW2

Extremely difficult to upgrade RAM & Storage

Does not support High & Ultra Settings well

Slightly old CPU

Non-Gaming Keyboard

Relatively low # ports

Temperatures are high if playing at high settings for too long
---
Best Laptop To Run Overwatch – Ryzen 5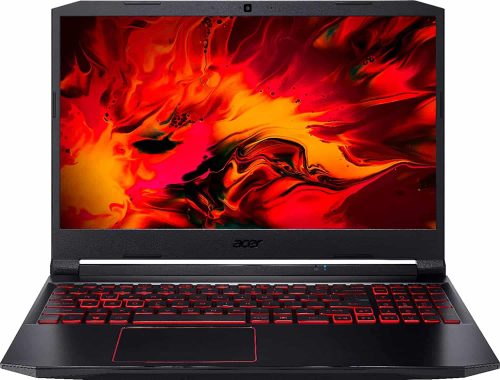 AMD Ryzen 5 5600H
8GB DDR4
1650GTX 4GB vRAM
512GB NVMe SSD
15.6" 144Hz FHD IPS

4.37 lbs
4 hours

Before I wrap it up I want to go over 1650GTX laptops which may depending on the time of the year sell for as low as 600 dollars (only 50 bucks more expensive than the MX450) especially if they're older models.
Unfortunately, I've only got benchmarks for the previous version of the game but I should be getting benchmarks for Overwatch 2 in the following weeks.
You can subtract ~15fps for each of the following benchmark videos if you're interested in Overwatch 2 (it still comes out in October 4).
Performance:
1650GTX laptops are the next cheaper yet powerful alternatives to high Epic settings with +60fps. There are two types: Ryzen 5 and Core i5 we'll go through the best choice which is the Ryzen 5 models.
Testing the game on PvP Mode ( 5 vs 5 ) teams with a tank, healer and 3 damage roles on a crowded arena as shown in the video above, you'll get an average of:
80fps on Epic Settings while in Combat and 100 fps on Epic Settings Out of Combat
GPU: 1650 GTX
The 1650GTX of this model and pretty much every other 1650GTX model lacks a MUX Switch so there's no point to look or ask for one. They will all have the same performance. They also operate at the same wattage so as long as you get ANY 1650GTX GPU on a laptop you can expect to have almost the same performance as you've seen in the video above.
CPU: AMD Ryzen 5 5600H
What seems to make a difference though is the multi-core CPU.
Again Overwatch 2 (is even more multi-threaded) takes good avantage of multiple cores otherwise we just can't explain the enormous FPS difference when testing a AMD Ryzen 5 against a Core i5 which we'll go over next.
The AMD Ryzen 5 5600H has 2 more cores and keeps clock frequencies nearly the same across all cores so if Overwatch 2 is indeed as multi-threaded as we think then yes choosing a Ryzen over an Intel Core (without taking into account the 12th gen Intel Core CPUs released) will be the better choice.
Display: 144Hz
The Acer Nitro 5 here is a little more expensive than most 1650GTX for two reasons: it has a 144Hz display.
The 144Hz is definitely going to come in handy when you play the game on Ultra Settings you'll be nearing 120fps out of Combat mode. However, for Overwatch 2 you aren't likely to go past 100fps on Epic Settings so if that's what you have in mind feel free to grab any 1650GTX laptop with a 60Hz display if they are cheaper of course.
1650GTX + R5 Alternatives:
Acer Nitro 5 (1650GTX Model)

PROS

CONS

Latest Ryzen 5

Great Battery for a gaming laptop

Ultra & Epic Settings support on OW2

Great Cooling System

Very Easy to Upgrade RAM & Storage

144Hz Display

256GB Storage out of the BOX

Thick and heavy

More Expensive than the average 1650GTX laptop
---
Best Laptop For Overwatch 2 – Core i5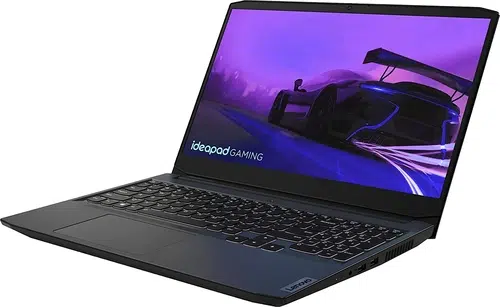 Core i5 11300H
8GB DDR4
1650 GTX 4GB vRAM
512GB NVMe SSD
15.6" FHD IPS 60Hz

4.96 lbs
4 hours

The most COMMON laptop with dedicated GPUs you'll find is the 1650GTX with a Core i5. There are literally HUNDREDS of models they're all good laptops for overwatch 2 but be sure not to pay more than 700 bucks for ANY of these.
Performance:
100 fps on High Settings while in Combat and 120Fps out of Combat
The laptop we have tested is the Lenovo L340 shown below, not the one featured here. I recommend the Lenovo L340 if you are on a budget and the one featured if you can afford it.
GPU: 1650 GTX
Although the Lenovo L340 I tested has a sort of a "MUX Switch"(it has no OPTIMUS but the effect is the same ~20% increased dGPU performance if you read my post on MUX Switch), it is still outperformed by laptops without a MUX Switch.
CPU: AMD Ryzen 5 5600H = Core i5 11300H
This just tells you how important the role of the CPU is for this game (at least if we are talking about laptops with 2GB vRAM & 4GB vRAM GPUs) and that actually makes sense if you pay attention to how the game looks, the graphics aren't intensive so it's going to be more CPU demanding than your average laptop. Thus I advice against older-generation CPUs if you want to get the best bang for your buck for Overwatch 2 especially in PvP Mode UNLESS they're much cheaper.
Display: 60Hz
Unfortunately, most Core i5 11300H are sort of expensive so in order to cut down prices you may have to look for a 60Hz display on a laptop which should significantly reduce the price. Otherwise you may be paying more than 700 bucks for which you might as well buy any of the 3050Ti laptop models I've suggested in the first review of this post.
1650GTX + Core i5 Alternatives:
Lenovo Ideapad 3i (1650GTX)

PROS

CONS

Cheapest 1650GTX Laptop

Has the latest & most powerful Core i5

Great Heat Control

Relatively Thin & Lightweight

Upgradeable (RAM & Storage)

Supports OW2 up to Ultra Settings

Some support for Epic Settings

Low Battery

Relatively low # of ports

60Hz Display

Okayish sound speakers
---
Picking The Best Laptop for OverWatch 2
Blizzard has a lot of experience making their games reach out as many systems as possible. Even in the new Beta Version of Overwatch 2, the characters, the interface, the texture of the surroundings have that comic-style touch which not only makes the game appealing to the eye but also scalable to low-end systems.
Now…if we head to the Official Site:
Minimum Requirements
Recommended Specifications
CPU

Intel® Core™ i3 or AMD Phenom™ X3 8650

Intel® Core™ i7 or AMD Ryzen™ 5

GPU

NVIDIA® GeForce® GTX 600 series, AMD Radeon™ HD 7000 series

NVIDIA® GeForce® GTX 1060 or AMD R9 380

RAM

6 GB RAM

8 GB RAM

Storage

50 GB available hard drive space

Display

1024 x 768 minimum display resolution
Those requirements are meant for desktops.
---
For laptops these translate to , more or less:
Laptop Requirements for Overwatch 2
Minimum Requirements

Recommended Specifications

CPU

Intel Core i3 8th (at least), AMD Ryzen 3 (Any generation)

Intel Core i5 (8th+) , AMD Ryzen 5 (

GPU

NVIDIA MX350, AMD Radeon RX 550X

NVIDIA GTX 1060 or AMD Radeon RX 580

RAM

Storage

50 GB available hard drive space

Display

1024 x 768 minimum display resolution
---
Overwatch 2 Laptop BenchMarks
| | | | | | | | | | |
| --- | --- | --- | --- | --- | --- | --- | --- | --- | --- |
| GPU | CPU | RAM | FPS | Settings | Resolution | R. Scale | Youtube | Game | Mode |
| Intel Xe * | Core i5 1035G1 | 12GB | 45 | LOW | 1080p | 75% | Rvae | Overwatch 2 | PvP Online |
| Intel HD 620 | Core i5 7200U | 8GB | 31 | LOW | 720 | 50% | DDJG | Overwatch 2 | PvP Online |
| 3050 Ti RTX | Ryzen 5 5600H | 16GB | 95 | ULTRA | 1080p | 100% | laptopstudy | Overwatch 2 | PvP Online |
| 3050 Ti RTX | Ryzen 5 5600H | 16GB | 75 | Epic | 1080p | 100% | laptopstudy | Overwatch 2 | PvP Online (Combat) |
| 1660 Ti | Core i7 10750H | 16GB | 110 | Epic | 1080p | 100% | Game Addictions | Overwatch 2 | PvP Online (Combat) |
| 3060RTX | Core i5 11400H | 16GB | 82 | Epic | 1440p | 100% | RecursiveAcronym | Overwatch 2 | PvP Online (Combat) |
Unfortuantely, those are currently the only 5 benchmarks available for Overwatch 2. More should be coming up soon as more and more people jump into the Beta section.
The following sections will teach you how to pick the best hardware out of your budget. We won't be getting into fps benchmarks because they are not available but we'll let you know what hardware will perform best for the game for a given budget.
1. GPU (Video Cards)
Now as you probably know, if you read my short tutorial on computer specs, we've got two types:
– Integrated GPUs: which are by default attached to the CPU thus laptops with these are usually much cheaper. If you're on a budget, then this is
– Dedicated GPUs: these have their own space and hardware resources thus they're much faster.
Integrated Video Cards
If we are talking about Overwatch 2 , then the equivalents to the MX350 or the GT 600 (desktop) are going to be the latest and most powerful integrated GPUs found on sort of budget laptops (450-550$).
Intel Xe (Core i5 model) , Radeon Vega RX 7 & Radeon Vega RX 8
You can double check on "notebookcheck.com" and see that only these three match the performance of the dedicated GPUs suggested by Blizzard. I'm attaching a screenshot of the benchmarks down below: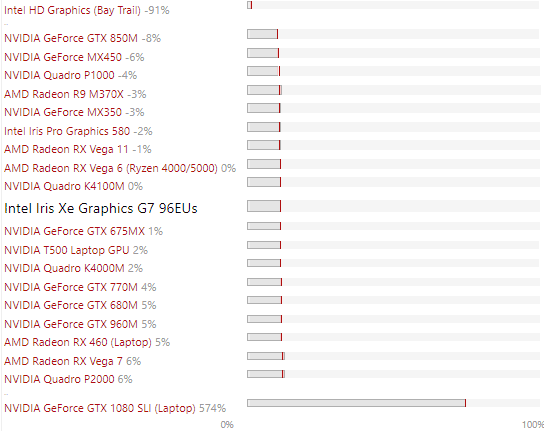 Other integrated GPUs:
Modern: AMD Radeon Vega 3 . Intel HD 620 Intel Iris 620. Intel Xe (Core i3 laptops with Intel Xe are "nerfed").
Older: IntelHD 520, 530, Intel Iris 550, Intel HD 530, HD 550, Intel Iris Pro 520. AMD Radeon R(3,5,7) GPU
If you check the Beta version of this game running on the blue GPU, you can conclude that the game is still playable with modern "weaker" dedicated GPUs at low settings.
I would avoid older integrated GPUs because the game seems to be barely playable with modern dedicated GPUs.
Settings here are: 1336 x 768 , 30-50fps, 33-75% render scale. Low settings.
Dedicated Video Cards
If you've got a budget over $600 you're entitled to a dedicated GPU, now not ALL dedicated GPUs are faster and better than integrated GPUs. Most modern GPUs are however.
Below's the list of all modern GPUs:
| | | | |
| --- | --- | --- | --- |
| NVIDIA | Cores | vRAM | Speed |
| MX150 | 384 | 2GB | 1532 |
| MX250 | 384 | 2GB | 1582 |
| MX230 | 256 | 2GB | 1519 |
| MX350 | 640 | 2GB | 1354 |
| MX450 | 896 | 2GB | 1580 |
| 1050 | 640 | 2GB-4GB | 1493 |
| 1050Ti | 768 | 4GB | 1620 |
| 1650 | 1024 | 4GB | 1560 |
| 1060 | 1280 | 6GB | 1670 |
| 1660 Ti | 1536 | 6GB | 1590 |
| 3050Ti | 2560 | 4GB | 1485 |
| 2060 | 1,920 | 6GB | 1680 |
| 1080 | 2560 | 8GB | 1733 |
| 2070 | 2304 | 8GB | 1620 |
| 3060 | 3584 | 8GB | 1780 |
| 2080 | 2944 | 8GB | 1710 |
| 3070 | 5120 | 8GB | 1620 |
| 3080 | 6144 | 16GB | 1710 |
| 3070Ti | 5888 | 8GB | 1485 |
| 3080Ti | 7424 | 16GB | 1590 |
AMD
Shaders
vRAM
Speed
Equivalent
RX 555X
768
2GB
855
MX150/MX250
RX 540
512
4GB
1219
~950M
RX 550
640
4GB
1287 – 1476
+950M
RX 560X
1024
4GB
1172 – 1275
1050GTX
RX 580
1536
6GB
1077
~1060GTX
RX 5500M
1408
8GB
1327-1645
~1660Ti
RX 6700S
2304
10GB
1890
~3060RTX (Low power)
RX 6800S
2048
12GB
1975
~3070RTX
(Low Power)
*Current dedicated GPUs found on laptops as of 2022.
Red: There isn't anything necessarily wrong with these. The problem is that integrated GPUs like the Intel Xe and Vega 7 or 8 will give you the same performance if you add extra (we'll talk about that in the RAM section). Thus, it may be wise NOT to buy any of these UNLESS they're somehow cheaper than laptops with integrated GPUs (which is very very rare).
Expect the game to run at 720p+full Render Scale(56FPS) or 1080p with ~73% Render Scale(75FPS)
Blue: Although those GPUs in red satisfy the minimum GPU requirement set by Blizzard, you can probably get better performance if you just add perhaps 30-50 dollars with 4GB GPUs. The most common one is the 1650GTX 4GB vRAM which sells for about ~650 bucks.
Expect 1080p w/ 80% render scale (~80FPS) on very high settings for the previous version and 65 fps for Overwatch 2.
Green: These are basically the recommended GPUs and this is what you want if you want to play competitively. By this I mean no matter what rig the other team has, they're not going to get an edge over you because once you step up to 120-140fps, anything more becomes kind of useless and you'd be better off upping your internet connection than upping GPU power.
Pink: These become completely unnecessary for Overwatch 2 UNLESS you'd like to play the game at 1440p or even 4k. Now it's probably NOT a good idea to PvP with that much resolution because laptops will not give you the same performance desktops do here so you'll definitely have a disadvantage against players who use a desktop or players who play the game at lower resolutions (thus getting much higher fps).
However, if you're a PvE guy then yes they're definitely worth it. Don't forget to make sure you ALSO get a 1440p or 4k laptop display.
AMD vs NVIDIA GPUs
AMD GPUs are cheaper on desktops not cheaper on laptops. NVIDIA graphics may be a bit more expensive but all things being equal you'll get 10% more performance for Overwatch 2 .
That translates to…let's say 110FPS instead of 100FPS.
2. CPU
Focusing on CPUs when buying a laptop isn't that important, it is for desktops because on desktops you have a WIDE variety of CPUs to choose from and install on your own (most of the time).
On laptops you don't have that many choices and most of the time these choices have more or less the same performance unless you start digging into higher end machines (3060RTX , 3070RTX , etc) for which the differences in CPU performanca can be abysmal.
Clock Speed vs Number of Cores
Now, assuming you find two laptops with the same GPU but different CPUs. If you want to pick the ones that will output more framerates, you only need to focus on "clock speed performance" over every other CPU spec like number of cores.
Q: But I've heard Overwatch 2 is multi-threaded?
Yes, it is multithreaded but NOT to the point you want to focus on multiple cores. It is crucial when you shop for laptops with low-end GPUs like the M450 and 1650GTX but becomes less important for laptops with a mid-range or high end GPU like the 3060RTX for which you'll get much more framerates out of a lower-core higher clock speed CPU.
The following two tables show you ALL modern (2017-2022) CPUs released. The numbers in the Turbo column are the maximum "clock speeds".
| | | | |
| --- | --- | --- | --- |
| CPU | Base | Turbo | Cores |
| i3 8130U | 2.2 | 3.4 | 2 |
| i3 8145U | 2.1 | 3.9 | 2 |
| i3 10050G1 | 1.2 | 3.4 | 2 |
| i3 10100U | 2.1 | 4.1 | 2 |
| i3-1115G4 | 3 | 4.1 | 2 |
| i5 8265U | 1.6 | 4.9 | 4 |
| i5 8250U | 1.6 | 3.4 | 4 |
| i5 1115G4 | 2.4 | 4.2 | 4 |
| i5 8300H | 2.3 | 4 | 4 |
| i7 8550U | 1.8 | 4 | 4 |
| i5 1235U | 3.3 | 4.4 | 10 |
| i7 1165G7 | 2.8 | 4.7 | 4 |
| i5 1240P | 3.3 | 4.4 | 12 |
| i5-11300H | 2.6 | 4.4 | 4 |
| i5 11260H | 2.6 | 4.4 | 6 |
| i7 8750H | 2.2 | 4.1 | 6 |
| i7 9750H | 2.6 | 4.5 | 6 |
| i7 10750H | 2.6 | 5 | 8 |
| i7-11375H | 3.3 | 5 | 4 |
| i7 1260P | 3.4 | 4.7 | 12 |
| i7-11370H | 3.3 | 4.8 | 4 |
| i9 8950K | 2.9 | 4.8 | 6 |
| i9 9900K | 3.6 | 5.1 | 8 |
| i9-11900H | 2.5 | 4.9 | 8 |
| i9 10890K | 2.4 | 5.3 | 8 |
| i9-11980HK | 3.3 | 5 | 8 |
| | | | |
| | | | |
| | | | |
| | | | |
| --- | --- | --- | --- |
| CPU | Base (GHz) | Turbo (GHz) | Cores(#) |
| Ryzen 9 6980HX | 3.3 | 5 | 8 |
| Ryzen 9 6900HS | 3.3 | | 8 |
| Ryzen 7 6800HS | 3.2 | 4.7 | 8 |
| Ryzen 9 5900HX | 3.3 | 4.6 | 8 |
| Ryzen 9 4800HS | 2.2 | 4.4 | 8 |
| Ryzen 7 5800H | 3.3 | 4.4 | 8 |
| Ryzen 7 3750H | 2.3 | 4 | 4 |
| Ryzen 7 5700U | 1.8 | 4.3 | 8 |
| Ryzen 5 5600H | 3.3 | 4.2 | 6 |
| Ryzen 7 5800U | 1.9 | 4.4 | 8 |
| Ryzen 5 4600H | 3.0 | 4.0 | 6 |
| Ryzen 7 3700U | 2.3 | 4 | 4 |
| Ryzen 5 3550H | 2.1 | 3.7 | 4 |
| Ryzen 5 5500U | 2.1 | 4.4 | 6 |
| Ryzen 5 3500U | 2.1 | 3.7 | 4 |
| Ryzen 3 5300U | 2.6 | 3.8 | 8 |
| Ryzen 3 3300U | 2.1 | 3.5 | 4 |
For reference purposes, those with the same color will give you almost the same performance. You may get 5 or 10 extra framerates from the ones with more "clock speed" numbers (within the same color).
AMD vs Intel
A direct comparison can only be made for processors from different brands and even then the 12th generation CPUs Intel CPUs can be cumbersome to estimate where they actually stand.
It's always better to check CPU benchmarks as those published by notebookcheck.com. I've tried to summarize the performance hierarchy in the table above but it only works for CPUs withiin the same brand.
If you want to compare CPUs from different brands, it's always best to use benchmarks. You don't have to use benchmarks if you want to get a general idea of where they stand by comparing colors in the table (Ex: green AMD CPUs will have similar performance as Intel CPUs).
3. RAM
Size
The latest versions of Windows 10 and Windows 11 can take up to 3.5 GB RAM. ~ 2GB of RAM.
Overwatch 2 requires 2GB RAM at all times.
Thus you need at least 5.5GB and assuming you've got stuff running in the background, you'll need a bit more.
8GB RAM: Most gaming laptops will have 8GB and that's the minimum you should get.
16GB RAM: This is only necessary if you want to stream or run a lot of apps in the background while playing. It isn't expensive to upgrade RAM so it's always best to buy a gaming laptop with just 8GB RAM and do the upgrade later.
More reasons to go for 16GB RAM
Integrated GPUs
If you get 16GB RAM, the extra RAM will act as "vRAM" for your integrated GPU and thus it is a MUST if you want your integrated GPU to perform just as well as entry level dedicated GPUs.
Dual Channel
Lastly, I have another post for this topic but basically having two RAM sticks of the same size will make your CPU read data faster and it will also speed up your integrated GPU performance. Now this isn't going to translate to a massive increase in framerates but every bit helps especially when you're short on a cash (~5-10 fps).
It must be well done so be sure to read my guide carefully!
4. Storage
Size
Unlike the first version, Overwatch 2 takes up as much space as the other two famous AAA titles you know of.
It required 6GB but Overwatch 2 (especially in campaign mode) seems to take up to 50GB.
128GB: Windows 10 takes ~30GB so you'll need at least 80GB. A couple of more games will add up to 128GB.
256GB: Most laptops have 256GB and this is good enough for 3-4 more AAA titles (each weighing 30GB).
512GB: With this much you can install as many AAA titles as you desire.
Speed
There are two types of storage devices as you probably know SSD and HDD.
The question is then? Do SSDs improve performance?
The answer is: It doesn't matter because virtually every laptop has an SSD and if it doesn't (because you've bought a 2015 laptop off eBay) then you must do the upgrade otherwise the whole system is going to be slow. Not necessarily the game itself (as long as you have decent hardware) but launching the game and booting up your machines will takes ages.
5. Display
Because the game is just a graphics firework with colors shooting up all over the place it is definitely worth looking at the extra features some laptop disp