The 5 Best Laptops For Journalists in 2021
Journalists don't necessarily have to get a high performance laptop.
Most journalists just need to stay on top of the news, connect with peers and send data back and forth through writing, audio or video.
Even phones can do that these days.
What about if I do some video/photo editing?
In that case you may need somewhat of a powerful CPU.
However, if you are relying on cut/titles/transitions for your video editing and/or editing one picture at a time, nearly all CPUS found on laptops above 400$ with Windows 10 Home on them will be fine.
So what feature to focus on?
Durability…
I'm not saying you should get a rubber band-rugged machine (unless you are thrown somewhere in Africa).
But you should invest on a laptop with a top of the line build quality because most of your activities will require you to be on the move.
All that teetering and tottering is not going to do your laptop any good in the long run.
Let's not forget..
If you love writing so much to the point your peers are annoyed by for your long emails, then you might as well make that a pleasant experience by getting a decent keyboard.
You can't get feedback on a laptop's durability or its keyboard by reading a manufacturers description unfortunately. That's whole point of this post.

Recommended Laptop Specs for Journalists
I know some of you do not have the typical journalist job so I'm listing a few other laptops with a bit more power.
By the way…
I've also written a guide on how to make the most of your devices(phone,tablet, laptop, etc) to gather, edit and distribute news efficiently. With the proper production apps, techniques and the right software, you can capture quality content while working quickly under deadline (this is in the last section).
Now, getting back to the topic, before we get to the specific computer specs to go after, let's see what a journalist usually does a computer.
Apart from a few exceptions, nearly all journalists will do a mix of the following:
Word Processing: MS Office

Light photo/video/audio editing: Several software can be used here not necessarily Adobe Creative Suite

Web Browsing with tons of tabs open

Possibly use inDesign if you they work on magazine production.
With that in mind:
RAM
4GB: Enough for for word processing & web browsing. Basically anything that's not related to multimedia editing.
8GB: Everything else.
CPU
Recommended: Intel Core i3, Core i5 from the 8th-11th generation or Ryzen 3/5 from the 3rd/4th generation. Ex: Core i3 10G51 or AMD Ryzen 3 3200U. If you're going to edit images/videos, then get a Core i5/Ryzen 5, everything else just needs a Core i3/Ryzen 3.
Old/weak CPUs: All other (weaker) CPUs must be avoided if you're using Windows 10 Home. For other Operating Systems like Windows 10 S Mode, Chrome OS, Linux or even MAC OSX , any CPU will do fine.
Display
Resolution: High resolution displays (FHD, 1080p, retina, 4k) are great if you do a lot of photo/video editing.
Matte vs Glossy: If you are on the move, then focus on getting a matte display instead. These displays may or may not have high resolutions but they can be used outdoors even with the sun in your face (they help avoid glares too). High brightness levels (~500 nits) will help if you end up with a glossy display (most displays are glossy these days).
Storage(Recommended)
SSD vs HDD: Hard Disk Drives are obsolete now. SSDs (Solid State Drives) are the standard. They will boot up your machine in less than 5 seconds and wake up from sleep mode instantly. Think about how useful that can be.
Battery
A short battery life is an obstacle to the "pick-up-anywhere-and-write" mentality of a journalist.
A good laptop should give +10 hours of battery life which means a couple of days withour recharging it.
Very few laptops have this much battery, it's a complex topic to find out which one does or not so I will leave it at the end of this post.
Portability & Design
If you're not staying at the office most of the time. Whatever you end up buying should be portable (max 13" and 3lb) and if possible rugged(or made of full aluminum). These features are usually found on 700-1000$ laptops and a few ChromeBooks under 400$.
KeyBoard
A laptop won't simulate the experience of using a typewriter or a mechanical keyboard to get into the groove for writing but you can get pretty close if you know a thing or two about keyboards.
Top 5 Best Laptops For Journalists
All laptops I'm listing here have +10 hours of battery life, great keyboards (some better than others) and have a top of the line build quality. Some of these have more power, you can choose those if you know you're going to be editing a lot of multimedia.
---
Best Apple Laptop For Journalists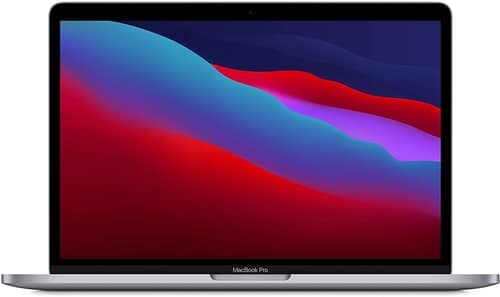 Apple M1 Chip
8GB RAM DDR4
Apple 8-core GPU
256-2TBGB Flash Storage SSD
13.3" Retina Resolution/True Color
2.7lb
12 hours
No DVD Drive

The 13" MacBook is the first and most obvious choice for any journalist serious about journalism.
I could write pages about how perfect this machine is but I'll just talk about the most important features.
When I first started my career, what intrigued me the most about its presentation back in 2009, was the outstanding looks and astonishing thinness. I confirmed it had a really long battery life much much later because I always kept my charge full.
It was hard to believe back then that a 3lb paper thin laptop could have all the power of the computers made those days.
To my surprise, it was it was actually faster than most because it had an SSD on it too, which was revolutionary back then but common today. With the release of the M1 chip, the newest version has a huge advantage over all other ultrabooks if we are talking about speed.
1. Keyboard & Battery Life
Ok I am writer by passion to the point that I have written short stories while working on a novel during my spare time. Why am I telling you this? Because that's what I do mostly on my laptop: WRITING!
I love writing, as you can see the size by the size of review. Even my colleagues hate me for my formal & long emails!
What I can tell you from using the Air since 2009 and still doing so in 2021 is that typing on these things can be very addictive.

As if every hit is a small smack of satisfaction.
You will never get into the mechanical groove of typing on a typewriter like Jack Kerouac or Ernest Hemingway or Hunter S Thompson but I think a great keyboard like this CAN provide a semblance of the same thrill.
This was one of the top three features that just kept me buying the newer and newer models.

There's something you need to know about the keyboard found in the models released over the year:
Not all of them behave exactly the same.
2008-2017 MacBook Air:
The best keyboards seem to be those that kept the original design Steeve Jobs himself introduced in 2008 which lasted until about late 2017.
So if you want to hop on the Apple Bandwagon, there's no reason to discard older models at all. In fact, they might be the smarter option because they're much cheaper and have about the same battery life as the newer models (this is because the CPU & Display in the older models did not consume much power).
I think my 2015 model lasted me about 15 hours at some point in time. I was moving from several offices to several cafes for two days in a row without a charger and did not need to recharge it. (Obviously used my phone for entertainment).
MacBook Air 2015 Link ~ 400-600$
MacBook Air 2017 Link ~ 600-700$ (Non Retina)
2018-2019 MacBook Air:
Later models a seemed to have opted for an even thinner design (which had somewhat of a negative impact on the keyboard) making it a bit harder to type on. I would avoid these models if you're looking for the best keyboards from Apple.
2018 MacBook Air (Retina Display)
2020-2021 MacBook Air:
The Newest MacBook Air (2020) has completely redesigned the MacBook Air to fit in a retina display , one of the longest battery lives found on laptops and most likely the fastest processor currently designed for an ultrabook without having to compromise thinness and its keyboard quality. If you have the cash, I would opt for these over the 2008-2017 models. If you're going to be photo/video editing a lot then these may also be a better choice since they come with a much more powerful graphics cards than its predecessors (it's still integrated but a lot faster ).
11" MacBooks
The 11" MacBooks were a blessing, you could have the battery life, keyboard and speed of the 13" Air in a much more portable machine. If you wanted to move up and down the floors and you don't trust your screen lock with the password you put in, you can just grab this thing with two fingers and take it with you.
Unfortunately, it's been discontinued but the good news is that you can still find hundreds of these models sold as refurbished and they are a lot cheaper than every single Apple Model released in the past.
2. Performance
Virtually every MacBook ever designed will be snappy and lagless for what you will do.
However, If you are working as a magazine staff especially with InDesign then I would opt for 2017-2020 models with a Core i5 CPU and 8GB of RAM. Resolution and color gamut are ultra important too so you may want to consider the 2018-2020 models to get that Retina Display or any of the MacBook Pros.
3. Storage
If you are a journalist or working towards your MA, 128GB is plenty. Most programs in journalism only involve lots of essay writing and even the vocational part of the course will require smaller text files than essays.
If you are working with a lot of video news stories, then you should get +256-512GB. MacBooks get increasinly more expensive with storage but 1TB should be fool proof for you.
Another reason to buy a MacBook:
If you enter any work room at a stadium, something like 9/10 laptops in there are Macs and yes all of those guys are journalists. So you may as well follow the trend, you forgot your charger? need a CD-DVD external Drive? It may just be two seats away.
Before I forget, If you're going to be out and about with this laptop, please take good care of it. They are easily identifiable and highly desirable – I've known a few journalists who've found themselves targets of crime after getting their laptops out in public places.
Me? My MacBook was stolen while I was taking a nap…it was fast. So I know I was targeted for a few days before the assault!
If you opt for one, it's also a good idea to save files online and to ensure you have anti theft and "find my laptop" software installed and turned on. I have put all those details on the last section for you to check later.
---
Best 2 in 1 Laptop For Journalists
Core m3 , Core i5, Core i7
4GB-16GB RAM
Intel HD/Iris
128GB-1TB PCIe NVMe SSD
12" IPS 2736×1824
1.7lb and above
+11 hours

I tried the Surface Pro of a couple of colleagues. At firt glance, it seemed to be sort of tablet with the power of a full blown laptop that's even more portable than the MacBook Air.
But you can turn into a laptop if you attach the keyboard.
Taking it out of the bag, setting it up and magnetically attaching its keyboard was a cool experience. So it's more like a writing device transformer.
The Keyboard is OK, I would label give it 3.5/5. There are two types types of keyboards to attach though: one is touch responsive (meaning you'll have to hammer on a flat piece of plastic with no buttons) and the other one is more like a real keyboard. I was refering to the latter of course, I found it somewhat flimsy but it still worked and was OK to write on (provided you have a hard surface, using it on your laptop is not a pleasant experience).
Performance
For writing alone and a few photo editing here and there you can choose any model, the cheapest one is the Core m3 version, which is still plenty for all of that.
Core i5 and above are more desirable for better multitasking and to start throwing in some video editing.
Core i7 with anything above 8GB RAM are unnecessary, they're ultra expensive, have less battery life.
---
Best Dell Laptop For Journalists
10th Core i5 or Core i7
8-16GB RAM DDR3
Intel UHD 620
256-1TB SSD
13" FHD / 4k resolution
2.7lb
~8 hours

There are a few more laptops with a top of the line build quality including the ASUS ZenBook, HP Envy and the Dell XPS 13 here.
Some of those ultrabooks are actually a bit thinner/lighter than the MacBook Air including this latest model of the Dell XPS 13.
The trade off here is battery life, the 2020 MacBook Air has an unbeaten +15 hour battery life. The Dell XPS will get you around 8 hours.
I know I know typing out each letter and getting into a groove is a criteron of more importance than power and looks…
Keys on this thing are wider and fatter, each click gives a nice feedback but the Keyboard isn't as good as the Air's. It's definitely better than what convertible laptops like the 2 in 1 Surface Pro offer though.
It is far better than the average windows laptopThe font of every letter is very accentuated like they are demanding to be hammered with vigour; powered by whisky, tobacco and a pretty close deadline!
Performance:
You already know what configuration you need for what you do. Although I've listed the latest one here for being-up-to-date purposes you can type Dell XPS 13 on the amazon search bar to browse around models that may suit your budget and needs.
---
Lenovo Laptop For Journalists
Intel Core i5-10210U
16GB-32GB
Intel HD 620
256GB-2TB SSD
14" FHD
3.7lbs
10 hours

The Lenovo ThinkPads are known to be build like tanks.
But what's not so well knowm is that they have pretty well designed ergonomics too. By that I mean the keyboard, trackpad and display. All are top-notch and they can easily give premium expensive ultrabooks a run for their money.
They also have pretty insane battery lives too.
Not all Lenovos are created equal, I'm only talking about the ThinkPads. The Lenovo Yogas may be a close second.
KeyBoards
If you ever find yourself in a room full of journalists. Have a chance to try a Lenovo's keyboard.
You'll notice the extra effort Lenovo puts into their keyboards and you will definitely find them superior across Windows Laptops including the ultrabooks we talked about.
The ThinkPads' keyboards are the closest ones to remseble desktop typing because they are thicker laptops which support high raised keys so they'll have better tactile feedback when typing.
The Lenovo Yogas are thinner, lighter so you'll find their keyboards resemble the ones you find on ultrabooks.
Photo or Video Editing?
Both the ThinkPads and Yogas have a powerful processor and the option to add 8GB RAM so they can both handle these tasks no problem.
Which one should you buy?
I'd recommend the ThinkPads if you find a 3.5lb model. If not the yogas.
If you have more cash, then consider buying the X1 Carbon . You could call it a mix of the Lenovos & Yogas.
Linux Compatibility
Another huge perk of the Lenovo ThinkPads is their seamless compatibility with Linux Distributions. If you want to install both a Windows/Linux Combo or a full blown Linux Distro on your thinkpad, the hardware compatibility is nearly 100%. In other words, The ThinkPads will work right out of the Box with most Distros.
If you are not interested in the Linux Operating System, then just ignore this section and check the next Laptop.
Why is Linux something you may want to consider?
Several reasons but the most interesting one is being able to use software like TrueCrypt.
You may not be using TrueCrypt these days but other software like this one enables you to have hidden operating systems and a dummy OS. You can boot to do normal stuff on the dummy OS and do any sensitive journalism on the hidden OSs.
I've included more details of this and how you can also install Prey and KeyLogger to recover your laptop if it ever gets stolen. These two can be installed on any laptop and are not limited to Linux devices.
---
Best ChromeBook For Journalists

1.6-2.48 GHz Intel Celeron N3060
4GB RAM DDR3L
Intel HD
32 GB eMMC
11" HD Anti Glare
2.2lbs
10 hours
Chrome OS

If you're asking yourself…. what in the world is this toy?
This, folks, is a ChromeBook.
Which with the advice of several of the writers of this site, I bought as a secondary laptop replacement a few months ago and I have zero regrets.
It's my back up machine for any trip/mission/quest for my Indiana Jones like adventures.
You could grab any cheap 200$ laptop from Walmart or Target for these types jobs but you'd miss out on its most distinct & salient feature (as you can see on the picture). It's reugerized all over with a military grade design.
That means it's been tested against bombs and landmines. Obviously, that's a bad joke. But yes, the reugerrized part does keep it quite resistant to drops and mishandlings.
I've thrown this ChromeBook into my Sofa or bed as if it were a pillow and I can't even remember how many times I dropped this thing and it's still fine with just bumps on its reugerrized parts.
ChromeBooks in general:
A cool thing about chromebooks and being on the road is that using cellular data from your iphone or just a Wifi connection will allow it to store everything on the cloud, where it will be safe and sound from thieves and hackers.
What about other software?
There's plenty of software that can be installed on a ChromeBook by using the Google App Store.
Lightroom, PhotoShop, Word,Excel, PowerPoint have been there for ages.
Developer Mode:
There's a tutorial on this site on how to set up a Linux Distro using Crouton with Developer Mode. If you don't know what sorcery I'm speaking, I'm basically telling you that you can install a Linux Distribution on it and have all the open source software avialable to it and all of that for ~200$ bucks.
Keyboard:
Keyboard isn't too bad. It feels cramped because it's a small laptop but it has quite a lot of tactile feedback and that's mainly because this laptop is very thick despite being lightweight and small which gives it enough roomspace for keys with a lot of travel distance.
---
How To Buy The Best Laptops for Journalists
First of all not all those who graduated in journalism will dispatch to the middle east or at the worldcup games trying to the land the best stories.
But you probably will have to do something with such events at some point and fall into one of the four categories below or a mixture of them:
Journalism Student
As a student, besides portability, the main concern is storage.
I studied for a journalism MA and agree with what most people say today: you won't need a huge amount of storage unless you'll also be doing lots of video news stories and even then you can also store them on external hard drive.
The academic part of journalism will likely just involve lots of essay writing and the vocational part of the course will often require even smaller text files than essays.
Working for a newspaper as a writer
If you'll be sitting at a desk, portability goes out the windows. It's imperative however you spend all your budget on a good keyboard. MS Office doesn't require anything special from a laptop.
Staff magazine working with InDesign
Here you need to consider Display and Performance to avoid feeling slugish as you multitask with other programs and several tabs open as your souces.
Blogger/Web Content
Probably the most demanding role since it might require you to edit videos, photos and audio. Although it is only a light editing, you still need to worry about RAM and CPU performance. Check the laptops for blogging post for more info.
Journalist on the road
You need not worry about anything else but portability and build quality. This is often found in premium/business class laptops such as the Lenovo ThinkPads or MacBooks.
Performance
CPU & RAM
Word Processing/Blogging
The thing is that it is very unlikely you'll only be using Microsoft Word alone. You probably have to multitask with an internet browser at the same time to get all diferent types of sources(audio,video,data).
The processor (CPU) isn't important. In fact, any CPU that's not labeled with an Atom or Pentium processor will do.
However the amount of RAM is a must(for multitasking): 8GB as the minimum.
InDesign/Photo/Video/Audio Editing
Assuming you are not making movies or professional video editing, for any of these applications to run without any hiccups shoot for:
Intel Core i3 U series+ 4GB RAM for basic editing
Intel Core i5 + 8GB RAM will let you edit at a more professional level
Intel Core i7 processors are overkill for this level of editing.
Storage

Unless you're almost a professional video editor or you hold thousands of long videos, storage capacity isn't really something to worry about. Why? today most laptops have more than enough space to store every file you'll be working with during your entire lifetime.
It's the type of storage that you should think about:
HDD(Hard Disk Drive)
Most laptops over 350$ have an HDD with 1TB(1000GB), this is plenty to several hundreds of video clips and high resolution photos.
SSD(Solid State Drive)
Although SSDs only have 1/4 of the storage capacity (256GB) of HDDs. The three main advantages for journalists are:
Insanely fast boot up times

Longer battery live

More resistant to physical damage (less risk for data loss)
Display
There are only three features to look out for in displays:
Resolution (optional)
Highe resolution displays give you more screen space than actually having a bigger display.
768p: these are fine if you just want to blog,write or type on the go
1080p or full HD: this is the sweet spot for both multitasking and multimedia editing (photos/videos/audio), allows you to have more tools/buttons at your disposal and multiple windows next to each other.
Brightness

One of the features not listed by manufacturers and the most important one if you plan on using your laptop outdoors. Though you can easily find out by reading Amazon's customer reviews or going with third party testers like LaptopMag.
Anything over 300 nits is enough, 500 nits is superb and will let you edit/write outside on a sunny sunday. The surface Pro 4, is one of the few laptops that have such brightness levels.
Anything less than 300 nits will be too dim to work with at plain daylight.
Matte Display vs Glossy
This is an issue if you are constantly working on bright settings. Matte Displays/Anti Glare screens are the way to go if you want to protect your eyes from constant glares.
Battery
This is obviously the most important feature for a journalist constantly on the move. There might be no places to recharge yours !
Although battery lives are listed by manufacturers, they can be innacurate. They're usually tested by playing videos with low brightness, obviously, to advertise the longest battery life their model can output.
Which laptops have the longest battery lives?
Usually laptops with low end processors, low resolution displays, solid state drives and of small size.
ChromeBooks
ChromeBooks fit all this criteria. In fact, they have the longest battery lives recirded. Unfortunately not many are able to put up using apps or the cloud instead of using old fashioned software installed.
Premium UltraBooks
Among laptops MacBooks and a few premium Windows Laptops such as the Dell XPS series have extremely long battery lives while remaining very lightweight. Let's not forget the Lenovo ThinkPads. These usually have the a CPU with a U label (Intel Core i3-U7210) and a solid state drive.
KeyBoards
Nothing will beat the typing speed of a full sized conventional mechanical keyboard. Unfortunately this is impractical to achieve in laptops since they can take quite a lot of space in terms of thickness.
Unlike mechanical keyboards, laptops' keys have low travel which in some instances makes typing very uncomfortable due to lack of feel when pushing down each key.
Which laptops have the best keyboards?
All MacBooks and Premium Lenovo Laptops (ThinkPads) have the best keyboards out there.
Laptops below 500$ usually cheap out on build components and design which end up with lousy and weak keyboards (they may flex when you push down the middle).
Premium Ultrabooks, nearly all of them, have excelent keyboards along with the backlit feature (700$).
Security
Laptop & information theft (trough hacking) is pretty common among journalists. There's not much you can do with the hardware, no such thing as a laptop with a perfect GPS system for you to track it. Even tracking my phone with the built-in find my iPhone feature was a nightmare and at the end I couldn't get it back.
Tracing a Laptop
But there's software that may help you locacte your laptop anyways.
Prey is available in Linux,Mac and Windows. Just like mobile devices, once installed you can trigger Prey remotely to run which in turn gives you the ability to activate an alarm on your laptop, see its location, display a message on the screen or lock it down.
On the other hands, KeyLogger will record everything that's happened with your laptop if it was temporarily stolen or used by someone else.
Operating System
If Security is of utmost important to you then you should also consider which operating system to roll with. Each has their own advantage and disadvantage:
Windows
In terms of hacking and data theft, windows remains the most vulnerable OS. To put it simply, the fact that it is compatible and open to nearly every application you want to install makes it more vulnerable to hacking.
Mac OSX
Unlike Windows, Apple has a more tighter restriction on what applications get to be compatible with their OS. They're also constantly running updates in the background to patch up any security holes. Although it is still vulnerable to viruses and malware, it happens to be much less than Windows.
Linux
Linux is the only OS where you can tweak its usability/functionality to your liking. If you are quite adept with programming and a Linux User, then you'll get better Security than Windows. If not, it can be far more vulnerable to hacking than Windows itself.
Software for Security
There are a few interesting ideas I've heard among journalists to make sure they never lose their data:
Decoy OS + Hidden OS
Basically two OS installed on a laptop. An open OS that boots automatically, a decoy OS that boots if you enter the decoy password at boot, and a hidden OS that boots if you enter the hidden OS password.
You can use the Dummy OS to do your normal regular stuff and the hidden OS to do any sensitive journalism.
The reason for the decoy and hidden is if the computer is searched by foreign governments and you are required to hand over the true password.
Even better would be to also install a hidden linux OS as well as a hidden windows OS, but I don't think this is possible at this stage.
What is TrueCrypt anyway?
More like was. TrueCrypt was basically a source-available free software to encrypt disks in a file or encrypt a partition of a whole storage device. You can use trueCrypt to do the shanda I described before, the two OS on a single machine.
---
Other Apps & Software
Here's a bunch of app & software you may want to consider:
Photoshop
Picture editing apps are also very useful for journalists, particularly when in need of good quality pictures to accompany content uploaded to a website or blog.
Camera
Undoubtedly, some of the most useful apps for journalists are video apps. If you aspire to have a career in broadcast media (especially TV) or online, creating video content will be absolutely essential. Sometimes, however, you will not have access to a professional camera or all of a sudden, an important event might happen in front of your eyes. Thus, you need to be prepared – downloading a couple of video apps certainly won't hurt.
Audio
Audio apps are just as important as video apps, especially if you have a passion for radio! Even if you don't, recording audio is essential and you will need to do it AT LEAST once during your journalism career (my bet is much more)! Here are some of the most useful audio apps for journalists:
Social networks
are an integral part of journalism today. They are some of the best news sources, they are your connections to the world and a platform on which to get your work noticed. It is absolutely essential to be familiar with them and create profiles on as many as possible.
Most aspiring journalists today have their own blogs, where they have the opportunity to showcase their work and share articles and stories with the world. One of the best blog websites is WordPress, and you can download the app as well. This is handy for keeping track of how many people have read your content, in which parts of the world it was most successful, and much more.
Other Accessories To Consider
Canon 5D Mark II
Canon 50mm 1.4
Canon 28mm 1.8
2 extra batteries for the 5D plus charger
Memory cards (lots of them)
Laptop case (waterproof)
Portable hard drive USB drive (no external electricity needed)
Notebooks (Moleskin, several of them, but not the bulky ones, the ones that fit in the back pocket)
Pens, VBall (Well guess I got issues since I only like using one kind)
Audio recorder (USB transfer)
Card reader
Cleaning equipment for the camera (blower, swipe, etc)
Cheap Nokia phone where the batteries last forever
Elastic electrical tape
Several USBs
The bag is a Fjällräven 30L with two great side pockets for easy access. Reinforced bottom so that it doesn't soak up the humidity. Plus I take the padding from another camera case and put it in the bottom.
Conclusion
If you are just limited to writingon the go, consider that getting a laptop isn't a necessity. You could also use your mobile device on screen keyboard to type on the move. Or even attach an external keyboard such as the one shown here and be done with it.
However laptops are the most versatile computers for journalists who need to be able to report, write, photograph, shoot and edit video and adapt content for a variety of media and applications.