The 5 Best Laptops For League of Legends (LoL) in 2022
Finding the best laptop for league of legends in other words a laptop that can run LoL with ZERO issues isn't difficult.
You think they'd make the game difficult to run after they spend all that money on ads?
They're trying to reach out EVERYBODY.
Heck…
They even target countries with limited internet access.
So yeah…
Almost ANY laptop can run LoL AND with decent framerates too (~80fps low settings ).
You only have to spend 289$ for that and you even have the option of upping settings to medium w/ 60fps.
Now…
If you need to pull off +120 fps on very high settings throughout a match even when you're entangled in a crazy teamfight where everyone's popping out their ULTS.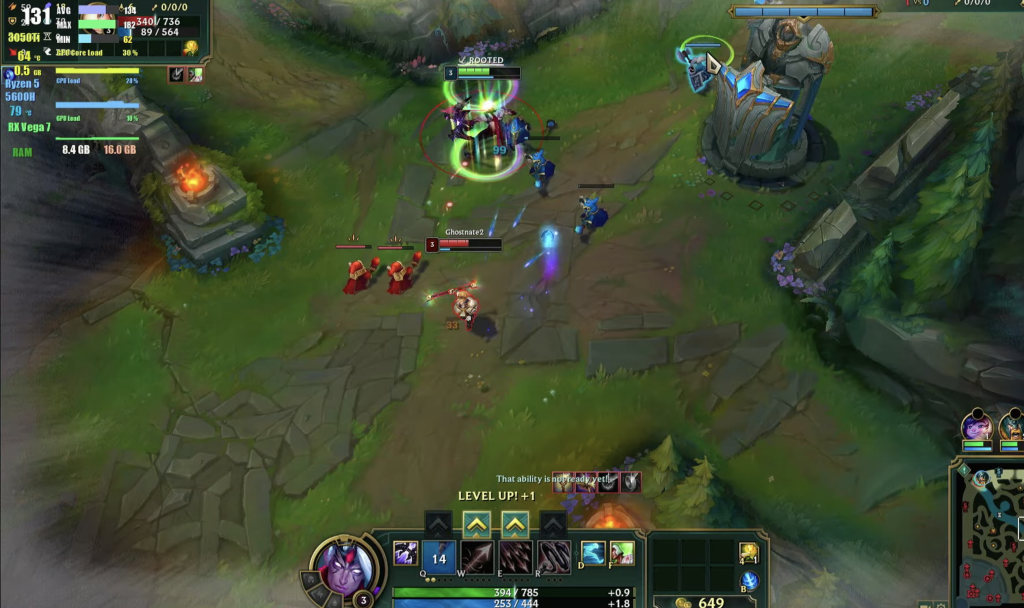 You will have to spend around 650 bucks because you'll need a laptop with a dedicated GPU.
Truth be told…
Any laptop with a dedicated GPU will let you play the game at super high settings with zero chances of ever crashing.
I myself…
Play with a 3050Ti RTX (the screenshot above) but I started off with a 940MX (this is 3 year old hardware) both basically (though there's obvously a difference in frmaerates) will give you the same buttery smooth gameplay, the 940MX is obsolete though and the 3050Ti on a very good deal.
Once you get a set up with a dedicated GPU like those two…
The only problem you'll have to deal with is the amount of afkers and rage quitters as you reach level 25.
Best Laptop Specs For League of Legends
Like I said, League of Legends didn't become the biggest PC game in the world with punishing system requirements. Millions of kids play the game on laptops with their screens falling off.
Don't believe me? Take a good look at the official site's hardware requirements which when translated to laptops specs are basically:
Minimum: 2GHz processor, Intel HD 5XXX graphics card and 2GB RAM
This minimum translates to 50fps on low settings which isn't so bad but still quite risky when you're in a group fight.
You'll find those requirements on second-hand 100 dollar laptops on ebay or Alibaba. Most modern budget laptops (300 dollars and up) have x3 times more power than that!
My Recommendation:
If you've got a budget above $500, grab a laptop with the following dedicated GPUs:
940MX, 1050, MX350, MX450 or 1650GTX or a 3050Ti. No 3060RTX, 3070RTX or any of those high-end +900 dollar GPUs, those are unncessarily expensive
If you've got a budget around $450, grab a laptop with any of the following CPUs. (CPUs become more important for those on a low budget due to the lack of dedicated GPUs):
11th or 12th gen Core i3 or Core i5 or AMD Ryzen 3 or AMD Ryzen 7
Because they will automatically come with the latest integrated GPUs (Vega 5, 7 Intel Xe) which believe it or not can match the performance of 2GB vRAM dedicated GPUs.
Top 5 Best Laptops for League Of Legends (LoL)
We'll start with the first option a 1650GTX laptop, don't worry we'll go over much cheaper options (as low as 289$) and one that's a bit more expensive but will give you the best settings for league of legends on a laptop (#3).
Note that these recommendations are only available in the United States, if the links do not take you to the same model (for those outside the US) check out the alternatives or read the last section how to buy the best laptop for league of legends.
---
Best Laptop For Playing League of Legends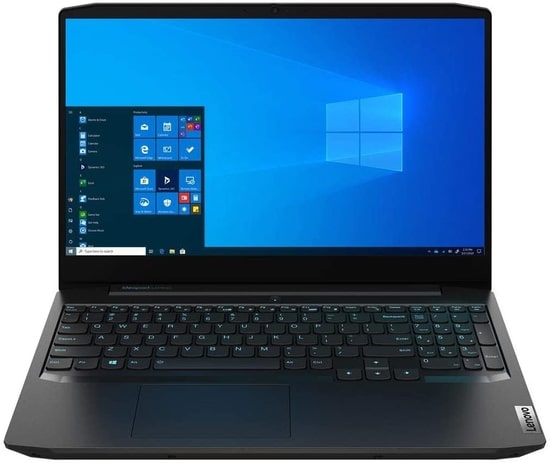 Core i5 9300H
8GB DDR4
GeForce GTX 1650 4GB vRAM
256GB PCIe NVMe SSD
15.6" 60Hz Full HD IPS

5.07lb
5 hours

This is not the cheapest laptop for league of legends (we'll get to that one soon) but more like the ideal laptop for LoL.
Lenovo L340: League of Legends BenchMarks
~150fps on Very High Settings out of combat
~140 fps on Very High Settings during a Team Fight
GPU: 1650GTX 4GB vRAM (No Optimus)
Although the game is CPU demanding and most laptops with a modern CPU will let you play with no hiccups.
Adding a dedicated GPU , even just an entry level dedicated GPU, like the 1650GTX will let you play the game at the highest settings and still pull off +120 fps. As you can see in the video below, those framerates still mantain even when both teams are going at it all once.
Now, surely there are more "modern" 2022 laptops with a GTX 1650 than this old Lenovo L340 (which was released around 2020 if I'm not mistaken). However there are two reasons why opt for this older 1650GTX:
– It's still working after 2 years of non-stop testing and gaming
– It's going to have BETTER performance than most if not all 1650GTX laptops (you can check the benchmarks on our youtube channel for several games including LoL and see for yourself framerates are moderately higher than even the modern 1650GTX laptops).
The reason why it's faster, it's simple: it doesn't have "Optimus". In other words, the integrated GPU which is present in every gaming laptop does not get in the way of the dedicated GPU which can perform at full speed sort of like having a MUX Switch. I have a detailed post on the topic on the MUX Switch & Optimus topic here.
CPU: Core i5 9300H vs Core i5 10300H vs Core i5 11300H
You are welcomed to get buy any of the following laptops on the table which have a more modern CPU but like I said the performance will be either the same or lower (due to reasons explained before):
| | | | | |
| --- | --- | --- | --- | --- |
| Link | CPU | GPU | Display | Price |
| Ideapad | R5 5600H | 1650GTX | 120Hz | 679 |
| Ideapad 3 | R5 5600H | 1650GTX | 120Hz | 689 |
| MSI GF63 | i5 9300H | 1650GTX | 60Hz | 665 |
| Ideapad | i5 11300H | 1650GTX | 60Hz 15" | 699 |
While it's true modern CPU, aka recent generation CPUs, are faster and faster for gaming purposes it makes little difference ESPECIALLY at HIGH settings where the GPU does all the heavy lifting.
I do understand the feeling of wanting to have something more modern so feel free to pick any 1650GTX laptop which suits your budget (don't go over 730 bucks – See Laptop #3 before doing so).
Display: 60Hz vs 120Hz Refresh Rates
The Lenovo L340 here only has a 60Hz display. For LoL this isn't going to have any impact on matches or gaming it's just going to look less smoother than a 120Hz display. If you are to spend more than 650 dollars for a 1650GTX be sure you not only get a recent Core i5 H CPU but also a 120Hz display.
RAM: 8GB vs 16GB (Single Channel)
One issue with the Lenovo L340 is the RAM upgrade, you cannot have RAM in dual-channel mode because it only supports ONE RAM STICK.
Dual-Channel is having TWO sticks of the same size thereby increasing CPU performance beyond what's normal which translates to more framerates. However, because the dedicated GPU here is so powerful and freely operating at full speed, you are not going to miss it.
Lenovo L340 (1650GTX)

PROS

CONS

Fastest 1650GTX GPU

No Optimus

Extremely Cheap

Faster than modern 1650GTX laptops

Great Heat Control

Very thin & lightweight

Super Low Battery

Difficult to upgrade Storage

Only supports one RAM stick (8GB or 16GB)

Slightly old CPU
---
Best Laptop For Streaming League of Legends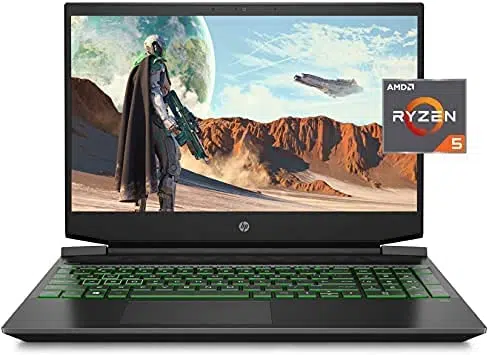 AMD Ryzen 5 5600H
8GB DDR4
GTX 1650 4GB vRAM
256GB PCIe NVMe SSD
15.6" 120Hz FHD IPS

4.37 lbs
4 hours

1650GTX laptops with the Ryzen 5 CPUs are even a better choice for those looking for a budget gaming rig, the problem is that they can be significantly more expensive if you don't know HOW to look for good deals.
They're going to be more expensive than the Core i5 + 1650GTX laptops regardless due the CPU and the display:

Lenovo L340: League of Legends BenchMarks
~120fps on Very High Settings out of combat
~100 fps on Very High Settings during a Team Fight
CPU: AMD Ryzen 5 5600H
AMD Ryzen 5 5600H outperform their Core i5 counterparts on every game. That despite the fact that they have "lower clock speeds". Do not be fooled by these numbers its all about benchmarks when you compare two different brands.
The advantage of the AMD Ryzen 5 over the Core i5 (assuming all other things including GPU are equal) are obvious on MOST games. However, if you are to compare the AMD Ryzen 5 5600H here to the Lenovo L340, you'll see the Lenovo L340 out performing ANY AMD Ryzen 5 CPU as shown in the benchmarks we went over.
GPU: 1650GTX – Optimus
The reason for this is that this laptop as well as 99% of 1650GTX laptops have Optimus which is a technology to save battery life in exchange of lower dedicated GPU performance. So despite the AMD Ryzen 5 5600H being obviously faster than the Core i5 10300H or even the Core i5 11300H, any laptop like the Lenovo L340 with either a MUX Switch or NO OPTIMUS will outrun it.
If you look closely at the fps stats in the upper left corner of the video, the dedicated GPU is sharing some of the workload with the iGPU, this is specific to every game but for LoL having Optimus means less framerates but you're still staying 100fps on very high settings, so it should make little to no difference to your game.
Streaming+Multitasking
The Lenovo L340 is a rare breed though so most of the time you'll find the AMD Ryzen 5 5600H being the better choice for extra framerates AND if you're going to stream the game since the extra number of cores & multi-core performance is much better too.
Display: 120Hz
Another cool thing about this model and several other Ryzen 5 + 1650GTX laptops is the awesome high refresh rate displays. It's not going to bump up your gaming but it's going to make the game look 2x smoother, this means the characters and heroes will be look more "vivid" because the motions are much smoother.
Alternatives
| | | | | |
| --- | --- | --- | --- | --- |
| Link | CPU | GPU | Display | Price |
| Ideapad | R5 5600H | 1650GTX | 120Hz | 679 |
| Ideapad 3 | R5 5600H | 1650GTX | 120Hz | 689 |
The model I've posted here may be quite expensive depending on the time of the year you read this so please check out these alternatives and compare prices and jusg grab the cheapest one making sure you get the 120Hz display too. All of them have the same dGPU (1650GTX) performance, there's no MUX Switch on either of these.
HP Pavilion Gaming

PROS

CONS

Fastest CPU on 1650GTX laptops

Better multi-threading performance

More suitable for multitasking

Cool Temperatures

120Hz display

Great battery for a gaming laptop

Lots of Ports

Heavy & Thick

Weak Sound System

Very Low Battery
---
Best Gaming Laptop For League of Legends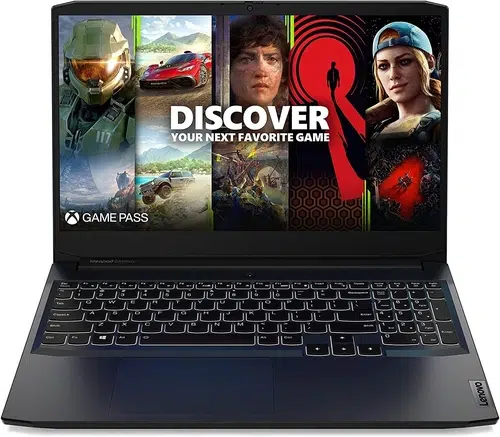 AMD Ryzen 5 5600H
8GB DDR4
RTX 3050Ti 4GB vRAM
256GB PCIe NVMe
15.6 " 120Hz FHD IPS

5.07lb
4 hours

This is going to be the most powerful laptop and the most expensive laptop on this short list.
Although I would call it "expensive", it only costs 30 more bucks than your average 1650GTX laptop: ~730 bucks! For that much money you'll be getting a GPU that's almost 2x as fast and a 120Hz display! Assuming it doesn't run out of stock of course.
Lenovo Ideapad 3 Gaming – League of Legend 3050Ti BenchMarks
~135fps (Up 145fps) on crazy team fights at very high Settings
GPU: 3050Ti RTX
I have also tested out this exact same model myself.
I think for the coming discussion you should pay attention to the part of the video where "very high settings" start and look at the power used by the gpu.
Notice you're getting about the same framerates as you would with the Core i5 9300H + 1650GTX laptop, yup, there's no difference in framerates and that's because the reality is that LoL isn't very hardware demanding. So Why even bother to get a 3050Ti ?
Well for Three reasons:
To play other more GPU demanding games where the difference will be more obvious

To make sure your laptop lasts a LOT longer especially if you game several hours a day.

Notice how the GPU power consumed here is only 17W out of 85W and the temperatures are incredibly low (75 C) is already low! That means there's almost no wear and tear when you use a 3050Ti to Play LoL.

It's only 30 bucks more expensive than your average laptop.
MUX Switch & Wattage: 3050Ti
There's no MUX Switch on this laptop. In fact, there's no MUX Switch on every 3050Ti laptop made in 2021, you might find them on 6th gen Ryzen and 12th gen Intel Core Laptops but not on anything older.
As for wattage, don't worry there are no "caveats" with this laptop, it can run at full wattage (overclock mode ~85W is the maximum for 3050Ti GPUs). So you're not being hustled here, the price is amazingly low and there's nothing wrong with this machine.
CPU: AMD Ryzen 5 5600H vs Core i5 10300H
There is another model that has the exact hardware specs but has a Core i5 10300H instead.
Both should perform about the same for this game because like I said, this game isn't hardware demanding as long as you get a dedicated GPU you should be hitting +100 fps on very high settings.
Either would be fine unless you plan on streaming and running other programs in the background (not discord I mean heavy programs, discord is not heavy at all) if that's the case you want the Ryzen 5 5600H for the extra multi-core performance.
Display: 120Hz vs 144Hz
This laptop ALSO has a 120Hz display and the Acer Nitro 5 has a 144Hz. Although on paper the latter is going to look smoother, you will notice no difference between the two as the characters move, it's going to look just as smooth.
Alternatives
It's likely by the time you read this it runs out of stock so check out these alternatives too, the best out of these ones is the Acer Nitro 5.
Lenovo Ideapad Gaming 3

PROS

CONS

Cheapest 3050Ti Laptop

Great keyboard for gaming

120Hz Display

3050Ti GPU – 3 Performance Modes

Decent Battery

Great Heat Control

Relatively Thin and lightweight

Best CPU performance

Extremely easy to upgrade

RAM Upgradeable (Dual-Channel)

Storage Upgradeable (M.2 & 2.5" Slots are Free)

no USB ports on the left

Very few ports

Very low battery

Loud on Overclock Mode (on some games, not on LoL)
---
Best Budget Laptop For League of Legends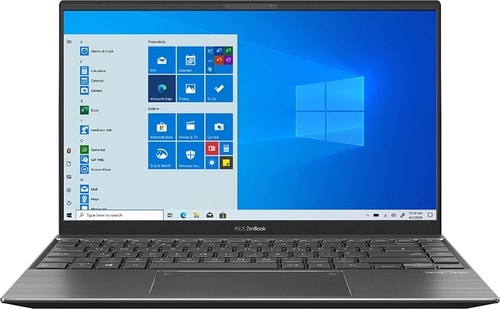 AMD Ryzen 5 5500U
8GB DDR4
GeForce MX450 2GB vRAM
256GB PCIe NVMe SSD
15.6" 60Hz FHD IPS

4.84lbs
4 hours

This is a budget machine, it has a dedicated GPU but it sells well under 600$.
ASUS ZenBook MX450 – League of Legends Benchmarks
GPU: MX450 vs MX350
The MX Series are dedicated GPU with 2GB vRAM they're not as fast as the 1650GTX but for games like LoL which are not hardware demanding you will get about the exact same performance ~100fps on High Settings.
Now there's a BIG difference between the generations. The MX450 is going to be substantially faster than the MX350. LikeWise the MX350 is going to be substantially faster than the MX250.
You don't want to grab anything lower than a MX350 because although they can also run LoL at high settings, they're overpriced and you'll be getting the same performance of the next budget laptop which DOES NOT have a dedicated GPU and is only ~450$.
CPU: AMD Ryzen 5 5500U
This is another reason why the MX450 outperform every other older generation, they alwayas come paired up with 5th generation Ryzen CPUs or 11th gen Core i5 CPUs.
Display: 60Hz FHD
You are not going to find a 120Hz display on a MX450 laptop. You should be happy to even get a FHD display at this price. Now speaking about price, these laptops can range anywhere from 530 bucks to 650$ dollars, you don't want to pay more than 600 dollars for any of these because 1650GTX laptops which are much faster are around that price too.
Alternatives
If this model is out of stock, please check out if these alternatives have had their prices reduced. Remember not to pay anything more than 600 dollars !
ASUS ZenBook 14

PROS

CONS

Cheapest dedicated GPU

Latest MX GPU

Latest Ryzen or Intel CPU

Longer battery life (For a gaming laptop)

Little to no noise

Lack of ports

Weak Sound System

RAM & Storage not upgradeable
---
Cheap Laptop For League of Legends 2022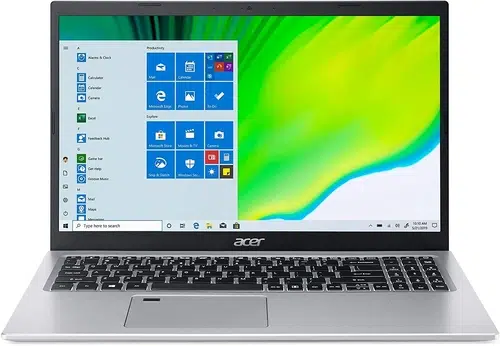 AMD Ryzen 5 5500U
8GB RAM
Radeon Vega RX 7
256GB SSD NVMe PCIe
15.6" FHD
4.2 lbs

8 hours

For the cheapest laptop that can run LoL with decent settings and decent frameartes you have two options:
11th gen Core i5 Laptops and AMD Ryzen 5 5500U

AMD Ryzen 3 X200U X=3,4,5 and Core i3 10th or 11th gen Laptops
Core i5 or AMD Ryzen 5 Laptops:
These laptops can be susprisingly powerful, just as powerful as laptops with the older MX250 GPUs IF you up the RAM to 16GB. I explain the reason why in the guide that follows these reviews just beware that they're a good investment if you've got the money because you can run the game at high settings.
Core i3 11th gen or AMD Ryzen 3 3200U:
These are the weakest laptops and usually sold for people trying to do office work but since LoL isn't hardware demanding you can play the game at medium settings ~60fps.
RAM: 4GB vs 8GB vs 16GB
Upping the RAM to 16GB certainly helps as well as making it Dual-Channel of course. So you should do that once you find a bit more money later down the road if this is all you can afford now. Increasing RAM and doing it in dual-channel mode (you can read my post here to see what I mean) should get you +30fps making around 100fps on medium settings.
Price
These Core i3 or Ryzen 3 laptops should cost you no more than 360 dollars. The model I'm featuring here is just as powerful as those 360 dollar models but as of today it's on a deal selling only for about 280 bucks. If it runs out of stock by the time you read this feel free to grab any other Core i3 or Ryzen 3 model just be sure that the CPU is recent (10th/11th gen for Core i3 and any Ryzen generation) AND you also have a FHD display.
Acer Aspire 5

PROS

CONS

Lightest laptop on list

Easy to upgrade RAM & Storage

Latest 11th gen Core i3 CPU

Extremly cheap ( Under 300 dollars)

IPS display w/ FHD resolution

Limited to Medium Settings

OKayish sound speakers

Average Trackpad
---
If you can't afford any of the laptops with a dedicated GPU, before trying to find one on your own check out our post "
best gaming laptops under 700$
". Any of the models listed there should be good enough for the game because like I said it doesn't really require anything beyond an entry level dGPU
---
How To Buy The Best Laptop For League Of Legends
The hardware requirements for LoL are one of the lowest as far as MOBA games is concerned (Dota 2 is more hardware demanding) and the game is playable with just over 20 fps.
Obviously, even if you're on a budget, you don't want to aim for the minimum requirements simply because you're not going to get a consistent flow of framerate which will definitely drop substantially on group fights as everyone is popping up their ULTS.
Now, most modern laptops (even those around 300-400 dollars) will have FAR more power than the minimum requirements.
So the question becomes at what point does hardware starts giving me diminishing returns so that I don't end up overspending for a GPU and a CPU that's just overkill for the game.
1.GPU
It all basically comes down to the GPU. You don't want GPUs weaker than an integrated GPU like the Intel HD 620 nor do you want a GPU that's more powerful than the dedicated 3050Ti RTX or its equivalents.
Let us go over the two types of GPUs. Basically if you're on a budget, you're going to have to settle for integrated GPUs so you must reading the following sub-section. If you've got a budget over 550 dollars then just read the Dedicated GPU section which follows you don't have to settle for an integrated GPU with that much money.
1.1 Integrated Cards
All laptops and desktops that have a CPU come with an integrated GPU by default. The more modern the CPU, the more powerful (and recent) the integrated GPU will be.
Because CPUs have been progressively gotten faster so have iGPUs. Today, iGPUs aren't just useful for 2D simple pac-man landmine games or 10 year old franchises, some as you'll see soon have the power of entry level dedicated GPUs thus they can let you play some AAA games at high settings and definitely MOST AAA games at low settings.
Low-Medium Settings
Since LoL, isn't really a GPU demanding game, all you need to play the game at 60 fps low settings is an integrated GPU made within the past 5 years. These are usually written as: Intel HD 5XXX,6XXX. AMD Radeon Vega X, AMD Radeon Vega RX
Some examples are:
Iris 550, Iris Pro 520, HD 620 ,HD 520, HD 530, HD 530, HD 550. Radeon R5, Radeon R3, Radeon Vega 3
Now if we are talking about MODERN integrated GPUs that will MATCH the performance of dedicated GPUs thus letting you play at high settings w/ +60fps:
Intel Xe*, AMD Radeon RX Vega 7, AMD Radeon RX Vega 8
These last ones are only found on 11th gen Core i5 or Core i7 CPUs and AMD Ryzen 5 or Ryzen 7 CPUs. They're also found on the latest 12th gen Core i5 and Core i7 CPUs like the Core i5-1240P and Core i7-1260P.
You'd be better off getting these "latest" iGPUs off 5th gen Ryzen 5 or 11th Core i5 laptop rather than Core i7/Ryzen 7 or 12th gen CPUs because they'll be much cheaper and you can get a much more powerful "dedicated" GPU for the price of 12th gen Intel Core or 6th gen Ryzen laptops.
1.2 Dedicated Graphics Cards
What makes dedicated GPUs so special is that they have their own vRAM. Although integrated GPUs have also their own "RAM" or vRAM, they don't have nearly as much as dedicated GPUs do.
Obviously, I'm talking about relatively MODERN dedicated GPUs. Recent integrated GPUs will easily outperform older dedicate dGPUs because they'll basically have as much vRAM.
The following two tables are all dedicated GPUs you'll find online made between 2016-2022. I've excluded older GPUs for the forementioned reasons.
| | | | |
| --- | --- | --- | --- |
| NVIDIA | Cores | vRAM | Speed |
| MX150 | 384 | 2GB | 1532 |
| MX250 | 384 | 2GB | 1582 |
| MX230 | 256 | 2GB | 1519 |
| MX350 | 640 | 2GB | 1354 |
| MX450 | 896 | 2GB | 1580 |
| 1050 | 640 | 2GB-4GB | 1493 |
| 1050Ti | 768 | 4GB | 1620 |
| 1650 | 1024 | 4GB | 1560 |
| 1060 | 1280 | 6GB | 1670 |
| 1660 Ti | 1536 | 6GB | 1590 |
| 3050Ti | 2560 | 4GB | 1485 |
| 2060 | 1,920 | 6GB | 1680 |
| 1080 | 2560 | 8GB | 1733 |
| 2070 | 2304 | 8GB | 1620 |
| 2080 | 2944 | 8GB | 1710 |
| 3060 | 3584 | 8GB | 1780 |
| 3070 | 5120 | 8GB | 1620 |
| 3080 | 6144 | 16GB | 1710 |
| 3070Ti | 5888 | 8GB | 1485 |
| 3080Ti | 7424 | 16GB | 1590 |
AMD
Shaders
vRAM
Speed
Equivalent
RX 555X
768
2GB
855
MX150/MX250
RX 540
512
4GB
1219
~950M
RX 550
640
4GB
1287 – 1476
+950M
RX 560X
1024
4GB
1172 – 1275
1050GTX
RX 580
1536
6GB
1077
~1060GTX
RX 5500M
1408
8GB
1327-1645
~1660Ti
RX 6700S
2304
10GB
1890
~3060RTX (Low power)
RX 6800S
2048
12GB
1975
~3070RTX
(Low Power)
Red GPUs
You must stay clear from these. It's not that they're bad but you can get the same performance with laptops that have integrated GPUs like the Vega 7 or Intel Xe we went over which are usually much cheaper. If you can get these "red" GPUs cheaper than Intel Xe or Vega 7 laptops, then by all means grab them. You will also hit 60fps on high settings with these.
Blue GPUs
Ideally you want to grab one of thes guys. They have the best "performance/money" ratio that is you'll only be paying 50-100 more bucks than what you'd pay for integrated GPU laptops and you'll get 80-120fps on very high settings on group fights and +120fps just walking around the map.
Orange GPUs
They just sit in the middle of blue and red GPUs, it's going to be a tough call to decide for one of these because prices are usually only 50 bucks less than laptops with the blue GPUs.
Green GPUs
This is as much power as you'd want to buy for the game. Anything more is just plain useless. We've benchmarked a laptop with 3050Ti RTX only to get slightly more framerates than a 1650GTX GPU. We had to pay +100 bucks for one. Though we're getting ~150fps and 130fps which is the ideal number for world cup competitions , it's really up to you whether or not you want this much power.
Pink GPUs
Overkill for League of Legends, yes you will get +200 framerates on very high settings but how is that any more useful than 150fps? In fact, your machine can't display that many framerates anyways. It's usually capped at 120-144 fps and most laptops will only display 60 fps even though your GPU can output far more than that. We'll discuss this later just avoid these unless you're playing other AAA games.
Older GPUs
I did not least older GPUs because you just won't find them unless you shop on eBay or Alibaba. But just so you know these can also get you up to 80-120fps on low-med settings. Examples that I've verified are something like the NVIDIA GTX 840M or the AMD R7 M260X.
NVIDIA vs AMD
You'll find people swearing by NVIDIA graphics over AMD. I also kind of agree with that but not necessarily for this game. LoL is one of the least hardware demanding games so if you find a laptop with an AMD dedicated GPU that's within your budget and you can't seem to afford the NVIDIA counterpart (shown in the table with the same colors) by all means grab it.
Just be sure you're getting a relatively modern AMD GPU that's at least more powerful than the Intel Xe unless you find it at a much cheaper price.
CPU
When you shop for laptops, CPUs isn't something you want to focus on so much as GPUs.
If you grab a powerful integrated or dedicated GPU, you'll ALWAYS find it embedded with a nice and fast CPU. You're never going to find a ridiculously powerful GPU paired with a weakling CPU.
Now…
It is true that CPU will take the load off the dedicated GPU and also increase framerates thus if you're nitty picky about it and want as much framerates as you can get out of your budget (even if its just +5-10 more framerates) then yes you need to know a few things or two about CPUs for gaming.
What's more important?
Clock Frequency vs Multi-Core
It's pretty simple really. Given two laptops with the same dedicated GPU but different CPUs you just have to pick the ones with more "clock speed" performance.
Number of cores doesn't really help no matter how much developers tout their "multi-core optimization".
How to pick a CPU with more clock speed performance?
With this in mind, when you shop for laptops, thus it is wise for you to pick the CPU with more clock speed (this is just the number after GHz. Ex: Core i5 1235U has "4.4" GHz).
Now this only works if we are talking about the same brand. If you want to compare how much a CPU from AMD stands against a CPU from Intel you can't rely on numbers because lower-clocked "on paper" AMD CPUs will outperform Intel Core CPUs with more "on-paper" clock speed.
I recommend you use notebookcheck for that and use the following table to get a sense of how they stand against each other.
*CPUs with the same color will have about the same gaming performance but for exact "benchmark" numbers and details head over to notebookcheck.
| | | | |
| --- | --- | --- | --- |
| CPU | Base | Turbo | Cores |
| i3 8130U | 2.2 | 3.4 | 2 |
| i3 8145U | 2.1 | 3.9 | 2 |
| i3 10050G1 | 1.2 | 3.4 | 2 |
| i3 10100U | 2.1 | 4.1 | 2 |
| i3-1115G4 | 3 | 4.1 | 2 |
| i5 8265U | 1.6 | 4.9 | 4 |
| i5 8250U | 1.6 | 3.4 | 4 |
| i5 1115G4 | 2.4 | 4.2 | 4 |
| i5 8300H | 2.3 | 4 | 4 |
| i7 8550U | 1.8 | 4 | 4 |
| i5 1235U | 3.3 | 4.4 | 10 |
| i7 1165G7 | 2.8 | 4.7 | 4 |
| i5 1240P | 3.3 | 4.4 | 12 |
| i5-11300H | 2.6 | 4.4 | 4 |
| i5 11260H | 2.6 | 4.4 | 6 |
| i7 8750H | 2.2 | 4.1 | 6 |
| i7 9750H | 2.6 | 4.5 | 6 |
| i7 10750H | 2.6 | 5 | 8 |
| i7-11375H | 3.3 | 5 | 4 |
| i7 1260P | 3.4 | 4.7 | 12 |
| i7-11370H | 3.3 | 4.8 | 4 |
| i9 8950K | 2.9 | 4.8 | 6 |
| i9 9900K | 3.6 | 5.1 | 8 |
| i9-11900H | 2.5 | 4.9 | 8 |
| i9 10890K | 2.4 | 5.3 | 8 |
| i9-11980HK | 3.3 | 5 | 8 |
| | | | |
| | | | |
| | | | |
| | | | |
| --- | --- | --- | --- |
| CPU | Base (GHz) | Turbo (GHz) | Cores(#) |
| Ryzen 9 6980HX | 3.3 | 5 | 8 |
| Ryzen 9 6900HS | 3.3 | | 8 |
| Ryzen 7 6800HS | 3.2 | 4.7 | 8 |
| Ryzen 9 5900HX | 3.3 | 4.6 | 8 |
| Ryzen 9 4800HS | 2.2 | 4.4 | 8 |
| Ryzen 7 5800H | 3.3 | 4.4 | 8 |
| Ryzen 7 3750H | 2.3 | 4 | 4 |
| Ryzen 7 5700U | 1.8 | 4.3 | 8 |
| Ryzen 5 5600H | 3.3 | 4.2 | 6 |
| Ryzen 7 5800U | 1.9 | 4.4 | 8 |
| Ryzen 5 4600H | 3.0 | 4.0 | 6 |
| Ryzen 7 3700U | 2.3 | 4 | 4 |
| Ryzen 5 3550H | 2.1 | 3.7 | 4 |
| Ryzen 5 5500U | 2.1 | 4.4 | 6 |
| Ryzen 5 3500U | 2.1 | 3.7 | 4 |
| Ryzen 3 5300U | 2.6 | 3.8 | 8 |
| Ryzen 3 3300U | 2.1 | 3.5 | 4 |
Streaming + Insane Multitasking
I personally will not throw in some insane multitasking + streaming with weaker CPUs that will just generate way too much heat and reduce the lifespan of your laptop substantially. In this scenario, it may be wise to invest on a multicore CPU (6+ cores).
Note that by insane multitasking I mean throwing some heavy duty programs like TWO games simultaneously while web browsing chrome with 30 tabs and streaming…etc. Otherise, simple multitasking like web browsing | youtube + LoL will be fine with any CPU with any amount of cores (even 2 will be okay).
RAM
8GB vs 16GB
8GB is standard for gaming. Ever since the latest Windows 10 updates require at least 3.5GB, for anything you do even simple 2D Games you need +4GB RAM. The next after 4GB is 8GB and that's plenty for LoL and all the multitasking you'll be throwing around.
16GB becomes useful only if you're streaming+ playing LoL (even then it's kind of debateable as most will be fine with 8GB).
Integrated GPU Needs more RAM
If you've got a gmaing laptop with a dedicated GPU, it'll have it's reserved "RAM" to run graphics also called "vRAM". Integrated GPU only have so little thus they will use "RAM" to make up for it.
Though it is not required for you to get more RAM just for your integrated GPU, having more than 8GB RAM will substantially increase framerates. The next after 8GB is 12GB (8GB+4GB).
However, it is a good idea to get 16GB instread of 12 for the following reason:
Dual Channeled RAM
Whether you've got a dedicated or integrated GPU, dual-channel will ALSO increase framerates slightly. I have another post on what dual-channel RAM is, check it our if you're interested in knowing what it means.
But it basically means having two rams of the same size, speed, and if possible brand:
x2 4GB RAM for 8GB and x2 8GB for 16GB
Storage
Size
LoL only takes up 12GB and with patches and updates it might go as high as 20GB.
So you don't really have to worry much about size, it's only going to be an issue if you want to install several triple AAA games which I'm sure you do. If you want to play say 5 titles (LoL, CS:GO, Overwatch and so on) then you need at least 256GB.
If you want to install as many titles to your heart's content, then at least 512GB.
Type: SSD vs HDD
It's actually more important you get yourself an SSD. Virtually all laptops (modern) have an SSD. If you're buying an older machine or building a desktop, make sure you get at least a 128GB SSD. You can install an extra HDD to act as a repository for any heavy files but the game and Windows must be installed on the SSD so everything's just blazing fast when you turn on your computer and when you launch the game (it won't affect framerates but it'll load the game and maps faster).
Display
Resolution FHD
You need a FHD display to play the game at FHD (1080p) max settings. Virtually every laptop (available as new in 2022) with recent hardware (above 350$) will have a FHD display. There are some oddballs that will only have a HD+ or even HD display so watch out for that.
Refresh Rates?
There's an issue with MOST gaming laptops (even modern gaming laptops) and that is their refresh rate, they're usually capped at 60Hz.
What does this mean? It means that even though your GPU will output way more than 60 fps (~+100fps), your eyes will only see 60fps on the screen.
The counter will say 120fps but the smoothness will not be anywhere like 120fps because the screen can only show you (or refresh) 60 frames per second.
120Hz / 144Hz: It's not really a requirement to get a 120Hz or 144Hz because having more framerates than what your display can show you is still useful, that is, more framerates means less lag and less chances of crashing it also means less input delay.
However, if you want the game to feel more "realistic" , that is, you want movements and motions to look much more like the real world, then yes you want a 120+Hz display. I'd say up to 144Hz is good, anything more is nice but extremely expensive.
Comments?
If you have any comments, suggestions, questions or recommendations about how to find the best laptop for league of legends. Please let us know in the comments below!
Author Profile
I am physicist and electrical engineer. My knowledge in computer software and hardware stems for my years spent doing research in optics and photonics devices and running simulations through various programming languages. My goal was to work for the quantum computing research team at IBM but Im now working with Astrophysical Simulations through Python. Most of the science related posts are written by me, the rest have different authors but I edited the final versions to fit the site's format.