5 Best Laptops For Counter Strike : Global Offensive (CS:GO) 2020
At the end of the day the best laptop for Counter Strike: Global Offensive or any of its past versions: CS 1.5, 1.6 , Source and Condition Zero will be whichever gives you the highest framerates and reduce frame dips and lag.
Every good player knows this…
As for me, I'm not that good but I've played the Counter Strike series since the late 90s and just like the older versions the days when my framerates are high and my ping is low I end up at the top of the table.
It's really simple…
If you don't want to spend 3/4 of the match as an spectator. You should always prioritize framerates and latency so you can always show your true skills (if you have any).
Framerates/low latencies don't really improve your accuracy but it makes the game register your moves (shots) on time. We all know that that split milisecond is crucial when facing another player.
The good news is that…
Budget laptops (300-500$) will give you the FPS you need to run the game with no lag at ~80FPS as long as you adjust the settings and resolution to the lowest.
Modern mid-range laptops(600$) will give you the framerates you need to be competitive on the game(~100FPS) at higher settings.
Recommended Specs For CS:Global Ofensive
According to the official website the requirements for CS:GO laptops can be roughly translated to:
2.4GHz CPU

512MB dedicated GPU

2GB RAM
That's going to get you 60FPS at low settings. Which isn't bad at all…but to be competitive (5vs5, tournaments,etc) you need at least 100FPS. 80FPS might be okay. Unfortunately low end laptops can't reach those framerates even at low settings.
Here's what you need to know to squeeze out every framerate at higher settings from your budget.
CPU
Get the highest clock frequency you can afford. Core i3 Core i5 Core i7 multicore it doesn't matter just get the one with the highest number. For AMD it's tricky, sometimes a processor with lower clock speed can be faster than Intel, use notebookcheck or the guide at the bottom to find out.Ex: -4.5GHz will get you ~250FPS on high settings 1080p (w/ a dGPU) and 4GHz will get you ~180FPS high settings 1080p
Focus most of your budget on a good processor.
GPU
If you get an integrated GPU: Vega X, Intel HD. You're not going past 80FPS at low settings/720p.

Getting a dedicated GPU even if it's entry level will get you to high settings with 100-250fps (depending on your GPU)
Check the last section for benchmarks but basically:
There's no point going beyond 1660Ti/2060RTX/Radeon RX580(200-250FPS at high settings).

Any dedicated GPU paired up with a high end CPU will get you +100FPS at high settings 1080p. 1650/RX 560X is ideal imo.
RAM
CS:GO is a relatively old game and it doens't have a lot of data files so you might be okay with 4GB but 8GB will provide headroom for any background processes. Make sure it's "dual channeled".

Storage
Don't worry about it it doesn't affect framerates or graphics and space isn't an issue b/c the game weights next to nothing.
Display
It is my belief that you need a 120Hz display to kick butt in the game. Most laptops come with 60Hz though and this is fine if you are playing at low settings, you won't get past 100FPS.
I included more details and explanations on the last section, if there's something you didn't understand head to it
Top 5 Best Laptops for Counter Strike: Global Offensive
I'm going to list 5 laptops that can play all versions of the game but I will only be discussing their performance with CS: Global Offensive because come on now let's be real, the past versions can run on a potato.
I'm not going to restate specifications I'll just go straight to the point and tell you what FPS you'll get and what makes this laptop special among its competition.
---
Best Laptop For CS GO Under 500
AMD Ryzen 3 3200U
8GB RAM DDR4
AMD Radeon Vega 3

128GB SSD
15" IPS full HD 1080p
5.3lb
8 hours

As of now, 2020, this is the cheapest Acer Aspire 5 laptop with Windows 10. Yes, there's a 350$ version but it only has Windows S and you can't install CS:GO on it.
Because this is a popular CPU-GPU there are several benchmarks on youtube about its performance. You're basically getting 60-90fps at low settings 720p resolution with everything OFF.
---
Best Budget Laptop for CS GO
Intel Core i5 9300H
8GB RAM
GeForce GTX 1650
256 PCIe SSD
15" FHD 1080p IPS
5.07lb
5 hours

This is one of the hottest deals in the laptop market right now and it's been selling like hotcakes since June 2020. Imo, it will run out of stock soon but if you can't find this model, we are going to list a few more options down below.
I think this is the ideal laptop for the game (if you don't care about refresh rates) because you're getting a mid-range GPU like the 1650 that's actually a high end GPU for CS:GO, in other words, you'll be hitting ~180FPS easily at high settings with anti-aliasing at FHD.
One of the downsides of this model and really 99% of all laptops with an entry-mid range GPU that can output +100FPS in most games is that it lacks a display with high refresh rates. In other words, it lacks a display that can actually show you the framerates your GPU/CPU are trying to output.
However, there's still an advantage of having high framerates despite the low refresh rates, we discuss it in detail in the last section but it comes down to:
Reduced Screen Tearing

Smoother gaming (not as smooth as it would be with a 120hz display but still smoother)

Less problems with frame dips and lag spikes
---
AMD Ryzen 5 R5-3550H
8GB DDR4
GeForce GTX 1650
256GB PCIe SSD
15.6" 120Hz Full HD

4.85lb
5 hours

This is a great alternative to the Acer Nitro 5. It's 100$ more expensive but it's got almost the same power.
Comparing the specs you can see that the only real difference concerning power is the CPU. The AMD Ryzen 5 3550H here is by no means a small fry CPU, it's only 10% slower than the Core i5 9300H on most benchmarks.
Actually for some players, it might be a better choice because you're also getting a 120Hz display so you'll be able to see every framerate up to 120 and this model can output more or less the same framerates as the Acer Nitro: ~170FPS at high settings FHD with anti-aliasing ON.
---
Best Laptop For CS GO Under 500
Core i3-8130U
6GB RAM DDR4
Intel® UHD Graphics 620
1TB 5400RPM
15" TN full HD 1080p
5.3lb
10 hours
8X DVD Double-Layer
SD Card Reader, 802.11AC, BlueTooth 4.1, HD Webcam, USB 3.1 Type C port, 2 USB 3.0 Ports,1 USB 2.0 Port,1 HDMI Port, RJ 45 Port


I'm not a big fan of this laptop yes it is a good deal because you're getting a dedicated GPU with the power of a 1050 and a processor with 3.7GHz for clock speed but both the Acer Nitro and ASUS TUF are just better deals and actually faster.
I'm just putting this one out there in case both laptops above run out of stock and you can't find an affordable entry level gaming machine. There used to be an Acer Aspire with an MX150 but now that seels for more than 700$ and it's actually weaker than this GPU and both laptops I just talked about.
With this baby you'll be hitting 100FPS+ at high settings FHD for sure, more specifically it goes as low as 80 but as high 120FPS, so an average you're getting 100FPS and a lot more if you start lowering down your settings.
---
Best Gaming Laptop for CS GO 2020
Core i5-9300H
16GB DDR4
GTX 1660Ti
256GB SSD
15" full HD 120Hz IPS
4.10lb
4 hours

I'm also not a big fan of this laptop because it is overkill for CS:GO. You'll be getting 200-262 (Average of 250FPS) at high settings with all options checked, FHD, anti-aliasing and buttery smooth framerates even with flash bombs and smoke granades going off.
But again it is a sweet deal for an 2060RTX laptop, just below 1000$ and you'll be getting the best gaming experience with eSports game especially FPS games.
I'm just throwing this beast out there for those who aren't on a budget and don't mind investing a lot of cash to play their favorite game.
I myself currently own the Acer Predator 300, which is even more beast than this model, the Core i7 10th generation gets me into the 400-500FPS (the main difference of the Predator 300 and the MSI is the CPU but that just goes to show you how much of a difference a CPU makes in CS:GO after you have a decent GPU).
CS:GO was not the reason why I bought or we bought it actually, we are video editors, gamers and so so on .
The Core i7 10th+RTX 2060+144Hz screen at 1200 is one of the sweetest deals for those with unlimited budgets right now in August 2020. Here's the link if you're interested, if you can't afford that this MSI right here is pretty close though.
---
I tried to put the latest and best deals but I don't have the luxury to update this post every week. So if you can't find the model you want on stock,
check out this post
. There is another writer who updates that one weekly and will have the best deals for the game. I think you can pick any of the models you find that post because the game doesn't really require a dGPU unless you want to push +100 fps at high settings
---
How To Buy The Best Laptop For Counter Strike GO
The hardware requirements to play the game are pretty low but you should aim to get at least 60fps and 100fps for competitions.
60FPS vs 100FPS
I would 60fps is fine for public and deathmatch servers basically just having with the game.
If you do want to join a 5v5 or just want to really be one of the top players, 100FPS helps a lot. Though it's really unnecessary.
Think about it if you're getting 60fps as you move around the map, this is going to drop to 20 or even 15fps with smoke grandes and flash. But if you go for 100fps you'll just go down to 30-50fps.
I also think that high refresh rates + higher framerates helps with your reflexes. Basically you'll get an accurate representation of what's really going on in real time in other words you'll be able to strike back before you are struck down. This is why the most competitive gamers on the world spend thousands on dollars on a beast machine.
GPU (Graphics Card)
The GPU will basically dictate whether or not you'll be able to play the game at high settings and 1080p resolution.
Integrated GPU
"Integrated GPUs" can only get you 40-60FPS if you run the game at low settings w/ 720p. You shouldn't pay more than 500$ for a laptop that has one.
Plus you should only buy those laptops that have an Intel HD GPU from 5th generation (Intel 520, Intel 620) or AMD GPUs from the 6th generation (Carrizo; preferably those that come with a Ryzen CPU though: AMD Vega X).
The following table's been taken from noteboook check: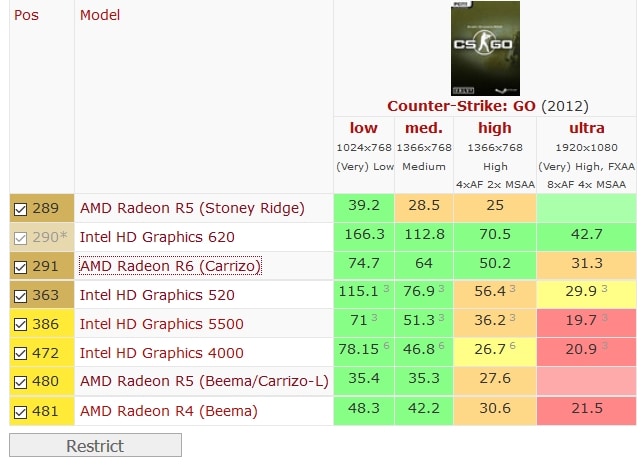 You should not take those "FPS" numbers by heart though you're definitely not going to get 100FPS at low settings with any integrated GPU.
However they can be used to make relative comparisons. So leaving the Intel Iris aside, 3 good integrated graphics cards for CS:GO are:
#1 – Intel HD 620
#2 – Intel HD 520
#3 – AMD Radeon R6 (Carrizo)
That table doesn't include AMD Vega GPUs though. The AMD Vega 3 should sit right along the Intel 620.
Below are the lowest prices for laptops that I could find with two of these 3 cards today(AMD
Older Integrated Cards
If you find a model with an older generation card (Ex: Intel HD 4000, AMD Radeon 4). You're going to need to set everything OFF and keep the resolution at 720 to get 40FPS. Still playable though.
Dedicated GPUs
| | | | |
| --- | --- | --- | --- |
| Name | Cores | vRAM | Speed |
| MX150 | 384 | 2GB-4GB | 1532 |
| MX250 | 384 | 2GB-4GB | 1582 |
| 1050 | 640 | 2GB-4GB | 1493 |
| 1050Ti | 768 | 4GB | 1620 |
| 1650 | 1024 | 4GB | 1560 |
| 1060 | 1280 | 6GB | 1670 |
| 1660 Ti | 1536 | 6GB | 1590 |
| 1070 | 2048 | 8GB | 1645 |
| 1070Ti | | | |
| 1080 | 2560 | 8GB | 1733 |
| 1080Ti | 3584 | 11GB | 1600 |
| 2060 | 1,920 | 6GB | 1680MHz |
| 2060 Super | 2,176 | 8GB | 1650 MHz |
| 2070 | 2304 | 8GB | 1620 MHz |
| 2070 Super | 2560 | 8GB | 1770 |
| 2080 | 2944 | 8GB | 1710 |
| 2080 Super | 3072 | 8GB | 1815 MHz |
| 2080 Ti | 4352 | 11GB | 1650 |
AMD
| | | | | |
| --- | --- | --- | --- | --- |
| Name | Shaders | vRAM | Speed | Equivalent(Gaming) |
| Radeon 610 | 320 | 2GB | 1030 | Intel UHD 620 |
| Pro RX 555X | 768 | 2GB | 855 | MX150/MX250 |
| RadeonRX 540 | 512 | 4GB | 1219 | ~950M |
| Radeon RX 550 | 640 | 4GB | 1287 – 1476 | +950M |
| Radeon RX 560X | 1024 | 4GB | 1172 – 1275 | 1050GTX |
| RX 580 | 1536 | 6GB | 1077 | ~1060GTX |
| RX5500M | 1408 | 8GB | 1327 – 1645 | ~1660Ti |
if you get a dedicated GPU, it's pretty much a given you'll go past the 100fps mark. We'll take notebook check benchmarks as accurate now because dGPUs are usually paired up with fast processors and sufficient RAM that allow accurate benchmarks.
Midrange(Blue) GPUs: GeForce GT 630M and above will manage just higher (than low) details and 2x anti-aliasing at ~100FPS.
HighEnd(Green) GPUs: High settings at 1920×1080 resolution, 4x anti aliasing and +100FPS. GeForce GT 650M. for NVIDIA and Radeon HD 7970M for AMD.
Those are old GPUs you aren't likely to find on the market.
-Let's talk about youtube benchmarks and modern GPUs now :).
Mid Range GPUs
Equivalent modern GPUs: MX150,MX250,1050GTX,Pro RX 555X. These are actually called "entry level" but for CS:GO they can be considered midrange.
MX150 MX250 1050 are dedicated but only x4 as powerful as integrated. You're only going to past 100FPS if you set everything to low although you can set the resolution to FHD (1080p). The 1050GTX can hit 80FPS at high settings on avg. though.
High End GPUs
Equivalent modern GPUs: All the GPUS in Green.
All of those GPUs can run the game at high settings with FPS ranging from 120 to 260FPS. (The 1050Ti 120FPS, the 1660Ti 260FPS).
The RTX 2060 is kind of unnecessary, there are no RTX features for CS:GO and you'll get as many framerates as the 1660Ti. However it's kind of affordable compared to other laptops with high end GPUs, so you might as well grab one.
Low Generation GPUs
If you venture into refurbished or used laptops or perhaps you found yourself a new laptop with an old GPU, nothing to wrong with it. The game was written in 2012 so you'll definitely be hitting high framerates if you get the equivalent of the GPUs I listed.
If you can't get the same FPS, it is very likely that the driver is an issue: Newer drivers will lower your FPS unnecessarily if you have an old GPU.
CPU
If you've got an integrated GPU, there's only so much the CPU can do.
If you have a deicatd GPU, the CPU can push your framerates to crazy numbers.
Clock Speed vs Number of Cores
Imo, you should just focus on clock speed. MultiCores are not useful even if you're recording your games.
High settings: If you really want to squeeze every framerate out your dedicated GPU, get a CPU with approx. ~4GHz of clock for Intel, 3.7GHz for AMD . This will make your framerates jump to +200FPS on high with a mid range CPU.
Low settings: Any GPU at 3GHz will let you hit 60FPS on at low settings but even a fraction of clock speed will make a difference in making your framerates high.
Streaming
Even if you're streaming, you don't need to worry about multithreading. Modern processors have at least 2 cores and the game is pretty single threaded. Although having 4-6 cores will improve streaming somewhat.
RAM
It's kind of redundant to talk about with a game like CS:GO and the RAM modern laptops have already.
Windows 10 and CS:GO won't go need anything more than 3GB and virtually every laptop has 4GB.
But if you're a newb ALT+TABing a lot because you die way too fast and love to multitask then upgrade yours to 8GB if it doesn't come with 8GB already.
Display
full HD + IPS
You want an full HD with IPS display. The FHD resolution is obviously a req if you want to play the game at FHD and the IPS helps everything look nicer and brigther. Unfortunately, this isn't as universal as RAM so you're going to have to double check you're getting both of these specs on your display.
Sometimes you may find a TN display as opposed to an IPS and that's alright, it's only aestethics really. But anything lower than a 1080p display isn't acceptable in 2020.
Refresh Rates vs FPS
Refresh rates is the term used to describe how many times your display "refreshes", it's usually 60Hz for laptops that means your display is updating the screen's image 60 per second.
FPS are the framerates "images" that both your CPU and GPU can output to your display, this doesn't have a limit. I've seen 600FPS on the game with monster rigs.
If you want to be able to "see" and "feel" every framerate your rig is outputting, then you need a display with higher refresh rates than your FPS.
If you're outputting 120FPS (this is shown on the FPS counter) but have 60Hz, then the game is not going to look as smoother as it would with a 120HZ display.
Although there's still an advantage on getting higher FPS than what your display can support:
60Hz vs 120Hz
Obviously it's always better to have 120Hz if you're getting +100FPS. So you should be cautious when checking out laptop specs because sometimes a powerful GPU like the 1660Ti(in fact it's common) can be paired up with a measly 60Hz which doesn't make sense.
Comments?
If you have any comments, suggestions, questions about a laptop you've come across or recommendations for other laptops. Please let us know in the comments below,.