5 Best Gaming Laptops Under $600 (NVIDIA GeForce GTX) 2022
If you're buying a gaming laptop under 600 dollars you CAN get a decent dedicated GPU like the 1650GTX.
In the worst case scenario…a MX450.
Do not settle for anything less….
In fact…
At this point in time, I will settle for nothing less than a 1650GTX. Don't listen to what other sites say…they will go and claim that there are no laptops with dedicated GPUs under 600 and proceed to show you either laptops with integrated graphics or laptops with dedicated GPUs that cost more than 600 dollars.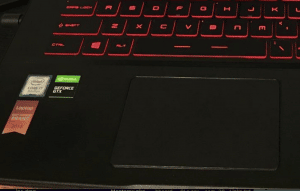 Now..
Because we are in 2022 and the 12th generation (Alder Like) Intel CPUs and 6th generation Ryzen CPUs have been out for a while, gaming laptops with previous generation CPUs are becoming more and more common under 600.
If you know how to look for gaming laptops, you can get the performance shown below (a 1650GTX + Core i5 9300H laptop):
Which is basically:
85 fps on Ultra Settings on Games like WoW.
55 fps on High sttings on very extremely GPU demanding games like Call of Duty: Warzone
As for the less hardware demanding MOBA games like:
Now…
I'm aware there may be laptops with a 1050GTX (most likely a MX250 or MX150) under 600 dollars and yes they're all dedicated graphics, idel for gaming. However…
I advice you to NOT bite the bullet unless they sell for around 450 dollars.
Why?
Because laptops with integrated graphics (recent iGPUs: Intel Xe & RX Vega 7) will give you the same performance.
Calm down…
I'm not telling you to buy integrated graphics (unless you have a budget under 500) . I'm just letting you know….
Recommended Specs For Gaming Laptops Under 600
Before we go over the best gaming laptops under 600 bucks as of August 2022, let's briefly talk about the hardware you'll find AND go over a few things and tips you msut know to get MORE performance out of a gaming laptop you find under 600.
GPU
MX450: The most common dedicated GPU you'll find under 600 and that's a good thing. The performance is pretty close to the 1650GTX for most games.
1650GTX:This is going to be a little more rare to find under 600, best case scenario maybe ~590 dollars. Definitely available just over 600.
MX350: This should be a last resort if you can't find an MX450 or 1650GTX, faster than integrated GPUs.
Intel Xe & RX Vega 7: Cheaper alternatives to the MX250. However, they only apply for those versions found on Core i5 and Ryzen 5 laptops. If you up RAM to 16GB RAM you may even outperform the GeForce MX250 as shown here.
CPU

Top priority should be the dedicated GPU. Which CPU you get isn't going to make much difference. If you have the luxury to choose however…know that…
Ryzen 5 5600H outperforms every other Core i5 or Ryzen 5 CPU
If we are talking about MX450 or MX350 or laptops with integrated GPUs. All CPUs, as long as they're recent (11th gen Intel & 5th gen for AMD) will performan equally well. Ex: Ryzen 5 5500U=Intel i5-1135G7 . Ex: Ryzen 5 4500U=Intel Core i5 10100U.
You are not going to find Ryzen 7 and Core i7 CPUs, just letting you know.

RAM
8GB: Most laptops you find under 600 will have this much and this is just fine for virtually every game.
16GB: You are not going to find a laptop with 16GB RAM on-board under 600, it's impossible. However, you can do the upgrade on virtually every laptop. You'll get a nice performance boost on MOST games.
If you have an integrated GPU…..hopefully that's not the case. The upgrade to 16GB RAM will make a HUGE difference to performance. You may get x2 many framerates in some instances.

Bonus:
Dual Channel: If you do the upgrade in dual-channel mode as explained in this post, you will squeeze even more framerates and performance.
Storage
256GB: This is as much as you're going to get under 600 dollars. It's going to be a PCIe NVMe SSD (the fastest type) good enough to store several AAA games like WoW, PUBG , Fortnite, Overwatch, etc.
512GB: Impossible to find under 600, you're only going to need this if you want to install CoD on top of all the games mentioned before. So you have to do the upgrade on your own.
Top 5 Best Gaming Laptops Under $600
This list is updated monthly because it is difficult to find good deals under 600 especially with dedicated graphics.
I'm including benchmarks for every laptop when possible some which can be found on laptopstudy's youtube channel .
*Note that these laptops are readily available in the United States. Some of the links will take you to your local Amazon store through a search query, make sure to scroll down when a new window opens up and you'll find the best gaming laptop under 600 mentioned in the review.
---
The Best Gaming Laptop Under 600 – Best Deal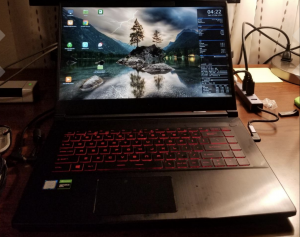 Intel Core i5 10300H
8GB RAM DDR4
GeForce 1650 GTX 4GB vRAM
256GB PCIe SSD
15" 1080p IPS 60Hz
4.1 lbs
3 hours

This MSI GF63 Thin has been the best gaming laptop under 600 for the past year.
Right now it's selling for about 598 bucks (not bad for a 1650GTX indeed) but price may go up to 610 (depending on the time of the year). If you can't find this model under 600, try typing MSI GF63 Thin + Core i5 9300H.
CPU: Intel Core i5 H Series
Whether you get a 9th or even an 8th generation it's really not that important, the crucial thing is landing that sweet 1650GTX dedicated GPU because that's exactly what will unlock higher graphics and let you soar with high framerates.
In the scenario you come across two MSI GF63 models you obviously want to pick the one with the more recent generation CPU and that's dictated by the first number of the label. Ex: Core i5 11300H > Core i5 10300H. The 11th gen Core i5 is not the most recent (that would be the 12th gen Core i5) nonetheless it's going to be impossible to find it under 600 dollars, the best you can hope at this point is the 10th generation Core i5 10300H.
But again CPU makes little difference.
Performance: Core i5 10300H + 1650GTXY
Below's a summary of the performance of either the above laptop:
| | | |
| --- | --- | --- |
| Game | Framerates | Graphics |
| Forza Horizon | ~90 | Medium |
| Rainbow Six Siege | ~157 | Lowest |
| CS:GO | ~150 | Low |
| Warzone | ~85 | Low |
| Valorant | +125 | Low |
| GTA 5 | +82 | Very High |
| Fortnite | +200 | Performance |
| Apex Legend | +122 | Low |
| PUBG | +110 | Low |
GPU: 1650GTX Max-Q
The only real issue with every single MSI GF63 thin model is that they do not have the full power 1650GTX , the one they have is the so called "Max-Q" version which is another way of saying it's underclocked, aka, not running at full power and thu not running at max speeds.
Although you can go to the BIOS and "overclock" but I would not advice you to do this. Instead, if you want the 1650GTX to run at full power, take it to a laptop shop , they will see if its possible to add some cooling paste and do some other trickery to keep temperatures low. I myself would not even go to a technician I just will not overclock, the performance loss is not significant still way faster than iGPUs and the lower end GPUs we just went over.
Performance loss is about 10%. The Max-Q label can be seen right on their website here.
Also note that the performance drop (10-15%) doesn't mean you are going to get 10-15% less framerates, it's only going to be an issue when you play games like Call of Duty which will require the 1650GTX to run at full speed and full power.
For most games like WoW, Fortnite and Valorant , Dota 2, LoL, you are not likely to notice any performance drop unless you up the settings to Ultra.
RAM: 8GB (Single Channel)
Although it's a thin laptop, it's not limited to 8GB RAM, you can upgrade it to 16GB RAM thus you can make up for the Max-Q 1650GTX and increase framerates by as much as 30 fps (for games like Lol & Dota 2) and 10 fps (Fortnite , WoW, Overwatch) if you do the upgrade in Dual-Channel Mode.
This means installing two ram sticks that are exactly the same.
3050Ti laptops can have anywhere from a low voltage Ryzen 7 4800U to the high end and powerful Core i7 11800H.
MSI GF63 Thin

PROS

CONS

Cheapest 1650GTX Laptop

Can run most games on Epic or High Settings

Relatively thin and lightweight

Okayish Battery

Dual-Channel Support

RAM & Storage are both Upgradeable

Extremely good looking keyboard

Not too many ports

Trackpad can be a problem

Max-Q 1650GTX (low power)
---
Best Gaming Laptop Under 600 – Most Powerful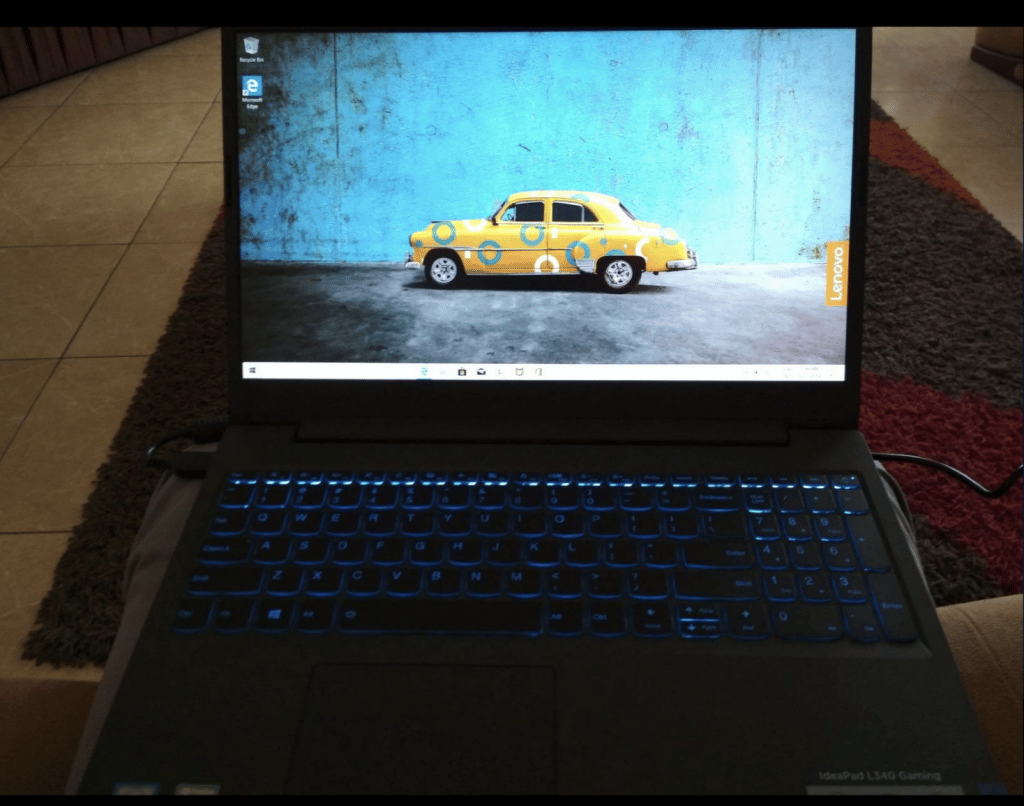 Intel Core i5 9300H
8GB RAM
1650GTX 4GB vRAM (No Optimus)
256GB PCIe SSD (Free 2.5" Bay Slot)
15" FHD IPS 60Hz
4.10lbs
3 hours (Gaming) – 6 hours (Work)

There should be at least ONE MSI GF63 thin laptop under 600 dollars at ANY time of the year, in the off chance there isn't any, you can try and type Lenovo L340 which is another 1650GTX laptop with a slightly older CPU.
Although I have to admit it's going to be pretty rare to find it under 600, the best you can hope is about 620 bucks. But who knows you may be lucky, don't worry we've got other options down below too.
There's another good reason why I'm listing here too.
GPU: GTX 1650GTX ( No Max Q + No Optimus = Full Power )
Well, the Lenovo L340 here has a very UNSUAL 1650GTX. Not only is it the full version (it is not the Max-Q) but it also lacks OPTIMUS which is basically a piece of hardware most gaming laptops use to improve battery life in exchange of low GPU performance. So yes not having the MAX-Q label and not having OPTIMUS are both GOOD things not BAD things. You can read more about Optimus in my MUX Switch post here.
Having no Optimus also means extremely low battery. Since this is a laptop for gaming and since gaming at high settings it's mostly a plugged in experience, who cares right? Especialy when you're getting this much power under 600 bucks.
CPU: Core i5 9300H vs Core i5 10300H
Again there's going to be almost no difference in performance between a Core i5 9300H and a Core i5 10300H. If you compare the benchmarks to another laptop with a 1650GTX, you will be surprised to find out you'll get slightly higher framerates out of the Lenovo L340.
In fact, if you compare the framerates output by the Lenovo L340 to pretty much ANY 1650GTX laptop you'll find out the Lenovo L340 will give you either the same or slightly HIGHER framerates despite having an older CPU than most 1650GTX laptops because of the GPU specs explained before.
Lenovo L340: 1650GTX BenchMarks
| | | |
| --- | --- | --- |
| Game | Framerates | Graphics |
| CoD: Warzone | ~60 | Low |
| CS:GO | ~114 | High |
| Fortnite | ~80 | High |
| WoW:Shadowlands | ~85 | Ultra |
| Sims 4 | +132 | High |
| Minecraft | +109 | Fancy |
| LoL | +136 | Very High |
| Dota 2 | +140 | Best Looking |
| Overwatch | +98 | High |
Lenovo Ideapad Gaming 3

PROS

CONS

OverClock Performance Mode – 85W 3050Ti

Cheapest 3050Ti Laptop

120Hz Display

Epic & Ultra Settings Overwatch 2 +70fps

Relatively lightweight

Upgradeable RAM (16GB) Dual-Channel

x2 SSD Upgrades available (M.2 + 2.5" Bay)

Poor Battery

Only has x2 USB ports
---
Cheap Gaming Laptop Under 600 – MX450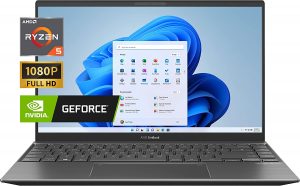 Ryzen 5 5500U
8GB DDR4
GeForce MX 450 2GB vRAM
256GB PCIe SSD
14" 60Hz Full HD IPS

4.4lbs
5 hours

If both the Lenovo L340 and MSI GF63 gaming laptops under 600 are out of stock or just expensive, your next option is to grab a MX450 laptop. But please do not pay more than 550 bucks for these. In fact, they should be selling for as low as 520 bucks by the time of this writing.
Dedicated GPU: MX450 vs 1050GTX
Make no mistake, the MX450 is fast. It doesn't have the "GeForce" sticker on it but it is FASTER than the old 1050GTX is usually selling well over 600 dollars despite being sort of outdated.
Feel free to compare the benchmarks on the following two videos to see for yourself:
1050GTX Gaming Laptop BenchMarks: 21 Games
MX450 Gaming Laptop BenchMarks:
CPU: Ryzen 5 5000U vs Core i5 1115G7
MX450 laptops are not just fast because of the MX450 but also due to the fact that virtually every MX450 laptop has either an 11th generation Core i5 1135G7 or a Ryzen 5 5500U.
Both are way faster than the CPUs found on 1050GTX laptops which are usually 7th or 8th generation Core i5 CPUs.
Now…if you are lucky…you may have the luxury to choose between the Ryzen 5 5500U (featured here) or the Core i5 1135G7.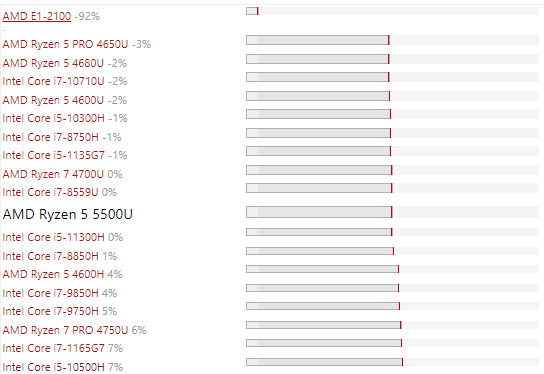 According to benchmarks both are within a 1% difference in single core performance. That 1% is not going to make a difference on games that only depend on clock speed (which means most games) however on those few games that make good use of multi-core performance, the Ryzen 5 5500U will give you significant gains.
Refurbished vs New:
Now, the model being featured here is not renewed or refurbished.
Don't fall into the trap of buying refurbished MX450 laptops, there's no need to. Currently, MX450 laptops are selling as low as 520 bucks and NEW. There's no reason to buy refurbished now since the 12th gen Intel Core CPU & the AMD Ryzen 6th gen CPUs have been out for several months now….reducing the prices of older generation laptops.
I advice you to spend any extra cash on a cooling pad if you want to play at high for long periods of time. Since this is a thin and lightweight laptop (relatively speaking) it's not going to handle higih temperatures and heat as efficiently as thicker gaming laptops like the Lenovo L340 despite having a much weaker MX450.
ZenBook 14

PROS

CONS

Supports Med & High settings on most games

Faster GPU than the GeForce 1050GTX

Great option for those on move

Very portable & lightweight For a gaming laptop

Must buy a cooling pad for high settings

Only has x2 USB ports

RAM cannot be upgraded

Storage cannot be upgraded
---
Budget Gaming Laptop Under 600 – GeForce MX350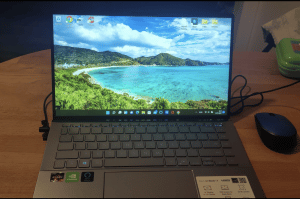 Ryzen 5 4500U
8GB DDR4
GeForce MX350
256GB PCIe NVMe SSD
14" FHD IPS

2.65lbs
8 hours

If all options above are out of stock, before you consider buying laptops with integrated GPUs, check out the MX350 laptops.
The MX350 is the older variant of the MX450 but it should be just as fast as the more expensive GTX 1050.
MX350 Gaming Laptop BenchMarks:
| | | |
| --- | --- | --- |
| Title | fps(avg) | Graphics (FHD) |
| BattleField V | ~37 | Low |
| CS:GO | ~89 | Medium |
| Fortnite | ~53 | Medium |
| Far Cry | ~31 | Low |
| Forza Horizon | ~45 | Low |
| The Witcher | ~32 | Medium |
| Valorant | 100 | High |
| Warzone | ~44 | Lowest |
| CyberPunk | 24 | Low (720p) |
There's a BIG performance difference between the MX450 and MX350.
However the MX350 still performs better than virtually every integrated GPU on the market as of 2022 (you can check out the next review which goes over the next most expensive laptop with an integrated GPU and compare).
Now the difference between the MX350 and integrated GPUs isn't ABYSMAL but it's still somewhat significant. This is exactly why I recommend you stay away from the older variants: MX250 and MX150 and also the 940MX as they will be outperformed by integrated GPU in some titles.
The main advantage of the MX350 over gaming laptops under 600 with integrated GPUs is that it will unlock MEDIUM settings on the most hardware demanding titles without frtubg ab egg on the case. Integrated GPUs can also run the game on medium settings but the temperatures can be dangerously high.
Be sure to NOT pay more than 530 bucks for this, in fact, I would wait a few weeks before pulling the trigger on this one as it is very likely a MX450 will show up for the same price during that time.
ASUS ZenBook 13 – MX350

PROS

CONS

Faster than latest iGPUs

Supports Med Settings at decent temperatures

Supports 1080p resolution

Relatively lightweight

Decent Battery

Not much cheaper than MX450 laptops

Slightly older CPU

Requires a cooling stand for long periods of gaming

Cannot be RAM & Storage upgraded
---
Best Gaming Laptop Under 600 – RX Vega 7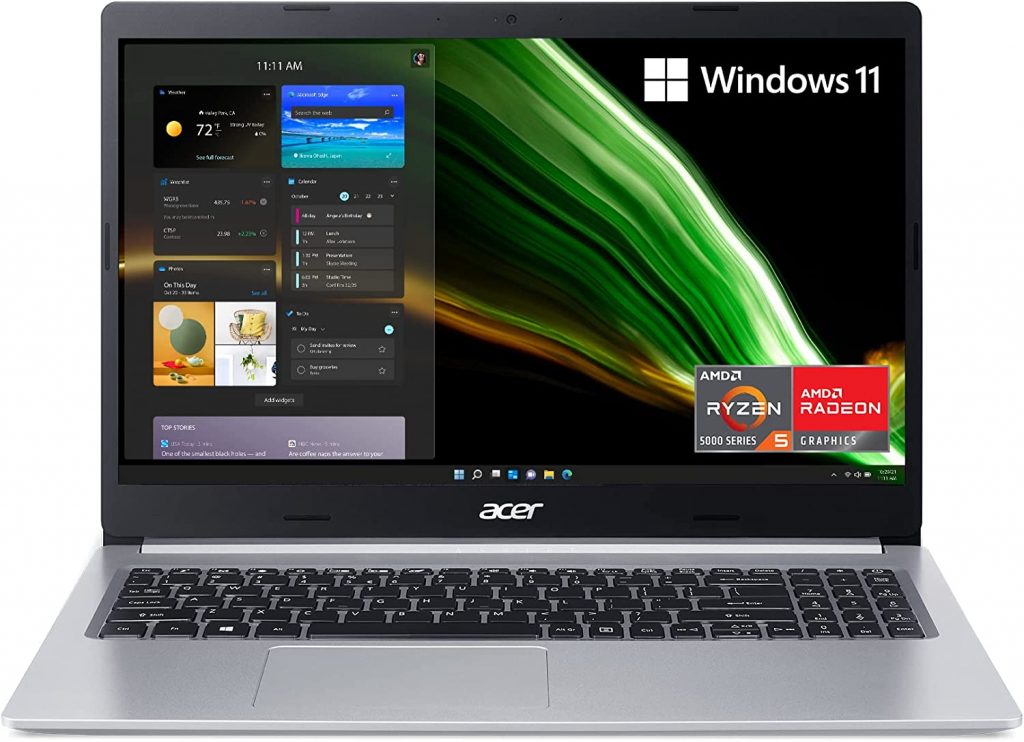 AMD Ryzen 5 5500U
8GB RAM
Radeon Vega RX 7
256GB SSD NVMe PCIe
15.6" FHD
4.2 lbs

8 hours

This last laptop on the list is for those people with a budget lower than 500 dollars more around the 450 dollar mark.
Ryzen 5 5500U + RX Vega 7 Laptop BenchMark
| | | |
| --- | --- | --- |
| Title | fps(avg) | Graphics (FHD) |
| Fortnite | ~52 | Low |
| CS:GO | ~95 | Medium |
| Fortnite | ~53 | Medium |
| Valorant | ~72 | High |
| Apex Legends | ~52 | Low (720p) |
| Battlefield V | ~51 | Low (720p) |
| CyberPunk | ~25 | Low (720p) |
| Watch Dogs | ~29 | Low (720p) |
| The Witcher | ~37 | Low (720p) |
Integrated GPU: RX Vega 7 or Intel Xe
The benchmarks above are for the Ryzen 5 5500 + RX Vega 7 but you should get the same performance out of the Intel Xe (selling for about the same price).
By the way, you should settle with nothing less than a RX Vega 7 or Intel Xe, those two may not the be the latest ones but they are the most powerful ones for the 450-500 budget.
Ryzen 5 5500U vs Core i5 1135G7
I picked the Ryzen 5 5500U model despite the Intel Xe being slightly faster because the Ryzen 5 5500U has better multi-core performance than the Core i5 1135G7, this is going to translate into a few more framerates no most titles. Since there's no dedicated GPU, the CPU will ALSO be doing a lot of the heavy lifting so every bit helps. Another reason why I picked the Ryzen 5 5500U over the Core i5 is because Ryzen 5 CPUs are more efficient when reading data out of the RAM.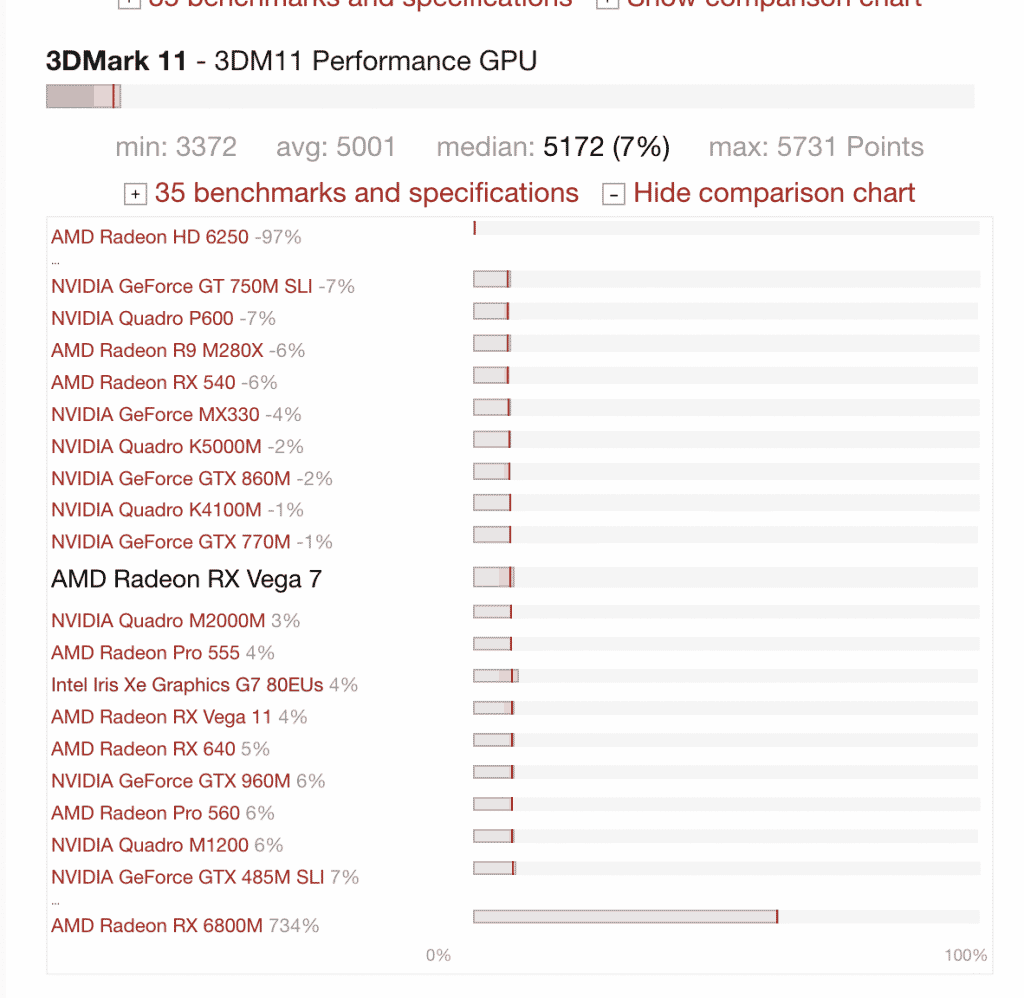 RAM: 8GB (Single-Channel) vs 16GB (Dual-Channel)
Which means any changes to your RAM set up will translate to slightly bigger gains. The first upgrade you should do is to up the RAM to 8GB to 16GB, the extra RAM is going to make a HUGE difference in performance.
I think I mentioned this in the intro or maybe not but anyways when you add extra 8GB RAM to laptops with integrated GPUs, the extra RAM will act as vRAM thus turning your integrated GPU into a semi-dedicated GPU which translates to MASSIVE performance boosts.
Obviously, it's not going to outperform the MX350 or the MX450 but it's going to be up there and clearly outperforming MX250 and 940MX GPUs.
If you can do this upgrade in Dual-Channel mode, then all the better. More framerates to you. The Ryzen 5 CPUs make the best out of DC mode too.
Alternatives:
I'm posting below a table of the best deals with the Ryzen 5 or Core i5. If you want to buy a laptop with an integrated GPU outside of this table just be sure they have a FHD display too.
Now there's a model with the same hardware selling for about 388 bucks that's about 70 bucks cheaper, the problem is that there is no support for DC Mode that means you may not get that extra 5-10fps. There may be support for DC though, I just don't know why it hasn't worked for some people.
Acer Aspire 5 A515

PROS

CONS

Best MultiCore CPU

FHD Display

Easy to upgrade RAM & Storage

Supports Dual-Channel Mode

Lightweight

Extremely Cheap

Poor Battery

Only has x2 USB ports
---
How to Find The Best Gaming Laptop Under 600
As you all know, this section basicaly teaches you how to calculate whether a given laptop is a good deal or not by adding every piece of hardware to the total manufacturing price.
This does not work so well for gaming laptops under 600 because the processors and graphics cards you'll find here like the Ryzen 5 5500U or MX350 do not have retail prices published.
Make a List of ALL gaming laptops under 600
It's just better to browse around the web to find the best deals or make a list of all laptops under 600 to compare prices (you should look at display, storage and other attributes because most of them will have the same hardware).
As of 2022, the list of gaming laptops under 600 is pretty small since you usually get integrated GPUs and low-voltage CPUs like the Ryzen 5 5500U & Core i5 1135G7 which although are useful for gaming at medium settings, they are not really "gaming laptops". I've included them in the list but only the ones that are on a deal.
Prices of laptops under 600 with specific CPU & GPUs
Instead of adding all the components in a laptop to the total price, what we'll do instead is to list the PRICES of laptops with a GIVEN GPU or CPU. You can use the following tables to set an upper limit of how much you should pay for a laptop with either hardware.
GPU
Dedicated
If you happen to find a laptop under 600 with a dedicated GPU that's not the MX250 or MX150 or the 940 MX but the 1650GTX. Just buy it and stop reading this thing.
If you find a laptop under 530 bucks that has the MX450, you can also just buy it and stop reading.
Those two GPUs are extremely fast (relatively speaking) and they will overshadow any other gaming spec like the CPU.
For all other dedicated GPUs, use the following table:
Prince Range: the lower and upper prices you'll find.
Max Price: Pay no more than this much
They are in order of descending power:
Graphics Card

Price Range

Max Price

Graphics

GTX 1650
$590-750
$650
High-Ultra
MX450

$510-600

$550

High

1050

$550-700

$550

Med-High

MX350

$510-580

$520

Med

MX250

$550-650

$450

Low-Med

Radeon RX 555X

$500-800

$450

Low-Med

Radeon

RX 540

$500-800

$450

Low-Med

Radeon RX 550

$500-800

$450

Low-Med
MX250, RX Series: These guys in red have the performance of integrated GPUs. They're best to be avoided. Those prices are not random, it's not even a joke, they can be sold as high as 800 bucks and yet have very low performance.
Integrated
Now I said several times integrated GPUs are extremely powerful these days and just as powerful, in fact, as those GPUs highlighted in red in the preceeding section.
Thus they will also support pretty much every game at medium settings and some even at high settings. Well ,the latter is only true for the most powerful ones which are highlighted in blue on the following table:
| | | | |
| --- | --- | --- | --- |
| GPU | CPU | Equiv. | Max. Price |
| Intel UHD Xe G4 | Core i3 1135G5 | — | $350 |
| Intel Iris Xe 80 (1600Mhz) | Core i5 1135G7 | MX 250 | $450 |
| Intel Iris Xe 96 (1700Mhz) | Core i7 1195G7 | MX 350 | $700 |
| RX Vega 3 | Ryzen 3 5300U | — | $350 |
| RX Vega 7 | Ryzen 5 5500U | MX250 | $450 |
| RX Vega 8 | Ryzen 7 5700U | MX 350 | $700 |
I've listed the CPUs on the right because that's where you'll find, they come in hand in hand that's why the name is integrated! Again I would only buy the Intel Xe 80 or RX Vega 7 found on the Core i5 and Ryzen 5 respectively. The Ryzen 7 and Core i7 integrated GPUs are too expensive and the integrated GPUs found on the Core i3 and Ryzen 3 are too weak.
CPU
I think it's pretty clear the most important piece of hardware is the graphics card. Now if you can't afford a dedicated graphics card, then it really comes down to the integrated GPU which is to say the CPU.
Now let's assume you find two laptops with the same integrated graphics or dedicated graphics, which one should you pick? You should only look at the CPU (storage and RAM can later be upgraded).
Below I rank the CPUs in other of power.
| | | | |
| --- | --- | --- | --- |
| CPU | Base | Turbo | Cores |
| i3 8130U | 2.2 | 3.4 | 2 |
| i3 8145U | 2.1 | 3.9 | 2 |
| i3 10050G1 | 1.2 | 3.4 | 2 |
| i3 10100U | 2.1 | 4.1 | 2 |
| i3-1115G4 | 3 | 4.1 | 2 |
| i5 8265U | 1.6 | 3.9 | 4 |
| i5 8250U | 1.6 | 3.4 | 4 |
| i5 10210U | 1.6 | 4.2 | 4 |
| i7 8550U | 1.8 | 4 | 4 |
| i5 1115G4 | 2.4 | 4.2 | 4 |
| i5 1235U | 3.3 | 4.4 | 10 |
| i7 1165G7 | 2.8 | 4.7 | 4 |
| i5 1240P | 3.3 | 4.4 | 12 |
| i7 1260P | 3.4 | 4.7 | 12 |
| | | | |
| --- | --- | --- | --- |
| CPU | Base (GHz) | Turbo (GHz) | Cores(#) |
| Ryzen 7 5800U | 1.9 | 4.4 | 8 |
| Ryzen 7 5700U | 1.8 | 4.3 | 8 |
| Ryzen 7 3700U | 2.3 | 4 | 4 |
| Ryzen 5 5500U | 2.1 | 4.4 | 6 |
| Ryzen 5 3500U | 2.1 | 3.7 | 4 |
| Ryzen 3 5300U | 2.6 | 3.8 | 8 |
| Ryzen 3 3300U | 2.1 | 3.5 | 4 |
You are not likely to find 12th generation CPUs or 6th generation Ryzen CPUs under 600 until a few years into the future, they're there for the sake of completeness.

There are way more CPUs available under 600 dollars but they're too obsolete and not only are they weak themselves but they also come with pretty outdated integrated graphics (for those on a budget).
RAM
8GB vs 4GB
Every laptop under 600 (and above 400) should have at least 8GB RAM and this is just fine for most games.
16GB: When is it useful?
Modern Games
Having 16GB isn't a requirement for most games HOWEVER it is becoming increasingly more useful IF you want to have MORE framerates as 2022 games have been updating their game engines to make use of more RAM.
Integrated GPUs
If you have integrated graphics ( cannot afford a dedicated GPU) it becomes a MUST have. The extra RAM wil act as "vRAM" and turn your iGPU basically into a dedicated GPU and that's how you can match the perforamnce of 2GB vRAM dedicated GPU with a modern intengrated GPU.
Please don't buy 16GB RAM laptops off the bat even if they are under 600, you can always do the upgrade on your own and you will not have to give up other awesome specs for this (usually 16GB RAM laptops will have worse displays & even outdated CPUs or no dGPUs).
Dual Channel
If you do the upgrade in dual-channel mode, you can get even more framerates now this is not a requirement whether you've got a dedicated or integrated GPU but still if you're doing the upgrade, there's no reason to NOT want the extra performance. I go into more detail here about what Dual-Channel RAM means.
Storage
Hard Disk Drive vs Solid State Drives
All laptops, in fact, those around 300 dollars will have a Solid State Drive which are up to x17 faster than HDDs. This is not going to increase framerates or help you with graphics settings but it's going to launch games faster and reduce the time of loading screens within the game.
It's only going to be an issue those after refurbished and oudated dedicated GPUs which may not have a Solid State Drive, if that's the case I advice you to grab that laptop and do the upgrade, do not just discard it altogether because it has an HDD.
SSD Type: PCIe NVMe vs SATA III SSD
Beware when doing the upgrade there are two ways to do it: through the PCIe port or the Sata III port. For gaming purposes, both are equally fast, you're not going to get more framerates out of the other one.
You can always upgrade storage so whether you get a low-storage SSD it's meaningless, check out my post here: How to Upgrade A Laptop's Storage.
Display
Refresh Rates & Resolution: 60Hz , 120Hz & FHD
It's going to be extremely rare, if not impossible, to find anything more than 60Hz display and that's fine, it's not a requirement even for competitive gaming unless you're playign FPS games.
Virtually every laptop under 600 dollars will have a 60Hz and a FHD (1080p) resolution.
What's actually a problem is that if you're spending around 400-450 bucks you may find laptops with HD or HD+ resolution which are total waste of money if you want decent graphics when gaming and you don't have to settle for either just keep looking for a FHD display.
Monitor Type: IPS vs TN
For gaming purposes, there is no difference between the two. In fact, you're better off with the cheaper TN displays if you're playing FPS games mostly as the response times of the monitor will be slightly faster.
IPS panels are only good if you want more colorful graphics thus you may want that IF you're not playing FPS games that render pretty colors useless. In fact, the difference in colors isn't abysmal to even opt for an IPS panel. Anyways, it's up to you.
Comments?
Laptopstudy takes your questions seriously. In fact, any comment you leave here will be used for future updates of this post so please leave a comment below if you can.
Author Profile
I am physicist and electrical engineer. My knowledge in computer software and hardware stems for my years spent doing research in optics and photonics devices and running simulations through various programming languages. My goal was to work for the quantum computing research team at IBM but Im now working with Astrophysical Simulations through Python. Most of the science related posts are written by me, the rest have different authors but I edited the final versions to fit the site's format.