10 Best Laptops For College 2020 (For Every Major & Budget)
Finding the best laptop for college can appear to be both difficult and frustrating. I'll go as far as saying: scary. Most of us don't have that much money left after paying for tuition and school supplies. We may only be able to afford one  and obviously we want to make sure we pick one that's not only useful but lasting and affordable too.
Let's not forget….
There may be so many important features to consider for college that we may not be aware of : How fast does it need to be? How much battery life do I need? Which ports do I need for presentations? Will it run every program used for my major? Will it last me for the four full years of college?
That's not all…
There's a lot of computer jargon we may not even understand: Dual Core, Turbo Boost, Solid State Drives, IPS Panel and whatever else technology has brought up these days. As a result most college students, especially freshman,  end up buying a laptop they pretty much find useless.
The Good News is…
Whether you are into engineering , liberal arts or the sciences , you won't be making that mistake. Yeah, I myself made that mistake… once or twice.
So what's in this article?
A complete guide on how to buy a laptop for college discussing the most important features the best laptop for college should have and a short review of the best laptops for college students for every major and for every budget.
I assure if you give it some time to it not only will you end up with the best laptop for college but you will also buy one that will become extremely useful towards your graduation and one that will hopefully last you throughout your four full years of college. After all that's what my site is all about to help out other students and professionals like me.
For those who are too impatient or don't have the time to read a lengthy guide. I'll go over the best laptops for college as of 2017 first.
If not, you can skip to the guide where I discuss every feature: weight , battery life, computer speed, etc, that I found useful during college and the reason why they were useful for me to graduate.
Top 10 Best Laptops For College Students 2017
How did I narrow down this list?
Besides being a recent college graduate myself and knowing exactly what we need , I did the following:
Consulted friends in college and those already who graduated. 

Checked the curriculum of the majors listed here, the class descriptions and consulted with universities sites on what laptops they recommend for each program.

Selected the best features specifically for each student based on their degree.
If you have any doubts , just click on the full review button to see the reasons why or why not its a good fit for your particular degree.
If you aren't computer savvy when reading specifications and reviews, the guide above should give you the basics  so you can  know exactly what you are paying for and what you are buying.
Best for your degree
Might be suitable or not. You need to read the full review to decide.
Pros                         
Epic Battery Life                         
Top Quality KeyBoard And TouchPad
Fast Performance
Compact, Lightweight and Solid Design
Cons
   Not Full HD

Summary: Since 2008, the MacBook Air has been one of the most portable laptops and one of the best choices students have. Due its popularity, the design has stayed the same but each new version comes with even greater performance and battery life. This is what I actually got me through my undergraduate years. I found the portability and battery life the greatest  among the plethora of laptops I went through.
It still has its unrivaled battery life which is around 13 hours according to third party testers. But it may actually be more, I pulled off around 15 hours or so with just basic tasks.
It has insanely fast boot up times due to having the latest SSD technology for storage. The design feels solid and sturdy . It can take quite a few drops but don't go around dropping it. I know mine survived a few.
The keyboard  and Touch-pad are of high quality as expected from Apple's MacBooks.
The latest versions are powerful enough to blaze through every software you throw at it with the exception of intensive 3D applications because the lacks  of a dedicated graphics card.
It can be configured all the way to an i7 processor and 512GB if you think you may need another boost in performance but I can assure you the base model shown here is strong enough to handle anything college related. I could do anything with it except using 3D Applications when I was an student.  I would consider it the best laptop for college as of 2017.
Portability: 3lb  [usr=4.5 size=15 text=false] 
Battery Life: 13 hours  [usr=5 size=15 text=false]
Display: 1440 x 900 resolution 13.3" inch  [usr=3.5 size=15 text=false]
Connectivity: Wireless AC x2 USB Ports [usr=4 size=15 text=false]
Performance: i5 core 8GB RAM 256GB SSD  [usr=4 size=15 text=false]

Pros
Beautiful, high-quality, ultra high-resolution display (2880×1800, 220 ppi).
Excellent battery life.
Powerful enough for all majors.
Cons
The 15" model is on the heavy side.
Pricey.
Summary: I never owned a Pro because I never really needed the extra performance compared to the Air. However it is far more popular among all college students. Those students who need a boost in performance should go for the Pro instead of the MacBook Air. 
There are two versions, the MacBook Pro with 13" and the 15" MacBook Pro which is the one presented here. The 13" Model is pretty much similar to the air and there isn't much benefit in terms of performance or portability. However the Display has better color accuracy and far more resolution than the Air, if you are into a multimedia program you'll definitely want the Pro over the Air, whether it's the 13" or 15" inch version.
The 15" shown here is for those who think they may need the best performance out of a MacBook: 16GB RAM, 512 GB for storage Capacity and a powerful Graphics Card(AMD Radeon R9 with 2GB vRAM). If you put the Processor into the mix ( i7 with four cores), you have one of the most powerful laptops for just about anything you can encounter regardless of what degree you're in but that may be too much for most students unless they have to model, design and run 3D applications and intensive simulations with their laptops as opposed to using the computer labs.
It also comes with the new force-touch technology allowing different "levels" of actions based on how firmly you press the TouchPad and don't forget the retina Display will make everything look more crisp and crystal clear.
Portability: 4.5lb  [usr=3.5 size=15 text=false]  
Battery Life: 10 hours  [usr=4.5 size=15 text=false]
Display: Retina Display 15.4" Glossy  [usr=5 size=15 text=false]
Connectivity: WireLess AC x2 ThunderBolt  [usr=4 size=15 text=false]
Performance: i7 HQ 16GB RAM 512GB PCIe SSD [usr=5 size=15 text=false]

Pros
Extremely Portable
High Performance
Sharp and vivid images
Cons
Average Battery Life
Type Cover is an additional $130
One USB Port
Summary: The Surface Pro has been touted by Microsoft as the "tablet that can replace a laptop". Whatever you consider the Surface Pro to be, it is currently getting more and more popular among college students these days even those who need the best performance from computers out there.
The reason behind its rising popularity is the seamless combination of OneNote with the stylus. Together they're capable of replacing your entire library of textbooks, notebooks along with all of your school supplies (pens,erasers,highlighters) due to the fact that the Pro is specially designed to make note taking, drawing diagrams, making designs and even writing equations on it as realistic as possible.
If you are worried about performance, guess what? It's highly configurable starting with an m3 core processor with only 4GB RAM and 128GB SSD for storage all the way up to an i7 core processor with 16GB and 1TB SSD for storage which actually may be too much for most students out there.
Not only that, its displaying features improve with every version. The latest version has a 2,736×1924  with near perfect color accuracy while simply weigihting 1.8 pounds and no more than 2.4 pounds with its type cover. Stick with the configuration presented here and you'll be alright, it will have a longer battery life and be far more cheaper. 
Portability: 1.7lb  [usr=5 size=15 text=false]  
Battery Life: 6 hours [usr=3.5 size=15 text=false]
Display: 12.3″ 2736 x 1824   [usr=4.5 size=15 text=false]
Connectivity: WireLess AC mini Display [usr=2 size=15 text=false]
Performance: i5  8GB RAM 256GB SSD [usr=4 size=15 text=false]

Pros
Great Display Options (Full HD or QHD)
Long Battery Life
Solid and Light Design
Thunderbolt 3 USB-C Port 
Cons
Weird Camera Placement
Needs adapters for External Displays
Summary: The current Dell XPS 13 is probably the best Windows Ultra book today. Its Infinity Edge Display fits in a much bigger display screen into a 13" inch laptop while the thunderbolt 3 connectivity allows you to connect to two external displays simultaneously. You may find the latter useful to increase your productivity back home with two external monitors for studying, writing reports, programming, etc.
It doesn't have a cheap design either, it's made of aluminum on the top and bottom of the chasis, a rock solid design on par with the MacBooks or any other high quality laptop.
The inside is made of carbon fiber which makes it comfortable when typing and using the laptop in general.
As far as performance just like the Surface Pro, you can configure it to whatever your budget or your degree requires. Starting with the low end i3 core processor, 4GB RAM and 128GB SSD all the way up to an i7 core processor, 16GB RAM and 1TB SSD.
The configuration presented here is more than sufficient for college work regardless of what your degree is with the sole exception of 3D Applications because it doesn't have a dedicated graphics card. If you need to run heavy 3D applications for modeling, drafting or designing then the DELL XPS 15 is a better choice.
The display is also configurable, there is the ultra high definition display (3200×1800) which is a touchScreen and the full HD resolution (1080p) with a matte finish. I'd advise you to stick with the 1080. Not only is the lower resolution cheaper but it will also give you more battery life (9-10 hours) and the matte finish will protect your eyes from reflections which you may encounter especially in the library.
Portability: 2.9lb  [usr=4.5 size=15 text=false]  
Battery Life: 9 hours [usr=4 size=15 text=false]
Display: 13.3" 3200×1800 [usr=5 size=15 text=false]
Connectivity: WireLess AC Thunderbolt 3  [usr=5 size=15 text=false]
Performance: i5  8GB RAM 256GB SSD [usr=4.5 size=15 text=false]

Pros
Extremely Lightweight Design
Long Battery Life
Great Number of Ports and Connectivity
High Resolution and Matte Display
Cons
Average Keyboard and Touch Pad Quality
Summary:  There's not much to complain about the Zen Book in its current model. It remains one of the most portable laptops college students can get their hands on today.
It has the necessary performance to  serve all college students except those interested in running 3D Applications.
However, it's extremely lightweight and thin with a long battery life , both being the two most important features for any college student in any field while remaining quite affordable at the same time. Save for a few caveats (keyboard & Touch Pad quality) , it's extremely similar to the Mac Book Air in all departments except that it's actually far cheaper. 
Portability: 2.6 lb  [usr=5 size=15 text=false]  
Battery Life: 8 hours [usr=4 size=15 text=false]
Display: 13.3" 1080p IPS Matte [usr=4.5 size=15 text=false]
Connectivity: WireLess AC HDMI  [usr=5 size=15 text=false]
Performance: i5  8GB RAM 256GB SSD [usr=4.5 size=15 text=false]

Best Laptops For College Students Under 500
Did you find the laptops above too expensive? Are you on a Budget? Were your tuition and textbooks too expensive? Or Perhaps you quit your full time job to focus on college? Maybe you want to spend the money you have left somewhere else? Those are good reasons to look for a laptop on a budget. 
But…
You are worried that your budget will not be able to afford one of the best laptops for college students, right? 
The good news is…
As you'll see in our guide below most of you don't need to worry about performance. A laptop portable enough with a decent speed as well as a relatively long battery life is all you need to succeed in college. If you ever need a high performance machine, you can always head to the computer labs for those rare few instances.
Pros
Long battery life
Great Storage Capacity
Good Performance
Cons
Low KeyBoard Quality
Summary:  You couldn't ask for more from a budget laptop with the VivoBook. It has far too many good features to even be listed on this section. It's got a great display: full HD and 14", you'll have no issues when trying to have several windows open next to each other for your essays , reports or simply for taking notes from a lecture video with a word document opened next to it.
What's more is the fact that it's only 3.3lb despite having its size and the battery life is more than enough for an entire college day on a single charge at 9 hours.
As you browser around laptops under 500, you'll notice they often lack in storage capacity usually with 32GB. Although that's not necessarily bad for college, the VivoBook goes as much as 128GB. 
The only drawback I could find was the fact that it's not upgradeable in terms of RAM. Performance wise it doesn't go as low as 2GB of RAM as most budget laptops do, 4GB RAM should be enough for you to multitask without any issues. Lastly, it has more than enough connectivity for your presentations and external devices and far more ports to satisfy the needs of every type of student which is a pretty rare feature even for more expensive and portable laptops.
If you can afford it, this is without doubt the best laptop you can get under 500 for college. No other comes close.
Portability: 3.3 lb  [usr=4 size=15 text=false]  
Battery Life: 10 hours [usr=5 size=15 text=false]
Display: 13.3" 1080p  [usr=4.5 size=15 text=false]
Connectivity: WireLess AC HDMI  [usr=4.5 size=15 text=false]
Performance: Intel 3700 4GB RAM 128GB eMMC [usr=3.5 size=15 text=false]

Pros
 Decent Battery Life
Lightweight Design
Great Performance and Display
Cons
Low Storage Capacity
Summary: Actually after spending countless of hours researching, there is one laptop that comes close and of course is made by the same company. This is a new version similar to the VivoBook. It has just about every feature the other model has except that is a lot cheaper. It weights only about 3.2 lb meaning you'll have no issues bringing with you everywhere.
It has a huge and full HD display for a comfortable work area when writing your papers or studying for an exam and the same CPU and RAM to perform just as good as the VivoBook but again lot of cheaper.
So what's the caveat here? In case you haven't noticed yet it's the storage capacity. It only offers 32GB for storage meaning you'll be running out of space pretty quickly if you plan on storing a large amount of files. But this is easily fixed, you can always buy an SD Card or an external hard drive and still get all the benefits of a good performance and portable laptop.
Also the battery life is reduced to 6 hours which is just the right amount to last you for an entire college day from class to class. Many students are already satisfied by it as you can tell by the reviews on amazon. This should be your choice should you not be able to afford the VivoBook.
Portability: 3.2 lb  [usr=4 size=15 text=false]  
Battery Life: 6 hours [usr=3.5 size=15 text=false]
Display: 14" 1080p Glossy [usr=4.5 size=15 text=false]
Connectivity: WireLess AC HDMI  [usr=5 size=15 text=false]
Performance: Intel N3060 4GB RAM 32GB  eMMC  [usr=3 size=15 text=false]

Pros
Portable Design
Excellent Battery life
Most Affordable Windows Laptop
Cons
Low Storage Capacity
Not Good for Heavy Multitasking
This is the cheapest option I've found. It still remains quite portable and with a long battery life which are the two most important features to look out for a successful college student. It merely weights 3.2lb but it has an epic battery life of 9 hours which is very close to the Vivobook's by almost half the price.
It also offers great port connectivity and excellent Wifi Connectivity. Useful when trying to connect any device to your laptop including projectors for presentations and devices for any laboratory work. Its latest Wifi AC connectivity will allow you to make sure you always get the best range to connect to your school's network at high speeds.
It pretty much offers the same specs as the other laptops reviewed here with the added bonus of a better battery life. The only issue is performance. This shouldn't be an issue for most of the software that's important for a successful college student (Office, Internet Browsing, PDF Files, Playing Audios and Videos) but if you'd like to throw in more multitasking then you can upgrade the RAM from 2GB to 4GB separetely. You can also buy an external SD or an external Hard Drive to supplement the storage capacity should you need more in the future after installing your favorite applications.
This laptop will make sure that being on a very low budget doesnt stop you from getting a portable laptop with a long battery life to help you succeed as a college student.
Portability: 3.2 lb  [usr=4.5 size=15 text=false]  
Battery Life: 9 hours [usr=4 size=15 text=false]
Display: 14" 1366×768  [usr=3 size=15 text=false]
Connectivity: WireLess AC HDMI  [usr=5 size=15 text=false]
Performance: Intel N3060 4GB RAM 32GB  eMMC  [usr=3 size=15 text=false]

Acer Swift 3, 14″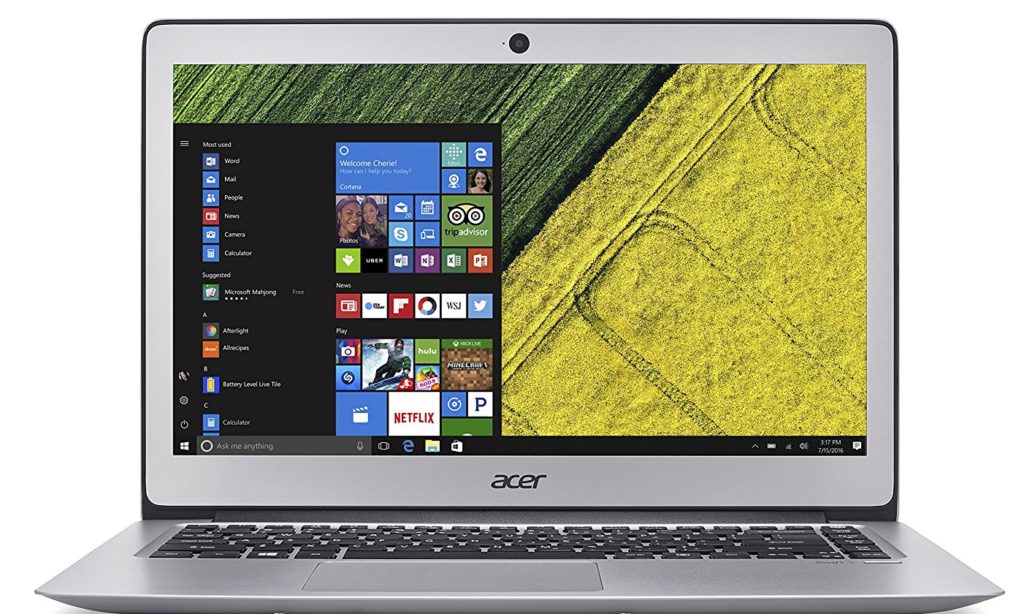 Pros
Best Display for Budget Laptop 
 Best Peformance on a Budget
 Lightweigth design
Cons
Average Battery Life
Summary: Since performance isn't really an issue for most college students just looking for a laptop for most of their basic assignments. Battery life and weight are far more important features to consider. What makes this laptop special is the fact that not only is it portable(at 3.3lb) but it also offers the best performance out of this list.
It is the only laptop that has a processor in the core series: i3 and a much better solid state device for storage (128GB), both which will significantly increase the boot up times of your laptop and its applications. It also has more than enough connectivity you'll need:  1 USB 2.0, 1 USB 3.0, HDMI, SD Card slot, headphone jack, and USB type-c
The display is a good size and the full HD resolution allows for you to easily fit two full windows side by side or view an entire page of a textbook(which is something you can't do on a laptop with a 1366×768 or lower resolution display)
As an added bonus it also sports the best display on this list. It has full HD resolution (1920×1080) and a 14" screen size to make sure having multiple windows side by side and view entire pages of your textbooks possible.  Lastly, it also comes with an IPS display will make sure everything looks accurate and the same regardless of the angle from which you are looking at your screen.
So what's the catch here? As you would expect , higher performance means less battery life. It's battery life is still long but not as long as the VivoBook (7 vs 10 hours). However that should be enough to last you an entire school day on a single charge. Also it is a little more expensive and really on the border of 500$. 
If you are a student who values performance more than anything else and would like to get a "greater boost" while being on a budget, this is the best performance AND portable  laptop  you can get your hands on.
Portability: 3.3 lb  [usr=4.5 size=15 text=false]  
Battery Life: 7 hours [usr=4 size=15 text=false]
Display: 14" full HD  [usr=5 size=15 text=false]
Connectivity: WireLess AC HDMI  [usr=5 size=15 text=false]
Performance: i3 4GB RAM 128GB SSD  [usr=4 size=15 text=false]

Extremely Lightweight Design
Long Battery Life
Great Number of Ports and Connectivity
Cons
Low Storage Capacity
Not Good for Heavy Multitaskers
Summary:  Lastly but not least, if you are really really on a budget yet you want a laptop extremely useful to help you graduate. Consider a Chrome Book, you can still type your documents and presentations on it and if you run out of space you can always use the Cloud or store everything online with your Google Account where they'll be more safe than on any laptop prone to viruses and hardware issues. 
Other than that, this models is the best features I've found for the money. It offers just about the same features the other choices mentioned do. A good screen size 13". A really long battery life which is pretty common among Chromebooks and also its very lightweight at only 3lb, the lightest of the bunch here.
It includes an HDMI and SD Card reader to connect to projectors for presentations and for extra storage as well the regular USB ports every student needs.
One of the main advantages of using a ChromeBook (I use one myself) is that it will keep you focused on your work because you won't be able to play around with the many distractions from other operating systems.
They also have insane battery lives and boot up in no time. The 10 hour listed here might be an understatement but that's what  third party testers tell us. I use a Chromebook over my regular laptop whenever I have an important exam nearing by, I get a lot more done on a limited time.
If you are serious about studying and would like to stay away from distractions and increase your productivity, you should consider a Chrome Book. It will help you succeed as a college student whether you are on a budget or not.
Portability: 3 lb  [usr=5 size=15 text=false]  
Battery Life: 10 hours [usr=5 size=15 text=false]
Display: 13.3" 1366×768 [usr=3 size=15 text=false]
Connectivity: WireLess AC HDMI  [usr=5 size=15 text=false]
Performance: Celeron N3060 4GB 16GB eMMC  [usr=3 size=15 text=false]

More options on a Budget
Here are more cheap laptops I've found for you to consider: Laptops under 500. I don't have the heart to list or recommend heavy laptops as most websites do unless they are a extreme necessity for your degree.
I've been a college student and I know how important weight and battery life are regardless of your degree, that is if you want your laptop to help you get one.
| | Weight | Battery | Size | Resolution | RAM | Storage | Processor | Rating |
| --- | --- | --- | --- | --- | --- | --- | --- | --- |
| Acer Aspire One | 3.5 | 6 | 11.6'' | 1366x768 | 2GB | 32GB | Celeron N3050 | [usr=3.5 text="false"] |
| Dell Inspiron 11 | 2.6 | 9 | 11'' | 1366x768 | 2GB | 32GB | Celeron N3050 | [usr=4 text="false"] |
| HP Stream 11 | 2.8 | 8.5 | 11.6'' | 1366x768 | 2GB | 32GB | Celeron N3050 | [usr=4 text="false"] |
| HP Stream 13 | 3.4 | 8 | 13.3''' | 1366x 768 | 2GB | 32GB | Celeron N3050 | [usr=3.5 text="false"] |
| Dell Inspiron 13 | 3.7 | 6 | 13.3'' | 1920x1080 | 4GB | 1TB | i3 core | [usr=4.5 text="false"] |
| Lenovo IdeaPad | 3.3 | 7 | 14'' | 1366x768 | 2GB | 64GB | Celeron N3050 | [usr=3.5 text="false"] |
How To Buy The Best Laptop For College Students
Now it's time to show you how to look for the best laptops for college students in case you didn't like the recommendations above. Regardless of what your degree is there are general features that do benefit all college students.  Keep the following features in mind when browsing for laptops. 
Weight: The #1 most important feature



Behold the most important feature for any student in any academic program. Why? I assume you are buying a laptop to actually use it right? Then avoid buying a heavy mess you'll be reluctant to bring to school because you have to take your heavy textbooks along with it too.
There were a couple of times my laptop saved me from failing a class just because I always had it with me. Why? it wasn't a hassle to bring it at all.  You should be able to lug your laptop everywhere too. So get a laptop you can tolerate carrying the entire day otherwise just don't buy one.
Not every student has that choice…
Unfortunately some students, mostly those into 3D Modeling and Design in most of their classes , have to buy very powerful laptops which most of the time translates to a lot of weight.
What's the ideal weight, then?
For the sake of portability aim for a laptop around 3lb. If you go too far from that, it can't be considered a laptop anymore and should be called a desktop because I assure you it will be sitting at your desk back home rather than your lap after the first month of using it.
What about the instances we need a powerful laptop for 3D software, heavy multimedia editing, etc?
For most of you such instances will be rare during your curriculum in which case you can just head to the computer labs. They will have far more powerful machines than any laptop you can afford for that kind of work plus your TA will probably be there to do the all work for you. So just focus on weight.
Spec #1: Aim for a laptop less than 4lb. Around 3lb is ideal. "The lighter the better".


Battery Life: Save a lot time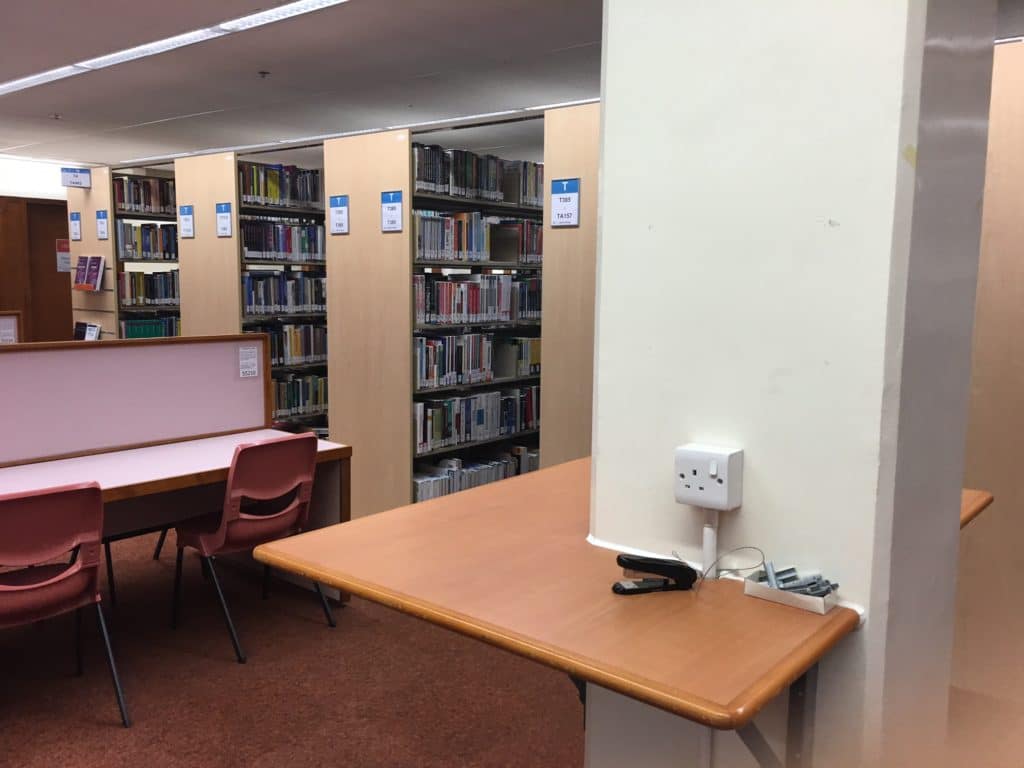 When I was in college a typical schedule for me and my friends was from 9am to 5pm so roughly about 8 hours and of course with plenty of breaks in between. Most students have a similar schedule so you should aim for a laptop with a battery life that will last you throughout that schedule unless you are just taking a few classes in college and going home right after that.
Nobody likes to waste time looking for outlets all over campus. Time is very precious in college as you will probably know by now especially for days before exams. It can be a tedious to look for an outlet in the classroom as well especially now that most students have a laptop and I'm sure there won't be an outlet available all the time waiting for you to plug your laptop in. Do you mind being 20 min early to class just to secure an outlet? Well I can assure you there are a lot of people who don't mind as well.
Don't forget midterms and Finals
Forget about midterms and final exams! The labs and libraries will turn into a zoo with all the outlets occupied and power cables spread all over the library floors. You'll  be tripping over other people's power cables trying to find one for sure.
Make sure it turns on at all times
Also, you might be in trouble if you really need your laptop for special occasion. How about recording the review lecture for a final exam. It happened to me I wasn't told but my battery life wasn't the problem, I didn't bring my laptop that day. I don't know what was wrong with me.
Anyways, a battery life greater than 6 hours should take care of the problem !
Spec #2: +6 hour battery life. The more the better.

Display: Make your Work Area Comfortable
Leaving all the fancy stuff behind (IPS, Retina Displays, Touchscreens,Infinity Edge Displays and Holographic Screens or whatever they have avaialble these days), unless you are a graphic design student, there are only two things you have to consider when choosing your display:
Resolution

If you want to make your work area  more enjoyable go for a high resolution display. More resolution means more pixels therefore more space available screen area available.
More pixels also means less scrolling as you'll able to see more stuff regardless of screen size. 
Also a  higher screen resolution will allow more area for multiple windows to be opened next to each other. It'll be useful when you're collecting data to do your reports and assignments from different sources(textbooks, journals,encyclopedia,video lectures,etc) or making flashcards for your exams. Look for laptops with "full HD resolution" or 1920×1080. You can a little bit below that but not too much.
Screen Size
You'll see many sites and people telling you screen size doesn't matter. Small screen sizes are cool for tablets, Chromebooks, writing on the go, web browsing and cool looking dudes.
Other than that if you are buying a laptop don't settle for less than 13'' as it might present problems when using some computer programs you may have to download for some classes(tools/icons/etc takes up a whole lot of screen space). But the bigger the screen size the better right? 
Wrong. Buy a screen size you can tolerate but don't go over 17''
A 17" display will make your laptop heavy and bulky, making it very inconvenient to bring to school let alone fit in your backpack.
But I need a bigger display for my work….
If screen size is important for your work, then get an external display like the ASUS VS247H-P 23.6″ Full HD which you can use back home with your laptop for design, reports, programming, video lectures, studying with multiple screens or whatever your degree requires of you. Alternatively, you can just use the computer labs for the few instances where you need a huge screen size. Remember, if you want a laptop that will help you graduate and not slow you down, you should prioritize portability whenever you can.

Spec #2: 13'-15'''screen size; 1080p  resolution recommended.
Processor: Expensive but not necessary

The Processor or CPU dictates how fast your computer will run your applications, programs or software.
If you are going to buy a laptop for college purposes only , then the computer speed should not be a problem unless you go into very specific areas of study that require special features as mentioned before (3D modeling, animation, intensive simulations,rendering, etc) .
However even if you encounter such tasks they are best left to your school's computer labs or any powerful desktop back home rather than your laptop. Laptops are just not built to run such heavy programs . A laptop will never outperform a desktop in any application. Plus when you're done with college your laptop will become obsolete and will more than likely not be upgrade-able.
Any Processor is Fine
Truth be told, most (if not all) laptops today have processors that would easily handle all of your college basic tasks quite fast such as web browsing, basic programming, basic scientific applications, basic video editing, etc.
After all you haven't graduated yet so you don't need to go crazy on computer speed and I am sure you are not working for NASA while you go to college either. You might need to consider processor speed after graduation though. But for now, trust me when i say this: there is no need to go for a high end processor during college, weight and battery life should be your top priorities for now if you want to your laptop to help you succeed and graduate from college.
An Ultrafast Processor can be bad
What? Yes, keep in mind that an ultra fast processor has its drawbacks too. I have one of the latest processors on one of my laptops and I kid you not, the battery life lasts a couple of hours when gaming or running heavy software. By the way, this thing is so heavy it pretty much never leaves my house. It runs games and 3D applications for my work beautifully though. My advice to you is to try to avoid such laptops unless you really think you need the processor speed for special situations: 3D Software, heavy number crunching, animation, etc.
So what's best processor for college students
For regular college applications across all degrees. Look for processors labeled i3 core or i5 core, this is what most modern laptops offer today anyways. You can go even lower if you are on a budget.
However, if you are into a technical field of study an i5 processor over an i3 processor can be a good investment as technical applications and programs will run a bit more smoothly without compromising your battery life too much. 
Who needs an ultra fast processor?
With a few exceptions out there(those who would like to run intensive applications on their laptops) nobody needs an i7 processor.
An i7 core processor would drain your battery life in a couple of hours without any benefit !
Most laptops presented here have an i5 processor but they have the option of adding an i7 processor if you think it's more important for you than battery life.
Spec #3: Any processor is fine. 
"Technical majors might benefit from an i5 core processor"
RAM: Cheap and Useful


What is RAM?
RAM is pretty much memory your computer uses to allocate all the applications you are running. If you run several applications at the same time: skype, facebook, microsoft office, internet explorer, then you are going to need more RAM. If you also run applications that are very heavy: games, editing videos and images, then you are also going to need more "RAM".
How much RAM should I get for College?
Get a laptop with at least 4GB RAM. Why only 4GB RAM? There is little benefit beyond 4GB RAM laptop for most of your college tasks unless gaming and software that runs 3D Animation, heavy video editing,rendering and graphic design is of your concern.
Difference between 4GB and 8GB and 16GB RAM
I saw no difference between my 4GB RAM laptop and 16GB RAM  one when doing regular college tasks including basic applications (Mat Lab, Programming, Video Lectures, Writing Reports, Doing research with multiple browser Tabs, etc) . If you get an 8GB, 16GB or even a 32GB RAM laptop you might not notice a difference at all for regular college tasks even programmers don't need to go that far.
Who needs a lot of RAM?
MultiTaskers: 8GB RAM
However, if you intend to run dozens of browser tabs and  several applications at the same time (like most of college students do): youtube, itunes, skype, word, a bunch of reference books/sites all open at the same time and you want all of that to run smoothly, then you need 8GB RAM regardless of what your degree is.
Most laptops today offer 8GB of RAM anyways except the ones on a budget. 
Heavy Applications : 16GB
If you plan to do a little more intensive tasks such as 3D software for designing or modeling, multimedia editing then the more RAM you have the better the laptop will perform with your programs. 
RAM is cheap : you can get as much you want anyways
RAM doesn't have an impact on your laptop's portability and battery life though. If you have the budget, you can choose as much RAM as you want. Most portable laptops are not upgrade able so get the RAM you think you're going to need at the time of purchase.
Spec #3:  4GB is fine for college tasks. 8GB is recommended. 16GB only for heavy multimedia editing and 3D Applications.
Graphics Card (GPU): You probably don't need it.
If you don't know what a dedicated graphics card is chances are you probably don't need it. No one should worry about a graphics card (GPU) unless they plan to run 3D applications (animation, gaming and 3D Modeling) all the time on their poor laptops.
What if I ever need to run 3D applications?
There's a reason why you pay a "technological fee" on your bill: for those rare and few instances with 3D software assignments you can always use the computer labs.However architects do need a desktop or laptop for their 3D software since they deal with such software on a regular basis.
What kind of student needs to worry about graphics card?
However if you do want to run such applications on your laptop all the time for personal reasons or because you really need to you want a dedicated graphics cards(dGPU) card as opposed to  an integrated graphics card. For such assignments, any recent dedicated graphics card will do, they are not as complex as industry level assignments.
The advantages of a regular graphics card: Integrated GPU
In fact a regular or "integrated graphics" card has its own advantages: 
Long battery life as they have lower quality of images in 3D programs(you won't notice the difference anywhere else) and operate more efficiently with your processor.

Makes your laptop a lot cheaper.

It will prevent you from procrastinating and playing addictive computer games in school.

It'll force you to go to the computer labs if you are need to run heavy applications but you will actually get stuff done with the help of your TA and peers when you're there.
Spec#4: Any graphics card is fine for most students except for those who want to run 3D software all the time.
Storage: Invest on an SSD if you can
Don't worry about storage size too much. For regular school purposes 128GB will suffice and 256GB is more than enough. Word documents, video lectures and basic programs don't take up much space. 
Who needs a lot of Storage capacity in College?
If you are in a major which requires a lot more space (those dealing with large files from Multimedia & 3D Designs) then you may need 512GB-1TB or if you are one of those students who likes to have hundreds of scans, pdf books,video lectures and movies you might want to invest in a external hard drive.
An External Hard Drive
Seriously speaking though  your laptop might get stolen, get lost or break during important dates and you'll be more worried about your documents than your laptop. You'll notice this when you see announcements in the cafeteria of people asking to the one who "found the laptop" for the files back instead of the laptop itself. Can you imagine what would you do if you suddenly lost your 3 month old project that was due next week?
Get an external hard drive if you can anyways. I recommend the LaCie Rugged Mini USB 3.0. It's compatible with Windows and Mac plus as you can see it's quite resistant to physical damage.
Invest on a Solid State Driver
Another thing that can make your laptop operate more efficiently  is a Solid State Drive. It will make your programs load up faster regardless of your processor, RAM or any other spec.
This can come in handy when you are looking for a particular file or word across all files within your documents and you want to get results FAST.  You'll be saving a lot of time because your computer will turn on and be ready for work in a matter of seconds. Your basic programs will load up insanely fast too. 
More Advantages of a Solid State Driver
Low energy consumption:

They increase the battery's lifetime.

Less noise:

They won't sound like a motorcycle in the middle of your lecture which can be embarrassing.

Better durability:

In case you drop your laptop( which will happen especially in final exams when someone trips over your charger), your files will be less likely to be lost.

Better System Cooling:

You're gonna have your laptop ON all the time especially during midterms, group projects, etc. This can help keeping your laptop's overall temperature down to keep it from dying and losing all your files.
As mentioned before, the most important advantage is that it will save you time by loading programs and documents faster, looking for a particular excerpt for a report, essay or code will definitely help get those projects done on time.
Spec#5: Any storage size will do. But invest your budget on a laptop with an SSD as opposed to an HDD. Recommended but not required.
Summary
For all college students
at least 4GB RAM.  8GB is recommended. 16GB only in special circumstaces.
Any modern processor would do fine. i5 is recommended but not required. i7 is discouraged except for the heavy applications mentioned.
SSD Hard Drive if budget allows(choose an SSD over i7 processors and RAM).
Around 3lb-4lb

of weight recommended.

Long battery life : +

6 hours as the minimum
1080p resolution and above recommended (full HD)
13'' screen size is recommended for laptops !

For those who plan on doing more technical stuff on their laptops (engineers and programmers):
13'' inch is necessary
i5 processor is recommended 
8GB is also recommended 
And for those planning on running heavy 3D Software and programs will need a high performance laptop with at least:
1-2GB Dedicated GPU.

At least 8GB RAM. 16GB is recommended.

15" inch display.
Again I would not waste money on a high performance laptops unless they are required by the school. The school should have computer labs for that kind of work anyways. With the exceptions mentioned above, you will use such laptops for a class or two. The rest of the time you will be doing reports in Microsoft word, Excel and using miscellaneous computer programs that do not require a space station laptop. 
Conclusion
With your desktop at home and the desktops in the various computer labs on campus to handle any heavy stuff, your top criterion in a laptop should always be weight, followed by battery life. Keep this in mind when shopping for the best laptops for college.
Comments?
If you have any questions or if you want more recommendations based on your degree, assignments or budget. Let us know in the comments below.
Author Profile
I am physicist and electrical engineer. My knowledge in computer software and hardware stems for my years spent doing research in optics and photonics devices and running simulations through various programming languages. My goal was to work for the quantum computing research team at IBM but Im now working with Astrophysical Simulations through Python. Most of the science related posts are written by me, the rest have different authors but I edited the final versions to fit the site's format.