The 5 Best Laptops For Sims 4 2022 – (All Expansions Packs, Mods & Custom Content)
To make it short and sweet, the best laptop for Sims 4 is going to be any laptop with a 4GB vRAM dedicated GPU.
That's only if you want to play the game at Ultra settings (FHD) and if you want to do smoothly with no sudden crashings.
You don't want the game to crash after you spend HOURS building something do you?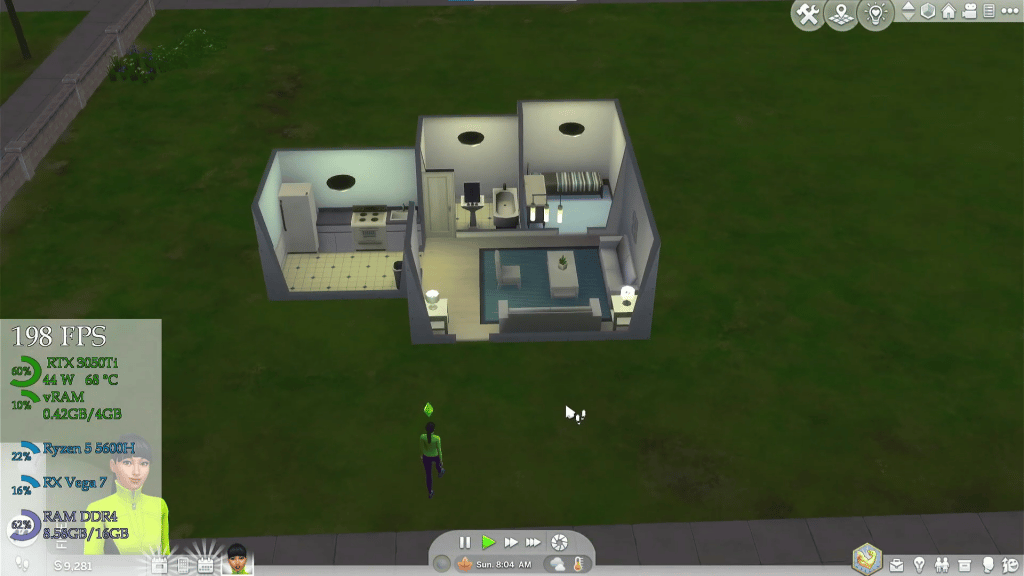 The game above is running at 200fps on ULTRA settings on the Seasons expansion pack. There is literally ZERO chances of mishaps with this much power.
That's what an 4GB vRAM dedicated GPU can do which is found on laptops anywhere from 600-750 dollars.
Now…
You only need to spend that much money if you want the game to look as best as possible.
If you are okay playing the game on laptop mode or low settings…
You can spend as little as 300 dollars. Though I'd recommend at least 450 bucks because you'd get the RX Vega 7 or Intel Xe graphics card which although they are not "dedicated" they can come pretty close in performance if you do a few tricks hence you can even run the game at medium settings with ~100fps!
Of course those numbers include all the expansion packs , mods and custom content you want.
Best Laptop Specs for Sims 4
For Sims 4 you only need to look at what kind of "graphics card" or GPU you're getting. It's really all that matters here, virtually all laptops with a decent graphics card will have the rest of the hardware sorted out (8GB RAM, 256 GB Storage, Modern CPU, etc)
Below are the benchmark results of 5 different laptops with 5 different graphics cards. I'm listing the average prices on the right side for information purposes but you can always find them cheaper or more expensive.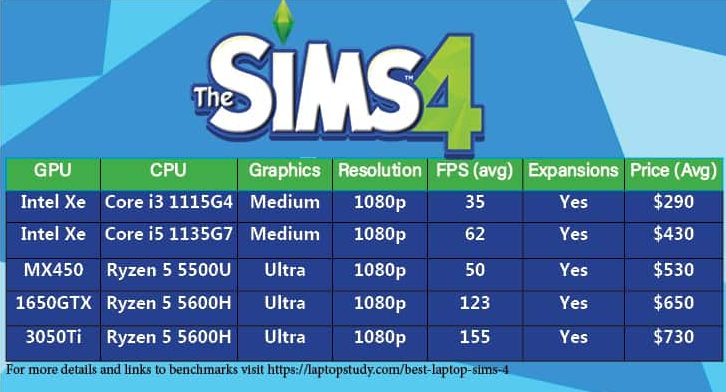 Based on those benchmark results and several others (you can find them at the end of this post on the How To Buy the best laptop for Sims 4 section). Here's what to keep in mind:
GPU
+500 dollar budget:
If you're budget is above 600 dollars you don't need to look at display, CPU or RAM, just look at the GPU.
1650GTX, 3050Ti:These are 4GB vRAM dedicated GPUs, the ones I recommend. ~120-150fps on Ultra Settings FHD.
1660Ti, 2060RTX: I'd advice against these because not only are they more expensive but they are obselete and you'd get the same performance as the above.
3060RTX, 3080RTX, 3070Ti , 3080Ti: These are way too powerful and way too expensive. I'd only consider them if I wanted to run the game at 1440p or 4k resolution.
MX450 and MX350: ~60 fps Ultra Settings. Laptops with these two are closer to 500 dollars. Definitely look for these before you jump ship and buy budget laptops we'll go over next.
CPU
300-500 dollar Budget:
If your budget is anywhere from 300-500, you have to focus on CPU instead of GPU? Because good and modern CPUs are always paired with the best integrated graphics cards.
Ryzen 5 5500U & Core i5 11357G: These are the only two you want to look at if you've got +450 dollars.
Core i3 or Ryzen 3:If you've got 300 dollars, there's a good deal on the Acer Aspire 5 which has an 11th gen Core i3. If out of stock, just look for any laptop that says Core i3 or Ryzen 3 (modern!).
RAM & Storage
Don't worry about these. You need 8GB if you don't get 8GB RAM onboard you can always upgrade later.
Top 5 Best Laptops for Sims 4
This is going to be a short list of 5 laptops but you can find dozens of more laptops with benchmarks (framerates and settings measured) on the last section of this post.
This short list, however, has a laptop for every budget. The last one can be as low as 300 dollars!
The other four, especially the first one, will get you to play the game at 100fps on Ultra settings thus making chances of crashing nearly ZERO. If you update the game on a regular basis and update all mods you install as well, you'll have ZERO chances of crashing.
---
Best Laptop For Sims 4 – All Expansion Packs, CC and Mods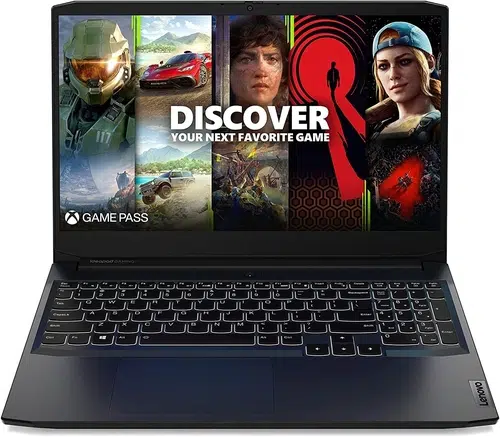 AMD Ryzen 5 5500H
8GB DDR4 (Up to 16GB)
RTX 3050Ti 4GB vRAM
512GB NVMe SSD (Free M.2 & 2.5" Bay Slot)
15.6" 120Hz FHD IPS

4.8 lbs
2 hours (gaming) – 5 hours (Light Tasks)

I would usually recommend you buy a 1650GTX laptop since they're ideal for high and stable framerates on high settings but as of July 2022 two 3050Ti Laptops, which are significantly faster, are on a good deal: only 30-50 bucks more expensive than the average 1650GTX laptop.
Update: This model we have tested down below is selling for 730$ I suggest you grab it before it runs out of stock. I'll post the alternative down below if it does
Sims 4 BenchMark: Lenovo Ideapad Gaming 3 ( 3050Ti)
One of the most hardware demanding aspects of the game is when you build a house since you have to rotate in 3D and the 3050Ti laptop tested outputs ~190 FPS on average. This video has been recorded with the expansion pack: The seasons and at Ultra Settings
GPU
3050Ti vs 1650GTX
If you check around youtube for Sims 4 benchmarks with 1650GTX you may notice the 3050Ti can output as much as x2 framerates depending on what kind of 1650GTX laptop you're looking (don't worry the 1650GTX laptop we'll review next is much faster than the average laptop with a 1650GTX).
Anyways, the point here is that GPU is what matters the most on this game, this 3050Ti is able to output up 200fps on Ultra settings whicih is insane and the best part is if you look at the wattage (how much power it uses) it's only about 50% (~45W out of 85W) and temperatures are insanely low (64 C on average) which means there is almost zero chances of crashing due to overheat and zero chances of lag stutters.
It also means this laptop is going to last you for QUITE a long time even if you play Sims 4 several hours a day.
CPU
AMD Ryzen 5 5600H vs Core i5 10300H
Now the OTHER alternative is the Acer Nitro 5 which only 20 bucks more expensive or so but has a Core i5 10300H. In case you may want to grab that one instead of this one, just beware that the Core i5 10300H on the Acer Nitro 5 is slower than the AMD Ryzen 5600H, much slower, considering that the benchmark taken above is comparing the older Ryzen 5 46000H.
Anyways for Sims 4 , the CPU doesn't make much of a difference but I though it may be useful to know for the people who just want to extract every single framerate out of a 3050Ti laptop. Another reason to opt for a AMD Ryzen 5 5600H is the multi-core performance, some games have implemented multi-threaded engines which means more cores running at high speed = more framerates.
Display: 120Hz vs 144Hz
This laptop has a 120Hz which will make the game look much much smoother. You can't see the difference in the video above but you will once you run the game on the display. Now the alternative, the Acer Nitro has a 144Hz display which means the game is going to look slightly more smoother, however, that's all it is, just a bit more slightly.
Which in my opinion doesn't make a huge difference, a 120Hz display already makes the game look way too smooth for your eyes to notice a difference with a 144Hz display.
Anyways here's the Acer Nitro:
Im attaching a table of the several 3050Ti laptops, you can see the prices down below and compare them to the Acer Nitro 5 and Lenovo Idepad Gaming 3 we're reviewing here. You can also use the table if both those deals run out of stock. Notice how much much cheaper both of the models we just discussed are
---
Best Budget Laptop for Sims 4 with all Expansions And Custom Content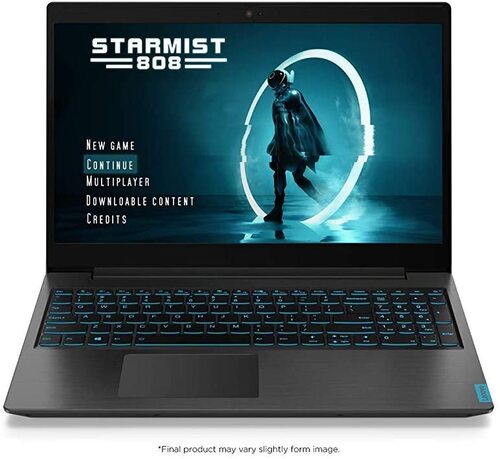 Intel Core i5 9300H
8GB RAM
1650GTX 4GB vRAM (No Optimus)
256GB PCIe SSD (Free 2.5" Bay Slot)
15" FHD IPS 60Hz
4.10lbs
3 hours (Gaming) – 6 hours (Work)

This is the most interesting laptop we've tested in 2 years. You're going to need to know a lot of computer jargon to understand the following descriptions so read my posts on MUX Switch & GPU Wattage if you have the time.
If you don't let me tell you, despite the CPU being older, the 1650GTX will run faster than any 1650GTX found on any other (well most) laptops.
Sims 4 Benchmarks: 1650GTX Laptop GPU – Lenovo L340
Surprisingly, you can hit +150fps on average at Ultra settings, which is only ~30fps less than what we got with the 3050Ti laptop. This benchmark has been recorded using the exact same expansion pack of Sims 4: Seasons so there are no tricks here. It's really that powerful
Where as the average 1650GTX laptop even those with "faster" and more "modern" CPUs can only get you ~120fps on Ultra settings. We'll now explain why this is the case with this laptop.
GPU
As you know, if you've read my post on GPU wattage. There are several versions of the same dedicated GPU. For the 1650GTX there are only two:
1650GTX Max-Q and 1650GTX non Max-Q
The former is faster, the latter is slower. Most thin laptops like the MSI GF63 which you will see in the table down below will have the "weaker" version. This laptop is thin and does NOT have the Max-Q version, it's the fastest type. That's one thing!
MUX Switch vs Optimus
What's more is that this Lenovo L340 has sort of a MUX Switch which boosts the 1650GTX to run 20% faster than virtually every other 1650GTX found on every laptop. The truth is, it doesn't have Optimus, there's no integrated GPU and taking it out of the picture boosts GPU performance by 20% . Again read my post if you are confused. Basically here are the differences in performance because of these two factors:
Benchmarks in the table are taken while interacting with other players
CPU
Anyways those are the two reasons why the Lenovo L340 will outperform even the most recent 1650GTX laptop. That only applies to this game of course. Other games may benefit from a faster CPU but Sims 4 has become exceedingly GPU-dependent.
Core i5 9300H vs AMD Ryzen 5 4600H or AMD Ryzen 5 5600H
Now the Lenovo L340 has a pretty old Core i5 CPU (9th generation) while we are in the 12th right now but like I said, CPU matters little to this game. However, if you still want the 1650GTX laptop with the fastest CPU you already know which one it's going to be: The Ryzen 5 5600H.
Thus if you don't want to buy the Lenovo L340 because it's got an older CPU and you are just fine dropping the extra 30fps, I recommend you always grab the Ryzen 5 5600H because it's got better multi-core performance than every Core i5 CPU. That means running Sims 4 in windowed mode while multitasking heavily is going be more stable and less prone to crashing.
Alternatives
Another huge advantage of grabbing the Lenovo L340 is the price because it's got an older CPU, it's going to be much cheaper than your average laptop. Now if the prices is somehow high because people have been reading this review and buying it a lot more, check out the following alternatives. I would suggest not to buy those over 700 dollars though, you can click on the links to see if the prices have changed.
---
Best Gaming Laptop For Sims 4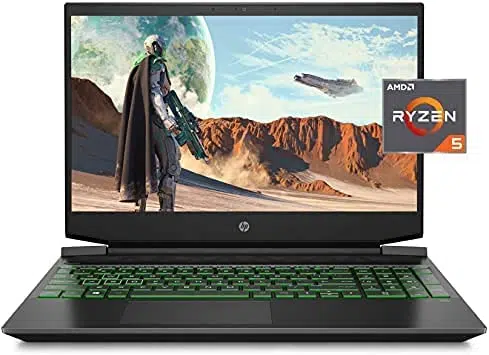 AMD Ryzen 5 5600H
8GB DDR4
GTX 1650 4GB vRAM
256GB PCIe NVMe SSD
15.6" 120Hz FHD IPS

4.37
4 hours

I know I already talked about laptops with the AMD Ryzen 5 5600H for Sims 4 but I just need to go over this model because not only we have tested it out but also for the same price of most Core i5 laptops you're getting a few more perks too.
Sims 4 BenchMark: AMD Ryzen 5 4600H + 1650GTX laptop
CPU
AMD Ryzen 5 5600H vs Core i5 10300H & Core i5 11300H
The first perk is obviously the AMD Ryzen 5 5600H which we already went over, it's going to perform faster than Core i5 CPU and It's going to have better multi-core performance. There's a lot of games tested on my youtube channel where you can see what a big difference the AMD Ryzen 5 5600H does on some games. So if you're out buying laptop not just for Sims 4, it is definitely the better choice.
GPU
1650GTX: non-Max Q
The 1650GTX on this laptop and on most laptops with a Ryzen 5 is not the Max-Q version, it's running at full power. That's a huge plus there!
Optimus
Unfortunately, like virtually every laptop, we mentioned this before, it has "OPTIMUS" which makes the integrated GPU sort of "interfere" withe the dedicated GPU as you can see in the benchmark video. There's two GPUs running: GPU1 and GPU2 and the dedicated GPU thus cannot run take full of control of the game thus reducing performance.
This is going to be an issue on every single 1650GTX laptop except for the Lenovo L340 and a few other rarities I have not come across yet so don't feel bad, the good news about Optimus is that the battery will last longer since the integrated GPU will be utilized when you are not gaming (which consumes a lot less power).
Anyways, you'll be basically getting about 30fps less like we talked about before, this is shown in the table below:
Tip: If you're getting a 5th gen Ryzen 5 Laptop you can expect framerates to go up to 130fps. If you make RAM dual-channel (upgrade the RAM to 16GB witih both sticks of the same size) you can expect the framerates to increase up to 140fps.
Display
120Hz Refresh Rates
A very good reason to go for Ryzen 5 laptops with the 1650GTX is that they will cost you about the same price as the Core i5 models AND get you a 120Hz display. Most Core i5 laptops including the Lenovo L340 do not have one, they only come with a 60Hz. This one does and it does so ~700 dollars. Anyways, remember to grab the 3050Ti model if it's still on stock. Just use this as a back-up.
Alternatives and Prices
| | | | | |
| --- | --- | --- | --- | --- |
| Link | CPU | GPU | Display | Price |
| Ideapad | R5 4600H | 1650GTX | 120Hz | 700 |
| Ideapad | R5 5600H | 1650GTX | 120Hz | 679 |
| Ideapad 3 | R5 5600H | 1650GTX | 120Hz | 689 |
| HP Pavilion | R5 5600H | 1650GTX | 120Hz | 750 |
---
Best Laptop For Sims 4 and Sims 5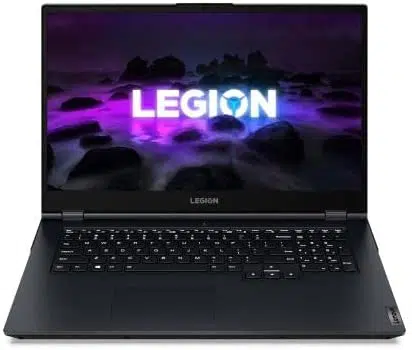 AMD Ryzen 7 5800H
16GB DDR4
RTX 3060RTX 130W 6GB vRAM
256GB NVMe SSD
17.3" 144Hz FHD IPS

6.55 lbs
5 hours

There are obviously better dedicated GPUs than the 3050Ti and the 1650GTX, most of them are overkill for this game though you can see the 3050Ti in the benchmark we run does not even use full power (only 50%) at high settings.
GPU: 3060RTX
The highest GPU I would go for if I had no budget restrictions would be the 3060RTX. It's going to be definitely overkill but again it's going to run Sims 4 like a very simple game which should make multitasking even safer further reducing chances of crashing to zero.
3060RTX can run Sims 4 at 1440p
Another cool thing about the 3060RTX is that you can run sims at 1440p resolution, this is only going to be possible with the 3060RTX and maybe the 3050Ti. It will definitely force the 3050Ti go full wattage but this is not going to be the case with the 3060RTX thus it's going to run the game at 1400p within very safe temperatures.
Wattage: 95W vs 105W vs 130W
What's insanely tricky about 3060RTX laptops is that they come with several different wattages. If you've been shopping for a while I'm sure you've come across the famous Acer Predator Helis 300 but let me tell you that laptop only runs up to 105W. On the other hand for the same price, the Lenovo Legion 5 featured here will run at maximum wattage (130W) which is going to make a MASSIVE difference in framerates and because it's a 17" laptop there's plenty of space to do so at safe temperatures and install a pretty good cooling system.
In fact, that would be my advice for 3060RTX. Make sure it's a 17" laptop if you want to to run at 130W.
Be sure to avoid 3060RTX laptops with just 95W as you can see in the benchmark above they are not better than 3050Ti laptops for Sims 4 or even 1650GTX laptops apparently. I know you'll find much cheaper 3060RTX laptops with perhaps a Core i5 or a Ryzen 5 but they're still going to be just slightly better than 3050Ti laptops.
CPU: Ryzen 7 5800H vs Intel i7 11800H
Now the Lenovo Legion 5 featured here has a Ryzen 7 5800H which is for gaming purposes slower than the Core i7 11800H and only as good as the cheaper Cor i7 11370H but again for Sims 4 and for most AAA games this matter very little, it's all about the GPU and that's what your focus should be: getting a full wattage GPU with a MUX switch. Of course, that is, if you want to highest fps for Sims 4 for a given hardware.
If we are talking about multitasking while playing Sims 4, both are equally good. The Ryzen CPUs hold an advantage on the Ryzen 5 and Core i5 benchmarks but not here (for multitasking at least).
If we are talking about gaming ( assuming you have two laptops with the dedicated GPU performing equally well), the Core i7 11800H has the advantage.
Display: 1440p resolution + 144Hz refresh Rates
This laptop has a 144Hz refresh rates. You're going to need this because this is definitely going to go past 200fps and might even go further than 100fps on 1440p. Adding the fact that the display is 17" Sims 4 is going to look AMAZING. The benchmark video above or any benchmark you find on youtube is not going to do it justice because you need a display that can run at 1440p and 144Hz to see the differnce in the game.
Alternatives: 3060RTX List & Price Comparison
Keep in mind the cheaper ones will run at 85W (MSI GF65) and the expensive ones with a Core i7 will run at least at 105W and up to 130W.
---
Best Laptop For Sims 4 Under 500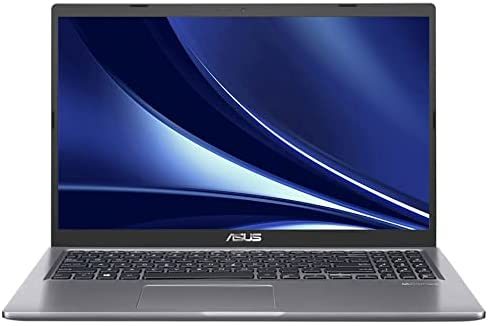 Intel Core i5 1135G7
8GB RAM
Intel Xe
256GB SSD NVMe PCIe
14" FHD
3.11 lbs

8 hours

I was really hesistant about recommending a laptop without a dedicated GPU for those a really low budget but recently I became aware of how powerful current integrated GPUs can be provided you follow my advice next (a few tricks to make it run like a dedicated GPU).
Sims 4 Gameplay BenchMarks : Core i5 1135G7 + Intel Xe
60fps while building your house on medium settings (single-channel) and 80fps on medium settings (dual-channel)
GPU: Intel Xe
Now what does Dual-Channel mean and how does it make the Intel Xe gain about 20fps more framerates as seen in the video?
I have a post dedicated to explaining what single and dual-channel are, please feel free to read it but basically it's a trick to boost the performance of integrated GPUs like the RX Vega 7 or the Intel Xe.
What's more is that if you make it 16GB (besides making it dual-channel) you may even gain 90fps while building a house on Sims 4 with the Seasons expansion pack and +100fps in other instances of the game!
How does that work? Well the extra RAM acts as vRAM making your integrated GPU even faster (besides making it dual-channel) so once you buy this machine if you are on a budget if you can squeeze a 20 dollars more months later, you can upgrade it to make it dual-channel on 16GB RAM. I have a post dedicated to dual-channel RAM here, read it if you're new to this trick.
CPU: Core i5 1135G7
A Core i5 11357G will have an intel Xe and a Ryzen 5 5500U will have the RX Vega 7, either of these are fine and will perform more or less the same. I will advice you not to go for the Core i3 and Ryzen 3 models because once you add expansion packs like Pets and Paradise, it's really going to a toll on performance you'll have to run the game in Laptop Mode. Paying a bit more for these models will let you to play expansion packs like Ambitions, Late night and Seasons with no performance issues.
Alternatives:
Core i3 and Ryzen 3 Models: Cheaper ~300-400$
Now I've said those laptops are too be avoided but if you can tolerate laptop mode and low settings you can run Sims 4 with no issues, it's going to struggle but it's definitely playable.
Sims 3:
If you want to go back and play Sims 3 with Core i3 Ryzen 3 laptops it works out better since the previous version of the game is less hardware demanding, you can even throw in some expansions too. Pets and Paradise are heavy though and you'll definitely struggle.
Custom Content:
These 350-400 laptops have no dedicated GPUs and their integrated GPUs are quite weaker (despite having the same name) so you will struggle with those two expansions and custom content will make the laptop overheat.
Remember though you can increase performance by doing the dual-channel upgrade and it is a must really if you want to throw in heavy content on Sims 4.
Here are the best options for Core i3 / Ryzen 3 models, notice how the cheapest one is the 290$ Acer Aspire 5. There's nothing wrong with it, it's just on a good deal for now and it's not going to last too long.
The Best Laptop For Sims 4 Under 300 : Acer Aspire 5

If you go for machines that do not have the aforementioned CPUs, the game will still be playable but be bound to crash all the time even on Laptop Mode with graphics set to low and 720p.
---
How to Buy The Best Laptop For Sims 4 (Complete Guide)
Before I show you every benchmark we have seen (which is in our youtube channel and taken from other channels like Tech Tyrial), let's go over the official requirements and talk about what kind of performance the official requirements can get you:
EA Sims 4 Hardware Requirements
Those are written for desktops but for laptops they translate to:
Minimum Requirements
Approximately (taken into account modern laptops only).
CPU: Ryzen 3 3200 and or I3 8100U
GPU: Intel UHD, Intel HD, RX Vega 3 Graphics
Here's the kind of performance you'd get:
These minimum requirements are just enough for you to play the base version of the game at low settings on laptop mode. You are not going to run the Expansion Packs like Pets & Paradise nor College life as smoothly.
Recommended Requirements
CPU: Intel Core i5 10th, AMD Ryzen 5 4500U
GPU: MX150 (2GB vRAM GPU)
On the other hand, if you get a laptop with at leat this much power you can run all the expansion packs , mods and custom content you want.
---
There's just one problem with those hardware requirements (they are the minimum, even the recommended ones) so you are likely to lag from time to time especially when you're building stuff because zooming and panning in 3D is very hardware demanding.
I recommend you visit carl's sims 4 website if you want to have a better idea of what the official hardware requirements mean.
Sims 4 Laptop Benchmarks
I know you want to save as much as money as possible but instead of worrying about what the requirements mean it's always best to just look at benchmarks. Benchmarks mean how well a computer or laptop runs a game or application.
If you don't know much about computer jargon you are going to get a bit confused here so read this post to get you updated with
the computer terminology here
This section is very very long, there are A LOT of benchmarks which include framerates stats on different settings and with different hardware (pretty much everything we found on youtube and our channel), so save yourself time by doing the following:
If you've got a a budget anywhere from 300-450, just read the CPU section: this much money cannot get you a dedicated GPU thus the CPU becomes the single most important factor.

If you've got a budget from 500 dollars and up, just read the GPU section.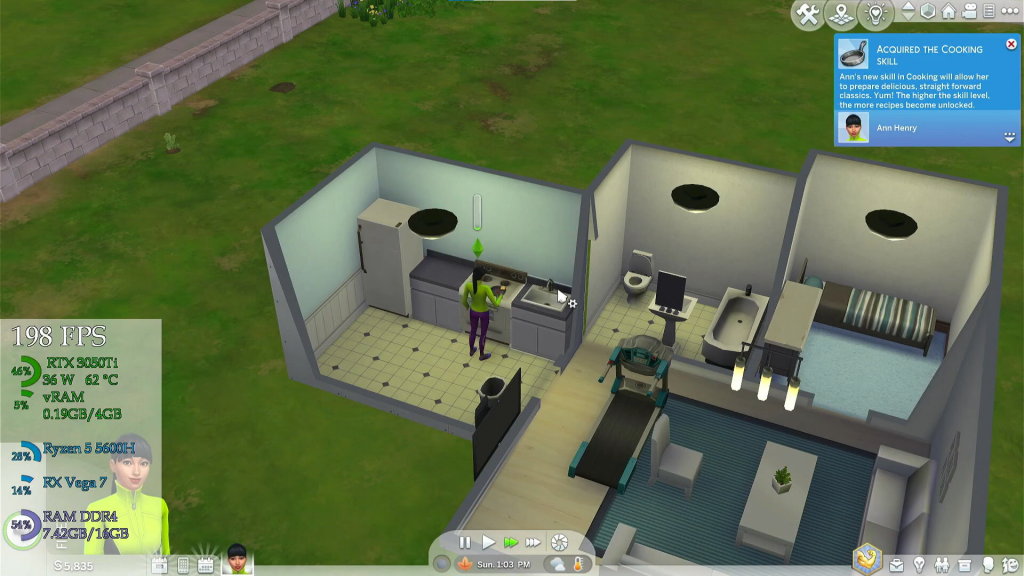 This is where the game is more likely to crash so decent and stable frame rates here are way more important.
CPU
When looking at CPUs to buy a laptop for Sims 4 PAY no attention to number of cores or even clock speed. Just be sure you get a modern CPU either a Ryzen "something" or at least an 8th generation Intel CPU (Ex: Intel 8100U). Doing that automatically sets you up with the best integrated graphics (the more modern the CPU, the faster and better the integrated graphics card).
Note all benchmarks here have at least on expansion like Seasons
Points to keep in mind from these benchmarks:
Ryzen 5 and Core i5 are much much faster and perform WAY better than Core i3 and Ryzen 3 laptops.

This is because they have better integrated GPUs which have almost the same performance as the recommended graphics card: 650 GT by EA.

Upgrading RAM to 16GB makes a HUGE difference to performance. Not just framerates but also unlocking higher settings.

Having more RAM means the integrated graphics card can have some reserved to itself (as opposed to sharing it with the CPU) which makes it faster

You can run the game at Ultra graphics settings with the Core i5 and Ryzen 5 models provided you up the RAM to 16GB RAM and make it dual-channel. You can even throw in some expansion packs.

Buying a Core i3 or Ryzen 3 laptop pretty much means you'll have to resort to laptop mode. Lowering resolutions to 720p will make it way more stable so you can safely pick a non-FHD display to save even more money.
I have excluded Ryzen 7 and Core i7 models because although they are faster and will definitely let you unlock ultra settings , they are way too expensive and it's just more practical to buy a laptop with a dedicated GPU which can not only get you ultra settings but also much higher framerates
GPU
If you have a budget above 500 dollars or so you are ENTITLED to get a dedicated GPU.
How to tell the difference between the weaker "integrated" and the faster "dedicated"?
Basically anything that doesn't say NVIDIA is integrated graphics

Some examples: Intel Xe Graphics, Intel UHD Graphics, etc.

As for AMD GPUs, you may want to look it up on google or wikipedia.

But basically anything that says Vega is integrated.

Ex: RX Vega 7 integrated, RX Radeon Pro 555X dedicated.
Sims 4 GPU BenchMarks – Laptop
All fps tests that follow are ran at 1080p with at least one expansion pack, you can click on the link on the Youtube Column to see the video. All fps measurements are taken WHILE building a house and rotating, panning or zooming in 3D since this is the most hardware demanding instance of the game, framerates will be the lowest here (on average you'll get higher framerates though).
500-600 dGPUs: NVIDIA MX150, MX250, MX230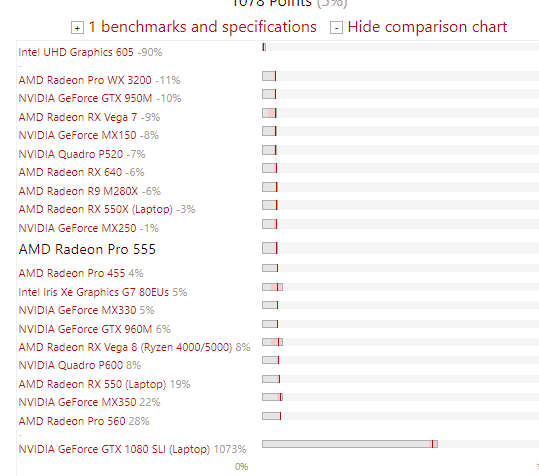 All of these GPUs including the AMD equivalent perform more or less the same as the MX150 so you can use the above benchmark to have a rough idea of what performance to expect.
If you compare this benchmarks to the benchmarks we took with the AMD Ryzen 5 and Core i5 models, you'll notice they're pretty much the same. This is why I advice you to ONLY buy these laptops IF they're selling for about ~450-500 dollars (tops), there's no point overpaying for these
530-600$ GPUs: MX350, MX450, 1050GTX
Unfortunately, we have not found benchmarks for each of these GPUs. However, if you do some research (through notebookchecK), you'll come to the conclusion that all of these perform more or less the same with the 1050GTX and MX450 being somewhat faster than the MX350. Thus you may notch down a few framerates from the benchmark above if you want to know how the other GPUs will perform.
I advice you though to pick the MX450 over ANY of them because they ALSO come with faster and more modern CPUs (you might get as much as 60fps out of these ).
$600-700 : 1050Ti, 1650GTX, 1060GTX
The 1660GTX is faster than the 1050Ti but not by much. However, the CPUs (most CPUs) found on 1650GTX laptops are much more modern and faster (the ones we used are somewhat old) so you can expect at least 120fps out of a 2021-2022 laptop with a 1650GTX.
All of these GPUs can handle Ultra settings with expansion packs no problems.

Those with MUX Switch (or lack of OPTIMUS) will perform significantly more than those without MUX Switch (or with Optimus) . The Core i5 9300 has no Optimus thus the dGPU can run faster.
700-800$ GPUs: 3050Ti, 2060RTX, 1660Ti
The 3050Ti and all those graphics cards on the table should have the same performance ~130fps while living in a very hardware demanding Expansion Pack like City Living and 170-200fps when building your own house.
The 1660Ti are claimed to be faster than the 3050Ti ( The 1660Ti is more expensive) but so much for Sims 4 because Sims 4 does not require a lot of 'vRAM' unless you set resolution to 1440p or 4k. Thus do not overpay for a 2060RTX or a 1660Ti if the 3050Ti laptop is cheaper.
---
900-1300$ GPUs: 3060RTX, 2070RTX
Warning from here onwards, it gets kind of complicated to evaluate the performance of GPUs because not only it's about WHAT type of GPU you get (3060RTX or 2070RTX) but ALSO how much POWER (as in Watts) can support. I recommend you check out my post on
GPU TDP (Wattage)
to understand what I'm talking about. Obviously, this is ONLY if you want to get the best BANG for your buck, otherwise ignore this concept
Not only are these kind of GPUs unncessary for this game but are quite risky to buy. You have to pick the high "wattage (TGP)" GPUs otherwise performance is going to be just as good as previous "cheaper" dedicated GPU. The above benchmark is running an 95W 3060RTX and the power is capped at 60W or so thus it performs worse than 3050Ti laptops. You can "uncap" the power or overclock it to 95W if that's the case, it will perform just as good or slightly more than a 3050Ti laptop.
What you want here instead is a 130W 3060RTX laptop, otherwise, just don't buy one. The same applies for all the other GPUs in the table above. Wattage or TGP isn't an issue for all previous GPUs we went over.
1500-4000$ GPUs: 3070RTX, 3070Ti , 3080Ti, etc
| | | | |
| --- | --- | --- | --- |
| NVIDIA | Cores | vRAM | Speed |
| 3070 | 5120 | 8GB | 1620 |
| 3080 | 6144 | 16GB | 1710 |
| 3070Ti | 5888 | 8GB | 1485 |
| 3080Ti | 7424 | 16GB | 1590 |
| | | | | |
| --- | --- | --- | --- | --- |
| AMD Radeon | Shaders | vRAM | Speed | Equivalent |
| RX 6800S | 2048 | 12GB | 1975 | ~3070RTX(Low power) |
These GPUs are just completely overkill not just for Sims 4 but for pretty much any game UNLESS you'd like to play the game at 4k resolution. I have no benchmarks here (because there isn't any) and that's good you don't want to buy these.
RAM
Is the minimum recommended (4GB) good?
NO WAY.
It might have been several years ago but Windows now takes over 3GB and I'm not talking about Windows 11. I mean Windows 10. This only leaves you with 1/5 GB for Sims 4 and any background process!
8GB: Real Minimum
This is the absolute minimum not just for Sims 4 but for ANY software or game.
If you spend at least 450 bucks and spend it well, you should get 8GB RAM pre-installed, no need for upgrades. This should be enough to run at ultra settings (if you've got a dedicated GPU) and run the game at medium settings (with no dedicated GPU).
However…
16GB RAM: Useful for Integrated GPUs
If you've got an integrated GPU (a laptop that costs less than 500 dollars) you may want to up RAM to 16GB.
As we've seen on the benchmarks in the CPU section of this guide. There's a huge difference in performance for laptops that have 16GB RAM.
As I said, the extra RAM will be used your integrated GPU, acting as "vRAM", thus turning it into some sort of "dedicated GPU".
This trick is only useful if you've got an integrated GPU, whether you've got 8GB RAM or 16GB RAM with a dedicated GPU it makes little difference UNLESS You plan on running tons of mods on Sims 4.
Dual-Channel: Always Helpful
Dual-channel is a fancy term to say that installing two ram sticks of the same size, type and everything else will make RAM act in dual-channel mode which increases CPU performance. Thus if you're going to upgrade your laptop's RAM , you may want to do so "in dual channel mode" , you can get as much as 10fps on Sims 4 and maybe even more (Up to 30fps from what I've seen) in other games.
8GB RAM? = x4 GB RAM sticks.
16GB RAM? = x8 GB RAM sticks.
This makes your CPU more efficient at reading data and you get a 5-10 fps. You can do this if you've got an integrated GPU (buy x2 8GB RAM sticks instead of 1 big chunk of 16GB RAM) or if you've got a dedicated GPU, it's always helpful.
Storage
Expansion Packs
Even 128GB will be fine for the base version of the game.
It's only an issue if you want to install several expansion packs or one of the heavy ones like Pets .

Most expansions packs take only 3GB though.
| | | | |
| --- | --- | --- | --- |
| Expansion | Sims 4 | Windows 10 or 11 | Total |
| Get To Work (3GB) | 14GB | 64GB | 81GB |
| Get Together (3GB) | 14GB | 64GB | 81GB |
| City Living (18GB) | 14GB | 64GB | 96GB |
| Seasons (18GB) | 14GB | 64GB | 96GB |
| Island Living (18GB) | 14GB | 64GB | 96GB |
| University (18GB) | 14GB | 64GB | 96GB |
| Pets (18GB) | 14GB | 64GB | 96GB |
| All Expansions = 96GB | 14GB | 64GB | 174GB |
128GB: Most laptops under 500 bucks will have this much and this is fine if you want a couple of expansion packs.
256GB: If you're just going to install Sims 4 and ALL expansion packs (and all the software you need for school or work) this is fine.
512GB: This much is only useful if you want to install several other games besides Sims 4.
Solid State Drive vs Hard Disk Drives
Virtually all laptops now have a Solid State Drive. If you are on a budget and thus buying refurbished you may get a hard disk drive which although has more storage its a lot slower. Hard Disk Drives are not going to slow down performance with the game but it will slow down performance with Windows thus launching the game and booting up Windows will take a lot longer, the game will run just as fast once it's oipen.
FAQ:
Q: Can Sims 4 Run on a MacBook Air?
Yes.
And not just on the latest MacBook Air M1 but also on the older versions. I'd say any MacBook made from 2015 onwards hsould run the game with at least 40fps on Low settings & Laptop Mode. The latest versions , MacBook M1 , can even run heavy expansion packs like Pets.
Q: Can Sims 4 Run on a MacBook Pro ?
Yes it is the best mac laptop for sims 4. It has to be a MacBook Pro from 2014 Onwards. Anything older is going to struggle. This also applies to the MacBook Air.
If you have to the budget to pick a recent MacBook Pro and you want a MacBook Pro and you want the best performance out of the MacBook Pro, do not pick the latest M1 MacBook Pro. Pick the 2019 version instead because it comes with the Radeon RX 5500M GPU which is almost like the 1660Ti GTX. The newest MacBook Pros do not have a dedicated GPU for gaming. Follow my advice and you should be able to run ALL expansion packs with zero issues and you can even run the game at 2k resolution (1440p) because the MacBook Pro comes with a 2k (retina) display by default.
Q: What is the best laptop to play the Sims 2 ? or Sims 1?
I'd say any modern laptop with a modern CPU (300 dollars and up) like the Acer Aspire 5 should run the game with zero issues.
You might even get up to 100fps at low settings on laptop mode because textures and graphics on previous versions of this game are less fancy.
The problem with Sims 2 and Sims 1 is that they're so old they may not be compatible with your versions of Windows or the hardware you buy, thus buying a modern laptop does not guarantee you will run the game with no issues.
Comments?
If you have any questions, suggestions or just anything to say. Please leave a comment below. I'll be more than happy to reply as fast as possible.