5 Best Laptops For Photo Editing 2019
Due to the advent of technology in regards to photography (digital cameras, SD Card Readers, photo editing software ,etc). Today there's far more to take into consideration when trying to find the best laptop for photo editing than just simply a computer with a good display.
Like what?
Multi-core CPUs, dedicated graphics cards, external USB ports, color accurate displays, fast reading storage devices, ideal RAM capacities, etc.
In other words, if you don't do your proper research, you will probably end up with unnecessary features that may you may not find that useful at all or even miss on the ones that are crucial to get the best out of your photography.
The problem?
You'll find conflicting evidence coming from websites telling you to look for the most powerful dedicated graphics cards and multicore CPUs when in fact for most of you that may not be necessary (or even useful) at all.
The worst part?
These laptops can get really expensive and again they can miss on the most important features to get the best out of your photos.
How can this article help?
I have divided this article in two parts: a selection of the best laptops for photo editing as of 2017 and a guide how to find them yourself.
The guide is a bit long but it covers everything you need down to know to pixel level detail for you to buy the best laptop for photo editing.
If you are just starting out your journey in photography, you would be better off jumping to the guide first then start reading these short reviews so you can be sure of what you are buying and why you are buying it.
Top 5 Best Laptops For Photo Editing
In this short selection I've included an option for every photographer and type of photo editing out there.
Rest assured these are the best laptops you'll find online if you are on a budget, looking for a specific OS and model, looking for more portability to edit photos on the go or for  ultra high resolutions displays from laptops (2k-4k editing) without going overboard with other unnecessary features & prices.
Just keep scrolling down and you'll be sure to find what suits your needs & preferences best.
Best Laptop For Photo Editing
CPU: Intel i7 HQ 2.5-3.7 GHz | Screen: 15.4-inch Retina Display (2880×1800 pixels) Glossy |
Storage: 512GB PCIe SSD  | RAM: 16GB DDR3L | Graphics: AMD Radeon R9 2GB vRAM
It's not just the retina display that makes it the best laptop for photo editing but also the fact that it has more than enough performance for any photo editing software out there. It comes with a quad core processor and sufficient ram depending on which configuration you choose: 8GB or 16GB RAM.
On top of that you can also get the dedicated graphics card which might not be necessary (see the guide below) but will allow you to use 3D editing tools and rendering images faster with photo editing software such as Lightroom.
Its resolution and display are far above what average mainstream laptops offer: 2880×1800 display which covers 86% of the sRGB color space along with high color accuracy. Definitely handy to edit those photos to the utmost detail (or even pixel level detail) and more accurate printing of your work.
It also comes with an IPS panel for better viewing angle (and one of the reasons behind its color accuracy) along with great brightness levels which is not surprising from Apple's line of MacBooks.
As a bonus it has one of the fastest SSD drivers as of today (PCie based flash storage) with high storage capacities: 512GB to quickly speed up your workflow by loading up your photo editing software  faster and very quick previews.
As far as connectivity goes its got pretty much everything you need for your external peripherals: two USB 3.0 ports, an HDMI port, an SDXC card slot and two Thunderbolt 2 ports.
In particular, you'll find the thunderbolt 2 useful for ultra fast photo transfers from your devices and to connect high-resolution external displays to when work requires real photo editing. Although this is an old model, it's still more than enough for most photo editors out there. Alternatively if you have the cash you can settle for the new version as shown here with which has a moderate increase in performance but with less number of ports.

Best Windows Laptop For Photo Editing
CPU: Intel i7 HQ 2.6GHz (up to 3.5GHz) |  Screen: 15.6″ 4K Ultra HD Display (3840 x 2160) Glossy |
Storage: 512GB SSD  | RAM: 16GB | Graphics: NVIDIA GeForce GTX 960M 2GB GDDR5 |

If you are looking for a windows alternative that can match the performance and the high quality built of the MacBook Pro, look no further than the Dell XPS 15.
It has nearly everything the Pro has in terms of performance for the most intensive photo editing software out there: 3.5Ghz(w/ Turbo Boost) Quad Core processor, 8-16GB (upgradeable) RAM including the same SSD technology (PCie based flash storage) for the fastest read out of your files,loading times of your OS/software and your previews. 
However the display is where it excels at: the resolution is far higher than what you'd expect from mainstream laptops (3840×2160) and it's what you should be looking for if you plan on playing with color management with your laptop or edit your photos in higher pixel level detail. However you'll have to get used to how your photo editing software displays at such high resolutions (they aren't ready yet for such high resolution displays from laptops). With a few adjustments and the gorgeous image quality you get in return, you'll find it to be an easy adjustment however.
Yes, it also covers a wider spectrum than the MacBook Pro and all of the laptops shown on this list (+100% of the sRGB and 98% of the aRGB) and has greater color accuracy as well. Definitely the best display you can get from laptops today and if you throw in some video work this is a huge bonus too.
It still remains quite portable at 4.4lb but with the battery life is only around 6 hours as opposed to 8-10 hours from the MacBook Pro.
Another bonus is the fact that it comes with every port you may need for photo editing: x3 USB 3.0 ports, a mini DisplayPort, an HDMI port  and an SD card reader.
The graphics card is also quite powerful and one of the most recommended graphics cards for 3D effects and all multimedia editing in general. Although not the latest it's one of the best for photo editing, rendering and 3D effects and you should have absolutely no issues with it.


---
Asus ZenBook Pro UX501VW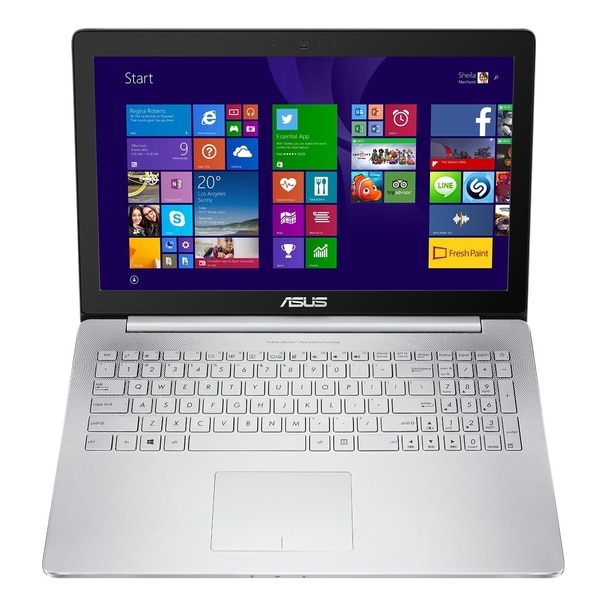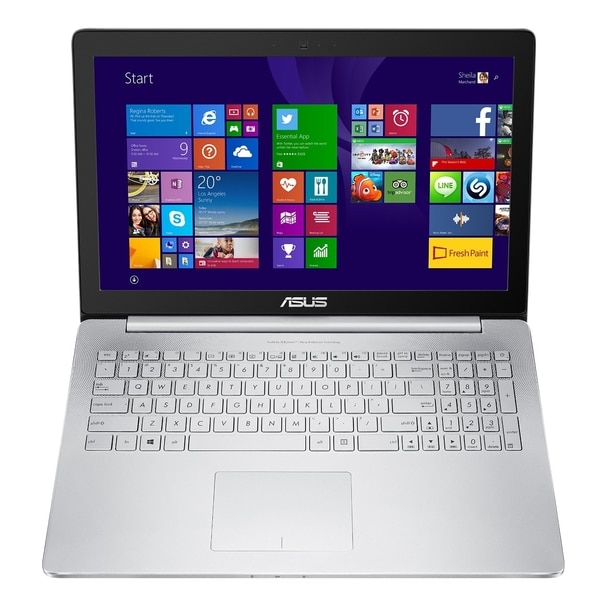 CPU: Intel i7 HQ 2.6 GHz (up to 3.5GHz)  | Screen: 15.6″ Touch IPS 4K Ultra­-HD glossy display |
Storage: 512GB SSD NVMe  | RAM: 16GB RAM | Graphics: NVIDIA GeForce GTX 960M 2GB GDDR5 |

If you are looking for another windows alternative with about the same performance as the DELL XPS 15, the ZenBook Pro fits the bill and it has a few more extra features for photo editing you may want to consider.
Just like the Pro and the XPS 15 its components therefore its performance are powerful enough for all photo editing software : i7 Quad Core Processor, 16GB RAM and Solid State Drive.
However the SSD is one step above in terms of technology (w/ NVMe protocol) which is faster than the MacBook Pro or the Dell XPS 15 models shown above and has a high storage capacity too (512GB).
It has the same powerful and ideal GPU for all photo editing software and photographers that may need to throw in special 3D effects and to give you better rendering as well.
Beware that although this is touted as a 4k resolution display, it is not as high quality nor has the same technology/design as the DELL XPS 15 or other "true 4k resolution". Still the display is a nice upgrade from the full HD resolution most high end laptops offer you today. On the plus side, this one also covers the entire sRGB spectrum though not as color accurate as the DELL XPS 15 or MacBook Pro. 
The main difference with this one compared to other high resolution laptops is the fact that it has an impressive battery life: 8 hours which is nearly as good as the MacBook Pro.
You also get the more connectivity and ports with this choice than any laptop listed here: 1x Thunderbolt III (via USB Type­C), 1x Gen 2 USB 3.1 Type­C, 3x USB 3.0, 1x HDMI.Bluetooth 4.0, SDXC reader, 802.11ac Wi­Fi.
The thunderbolt 3 port , a step above the Dell's thunderbolt 2, to give you even faster data transfer rates along with the ability to connect two external displays simultaneously.

Portable Laptop for Photo Editing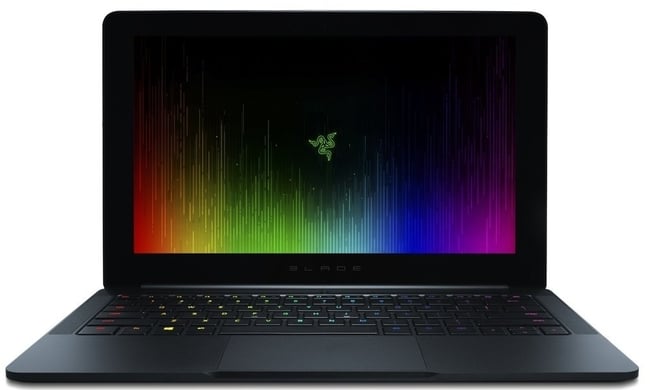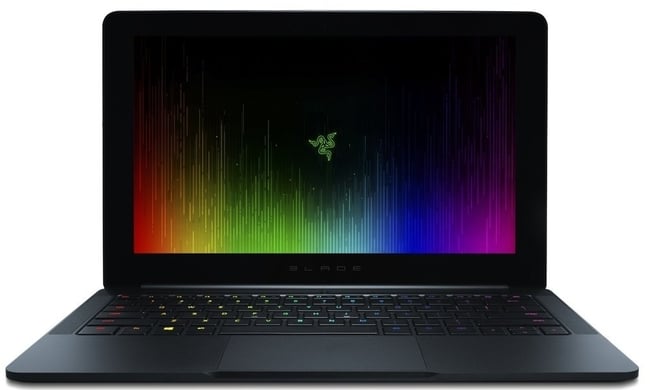 CPU: Intel i7-7500U 2.7GHz (up to 3.5GHz)  | Screen: 12.5" QHD TouchScreen  3840×2160 resolution |
Storage: 512GB SSD  | RAM: 16GB RAM  | Graphics: Intel HD Graphics

The reason I've included the Razer Blade are for those interested in an ultra portable machine. It's only 2.8lbs making it the lightest laptop out of this list with a decent battery life (6 hours).
Performance wise this is a dual core system with 2.7-3.5Ghz clock speed and 16GB RAM, you may see a lower performance if you render videos or deal with 3D models due to not being a quad core processor but that's about it and you'd never find a quad core laptop with the same portability as this one.
Also keep in mind this one has an integrated graphics cards, for those interested in 3D accelerated effects (hardly used in photo editing software for most photographers) this may not be for you.
It's storage capacity and speed is on par with the highest end laptops too : 512GB SSD (PCIe based flash storage ) with a decent amount of ports for external peripherals and displays: HDMI and plenty of USB Ports. However it does not come with an SD Card Reader but an adapter can solve this issue.
On the plus side, it reproduces nearly 115% of the sRGB spectrum and its color accuracy is near perfect.
If you are looking for a portable workhorse for any multimedia editing, this is for you.

Best Budget Laptop for Photo Editing
 CPU: Intel i7-6700HQ (2.6GHz up to 3.5GHz)  | Screen: 15.6″ UHD (3840×2160) 4k Touchscreen Glossy |
Storage: 1 TB HDD + 8 GB SSD  | RAM: 8GB RAM | Graphics: NVIDIA GeForce GTX 960M with 2GB GDDR5
For those on a budget who can't quite afford any of the top 3 laptops above but still looking for good performance with their photo editing software, there's no better deal than this one.
While there are many gaming laptops out there to choose from, very few are affordable and cover  a good portion of the sRGB spectrum as much as this one (90%) which is close to the MacBook Pro's 86%.
The color accuracy and the wide gamut coverage are to be expected from high resolution displays such as this one (3840×2160). It also comes with just the right set of ports for your external devices : 3x USB 3.0 , an SD card reader and HDMI.
Plus it has an extra slot for +8GB RAM to make it 16GB and another slot for extra storage if you want an upgrade its capacity.  Doing both of these upgrades will match up almost every feature of the Dell XPS 15 and The Pro.

How to Buy The Best Laptop For Photo Editing
I've written this guide for those who've been stuck to cameras in darkrooms for old fashioned photo editing and those who are already quite acquainted with photo editing on a computer. Everything you need to know with regards to digital photo editing is presented here if you are looking to find out more about other software/purposes you can use the menu bar on the site to find other guides.
Software Requirements
Naturally the first place to start is the software you are gonna be running. As of 2017, these are still the 3 most popular software for photo editing.
 

CPU
RAM
GPU
Storage
Source
Display
Photoshop

2GHZ or faster Processor

8GB

512vRAM dedicated GPU

2.6-3.1GB

Adobe 

1280×800 16bit

LightRoom

Intel or AMD 64bit Processor

8GB

1GB vRAM

dGPU

2GB

Adobe

1024×768

Core PaintShop

2GHz or faster processor

4GB

128vRAM

2GB

Corel

1366 x 768  24bit
Recommended Specs for Photo Editing
Obviously there are for far more things to take into consideration than the minimum requirements when shopping for a computer or laptop in mind, otherwise you'll be hitting a bottleneck pretty fast when editing and will not enjoy the speedy and productive workflow some computers today can offer you at a reasonable price.
CPU
To speed up your workflow you'd want to go over the recommended processor by your photo editing software. The higher the clock speed, the faster you'll render and produce desired effects (blurr, saturation, brightness, shadows and highlights).
But it gets tricky, the latest and more expensive CPU doesn't translate to the fastest performance you can get from a laptop or computer.
Multi Core & Photo Editing
If you were thinking about spending on a multicore CPU, think again. It's actually the CPU with the fastest clock speed that will give you the best performance even if it's a dual core or cheap single core.
Look for laptops with the highest clock speed regardless of what technology/brand they have (i5 , i3, i7, AMD, etc). 
You can always compare benchmarks if you are not sure which is faster especially when they are different technologies (i5 vs i7 vs i3 or AMD) , models or generations  even if they have the same clock speed.
Why? for your processor to hit the clock speed it advertises it must  have a well built design & architecture behind which I rather leave to another article.
RAM
If your laptop doesn't move smoothly, the first thing you should always look out for is how much RAM you are using. You can check your current system's resources by going to the task manager to see what's eating up all the RAM and see if you actually need an upgrade in RAM.
However, photo editing software in general is RAM hungry and will quickly deplete all of your memory. Sure most companies will recommend 8GB for RAM which is fine and dandy but you'll find this to be limiting especially if you are working with other software opened at the same time.
To be on the safe side you can always shoot for 16GB RAM. If the laptop of your choice has 8GB you can upgrade it to 16GB RAM or even 32GB RAM depending on what other programs you work with alongside with photo editing. RAM is cheap so you're better off investing on high RAM anyways to be future proof. Don't settle for less than 8GB or you'll regret it.
Storage
This is the most often overlooked feature by photographers when shopping for computers. Not many professionals out there use their laptops as their only storage medium for images but they rely on cloud storage or external hard drives.
However for work and the current files you are currently working on with your laptop the kind of storage you get is important.
SSD vs. HDD
Always choose a SSD (Solid State Drive) if you can afford it. They have far too many advantages over regular spinning drives (HDD) to be listed here.
The most important one in regards to photo editing is that they'll make access to your files quicker, launch your applications faster and boot up your system in no time. 
Other advantages are the fact that you'll have to worry less about heat dissipation issues and physical damage with one especially if you are constantly on the move.
Size
The only drawback when it comes to SSDs are their sizes, they don't often come with high capacities. And you can't settle for anything less than 512GB if your laptop will be your main working device and only storage too since the generated files from your software are quite heavy will quickly deplete all of your storage.
Luckily, you can solve this issue by getting an external hard drive as shown here (you should have one anyways for back ups) or install a HDD (Hard Disk Drive) on your laptop (if it's upgrade-able).
Storage for Photography
Store your current projects, catalog, software and OS in the SSD drive to get the best performance from your software and computer for quick reading times and loading up of your working space (OS, software)
Any old photos or completed projects can be saved on your external (or internal) HDD drive as they don't really need to be read out extremely fast unless you are transferring all of them at once for back ups or emergencies for which a thunderbolt 3 port will solve this issue as they'll give you insane transfer data rates.
Quick Previews
If you have tons of photos and want to generate insanely fast previews in LightRoom, you can convert your files into JPEG format and store them within your SSD (the files are gonna get bigger so get a 512 SSD if you can). This and your CPU plus the SSD for storage will make your previews load up insanely fast. 
Ideally we'd also want another SSD (internal or external) for old files and images for insanely fast quick previews instead of using an HDD. However this isn't feasible with laptops not many (if any) come with two separate SSD or extremely huge capacities.
GPU (Graphics Card)
You don't necessarily need to go for the highest and latest graphics cards as far as photo editing.
In fact, you could get away with an integrated graphics card (or any graphics card) with very few and minor , if any, issues.
If you do have a budget however, it never hurts to aim for a dGPU (any dGPU) with the highest amount of vRAM you can find. It has a few minor advantages when it comes to photography and photo editing:
Recently, Lightroom and others photo editing software have been updated to take advantage of GPU usage when rendering images.

3D editing tools need a dedicated GPU but most photographers are very unlikely to ever use them.

You won't receive any warnings and your user interface/workflow will have more fluency. 
In conclusion only certain operations benefit from a GPU but you won't gain an overall performance with them.
Recommended GPU
You don't need to overspend on workstation graphics card (FirePro & Quadro Series), they won't give you much improvement in the above features mentioned over gaming graphics cards.
If you do want a dedicated GPU, aim for the NVIDIA GTX 960 or cards above, it will be more cost effective and powerful enough for all of photo editing. All of recent MacBook's AMD Cards will do just fine too.
Display
This is where things start to get tricky and where you should focus your budget if you plan using your laptop as one of your primary tools for work.
You can't really upgrade a laptop monitor so you have to get the best display  at time of purchase.
Resolution & Size
As you can see from requirements section, photo editing software doesn't require much in terms of display.
Most computers and laptops will by far meet the recommended specs however you'd still want to invest on good resolution and a decent screen size for better productivity overall.
(15"-17") will give you plenty of space to work with your images.
A high resolution display (1080p or higher ) will also allow you to fit in more panels, tools and interfaces within your screen while far higher resolutions (2k-4k) will allow you edit at a pixel level to help you with better accuracy when editing photos*.
*If you ever plan on printing your photos(who doesn't), a high pixel density(high resolution display) is important to approximate the resolution of your printed images too. In this case an external monitor will be a better choice.
Color Space & Accuracy
Color space coverage varies from display to display and from model to model anything above 85% gamut coverage is good (IPS Panels have the most accurate displays).
Look for laptops that cover the highest range of color space of the sGRB spectrum as opposed to the aGRB. Why? The whole color management topic is far too complex and long to be discussed here alone which I'd rather leave to another article.
In summary, if you have never dealt with color management or much have experience with them (like 95% of photographers out there), stick with sRGB for color accuracy ( for more details you can read this article here.).
If you are quite knowledgeable with color management then you probably already know what to look for already: high gamut aRGB screens and of course a high accurate well calibrated external monitors too.
Finish: Matte vs. Glossy
This is still a matter of personal preference and a topic of debate among editors and designers in general.
As far as photography goes, if you are dealing with glossy photos and mostly editing for monitors and devices, then you can benefit from a Glossy Panel which will give you richer colors (not necessarily more accurate colors) but with the downsize of dealing with reflections and glares.
Matte Displays can be calibrated more accurately and will show a true image color representation, if you are editing for printing this is definitely something you should consider.  You won't see richer colors as glossy displays but you will have less issues when dealing with high reflective environments.
Editing should be done in a place away where ambient light doesn't reach your monitor anyways but with a laptop and editing on the go, this might not always be possible.
External Display
If you have an external display back home, then worrying about all these features for your laptop's display isn't as important.
You can settle for any display with a decent resolution for your laptop and a high quality external display as your editing monitor for the final touch ups back home.
Unfortunately, laptop screens even with all the latest, most expensive features and properly calibrated tend to be so so for accurate photo editing when compared to computers or external monitors.
If you are a professional or serious about photography consider spending what's left of your budget on a large good quality external display with a wide sRGB coverage.
Connectivity and Ports
Most laptops will give you multiple USB ports and an SD Card Reader so it isn't something to worry about. A nice bonus is a DVD drive for burning your photos but most laptops today do not have one unless they are huge in size.
Most importantly make sure your laptop has ports for your specific external display: HDMI, Thunderbolt 3 or mini-display.
If you deal with high data transfer rates: thunderbolt ports are the fastest with thunderbolt 3 being the fastest one today.
Keep in mind the smaller and more portable your laptop is, the less ports it will have.
Bottom Line
The best laptop for photo editing or photographers will vary from individual to individual. Most photographers would do just fine with the basic requirements shown here. While advanced photographers or those dealing with very specific types or other types of multimedia editing might from 4K Displays, multicore CPUs (for multiple software opened at the same time) and insane RAM capacities.
Comments?
If you have any more suggestions or questions, please let us know in the comments below!
Author Profile
I am physicist and electrical engineer. My knowledge in computer software and hardware stems for my years spent doing research in optics and photonics devices and running simulations through various programming languages. My goal was to work for the quantum computing research team at IBM but Im now working with Astrophysical Simulations through Python. Most of the science related posts are written by me, the rest have different authors but I edited the final versions to fit the site's format.