5 Best Laptops under $400 2021 (Win 10+Intel/Ryzen)
At first glance it may seem that a budget under 400$ is not enough to get a super fast machine that will never lag no matter how many applicationns you're running in the background.
But the truth of the matter is…
As of 2021, most modern processors under 400$ are way too FAST for the simple tasks we all do on a computer these days.
You may only experience lag when gaming and that's only if you try to play games at medium to high settings.
That's not all…
In fact, even if you land a relatively weak and cheap CPU well below 400$, you can still have a lagless experience as long as you pick the RIGHT operating system with it.
We'll get to that later.
The point is there's no excuse to settle for a slow brick with 400$ these days.
The Hardware on Laptops Under 400$
Before we get the the best laptops under $400, let's quickly go over the stuff you're going to find under 400$ and what you SHOULD be getting out of 400ish laptop.
CPU
The most important spec so pay close attention to the CPU you're buying.
The number of different CPUs found in this bracket is huge so we won't be listing all of them here. Just try to avoid CPUs that have any of these terms in their names.
Celeron, Pentium, Atom, AMD E2, AMD A6, MediaTek, AMD A9, AMD A4 and Athlon
Unless that laptop has Chrome OS or Windows 10S.

With a budget under 400$ you can easily land one of these small beasts:
8th or 10th gens Core i3 or Core i5 and Ryzen 3/Ryzen 5 chips
Any of these babies will make your aptop soar through the sky no matter what OS(Ex: Windows 7, Windows 10 Home) you've got on it.
RAM
4GB is universal in this bracket.
If you're not doing any heavy lifting like video/photo editing then you're probably NOT going to need 8GB.
More on this in the last section.
Storage
Like modern processors the storage devices found on virtually all laptops made within the past year or so are ultra fast and they will certainly help boost speed all across applications and tasks.
Just be sure you're getting a PCIe NVMe SSD and NOT an HDD or SHDD.
A SATA III SSD performs just as fast for gaming BUT a PCIe NVMe SSD is a lot faster for everything else and you SHOULD be getting one if you're paying anywhere 400-500$.
There's also the "eMMC" or "flash storages", those are fine if you're just using Chrome OS. Otherwise, run.
Display
The best displays laptops under 400 can offer are the:

– FHD with IPS panels ( Full HD resolution w/ better viewing angles, vivid colors).
But it's pretty common to find a:
– HD with TN displays and anything in between.
Certainly you want the first set up but there's nothing wrong with the second one (TN + HD) . It may be a good idea to grab a laptop with that display if that laptop has other good specs you can't find that easily.
You'll see what I'm talking about when we get to the 5 best laptops under 400 section.
Graphics Cards
There's really no point in talking about GPUs because laptops under 400 have pretty much the same GPU power.
Some may be a bit more powerful than others but the difference is minuscule and may only be worth looking into if you are a nitty picky gamer on a budget. You can check the last section for more details.
Top 5 Best Laptops Under 400
There's only one laptop that has nearly every good spec we listed including the full version of WIndows 10 Home and enough power to blaze through it.
The rest of our laptops have either Windows 10S or Chrome OS.
---
The Best Laptop Under 400$ – Windows 10 Home
AMD Ryzen 3 3200U
4GB DDR4
Radeon Vega 3
128GB PCIe NVMe SSD
14" HD TN Display
3.97 lbs
7 hours
Windows 10 HOME

This is the only laptop that has pretty much every good spec found under 400$.
You got a Ryzen 3 processor which is one of the latest and equal in power or even more powerful than most Intel Core i3 processors you'll find.
4GB of DDR4 RAM and 128GB of the fastest SSD type is there too.
And most importantly, you got the full version of Windows 10. This is not Windows 10 S mode or Chrome OS which limits what you can install on your laptop. Although there's nothing wrong with either OS, Windows 10 is super useful if you want to do anything more than the "simple tasks" more office workers and students do like gaming/video editing, etc.
All this under 360$, which is unheard of (Windows 10 costs about -100$).
There's one small caveat though, the resolution is not FHD , it's HD (1378×768) and this is how the company was able to fit all of this computer goodness and the full version of Windows 10 in one machine.
There's nothing wrong with HD resolutions though, you will lose a small real state screen area to work with and that's about it. The quality of images will look about the same and so will video playback.
---
Budget Laptop Under 400$ – Windows 10S
AMD Ryzen 3 3200U
4GB DDR4
Radeon Vega 3
128GB SSD
15" full HD IPS
3.97 lbs
7 hours
802.11 AC BlueTooh 4.0

This is the best selling laptop on Amazon. It's got pretty much everything our first laptop has and it even has a FHD IPS display AND it's 10$ cheaper.
Why didn't you recommend this one?
Operating System:
Because it doesn't have Windows 10 HOME, it only has Windows 10 S which limits what you can't do with it.
Don't get me wrong like I said Windows 10 S is enough for most basic users looking to use a laptop for non-gaming entertainment purposes like watching movies, listening to music and for basic office work: surfing the web and using Microsoft Office.
You can also install Apps found on the Window Store. Basically a laptop with windows 10 S acts like an iPad with a keyboard and mouse.
You won't be able to install third party software or games that are not on the App store.
Upgrading it:
The good news is that this laptop is only 350$ and it's got enough power to handle the full version of Windows 10 and several high end applications thanks to the processor/storage device/RAM set up. So if you ever decide to do the switcheroo to Windows 10 HOME, you can just upgrade it directly by clicking on a link that will be presented to you in Windows 10 S.
---
Best Looking Laptop Under 400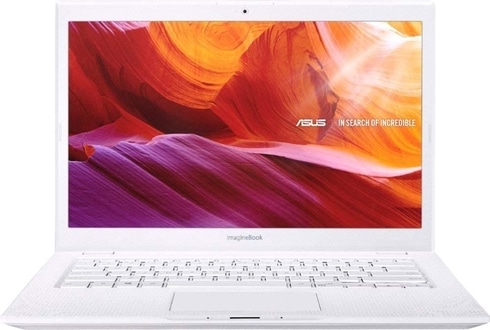 Intel Core M3-8100Y
4GB DDR4
Intel UHD Graphics 615
128GB SSD
14″ FHD (1920 x 1080) LED-backlight Display
3.55 lbs
9 hours
802.11 AC BlueTooh 4.0
10/100/1000 Gigabit Ethernet LAN (RJ-45 port), HD Webcam (1280 x 720), 1 – USB 3.1 Gen 1 Port, 2 – USB 2.0 Ports, 1 – HDMI Port with HDCP support

This laptop is kind of similar to the second laptop. It's got pretty much the same power and the same type of display (although not an IPS it's still FHD).
What about that Core i3 83100Y whatever?
This is a processor that's been designed to fit into smaller and thinner machines. It's got about the same processing power as the Ryzen 3 3200U processor. Okay, I'll admit it's a bit slower but for everyday purposes and basic tasks you won't notice a difference. Especially now that every laptop's equipped with a PCIe NVMe SSD which boosts computer speed on every laptop.
Portability:
The advantage of this processor is that it doesn't need much "ventilation" so it can fit into smaller laptops and hence this machine is very lightweight and portable. The finish is very neat and stylish kind of like a MacBook Pro.
OS:
The downside is of course the fact that it doesn't have Windows 10 Home but Windows 10 S. Again this is enough for basic tasks like using youtube, web browsing, MS Office, Zoom, etc, and don't forget you can install thousands of applications from the Windows Store.
---
Best 2 in 1 Laptop Under 400
Intel Celeron 4020
4GB
Intel UHD 600

32 GBeMMC
11" HD Touch IPS
4.44 lb
9 hours
802.11 AC BlueTooh 4.0

Okay I bet the first impression you got from this laptop is that it has a processor and a storage type I told you to avoid.
But there's an exception though, the processor type and storage type doesn't really matter if you got Chrome OS as your operating system.
It's more performance efficient than Windows 10 S.
You can do all the things you can do with a Windows 10 S laptop with the exception of being unable to have access to some games like MineCraft but that's about it.
A good advantage of having Chrome OS over Windows 10S is that it's more energy efficient so a ChromeBook like this one may give you +10 hours of battery life.
Note that this is a 2 in 1 touchscreen laptop so battery may be a little shorter than your average chromebook but you get the perk of turning this laptop into a tablet and make it even more portable.
---
Cheapest Laptop Under 400
Intel Celeron N4000 2.4GHz
4GB DDR4
Intel UHD Graphics 605
64 GB eMMC
11" HD TN
2.2lb
8 hours
802.11 AC BlueTooth 4.0

This is also a laptop with a Celeron processor and Flash storage but thanks to Windows 10 S mode it's pretty fast and usable. It's actually quite small too and the most portable machine you'll find for this price, it costs about 290$.
This model was actually a super popular model back in 2017 but it was way too slow because the specs couldn't handle the full home version of Windows 10.
Now with 2020 bringing the S version , it's finally made a come back and it's already gotten great reviews.
I would seriously recommend this model if you are someone moving around all over the place when using a laptop, this is just as lightweight as the 11" Paper Thin MacBook Air model that Apple used to sell and discontinue.
Hopefully that won't happen with this little bad boy.
---
How To Buy a Laptop Under 400$
If you don't have gaming in mind, 400$ is enough to find a FAST machine with lots of storage and speed for basic office tasks and the usual tasks that anyone does on a computer.
This section is just meant to inform you of the hardware you'll find under 400 in 2021 and nothing more.
I will tell you what price range you will find one spec and I'm going to tell you HOW MUCH you should be paying for something.
We are also going to break it down so you know which hardware is faster and better and which hardware you SHOULD avoid and RUN from if you got a 300-400$ budget.
Starting with the CPU:
CPU
Don't be intimidated but this table, just read the paragraphs below before you try.
Low-End CPUs
Name

Cores

Threads

Base Speed (GHz)

Boost Speed
(GHz)

Cache

Recommended OS

Celeron N4000

2

2

1.1

2.6

4MB

Windows 10S

MediaTek MT8173C

4

4

1.6

2

2MB

Chrome OS

Celeron N4100

4

4

1.1

2.4

4MB

Chrome OS

Celeron N3350

2

2

1.1

2.4

2MB

Windows 10S

Celeron N4200

4

4

1.1

2.5

2MB

Windows 10S

Celeron N3060

2

2

1.6

2.48

2mb

Windows 10S

Atom x5 E8000

4

4

1.1

2mb

Chrome OS

AMD A9-9420e

2

2

1.8

2.7

2MB

Windows 10S

AMD Athlon 3050U

2

2

2.3

3.2

1mb(l2)

Chrome OS

AMD E2-6110

4

4

1.5

1.5

2mb(l2)

Chrome OS

AMD A6-9220e

2

2

1.6

2.4

1mb(l2)

Windows 10S

M-5Y31

2

4

0.9

2.4

4mb

Windows 10S

Pentium 4405U

2

4

2.1

2mb

Windows 10S

AMD A4-9120C

2

2

1.6

2.4

1mb

Windows 10S
High-End CPUs
| | | | |
| --- | --- | --- | --- |
| CPU | Base | Turbo | Cores |
| M3-8100Y | 1.1 | 3.4 | 2 |
| Pentium Gold 4425Y | 1.7 | 1.7 | 2 |
| i3 10050G1 | 1.2GHz | 3.4GHz | 2 |
| i3 8130U | 2.2GHz | 3.4Ghz | 2 |
| i3 8145U | 2.1GHz | 3.9GHz | 2 |
| i3 10100U | 2.1GHz | 4.1GHz | 2 |
| AMD Ryzen 5 3500U | 2.1 | 3.7 | 4 |
| AMD Ryzen 3 3300U | 2.1 | 3.5 | 4 |
The truth is you want any of the CPUs from the second table, the CPUs on the first table are too slow for 2021.
However….
They're fine too IF and ONLY IF you use the proper operating system. Some Operating Systems like Chrome OS are not hardware demanding so those CPUs will have no trouble handling them or making your laptop snappy and responsive.
Here's what I mean:
Windows 10 Home
I bet most of you want to run the full version of Windows 10 so you can install anything you want and not be limited to programs from Microsoft. If that's the case, then you should avoid the CPUs on the first table and try your best to get any of the ones on the second table.
If you don't, Win10 will run extremely slow. Check Amazon reviews on laptops with those CPUs and windows 10 home, you'll find nothing but complaints.
Windows 10 S / Chrome OS
These two OS are able to make your laptop run fast/snappy with ANY CPU from the first table and obviously the second table too.
If you are wondering why I put a "recommended" OS for every CPU, I meant it would be run even faster if you use that OS.
Linux
Linux behaves like Win 10S/Chrome OS and in fact it's even more lightweight. Even old CPUs from 2010 have no trouble with it.
So if you found an old model you really like or maybe a refurbished cheap laptop, you can still use Linux on it to make it responsive/snappy.
RAM
No matter what CPU you get it'll all be useless if you don't get the proper amount of RAM. It's nothing complicated really, 4GB will be enough for every laptop and OS and 4GB is pretty universal on laptops in the 300-400$ if you are going lower then you need to know a few things.
Windows 10 Home Edition: 4GB-8GB. Preferably 8GB. Windows 10 Home will take 2GB and other system tasks in the background will take it a little more, leaving you with 1-1.5GB. While this is enough for pretty much any user, it will start to slow down to a crawl once you go past +20 tabs.
So if you don't want to be limited on what you can do, then try to get 8GB. You'll find 4GB mostly yes but you can easily upgrade to 8GB.
Windows 10S: No need to get 8GB here. 4GB is plenty even 2GB will do but if you want to run tons of cool apps, then get 4GB.
Chrome OS: Probably the lightest OS out there, you can do wonders with just 2GB and a lousy CPU.
Linux:
This is actually the lightest OS depending on what distro you install. Believe or not, even 1/2 GB will do .
There's an upcoming post where we take an old laptop and install a Linux Distro on it, you can subscribe to our mail list to get an update.
| | |
| --- | --- |
| RAM | OS |
| 4-8GB | Win 10 Home |
| 2-4GB | Win 10 S |
| 2GB | Chrome OS |
| 0.5GB-2GB | Linux |
Storage
In 2021, virually all laptops even those below 400$ have an SSD on them. Unless they've got Chrome OS, if that's the case then they will have a eMMC flash storage. Which is fine for Chrome OS but pretty bad for anything else.
So if you're not getting a Chrome OS, you got to make sure you'r getting an SSD:
| | |
| --- | --- |
| Type | Laptop Price |
| eMMC Flash/HDD | <300$ |
| 128 NVMe SSD | 350-500$ |
| 256 NVme SSD | 400-500$ |
| 512 GB SATA SSD | 450-500$ |
As you can see there's two types of SSD. Either one is fine for everyday purposes unless you're into content creation where a NVme SSD will save you a few minutes when rendering or when editing photos.
Even if you plan to game on a laptop both SSDs will do fine.
Just remember to avoid eMMC/HDDs if you're going to use Windows 10S/Windows 10 Home.
Display
The prices of IPS Panels and FHD screens have reduced dramatically over the past few years. While a FHD 15" IPS display was only found on +600$ laptop a few years ago, it is now found on laptops in the 300-500$ range. Provided of course you look for them carefully.

Anyways a 400$ budget shouldn't prevent you to get at least a FHD display now.
More specifically here's what you'll find browsing around:
| | |
| --- | --- |
| HD TN | 200-300$ |
| HD+ TN | 200-350 |
| FHD + TN | 350-500$ |
| FHD IPS | 350-500$ |
There's nothing wrong with getting a TN HD+ display (an HD display is pretty bad though), you're workspace area will be reduced that's about it. Just beware of the prices in the table and the fact that you MAY be able to get a better display for the same price.
Battery Life
Battery life may not be crucial this or next year because most of us are staying at home BUT once we are able to go out , you should definitely consider battery life over power. What's the point of having computer speed if you can't turn on your computer?
Which brings me to the issues with battery life and computer power.
With greater computer power comes great energy consumption
Aka, less battery life.
The best way to an awesome battery life is to reduce energy consumption.
How do you reduce energy consumption?
The weaker your CPU and the more "lightweight" your OS is the more battery life you'll have.
Of course, there's also the thickness factor or the size of the laptop but for laptops under 400$, it doesn't matter much.
This is what will reduced and improve battery life (you can get up to 13 hours!):
Relatively OK CPU (no Core i7s high performance Core i5/Ryzen i5 i7)

SSD (A PCIe NVMe/SATA III SSD)

GPU (Integrated – all laptops under 400$ have them)

Operating System (Windows 10 Home/Windows 10S/Chrome OS/Linux) . The more lightweight the better in that order.
Wait, what about the advertised battery life?

Use them for reference. Theyre not accuratel amost never. They're being measured with brightness set to the lowest setting and with just video playback in the background (no other tasks running) and even then they're not that accurate.
This table will actually give you a better estimate although it will vary depending on the CPU.
| | | | |
| --- | --- | --- | --- |
| Opearting System | Screen | Size | Aprox Battery Life |
| Chrome OS | HD | 11" | 13 hours |
| Chrome OS | HD | 13" | 11 hours |
| Chrome OS | FHD | 11-13" | 10 hours |
| Windows 10 H | HD+ | 11" | 9 hours |
| Windows 10 H | HD+ | 13 | 8 hours |
| Windows 10 H | FHD | 13 | 7 hours |
| Windows 10 H | FHD | 15 | 6 hours |
| MacBook Air | HD+ | 11-13" | 13 hours |
| MacBook Air | Retina | 13-15" | 10 hours |
We still don't have the data for WIndows 10 S machiens but they should be similar to ChromeBooks or Chrome OS laptops.
Author Profile
I am physicist and electrical engineer. My knowledge in computer software and hardware stems for my years spent doing research in optics and photonics devices and running simulations through various programming languages. My goal was to work for the quantum computing research team at IBM but Im now working with Astrophysical Simulations through Python. Most of the science related posts are written by me, the rest have different authors but I edited the final versions to fit the site's format.