6 Best Laptops For Kids in 2019
With kids today using computers and tablets faster than they learn how to speak, looking for the best laptop for kids isn't something we can take lightly. Besides buying one for merely entertainment, we're dealing here with one of the most important tools for their development too.
In other words…
Your children's computer will have an impact on how at ease they will feel when they are introduced to computers in middle or elementary school and beyond.
Fortunately…
A well chosen laptop such as shown on this article will give your kid a good introduction to technology, mathematics and an overall better foundation in science while also let him be able to re-watch episodes of Bob Square pants sponge or for your child to play Minecraft and other simple games.
Let's not forget…
Some kids , especially those under 10 year old or in elementary school, will not be able to fully take care of an expensive laptop as they simply don't have the capacity just yet. So we may also have to find a laptop that is cheap, quite resistant to physical stress they'll put on it while also being able to handle children's homework.
Finding a laptop with all these considerations in mind among the myriad of choices (not just laptops) we have today can be a total nightmare.
Luckily…
I have done all of that work and I'm listing the best laptops for kids here. You'll find laptops for those who can't take care of their device or for those who are a little more grown up and can put them to good use . These laptops will also be useful for elementary school , middle school and entertainment while still being cheap enough for you to afford it.
I've also included a complete buying guide right after this list for you to look for other options or more laptops yourself if you are looking for more options (laptop for toddlers, teenagers, etc). Rest assured the best laptops for kids of all ages as of 2017 are all being listed here.
Top 6 Best Laptops For Kids
Although there are far more features to take into account and the process of choosing children's laptops can be more complicated (as shown in the guide below), generally you can safely follow this general guideline when choosing a laptop for your kid.
Whether you are looking for a laptop for children's homework, 10 year old daughter or the best laptop for elementary school or just to play Minecraft you'll find your perfect match from this list just keep scrolling down until you find something suitable for your kid. If your kid is far too young (toddlers), you should check the guide below to give you more options instead.
1. HP Stream
| | | | | |
| --- | --- | --- | --- | --- |
| 2.6-3.2 lb | 11.6-14" HD | 4GB RAM | 32 GB eMMC | 6 hours |

Design
The HP Stream comes in two versions either having a 11 inch or 14 inch display. As you can tell by the figure it has a kid friendly color all around it and a huge bezel around the screen giving its kid-like look. The entire chassis is made of plastic but unlike other laptops near that price range it doesn't flex at any spot and feels quite sturdy and resistant to be taken to school back and forth. There are two colors which are both very vibrant and pleasant looking for kids and teenagers alike: sky blue and purple. If your kid is around 10 year old, then the 11 inch version will give him or her enough portability to bring it everywhere too.
Like every laptop shown here it has plenty of ports: USBs for external devices (a mouse is a must have for some light games kids play today like Minecraft, SIMS,etc), HDMI for presentations in school and a headphone jack for videos or video conferencing with good ol' grandma.
Performance: What can this laptop do? School, Homework, Games.
Like almost all laptops shown here , the processor isn't the latest nor the fastest on the market but the Celeron based processor along with 4GB RAM is plenty for all school related assignments, software and the kind of games kids play today.
This model along with the 4GB of RAM is enough for web browsing with many tabs open, streaming videos from NetFlix or Youtube and any kind of game that's not expensive or demanding on a computer.
This laptop will also allow your child to play Minecraft, SIMS and other simple games.
Storage: What Can my kid store on it?
The size is only 32GB which is just enough for the software that comes along with the laptop and the software he/she will need for school (Microsoft office for the most part) and a few simple software the teacher may throw in.
It might be an issue if your kid is old enough to store tons of music playlists, videos, photos and play with expensive games.
If that's the case an external SD Card with 64GB can be bought and permanently attached to it to make it near 100GB which is plenty for all types of simple games and multimedia files as well as educational content and documents.
Sound & Web Cam
Despite having the speakers positioned below and the cheap price, the sound quality is pretty clear. Listening to music at high volumes and instruments are all distinguishable and clear around an entire room.
If your kid does love to listen music or likes to play cartoons/educational videos at full volume, this one shouldn't be an issue.
It comes with a camera too while not delivering the great quality images is enough to video conference with relatives and friends with no issues.
Portability & Safety
As mentioned it comes in 2 versions: an 11 inch and a 14 inch display. Both screens are not full HD but they do come with the advantage of having a matte display which is ideal to protect your kid's vision from long hours of using this laptop and also from any reflections that may happen with bright windows or when using it out in the sun.
The 11 inch version weights merely 2.2lb while the 14 inch version 3.3lb. If your kid is young and still small the 11 inch versions is small enough to easily fit in backpacks and be carried around with small hands. This size make it one of the best laptops for elementary school.
While the 14 inch is a huge screen size even for adults, it would be more ideal for an older kid who does multitask, plays more games and will do a lot of school work on it since the extra screen space will be of great benefit when trying to do multiple things at the same time: watching lectures, a word editor to type and getting his information from a website or digital book comfortably without him or her feeling too visually cramped. It comes with the caveat of being 3.3lb which isn't a bad weight at all to carry but might when trying to fit it in a backpack.
Brightness levels from both versions are below average, they aren't the best and they are not ideal to be used outdoors or next to bright windows. A low brightness screen however can actually be better for your kid, that along with the matte display will protect your kid's vision from reflections and too much light exposure if your kid decides to mess around with display settings.
Lastly, the battery life is average +6 hours but luckily sufficient for an entire school day to make sure you are the ones recharging it every now and then without your kid needing to be exposed to outlets himself.
Maintenance & Security
The HP Stream comes with Windows 10 pre-installed , so you won't need to waste time and install it yourself or playing around with drivers. It might need an update or two but everything will start working flawlessly right out of the box.
It also comes with one year subscription of Microsoft Office(worth 99.9$) to save you even more money plus the 1TB of Free Cloud Storage which if properly used can be great for backups and to monitor your kid files/activities from anywhere too.
Summary & Age
This laptop is perfect for kids of all ages: it's capable of running the simple games they play with such as Minecraft and SIMs, deal with the multimedia files they use (videos, music and photos) and have educational software(if there's any) from school installed on it too.
Plus all the other features(lightweight, matte with low brightness, decent battery life and clear sound) are spot on for his safety, health and entertainment too.
Older kids and teenagers may benefit from the 14 inch version while young kids should really go for the 11 inch version because of the portability.
I myself bought the 14 inch version for my sister but she decided to leave it mostly at home due to its size but uses it continuously for her assignments. If you have a 10 year old daughter I would suggest to buy the 11 inch laptop if you wish her to bring it school.
I would definitely consider this as one of the best laptops for all kids, if not the best one with Windows on it.
---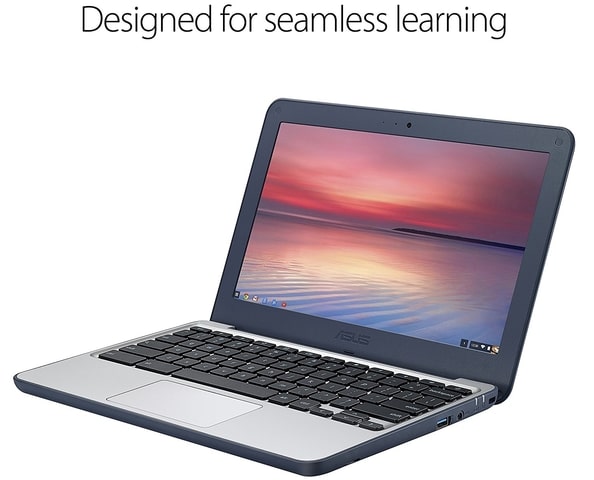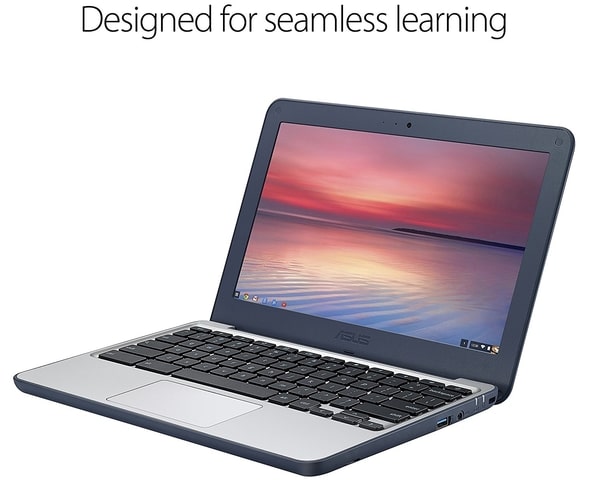 | | | | | |
| --- | --- | --- | --- | --- |
| 2.2 lb | 11.6" HD | 4GB RAM | 32 GB eMMC | 10 hours |

If you aren't attracted to what most laptops offer today for their design (made of plastic for the most part) because your kid is too young and not mature enough to take care of it just yet then you may want to consider this laptop or rather Chromebook for both his entertainment and education. As you'll see soon, what makes this one of the best laptop for kids is the fact that it's been designed with kids and school in mind.
Design
The strongest point of this Chromebook is really its design. It's been built with both: kids and education in mind.
It's made of all aluminum plus it's reugerized all over to protect from any damage with drops that may happen even on hard surfaces.
The display is not a touchScreen but goes back to 180 degrees. Not only for a better reading experience and for school activities in the classroom but most importantly to protect the display from forceful manipulations that even adults might place on it when opening up their laptops or just carrying around(I count myself on this list).
On top of all that, the keyboard is spill proof meaning it'll be able to withstand a few sips of liquid without damaging it's components or replace the laptop altogether. And If that ever happens, this laptop has been designed to be easily opened up and repaired too.
Performance
Having a celeron based processor and 4GB RAM, it does what it's what been mostly designed to do: run simple apps , games and most kid friendly software for education.
Though this is a Chromebook and you will not be able to install any extra software coming from windows or any heavy duty games, Chromebooks are actually quite good for school related purposes. They offer a Microsoft Office alternative both in offline and online mode plus there are plenty of software and apps coming from the android store to play around with for entertainment and for education too.
Watching videos and streaming from Netflix or YouTube is not a problem either.
The learning curve isn't something to worry about either after all what's there to learn other than knowing how to surf the web.
One downside of this Chromebook (not all Chromebooks) is the performance, although it can run said apps with no issues it will start to slow down when trying to run several apps or tabs while surfing online or any type of heavy multitasking. This shouldn't be an issue for most kids who just do one thing or two at a time but it is for adults.
Storage: What's the Size? What Can my kid store on it?
One advantage of having a Chromebook for your kid, is the fact that everything is stored in the cloud there is no need to worry about storage capacities or buy an extra storage for it if you have an internet connection.
If not, an external SD Card can bump the storage from 32GB to 100GB. Again buying an external card and encouraging your kid to save everything on it will allow you to monitor his files & activities and be ready for back ups in case his assignments/important school files or favorite shows are lost.
Besides, the cloud storage it comes along with gives you with plenty of online storage nonetheless (up to 100GB) for all his apps, games and documents where they'll be safely guarded and easily accessible from a new laptop or Chromebook in case this one gets lost or suffers irreparable damage.
Sound & Web Cam
The sound quality isn't great at high volumes and doesn't have the greatest quality either if you compare it to a TV or higher end laptops but streaming and watching videos are clear enough if not set at full max volume.
It does come with a webcam again which isn't of great quality either but good enough to use google hang outs and video conferencing with grandma.
Portability & Safety
It's extremely portable at 2.2lb and the battery life can last up to 10 hours, there won't be a need to recharge it at school and the long battery life will allow you to monitor when it's low and charge it yourself instead of letting your kid do it if he is too young.
This one doesn't have a big display for kids who may need a bigger screen but even adult students & those looking for entertainment haven't complained about it. This is mostly a laptop to be used on the go and school so having a huge screen with it would not make it very portable for school.
Brightness levels aren't set at full max but it does have an anti glare both to protect your child's eye from reflections and to be able to see what's on the screen despite all the sunlight and bright light hitting on the screen.
The low brightness levels is actually a bonus again to protect your kid from too much light exposure and to extend it's battery life.
Maintenance & Security
The best part , besides being extremely resistant and quite durable, is the price. In other words, you'll be saving tons of money when replacing it (if you ever need to).
Being a Chromebook this does not need extra installation, run any updates(it does automatically without you noticing it) or having an antivirus. Plus most of the files will be stored on the cloud again alllowing you to monitor your kid's files and having a backup stored online.
Summary
I would say this is the best laptop for young kids especially those around 10 year old but older kids and teenagers who are just limited to web browsing, online games, streaming videos and school assignments will find it extremely useful as well.
It's small enough for them to be comfortable and also portable enough to be carried to elementary school, middle school,etc. Plus the resistant design will be able to take quite a lot of drops and all the physical stress your child may put to it.
---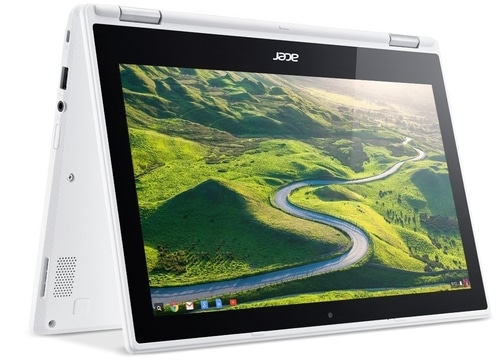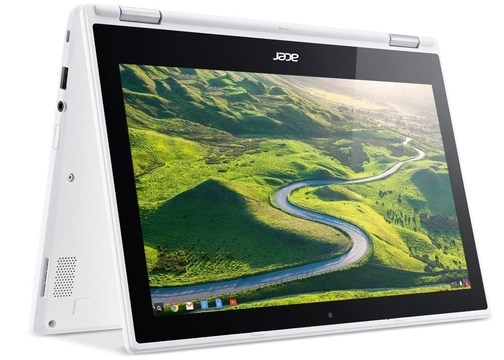 | | | | | |
| --- | --- | --- | --- | --- |
| 2.2 lb | 11.6" HD | 4GB RAM | 32 GB eMMC | Celeron N3150 |
This is another great option for kids. It's not reugerized or spill resistant however the design is still solid and quite sturdy to the touch. It's easy to grip it will not slip out of your hands. The lid although flexes when you press hard on it, it's actually made of all aluminum despite the price. You won't find many laptops or Chromebooks with this feature as most of them will be cheap due to their entire plastic design.
Also, unlike a most laptops where your kid can't grab the laptop by the screen without damaging it while watching the latest episode of bob square sponge or an education video, this one will let you do so since it turns into a tablet mode for better viewing experience, easier manipulation and to carry it around with one hand.
Performance: What can this laptop do?
The Processor is still a Celeron based processor perfect for basic tasks , simple games and web browsing.
Luckily at this price range it doesn't have an atom based processor like its competitors, those can become quite frustrating when running even simple games and websites if you aren't as patient as an adult is.
The Celeron processor is faster than the Chromebook shown above and the RAM being at 4GB make it a perfect combo for older kids who may need to run several apps and many web browsing tabs for education or entertainment all at the same time.
The most salient feature for kids is again the fact that this is a 2-1 Laptop, meaning it can conveniently be turned into tablet mode for playing games or a better reading experience (watching videos). Although it is not a high end touchScreen laptop with enough precision to draw and design for an artist, it is sensitive and responsive enough for playing games, taking notes and to make some educational applications from the android store more interactive and fun.
In fact there's an icon that allows you to turn it into Android Mode (tablet) for access to thousands of app in the Store for which the keyboard becomes disabled and the same icon will bring you back to ChromeBook Mode to use as a regular laptop.
Storage: What's the Size? What Can my kid store on it?
Like all chromebooks the internal storage is again low at 32GB which is just enough for the operating systems, a few apps here and there but for kids who do not store movies or play very expensive and heavy sized games this shouldn't be an issue. It's enough to fit in all of his/her schoolwork and if it ever runs out of space a cheap external SD card will do the trick.
Sound & Web Cam
The R11 has a great sound system for its price. Sounds are clear vocals and bass from songs can get quite loud without lowering it's audio quality. Watching videos or lectures or using it to video conference with grandma on it shouldn't need a headphone. It comes with a decent camera for video conferencing.
Portability & Safety
Despite the price, the display is pretty good. It has an IPS display which is usually seen on expensive and high end laptops these days. This allows for more vivid colors, great viewing angles especially in tablet mode. Everything will be clear to see videos or lectures. Reading on it will be more comfortable as there will be no need to adjust the screen's angle to clearly see what's on the screen.
The downside is does lack a matte display or an anti glare finish which doesn't make it healthy or suitable to be used outside on the bright sun where reflections can be annoying and not healthy to the eyes. Luckily, the brightness levels are low which should avoid your kid from having too much light exposure to the eyes if he/she starts playing around with the brightness settings.
The battery life is extremely long at 10 hours which makes it ideal to avoid having younger kids from trying to charge it back at school or on their own. It also helps the fact that it's extremely lightweight and won't be a heavy load to be carried around along with textbooks if used for education weighing only 2.6lb.
Maintenance & Security
Being a Chromebook it has all the perks mentioned before: no need for updates, antivirus or installing drivers or an upgrading to the Operating System. Everything will work out right out of the box. You also get 100GB of Cloud Storage for backs ups.
Summary & Ages
This laptop can be used for heavy apps and games from the android store, multiple web browsing and web documents for typing and rendering/streaming videos all at the same time. The extra performance makes it convenient more for older kids and teenagers than really young kids as they will never feel a slow down when multitasking or doing a dozen things on it at the same time.
The great sound quality, display and the touchscreen, tablet mode feature also make it more ideal and interactive for entertainment, multimedia and for using applications from android store either for education or just for games.
---
4. HP X360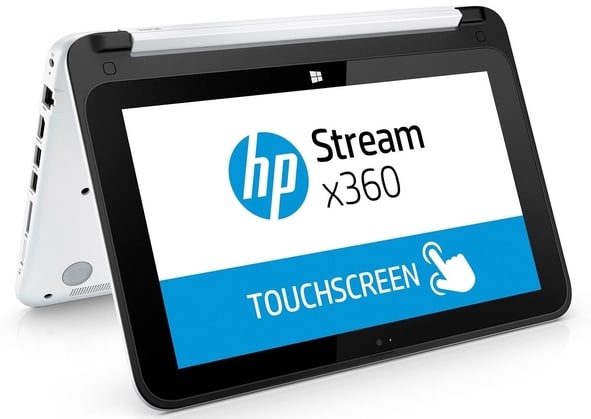 | | | | | |
| --- | --- | --- | --- | --- |
| 3.3 lb | 11.6" HD | 2GB RAM | 32 GB eMMC | 8 hours |

If your kid is used to windows software or install a lot of games on his computer/tablet. The HP X360 is a great option, very affordable and not that bad in terms of durability either.

Design
This is another convertible laptop made out of plastic, despite that it's quite bulky and thick all around making it more resistant to physical stress. It does flex on the middle part of the keyboard and the center of the screen if you press hard on it but other than it has a solid build and every piece of it fits in nicely all around.
It can fold back all the way into tablet mode where the keyboard and mouse turn off automatically allowing you to comfortably use apps, games and use the TouchScreen features that regular tablets offer too.
Performance: What can this laptop do?
This laptop has a lower end processor even among Celeron based processors and the RAM is only 2GB, the lowest performance out of this list hence the price. But you can expect this one to perform basic school tasks and functions (email, Microsoft Office), web browsing , streaming videos and running a few simple software.
Simple games will run with no problems: MineCraft and other apps or games from the Windows Store will run OK. The TouchScreen in particular feature will make games and apps more fun than a regular laptop.
However the RAM and the processor will limit the ability to multitask, it's not meant to have several programs opened at the same time. Older kids in particular might find this inconvenient if they run too many applications at the same time.
Storage: What's the Size? What Can my kid store on it?
Again like all laptops here the storage capacity is quite low at 32GB but it comes with an SD Card reader to bump it nearly to 100GB. Despite being a windows machine, it offers you with 1 year trial of 100 GB of Online Storage for all the documents, music, games and school related stuff your child may need to back up and save.
Sound & Web Cam
Like all the laptops shown here it has a webcam plus a built in mic for video conferencing. The speakers are situated under the laptop which are not ideal for full blasting volume but are clear enough to hear a song with no issues and voice chatting without the need of headphones too.
Portability & Safety
Like all TouchScreen laptops this one doesn't have a matte display making it not ideal to be used next to bright windows or out in the sun as reflections will make it hard to distinguish what's on the screen.
Another reason to be used indoors is the fact that it does have low brightness levels, which is fine for your kids vision.
The battery life is superb nearly 8 hours of web browsing or watching Videos, enough for an entire school day and for you to be able to recharge it before it runs out of power.It is a little on heavy side for computers this size but not heavy to cause any discomfort when carrying around since it only weights 3.3lb.
Maintenance & Security
This laptop comes with Windows 8.1 , it might need you to update it to Windows 10 to be more compatible with modern games and the latest version of Minecraft.
When you do you will also need to download and install drivers to have all the hardware working flawlessly. Make sure you do download them before switching to Windows 10 otherwise you may not be able to connect online.
Other than updating to Windows 10 there's not much to do, alternatively you can just leave it as it is with Windows 8.
It does come with one year of Microsoft Office and 1TB of cloud storage (for one year) like all the windows laptops shown above. The latter feature in particular will make it compete with the ChromeBooks shown above to have all your child's files and games backed up online in case of any accidents where all the files are lost.
Summary & Age
Overall this is a great option if you want your child to have the best of all worlds: a windows laptop to install pretty much any school software or simple games that requires a Windows machine, plenty of apps and games from the Windows Store which are even more fun with the TouchScreen feature, enough performance for children's homework and also for any entertainment coming from games such as Minecraft or video streaming.
The fact that it is not a tablet also gives your kid the option of using an external mouse to have more options when having fun with website games or using other applications much more comfortably. This is one of the best laptop for kids all of ages.
---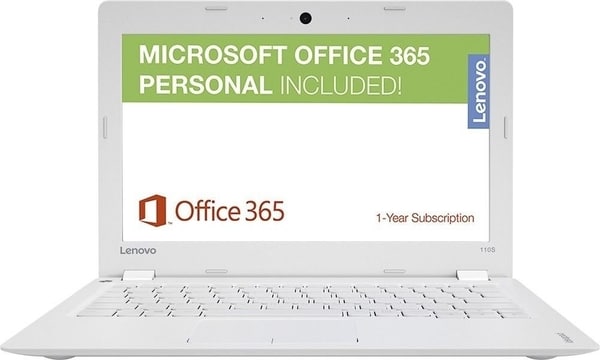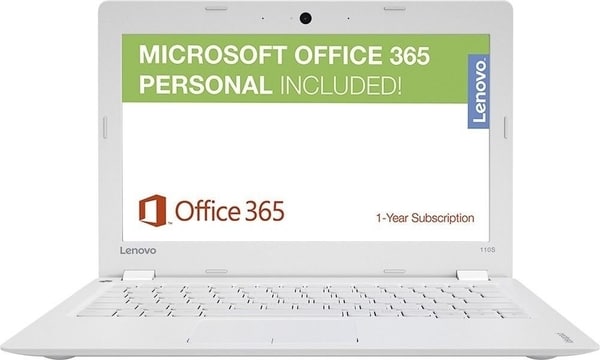 | | | | | |
| --- | --- | --- | --- | --- |
| 2.53 lb | 11.6" HD | 2GB RAM | 32 GB eMMC | 7 hours |

Design
The IdeaPad is the cheapest laptop out of the entire list. Its design is made full of plastic but it also doesn't feel as cheap like its competitors. Obviously for the price it has to be made entirely out of plastic.
On the flip it feels very small and it's the easiest laptop to carry around, kids will barely notice it in their backpacks.
Beware that it has no extra features to make it resistant to serious physical damage: aluminum build, spill proof keyboard and anything else for that matter . It's just a plain laptop that can do all the tasks kids need to perform for school and entertainment at the lowest price you can find without compromising too much quality.
Performance
This one has the lowest performance out of the entire list. The Celeron based processor and the 2GB RAM only allows one task at a time. The performance is barely enough to surf the web, play a few games online, watch some videos and do schoolwork with Microsoft Office. Rendering websites might be slow especially if too many tabs are open but streaming videos one at a time should pose no problem.
Storage
The storage is low just like all the laptops shown above but it does have an SD Card Reader to expand the storage up to ~100GB to store all school files, games , family photos and all of your child's important files.
Sound & Web Cam
The Audio and Webcam both have the lowest quality out of this list but if it's not for music listening or using full max volume, it should be OK to watch some videos and video conferencing. The audio in particular can get quite low in a noisy room. If your child finds it too low to listen to, then a pair of headphones can make it more pleasant to video chat with grandma.
Portability & Safety
On the plus side the display is of matte finish and has low brightness levels meaning there shouldn't pose any problems to your kid's vision from highly illuminated areas with the caveat of not being usable outdoors or next to bright windows of course.
The battery life is also decent : 7 hours which is enough for an entire school day and for you to recharge it every now and then to make sure your kid never runs out of power to start reaching out for outlets.
It's also extremely lightweight at 2.5lb despite being a full blown laptop and not a convertible or tablet.
Maintenance & Security
Despite the price, it does come with 1 year subscription of Microsoft Office (worth 99$) and 100GB of online storage as well. There's no need to run any updates or installing an updated version of Windows as it already comes with Windows 10 pre-installed.
Summary & Age
This is a little laptop designed to fit in and be carried around anywhere at the lowest price you can get without compromising on cheap quality too much as far as design goes. It will withstand plenty of use and has enough battery to last an entire school day.
The performance is not ideal for older kids or teenagers who plan to run several programs all at once or play a lot of games but it is for younger kids especially those around 10 year olds who do nothing more than surf the web and watch videos along with some elementary school work.
---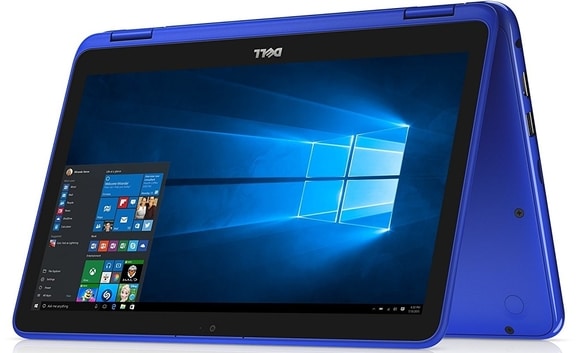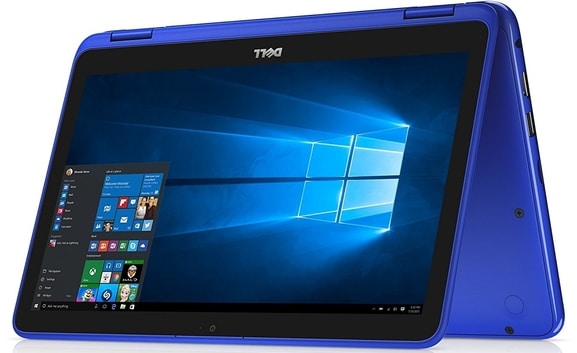 | | | | | |
| --- | --- | --- | --- | --- |
| 2.53 lb | 11.6" HD | 2GB RAM | 32 GB eMMC | 7 hours |

Lastly for those with a little more cash (~100$ more), the dell inspiron offers a significant boost in performance and almost all the cool features put together the laptops shown above have.
Design
The design is made all of out plastic but it has a solid build with no reports of flexing or serious cons in resistance. It's a 2-1 convertible laptop that can go all the way to 360 to be used as a tablet with hinges that are quite strong to withstand all the physical stress from opening and closing the lid several times.
It does come with a variety of colors, all kid friendly: Bali blue, tango red, foggy night gray and Alpine white.
Performance
Due to its intel core m3 processor along with 4GB of RAM, this can be used for more games and heavy apps older kids play with. This is the fastest processor from this list indeed.
Games like SIMS, MineCraft, etc, run flawlessly on it. It can also handle quite a lot of multitasking even if you opt for this configuration: running several tabs while browsing the internet and watching a video on the background will not slow down the computer.
Let's not forget this is a 2-1 laptop so it can be used as a tablet for a more interactive and fun experience with apps be it for education or simple gaming . Also great for making reading or watching videos more engaging.
In summary, the performance is great for older kids who need to do a lot of research for their homework projects or assignments.
Storage
The storage is superb at 500GB there won't be any need to be using the cloud or buy an external SD Card. It's plenty to store even the entire family's documents, photos, videos and files on it.
Sound & Web Cam
Despite being small and not too expensive, it does come with great audio quality. The sound is clear and loud enough to fill an entire room and clearly distinguish all the instruments if a song is played.
The webcam however isn't as good and is just as average any laptop near its price but enough to video conferencing with relatives.
Portability & Safety
The display doesn't have a matte finish which is a bummer and it doesn't have great brightness levels either. So it cant really be used on the outside and with direct sunlight. However using it indoors and away from sunlight is fine just like any other laptop out there otherwise there will be glares that will bother your child when used outdoors or next to bright windows.
As for portability, its battery life isn't great but it isn't bad either it will make it to 6 hours which is enough for an entire school day but might become less if too many apps and games are played throughout. This is expected from a laptop this small with the great speed and performance it delivers.
On the plus side, it's only 2.9lb not as light as the cheapest notebooks but still small and light enough to be easily carried around everywhere and fit in school bags with no issues.
Maintenance & Security
There won't be a need to run any updates everything will work out right out of the box. It comes with Windows 10 pre installed, Microsoft Office for one year, McAfee Antivirus and DropBox for cloud storage.
Summary
This laptop doesn't have any military based design to withstand accidents or misuse but it delivers great performance for pretty much any task a kid of any age may put it through. This is another laptop if your kid is old enough to put it the ultra fast performance to good use.
How To Buy The Best Laptop For Kids
Unfortunately kids these days feel more justified to have an iPhone, laptop and more technology than an engineer or a scientist.
They'll nag you and bother you until they get what they want. But that doesn't mean you should go ahead and buy the first cheapest laptop you set your eyes on. Or worse yet the most expensive machine they want knowing it might be gone within the next week.

Where do we start? These are the things you must do and consider before setting on looking for laptops:
Start by Asking Yourself
Can my child use this device?

Are there any good apps that might benefit my child?

Can I monitor his or her activities on this laptop?

Is this model and the software acceptable in my kid's institution? (Elementary school , middle school and whether or not your school uses Windows, Mac or no laptops at all)

Will this device survive the physical stress my kid will put to it?

Can i afford to replace or repair this laptop?

Does my kid's school recommend any laptops? Do they need to be compatible with their curriculum?
Ask your kid
Now you can ask your kid: what will you need the laptop for? Do you need it for school and your group assignments? Will you be playing games on it? If so, what kind of games?
Consider your Kid's Age
Now consider his age*:
Younger kids (under 10 year old): will be best suited with a small and lightweight laptop. They also have smaller hands a small laptop will fit their size much better. You don't have to spend that much money on it since they'll only use it for elementary school assignments, some websites (cartoon videos & youtube) and simple games but don't go too cheap otherwise it won't withstand the physical stress and all the jostling around your children may put on it.

Older kids and teenagers (+12): May feel too cramped and restricted with 11 inch laptops especially if this is their main computer for all school related stuff. They may want/need more complex and powerful machines for very specific software and high end games.
Toddlers: Toddlers will just be happy to have some sort of computer in their hands, you can find better options than laptops for them that are quite resistant to breaking and drops. Amazon offer's a tablet especially for them shown here but you can also find other choices that resemble laptops for them such those offered by Kurio or the one shown shown here for example .
*Of course mileage may vary. Your kid may 12 and as tall as a tree or a super genius at the age 5 heading towards university.
Performance
CPU & RAM
If your kid is young, simple is generally the best choice. Aim for 4GB RAM and any CPU not labeled as "atom" or "pentium" as these are the lowest end processor there are (designed mostly for mobile devices) that even kids may complain on how slow they can be for school or simple games.
If your kid is older and in the unlikely case he/she needs complex software (editing video, images or more complex games), an intel core i5 processor and 8GB RAM will suit him best. Going further is really for professional or far complex 3D games where the word "kid" can't no longer describe him.

Storage
Storage is only important if your kid is already quite versed with computers and has a lot of photos , videos or any other expensive & heavy games on it.
However even then most laptops today come with enough storage for all of that. If your kid does play expensive and the latest games, edits photos or videos, then just avoid a Chrome Book or laptops with 16GB or 64GB. 128GB and above should be enough. Older Kids rarely need beyond that regardless of age.
Younger kids can be just fine with 32GB or 64GB.If they ever need more, the laptop should be able to use an external storage device such as SD Card Readers or USB Drivers. In other words, just don't worry about storage.
Price
Either way you don't have to spend a fortune on a laptop and you don't want to either.

For younger kids, if you stick with something simple you can expect a laptop to cost between 150-200$.
Another reason to opt for cheap laptops (while making sure they're quite useful and entertaining obviously) is that you can replace it every two years or so.
An older kid who wants a decent laptop for more demanding applications can cost you between $400 – 600$. Again make sure your kid can take care of the device if you are willing to spend that much for him or her.
Display
Younger kids are better off will small screen sizes otherwise they won't be able to focus on what they're doing or pay any attention to any details on it. Look for screens that can reduce their brightness levels(virtually all laptops have this option but don't go around shopping for the best brightness levels that can be damaging to the eyes) along with matte displays, the latter is more important to protect their eyes from excessive reflections off the screen. Small screen sizes are generally easier to carry too.
Older kids may have no limits on screen size or other features, it all depends on your budget just avoid overspending as displays are not the most important features for anybody really save a few professionals.
Sound Quality & Video
While you don't have to go for the best displays or latest features for graphics in computers for your kid to see SpongeBob SquarePants without issues. The sound quality is where everything can go wrong.
A few laptops in particular can have horrible sound system to the point you can only listen to muffled sounds instead of a clear conversation. Carefully read reviews or test them at the store yourself unless you want your kid to be using headphones.
Luckily most laptops have OK sound systems but only very few will allow you to go full volume and still having high quality sound. If your kid is fone of blasting through the entire volume levels then check how good is the volume level at the highest point but most users even adults do not ever need to go for maximum levels.
Webcam
Kids love chatting and video conferencing with relatives especially good old grandma.
All laptops today have a webcam but their built in microphone is not as high quality as an external one. If your laptop doesn't have one or has a low quality mic, don't worry. External ones aren't that expensive. You can check which suits your budget best here.
Weight
Nobody likes to carry weight all day long so get try to get your kid the lowest possible weight you can afford. The reasons:
Heavy laptops are more likely to be damaged from drops.

It can strain your kid's back and give him fatigue.

Lightweight devices are easy for kids to carry and use just about everywhere

Easy to slip into a family bag or school bag.
Aim for something around 3lb as maximum. No more than 4lb for sure.

Battery Life
If you want to keep your kid away from outlets and charging his own device while he's going to school you have to get at least a laptop with 6 hours of battery life and fully charge it before he goes to school.
If your kid is older however this isn't something to worry about, there are outlets all over school for him to recharge it just like recharging an phone.
Design
Design is worth considering since your kid isn't likely to take proper care of his or her laptop. This is more of a problem with younger kids. You have to consider all of these instances when shopping for a laptop:
They will most likely eat next to keyboards.

They'll stuff it into their backpacks without caring much about how delicate they are

Throw it onto tables at the library

Leave their laptop on the playground, classrooms.

Hold their laptops incorrectly by the screen.

And who knows what else.
Hinge Problem: What to do?
Laptops are not designed to be held by the screen, people stress theirs and put at risk their entire computer by doing so. You can either teach your kid how to hold a laptop properly or buy a convertible laptop where the screen is detachable and simply held by strong magnets when they are in laptop mode. I don't recommend the latter, they can be too expensive and sometimes very fragile. A better option is presented next.
Ruggerized Laptops
There are only very few laptops on the market especially designed to overcome all the drops, spills and any physical stress even adults may put into their laptops. The most popular right now (for school & kids) is the ASUS C202 Chromebook.
However there are far more options for tablets with this feature in mind such as the Amazon Fire Kids Edition. Tablets are a more viable option if your kid is really young , won't be using it for school at all and is going to treat like a toy.
Spill Proof Keyboard
Younger kids will not very clean when using a laptop's keyboard and surely they might end up eating next to theirs. If this is yours, then consider a laptop that is spill proof and easy to clean out as well.
How do you find the most durable laptops without any of these two features?
If you just need a laptop that will last a long time without any of these extra features look for ones that feel sturdy to the touch.
Very cheap kid laptops (designed for kids) from unknown companies and brands aren't as durable as known brands laptops aimed for education or for students. The latter have a tougher design and built especially for students constantly stressing their laptops when on the move.
However as mentioned before kid laptops cost from 200 to 600, the ones cheaper than that end aren't as durable since they are made for simple and very few tasks and manufacturers have really cut out on their design.
In other words if you want a really resistant and durable laptop you may have to spend more on the 300-400 range or buy certified refurbished ones if you can't afford one.

Minecraft
Mine-craft isn't very demanding even the lowest end laptops can run them just fine. But installation can be quite a pain for your kid to go through, you may want to do it yourself.
On ther other hand, Minecraft on the tablet version is a viable option too if you want to keep his laptop for school purposes only. He'd get other good games from the iPad or an Android Store too.
Other popular software & sites to consider
Operating System
All operating systems allow you to monitor your kids activities but the most important thing to consider is the availability of software and apps that are useful for them:
Windows
Windows 10 does not have as many tablet apps as Android devices, nor the quality of Apple iPad apps but most software and apps that are useful for kids are covered and they're essentially free.
When there isn't a Windows version for an app on tablets, you can still use full strength (better than tablet-quality) web browsers to find better apps and run millions of traditional Windows programs that can replace them.
Plus there are several ways to run Android apps on Windows PCs, such as BlueStacks and AmiDuOS for games, entertainment any other kid stuff.
In other words, Don't be afraid to opt for Windows. In fact it might be the best choice for kids today.
Mac
Something to keep in mind: If you're a Mac user and would like your kid to have one too, they can be very expensive to repair and replace.
So particularly for younger kids, a PC can be a good, cost-effective way for them to get started before they upgrade to a shinier and more expensive model of their own. The parts for PCs are cheap and easy to find, which is an important point if your kids are hard on their gadgets.
If your child plays Minecraft then they'll be content with Windows 10 Edition or low settings on the PC version (most kids are at this age.) Kids that get really into Minecraft and want to run a ton of complex mods and the highest settings will need a more powerful laptop that are not suggested here.

Author Profile
I am physicist and electrical engineer. My knowledge in computer software and hardware stems for my years spent doing research in optics and photonics devices and running simulations through various programming languages. My goal was to work for the quantum computing research team at IBM but Im now working with Astrophysical Simulations through Python. Most of the science related posts are written by me, the rest have different authors but I edited the final versions to fit the site's format.