The 5 Best Gaming Laptops Under 1000$ (2021 RTX/GTX Ti Models)
Welcome to our last post in our "best gaming laptops under XXX" series.
We finally get to the budget which is enough to get you: a beautiful high refresh rate display, a high-end GPU like the 1660Ti/2060RTX and enough RAM/Storage to support the most memory/storage eating franchises.
All packed into one machine.
Which should allow you to blow past 200+fps on epic settings for most games and +100FPS on the most hardware demanding games like CoD and The Witcher.
Recommended Specs For Gaming Laptops Under 1000$
If you've spotted a laptop you like and you're not getting all the hardware goodness we just mentioned, you need to run FAST.

There are tons of machines just under 1000$ with mid-range to low end GPUs like the 1650/1050/RX 560X which is totally unacceptable. They even lack a 120-144Hz display which should be UNIVERSAL in this price range, seriously.
Just for old's sake let's go through the specs you will find and the specs YOU should be getting for a budget just under 100$.
CPU

Clock speed is the most important single spec for high end gaming. The higher your clock speed, the higher your framerates, yes it's even more imp than a GPU. These are the CPUs you'll find in these ranges (in order of power):
~Under 1000$: Core i5 9300H, Ryzen 5 3550H, Core i5 10300H, Core i7-9750H, Core i7-10750H, Ryzen 7-4800H
You want to avoid the blues, shoot for the purple ones but if you get a green one/blue one that's fine if you are getting a nice GPU to make up for it.
GPU
1000$ is plenty of budget to get yourself a high end GPU. Anything lower is just not acceptable.
~Under 1000$: 1050,1050Ti,1650,RX560X,1660Ti,2060RTX
1660Ti/2060RTX are crucial to get those so longed three digit framerates on epic settings.

Not getting a 1660Ti or even a 2060RTX is unacceptable unless you've got a budget below 800$.
No matter how hard you look you're not going to find a 1070/1080/2070/2080 GPU under 1000$. Unless we are talkin' about refurbished laptops.
RAM

16GB is pretty universal here and you're going to need it for a few AAA games like CoD.
If you don't get 16GB on board, which is very very unlikely, don't panic isn't going to make a huge difference on most games. You can always buy a stick for 20$ bucks and upgrade it later.
Storage

256GB: This is not enough for AAA games especially if you plan on installing more than 3.
512GB: Luckily, 512GB is enough and is the standard on laptops near 900 and 1000$.
If you aren't getting 512GB but you are getting a nice GPU/CPU combo, don't sweat it you can always upgrade that.
Display
IPS FHD: This combo is pretty universal here.
TN FHD: If you find this display, don't sweat it. It may not look as pretty as an IPS panel but it works out really well for competitive gaming. See my article on TN vs IPS displays.
60Hz vs 120Hz vs 144Hz: Look, if you are paying anywhere near 900-1000$ and getting +100FPS on super high settings, what's the point of settling for a 60Hz monitor if you won't notice the difference? You deserve a high refres rate monitor period. 60Hz is not acceptable UNLESS you're getting a super high end GPU+CPU combo in exchange.
Top 5 Best Laptops Under 1000$
I know this is a short list but we really saw no point on listing laptops that have the same or lower specs at nearly the same price.

How we arrived at this list is pretty simple.

We made a huge list of laptops taken from Amazon, BestBuy and computer stores. Eliminated those that do not meet these requirements, then we selected those that were were cheaper and had great reviews as well.

Just to be sure we also calculated the "manufacturing" price of a laptop by adding each computer part and made sure it was either equal to the added cost of all laptop parts or around it. If you want to learn how to do this in case you come across a laptop you really like, check our short guide at the end "How To Buy A Laptop Under 1000$"

.
---
Best Ryzen 7 Gaming Laptop Under 1000 w/ 144Hz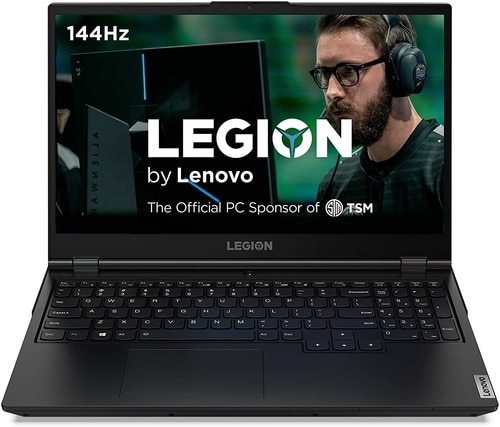 AMD Ryzen 7 4800HS 4.2GHz / 8 Cores
16GB DDR4
GeForce GTX 1660Ti
512GB PCIe SSD
15.6" 144Hz Full HD IPS

4.85lb
5 hours

Update: The ASUS TUF is out of stock, the lenovo legion presented here has pretty much the same specs so you can expect the same performance
You were probably expecting a 2060RTX GPU on our first and best choice. But truth be told, the 1660Ti is actually just as powerful as a RTX2060 if we are talking about non-RTX features which is the case for 99.9% of AAA games.
None of them have yet fully implemented the "RTX" feature to their graphics.
Check out the performance difference between the two:
The difference is more or less ~10FPS. However, this particular laptop has the current best CPU in this bracket, the Ryzen 7 4800HS.
Which is, YES, more powerful than the Core i7 10750H. So it will definitely make up for it since CPU power becomes even more crucial to hit higher framerates once you get a mid-range/high end GPU like a 1060RTX/2060RTX. You can check out the benchmark studies on this link.
As you'll see in our guide below, it's also cheaper! AMD has beaten the hell outta Intel with the release of 4th generation Ryzen processors so if you see an AMD Ryzen laptop its probably much cheaper than its intel counterpart.
Other specs:
This baby has all the checkmarks for every other spec: the highly spacious SSD, 16GB of RAM goodness and the highest refresh rate on this bracket(144Hz) .
This is more or less the FPS you'll be getting:
---
Best Gaming Laptop Under 1000 w/ a 2060RTX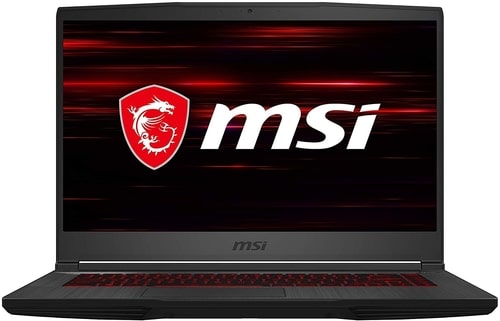 Core i5 9300H
16GB RAM
RTX 2060 6GB vRAM
512GB PCIe NVMe SSD
15.6" 120 Hz Full HD IPS

4.1lbs
7 hours
This is a laptop for those who decided to click on this page to get a 2060RTX laptop.
Yeah, it's better than a 1660Ti(slightly better) and it's super rare to find under 1000$.
The only way you're going to find is without a top notch CPU like the Core i7 10750H/Ryzen 7 4800HS and instead a Core i5 or Ryzen 5 processor because those are a lot cheaper and give the manufactueres the budget they need to jam in a 2060RTX GPU on it.
These are the framerates you're going to get with this baby:
Now this laptop has all the other checkmarks too: high refresh rate display, spacious storage, 16GB RAM, etc.
Yes, it would've been nice to see it's performance with a high end GPU like the ASUS TUF but like I said it's going to be impossible to find it unless….
---
Best Gaming Laptop Under 1000 – Best Deal!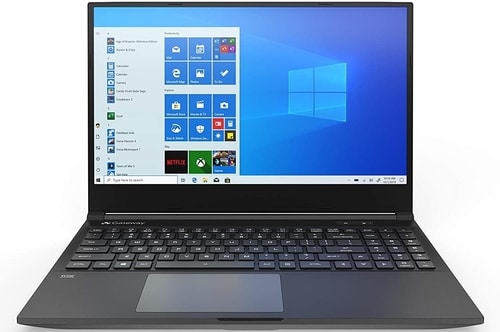 Intel Core i5 10300H 4.5GHz
8GB DDR4
Full RTX 2060 6GB vRAM
256GB PCIe NVMe SSD
15.6" 120Hz Full HD IPS

7.25lb
5 hours

Unless you don't mind going for a non-gaming brand.
Usually, non-gaming brands do pack a lot more power for the same price that ASUS/Acer/MSI/Dell/HP models offer.
This is not a bad brand at all though, it comes from the largest retailer in the world: Wallmart.
Hardware:
Pretty much every spec a proper gaming laptop under 1000$ should have is there: high refresh rate display, 16GB RAM, high end CPU. By the way, a Core i5 10300H and the GPU everyone's after: the 2060RTX.
There's one small caveat though: the storage is not 512GB.
256GB is only enough to get install 3-4 AAA games. So you will need to do the upgrade yourself.
I wrote a guide here on how to update pretty much any laptop's RAM and Hard Drive.
Please note that this laptop is actually 100$ cheaper than both of the laptops we went over.
---
Best Gaming Laptop Under 1000 – Best Display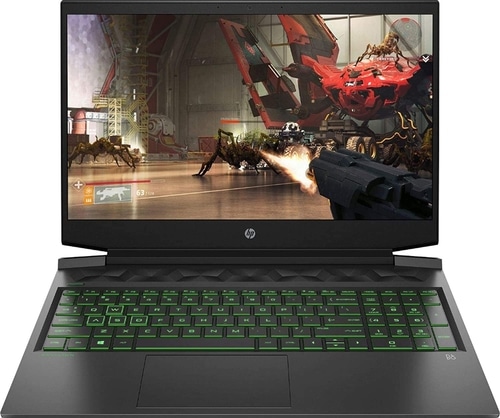 Core i5 10300H
16GB DDR4
GTX 1660Ti Max-Q
512GB PCIe SSD
16.1" 120Hz Full HD IPS

5.16lbs
5 hours
This HP model is a great option if you have ~950$ and want the best display from a laptop without having to pay anywhere near 1000$. Note this model not only has a 144Hz display but it's also much bigger than your avg. by 1 inch measured diagonally.
Just like the walmart model, you also get a much recent Intel processor and the equally powerful 1660Ti.
Every other requirement for a good laptop under 1000$ is met as well: high storage, 16GB RAM, etc.
By the way, the Core i5-10300H + 1660Ti Combo is a pretty popular set up for those who are on a budget but still want to pull off super high graphics and framerates.
You can check the benchmarks of several with this combination on this link.
There's a small caveat though, this is a Max-Q 1660Ti, so take those framerates with -10FPS.
You can however "overclock it" to behave more like a full blown mobile 1660ti, you'd have to buy a separate cooler though and find the sweet spot before it starts to throttle.
---
Best Gaming Laptop Under 1000 – RTX 2060/Ryzen 7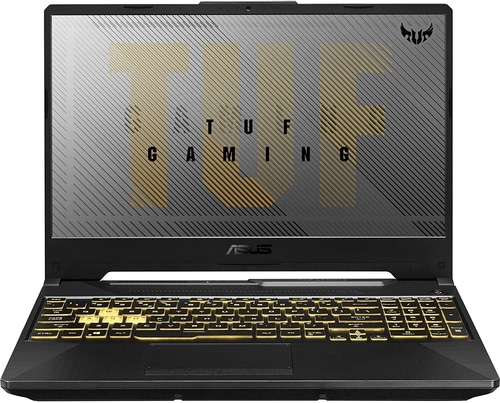 Ryzen 7 4800HS
8GB DDR4
GeForce RTX 2060
512GB SSD
15 " 144Hz Full HD IPS

4.85lb
3 hours
Update April 2021: the price has unfortunately gone up and I doubt it will be back to 1000$ this year . You can get the same model refurbished at the original price though
Lastly this is a model for those after the best and more powerful CPU+GPU combo under 1000$.
Every other spec requirement is met with one exception: the display.
Unfortuantely, that's how the manufacturer was able to buid a laptop with such great specs under 1000$: by forfeiting the high refresh rate display.
How can this be good for any gamer?
Well there are still some advantages on getting a really powerful laptop without the high refresh rates, they're discussed on this video.
But I don't think that's the reason why you should go for this laptop.
If you are one of those guys playing stuff like CoD, The Witcher 3, Assasin's creed…I mean the most graphically intensive games out there at super high settings then it actually makes more sense to invest on this model because framerates won't go past 70FPS.
That doesn't limit you to those games, you can still play all other games except that it won't look as smooth if you're setting graphics to high medium or low as it would with a high refresh display.
But if you set everything to max, it'll be pretty close to a high refresh display (obviously if we leave those mickey mouse games like LoL, Dota , CS, MC,… aside).
---
How To Buy A Gaming Laptop Under 1000$
1.Compiling a huge list of all gaming laptops under $1000
Like I said, the way I narrowed it down to 5 laptops, was by making a list of all gaming laptops in the 800-1000$ range. Amazon is the best place for this because ALL manufacturers eventually list ALL of their models on their site.
With the exception of AlienWare and Lenovo's customized machines, you can get almost every model on Amazon even those from Apple.
If you do this, it shodnd't take you that long.
One problem with this method is that the query won't always return all laptops with a dedicated GPU. So you should try to type something like 1650 Laptop, 1660ti laptop, 2060 laptop, on the search bar too.
2. Calculating the laptop's MANUFACTURING price
By this I mean adding all each laptop part price and then compare it to the wholesale price.
Unlike desktops, this can be quite tricky but it's still possible to pull off. We've done so for every other post in our best gaming laptop under XXXX series.
how do we get the prices of each computer part in a laptop?
Basically, the Storage/RAM can easily be estimated by checking on amazon.
The GPU/CPU can also be estimated by checking the prices of their desktop counterparts because as of 2020 and since 2018 or so, gaming laptops have been for the most part using full blown desktop CPU/GPUs (although underclocked for heat control purposes). So, they have the same price.
What about display? Motherboard? Chasis?
You can get those from Ali Express or even Ebay. Don't worry I won't make you research all of that you can just use the following tables:
a) GPU
In this bracket, there's no need to know the prices of the 1050/1050Ti GPUS nor of any of the MX X50 series. Much less about the AMD dGPUs that have been released recently because they're not even available on laptops. All you need to know are the prices of the 1660Ti,1060,1650 and 2060RTX.
| | |
| --- | --- |
| Name | Price |
| 1650 | 240$ |
| 1660Ti | 335$ |
| 1060 | 300$ |
| 2060RTX | 400$ |
b) CPU
What's interesting to me is that the CPU actually starts to play a bigger role once you get a 1660Ti/2060RTX and it's actually cheaper to upgrade or buy.
Well that's talking about desktops because on a laptop you are stuck with what you get so make sure to choose wisely.
Although there are 8th generation CPUs and a much bigger variety than GPUs, this is all you'll find on gaming laptops under 1000$.
| | |
| --- | --- |
| Name | Price |
| Core i5 9300H | 250$ |
| Ryzen 5 4600H | 250$ |
| Core i5 10300H | 297$ |
| Ryzen 7 3750H | 230$ |
| Core i7 10750H | 320$ |
| Ryzen 7 4800HS | 300$ |
Yes, there are more if you go below 800$ but again it's kind of pointless to list them because you should not be getting those with the budget you have.
c) RAM
RAM prices can be very tricky to get.
The reason is that there's always "on board RAM" on a laptop, in other words, RAM attached to the CPU's motherboard.
For the sake of being consistent, you should add the total RAM anyways. OnBoard and the extra stick on the RAM slot with this table.
| | |
| --- | --- |
| Name | Price |
| 16GB | 60$ |
| 8GB | 30-35$ |
| 4GB | 20$ |
d) Storage
Just like RAM, storage price is kind of hard to estimate.
The reason is that there's also "on board Storage".
But I'd advice you to use this table to get the prices. These are the prices of M.2 internal SSDs, they cost about the same to the manufacturer when they stick storage to their internal slot.
| | |
| --- | --- |
| Name (M.2) | Price |
| 128 GB PCIe NVMe | 30$ |
| 256GB PCIe NVMe | 40$ |
| 512GB PCIe NVMe | 64$ |
| 256GB SATA III | 50$ |
| 1TB HDD | 50$ |
*Note that if you have two storage drives, you have to add them separately.
Sometimes you may find 1TB HDD + 256GB M.2 SSD or maybe a 512GB PCIe NVMe SSD + 256GB M.2 SATA III SSD. The Prices for SSDs above are for Internal M.2 SSDs.
So if you have two separate SSDs on a laptop you have to add the internal one with the price above and the external (SATA III which goes into the 2.5" bay) with these prices:
| | |
| --- | --- |
| Name (SATA III) | Price |
| 256GB SSD | 30$ |
| 512GB SSD | 50$ |
e) Display
Display prices are actually quite easy to get. You can just go to Ali express or even Amazon for laptop replacement parts and you should be good to go.
Anyways I did that work for you already.
| | |
| --- | --- |
| Display Specs | Price |
| 60Hz IPS 1366×768 | 40$ |
| 60Hz IPS FHD | 50$ |
| 120 Hz IPS FHD | 70$ |
| 144 Hz IPS FHD 15" | 150$ |
As you can see a high refresh rate display can add a lot to a laptop's total price. But a 120Hz doesn't add that much maybe 50 more bucks at the most because they may have THOUSANDs of 60Hz displays in their repository that they're still using (so it may cost like 20-30 bucks to a manufacturer).
I think 120Hz displays should be universal now! But they will be once they get rid of all those 60Hz displays they bought from China like 10 years ago.
f) Small Parts
By small parts I mean the battery, power cord, shell, keyboard, chasis, motherboard, etc.
Because they buy these by the TEN THOUSANDS it's actually quite cheap for them so it's kind of less expensive than the prices you'll find online.
Again as long as you are consistent with the prices it shouldn't affect the comparison of two laptops.
Min: 100-150$ 100$ for laptops below 750$ and 150$ for 800-1000$ laptops.
Max: 200$ (depending on chasis quality, shell, keyboard, etc) aka premium laptops.
EXAMPLE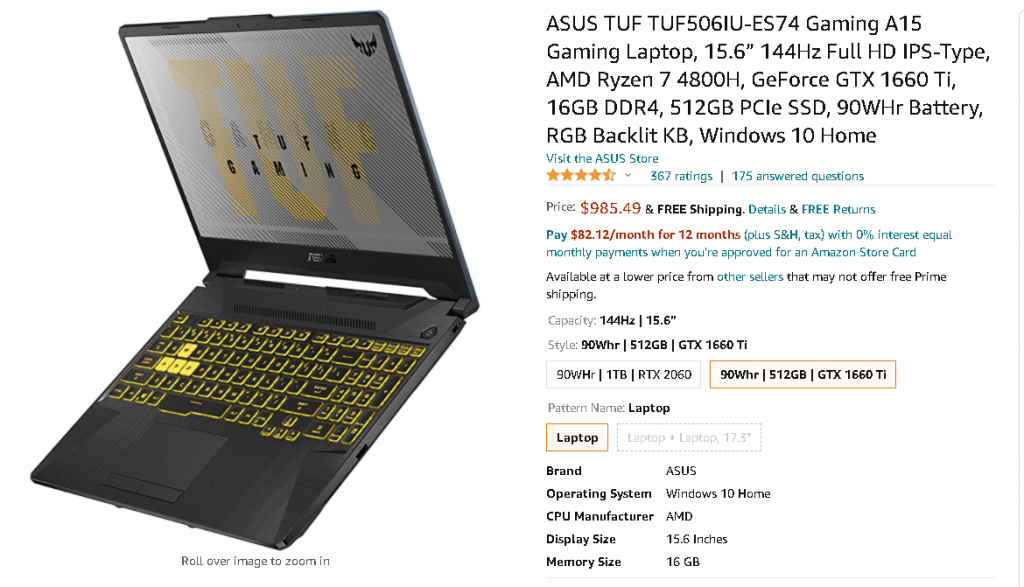 Ryzen 7 4800H ~ 300$
2060RTX~ 400$
16GB RAM ~ 60$
512GB SSD PCIe NVMe~ 64$
Display ~ 150$
Other small parts~ 150$
Total: 1124$
Sells for 985$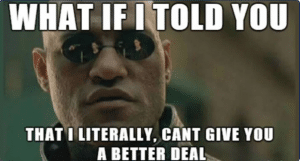 Author Profile
I am physicist and electrical engineer. My knowledge in computer software and hardware stems for my years spent doing research in optics and photonics devices and running simulations through various programming languages. My goal was to work for the quantum computing research team at IBM but Im now working with Astrophysical Simulations through Python. Most of the science related posts are written by me, the rest have different authors but I edited the final versions to fit the site's format.