The 5 Best Laptops For Fortnite in 2021 (Competitive & Beast Settings)
Being the last one standing is definitely all about your rambo skills but having good hardware helps tremendously.
Those players stepping over your dead body don't have 30fps at low settings w/ huge framerate drops on fights for sure, don't you think?
Getting one of the best laptops for Fortnite is a must to lvl up the playing field!
That's because…
Higher framerates will allow you to react on time and a higher graphics settings/viewing distance will allow you to spot enemies before they spot you.
That's exactly why…
Ninja had to invest 20 000$ on a gaming rig and went as far as getting his own internet station to eliminate the possibility of having any lag spikes.
LoL…Don't worry….
You won't be investing anywhere near that. In fact, you don't need to invest more than 750$ to be competitive.
Don't be a newb and rely on 20k rigs like Ninja to pwn newbs in the game.
Recommended Laptop Specs for Fortnite
Before we get to the gist of this post, which is really a list of the best laptops for Fortnite , I'm going to quickly over the specs you need to look out for. You can scroll down to them if you want because I'll also talk about what each laptop can do for you.
Ok…
Now I'm sure you read on reddit that a potato with an HDMI port can run Fortnite (Mac says Hello!) that doesn't really apply to end game fortnite where you have +30 ranked players in a fast moving zone.
The recommended specs I'm going to list are for competitive fortnite only because fortnite doesn't require you to have these specs, the game scales down really well and will basically run on anything modern if you don't mind low quality graphics and the ocassional lag spike*
I'll talk about the requirements for those who just want to play Fortnite with OKAysih FPS/settings and more details on why we are recommending these specs in the last section " How To Buy the best Laptop For Fortnite ".
CPU
Fortnite is extremely CPU intensive and this is obvious when you play the Endgame scrim map, where you have more than 20 players in a small area with building and shots going off in the background.
Your CPU has to process all of that. So like many AAA games out there, Fortnite is almost completely CPU bound and that's where your budget should focus on whether you opt for a desktop/laptop.
To keep decent framerates (~60) endgame, you'll need any Core i5 CPU from the 8th 9th or10th generation or any AMD Ryzen from the 3rd or 4th generation with the "H" letter on it.
Competitive Gaming: Core i5 8300H/10300H or AMD Ryzen 5 3550H/4600H and higher*. Basically +4GHz.
Decent Gaming: At least Core i5 8250U, AMD Ryzen 5 3500U/4500U* ~3-4GHz.
*Check the table at the end of this post to see the full list of recommended CPUs.
RAM
RAM is the second biggest contributor to high framerates in this game.
8GB is the minimum but 16GB is literally bulletproof and it's not that expensive.
As of 2021, the latest RAM is DDR4, they come by default in all of last year's and this year's laptops though. Just double check.
GPU
Fortnite asks for a low to mid -range dedicated GPU, that's it. Low end GPUS(blue ones) will let you play at low-med settings, mid-range GPUs (green) will give you +80 fps at high settings.
High end GPUs(purples) are kind of unnecessary they will only add a few fps to the game and if you have a lot of extra cash you should prioritize on the best CPU you can afford instead.
In order of power:
NVIDIA: MX150,MX250,MX350,1050,1050Ti,1650,1060,1660Ti,2060RTX,2070RTX,2080RTX
AMD: Radeon Pro RX 555X, RX540, RX550, RX 560X, RX 580, RX5550M
Storage
SSDs won't increase your FPS but if you opt for an HDD you will definitely bottleneck your system for any non gaming activity. SSDs are common on laptops these days so it's not like you have to worry about getting one either.
Display
One thing I hate about websites recommending budget laptops for Fortnite is that nearly every laptop they list has a display with 60Hz refresh rates. This is bad because it will limit the framerates you can actually see on your screen.
If you have a 60Hz display, you will only get tp experience 60FPS regardless of how many framerates you see on the FPS counter. Getting a 60Hz is okay if we are talking about a 700-800 laptop but it's not ok for any laptop above 800$. You'll be amazed how many laptops with the latest GPU/CPU still have awful refresh rates.
Top 5 Best Laptops For Fortnite 2021
Here I'm going to list laptops for every budget and for every type of player: casual and competitive ones and…
I'm also going to include a laptop that can run fortnite at WorldCup settings: which is at 1080p and 240Hz (that one would indeed be "THE" best laptop For Fortnite in 2021).
For more details on how to pick laptops for fortnite again refer to the last section.
Update: I suggest you make sure to check #3 before you click the back button. It's not the cheapest but it gives you the most bang for your buck, you won't find a better deal in 2021.
---
Best Laptop For Fortnite – Cheapest
Core i5-9300H
8GB RAM DDR4
GTX 1650 4GB
256GB PCIe NVMe SSD
15.6 " FHD IPS 60Hz
4.84lbs
5 hours

This is the cheapest laptop for Fortnite on the list, it sells for around 630$ but prices may increase depending on demand.
Now you might have expected a much cheaper laptop with an integrated graphics card because you've heard over and over that Fortnite can run a toaster or things like "Dude a potato with an hdmi port will run this game" " My 10 year old kid is playing with my 10 year old rig".
But that dude's 10 year old kid is not playing end game fortnite where the number of players and graphics are increased enormously.
The 30 fps these people might have gotten would turn into 5 fps end game where there are +25 players in fast paced moving zones.
So if you want to avoid end game to feel like you're teleporting all over you need to get at least a mid-range dedicated GPU on your rig and I recommend at least something like a 1050GTX(the AMD equivalent is a Radeon RX 540/550) and of course it has be paired with a beefy processor and what's more beefier than the latest 10th gen Core i5/i7 processor or the 4th generation AMD Ryzen 3/4 series?
Hardware
The 1650GTX is not the best GPU for Fortnite but it is definitely up there with the 2060RTX and the 1660Ti being the only two that outrun it. Basically anything above a 1050Ti will get you high framerates at medium or high settings. That's of course provided you get a very recent and fast CPU.
The Core i5-9300H along with the Core i5-10300H and the Ryzen 5 3550H/4500H are currently the best CPUs you'll find under 700$ and they all pretty much hover around 4GHz with turbo boost.
Performance
If you set everything to low. You will get around 200-250 fps when the game starts or when other players are not around. This will go down to 150 end game.
Medium settings: 120 FPS on average. Going down to 100 when players are all over the place.
High settings: 65-90 FPS. You'll get the lowest – 65- during heavy combat areas.
Epic settings: 60 FPS as long as you keep Shadows/Post processing at high, otherwise it will drop to 40fps.
Note you can still hold 50FPS with enemies around you at at high settings.
There's one big problemthough: the refresh rates. They're capped at 60Hz, so your eyes won't see notice framerates going above 60FPS (although the game will run tell you its running at +100fps). But again for 630$ bucks do you really expect to have a feature that's only available on laptops around 800$?
There are good news though….having more framerates than what the screen can display still has advantages especially at higher settings.
If you push set settings to high, you'll get around 70-90 FPS which is not a big jump from 60.

If you stay on low or medium settings you'll have virtually no lag and screen tearing will be reduced substantially.
This list has the most popular 1650GTX models as of 2021. As you can see the Lenovo IdeaPad L340 is easily the best deal right now. If you'd like another CPU or just go with another brand , make sure to use this short list.
If you can't afford 1650 laptop, try to grab a 1050 at least but don't expect to hit high/epic settings with three digit numbers.
---
Best Laptop For Fortnite – Budget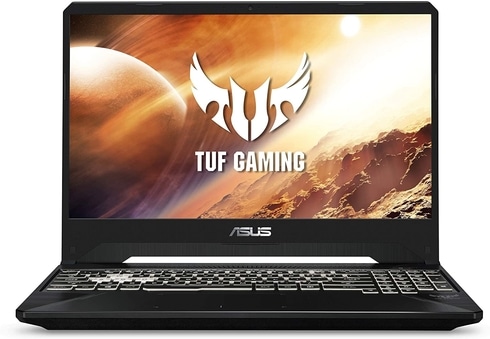 AMD Ryzen 5 R5-3550H
8GB DDR4
GeForce GTX 1650
256GB PCIe SSD
15.6" 120Hz Full HD

4.85lb
5 hours

This is one of the two laptops I would go for if I had a 700$ budget. This one and the Lenovo 3 on the table both have a 120Hz display.
That means the game will look twice smoother than it would with a 60Hz display which is found on 99% of laptops below 900$.
Performance
One thing you may not like at first sight is the CPU.
You should be aware though that the usual rule of thumb of getting an Intel processor for gaming is yesterday's standard.
Today, AMD Ryzen H processors will be perform just as good and in most cases even better than their Intel counterparts (although they seem slower on paper they actually have better multi core performance and clock speed efficiency).
A Ryzen processor will still get you +200 FPS at low settings just like the first laptop on the list and approximately the same fps at medium to high (about 10-30 fps lower because the 10th Core i5 CPU ~30% faster having been released 1 year and half later than the AMD Ryzen chip here).
The Ryzen Chip is what actually makes this laptop very affordable for fortnite and the reason why the manufacturer was able to fit in a 120hz display on it and keep it below 800$.
If you do have a 750$ budget though, the Lenovo 3, would get you more framerates with the same 120hz display.
---
Best Laptop For Fortnite under 1000 – Best Deal in 2021
AMD Ryzen 5 4600H
8GB DDR4
GTX 1650
512GB SSD NVMe
15" full HD 144Hz IPS
5.07
4 hours

This laptop is soon to be released on New Year's Eve.
It's got the best specs/money ratio I've seen in two years.
Not only does it have the latest generation Ryzen processor which blows the Core i5 9th/10th gen out of the water AND the usual 1650 BUT ALSO A 144Hz freakin' display.
And Guess what?
It's just as expensive as the two laptops we just went over! Selling only for 750$.
144Hz+Ryzen 4600H:
If you are into tournaments and want to squeeze out every advantage from computers to step your game, then you need to start looking at laptops with at least a 2060RTX/1660Ti but if you can't afford those monsters then a damn good processor can surely get you a lot closer to that.
Now there are thousands of laptops online with these GPUs+CPUs but very very few have a 120Hz and certainly only 3 or 4 have a 144Hz display under 900 and this is the only one with a 144hz display under 800$.
---
Best Gaming Laptop For Fortnite – High End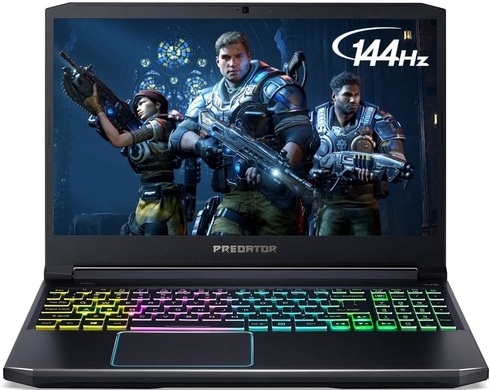 Core i7-10750H
16GB RAM DDR4
GTX 2060RTX
512GB PCIe NVMe SSD
15" IPS full HD 144Hz
5.07lbs
4 hours

The 2060RTX here is not the more powerful GPU out there but Fortnite isn't a very GPU demanding game. So although it may be a "mid-range" GPU, it is a high end GPU for the game and the one I actually use to play it.
One thing I want to warn you and remind you is that although you will find laptops with a 1660Ti/2060RTX a bit cheaper than this one, they will not come with a 120 Hz much less a 144Hz display which goes against the whole point of getting a 2060/1660Ti GPU, to enjoy that smooth gameplay with +140FPS.
If I were to squeeze out more framerates out of a laptop, I wouldn't necessary go for a more powerful GPU. Like I said, Fortnite is weird in that it is mostly CPU bound and a more powerful GPUs will not necessarily give you more framerates and better graphics as much as more CPU clock speed would do.
This is why if you have a little more cash you should prioritize on a more powerful CPU instead of going for a 2070RTX/2080RTX .
The Core i7 10750H isn't the most powerful Core i7 on laptops (It is faster than the Ryzen 5 series though) because the 10th Core i9 processors have been out for a year now and the Ryzen 7 H processors are faster
But it is extremely if not impossible to find it with a 2060RTX GPU and a 144Hz which you will definitely need because you'll be easily going past 150FPS at high settings.
As for performance, this laptop should get you around 170-220 FPS on HIGH settings depending on how hardcore your combat gets.
---
Best Laptop For Fortnite at 240Hz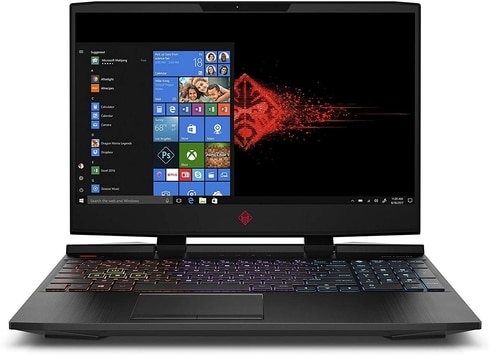 Core i7 9750H
16GB RAM DDR4
RTX 2060 6GB
256GB PCIe NVMe + 1TB HDD
15" FHD IPS 240Hz
5.26lb
4 hours

This laptop is indeed "the best laptop for Fortnite". It's the most powerful and the consequently the most expensive out of the list. Relax though, it is still affordable for a high end laptop.
The RTX 2060GB is considered a mid range GPU among the RTX series but it is the highest GPU you should go for if you are playing Fortnite for the most part. It's in fact the most popular GPU you'll find among laptops because most AAA games don't require anything higher than that to be able to throw in Epic settings with 3 digit FPS with the exception of Call Of Duty. Yes, the 2060RTX isn't a lot more powerful than the 1660Ti and the 2070 is several steps above both of them, but the 2070RTX is just not that useful for Fortnite. The 2060RTX won't give you a lot of extra framerates but again it's the top GPU to go for if you just want to focus on Fortnite and medium/high settings in all other AAA games.
Now I chose this brand because it is one of the few brands who has paired a RTX 2060 with a 240Hz screen which you will definitely need because you'll be getting +200 FPS even on epic settings in several games including Fortnite.
Note that you may find laptops a 100 dollars cheaper on Amazon but none of them will have a 240Hz.
What are the other laptops that do have a 240Hz?
These are the MSI Stealth which has a 10th generation Core i7 CPU and it's 300$ more expensive. the ASUS ROG with a 17 display and a very thin portable Alienware.
If I had the cash and money wasn't an issue I would consider investing on the MSI Stealth only because it has a 10th generation CPU which will get me into the 250fps on epic settings. However 300$ more isn't probably worth the 30-40 FPS if you're already hitting ~200.

Otherwise the EULEK here is probably the best deal you'll find for the most powerful laptop for Fortnite. Unfortunately, great deals come and go faaaaast and by the time you read this you'll probably won't find on stock so you can just find a 240Hz on your own or opt for the other options I talked about. The MSI Stealth being the top recommendation.
Edit: Also try to get some sort of external cooling too. Heck even if it's just a fan, anything to keep this beast cool. Don't just try to let it run wild as it is, any kind of cooling will help mantain it's power and speed and increase its lifespan.
---
Note if you still can't afford any of these check my post:
Best Laptops under 700 dollars
We update it nearly every week. Just make sure to know what you are doing when picking a laptop for the game (aka getting a 4Ghz CPU and 1050/1650Ti for competitive gaming)
---
FAQ:
A) What about a laptop with Ninja Specs ? What are the really good laptops for playing Fortnite ?
Players like Ninja have custom towers with specs up the wazooo. Ninja reported to have Core i9, 16GB RAM and the latest GPU on it.
There are several laptops with the same specs though with much weaker GPU set up (Ninja had a stack of GPUs, in other words, two or three 2080RTX on top of each other):
– ASUS ROG
The thing is you can spend 2k-6k on a laptop/desktop and still drop below 100FPS in comp lobbies. So im not even sure if it's worth all the cash unless you are rich.
~60FPS in (25+ moving zone) endgames is like a regular thing even for "the" best laptop For Fortnite" we just went over and even for high end gaming desktop PCs (heck even ninjas 20k rig can only manage to stay below three digits in that scenario).
So there's really no point on listing +2k laptops especially when your framerates will be bottlenecked by your display and by the intrisic "lag" that will always present as long as you are playing against other peeps.
No game can handle 30 people end game and it makes sense..look how much is going on and what it's being rendered and the load of having so many connections on a server.
However, getting those expensive rigs will reduce screen tearing to zero and make it less likely to have lag spikes during these intensive scenarios..
B) What about Ultra Cheap Laptops I mean I can play this game on my 2009 iPad I'm sure there are some…
I decided not to post cheap laptops with integrated GPUs because the title is " Best laptops for Fortnite " and not cheapest laptops that can run Fortnite.
So…what are the best laptop for fortnite under $500?
I know some of you are on a tight budget though so I'll give you a few good options if all you got is 500 bucks or less:
Note that the ASUS/Acer have Windows S which means you'll have to get a copy of Windows 10 on your own that's what makes them a lot cheaper. The HP 4 Series is the best deal I could find with Windows 10 on it.
I'd still advice against laptops with integrated GPUs because you'll be getting 30-40fps at 1080p on low and much less during intense fights (5-10). In other words, you'll have to reduce the settings to 720p to make the game playable.
If you can push your budget 100 more, you could find a nice Acer Aspire 5 with an entry level GPU like the MX250. This should handle 40-60 FPS at medium settings 1080p resolution.
The big issue here is that this year there are not 600$ Laptops with MX250, the latest , MX350, is currently selling for 650$, for which you might as well invest a little more and get a 1050/1650 Laptop.
However if you can't wait for the prices to go down, you can always get a laptop with a Radeon Vega 10 X GPU which is integrated but it's kind similar to a MX150/940M.
C) What about cheaper laptops? What are the best laptops for fortnite under 300?
New laptops below 300 dollars have really weak Intel/AMD processors. They usually have something like a Celeron/Pentium or an AMD A9/A6/A4, MediaTek Chips/ ARM processors, stuff that's mostly used for tablets and phones.
If it wasn't for Windows 10, you could play fortnite on those laptops but a laptop has to have a heavy OS like Windows so those laptops have no juice left to tolerate Fortnite. In other words, you won't find laptops for fortnite under 300 unless they are refurbished.
There's nothing wrong about refurbished laptops especially if they are from Amazon because you get a 90 day warranty. The only thing you need to watch out when buying is the CPU, you have to make sure it's not any of the CPUs listed on this "11 inch laptop" post or those I just highlighted above and you should be able to play fortnite with 30fps at low settings.
Here's a search tailored to grab laptops under 300 with OK processors. Grab a Core i5 if possible.
With 50 more bucks though you could get yourself a NEW Acer Aspire 3 with the Ryzen 3 processor and if you manage to get a free copy of windows 10 you'd get a powerful laptop to play Fortnite at low settings.
D) Any cheap laptops that can run fortnite under $200?
Now let's not push it, you're not going to find laptops for Fortnite that cheap even on craiglist. You could buy a chromebook and install Linux on it to play other games but until there's a Linux version of Fortnite, it's pretty much impossible?
What about Macs?
I'm a big fan of Macs but I can't recommend them Fortnite even cheap but recent Windows laptops with an integrated GPU will do you a lot better and still cost you several hundred dollars cheaper than a Mac.
But if you've got no choice but to buy a MacBook for whatever reason , it will definitely run well on either the MacBook Air/MacBook Pro as long as you get any recent version(~2018 onwards).
The only downside of the Air/Pro is that it's not oriented for gaming, just work. So if you or "your son" wants to venture into other games or do other CPU intensive tasks like video editing, the MacBook Air will not cut it but the MacBook Pro might. The MacBook Pro will basically perform as good as a mid-range Windows Laptop with an integrated GPU unless….
You get the 1000-2000 Dollar MacBook Pro with a dedicated GPU which might perform just as good as mid-range gaming laptop (if Epic launches doesn't give you any bugs). Older MacBook Pros with a dedicated GPU might be a good option if you don't mind refurbished MacBooks, they will perform just as good as Windows Laptop with a MX250 GPU.
Leaving MacBooks with dedicated GPUs(which are ridicously expensive), if you want to venture into other games and not just Fortnite, pick a MacBook Pro but if you want to stick with Fortnite at minimum settings and 720p and you're more "work" oriented, then the AIr is a solid choice.
---
How to Buy The Best Laptop For Fortnite PC
One of the reasons people assume that Fortnite can run on a potato with a HDMI port is that there's a console/mobile version. But let's face it, console frames are awful, PCs are on another level….even if you get a low end PC, it'll vastly outperform a console.
Laptops are powerful but they can be tricky. When you are messin' around with laptops, if you are not careful you'll get inconsistent and bad performance.
For example Core i5 laptops are not equal to Core i5 desktops and thermal issues are almost zero on desktops but it's a very common problem on laptops.
Most people who are coming from a console have no clue about the difference so I don't think we should blame them when they try to give advice to people saying "Fortnite can run on a potato" , that comment stems from the fact that they only have experience with desktops and consoles.
End Game Fortnite
End Game Fortnite…moving zones with 30 people are unplayable for most gaming rigs consider yourself lucky if you ever get 100 fps. No rig no matter how expensive will get you fps that high in that part of the game.
You can't compare Team Rumble to Fortnite, it isn't nearly as hardware intense as late game scrim, people aren't editing/building that much. The potato + HDMI port comment you got on reddit might be true for Team Rumble.
Anyways let's go through the official requirements, before we get to talk about each spec individually.
Official Requirements
There's the official minimum and the recommended requirements. We're going to list both this time so you can understand what really makes the biggest impact on this game.
Minimum
Intel HD 4000

Core i3 2.4 Ghz

4 GB RAM

Windows 7/8/10 64-bit + Mac OSX Sierra
I don't even know what to say about this. These are the minimum to just run the game not "play it". If you try to play the game with these specs, all settings are going to be set to low, lowered screen resolution which means 720p which won't let you see what's happening far away and you will still get a choppy gameplay.
The main problem with those specs are the integrated HD card. If you could get a dedicated GPU , the game might be playable.
Recommended Requirements
Nvidia GTX 660 or AMD Radeon HD 7870 equivalent DX11 GPU

2 GB VRAM

Core i5 2.8 Ghz

8 GB RAM

Windows 7/8/10 64-bit
These specs will make the game playable and fun. The big difference is the GPU, it doesn't have to be top of the range as you can see, a few years old might be ok as long as you get a strong CPU ~3GHz.
CPU
Like I said before , Fortnite is very unusual in that it's actually way more CPU intensive than anything else. If you think about it, it makes sense.
A GPU might be more useful in a graphically demanding game which Fortnite ISN'T.
But that doesn't mean it's not one of the most hardware demanding games to play right now. The focus is just more on the CPU than the GPU.
If you're still doubting on whether or not this is true, open up Fortnite right now, press CTRL+ALT+DEL and check what's working harder: your GPU or your CPU.
Me and classmates have different rigs and we've actually got the same FPS with a 1050Ti and 1080Ti so we are not just relying on that old CTRL+ALT+DEL trick.
Fortnite is also unusual in the fact that it is one of the few games where you can actually hit +200FPs with all settings maxed out up the wazoo as long as you get a really powerful CPU, this should be possible with an okayish GPU.
OK, Fine What CPU Should I get?
First know that Forttnite doesn't discriminate between AMD or Intel Processors. In fact, AMD might give you the best bang for your buck today even among laptops. Intel chips on laptops as long as they got a great cooling system, will get better performance (but this is extremely rare unless your laptop is like ~2 inch think).
Here's a break down all the CPU found on laptops as of 2021.
Intel
| | | | |
| --- | --- | --- | --- |
| CPU | Base | Turbo | Cores |
| i3 10050G1 | 1.2GHz | 3.4GHz | 2 |
| i3 8130U | 2.2GHz | 3.4Ghz | 2 |
| i3 8145U | 2.1GHz | 3.9GHz | 2 |
| i3 10100U | 2.1GHz | 4.1GHz | 2 |
| i5 1035G1 | 1.0GHz | 3.6GHz | 4 |
| i5 10210U | 1.6GHz | 4.2GHz | 4 |
| i5 8265U | 1.6GHz | 3.9GHz | 4 |
| i5 8250U | 1.6GHz | 3.4GHz | 4 |
| i5 8300H | 2.3GHz | 4GHz | 4 |
| i5 9300H | 2.4GHz | 4.1GHz | 4 |
| i5 10300H | 2.5GHz | 4.5GHz | 4 |
| i7 10510U | 1.8GHz | 4.0GHz | 4 |
| i7 1065G7 | 1.3GHz | 3.9GHz | 4 |
| i7 7700HQ* | 2.8GHz | 3.8GHz | 4 |
| i7 8550U | 1.8GHz | 4.0GHz | 4 |
| i7 8750H | 2.2GHz | 4.1GHz | 6 |
| i7 9750H | 2.6 GHz | 4.5 GHz | 6 |
| i9 8950K | 2.9 GHz | 4.8 GHz | 6 |
| i5 9600K | 3.7 GHz | 4.6 GHz | 6 |
| i7 9700K | 3.6 GHz | 4.9 GHz | 8 |
| i9 9900K | 3.6 GHz | 5.1 GHz | 8 |
| i7 10750H | 2.6GHz | 5GHz | 8 |
| i9 10890K | 2.4GHz | 5.3GHz | 8 |
| | | | |
| --- | --- | --- | --- |
| CPU | Base | Turbo | Cores/Threads |
| AMD Ryzen 9 3900 | 3.8 | 4.6GHz | 12/24 |
| AMD Ryzen 9 4800HS | 2.2 | 4.4GHz | 8/16 |
| AMD Ryzen 7 4800HS | 2.9 | 4.2GHz | 8/16 |
| AMD Ryzen 7 3700X | 3.6 | 4.4GHz | 8/16 |
| AMD Ryzen 5 4600H | 3.0 | 4.0 | 6/12 |
| AMD Ryzen 7 3750H | 2.3 | 4.0 | 4/8 |
| AMD Ryzen 7 4700U | 2.0 | 4.1 | 8/8 |
| AMD Ryzen 7 3700U | 2.3 | 4.0 | 4/8 |
| AMD Ryzen 5 4500U | 2.3 | 4 | 6/6 |
| AMD Ryzen 5 3550H | 2.1 | 3.7 | 4 |
| AMD Ryzen 5 3500U | 2.1 | 3.7 | 4 |
| AMD Ryzen 3 3300U | 2.1 | 3.5 | 4 |
If you want the highest FPS you can get on a laptop get any of the purple CPUs. Competitive gaming doesn't require you go to that far, you just need to get a blue CPU. Decent gaming, that's to have fun but without having an advantage over others will only need a green CPU.
Let's take some examples:
i5-8300H/i7-7700HQ/Ryzen 5 3550H: Any CPU hovering around that will give you +144 FPS considering you have enough RAM and a decent GPU(we'll talk abotu what's decent later).
AMD Ryzen 9 4800HS/Intel i7 9750H: Any CPU equal or higher than that will get you the highest FPS on fortnite that is 200FPS+. If this is what you want from a laptop then that should your top priority when looking for one.
If Intel CPUs seem to expensive then check out the ryzen processors, they're more budget friendly and got nothing to envy from Intel Processors.
Another thing….If you plan to record on your laptop then if you go for a purple CPU, your streaming/recording program will be less likely to rob you some FPS
GPU
If you aren't quite adept with computer terminology, please check out my post our post on the sidebar "Computer specs for beginners". Once you do that, you'll be able to grasp what's in this GPU section.
Integrated GPU
These are the cards that come by default with a processor. Although they have come a long way and are capable of sustaining a lot of graphical intensive applications and games succesfully(they can run games at low settings and still make them playable), it just isn't enough if you want to play competitively.
While it is true Fortnite itself isn't GPU intensive( it's got cartoon characters and the environment looks cartoonish too) you're definitely going to struggle during end game if you get an integrated GPU. Early mid game you might be okay though.
If that's all you can afford, then make sure to get a recent "integrated" GPU and you should be able to play the game at the lowest settings.
5 or 6th generation Intel HD cards and AMD Radeon RX GPUs.
Dedicated GPU
Dedicated GPUs
Dedicated GPUs are a must for any type of competitive gaming. But even within the realm of recent and dedicated GPUs you should still be cautious.
| | | | |
| --- | --- | --- | --- |
| Name | Cores | vRAM | Speed |
| MX150 | 384 | 2GB-4GB | 1532 |
| MX250 | 384 | 2GB-4GB | 1582 |
| MX230 | 256 | 2-4GB | 1519 |
| MX350 | 640 | 2-4GB | 1354 |
| 1050 | 640 | 2GB-4GB | 1493 |
| 1050Ti | 768 | 4GB | 1620 |
| 1650 | 1024 | 4GB | 1560 |
| 1060 | 1280 | 6GB | 1670 |
| 1660 Ti | 1536 | 6GB | 1590 |
| 1070 | 2048 | 8GB | 1645 |
| 1070Ti | | | |
| 1080 | 2560 | 8GB | 1733 |
| 1080Ti | 3584 | 11GB | 1600 |
| 2060 | 1,920 | 6GB | 1680MHz |
| 2060 Super | 2,176 | 8GB | 1650 MHz |
| 2070 | 2304 | 8GB | 1620 MHz |
| 2070 Super | 2560 | 8GB | 1770 |
| 2080 | 2944 | 8GB | 1710 |
| 2080 Super | 3072 | 8GB | 1815 MHz |
| 2080 Ti | 4352 | 11GB | 1650 |
AMD
| | | | | |
| --- | --- | --- | --- | --- |
| Name | Shaders | vRAM | Speed | Equivalent(Gaming) |
| Radeon 610 | 320 | 2GB | 1030 | Intel UHD 620 |
| Pro RX 555X | 768 | 2GB | 855 | MX150/MX250 |
| RadeonRX 540 | 512 | 4GB | 1219 | ~950M |
| Radeon RX 550 | 640 | 4GB | 1287 – 1476 | +950M |
| Radeon RX 560X | 1024 | 4GB | 1172 – 1275 | 1050GTX |
| RX 580 | 1536 | 6GB | 1077 | ~1060GTX |
| RX5500M | 1408 | 8GB | 1327 – 1645 | ~1660Ti |
*Current dedicated GPUs found on laptops as of 2021.
The performance out of mobile GPUs today is crazy compared to what it was several years ago. The NVIDIA 10th generation mobile cards can perform ONLY 10-20% less than their desktop counterparts. The RTX architecture is making this gap even smaller. I would say the 7 and 8th generation GPUs easily double the difference between mobiles and desktops.
So the very budget friendly 1660Ti (not even mentioninig the 2060RTX/1070/1080) can basically play any game today at the highest settings at 1080p w/ 60fps.
Add to that the fact that the demand of high graphics at this resolution is slowing down in newer and newer games or expansions (because most of them can also be played on a console) and with a 1660Ti you have what you need for a decent mobile gaming rig that can last you 4+ years (which can be found under 1200$ like the MSI/Acer Predator we went over).
For Fortnite this means that 1660Ti/2060 RTX is pretty much the best purchase you can ever make if you want to have fun with the game and play competitively for several years.
Although there is tremendous jump between the 1050/Intel HD note that there are diminishing returns if you go for the high end GPUs of today(2070RTX/2080RTX) or past generations(1070/1080).
Anyways the whole point is that it helps getting a dGPU but getting a very powerful dGPU doesn't help that much.
Ok…What GPU should I aim for?
Depends on how fast and pretty you want Fortnite to run.
Having Fun: By this I mean good settings, no lag, no input lag, high fps regardless of heavy graphics. Something like 50-100FPS at low/medium settings 1080p. For that you just need something that's not an integrated GPU and modern: MX150,1050, preferably a 1050Ti or an AMD Radeon RX 560X.
Competitive gaming: By this I mean something that can give players like Ninja a run for their money. The card doesn't have to be top of the range: a 1060,1660Ti, or an 2060RTX or AMD equivalents will do. You will get anywhere from 150-200FPS even during 1vs1 fights with settings all maxed out. As for 4k resolutions, you can get 60fps with a 1660Ti at low settings and 60fps with a 2060RTX at medium settings , again at 4k resolutions!
Future Proof: Purple GPUs are really unncessary and won't give you much increase over a blue GPUs but like I said they can be unavoidable if you want the best CPUs (they only sell them as a pair). They may be useful in the future if Fortnite decides to make their game engine more graphically demanding but that isn't likely to happen now, they're doing well as it is.
But if you ever want to play other games than fortnite like CoD which is insanely graphically demanding then they will come in handy. But if it is just good old jolly fortnite than yes put more cash into a better cpu and a blue GPU.
But I heard Fortnite can run on a potato with an HDMI port…Are GPUs like the 1660Ti realy necessary?
I know they may seem like too much just for Fortnite after you read all those "laptop with an HDMI port" comments but check around youtube yourself you'll see that potato laptops (usually w/ 1050,1050Ti, MX150) don't really cut it for High Settings and high framerates and even less so for other games. Although you can still have a lot of fun provided you set everything to low and don't mind low rendering distance aka how far you can see.
If you ever want to venture out Fortnite and still be able to keep up with the expanding gaming industry you should really consider a 1660Ti Laptop or maybe even a 2060RTX. If you venture into more graphically demanding games, sure a 1050ti or 1650 will stand for a year yes, but after that you will be on the hunt again for more power. If you get something which is more expensive but can last longer, you could call it an investment.
What I'm trying to say is buy yourself at least a 1060Ti to rock on this game half a decade.
GPU or CPU Bottlenecking
For people saying Fortnite is GPU intensive, they probably got something like a MX150 or a 940MX and maybe even a 1050 paired up with a decent CPU with the settings set to high so they're GPU bottlenecking.
But if they could actually upgrade the GPU to something more decent like a 1050Ti, 1060Ti, they'll quickly realize that GPU usage will hover around 60-80% and the CPU at 60-80% as well with all settings maxed out.
And if you actually start experimenting with this…and upgrade your rig with a 1080Ti/2080…GPU usage will still be the same. And if you pair that 1080Ti with an unappropiate CPU, the CPU bottleneck will be even more severe because that GPU is processing far more image data than the CPU can keep up with.
This talk may be irrelevant in the laptop world though because usually manufacturers pair up a GPU with the right CPU so bottlenecks are very less likely to happen.
Display
IPS + FHD Screen
All gaming laptops have IPS displays with FHD resolution so don't have to look at their specs unless you're buying a budget laptop below 500$ dollars. Even then if you get a laptop with HD resolution, you shouldn't be playing at FHD resolution anyways, your integrated GPU won't handle it.
Refresh Rates

Like I said before, if your GPU/CPU combo can output 100FPS at epic settings and you got a crappy 60Hz display, then you're just going to see 60FPS. So if you want to get the best gaming experience you should carefully check that laptop's specs or even type the model on google to find out what its refresh rates are.
The main issue is that displays with refresh rates are expensive so manufacturers will rarely put a more than 60Hz display on a laptop even when the hardware can output x3 as many framerates. If they got a 60Hz display, they'll try to hide the fact that it has one. I know, this is crazy? That's why I adviced to check out that laptop's model with google.

MACS (continued)
If you're on Mac, just keep an eye on OSX version you have. The game is definitely choosy when it comes to the Apple operating system.
If you're using any OSX before Sierra like El Capitan, the game will more than likely not run on your system.
And if you got a Mac with specs like this:
Intel HD 4000

Core i3 2.4 Ghz

4 GB RAM
The game is not going to be even playable.
For a Mac laptop, you want at least something like this:
Intel HD 6000

Core i5

8 GB RAM 3 DDR3

Mac OS X Sierra
To play at the bare bone minimum settings.
Only high-end or the recently released Macs feature standalone dedicated GPUs have enough power to support FHD resolutions at medium settings. They're really the only models that will be able to give you the full Fortnite experience.
Here's a good guideline to follow:
MacBook: Not recommended.
MacBook Air 13-inch: Maybe. Depends on the year. 2017+ will be OKAY at 720p.
MacBook Pro (with Intel Iris Pro Graphics): Great for 1080p at minimum settings.
MacBook Pro (with Radeon Pro 555 or 560): Great for 720p-1080p at medium.
iMac 21.5-inch (with Intel Iris Plus Graphics 640): 720p low settings playable +30-40 fps.
iMac 21.5-inch (with Radeon Pro 555 or Pro 560): Great for 720p-1080p at medium.
iMac 27-inch: Recommended. High settings.
iMac Pro: Recommended.High settings.
Mac Pro: Recommended.High settings.
Mac Mini: Not recommended. Not recommended. Unplayable at the lowest.
Even with a nice powerful and recent Mac that has a dedicated GPU you may not be able to run the game sometimes (it'd be best not to update the OSX unless you know for sure there are compatibility issues).
Epic Games doesn't focus much of their attention on the Apple systems so there will be a few long time bugs that will have to be resolved and will keep appearing in the game over the years (as the OSX keeps updating itself).
Issues like texture issues, bad frame rates and being stuck in the loading screen are pretty common. Again don't update your system unless you know for sure it wont wreack havoc with Fortnite.
If the Fortnite update turns out to be the issue, then try reinstalling Fortnite on your Mac. If that doesn't work, I don't suggest you buy a new computer just wait a week see if it's resolved by Epic games.
Best performance Settings
Here's a cool post by MetaBomb on how to get the best performance out of your rig by lowering down the settings just right so as not to affect your ability to rock the game . Also check out this post to get the best keyboard settings to bump up your gaming.
Here are a few more tricks to get some FPS I found:
Disable replay recording. I got more than 100 fps doing that

Try adjusting the resolution scale to like 79%

Keep everything at low except for textures and view distance (at far)

Close the fortnite launcher after you launched the game and make sure steam isn't running in the background or any other programs.

Enable FPS cap in the ingame settings.

Turn off things you dont need such as Shadows and post processing

If you have nvidia shadow play, try turning it off then back on.

Check out this video get 20-30FPS… https://www.youtube.com/watch?v=wZ1R8KK7uik

Uninstall the drivers of your GPU with DDU and reinstalling them

Put fortnite on high priority, and turn off game bar

If nothing else gives you a decent FPS, then as a last resort put the view distance to Low
Here are a few more pages that might help with settings: Techcenturion, Driverseasy and gamingscan.
Comments?
If you have any comments, suggestions, questions or recommendations on how to find the best laptop for Fortnite . Please let me know in the comments below, I'll try to answer as soon as I can.