The 10 Best 17 inch Laptops in 2020
Once you've had the best 17 inch laptop, you can't go back! That's has been true for me since the first time I was introduced to laptops back in 2006.
While some people may just find it a bit annoying to work with smaller screen laptops, the rest of us MUST work with the largest screen sizes possible.
Sure a desktop works but we can't lug that thing everywhere.
Just Imagine how ridiculous it would look to carry the CPU with one hand and the monitor with the other?
ok enough with excuses….so what are the best 17 inch laptops?
Well that depends. Not all of us are after "beast-like" "let the beast run wild" laptops with a top of the line graphics card & the most recent multicore processor jammed into it.
Some are just simply after the larger display and the decent performance of 17 inch laptops.
If you are going to lug this thing to conventions, LAN parties or when traveling, then you also want to consider the form factor & perhaps battery life because let's be honest most 17 inch laptop's batteries run dry like the sahara and weight as much as collapsing neutron star.
Of course there are people who don't care about weight & battery and are only after the uggliest monsters out there because their high performance.
The issue is with these monsters is that most of them have terrible quality control from manufactures, that is, they either overheat or perform poorly.
So you not only want to make sure you get the best specs/money ratio but a great design & cooling system. This will dictate how much you far you can push your laptop and how long it should last you.
Top 10 best 17 inch laptops in 2019
So what I'll do here is to start with a list of the top 10 best 17 inch laptops for just about anything: be it high end-gaming, 3D modeling, photo, video editing or just for basic business / school work / simple games.
I'l leave the exact details of what every user needs to look for (gamers, programmers, graphic designers,etc ) at the end of this section. Give it a read if you are not sure what specifications you need to look out for
By th way, all laptops shown here have the best specs/money ratio and more or less a decent cooling system (that extra weight has to be worth carrying around, don't it?).
Also don't be scared by the price (or the power), just keep scrolling down and make sure to go over all 10 of them until you find one for your budget & needs.
---
Best 17 inch Gaming Laptop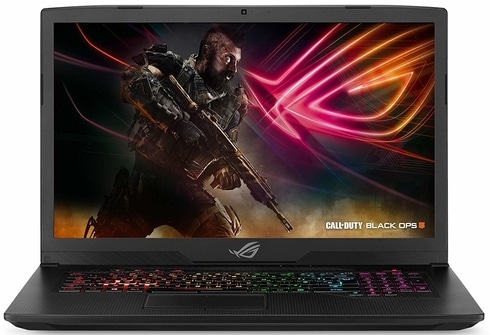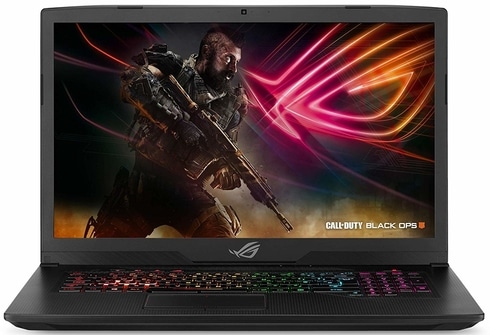 Core i7 8750H 4.1GHz
16GB RAM DDR4
NVIDIA GeForce GTX 1070 8GB vRAM
256GB PCIe NVMe SSD+1TB FireCuda
17" 144Hz full HD IPS
6.5 lbs
5-8 hours
1 x Headphone-out & Audio-in Combo Jack 1 x RJ45 LAN Jack for LAN insert 1 x HDMI 1 x mini Display Port 3 x USB Type-A 3.1 1 x USB Type-A 2.0 1 x USB Type-C 3.1

People talk about ASUS knocking this one out the park, more like, out into orbit.
Look, I've been a FAN of ASUS for about 10 years. Why? because their cooling systems which keeps their models fresh like kool & the gang and up and running for years.
From the vast of laptops I've had the pleasure to tinkle with. This one right here is the best deal you'll find online, it has zero flaws in design, nothing, nada! And it gives you top of line hardware with the best specs/money ratio out there.
I'm sure every power user out there: hardcore gamers, video editors or CAD engineers/animators will surely find useful no matter what kind of settings/models/projects they throw at it.
Ok this review is going to be a bit too long but you should learn a thing or two about 17 inch laptops & their specs when you look at other options, so try to bare with me.
Let's start with the hardware:
Hardware
The first impression for most of you is the 1070GTX which along the 1080GTX is currently the top of the line graphics card from NVIDIA.
NVIDIA as any gamer would tell you is known for great graphics performance (not just for gaming) and loud fans (more on this later).
Laptops with either of these two are designed for high end gaming but they can also be used for really complex 3D work,be it: modeling , CAD or animation, definitely video editing. I don't want to get into details but for most situations they perform better than "workstation cards" now.
The CPU here is extremely common for high end laptops.
Why?
It's just too good: solid six core + 4.1GHz has proven to just work for just about everything during the past year even for very extreme situations&loads.
Since multithreaded is activated on core i7 laptops, your CPU monitor will show "12 CPUs" working simultaneously: that's more than a dedicated Xeon Server!
Now the display:
144HZ + IPS + full HD is the ultimate combo for gaming (though the IPS+HD is useful for everyone else ).
Refresh rates this high (most have 60hz) not only gives you an advantage when gaming but you'll find easier on the eyes if you use the computer for very long sessions. If you're coming from a measly 60Hz TN display, it will blow your mind!
Now the storage, the takeaway is the PCIexpress SSD, which is the fastest out here and only found on the 99th percentile of laptops. This means launching everything like the fast and furious and booting up your machine in literally ~5 seconds flat.
Performance
This isn't the laptop with the highest performance out there (that would be #3 on this list) but the 1070GTX+Core i7 H should let you to do pretty much anything you want.
Gaming: will run just about every AAA game at 1080p on max settings. Fornite w/ 200-450fps (doing nothing – moving). PUGB w/ 100fps, Overwatch 250fps+. WoW +100 fps with all video settings maxed out and so on.
3D modeling: the 1070 GTX is kind of overkill for most CAD users out there but it'll let you simulate/model the same kind of projects you'd do with a workstation gfx card.
More specifically a 1070GTX is overkill for AutoCAD & Revit (they only use up to 6GB vRAM) but the CUDA cores come in handy for modeling with solidworks(with asemblies in the thousands) & also with any type of GPU rendering software.
Animators (3DS Max & Maya) will get the most benefit of the 1070GTX, both the vRAM & CUDA cores are more beneficial than any workstation graphics card. I have an entire article on this topic.
Video/Photo Editing: This is overkill just photo editing. The specs are more beneficial for video editors, you get 6 CPU cores to export videos as fast as you would with a desktop( the limit is actually six according to benchmark studies). While 4.1GHz will let you apply effects quick and neat on very long timelines (~hours) thanks to the 16GB RAM.
Design
Look, when you buy a laptop with all of that under the hood like this. Your biggest worry should be the design: how well the system can keep itself cool under high loads.
I'm happy to say this one excels at that. The only con? Loud fans. But who cares? This machine will last you forever so just use headphones.
Most gaming laptops like this also come with a "turbo-boost" mode for the fans.
This "overboost" button, as ASUS calls it, will activate the fans into overdrive that's when not using headphones is no longer a choice.
In fact, I advice any power user to buy a cooling pad just to be on the safe. You don't want a melted CPU & GPU and 2000$ down the drain right?
A few more things you should know:
Looks: It's subtle, you can bring this everywhere without looking like a game freak, this is important for any non-gamer looking for high performance and those who don't want to draw any attention at the office or school.
Battery life: It's bad. It's a gaming laptop. It's expected. 3 hours with light tasks, 2 hours with light gaming, 1 hour with very intense gaming.
Speakers: they're good which is as you'll soon find out, it's rare for a gaming laptop.
Upgrading: Easy. Only have to remove one screw and you'll have everything exposed for you to stick another 16GB RAM and a M.2 Drive.
Keyboard: nothing to remark, it's nice & responsive.
Trackpad: you'll be using a mouse anyways but it's alright.
---
Best 17 inch Gaming Laptop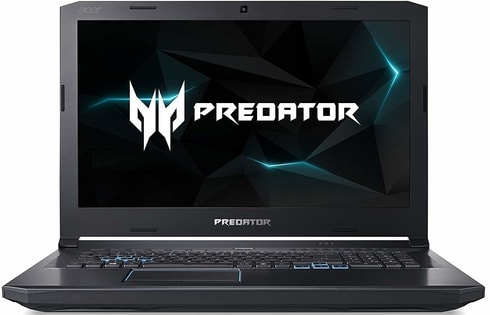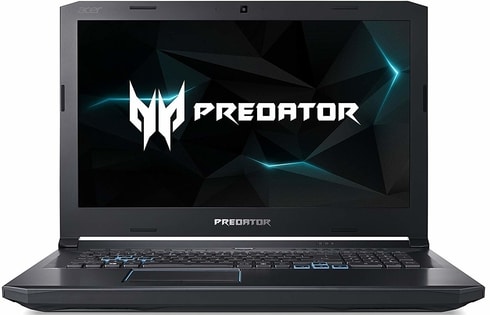 Core i7 8750H
32GB RAM DDR4
NVIDIA GTX 1070 8GB vRAM
256GB SSD PCIe NVMe + 1TB HDD 5400 RPM
17" Full HD IPS 144Hz G-sync
8.82 lb
3.5 hours

The ASUS Rog Strix's biggest rival is this Acer Predator. Has the same price, same specs therefore the same performance but there's something to look out for.
Hardware
Pretty much same hardware. Like really exactly the same thing with the ASUS logo taken out and replaced by a Predator icon.
Performance
Everything you can do with the ASUS Rog Stris Scar Edition, you can do with this one, that is….
Design
If you don't mind the "battery wailing" issue which happens in some units. Basically you'll get CPU & GPU throttling and all of that shenanigans if your battery goes below 40% ONLY if you are throwing some pretty intensive & long sessions of gaming.
However, if you just keep it fully charged and plugged in, you'll be alright. Long story short, this is caused by the battery being too small for the laptop's cpu & gpu power consumption.
Other than that, the most important issue here, the heat,is fully taken care. No matter how much you overtax the system, according to third party testers (users) the temperatures for CPU & GPU haven't gone past 68 & 55 respectively.
There's not much to say about the rest of the shenanigans: keyboard, speakers, trackpad, battery are all good and what you'd expect from gaming laptops.
---
Eats anything thrown at it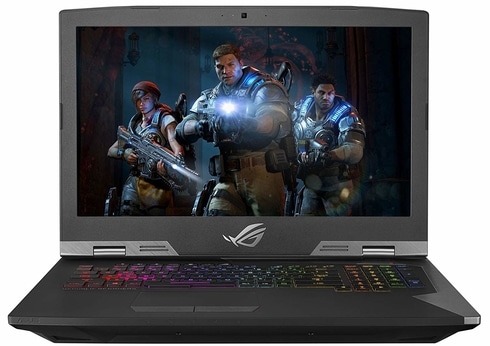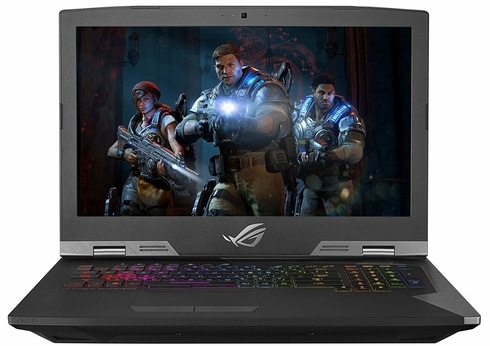 Core i9-8950HK 4.8GHz
32GB RAM DDR4
NVIDIA GTX 1080 8GBvRAM
2x256GB PCIe SSD + 2TB FireCuda SSHD
17.3" 144Hz full HD IPS G-Sync
10.35lb
>1hour*

I've decided to put this monster on the list for those who've used a powerful desktop in the past and didn't want to downgrade on performance with their brand new 17 inch laptop.
Hardware
I bet what's drawn your attention Is the processor. Well this bad boy is nothing to take lightly, in fact, it takes two AC adapters to keep it running and they both need to be plugged in!
The Core i9 processors are basically the Core i7 processors "unlocked", that's what the K stands for, they can hit the highest clock speeds with no restraints just like a beast let out of its cage and running wild destroying everything on its way.
No but seriously, since the clock speeds hit almost 5GHz and we are still talking about laptops, it needs PLENTY of ventilation, hence the size and weight of this monster.
The extra space also allows for 4 storage drives folks! With about a total of 2.5TB of space of the fastest drives from SSDs( PCIe NVMe) and HDDs(HDDs mixed with small SSDs).
The display along with the 1080GTX(we'll get to it soon) also allows you to play 4k gaming/video editing(with an 4k external monitor) .
Performance
There are no words to describe what this monster can do. I've made fun of it on several of my posts so I don't even know what to say here without sounding repetitive so to make it short & sweet: it will eat anything you throw at it.
It's all about the 1080GTX which has around +2.5k CUDA cores extra and the ~5GHz CPU.
More specifically:
Gaming: It will chew & spit any game thrown at it: Skyrim, Witcher 3, Rust, Sniper Elite 4 and any other triple AAA game with high graphics, it will do so at "beast settings" too.
Even the most extreme battle encounters: all players beating the crap out of each other all popping out their special moves at the same time will get you +100 fps.
3D Modeling: Not much improvement speaking of viewport FPS/navigating through a complex mode/scene over the 1070GTX since they have the same amount of vRAM.
However…+600 CUDA cores will make a huge difference with GPU rendering along with the +1GHz from the Core i9, you'll render skycraper in less than 10 minutes. Actually, the 32GB RAM also counts towards this (in fact it helps better than the GPU , check my other posts on CAD software for more info).
Editing: The +2.5 k CUDA cores along with the ~5GHz cock speed will be obvious during video editing. Exporting times will decrease significantly and the +5GHz paired with the 32GB RAM will make applying effects on very very long footage (measured in hours) snappy.
Design
You don't need to worry about durability and built, this thing is heavy and rock solid enough to crack the floor open if dropped.
The size also allows for more ventillation , bigger and better fans and so on, needless to say there's no thermal throtting whatsoever, no overheating apart from the warm keyboard all gaming laptops have.
If there's an instance where you feel the temperature's too high, you can activate the "OverBoost" mode which will kick in the fans into overdrive.
---
Best MSI 17 inch Laptop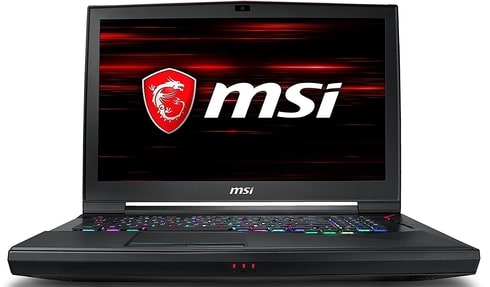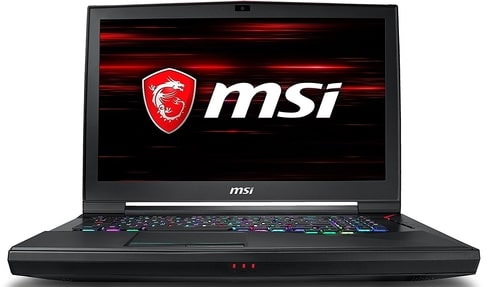 Core i7 8850H 4.1GHz
32GB RAM
NVIDIA GeForce GTX 1080 6GB vRAM
2x500GB NVMe SSD RAID + 1TB HDD
17.3" Full HD IPS 120Hz
5.95 lb
>1hour

ASUS isn't the only player in town with a Core i9 laptop. There are several other choices you can consider, especially if you want to make it cheaper.
This MSI model has the same hardware: CPU & GPU & Storage and it's easily upgradeable. However the refresh rates have been reduced 120Hz and the memory size to 16GB, this makes the price go down by almost 700$ dollars.
---
Best 17 inch Laptop Deal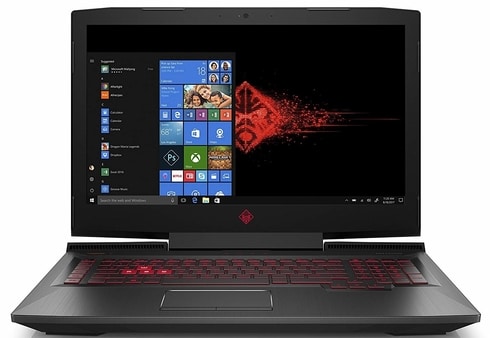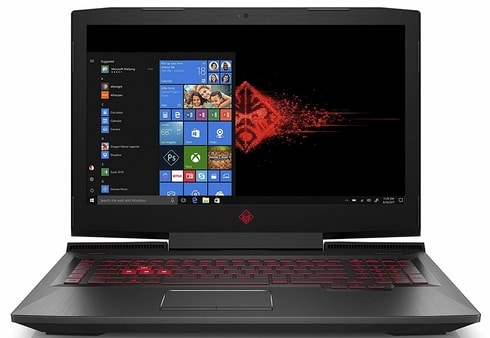 Intel Core i7 8750H
32GB DDR4
NVIDIA GeForce 1070GTX 8GB vRAM
1TB HDD 7200RPM+128GB SSD PCIe NVMe
17.3" full HD IPS 144Hz
8lbs
4 hours

Enough with the expensive beasts, let's start with move with most affordable options.
That would be laptops with a 1060GTX or below.
I know I know a few of you are already put off by the "HP" brand but you should seriously consider this model.
There's simply no better deal (as of 2019) equipped with a 1060GTX. What's so good about this HP OMEN and the 1060GTX?
Hardware
Well….if you are still able to find this laptop on Amazon…
The relatively smaller price tag will still max out on pretty much everything except the graphics card. You still get the best CPU, RAM (2666MHz), PCIe NVMe + 1TB HDD, display and so on.
So the main botteneck is the 1060GTX which has around 1/2 the CUDA cores of the 1080GTX and -2GB vRAM.
Performance
Gaming: It's still able to deliver quite a punch for gaming, you do not step into "light gaming" territory or "medium settings" just yet.
You'll still be able to play at the highest settings but you'll only hit 60fps on FPS games ike OverWatch but +100fps on games like PUGB. Mickey Mouse games like Dota 2 or LoL: +150fps for sure.
3D Modeling: This is actually perfect for software like AutoCAD/Revit which do not benefit going beyond 6GB vRAM.
Animators using 3DS Max/Maya will not suffer either, you'l still be able to throw in pretty complex scenes & modes with tons of rigs/polys no problem. However any rendering software that depends on GPU wil take a bit hit (relatively speaking) if you step down from the 1080GTX which has x2 CUDA cores.
Editing: Less CUDA cores and less vRAM means longer times to export videos . But essentially the 1060GTX, 1070GTX and 1080GTX have been to shown to have the same performance except for a few situations( exporting from high resolutions to lower resolutions).
Design
Believe it or not, the HP Omens have great cooling systems.
Fans work perfectly but they're noisy. Maximum temperatures are around 85*C under the heaviest loads you can think of, no need for undervolting (unless you get a defective unit).
A huge problem is the 128GB SSD, which is miserably low. You'll quickly run out of it , easy to upgrade though. Another one is the weight, it's way heavier than it's competitors.
Lastly but not least, there's not an integrated GPU in it, only the full blown 1060GTX. What does that mean? If the 1060GTX ever fails, you need to buy another computer. Well, you would if that happened with any other laptop. Who wants a laptop with an Intel HD Card?
---
Best 17 inch Laptop Under 1000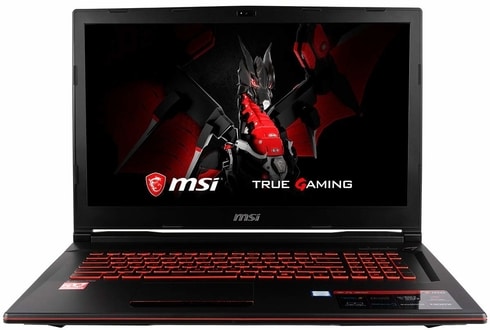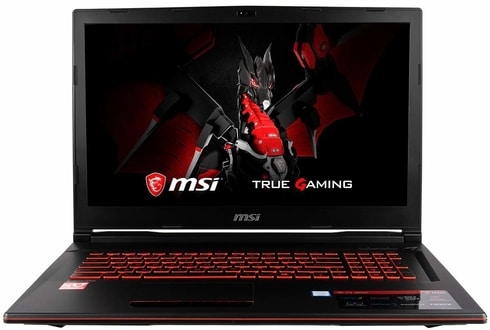 Core i7 8750H 4.1GHz
16GB RAM DDR4
NVIDIA GeForce GTX 1050Ti w/ 4GB vRAM
256GB SSD SATA III
17" Full HD IPS Anti-Glare 120Hz
7.2lbs
5 hours

No

mdi-icon name="memory" size="2x" color="gray"]Hardware
As you can see this model (and provider) offers you the option to customize your purchase. All of the models have a 1050ti .
If you can push your budget a little further, you should pair it up with a nice SSD, it's only +20 bucks! But the difference in overall computer performance is enormous. You'll still have your computer go from black to white and viceversa within seconds and read large files in a flash.
Anyways with the specs shown here it's sti under 1000$.
Performance
All things being equal, CPU, RAM, SSD, the main bottleneck would be the 1050ti, be it for gaming, editing or 3D modeling.
The 1050ti is more or less an entry level card on turbo mode.
Gaming: It's still considered a "gaming card" since you'll be able to play all high graphics AAA titles at medium settings with +60 fps. Non-graphically intensive games like battleground arenas will hit +100fps with all settings maxed out however.
3D Modeling: Most engineers & animators working independently usually deal with moderate simulations for which the 960MX back in the days was touted as the best option around the web. The 1050ti offers almost exactly the same performance so it's a good choice given that 960MX laptops are pretty much non existent today.
Editing: This is also a great option for photo editing, the card isn't expensive plus you get all the benefits from having dedicated RAM. Professional video editing should really be done with a 1060GTX and above, the 1050ti a good place to start though.
Design
There have been no reports with the over heating so far. Since this is not for "heavy gaming" you aren't likely to experience high temperatures either unless you ovetax the system with very long sessions of gaming.
You can expect the same cons from gaming laptops though: bloatware, average sound system, weight.
The battery life however is a bit above average (5 hours) this is due to the less powerful 1050ti.
Keep in mind that it will be much less (~3 hours) if you opt for a mechanical drive.
---
Best Lightweight 17 inch Laptop
16GB RAM DDR4
NVIDIA GeForce GTX 1050 2GB vRAM
1TB HDD + 256GB SSD
17" full HD IPS

When I started this post , I mentioned a few of you wanting a portable 17 inch laptop with plenty of punch to game, edit & design, take to conventions, Lan parties and so on. This is the most portable (yet cheapest) you'll find with a few cons.
Hardware
To make this device portable, the Core i7 8750 was taken out and replaced with a Core i7 8550U processor.
Core i7 processors with the U label consume much less power but usually have less cores (in this case it's 4 vs 6). The clock speed still remains almost as high however (4GHz).
So the processor is still powerful enough for any high graphics application and it's a better choice over the Core i7 7700HQ laptops you'll find at a bargain today.
Although it does perform 5% worse than 7000HQ processors, it has much higher clock speed & the same number of cores while consuming much less power (15W vs 45W) and less power means: less temperatures more battery life.
Another great thing about the hardware on this one is the storage. The dual SSD+HDD set up is a great idea to get the benefits of the quicker SSD+ all the storage size from HDDs. If you work with high resolution images/videos, you know how useful this is.
Lastly, the display is nothing short of amazing. Vibrant Colors, great contrast ratios. The keyboard also has easy access to lower/rise brightness levels.
Performance
Note that there are only a few applications, very few, who take advantage of multicore CPUs & multithreading and yes gaming is not one of them, it's mostly calculations, that is, rendering that will take a bit hit from four cores you get from this "U processor". So again the whole shenanigans is mostly about the 1050:
Gaming: The 1050GTX is designed for light gaming.
You won't hit 3 digit fps at ultra high settings. High Graphics games like Wow, OW, PUGB, Raibow Six Siege will mostly BE limited to medium settings ~50-60fps. Mickey mouse games like CS:GO, Dota 2, LoL Will hit past +150fps though. You don't have the refresh rates to actually appreciate anything above 60fps so..
It's more for games like: City Skylines, Tropico 5, Sims,etc, where graphics isn't part of the overall gaming experience.
Editing: Likewise this is mostly for photo editing especially if you use LightRoom heavily. You can lunch LightRoom, Illustrator, PhotoShop, IndeSign + the RAM eater chrome to publish your stuff right after no problems.
3D modeling: since this is an entry level card, it's just good enough for simple models simulations scenes and those who want to get started with CAD/Animation software.
Design
There' a lot to say here. Given the compact & thin form and despite the low power processor & GPU, what you should worry about is temperature control.
Heat:
There are some pros & cons about heat. First, heat is exhausted to the sides, meaning you won't get get a hot keyboard.
The machine does get hotter over time under high loads, the dual fans do control this well but unfortunately they're louder than Whitney Houston and her song "And IIIIIIIIIIIIIIIIIIIII….".
If you overtax the system there will be thermal throttling, that is, the CPU will downclock to 3.1GHz. This is a huge performance drop but be it with downclocking, loud fans, the system keeps temperatures at safe levels all the time.
Upgrades: There are good and bad things here too. The good news is that you can install a PCIe NVMe SSD (the fastest storage) however given the thinness and form, it's a pain to upgrade, you have to remove both the keyboard & motherboard to do so. I would not advice you to do it unless you are used to tinkering with laptops.
Sound: Speakers are excellent almost like a TV ! Sound is rich, bass clear and loud, the best speakers from the entire list.
Keyboard: Given that most of you want this one for work, the keyboard becomes essential. Im happy to say that the keyboard is top notch along with the trackpad, they tried to copy Apple's with some success.
Port: keep in mind that this laptop does not support video from USB-C, so you can't connect multiple monitors. The description may say otherwise.
Battery: It's not great but it's not bad either. 3 hours under heavy load. Moderate usage 5-6 hours and with light tasks (web browsing).
Weight: it's around 1/2 lb heavier than the description (the description is for the base model). All models are still relatively lightweight and thin so there should be no problems finding a laptop backpack this time.
---
Best Cheap 17 inch Laptop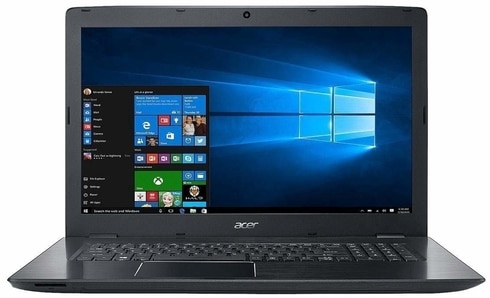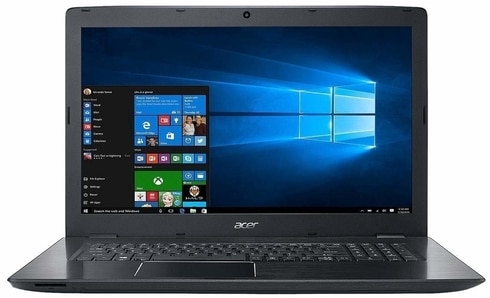 Core i5 7200U
8GB RAM DDR4
NVIDIA GeForce 940MX with 2GB GDDR5
256GB M.2 SATA III
17" Full HD Matte TN
7.27lb
5.5h


This Acer Aspire is an old model and you'll probably have a hard time finding. It's a nice & cheap gem that will surely be out of stock by the time you are reading this due to the recently released 10th generation gfx cards & the 8th generation CPUs.
Hardware
Yes yesm, the CPU & GPU are a generation behind, the Core i5 7th generation only hits +3GHz and the GPU is only x4 faster than Intel HD Cards.
However, it's 10th generation counterpart: MX150, holds the same amount of vRAM and is only 1.25x faster. That's the one I currently have and honestly speaking, the difference in performance in minimum for me (I've also had a 940MX laptop which is at the laptop graveyard- my closet).
A huge plus is the SSD it comes with, there's not many (if any) 17 inch laptops with an SSD below 600$ and much less with any dedicated GPU in it.
The SSD, while not a PCIe NVMe SSD, will still boot up your system within seconds so you can forget about brushing your teeth while waiting for Windows 10 to start.
Performance
Gaming: you can still game at medium settings while holding a decent 40fps in games like WoW and OverWatch.
3D Modeling: this is an entry level card and it will only handle models/scenes at a beginner level. If you are teaching yourself animation/CAD software, that is, if you are still in school, the 940MX is plenty.
Editing: This is not a good graphics card to throw in serious video editing. The Card is better suited for Photo editors who only need a dedicated GPU , that is, a GPU with its own "RAM" to take full advantage of accelerated effects.
Design
One of the huge issues with this model is the 256GB SSD.
I myself have one with 256GB SSD but I still have around 100GB left. Why? I don't have any heavy files on it only WoW with all its expansion packs.
Most people will run out of space within minutes though, OverWatch , Fornite and a few videos and high resolution images + your phone back up, will quickly fill it up.
One of the best things about these lower-end models from Acer is how easy they are to upgrade. Even 3 year olds can install another RAM stick + another storage drive in literally 3 minutes.
If you do happen to run out of space, I recommend a hard drive from Western Digital.
Heat? Laptops with these CPU & GPUs do not overheat….you won't hear loud fans nor fry an egg on the case , ever.
---
Intel Core i5-8520U (up to 3.4GHz)
8GB DDR4
Intel UHD 620
1TB HDD 5400RPM
17.3" HD+ TN
6.17lb
3.5h max

There's not much to talk about this one either. This a nice laptop for anyone who doesn't need high graphics , that is, basic users, business people who actually use a computer for what they were built for in the first place, etc.
Although there are no "graphics cards" on these models, the processor is the latest from the Core i5 family. In fact, it's way too much for light tasks (clock speeds are almost 3.5GHz) zbut definitely the best for heavy multitasking (it has four cores).
In fact you can run some AAA games( with everything set to low and disabling any setting too) with 30fps.
A few things to keep in mind:
– Has a USB-C port you can actually use for external monitors
– Bright display
– Great keyboard (as expected from Lenovo)
– No Audio issues
– Easy to upgrade
---
Best 17 inch Laptop Under 500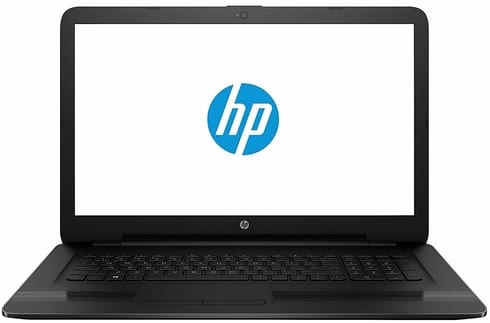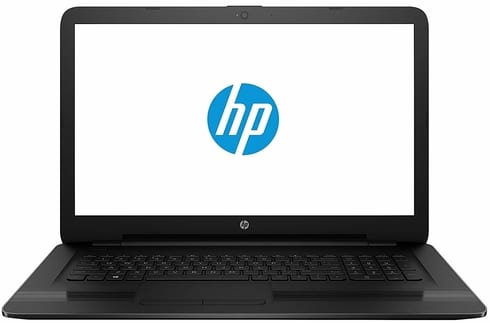 Core i5 7200U (Up to 3.1GHz)
8GB RAM DRR4
Intel HD 620
1TB HDD 5400RPM
17" 1600×900 HD
5.84 lbs
6 hours
DVD/CD burner
I know I know not another one. Folks, the thing is HP has the most affordable options when it comes to non-gaming laptops. I have had several of them in the past, yes, had, they no longer work but that's because they died of old age.
You do have to be careful when shopping for this brand though. Make sure the flaws (there'll always be some flaws) aren't fatal or put your laptop into a life or dead situation.
Hardware
Anyways this HP model is around ~50 bucks cheaper than the Lenovo above except that the processor is a generation behind. There's a huge jump in performance from a 7th generation and 8th generation so I'd recommend avoiding this model if you can afford the Lenovo.
Still a 7th core i5 generation it's much more powerful than the AMD quad core processor you'll find around this prince range. You also get 8GB RAM which is the bare minimum to run Windows 10 and be able to do some work.
The monitor is okay: bright display, HD+ resolution, no artifacts & bleeds.
Performance
You'll be able to do pretty much all the things you can do with the Lenovo: multiasking is fast and nice. Web pages will load quickly and you'll be able to store all kind of stuff (photos, games, videos, music) with 1TB.
Believe or not, you can still game with this thing, yes "this thing". Though not a gaming laptop, actually the total oppossite a "non gaming laptop", you can play old games ike Heroes of Might, AoE (my old time favorite) and any 2D games along with micky mouse battleground arenas ike LoL, Dota 2 and old fps games ike CS.
AAA games with high graphics (Fornite for ex:) wil only run at the lowest settings possible with every single feature turned off.
One very good tip when you have a laptop like this is that you should never even come close to fill up your storage device. Oh boy, if you do, you'll have wait painfully LOOOOONG for anything to load up. Use an external device to keep it at least at 75% capacity.
If you ever find 50$ bucks on the floor, add an SSD, it can even make an HP laptop fly, they're that powerful.

---
How To Buy The Best 17 inch Laptop
Us 17 inch laptop enthusiasts are after the best possible viewing experience from laptops paired with a just the necessary performance for whatever we do with computers.
So what I'll do here is go over the display features you need to look out for and then go onto quickly suggesting what specs you should get your laptop with for whatever you are doing: gaming, 3D modeling & video editing, etc.
Display
Resolution
Resolution is not just important for watching movies/gaming with high details.
Full HD: if you want to multitask and I mean really multitask; all windows open next to each other. The best thing to do is to get pair a 17 inch display with anything equal or above to full HD. Look what I can fit in with both.
HD or HD+: These are 768p and 900p resolutions respectively. These are much cheaper but low resolutions will limit the amount of space you have.
This is what I mean, look at the difference: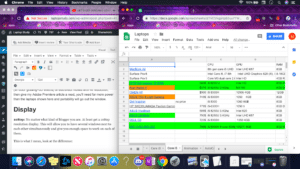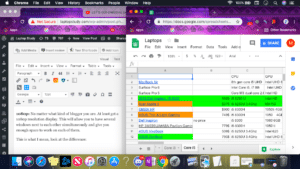 Check how much more space there's on the left for excel. The above was done with a 11 inch MacBook Air, the difference with 17 inch display is more impressive.
4k resolutions
It might not be such a good idea to opt for 4k displays even if you are into 4k video editing:
Most software out there are not optimized to work well with anything close to 4k resolution. In fact, most games can't output 4k resolutions either.

4k resolution displays along with a 17 inch screen will also give you only a few hours (2 at the most) of battery life. More pixels = more energy.

You can't do 4k video editing because you still need space for tools, timelines, leaving you with a small window to edit your video for which the reduction in size will also scale it down way below 4k.
IPS vs TN displays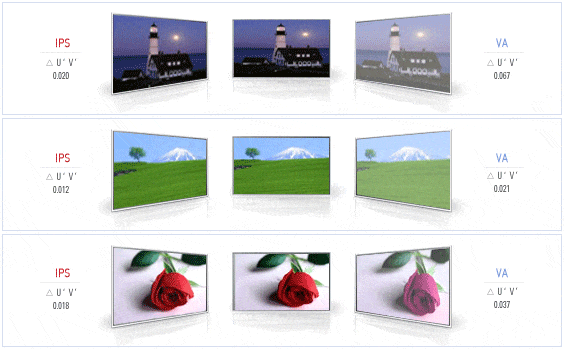 IPS is compared to VA (which is better than TN displays). The middle is the true image.
IPS
These give you the best viewing angles, that is, no matter from which direction you look at the screen (90 or 110 degrees), images will look more or less the same.
But that's not the entire reason to choose one over TN displays, these also have better color accuracy.
Color Gamut
In photo editing language that means they cover a lot more space of the color gamut and this is measured in percentage. It roughly means they can reproduce about 95% of the colors set by a special standard (there are infinite amount of colors in the real world of course).
The best IPS displays out there can output +95% of the sRGB standard but +85% is enough to fit in the "decent category.
However if you plan in becoming a professional photo or video editor, you should really invest on an external monitor rather than relying on your laptop for color accuracy. Desktop's allow you to calibrate for color accuracy and output much higher resolutions with far more gamut.
TN
They don't have good viewing angles & are less color accurate but they consume much less energy (therefore give you longer batteries). For the average Joe, these are fine (I used one myself for years with no complaints).
Brightness & Contrast Levels
Ok these two features are hard to measure with laptops.
Manufacturers will never list these along side laptop specs but you can get a pretty good estimate by reading user reviews on amazon, reddit or laptopmag. Note that only a few popular & recent models get to be tested in this department.
Brightness levels: dictate how bright your screen can get. You want anything above +300 nits if you spend time in highly illuminated areas such the office/library and ~500 nits to be able to work outside with the sun right on your face.
Contrast Levels: Basically if you are nitty picky about watching movies or playing back videos with your laptop. You need to check reviews on laptopmag or notebook check if there's anything said about contrast ratios.
Low contrast ratios will distort the darkest and lightest colors which will start to look about the same.
Here's a classic example:
You obviously want your display to replicate the right side.
The good news is that laptops seldomly have bad contrast ratios but a lot of them horrible brightness levels. Luckily, brightness levels are one of the first things reviewers or users report.
Performance
What kind of people are after 17 inch or even 20 inch laptops ?
I'd hate to into details and explaining exactly what specs and why you need each on this post. I'd have to write several thousands of words.
For now I'll summarize what you need in terms of computer specs but you can get all the details by clicking the the links above. Each link will take you to a "best laptops for…." post and at the end of the section is a guide explaining what the specs mean & what they can do for whatever software, game you wish to run.
The specs shown below the bare minimum you should aim for, you can always opt for other or better CPUs, more RAM, etc. (— means any)
| | | | | |
| --- | --- | --- | --- | --- |
| Home Use | CPU | RAM | GPU | Storage |
| Entertainment | Core i5 | 8GB | —- | —-[2] |
| Watching Movies | Any | 4GB | —– | 1TB HDD |
[1]8GB RAM is only useful for multitasking or to go crazy with internet tabs (+20).
[2]An SSD is optional but highly recommended

| | | | | |
| --- | --- | --- | --- | --- |
| Gaming | CPU | RAM | GPU | Storage |
| medium settings | Core i5 8250 U | 8GB | 940M, MX150, ,1050,1050Ti[3] | SSD[4] |
| ultra settings | Core i5 8300H | 8GB | 1060GTX,1070GTX,1080GTX | SSD[4] |
[3] These are listed in order of performance each giving you more fps and the 1050Ti let you play with high settings with decent fps
[4] A must for Open World MMORPG games

| | | | | |
| --- | --- | --- | --- | --- |
| CAD software | CPU | RAM | GPU | Storage |
| Small models[5] | Core i5 8250 U | 8GB | 940M, MX150, ,1050,1050Ti[8] | SSD |
| Large Models[6] | Core i5 8300 H | 16GB | 1050ti GTX, 1060GTX,1070GTX[9] | SSD |
| Special Cases[7] | Core i7 8750 H | 32GB | Quadro or FirePro | SSD |
[5] Around 100 part assemblies.
[6]+500 part assemblies
[7] Extremely large models & the use of plugins/add ons.
[9] There's no benefit of using a 1080GTX over a 1070GTX for any CAD software. AutoCAD doesn't benefit much from 1070GTX over 1060GTX either.
| | | | | |
| --- | --- | --- | --- | --- |
| Animation | CPU | RAM | GPU[12] | Storage |
| Basic scenes[10] | Core i5 8250 U | 8GB | 940M, MX150, ,1050,1050Ti | SSD |
| Complex scenes[11] | Core i5 8300 H | 16GB | 1060GTX,1070GTX,1080GTX[9] | SSD |
[10] Basic scences such as those when introduced to 3DS Max or Maya
[11] ~ +18m polys and +80 lights
[12] GPU performance is measured in terms of vRAM, the higher the vRAM the better the card for animation.
| | | | | |
| --- | --- | --- | --- | --- |
| Programming | CPU | RAM | GPU[12] | Storage |
| Coding/Compiling | Core i3 7100 | 8GB | —- | — |
| Web Development | Core i3 7100 | 8GB | —- | — |
| App Development | Core i5 8250U | 8GB | —- | SSD |
| Virtualization | Core i5 8300 H[13] | 16GB | 9th or 10th gen GTX[15] | SSD[14] |
[13] This is the bare minimum, the higher the number of cores the better.
[14] A must for virtual machines.
[15] Optional: CUDA cores from GPUs act as extra core for parallel computing.
| | | | | |
| --- | --- | --- | --- | --- |
| Photo Editing | CPU | RAM | GPU[12] | Storage |
| Photoshop | Core i5 8250 U | 8GB[16] | 940M[17] | SSD |
| Lightroom | Core i5 8250U | 16GB | 940M | SSD |
[16] As numerous layers, effects, high resolution images(panoramas) are added 16GB becomes necessary
[17] Photo Editing software only needa dedicated GPU it doesn't matter if its low end or high end.

| | | | | |
| --- | --- | --- | --- | --- |
| Video Editing | CPU | RAM | GPU[12] | Storage |
| Small TimesLines<60min | Core i5 8250 U | 8GB | 940M, MX150, ,1050,1050Ti | SSD |
| Big Timelines ++60min | Core i7 8750H | 16GB | 1060GTX,1070GTX[18] | SSD |
[18] More vRAM for bigger time lines to increase exporting times & previews.
[19] No point in going for 1080GTX, the amount of vRAM is the same and benchmark studies show about the same performance as 1070GTX.
| | | | | |
| --- | --- | --- | --- | --- |
| Graphic Design | CPU | RAM | GPU | Storage |
| 2D Design[20] | Core i5 8250 U | 8GB | 940M, MX150, ,1050GTX,1050Ti GTX | SSD |
| 3D Design[21] | Core i7 8750H | 16GB | 1060GTX,1070GTX | SSD |
[18] PhotoShop , LightRoom, Sketch, Illustrator, InDesign
[19] 3D Modeling + Motion Graphics + Video Editing: 3DS Max, Maya, Rhinoceros, Unity, Blonder, Rendering Software
Other considerations for 17 inch laptops
Battery Life
17 inch laptops have horrible battery lives and quickly run dry like the Sahara. This is due to the amount of pixels they carry, more pixels means more energy.
Note that the more extra features you add: multiple hard drives, better resolutions, better CPUs & GPus will lower your battery life even more.
The best battery will be given by a 17 inch laptop with : TN Display+ SSD + HD Resolution.
Weight
It's normal for 17 inch laptops to be heavy.

If you do find relatively low weight 17 inch laptops, beware that you risk not having enough space to keep temperatures at safe levels. This will reduce the lifespan of your laptop & not let it perform at the specs listed in their description (they will downclock or reduce their speeds to mantain lower temperatures).

On average, the bulkier and heavier, the more it'll last you.

Lightweigt 17 inch laptops should only be used for light tasks.
Storage
These days is not just about GPU & CPU & RAM. Storage plays a huge role in performance. In fact adding an SSD to slowest & crappy HP or Dell Laptop you'll find can make it fly and snappy.
What are SSDs?

Solid State Drives, that work as storage devices today, they can read/write data at up to x17 faster than the slowest HDD (5400RPM).
That means any process that required reading/writing data will be done several much quicker: booting up your software in 10 seconds flat, launching games in 3 seconds, opening large videos/photos/albums in adobe premiere/lighroom in a flash too.
This also benefits the average user by looking up files quickly, opening any document or launching simple applications instantly as well. You will no longer have to go and cook something while your machine starts up!
Hard Disk Drives (HDD)
These are the old fashioned hard drives you have on your desktop. They should be obsolete by now if it wasn't for their low prices. The main advantage is that they give you a better storage/money ratio than SSDs. A 1TB SSD can add up to 800$ to your laptop while a 1TB HDD only costs you 50 bucks (shipping included).
Luckily 17 inch laptops allow you to have both types:An SSD & an HDD. If you want to know the details about installation & the type of interfaces/slots available for you to install them check my post on solid state drive laptops.
Storage Speed
Just FYI. Here's a basic speed comparison for SSS & HDD devices, from highest to lowest.
1. SSD w/ NVMe Protocol
2. SSD on PCI Express interface (some of the M2 slots offer this)
3. SSD on SATA3 interface
4. SSD on SATA2 interface
5. 7200RPM HDD
6. 5400 RPM HDD
7. 5000 > 4600 > green HDD.
Noe that you'll only find 1 , 3 , 5 and 6 on laptops today.
5400RPM
5000, 4600 and green HDDs are pretty much obselete and nonexistent today. I have no problems with 7200RPM HDDs I've used one the past year with no complaints.
The problem is this 5400RPM HDD which should not be on any laptop as of today.
Modern Operating Systems (Windows, Mac & ChromeOS) now rely a lot on storage speed as well as games & any modern application (since their sizes have increased significantly over the past years).
So Having a 5400RPM is a recipe for disaster. They are fine for web browsing, office work and so on but anything else will be painfull slow.
I still can't wrap my head around why HP & Dell and other brands still offer these bricks. The only explanation would be that they probably bought several thousands a while ago and still have a huge stock of them that they must get rid of.
What should I do with a 5400 RPM HDD?
Anyways, If you decide to get the HP laptop #10 or any other laptop with a 5400RPM, I suggest you take this brick out of your laptop and place it inside an external enclosure to use it as a back up storage.
Before you do that though, if you can afford, do the following:
Buy a new Samsung 500GB 960 EVO SSD or a regular SATA III SSD: depending on what your laptop's interface you may be able to install a PCIe NVMe SSD or a SATA II SSD.

Make an image of the 5400RPM HDD contents with Acronis TrueImage

Copy/Install this image on your brand new shinny and fast SSD.

Install this new SSD into your laptop

Finally take your 5400RPM and place it in the drawer.
Author Profile
I am physicist and electrical engineer. My knowledge in computer software and hardware stems for my years spent doing research in optics and photonics devices and running simulations through various programming languages. My goal was to work for the quantum computing research team at IBM but Im now working with Astrophysical Simulations through Python. Most of the science related posts are written by me, the rest have different authors but I edited the final versions to fit the site's format.